Treats are difficult to make when you need to go egg and dairy free but these banana blondies take care of those problems without sacrificing taste. These vegan blondies are perfect for sharing at parties, picnics or as a sweet afternoon treat. Delicious with ice cream too!
Vegan Blondie Recipe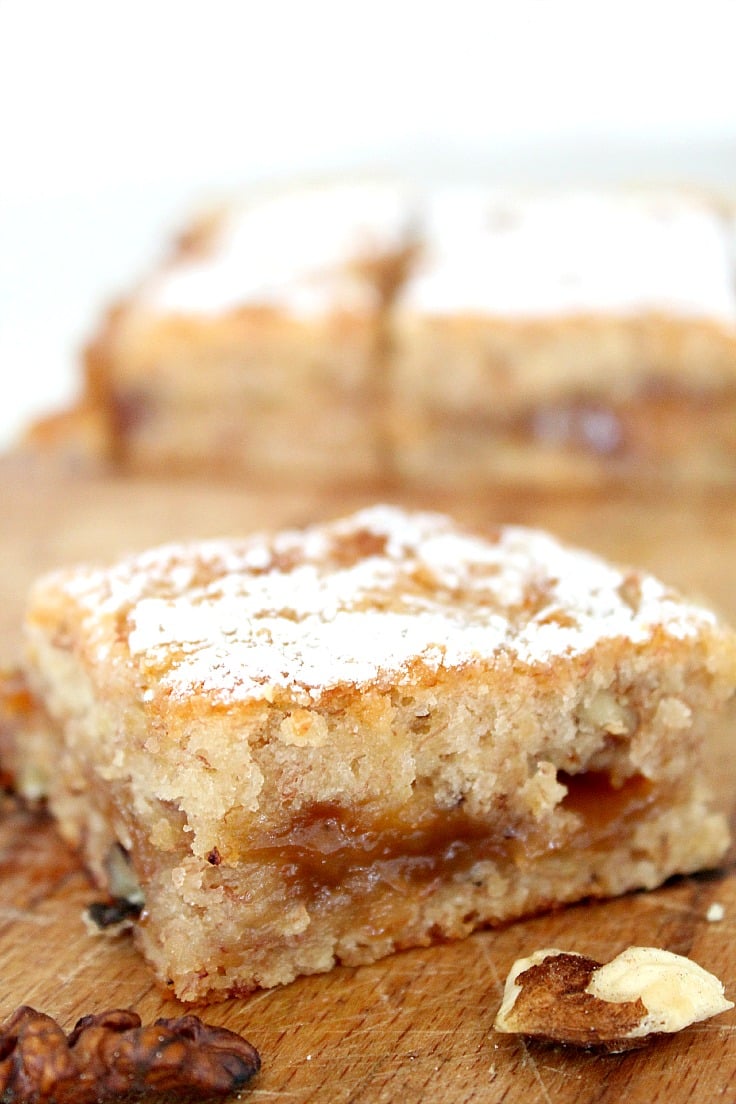 We hate throwing food, fruit and veggies in particular so instead of forcing myself to eat them while pulling all sort of funny faces, I decided to bake these yummy banana blondies.
SEE MY MOST RECENT VIDEOS HERE
I don't particularly go bananas for well…bananas lol but since I know they're really good for your health, I keep bananas in the house all the time. As I try and make my daughter eat one every day, we normally go for the small or medium size ones that fit her tiny stomach.

SEE MY MOST RECENT VIDEOS HERE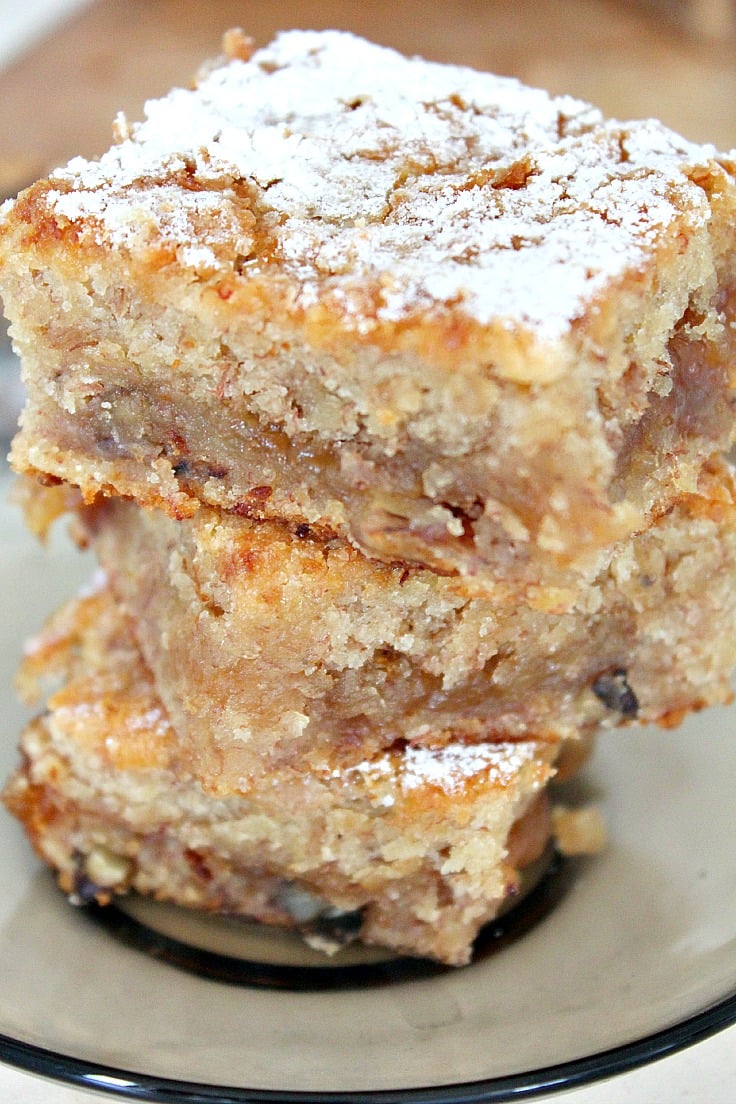 I was in the mood for something like brownies but I didn't feel like eating anything chocolatey, so brownies were off the list until I realized there is this awesome, lighter version: the banana blondies! I also didn't feel like putting butter or eggs and dairy in my banana blondies recipe so I thought I should give the coconut oil a try instead of butter and replaced the egg with an additional banana.
I also used baking powder which I mixed with a little white vinegar, to make up for the lack of dairy and eggs and help my banana blondies get super fluffy and soft. It all worked like magic! And don't worry, there was no trace of vinegar after the blondies baked.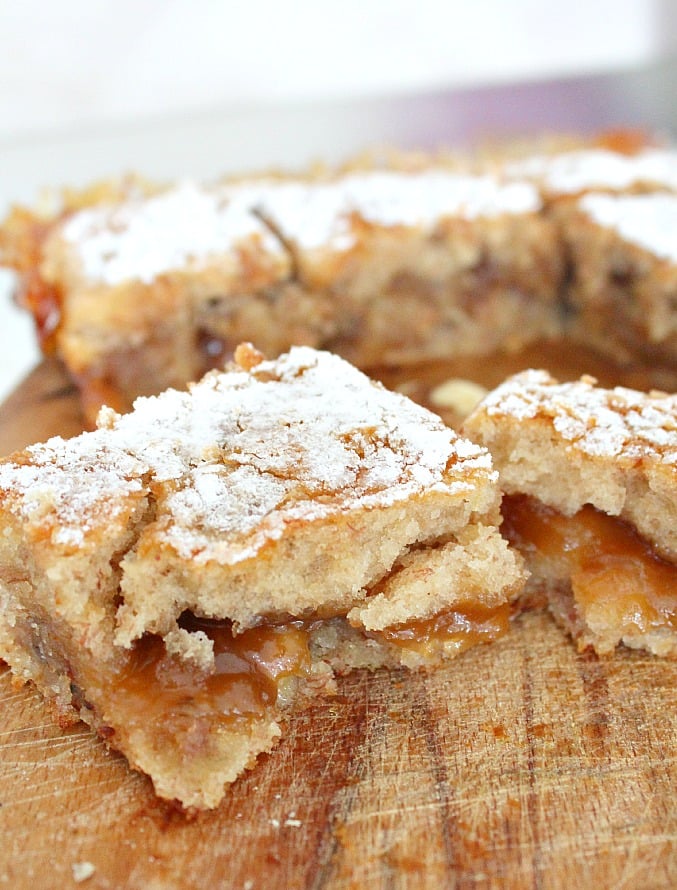 I loved how the caramel sauce in these vegan blondie brownies turned crispy on the edges, as it flows out a little during baking. It helps create a great mixture of moist, crunchy and gooey in this amazing dessert. I also like the look of the top, created through sprinkling powdered sugar during the baking process; it gives a fake look of a crispy top when in fact it's super moist. And the process also makes these vegan banana bars look quite elegant.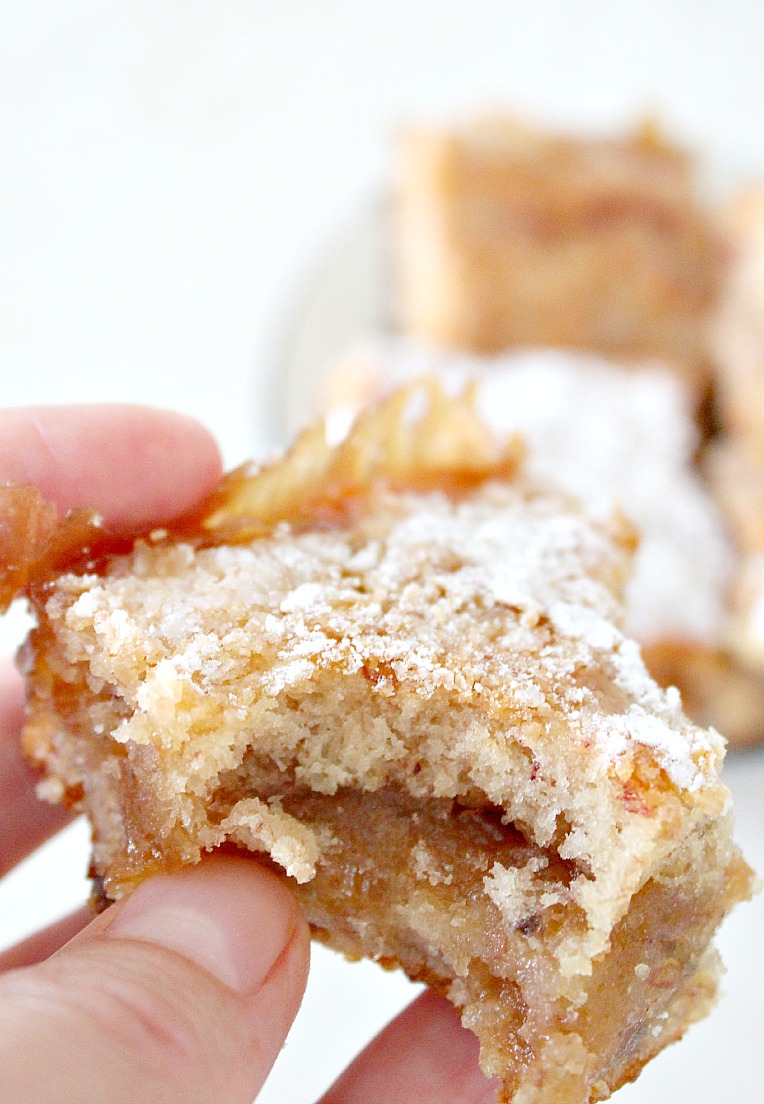 For those of us who have left over bananas, but hate that dry banana bread, these banana blondies are really moist and yummy! These vegan blondies are packed with banana, walnuts, coconut oil and rich caramel. They're quick and easy to make, taking just minutes to prepare and are incredibly delicious even without eggs or dairy. I like to keep these in the fridge as they taste amazing cold from the fridge, especially at summer.
Banana Blondies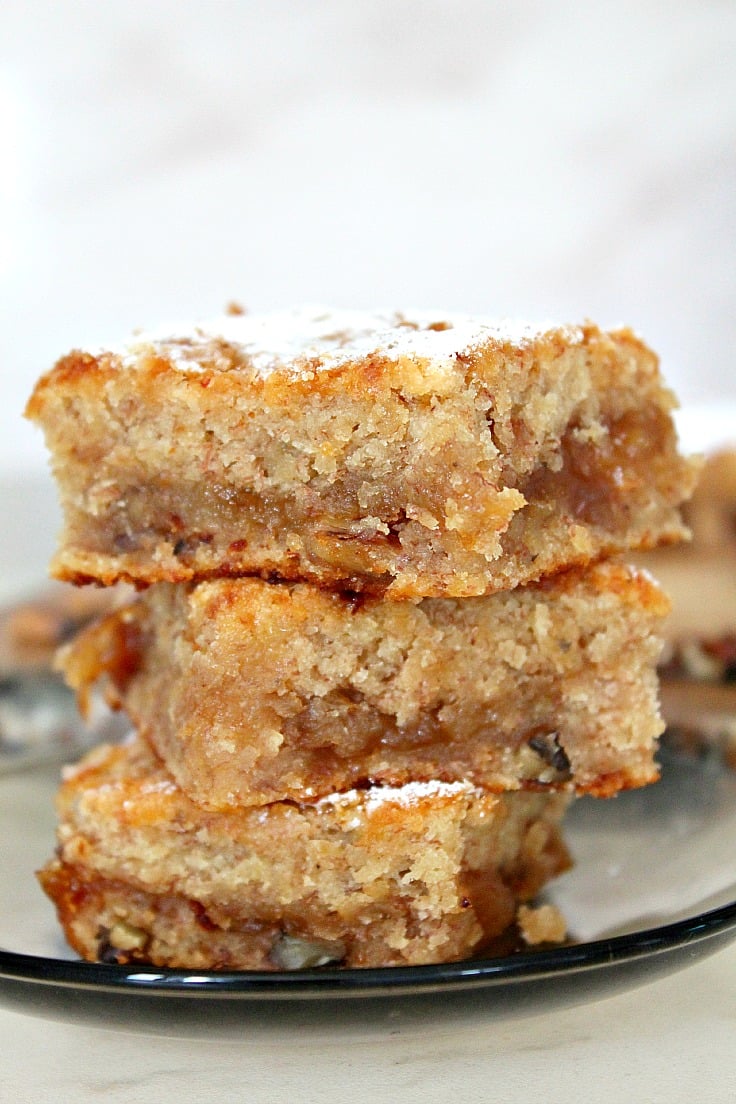 Ingredients:
1/2 cup coconut oil
1/2 cup brown sugar
3 very ripe small to medium bananas
1 teaspoon baking powder
1 teaspoon white vinegar
1/2 cup roughly chopped walnuts
1 1/2 flour
1/2 teaspoon vanilla extract
caramel sauce as preferred
powdered sugar to dust
For the vegan caramel sauce:
7 tbsp coconut sugar
7 tbsp cold water
4 oz coconut milk
¼ tsp vanilla extract
Directions:
For the vegan caramel sauce:
Place the coconut sugar and water in a saucepan over medium heat.
Stir until sugar is dissolved and let bubble for 2-3 minutes.
Pour in the coconut milk and keep stirring until it has fully combined.
Turn down the heat and allow the sauce to simmer for 10-15 minutes until thickens.
Remove from heat, add vanilla extract and stir well.
Pour the sauce into a bowl or jar and allow to cool.
Store in the fridge for up to 2 weeks.
For the banana blondies:
Preheat oven at 350 F
Beat coconut oil and sugar until fluffy or sugar has completely melted.
Add mashed bananas (I simply mashed them with a fork but if you prefer a puree, use a blender)
Pour vinegar over baking powder (it will bubble), mix well and then transfer to the bowl
Add vanilla extract
Stir in walnuts
Add flour and mix thoroughly
Line an 8″by 8″ baking sheet with parchment paper
Pour in half of the batter
Cover in caramel sauce
Pour the rest of the batter (some of the caramel sauce will flow to the edge; that's fine, you'll have a crunchy/moist blondie)
Sprinkle powdered sugar generously
Bake for 10 minutes, remove baking sheet, sprinkle more powdered sugar generously (the sugar will form a nice top during baking, that looks crispy but it's really moist)
Bake for additional 20-25 minutes or until a toothpick comes out clear (you can get caramel sauce on the toothpick but not batter)
Cut when cool
Ingredients
1/2 cup coconut oil
1/2 cup brown sugar
3 very ripe small to medium bananas
1 teaspoon baking powder
1 teaspoon white vinegar
1/2 cup roughly chopped walnuts
1 1/2 flour
1/2 teaspoon vanilla extract
caramel sauce as preferred
powdered sugar to dust

For the vegan caramel sauce:

7 tbsp coconut sugar
7 tbsp cold water
4 oz coconut milk
¼ tsp vanilla extract
Instructions
For the vegan caramel sauce:

Place the coconut sugar and water in a saucepan over medium heat.
Stir until sugar is dissolved and let bubble for 2-3 minutes.
Pour in the coconut milk and keep stirring until it has fully combined.
Turn down the heat and allow the sauce to simmer for 10-15 minutes until thickens.
Remove from heat, add vanilla extract and stir well.
Pour the sauce into a bowl or jar and allow to cool.
Store in the fridge for up to 2 weeks.

For the banana blondies:

Preheat oven at 350 F
Beat coconut oil and sugar until fluffy or sugar has completely melted.
Add mashed bananas (I simply mashed them with a fork but if you prefer a puree, use a blender)
Pour vinegar over baking powder (it will bubble), mix well and then transfer to the bowl
Add vanilla extract
Stir in walnuts
Add flour and mix thoroughly
Line an 8"by 8" baking sheet with parchment paper
Pour in half of the batter
Cover in caramel sauce
Pour the rest of the batter (some of the caramel sauce will flow to the edge; that's fine, you'll have a crunchy/moist blondie)
Sprinkle powdered sugar generously
Bake for 10 minutes, remove baking sheet, sprinkle more powdered sugar generously (the sugar will form a nice top during baking, that looks crispy but it's really moist)
Bake for additional 20-25 minutes or until a toothpick comes out clear (you can get caramel sauce on the toothpick but not batter)
Cut when cool
https://theseamanmom.com/vegan-blondie-with-banana-and-walnuts/




Dome cake with banana & whipped cream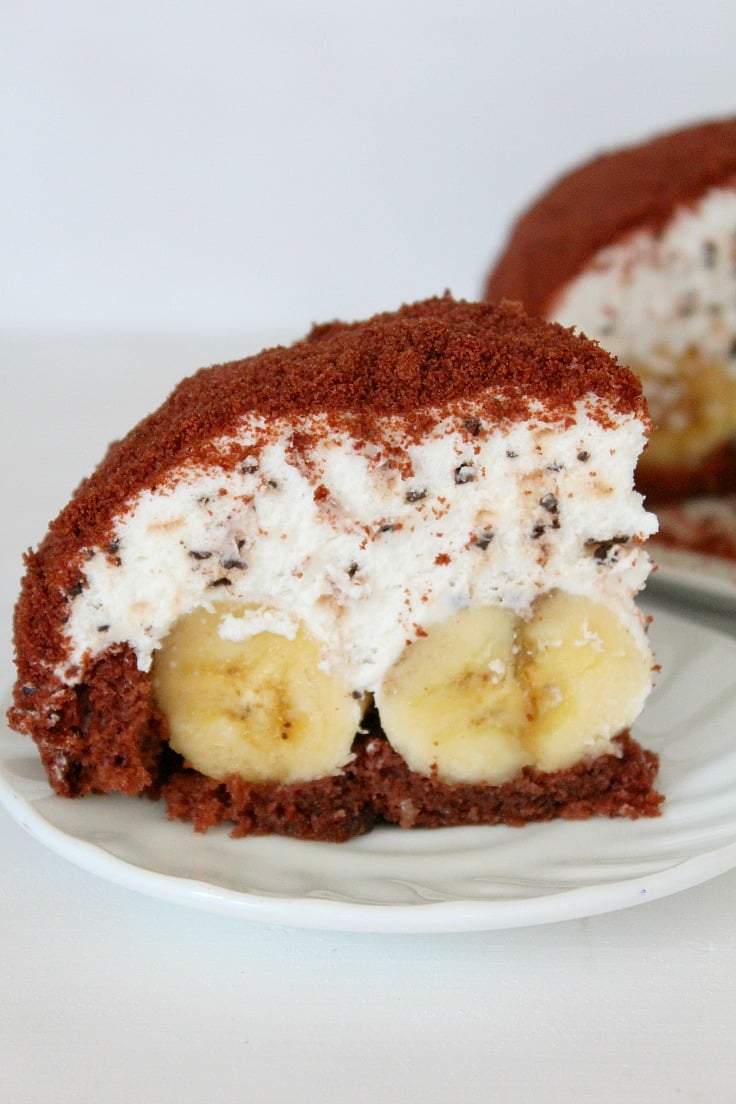 Banana cinnamon breakfast croissants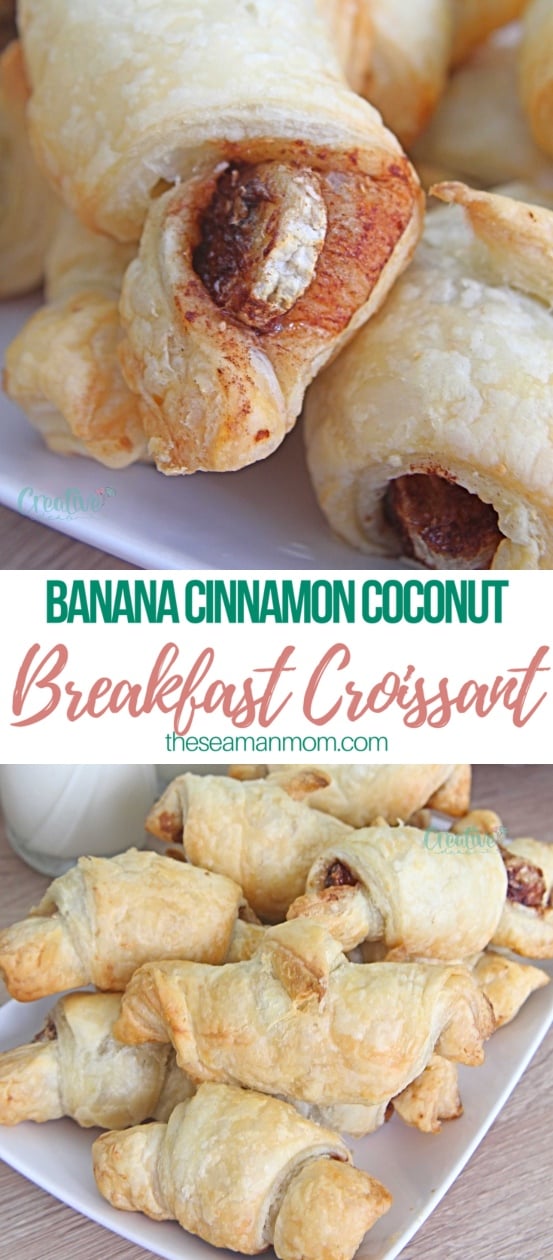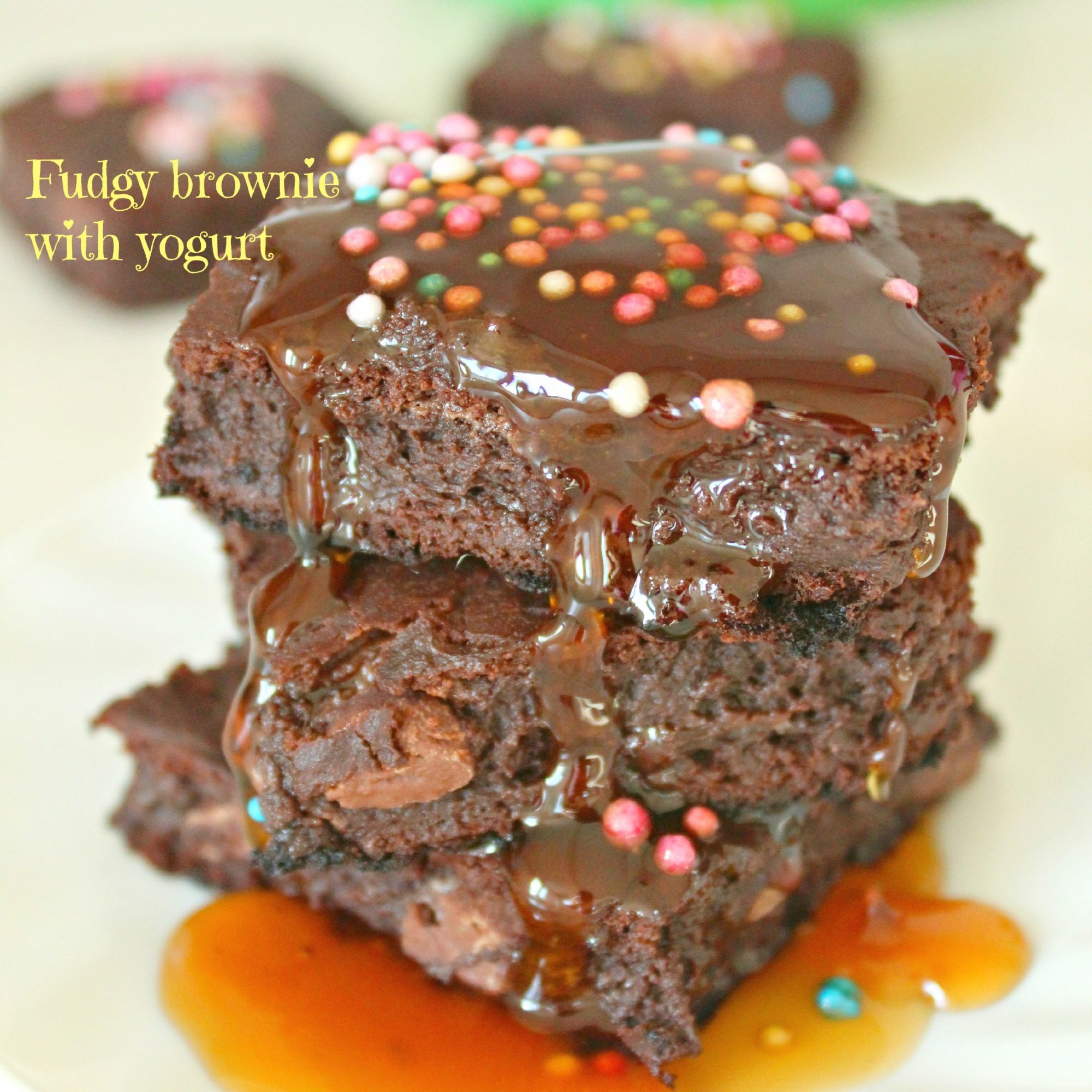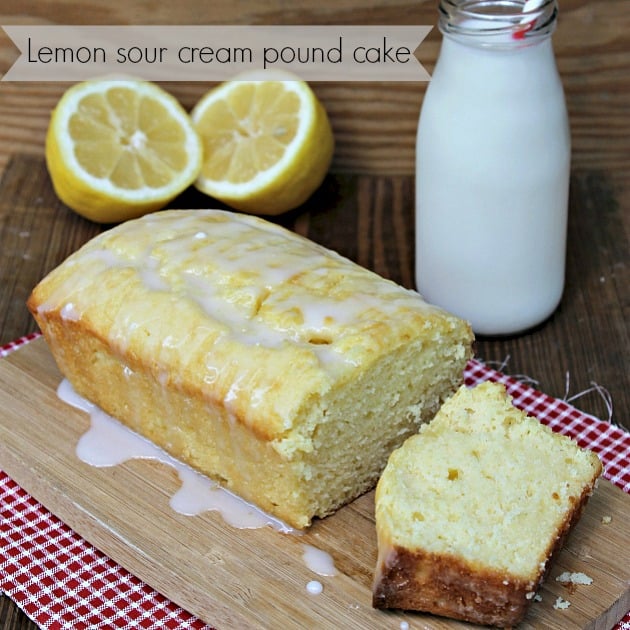 Most popular recipes