Article may contain Amazon & affiliate links. As an Amazon Associate I earn from qualifying purchases at no additional cost to you.
This Nutella Peanut Butter Breakfast sandwich is real guilty pleasure! This delicious combination will totally rock your world while helping you start the day right!
Nutella Peanut Butter Breakfast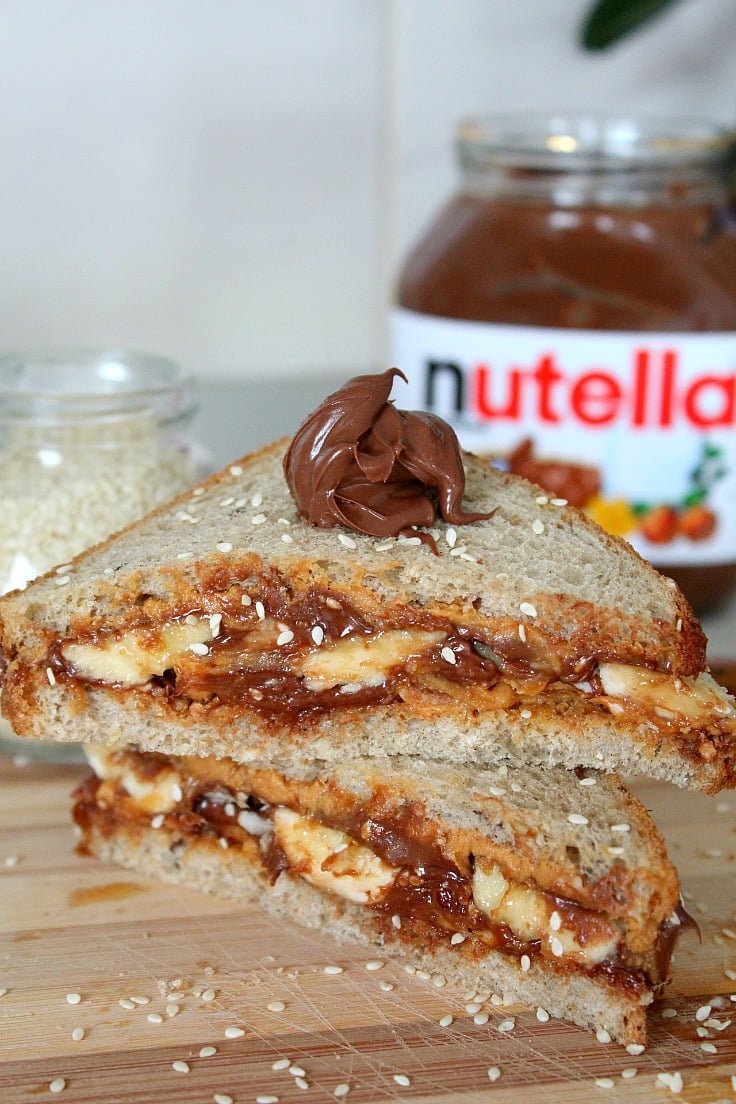 I don't indulge very often but when I do, I like to do it all the way! Breakfast included. I realize this is not really a recipe but someone has to teach you an amazing sandwich idea like this Nutella Peanut Butter Breakfast. This is going to be your next favorite sandwich!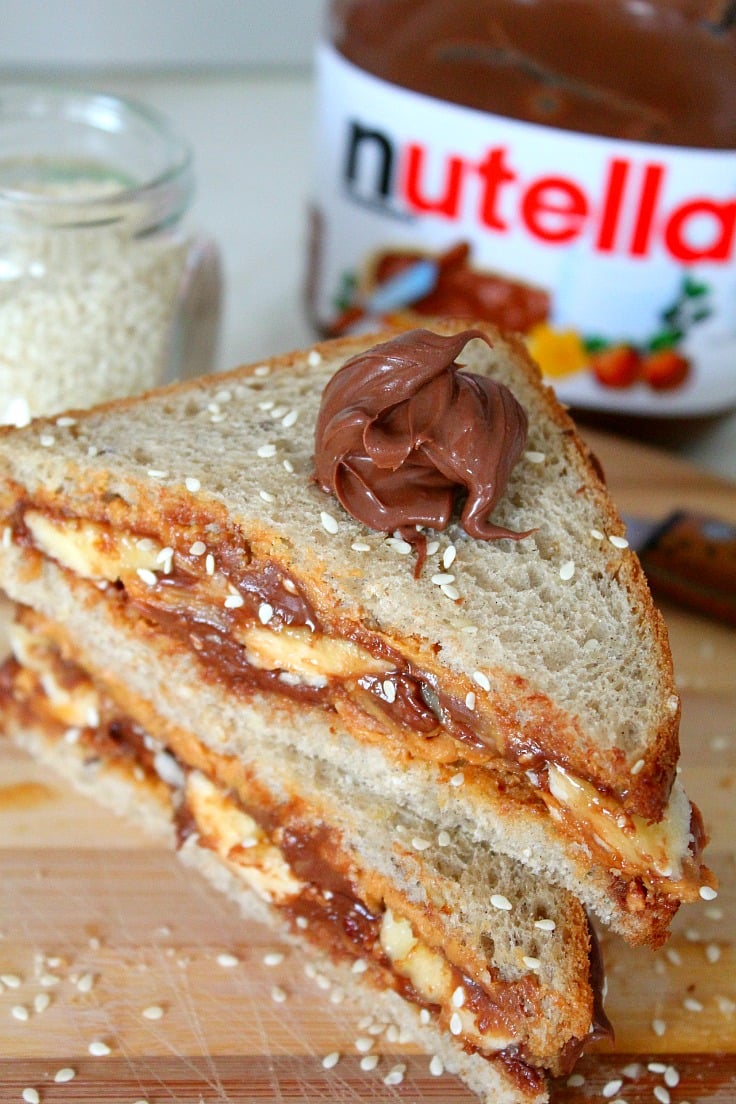 I never really liked peanut butter on its own, I always had to mix it up with some other ingredient, most times with fruit and I never thought it will really work in this sandwich, I expected a total fail. But to my surprise it added just the right texture to this sandwich, it balanced the creaminess Nutella brings and toned down its sweetness, while perfectly matching the bananas.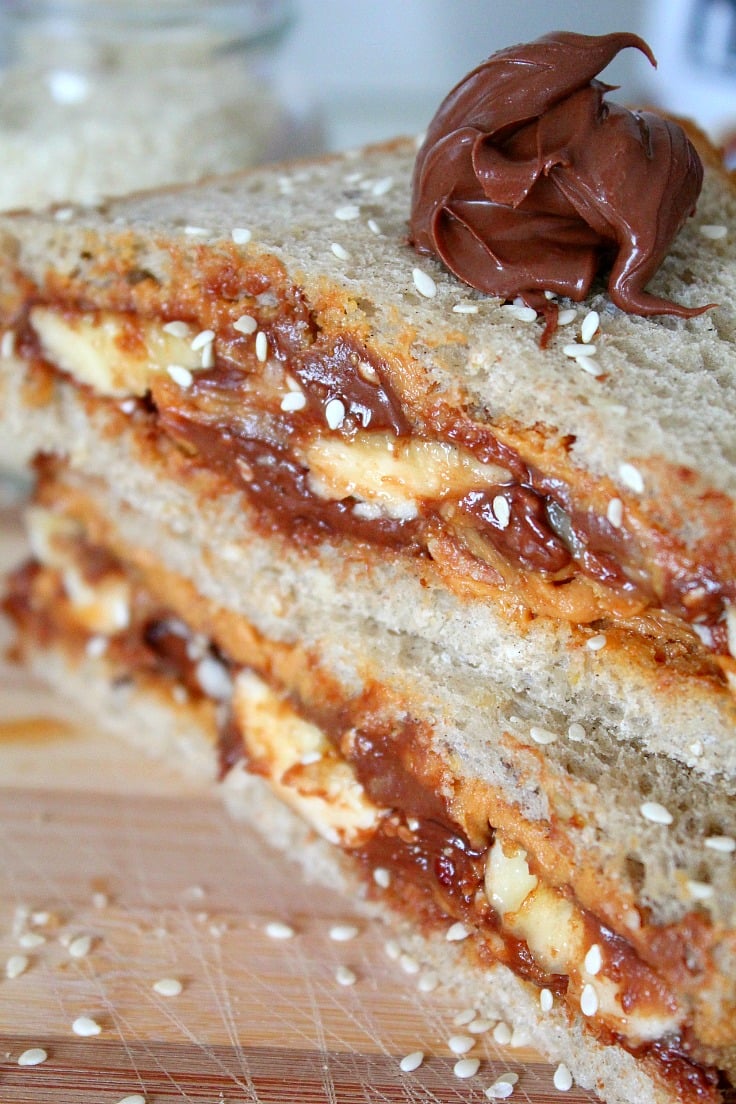 I added some sesame seeds and peanuts as I'm a sucker for crunchy food and also for an extra doze of energy (because none of the other ingredients had that!! lol)
Nutella Peanut Butter Breakfast sandwich recipe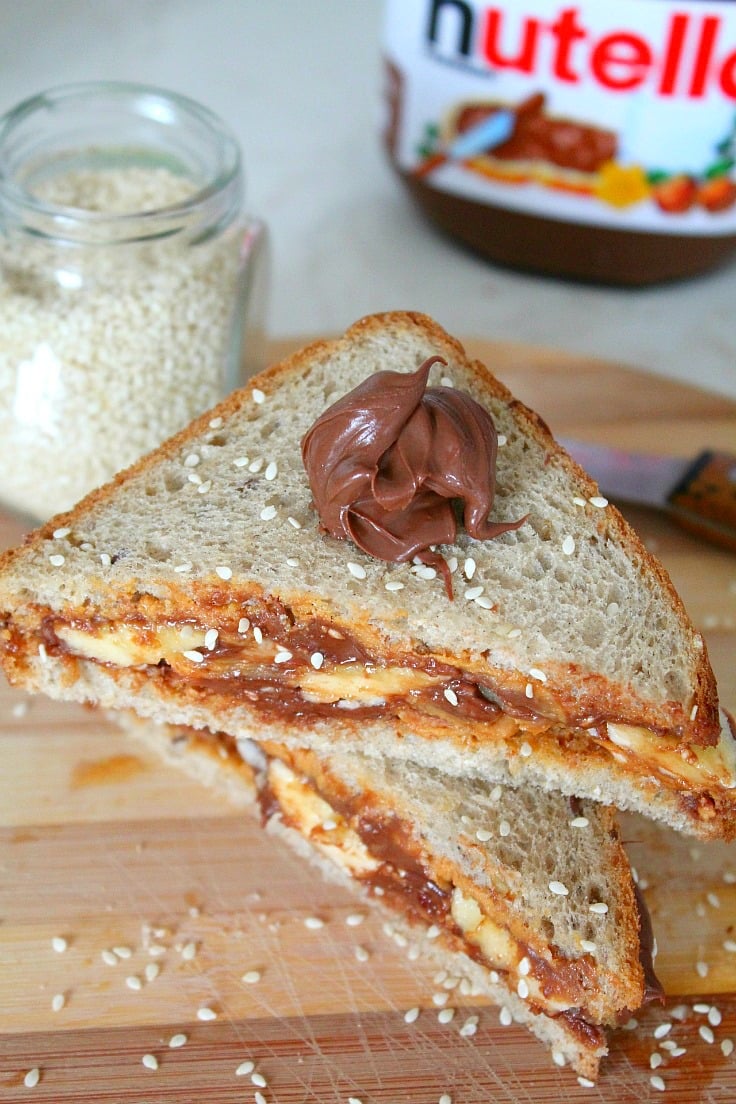 Ingredients:
Nutella
2 slices whole wheat bread with mixed seeds
1/2 large banana
organic sesame seeds (which I store in these awesome Ikea Glass Spice Jars that I simply adore! I've purchased about 6 sets of 4 to store all of my herbs and spices!)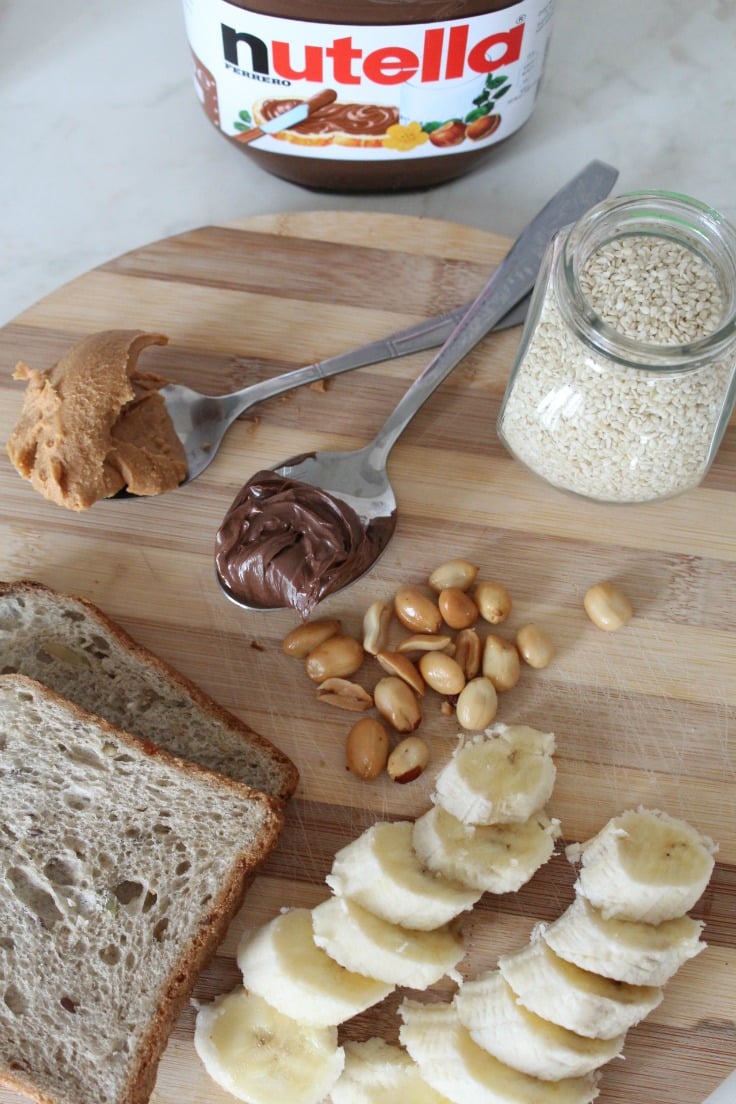 Directions:
On each slice of bread spread a layer of peanut butter and a layer of Nutella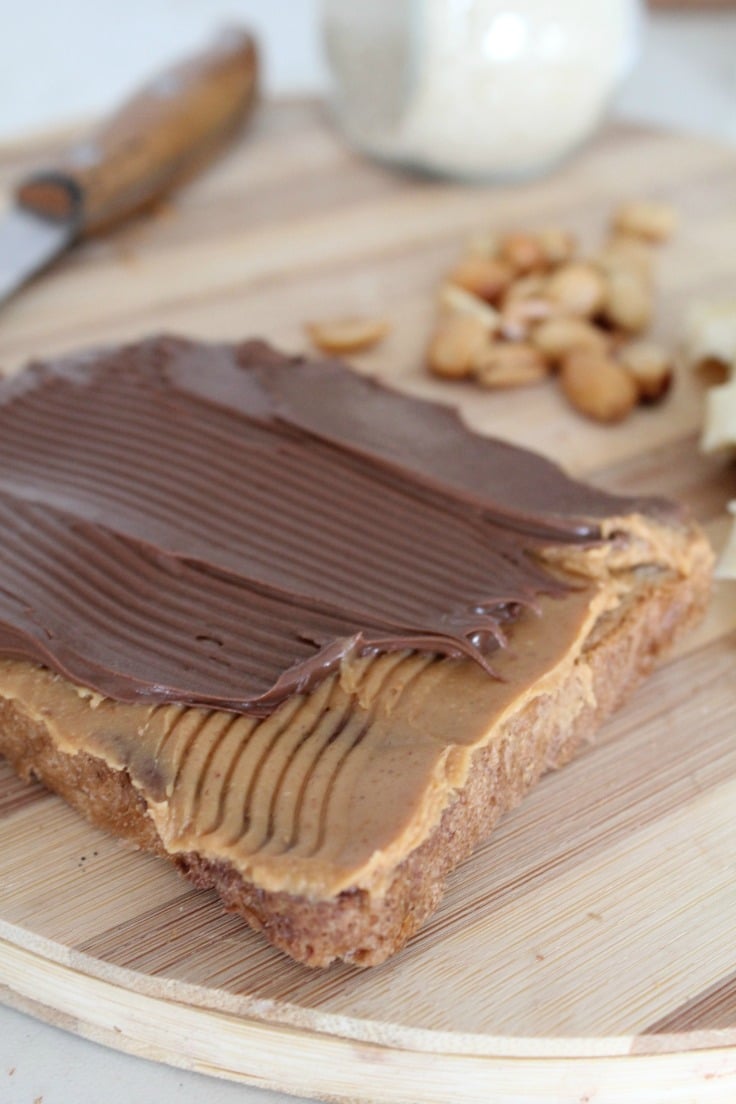 Sprinkle sesame seeds on both sides and peanuts on one side.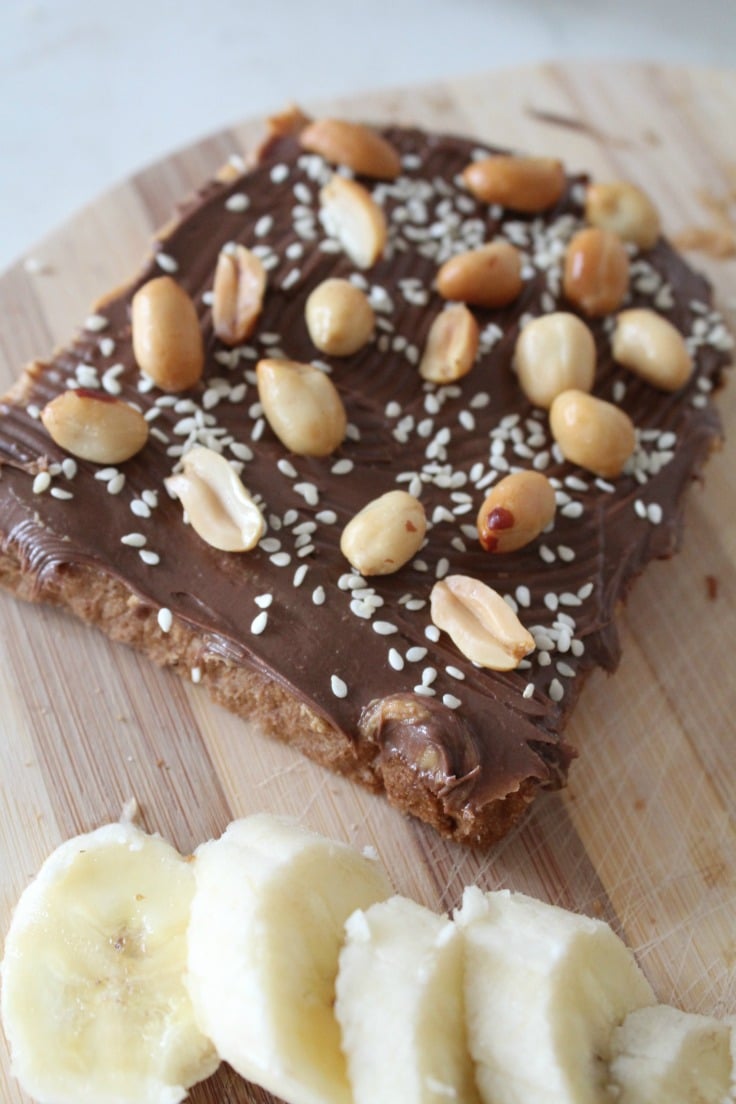 Slice banana and add the slices on one side only, over the peanuts.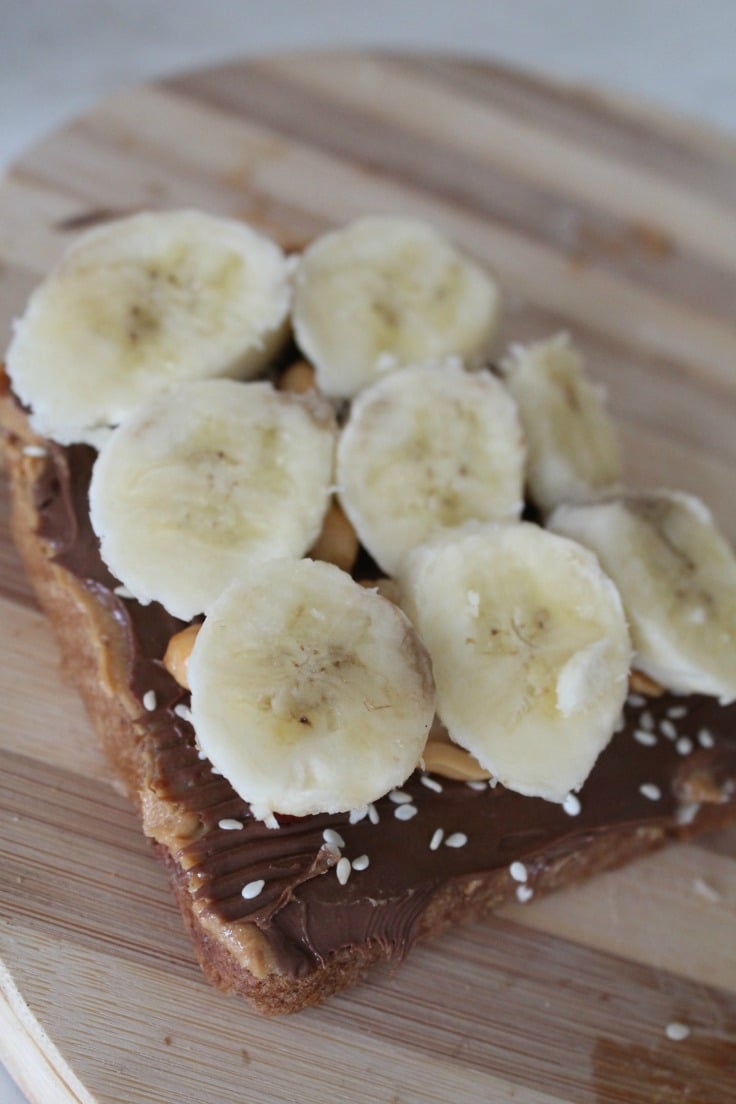 Close the sandwich.
Optional – grill on both sides in some butter, until slightly golden (I didn't, I thought it's going to make the sandwich taste too heavy)
Peanut butter Nutella breakfast sandwich
Ingredients
Nutella

Creamy Peanut Butter

2

slices

whole wheat bread with mixed seeds

1/2

large banana

lightly salted peanuts

organic sesame seeds
Instructions
On each slice of bread spread a layer of peanut butter and a layer of Nutella

Sprinkle sesame seeds on both sides and peanuts on one side.

Slice banana and add the slices on one side only.

Close the sandwich.

Optional - grill on both sides in some butter, until slightly golden (I didn't, I thought it's going to make the sandwich taste too heavy)