These fun printable bingo cards are a great family activity this spring
Article may contain Amazon & affiliate links. As an Amazon Associate I earn from qualifying purchases at no additional cost to you.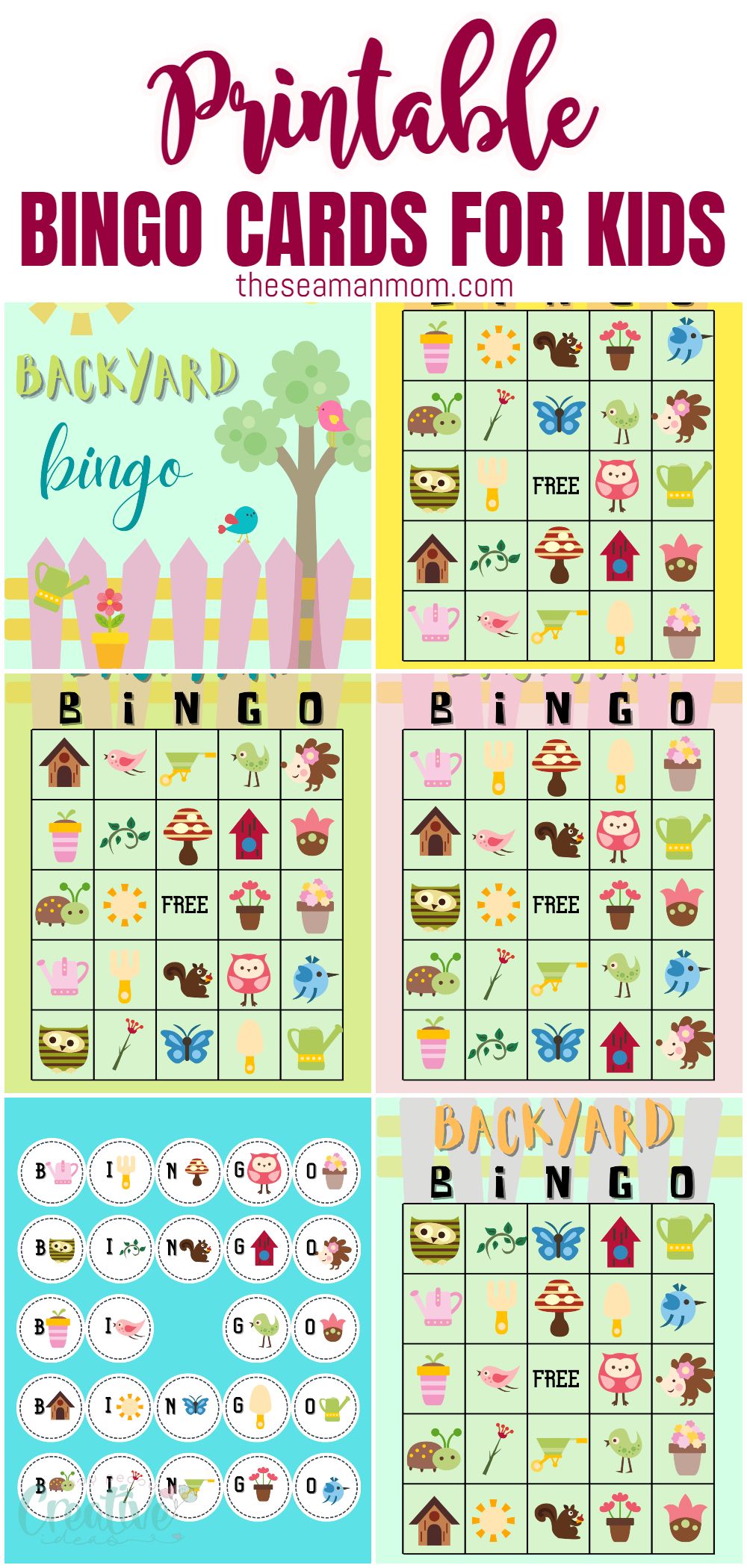 With these cute backyard themed printable bingo cards, your kids can have a blast playing together while they're stuck inside. Great family activity that everyone will love playing!
Printable bingo cards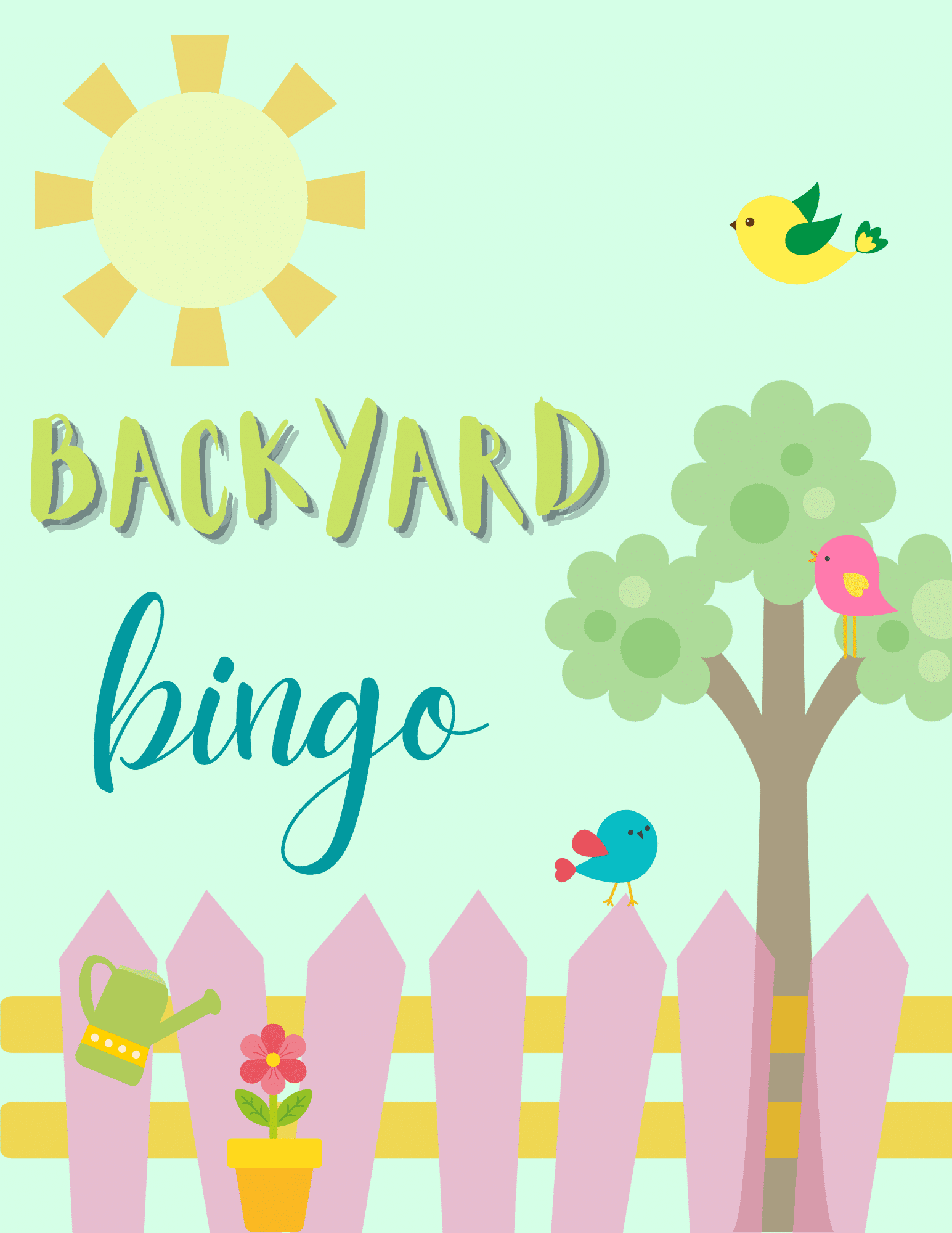 Whether you're searching for an activity to do with your kids on a rainy spring day or need a fun game to pass the time on hot summer afternoons, playing bingo is a great idea! No matter how old your kids are – from preschool to elementary aged – bingo is the perfect game.
Other printables you will love:
Tips for Playing Bingo for Kids
While the rules for playing bingo are simple enough that kids of any age can get involved, I have a few tricks to ensure your game goes smoothly. Try these simple tips the next time you play bingo with your kids:
Let the kids take turns being the caller. If your kids are interested in calling out the bingo squares, make sure everyone has a turn playing the role of caller. To select the next caller, try letting the winner of the previous game be the caller for the next game.
Show each token to the kids for easy matching. Since the cards feature pictures that are similar, help younger players match the correct pictures by showing them the token after calling it. This will give players a chance to look at the picture on the token and match it with the one on their bingo card.
Have prizes ready. To make playing and winning more fun, make sure to have some prizes ready for the winners. Small toys, pencils, candy, snacks, or treats are all great options for bingo prizes when you're playing with kids.
How do You Make printable Bingo Cards for Kids?
Making these cards couldn't be simpler! All you need is my printable PDF and a printer. Simply download the printable bingo cards, then print them out using your favorite printer. Print out enough cards to pass out to each player. Then print the token page and cut out each piece around the outer border.
Follow these simple tips to ensure your bingo printable cards last from game to game:
Print the cards on cardstock. To make sure your printable bingo cards hold up as your kids play, it's a good idea to print your bingo cards out on heavy cardstock. The weight will help keep the cards from ripping while your kids are playing. Cardstock is especially important when printing the playing tokens, since those pieces will be used over and over again during each game.
Laminate the bingo cards. If you plan to play bingo with your kids several times, laminating your cards is a good idea. After printing your cards out, laminate each card. Then, place the token sheet in the laminator and cut out each piece to ensure they stay intact as you play.
Use sheet protectors. If you don't have a laminator, you can still protect your bingo cards with the help of plastic sheet protectors. Place each card in a sheet protector after printing it out so the cards don't get damaged as you play.
What's on the bingo cards?
Each bingo card features 24 different backyard-themed pictures, including:
Pink watering can
Rake
Mushroom
Pink owl
Pink and yellow flowers
Green and brown owl
Vine
Squirrel
Red birdhouse
Hedgehog
Pink flower pot
Pink bird
Green bird
Tulip
Brown birdhouse
Sun
Blue butterfly
Shovel
Green watering can
Green and brown bug
Red flower
Wheelbarrow
Pink potted flowers
Blue bird
How to Play Bingo with Kids using these bingo cards to print
Once you have all your cards and tokens printed, it's time to start playing! Here's how to play bingo with your kids:
Pass out the cards to each player. Make sure everyone who is playing has a card of their own to ensure you don't have multiple winners during each round.
Give the kids markers. If your kids will be playing with uncovered paper, use plastic markers for them to cover the squares on the board. Laminated bingo cards can be marked with a dry erase marker and erased between each round.
Place all the tokens in a bowl or hat. After cutting out each token, place it in a bowl or hat so you can easily pick the squares to call out.
Draw a token and call out the letter and picture on the card. Pull a token out of the bowl and call out the picture and letter from the token.
Tell the kids to cover the matching square on their board. After calling out the letter and picture on the token, give the kids time to cover the corresponding space on their bingo board. First, check the letter at the top of the board to find the correct column, then search for the picture to match to one on the token.
Continue drawing tokens and marking bingo cards until someone wins. A player wins when they cover five spaces on their bingo card in a row. Rows can be made going horizontally, vertically, or diagonally. When a player creates a row, the must shout out bingo to win the game.
---
The Printable bingo cards are available here.
---
Pin to save for later