Super fun and easy Spring Break dice game you need to play with your kids – free printable PDF
Article may contain Amazon & affiliate links. As an Amazon Associate I earn from qualifying purchases at no additional cost to you.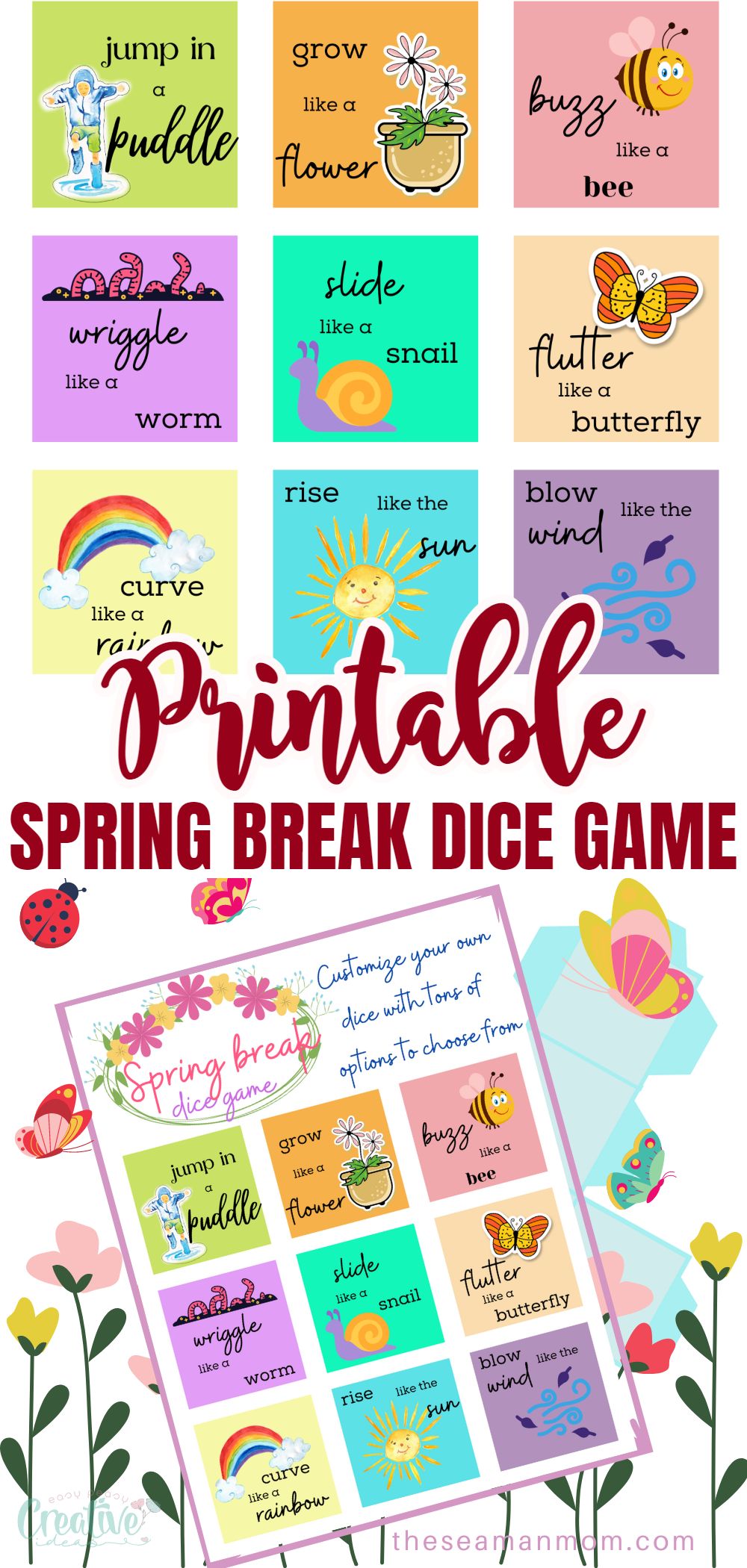 Spring break is the perfect time to relax and enjoy some quality time with your family. With this easy printable spring break dice game, you can get your kids up and moving while also having tons of fun.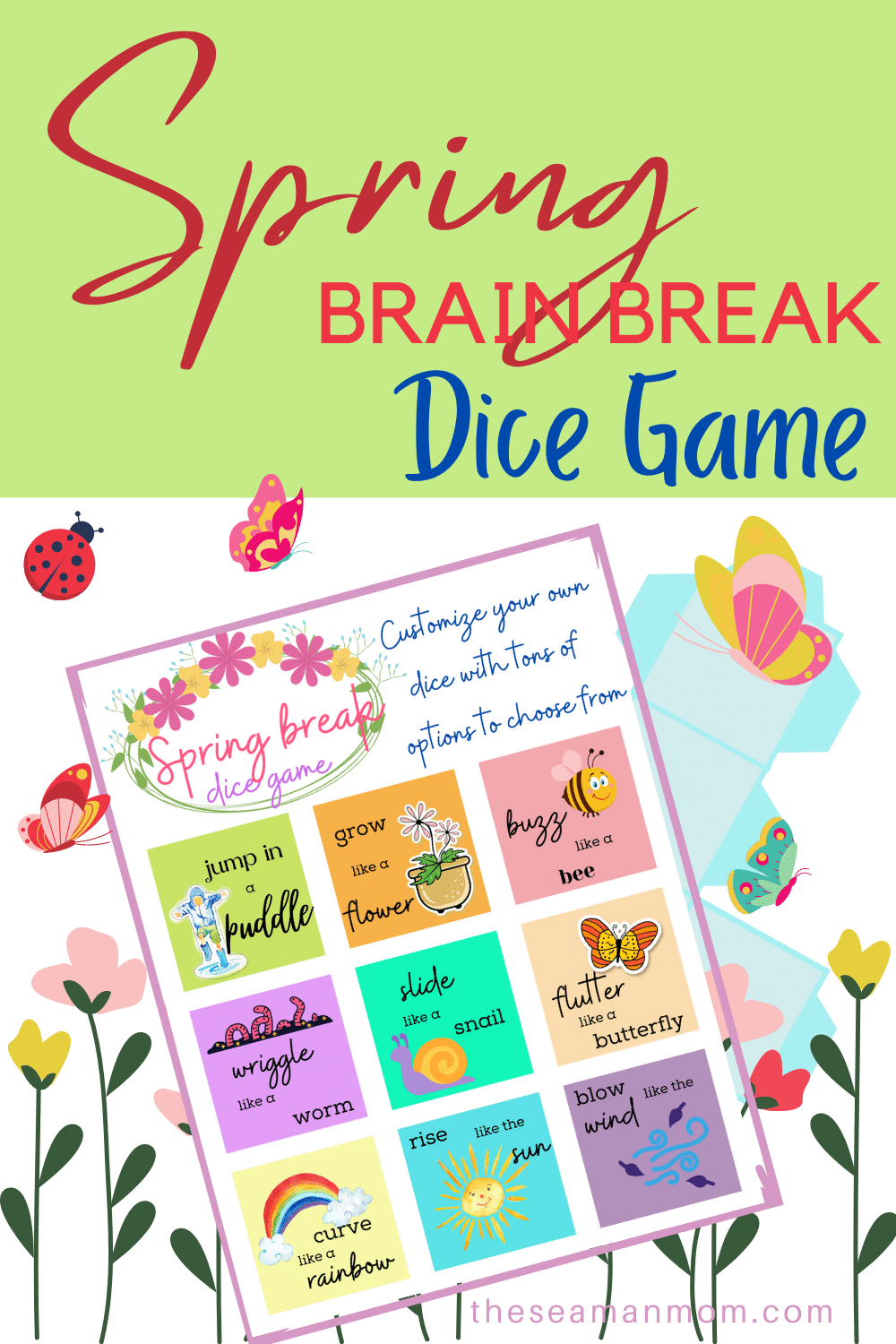 Spring break dice game
If you have kids at home, you know how quickly boredom can set in. This year, why not be prepared when you hear the words, "I'm bored" come out of your kids' mouths?
What Do I Need to Make This Spring Break Dice Game?
The best part about this game is that you just need a handful of things to put your own spring break dice game together in just a few minutes! In fact, I bet you already have everything to make this game at home right now. Here's what you'll need to create your own game at home:
Printable PDF: The first thing you need to do is download my printable PDF, which includes a template for making your own dice for your kids to play with.
Printer: To use the printable, you'll also need a printer. You can print the dice template in black and white, but using full color is recommended to ensure your dice looks amazing when you're finished putting it together.
Cardstock: It's a good idea to print out your dice game on plain white cardstock so it doesn't bend or rip as your kids are playing with it. Regular copy paper may not be strong enough to withstand several rolls of the dice.
Scissors: After printing the template on cardstock, you'll need to cut out each of the pieces, then assemble your spring break dice.
Glue: To assemble the dice game, it's best to use glue to ensure all the pieces stay attached as your kids roll the dice.
Other printables for kids you might like:
Brain Break Dice Game
How to Make a Spring Break Dice Game
Putting together this cute spring game couldn't be easier! Start by downloading the template and printing the pages on cardstock. Next, use your scissors to cut out each of the activity squares, then set them aside. On the second page, cut around the outer border of the dice template and discard the white part of the page.
To build your dice, start by folding each of the single squares up, placing the center square on a flat surface. Then, fold over each of the flaps. Finish by folding up the edge with two squares, bending on each seam. This will allow one of the squares on that section to become the side of the dice and the other to become the top.
After you have all the edges folded, use your glue to attach the tabs to the inside of the box. This will help the dice keep its shape as your kids play.
Once all the tabs have been secure, you can glue the activity squares to the outside of the cube. Place one activity on each side of the dice until all the spots are covered.
How to Play the Dice Game
Now that you have your dice put together, it's time to have some fun! There are two steps to playing this simple game:
Roll the dice. Hold the dice in your hand and carefully roll it on the ground.
Do the activity. Whatever activity is facing up is the one you have to do.
Continue rolling and playing until everyone has had a turn rolling a spring break activity. This fun game features nine different spring-inspired activities for your kids to do, including:
Jump in a puddle
Buzz like a bee
Grow like a flower
Slide like a snail
Wriggle like a worm
Rise like the sun
Curve like a rainbow
Blow like the wind
Flutter like a butterfly
With all those fun activities to choose from, your kids will have a blast playing this adorable spring break game the next time they tell you they're bored.
But this game isn't just a way to keep your kids occupied on a spring day. It has a variety of great educational benefits, too! Playing this game can help your kids:
Stay active, even when they're stuck inside. Use this game on a rainy day to get your kids up and moving when they can't go outside and play.
Use their imagination. Each activity gives your child a chance to think about different ways to visualize the spring activities. And it forces them to think creatively about how to turn those actions into a fun movement.
Practice taking turns. When more than one kid plays this game together, they'll need to take turns rolling the dice. That gives the kids a chance to practice sharing and waiting patiently between turns.
Follow instructions. This spring break dice game is a great introduction to games when little children are playing. As they play, they can learn how to roll a dice and how to follow instructions.
I hope you like this game and the free printable! Have fun playing it with your kids and don't forget to pin and share it with your friends! Get the free PDF file here!
Pin to save for later