Oak tree life cycle printable pack
Article may contain Amazon & affiliate links. As an Amazon Associate I earn from qualifying purchases at no additional cost to you.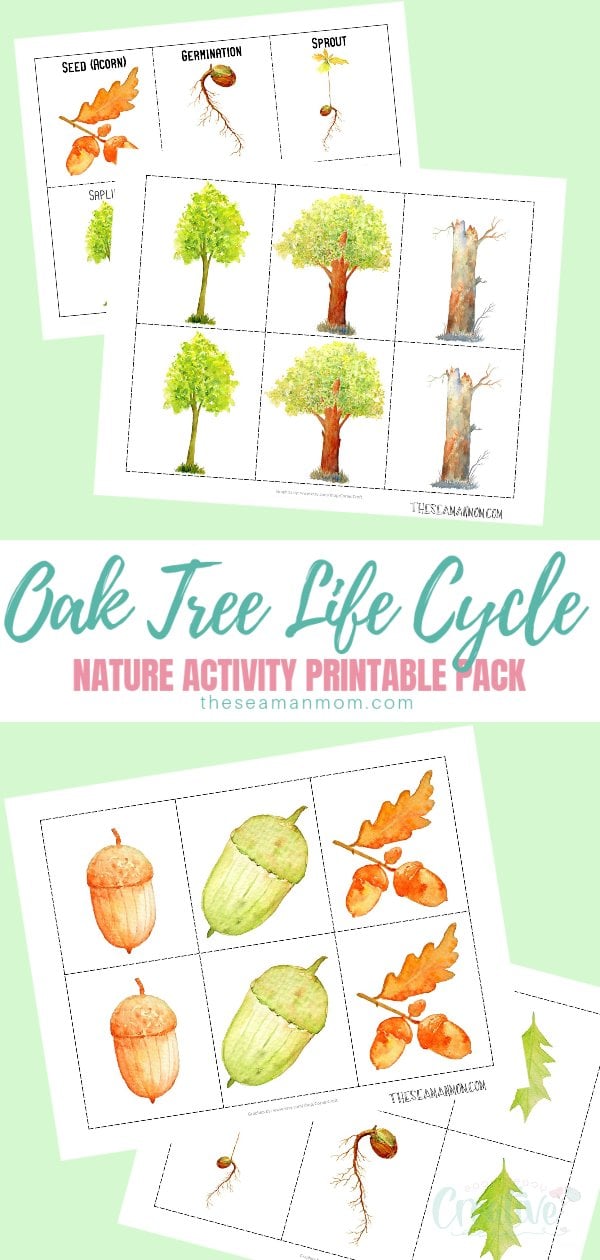 Are you looking for nature activities to do with the kids in fall? Help kids learn about the oak tree life cycle in a fun way with this lovely printable pack that has two sets of cards: sequencing cards and a memory game!
Oak tree printable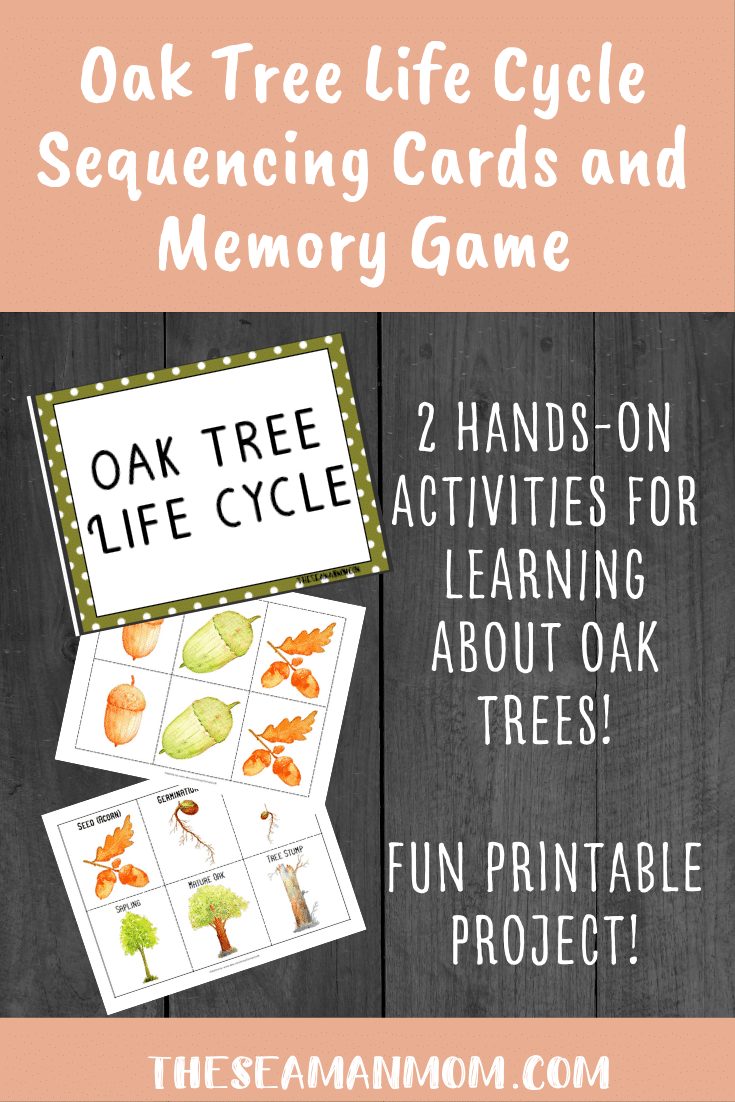 Pretty soon the air will be crisp and cool…I can almost feel that fall is in the air! And this oak tree life cycle is the perfect activity to help kids learn all sorts of exciting information about oak such as oak tree growth, oak tree identification or oak leaf identification. Such a fun science activity!
One of the most famous symbols for Autumn is the acorn but have you ever wondered why? Acorns fall from oak trees this time of year because they're ready to germinate. It's an important part of the oak tree life. There's no doubt that it's important for children to learn about and understand the earth we live on and exploring the life cycles of plants and animals is a great way to teach them!
More printables you might like:
There are so many interesting natural science topics to discover in the fall – pumpkins, apples and animals getting ready for hibernation – that it is easy to forget the trusty old oak tree. But it truly is one of the most interesting subjects to study in nature, so don't miss out!
This oak tree life memory game and sequencing printable pack is a fun way to study and memorize the different phases of the lives of oak trees: seed (acorn), the seed germinating, sprout, sapling, mature oak and tree stump.
Oak tree life cycle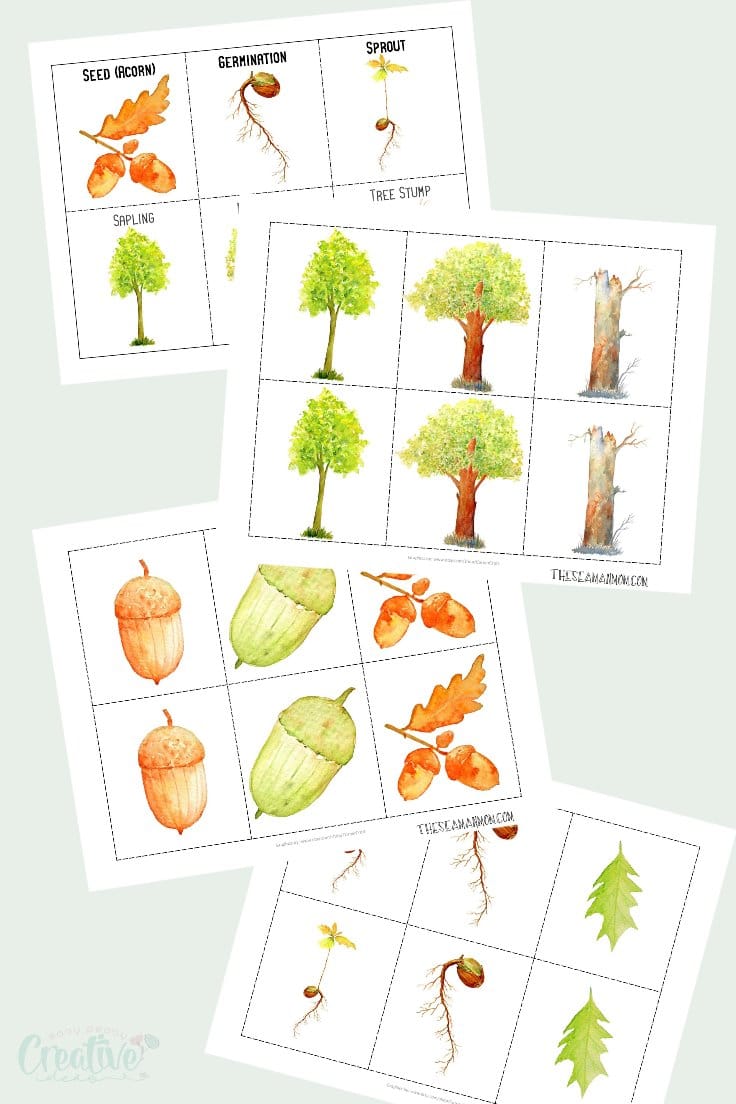 How to use the pack
This pack has two sets of cards: sequencing cards and a memory game and you can download it from here.
For the sequencing cards, cut out the cards and help your child arrange them in the correct order. When they have been set in proper sequence, ask your child to tell you about the tree life cycle, using the cards as a prompt.
For the memory game, cut out the cards and arrange them on a table face down. Let your child take their time finding matching pairs. This also works great as a review game! As children find matches, ask them where those cards fall in the life cycle of the oak tree.
If you are planning a fall nature unit, this oak tree printable pack is a must! I hope you enjoy learning about this oak tree life cycle!
Pin to save for later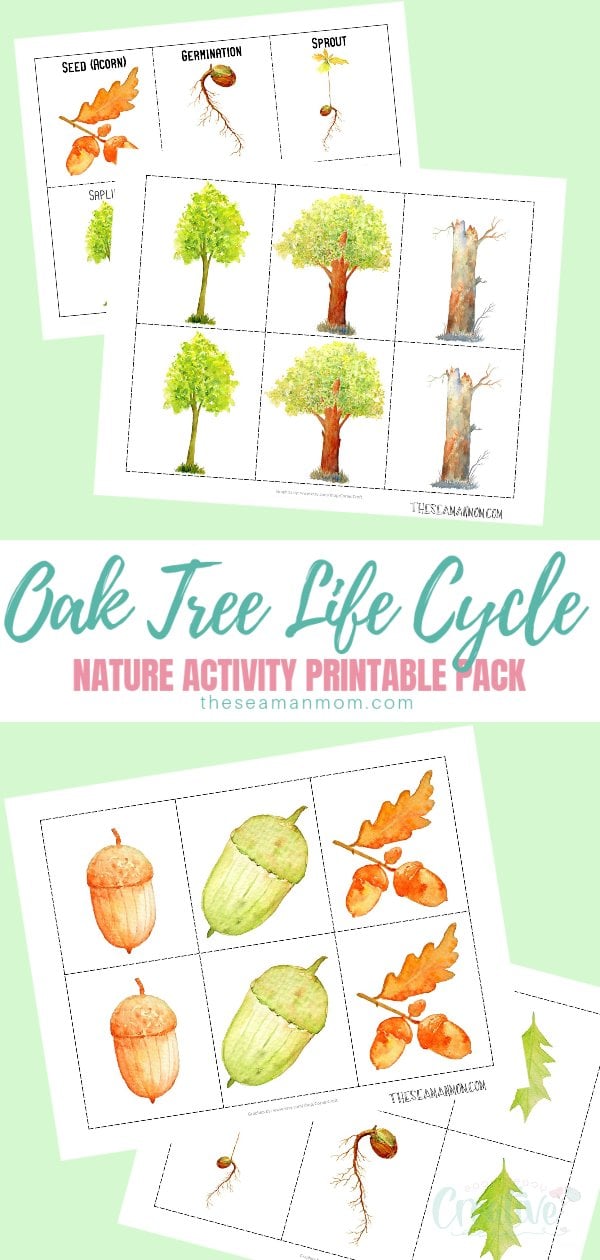 Other kids activities: