Printable meal planner pack
Article may contain Amazon & affiliate links. As an Amazon Associate I earn from qualifying purchases at no additional cost to you.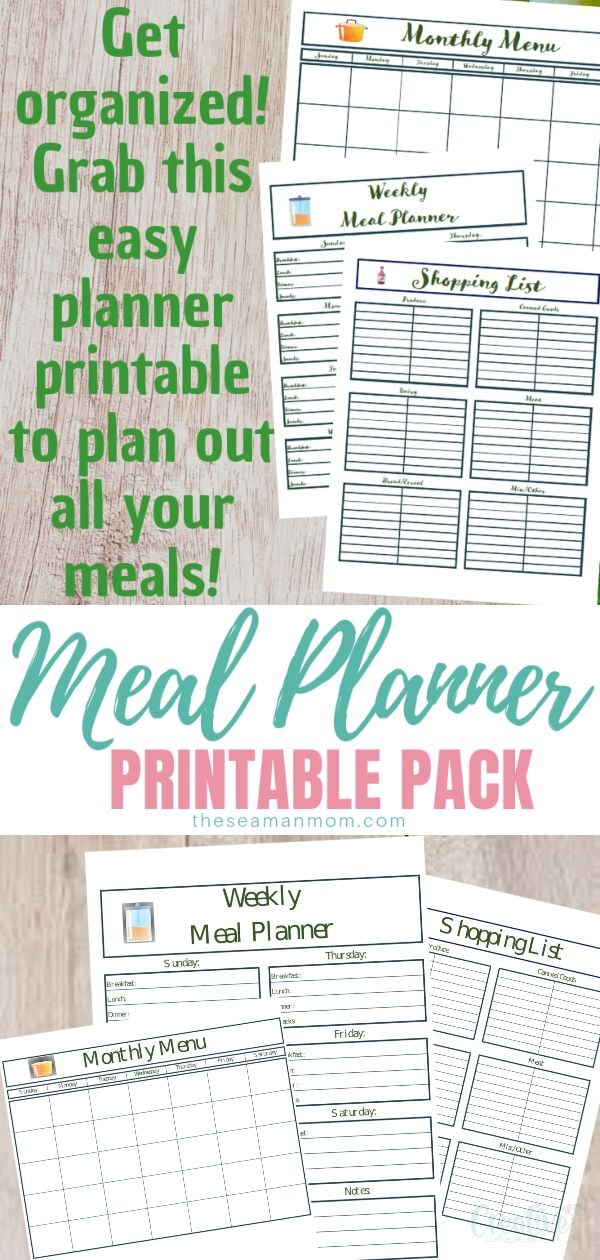 Planning family meals seems like a daunting, time consuming task? Keep this printable meal planner on your fridge and know at a glance what's on the menu every day, for the rest of the week and month!
Printable meal planner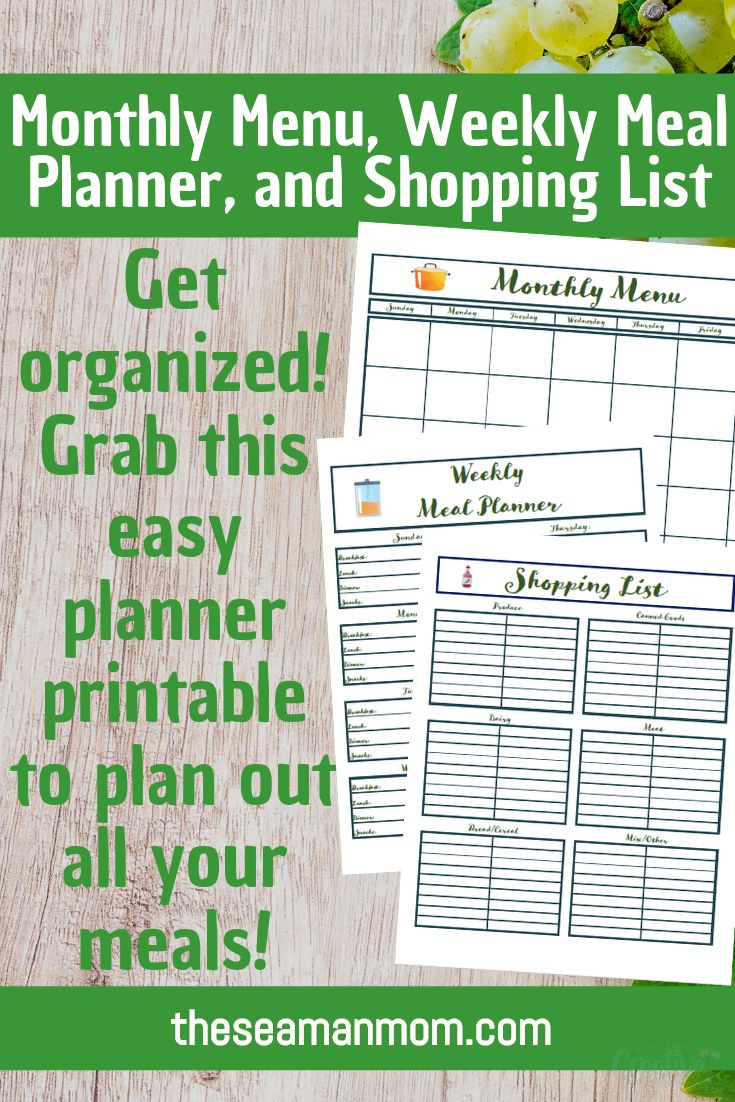 While meal planning might feel like yet another chore, it is one everyone should probably prioritize higher. Planning saves time! Everyone has spent time wandering the grocery store, trying to remember what they need to complete a meal. But not when you have this handy dandy printable meal planner!
This awesome meal plan template pack includes a monthly menu planner, a weekly meal planner and a shopping list template! That way you won't waste time when you start planning your meals.
When you plan your meals, then you can make sure all your ingredients make it onto the list. Getting everything put on this printable meal planner in advance saves you time in the grocery store. Wandering also costs more money. The more time you spend in the grocery store, the more things that end up in your grocery cart. You inevitably end up with things you don't really need, am I right? Costing you more money and probably increasing your waistline lol. Studies show the more time you spend in a grocery store, the more likely you are to purchase junk foods.
Time is a precious commodity. When you have your meals planned out for the week, you can plan your prep. So you don't spend longer in the kitchen than necessary. If you know that three meals require onions you can chop them in advance. It might not seem like a big deal until you're in a rush to put dinner on the table, then you'll be thankful you planned ahead. This printable meal planner is amazing at simplifying your life, saving you time and money and keeping you stress free!
More printable ideas you might like:
Planning also reduces the great, "what are we doing for dinner," question. How many times do you stand in front of the fridge but draw a blank on what to cook for dinner? With a weekly menu planner you won't ever wonder what is for dinner again, but you will have it all ready to go.
No one wants to cook every night! You can plan a few nights a week in your menu to use up all the leftovers. Reducing your food waste and saving some money in the process. No more cooking seven nights a week means you can save on buying food.
Prioritizing your meal planning will allow you to save time and money, and we can all use more of both. Print out this menu planner and start doing both! The planner is free for my craft & recipe email subscribers but you can also purchase it from here if you don't want to join my newsletter. Join my craft newsletter here
or join my recipe newsletter here
Pin to save for later