Printable cleaning schedule
Article may contain Amazon & affiliate links. As an Amazon Associate I earn from qualifying purchases at no additional cost to you.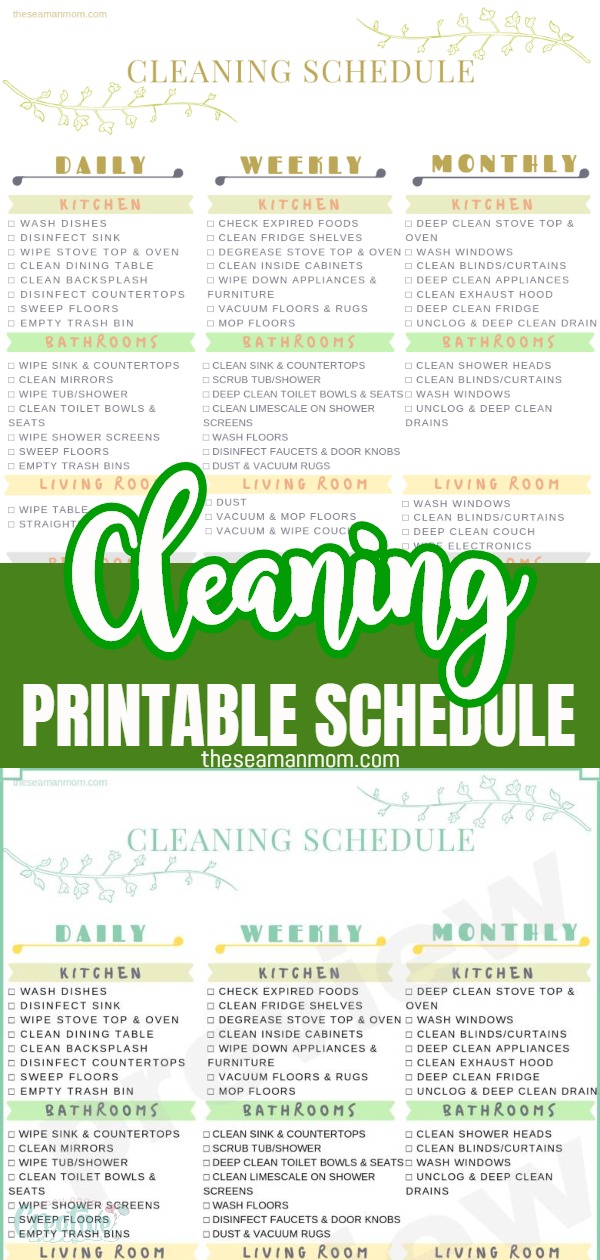 Keeping a clean home is more difficult than you expected? This handy dandy printable cleaning schedule helps you stay on track and keep our home neat and tidy all the time! Here's how to make your home sparkle with this cleaning schedule printable that covers all daily, weekly and monthly chores!
Printable cleaning schedule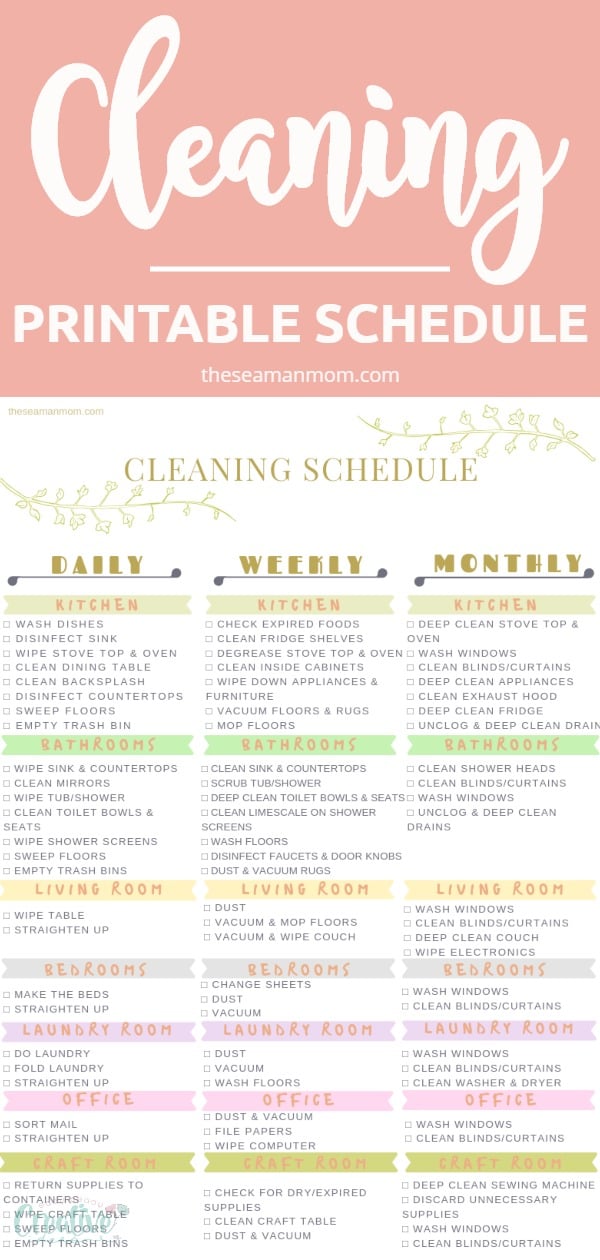 Cleaning the house is not a hard task for me! In fact keeping my house clean is one of the things in life I truly enjoy and helps me relax and feel happy! I'm sure there are a few of you who feel the same! But for those who don't, I made a printable cleaning schedule to help you go through all those dreadful tasks easier, faster and in a much more productive way than before!
Having a cleaning calendar in place is always recommended, rather than trying to clean the house chaotically, without any plans in mind. I have almost 30 years experience with cleaning and I admit, my first years have been very stressful, until I implemented a cleaning checklist. Fair enough, my house cleaning schedule has suffered numerous alterations to adjust to every house I lived in but ultimately, they all come down to a few basic tasks, highlighted in this present printable cleaning schedule.
Want more cleaning ideas?
Keeping this simple and easy to follow printable cleaning checklist on hand, will make daily, weekly and monthly cleaning such a breeze! My printable cleaning schedule is broken down into daily tasks, daily tasks and monthly tasks and has a small checkbox on the left of each tasks. This way you'll go faster through each task and you'll be sure none of these is skipped by mistake; plus staying organized like this will save you lots of time in a day.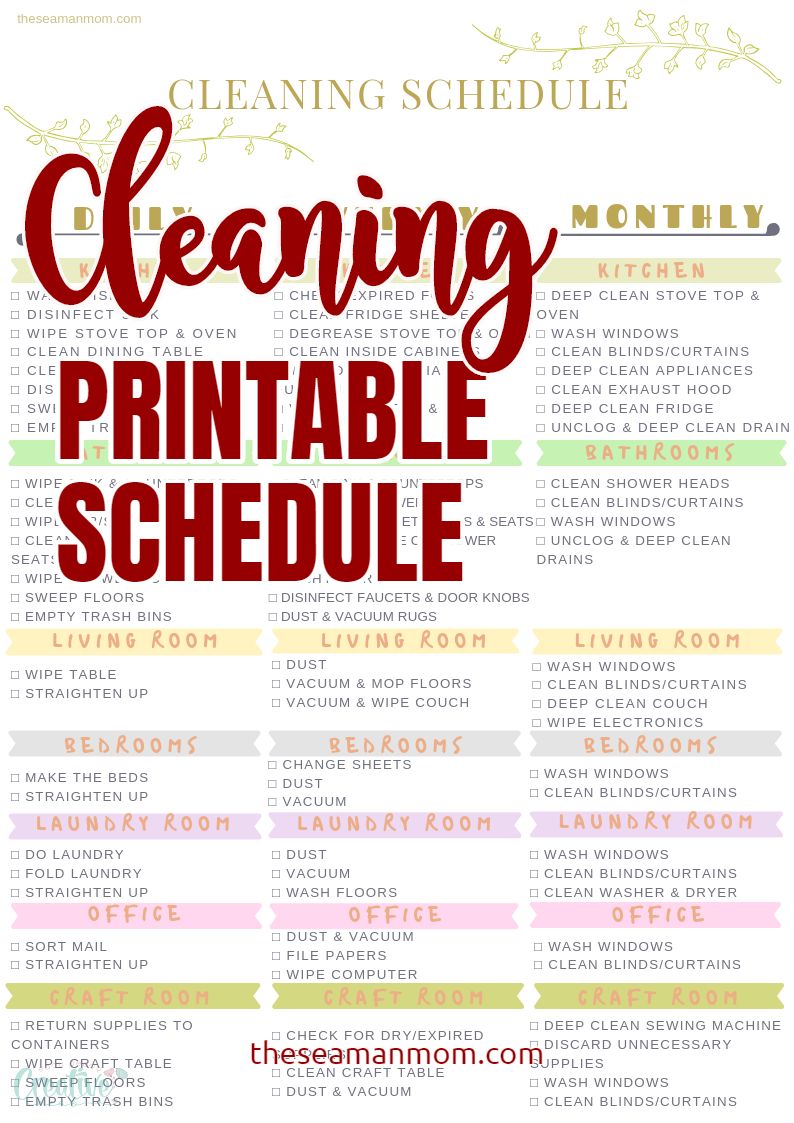 Cleaning a home sparkling clean is not a task you can do in just one day, you need to break cleaning tasks up. Each of the daily tasks in this printable house cleaning checklist will repeat weekly, together with the weekly tasks and monthly, together with the monthly tasks. The weekly tasks will also repeat monthly, when you go though the monthly ones.
Sticking to this awesome cleaning schedule helps me stay on track and when the spring cleaning happens, most of the cleaning is done so everything is a lot smoother! I do all the daily tasks in the evening, before going to bed, the weekly tasks on Monday morning and the monthly tasks are done throughout the whole Monday.
The printable cleaning schedule comes in three different colors and the files are available to purchase here!
Cleaning schedule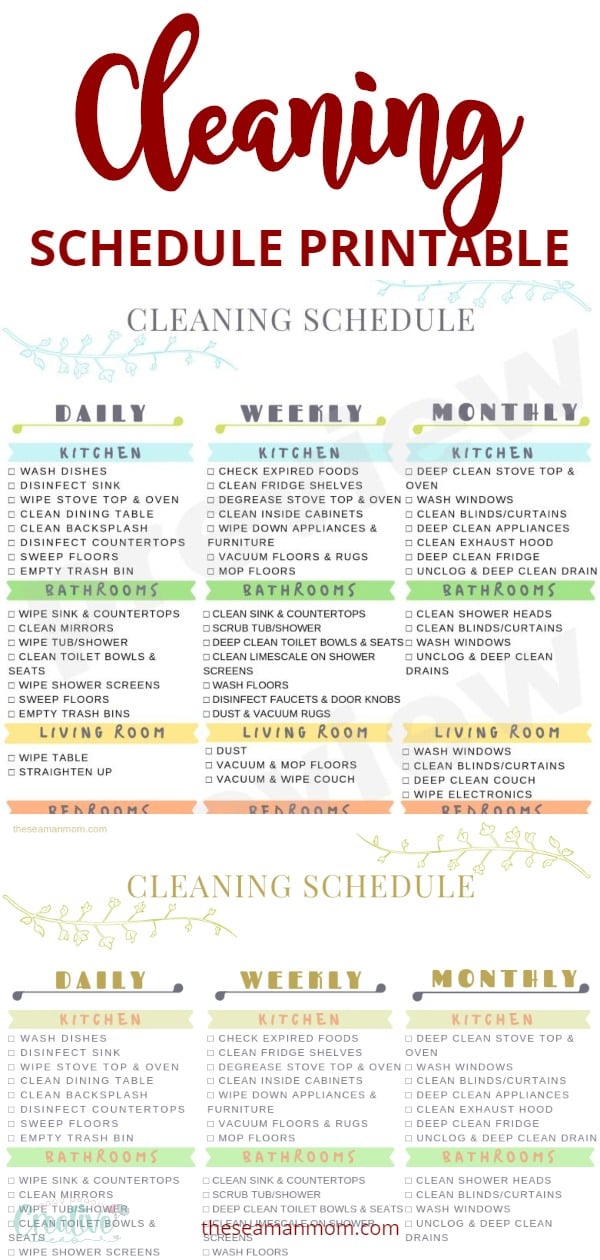 Daily cleaning schedule
The daily schedule includes basic tasks you need to keep your home tidy and organized. You will not need to spend hours cleaning your house. These weekly tasks will not make your home sparkling clean but will help it look less like a huge, unmanageable mess.
Until recently, I used to just sweep the floors on a daily task and do the deep vacuuming weekly. But I just purchase one of those super cool vacuuming robots a couple of weeks ago and instead of sweeping the floors I just let this little guy do all the job! It's been super great at saving me time and effort and makes weekly vacuuming almost gone. This amazing robot takes away all the dust on the floors on a daily basis so I only have to do some light vacuuming once a week, for the few spots the robot cannot reach or may have missed because they were too big to handle (like the super fluffy rug in our living room).
Kitchen:
wash dishes
disinfect sink
wipe stove top and oven
clean dining table
clean backsplash
disinfect countertops
sweep floors or use a robot vacuum cleaner
empty trash bin
Bathrooms:
wipe sink & countertops
clean mirrors
wipe tub/shower
clean toilet bowls & seats
wipe shower screens
sweep floors
empty trash bins
Living room:
Bedrooms:
make the beds
straighten up
Laundry room:
do laundry
fold yesterday's laundry
straighten up
Office:
Craft/sewing room:
return supplies to containers
wipe craft/sewing table
sweep floors
empty trash bin
Weekly cleaning schedule
As I mentioned, I like to do all weekly tasks in one day and they usually take me about half a day. Fair enough, my house decor is pretty minimal so I don't have a ton of cleaning to do. If you find it easier, you can break down these tasks over a couple of days. Keep your cleaning schedule on hand, like on the fridge so you can easily check it.
Kitchen:
check for expired foods in the fridge and pantry
clean fridge shelves
degrease stove top & oven
clean inside cabinets
wipe down appliances and furniture
vacuum floors and rugs
mop floors
Bathrooms:
clean sink and countertops
scrub tub/shower
deep clean toilet bowls and seats
clean limescale on shower screens
wash floors
disinfect faucets & door knobs
dust and vacuum rugs
Living room:
dust
vacuum & mop floors
vacuum & wipe couch
Bedrooms:
change sheets
dust
vacuum
Laundry room:
Office:
dust & vacuum
file papers
wipe computer
Craft room:
check for dry/expired supplies
clean craft table
dust & vacuum
Monthly cleaning schedule
My monthly cleaning includes the "heavy duty" stuff and it usually takes me a whole day to go through all these, sometimes until late at night. It's not quite spring cleaning but I feel like it's pretty close!
Kitchen:
deep clean stove top & oven
wash windows
deep clean appliances
clean exhaust hood
deep clean fridge
unclog & deep clean drain
Bathrooms:
clean shower heads
wash windows
unclog & deep clean drains
Living room:
wash windows
deep clean couch
wipe electronics
Bedrooms:
wash windows
clean blinds/curtains
Laundry room:
wash windows
clean blinds/curtains
clean washer & dryer
Office:
wash windows
clean blinds/curtains
Craft room:
deep clean sewing machine
discard unnecessary supplies (such as broken tools, fabric scraps that are too small etc)
wash windows
clean blinds/curtains
Pin to save for later