Article may contain Amazon & affiliate links. As an Amazon Associate I earn from qualifying purchases at no additional cost to you.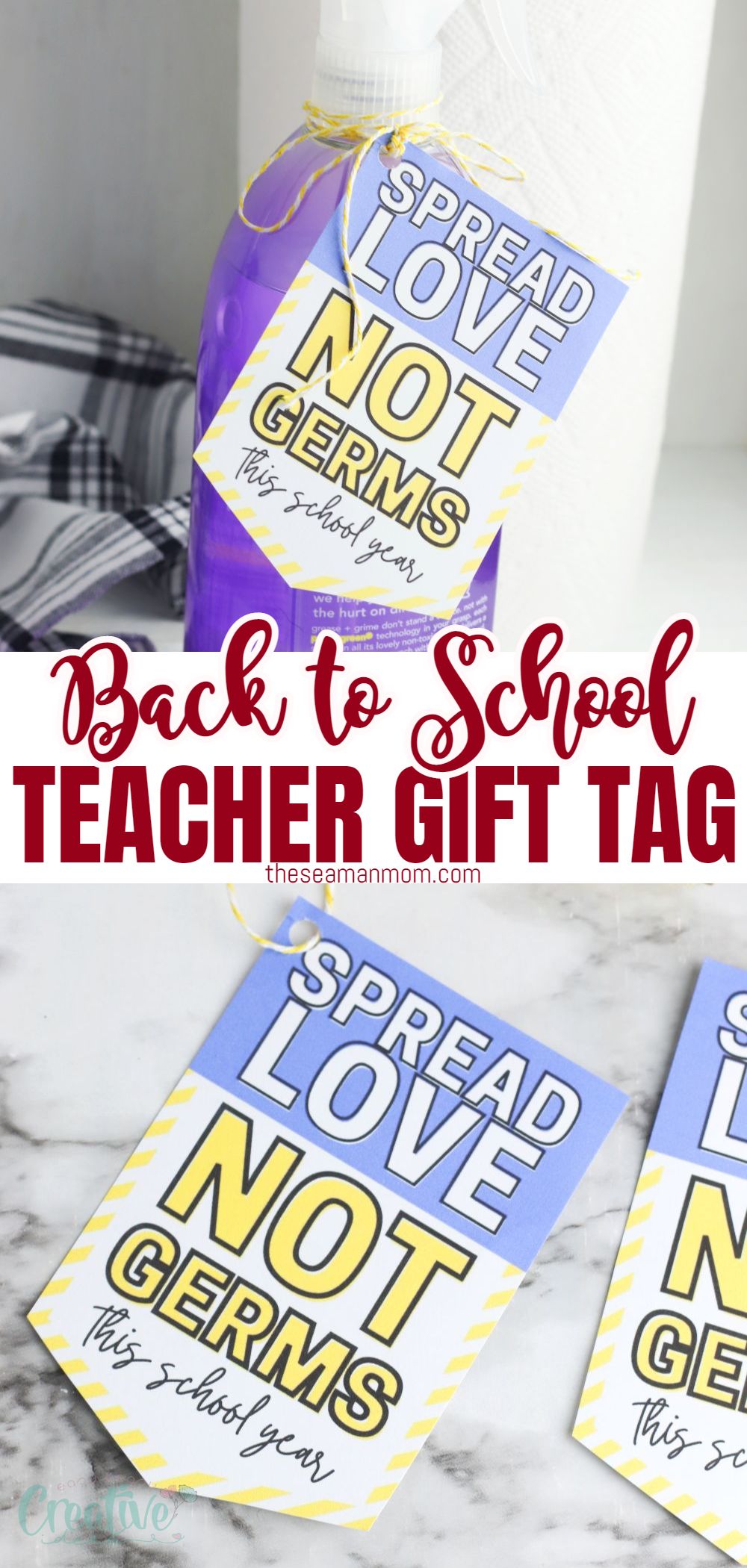 What better way to start the school year than helping your child's teacher keep the classroom clean? This helpful teacher appreciation tag is perfect for cleaning supplies and a useful present any teacher would love to receive!
Teacher appreciation tag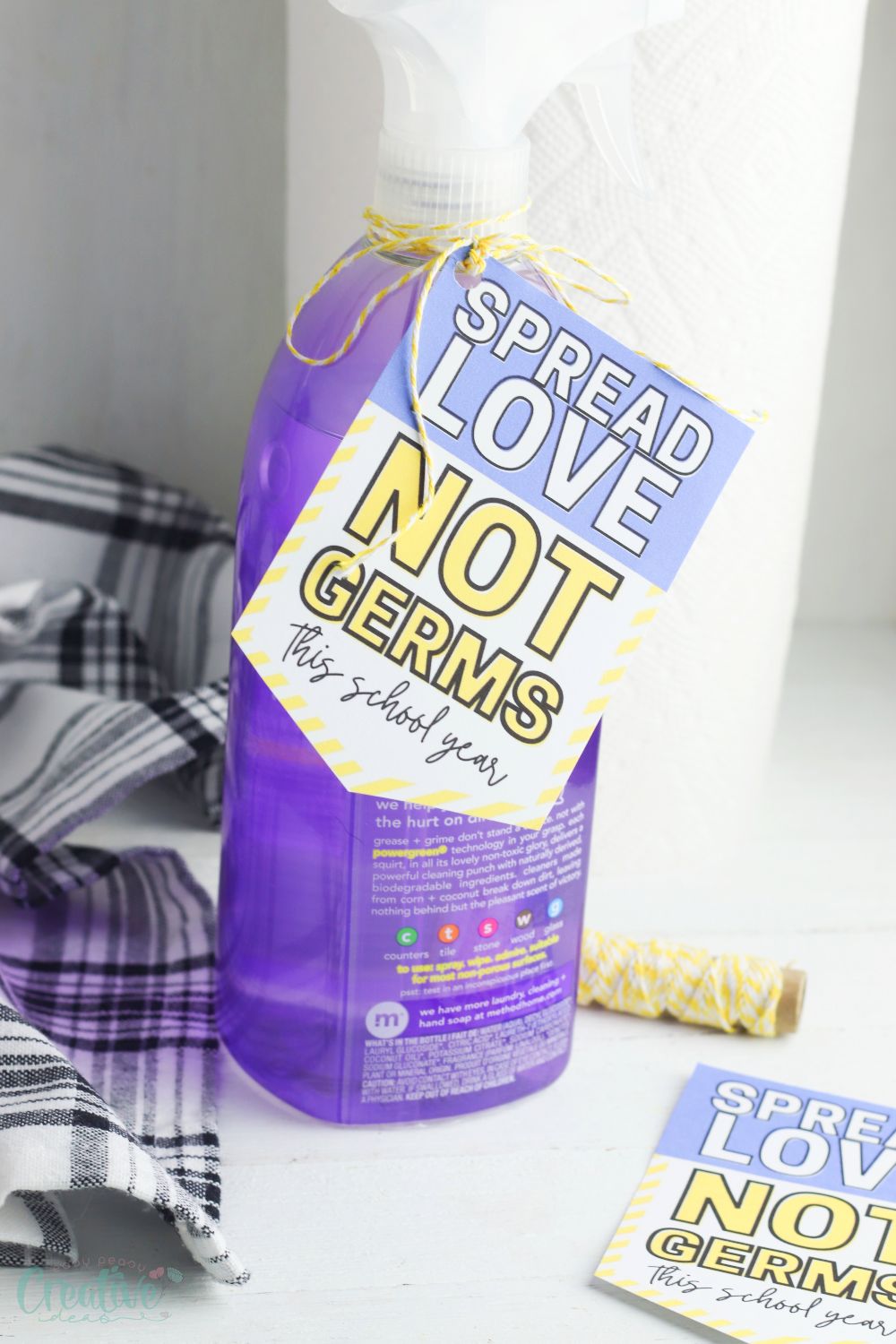 The first day of school will be here before we know it! Why not kick the start of the school year off right by showing your kids' teachers how much you care? With the help of a teacher appreciation tag, you can show your admiration and support at the start of the school year!
What Do Teachers Really Want for back to school teacher gifts?
When you're trying to come up with a good idea for a teacher gift, you probably wonder what a teacher really wants to receive. I'm sure teachers get countless gifts from their students, so finding the perfect gift is essential. When it comes to giving gifts to teachers, try to stick to these simple gift ideas:
Classroom supplies. Teachers often spend their own money on supplies for the classroom, so getting them as gifts is a great way to help them out! Supplies like pens, markers, and notebooks are perfect for back to school.
Decorations for the classroom. Help your child's teacher decorate their room by giving them gifts like bulletin board decorations or posters for the walls.
Useful everyday items. Think about things your kid's teacher uses in the classroom every day, like cleaning supplies and paper products. Those items make great gift ideas!
Gift cards. When all else fails, a gift card to the teacher's favorite store or restaurant is a great way to show your appreciation!
Other printable ideas you will love: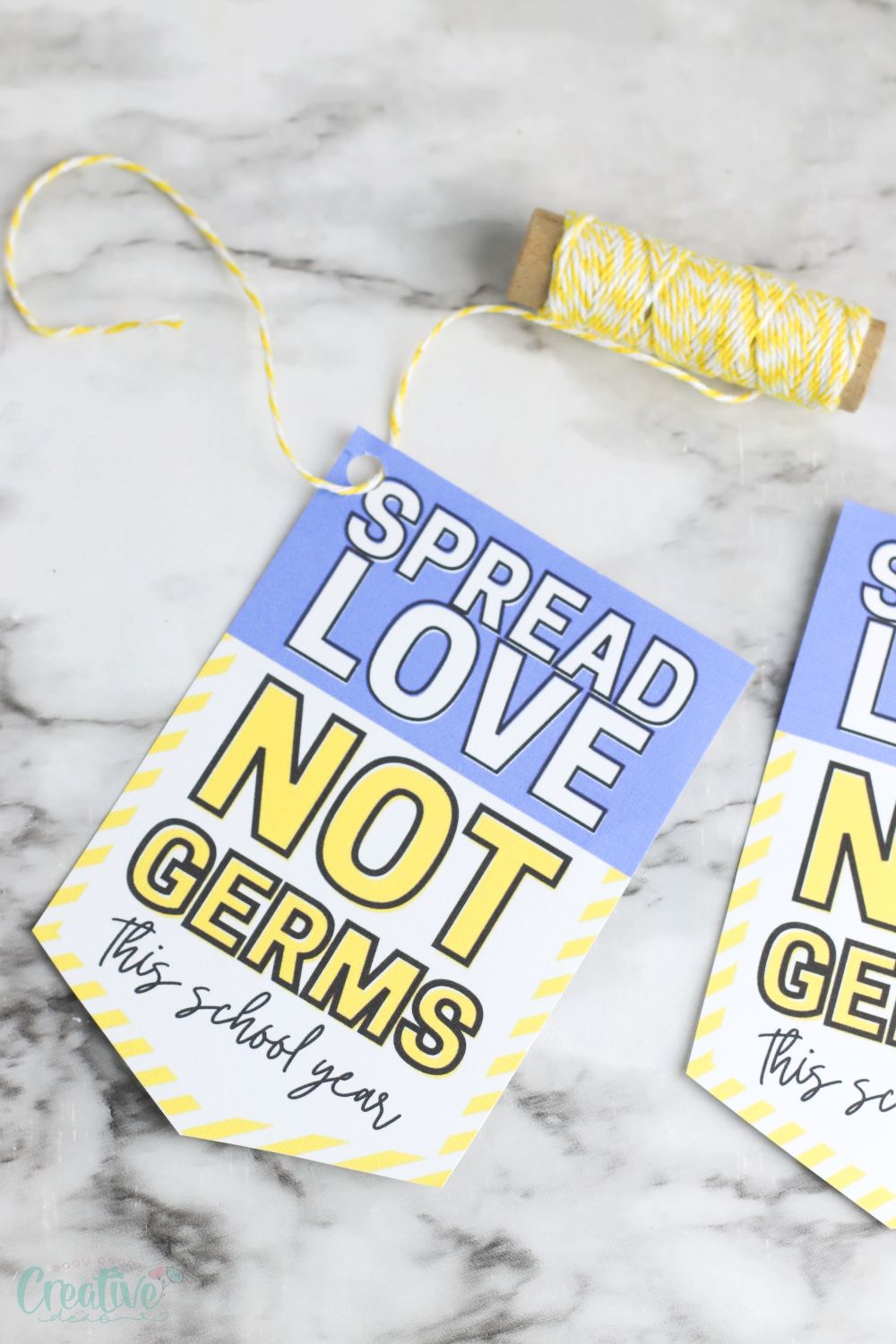 Cleaning Supply Teacher Gift tag
Giving a useful gift to your child's teacher on the first day of school is a great way to kick off the new school year. What's so great about this gift idea is that it's practical and thoughtful at the same time. And it only takes five minutes to make!
But the best part about this gift idea is that it's so versatile. Just grab my free teacher appreciation printable tag and attach it to cleaning supplies. You can pick the cleaning supplies you want to give because this tag can be used interchangeably among a variety of different items.
That means you can use your child's teacher as inspiration for the gift you give them. Just check your child's school supply list to see if their teacher recommends certain cleaning supplies for use in their classroom. You can then just purchase an extra container to give as a gift.
What kind of cleaning supplies can I use?
If your kid's teacher doesn't have cleaning supplies on their list, don't worry! You can be sure that they'll need all the cleaning solutions they can get at the start of the school year. Consider gifting one of these cleaning supplies to your child's teacher:
All-purpose cleaner. Make sure your kid's teacher can clean up any mess in the classroom with the help of an all-purpose cleaning solution.
Cleaning wipes. With the help of cleaning wipes, your kid's teacher can easily clean up messes or let the kids in the classroom help with daily clean-up.
All natural cleaning solution. Keep the chemicals out of your child's classroom this year by giving the gift of an all-natural cleaning solution.
Homemade cleaner. Another great way to avoid giving a chemical-filled cleaner to your child's teacher is to make your favorite homemade cleaning solution.
Disinfectant spray. Keep the germs out of the classroom by giving your kid's teacher a bottle of disinfectant spray as a gift at the beginning of the school year.
Hand sanitizer. A bottle of hand sanitizer is a much-needed item for teachers, making it a great gift option for back to school season.
Paper products. Cleaning solution isn't the only supply your kid's teacher will need to keep the class germ-free. Paper products, like tissues and paper towels, are also great gift ideas.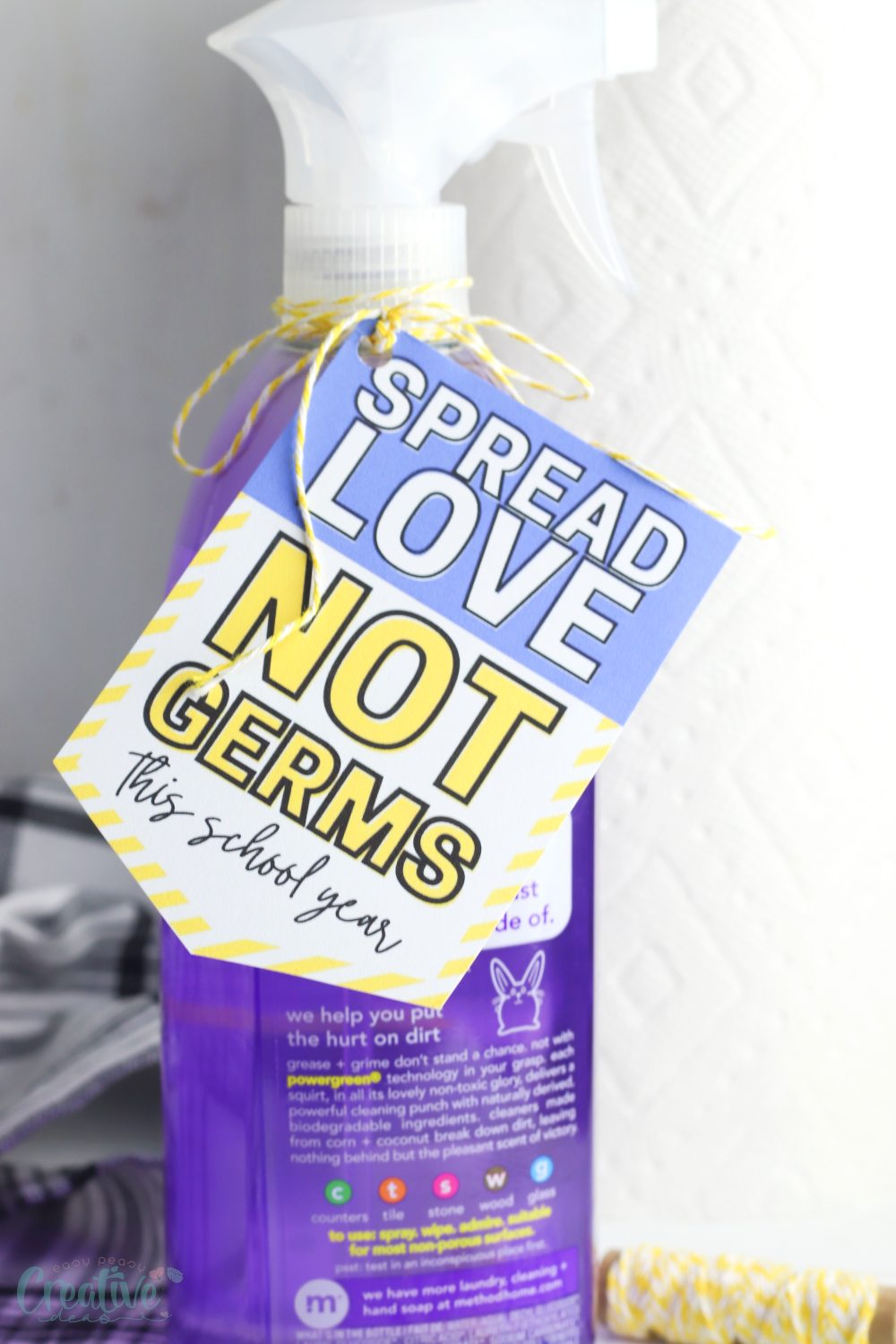 Cleaning Supply Gift Packaging
Once you have decided which cleaning supplies you're going to give your child's teacher, it's time to start dressing them up! Make your back to school gift look amazing with these packaging ideas:
Decorate with ribbon. One of the best ways to dress up a plain gift is with the help of ribbon. Use ribbon that coordinates with the color of your gift tag or the product's packaging to quickly and easily dress up a plain gift.
Create a cleaning bundle. If you can't decide on just one cleaning supply, grab a couple and bundle them together. Set the supplies on a flat surface and wrap a long piece of ribbon around the bundle. Secure the ribbon with a knot, then tie the tag on with a bow. To keep the ribbon from slipping down the bottles, place a piece of clear tape on the bag to hold it in place.
Make a gift basket. Instead of giving just one cleaning supply to your kid's teacher, why not create a whole gift basket? Grab a useful container, like a bucket or decorative basket, then fill it with a variety of useful cleaning supplies. Wrap a colorful ribbon around the container and attach your gift tag to finish decorating the gift basket.
Cleaning Supply Teacher Gift Supplies:
Ribbon or twine
Cleaning supplies
Instructions to make your teacher appreciation gift tag:
Print out the gift tag on cardstock.
Cut out the tag around the outer border.
Punch a hole in the corner of the tag.
Attach the tag to the top of the cleaning supplies with the ribbon.
Pin to save for later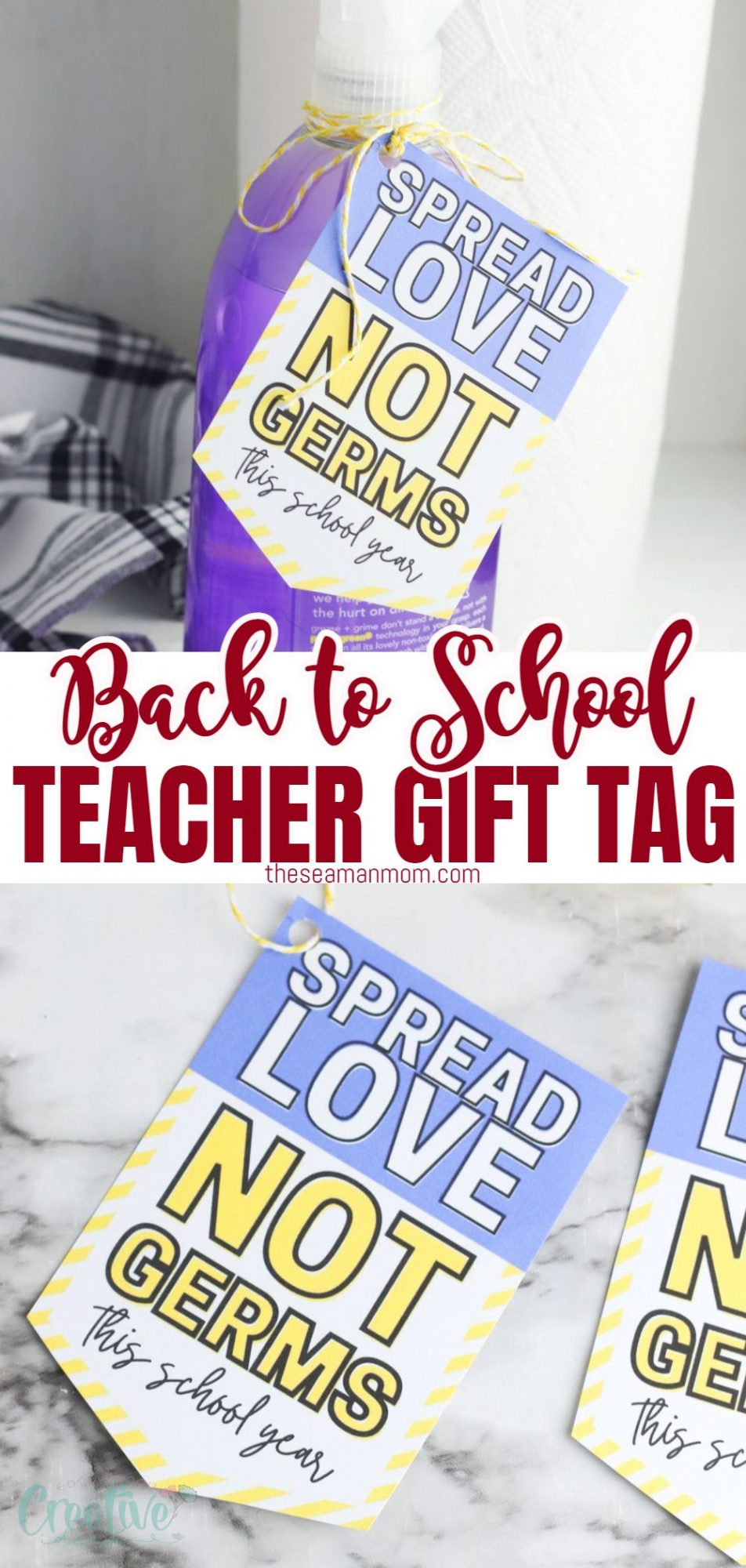 Print the craft card
Printable Teacher appreciation tag
This helpful teacher appreciation tag is perfect for cleaning supplies and a useful present any teacher would love to receive!
Instructions
Print out the gift tag on cardstock. Cut out the tag around the outer border.

Punch a hole in the corner of the tag and insert the ribbon or twine.

Attach the tag to the top of the cleaning supplies with the ribbon