Wonderful fun Kids Printable Pack to Encourage Creativity – plus a BONUS
Article may contain Amazon & affiliate links. As an Amazon Associate I earn from qualifying purchases at no additional cost to you.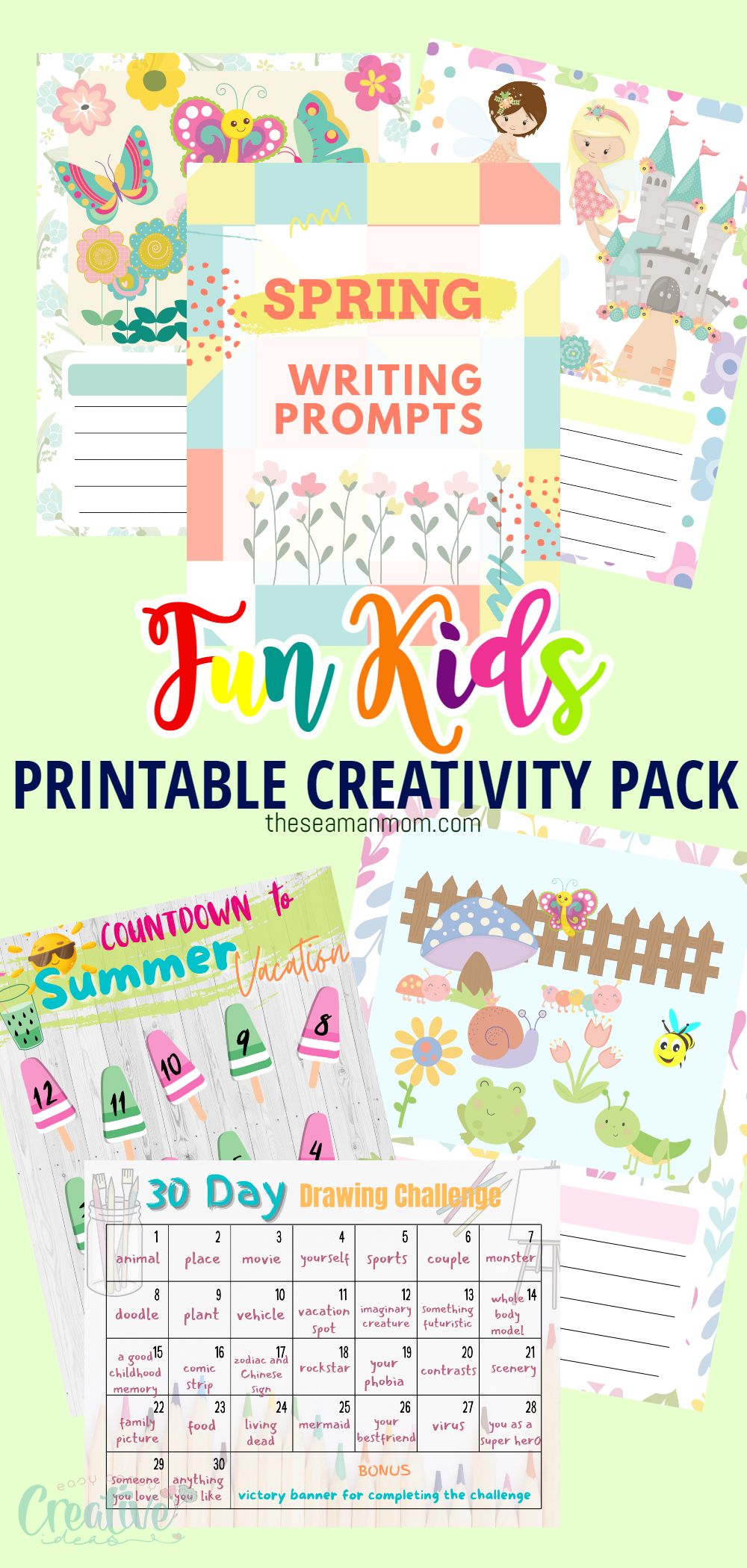 Whether you're hoping to provide them with some educational fun on a rainy spring day or need to help your kids cool down on a hot summer afternoon, it's always a good idea to have some indoor activities on hand. These fun printables for kids encourage creativity and keep the kids busy during school breaks.
Printables for kids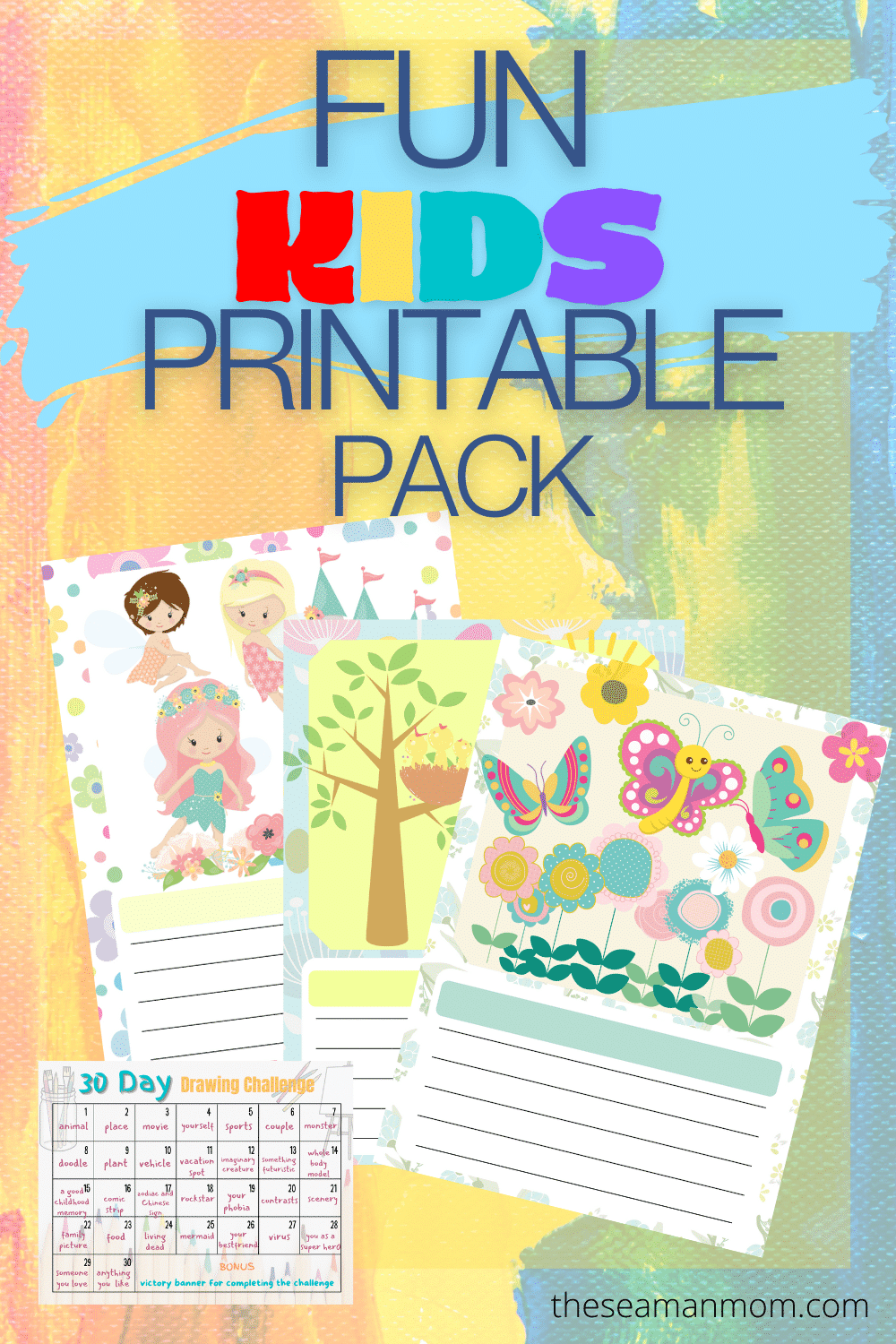 Keeping your kids entertained during the spring and summer months is sometimes easier said than done. With the help of a fun pack with printables for kids, you can give your little ones some ideas for creative fun without the need for toys or screens.
Coming up with ways to keep your kids occupied without the need for a device or television screen can be difficult when they're at home all the time. Using a kids printable pack, you can encourage a little bit of creative fun that will not only keep them engaged and entertained, but it will also give them a chance to practice a new skill.
Have you seen these fun printables yet?
Kids printables Pack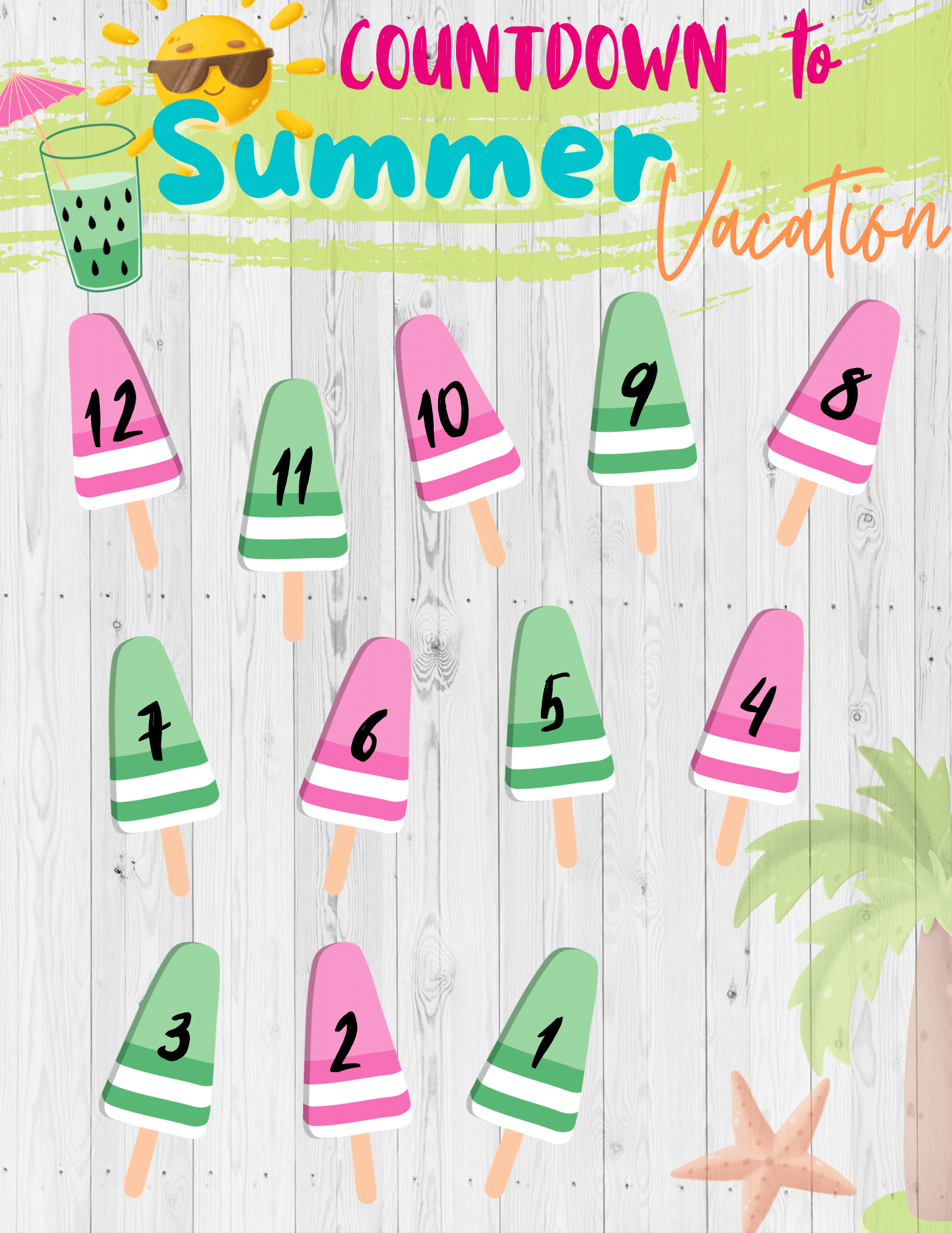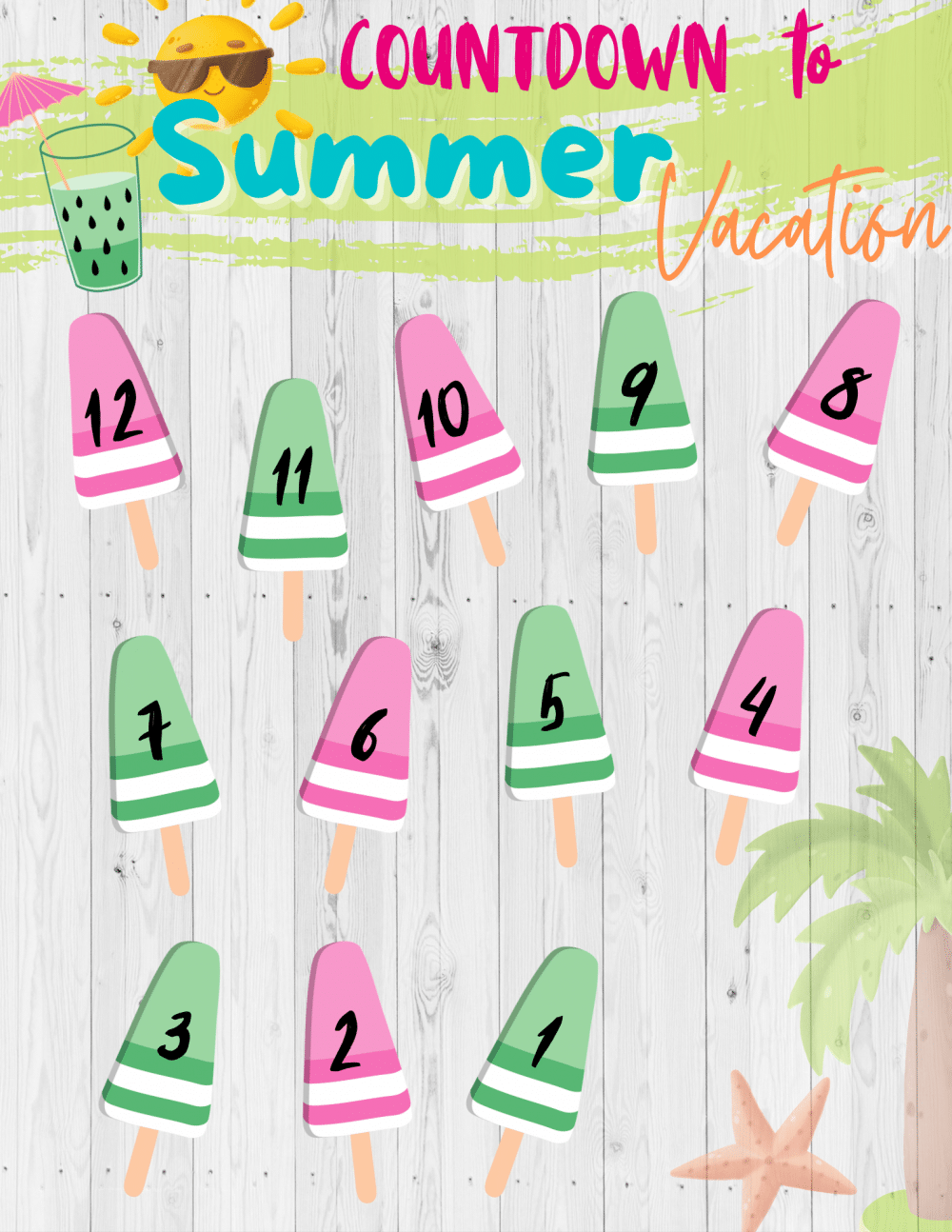 This pack of fun printable activities for kids comes with two unique activities that can give your kids a chance to flex their creative muscles and practice their writing and drawing skills. Plus a little bonus. The pack includes:
Writing prompts. Giving your kids writing prompts is a fun way to help them get started with creative writing. Using the prompt can allow your kid to come up with a journal entry, write a fun story, or put together a cute poem based on the prompt's picture.
Drawing prompts. Another great way for your kids to have creative fun is drawing. Using drawing prompts will give your child some unique ideas for their artwork. The open ended ideas on the 30 day drawing challenge printable will inspire creative thinking and let your child express themselves through art every day for an entire month.
Bonus – Summer countdown printable
Writing Prompts for Kids
When you're searching for a good creative outlet for your kids, writing prompts are the perfect choice. They give your kids a chance to express themselves through writing by prompting them to think creatively. Writing prompts can come in the form of written or visual prompts, allowing your kids to use the prompt as inspiration for their writing.
To use the downloadable kids writing prompts, simply ask your child to write a story, poem, or song based on the prompt's picture. Each picture features a spring or summer theme, giving your kids a chance to use the season as a springboard for creativity. The printable pack comes with six visual writing prompts and a spot for your child to write. The prompts include one instructions page as well as:
Tree with birds in a nest
Flower garden with bugs and a frog
Flowers and butterflies
Children playing outside
Kids making friends
Fairies and a castle
You can use these writing prompts in a variety of ways. Whether you're hoping to encourage journaling with your kids or just want to provide them with creative writing exercises, writing prompts are the perfect option.
30 Day Drawing Challenge fun kids printables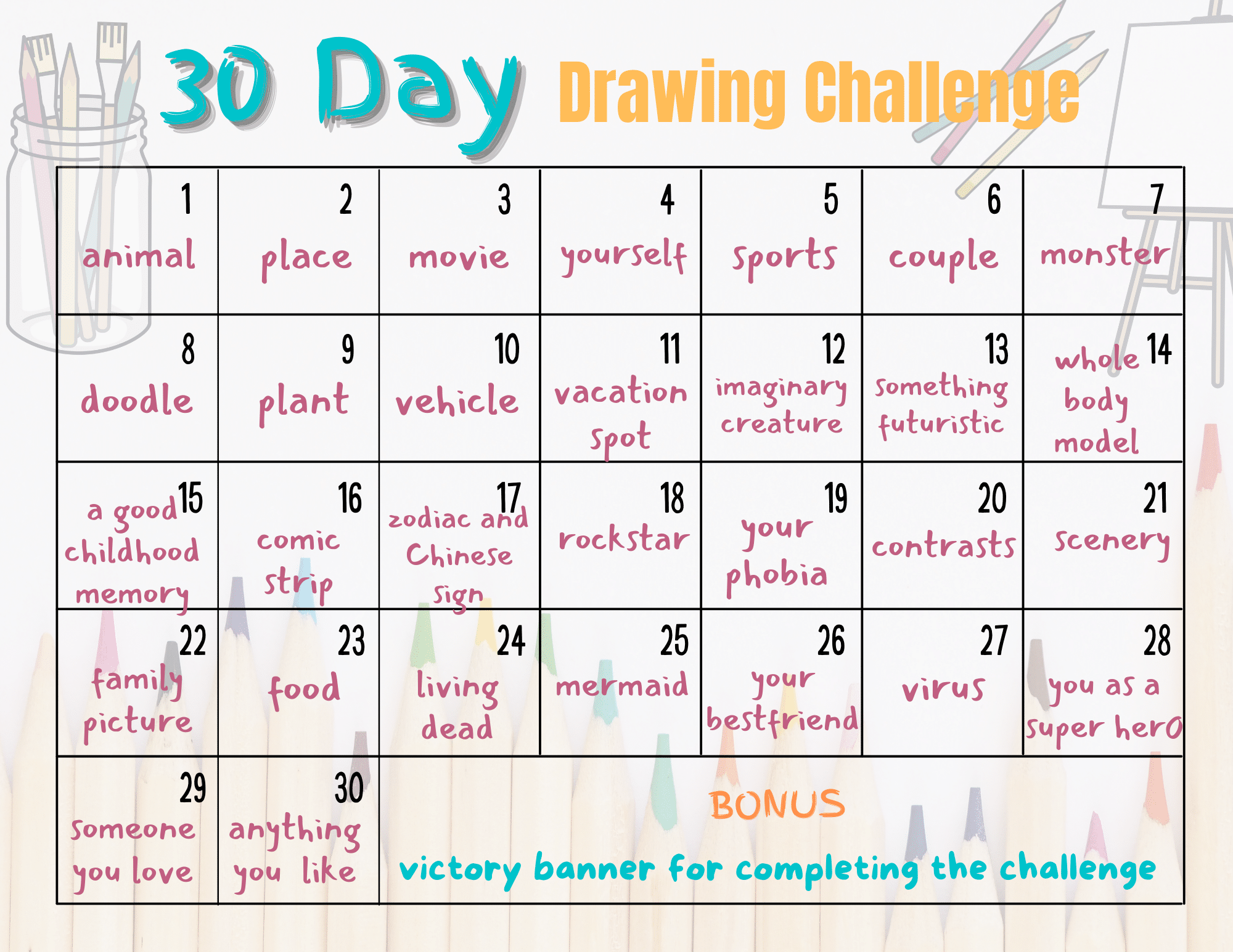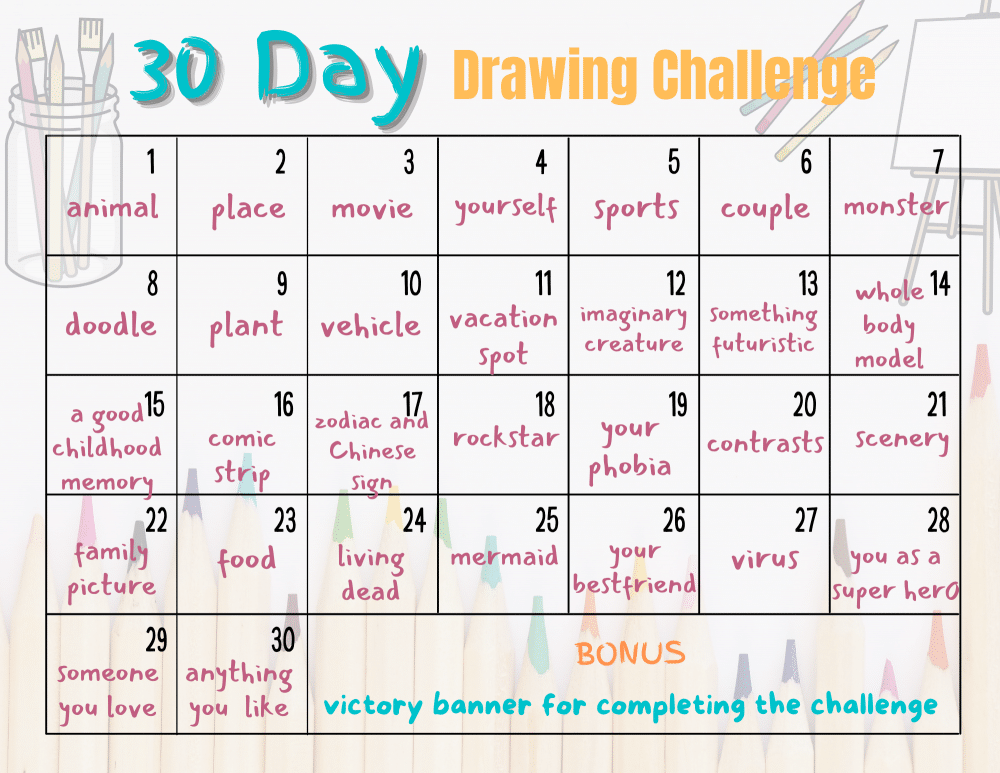 Drawing challenges are another fun way to help your kids get creative. With the help of a 30 day drawing challenge, your kids will have 30 different drawing ideas to help get their juices flowing. Each open-ended prompt will give your child an idea of what to draw, so they can create a new picture each day.
The 30 day drawing challenge is a printable calendar with a drawing idea printed on each day. Use the prompt for that day to give your child an idea of what to draw.
What's in the challenge?
The challenge includes these fun drawing prompts: Animal – Place – Movie – Yourself – Sports – Couple – Monster – Doodle – Plant – Vehicle – Vacation spot – Imaginary creature – Something futuristic – Whole body model – A good childhood memory – Comic strip – Zodiac and Chinese sign – Rockstar – Your phobia – Contrasts – Scenery – Family picture – Food – Living dead – Mermaid – Your best friend – Virus – You as a superhero – Someone you love – Anything you like
How to use the drawing challenge?
Post the drawing challenge in a prominent place in your home, like on your refrigerator. Let your child take a peek at the prompt for the day. Then, supply them with art supplies and paper to let them create their own work of art. In addition to pencils for drawing, you could also supply your child with markers, crayons, or paint to create a full piece of art.
While the prompts are a good place to start, if your child is new to drawing, they may need a little more assistance than just their imagination. If your child seems to be having trouble putting their idea on paper, ask them to tell you what they want to draw. Then, search the internet for an example of the idea to help them visualize the concept as they're drawing.
And when your child is done with their drawing for the day, make sure to display their work proudly. You can create a special spot in your home to display their daily drawings. Or simply hang the drawings on the refrigerator under the drawing challenge prompts. After your child finishes a new drawing, just replace yesterday's artwork with the new paper to keep the space from becoming too cluttered.
Get your printables for kids HERE and don't forget to share the love!
Pin to save for later