Tired of the old pumpkin pie? This pumpkin cake recipe is the perfect treat for fall! Two layers of moist, delicious pumpkin cake, filled with lemon cheese frosting!
Pumpkin Cake Recipe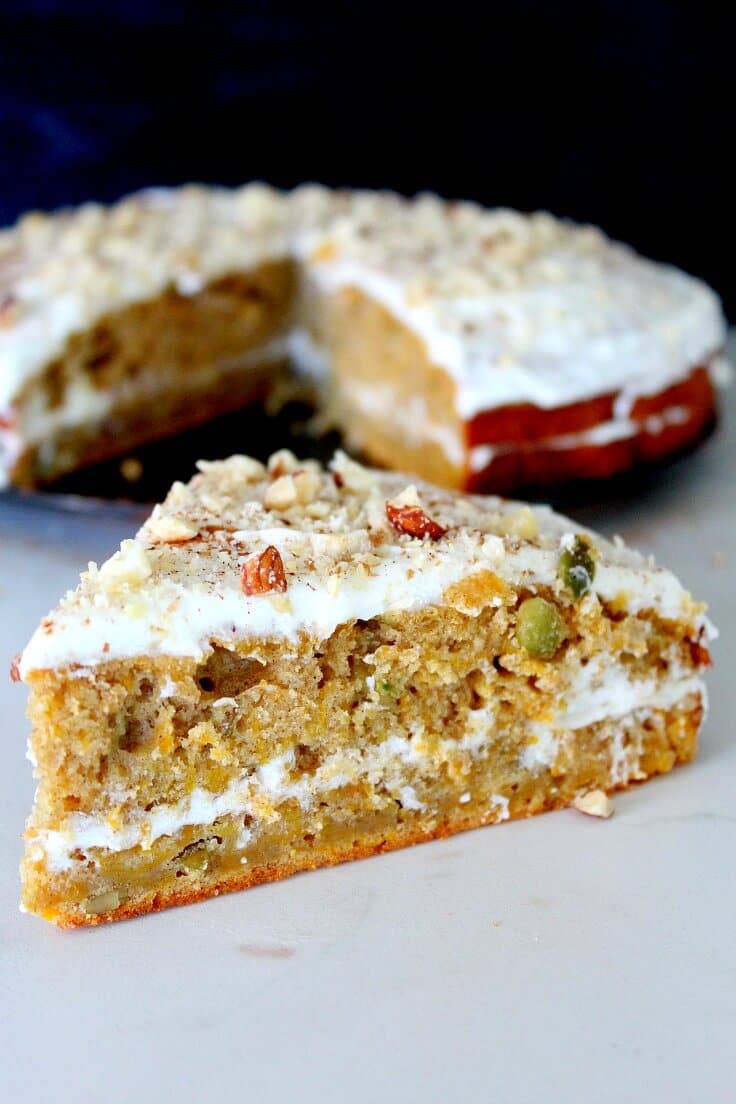 I love anything pumpkin and I would never turn down a slice of pumpkin pie! But how many pumpkin pies one could handle, right? Sometimes enough is enough and when you had enough, it's time for a super delicious pumpkin cake recipe like this one here. Insanely easy to make and tastes just like pumpkin heaven!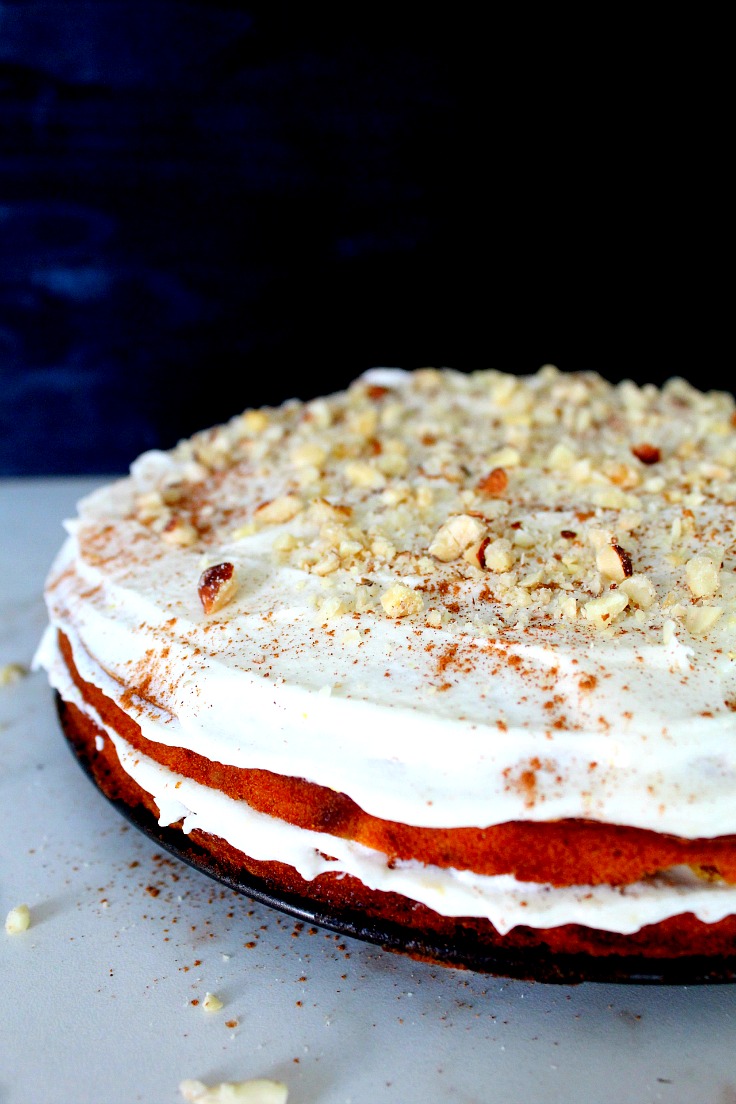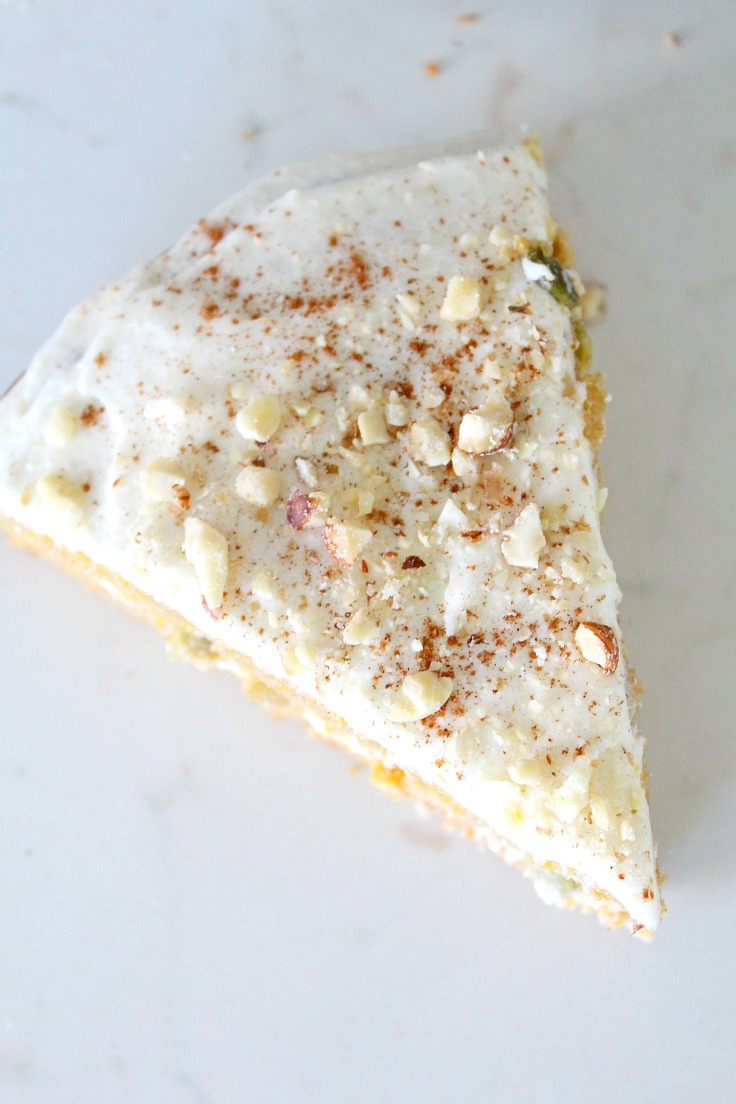 This pumpkin cake recipe is very moist and great for potlucks and the lemon cheese frosting complements it perfectly, making it taste light and refreshing! As I'm a sucker for crunchy, I decided to add some pumpkin seeds to the batter and then sprinkle some ground walnuts on top of the cake. Awesome choice but if you're only after a moist, fluffy cake, skip these two.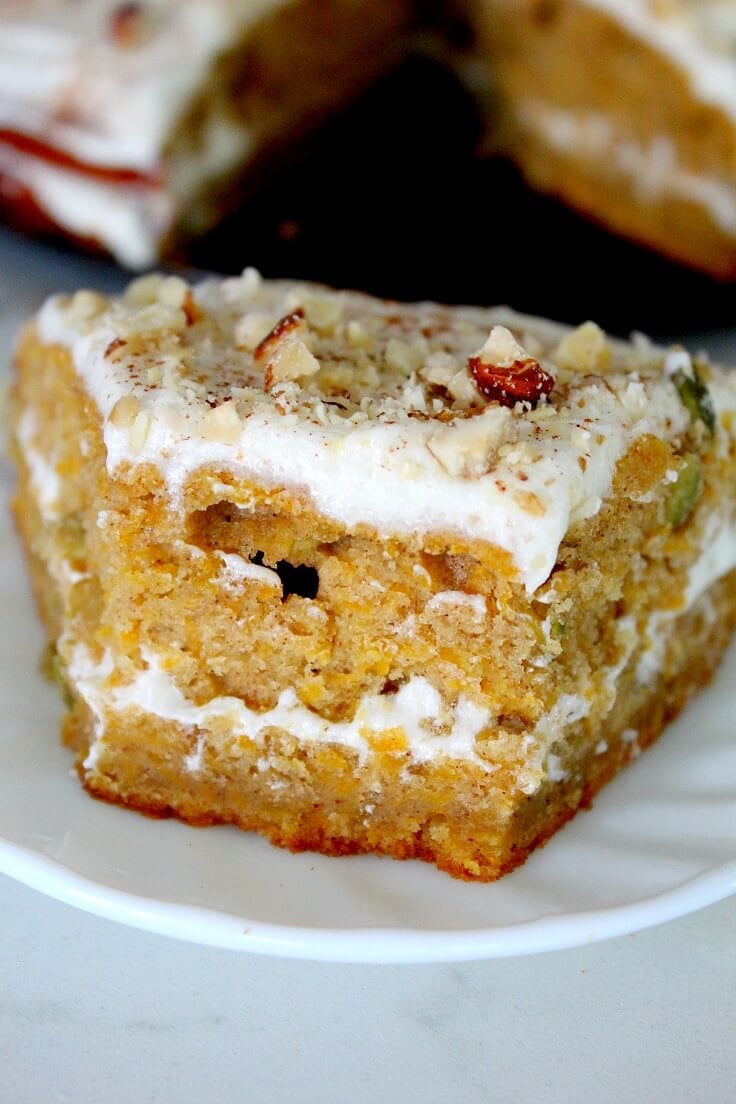 A great change-up from the classic pumpkin pie, this pumpkin cake recipe will soon become a family favorite!
Pumpkin Cake Recipe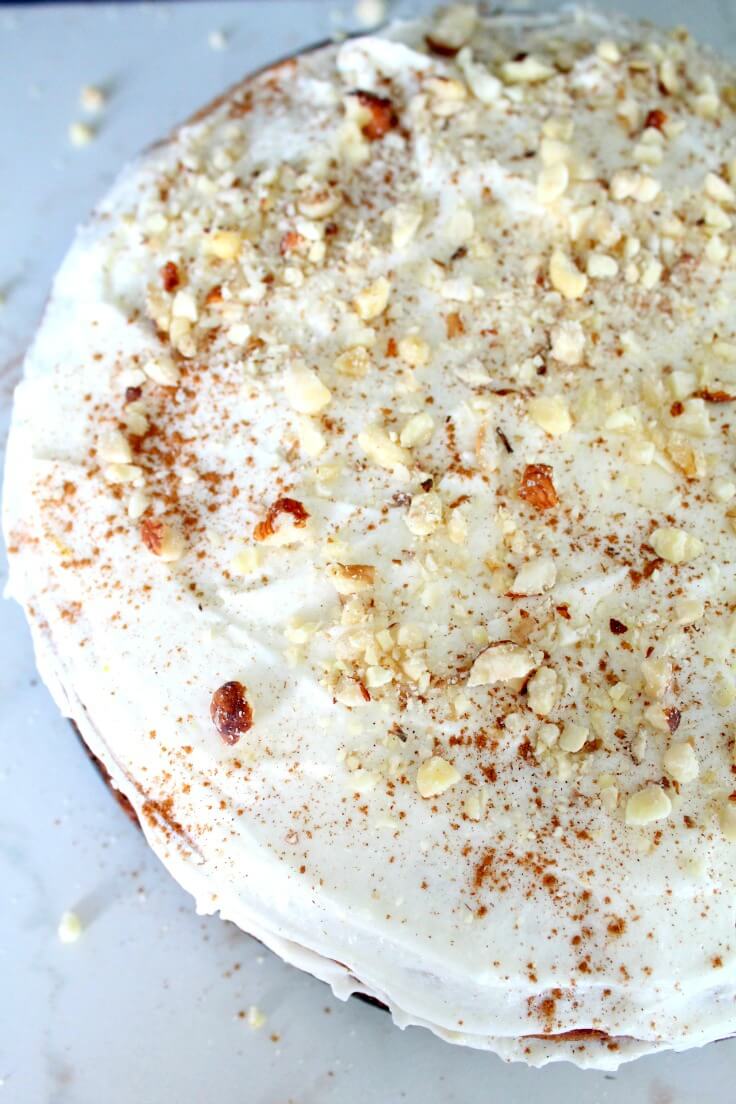 Ingredients:
15 oz fresh pumpkin, grated
2 cups sugar
1 cup vegetable oil
4 large eggs
2 cups all-purpose flour
2 teaspoons baking soda
1 teaspoon ground cinnamon
1/2 teaspoon salt
3 oz cream cheese
5 tablespoons butter, softened
1 teaspoon vanilla extract
1 3/4 cups icing sugar
2 tablespoons lemon zest
3 teaspoons milk
1/2 cup unsalted pumpkin seeds (optional)
ground walnuts for dusting (optional)
cinnamon for dusting (optional)
You will also need:
Directions:
Prepare a round cake pan by greasing and lining with parchment paper.
In a mixing bowl, mix pumpkin, 2 cups white sugar, and oil.
Add eggs and mix well.
In another bowl, combine flour, baking soda, cinnamon and salt.
Add dry ingredients to the pumpkin mixture, and using a hand mixer, beat until well blended.
Add pumpkin seeds and blend well.
Pour batter into a greased round cake pan.
Bake at 350 F = 175 C for 25 to 30 minutes, or until a toothpick comes out clean.
Cool completely
Remove from the cake pan
In a bowl, beat the cream cheese, butter and vanilla until smooth. Gradually add 1 3/4 cups icing sugar, and mix well. Add lemon zest and mix thoroughly. Add milk if needed, until frosting reaches desired consistency.
Cut the cake horizontally, right through the middle.
Add frosting in between layers and on top then sprinkle with ground walnuts and cinnamon.
Keep refrigerated for up to 3 days (you most likely won't have to deal with this issue though, it'll be gone in minutes!)
Pumpkin cake with lemon cheese frosting
Ingredients
15 oz fresh pumpkin, grated
2 cups sugar
1 cup vegetable oil
4 large eggs
2 cups all-purpose flour
2 teaspoons baking soda
1 teaspoon ground cinnamon
1/2 teaspoon salt
3 oz cream cheese
5 tablespoons butter, softened
1 teaspoon vanilla extract
1 3/4 cups icing sugar
2 tablespoons lemon zest
3 teaspoons milk
1/2 cup unsalted pumpkin seeds (optional)
ground walnuts for dusting (optional)
cinnamon for dusting (optional)

You will also need:

2 bowls
hand mixer
spatula
removable bottom, round cake pan (I used a 10" = 26 cm pan)
parchment paper
butter or oil for greasing
Instructions
Prepare a round cake pan by greasing and lining with parchment paper.
In a mixing bowl, mix pumpkin, 2 cups white sugar, and oil.
Add eggs and mix well.
In another bowl, combine flour, baking soda, cinnamon and salt.
Add dry ingredients to the pumpkin mixture, and using a hand mixer, beat until well blended.
Add pumpkin seeds and blend well.
Pour batter into a greased round cake pan.
Bake at 350 F = 175 C for 25 to 30 minutes, or until a toothpick comes out clean.
Cool completely
Remove from the cake pan
In a bowl, beat the cream cheese, butter and vanilla until smooth. Gradually add 1 3/4 cups icing sugar, and mix well. Add lemon zest and mix thoroughly. Add milk if needed, until frosting reaches desired consistency.
Cut the cake horizontally, right through the middle.
Add frosting in between layers and on top then sprinkle with ground walnuts and cinnamon.
Keep refrigerated for up to 3 days (you most likely won't have to deal with this issue though, it'll be gone in minutes!)
https://theseamanmom.com/pumpkin-cake-recipe/


Rice pudding bars with Oreo and pumpkin crust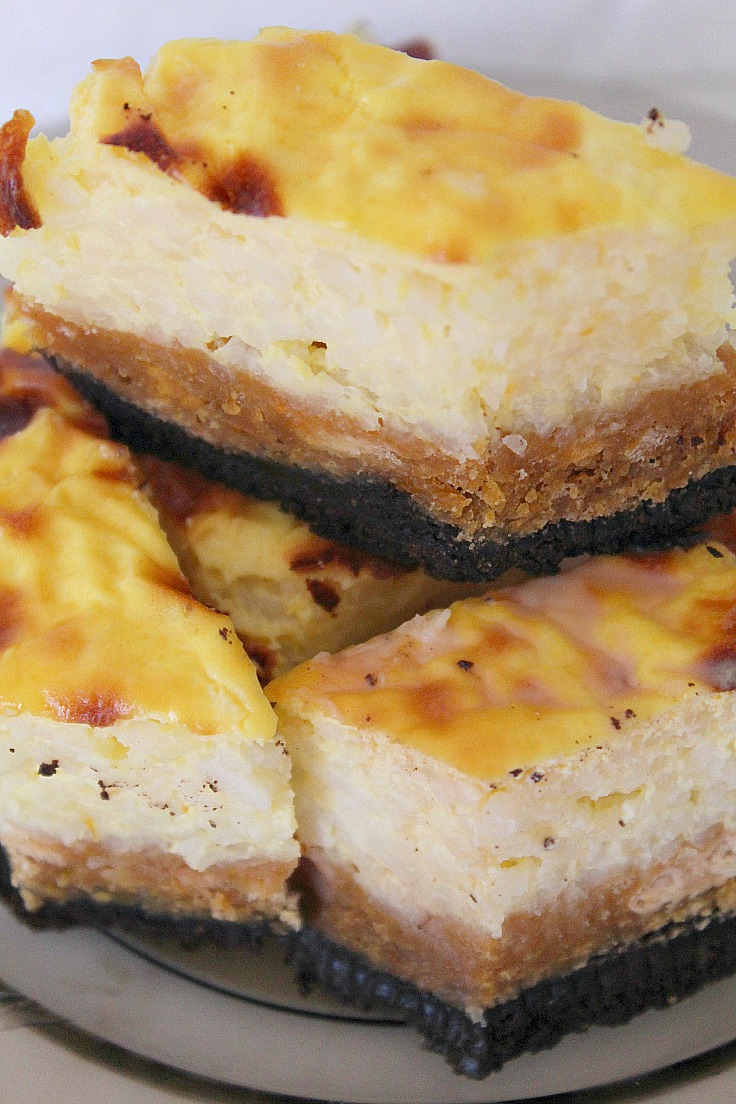 Pumpkin pie with filo pastry