Slow cooker jambalaya with sausage
Article may contain Amazon & affiliate links. As an Amazon Associate I earn from qualifying purchases at no additional cost to you.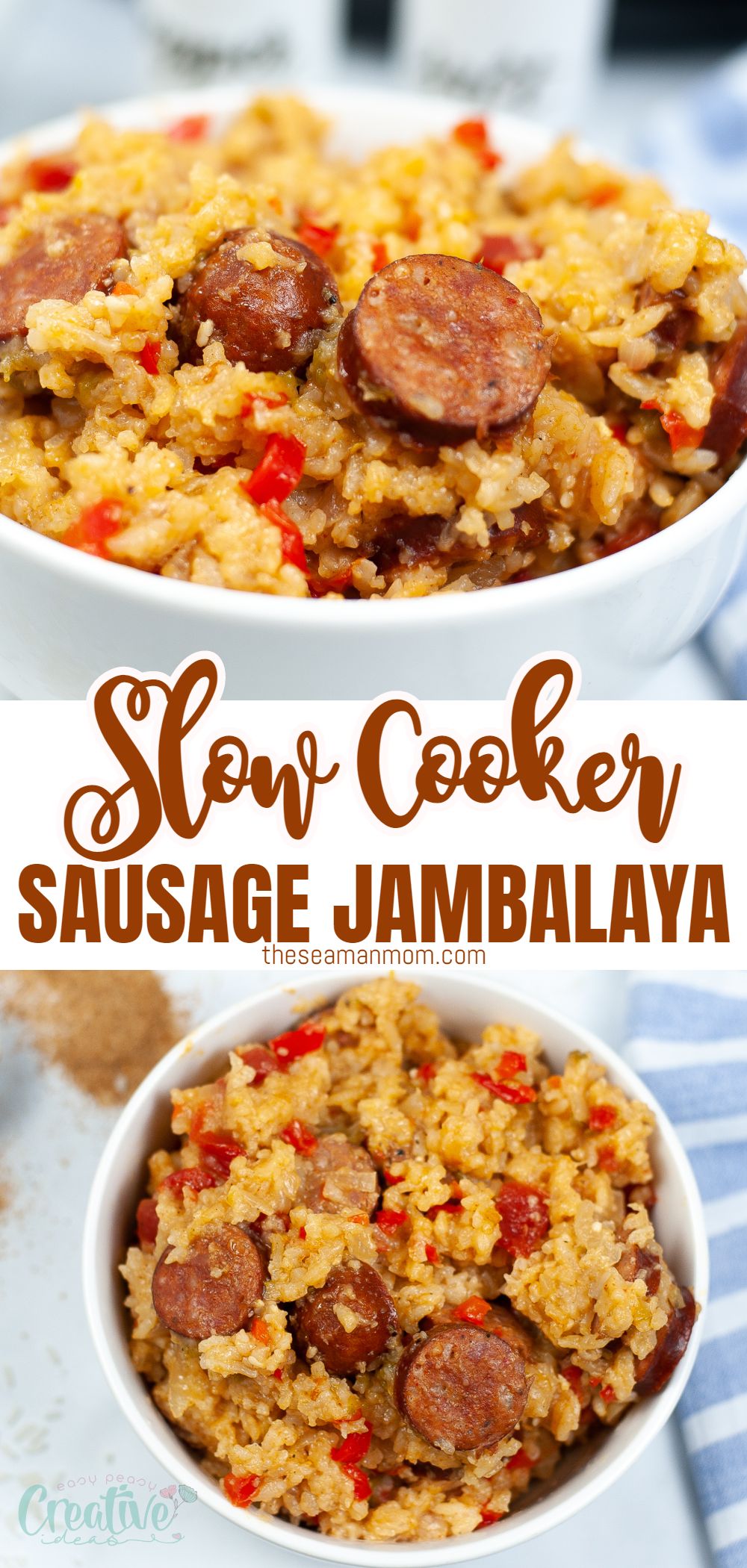 This quick and easy slow cooker jambalaya takes all the hard work out of preparing this classic Cajun dish, ensuring you have an amazing meal on the dinner table tonight with just a few minutes of prep work.
Slow cooker jambalaya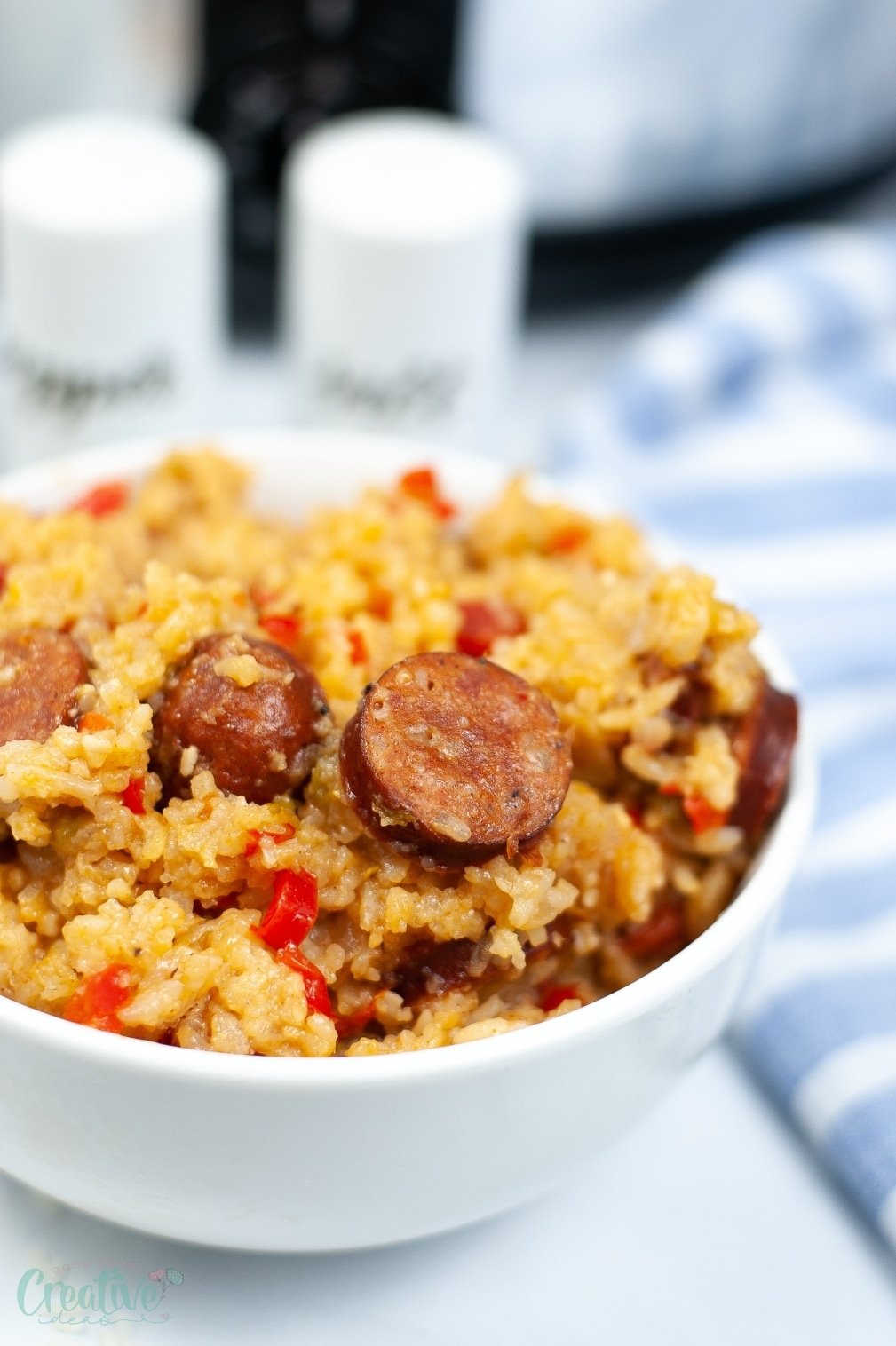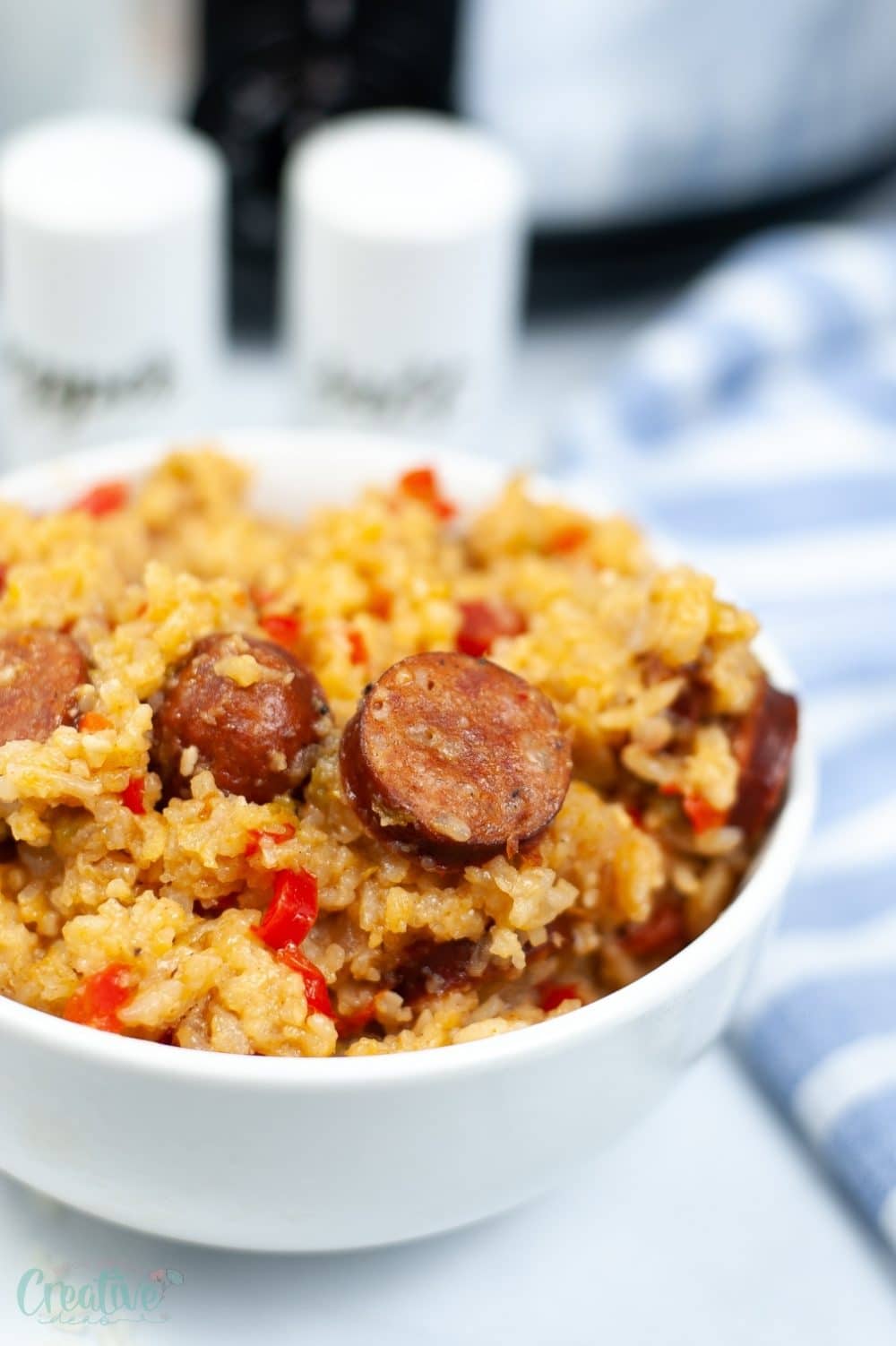 When it comes to cooking a meal low and slow, there's no better way to do it than with your crock pot. And one of the best dishes to cook for an extended period of time is slow cooker jambalaya. The longer you cook this delicious rice dish, the more flavorful it becomes. That makes it the perfect recipe for slow cooking!
Want more slow cooker recipes?
What is Jambalaya?
If you've never enjoyed jambalaya before, you're probably wondering what it's all about. This flavorful dish is a staple of New Orleans cuisine. Traditional jambalaya recipes are typically made with a combination of rice, protein, and vegetables. While there are several variations to the traditional recipe, you'll usually find sausage, chicken, and seafood, like shrimp, in a pot of jambalaya.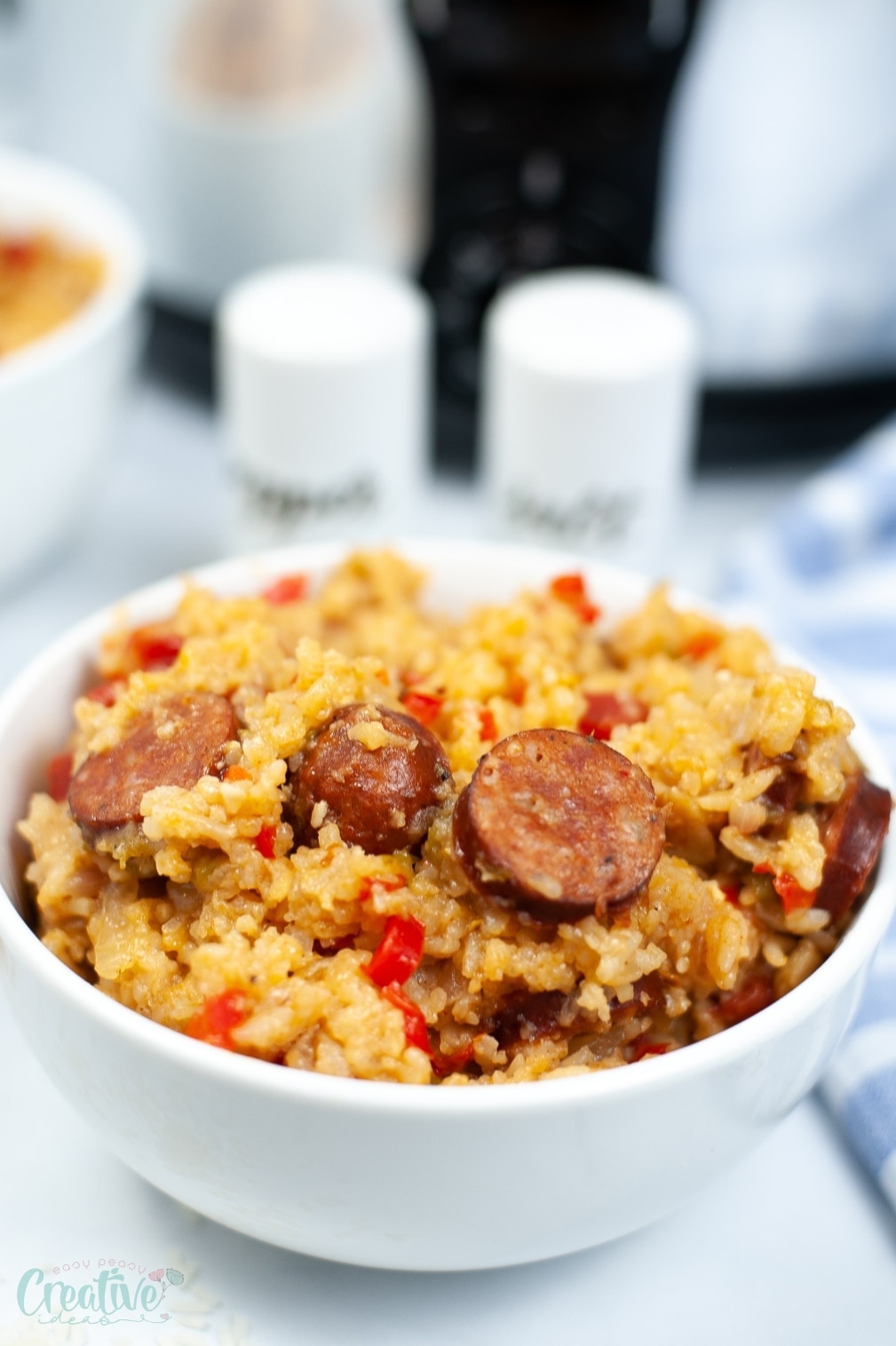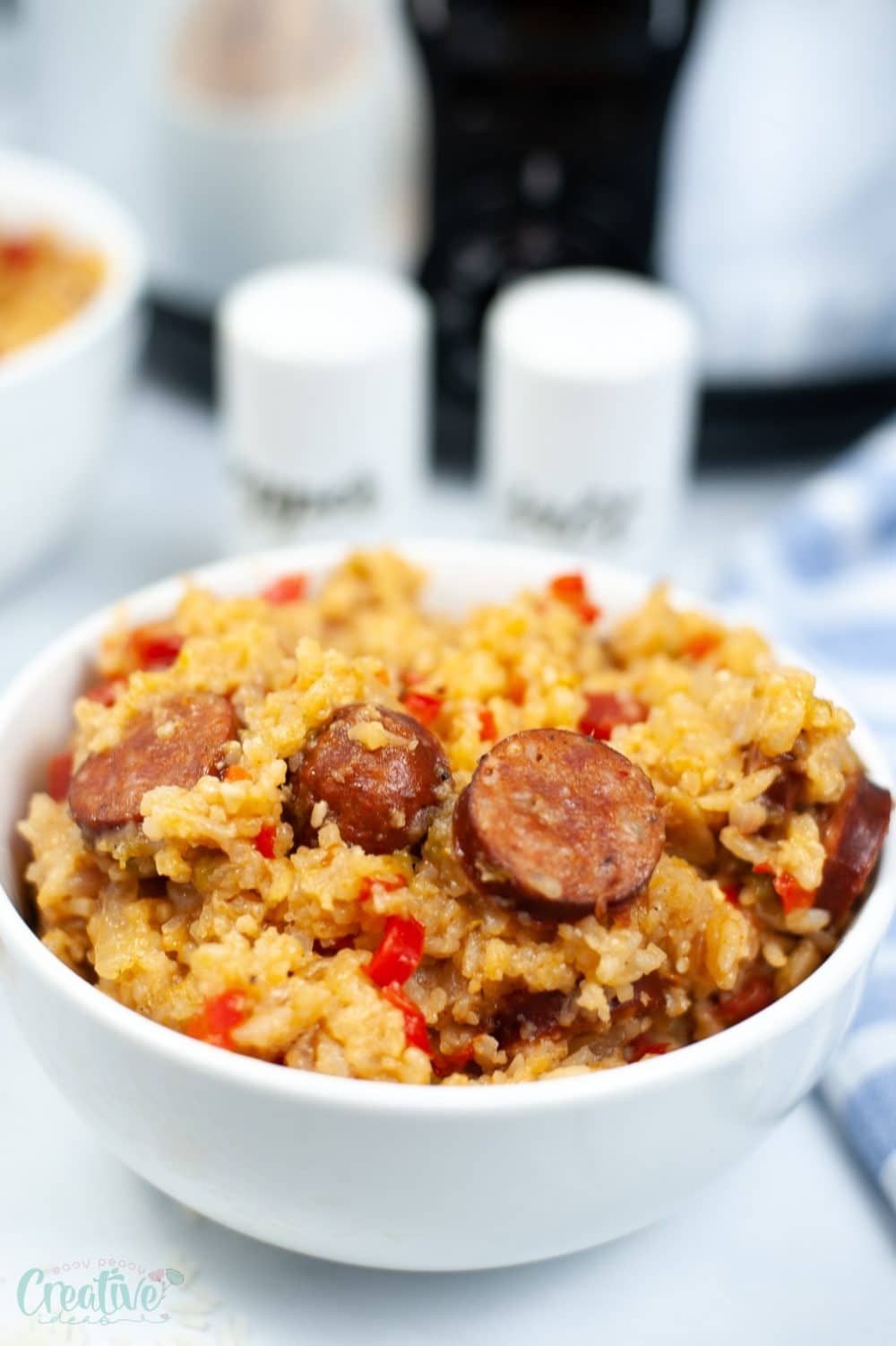 What's the Difference Between sausage Jambalaya and Gumbo?
While the flavor profiles of jambalaya and gumbo are similar, these two popular Cajun dishes are actually very different. Rice is the star of both dishes, but the difference between them lies in the way the rice is used.
Gumbo is made with a roux as its base and served as a stew. The spicy soup is served with its rice cooked separately and added as the gumbo is being served. On the other hand, the rice in jambalaya is cooked with the other ingredients, allowing it to soak up the flavors and seasonings in the dish.
Ingredients in slow cooker Jambalaya
No matter how you choose to cook your jambalaya, you're going to need a few common ingredients. Most jambalaya recipes are made with a similar combination of protein, vegetables, seasoning, and rice. To make your Cajun rice dish in the crock pot, you'll need:
Andouille sausage. This spicy sausage is a staple in New Orleans cuisine, so it's a must when making jambalaya. While other smoked sausage options will work with this recipe, your jambalaya won't have the same spice level or flavor as it would when it's made with andouille.
Rice. While white rice is the traditional selection when making this classic Cajun dish, you can substitute brown rice if you want to make your dish a little healthier.
Chicken broth. Help give your rice a boost of flavor by cooking it in chicken broth instead of plain water.
Vegetables. This delicious dish is packed with a variety of flavorful vegetables, including diced tomatoes with green chilies, onion, and red bell pepper.
Seasoning. You can't make jambalaya without adding some seasoning. In addition to Cajun seasoning, you'll also need paprika, salt, and pepper to make this dish.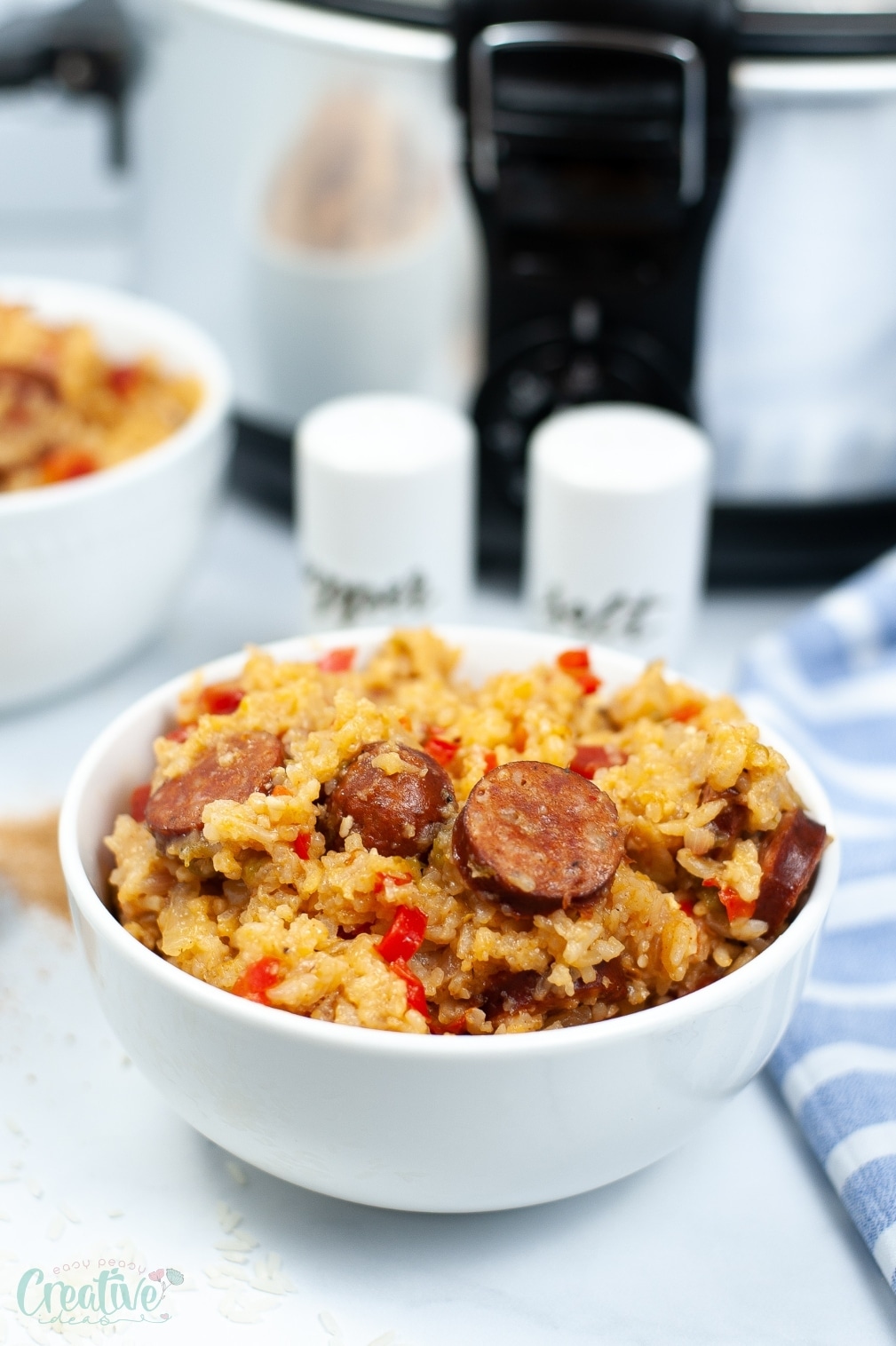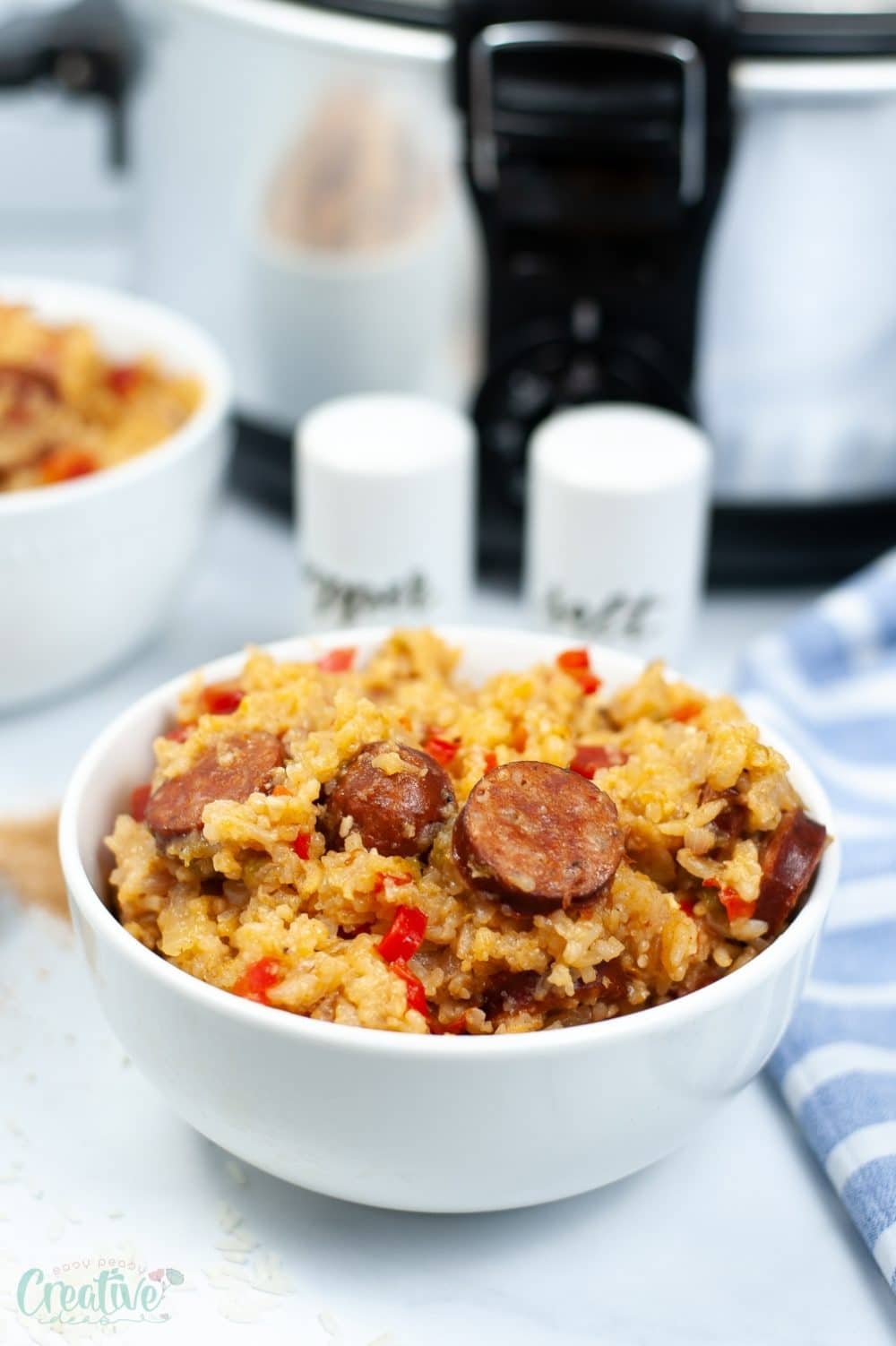 How Do You Make Cajun Seasoning?
While you can purchase premade Cajun seasoning at the supermarket to use in your jambalaya, there's no reason you can't make your own blend at home. If you don't have the spice blend in your pantry right now, create your own seasoning by mixing together these ingredients:
2 tablespoons paprika
1 tablespoon dried oregano
tablespoon dried basil
1 tablespoon black pepper
1 tablespoon salt
2 teaspoons dried thyme
two teaspoons onion powder
2 teaspoons garlic powder
Combine all the spices in a small bowl and stir until they're well mixed. Measure out the desired spice amount for your recipe. Then, store the remaining spice mix in an airtight container until you're ready to use it again.
Slow Cooker Jambalaya Recipe Ideas
Once you make a basic jambalaya recipe, you can start changing things up to suit your own tastes. Try these recipe ideas to make this slow cooker dish your own:
Add some shrimp. Seafood is a popular addition to jambalaya, making it perfect for adding to this slow cooker recipe. But since shrimp cooks much more quickly than chicken, it's not a good idea to mix in the shellfish with the rest of your ingredients. Instead, wait until there's around one hour left in the cooking time before you toss in the shrimp. Add the shellfish to the slow cooker and stir to mix them into the rest of the ingredients. Then replace the lid and let the dish finish cooking. Waiting to add your shrimp to the end of the cooking process will keep your seafood from overcooking and becoming rubbery.
Brown the sausage and chicken before slow cooking. If you have a few spare minutes while you're prepping your dinner, try heating your sausage and chicken in a skillet before adding them to the slow cooker. Heat a small amount of oil in a skillet and toss in your sausage. Saute the sausage for one to two minutes, then transfer the slices to the crock pot. Next, add your chicken to the skillet and saute until the outside of the chicken pieces is browned. Transfer the browned chicken to the slow cooker and add the rest of your ingredients. The browning process will give the meat more flavor, ensuring you have a delicious dinner tonight.
Pin to save for later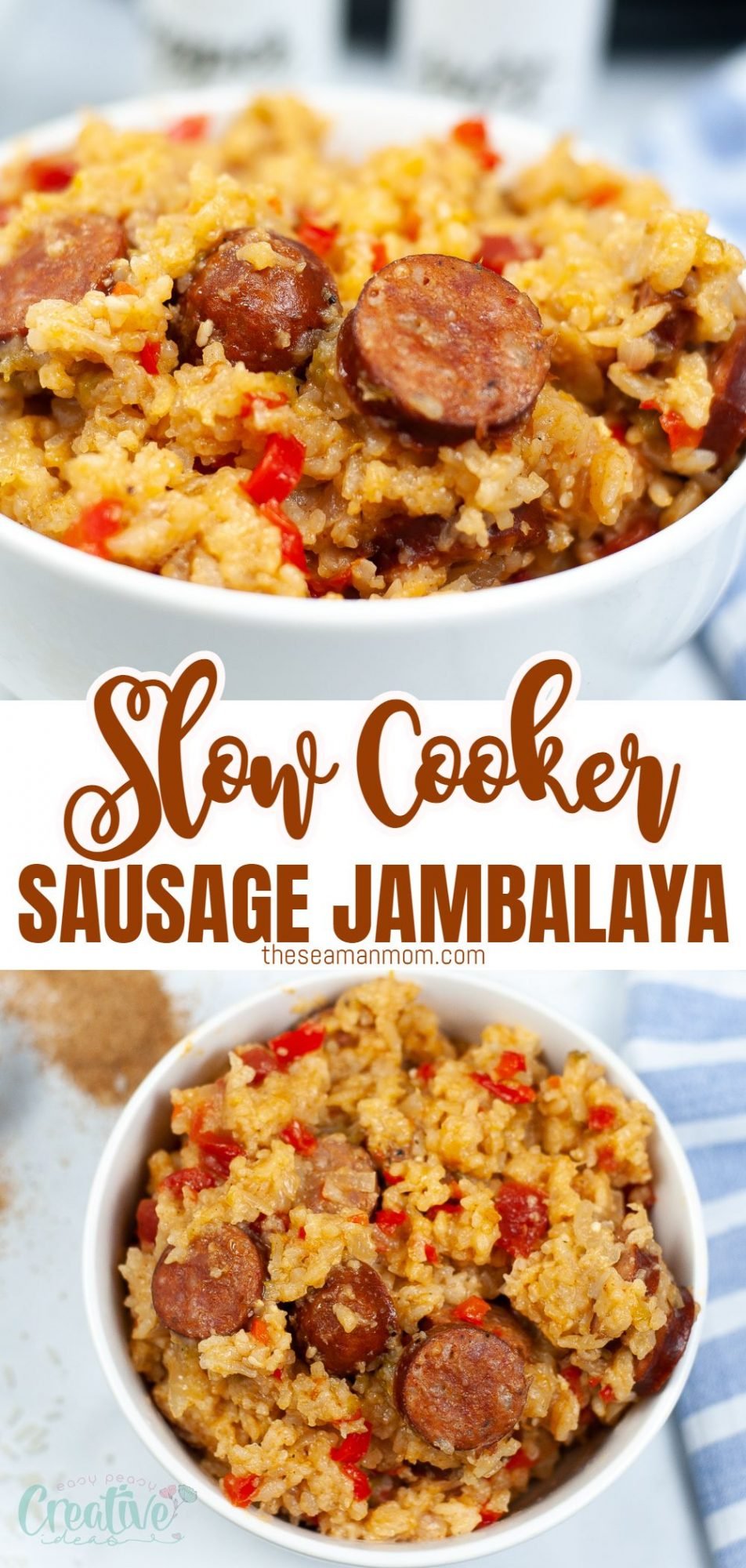 Print the recipe card
Slow cooker jambalaya
This quick and easy slow cooker jambalaya takes all the hard work out of preparing this classic Cajun dish, ensuring you have an amazing meal on the dinner table tonight with just a few minutes of prep work.
Ingredients
2

packages of andouille sausage

sliced

2

cups

rice

2

cups

chicken broth

1

onion diced

1

red pepper diced

1

can

diced tomatoes and chilies

1 x 4

oz

can of green chilies

3

tbsp

minced garlic

2

tbsp

Tony's Chachere's Cajun seasoning

or make your own

1

tsp

salt

1

tsp

pepper

2

tsp

paprika
Instructions
Combine all the ingredients into the slow cooker and stir

Cook on high for 4 to 6 hours until rice is fully cooked