The best creamy slow cooker pork chops you'll want to make today
Article may contain Amazon & affiliate links. As an Amazon Associate I earn from qualifying purchases at no additional cost to you.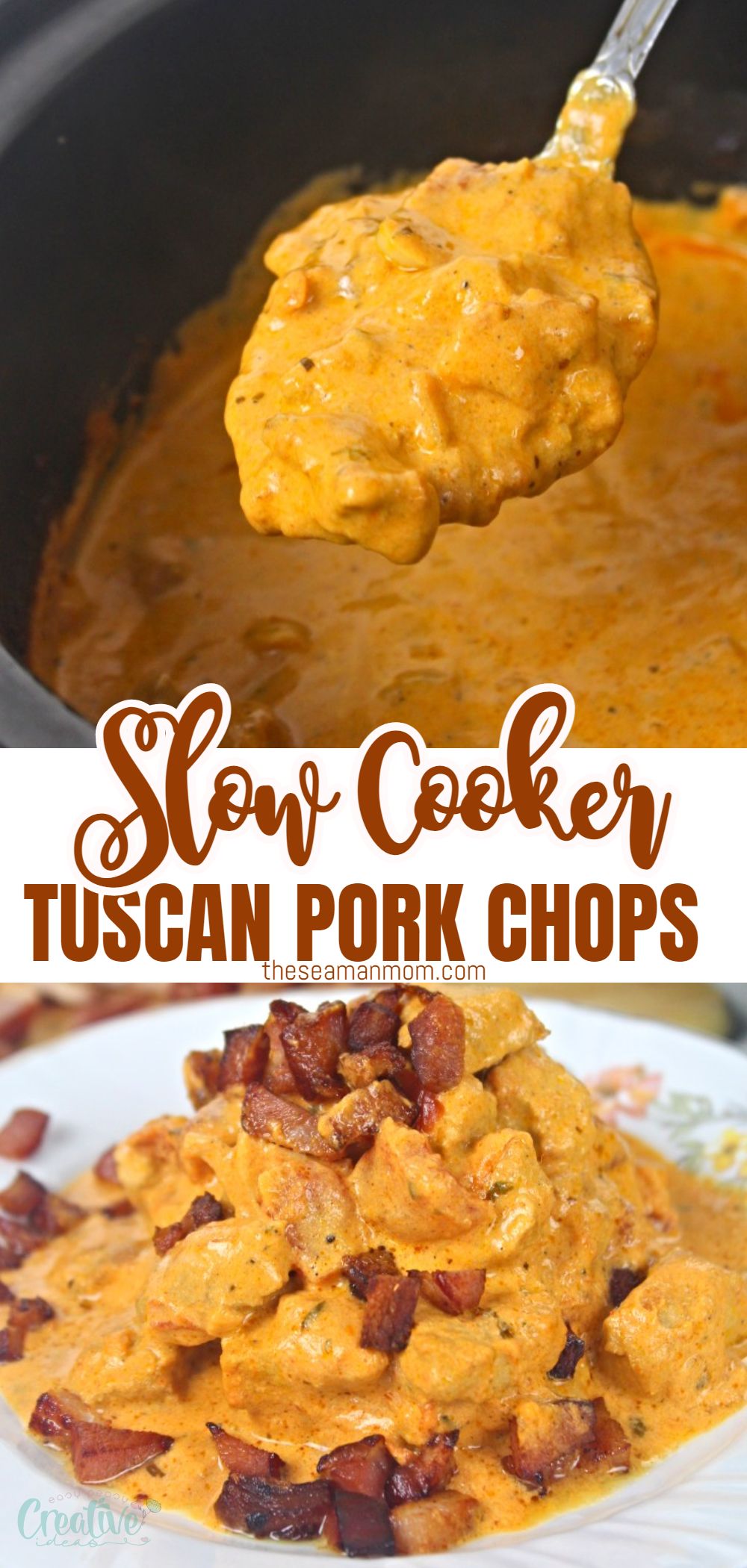 Slow cooker pork chops is a very luscious but easy recipe to make with ingredients you already have at home, so it can easily turn into a staple dish in any home. These creamy Tuscan pork chops can even be a great hit at the next dinner party or family gathering.
Slow cooker pork chops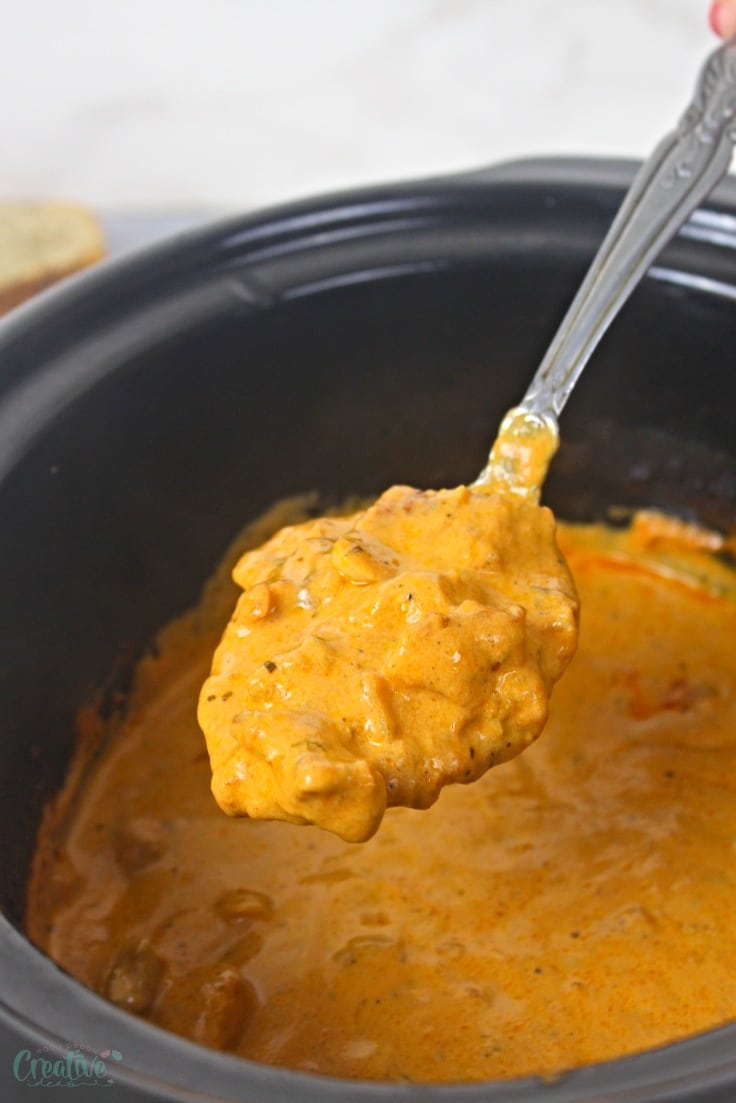 I've been making a lot of slow cooker pork chop recipes lately and experimenting with the flavors, as we like tasty, flavored pork and up until now, these Tuscan style slow cooker pork chops was the best recipe so far! Another plus of this recipe is that it's soo easy to make, that the hardest part is basically cutting the pork chops. Really!
Everyone in my family just loves pork chops, but it can be hard to make in a busy weekday. With a slow cooker it takes more time, but guess what, it's none of your time! Just add your favorite flavors and let the slow cooker do the work for you.
Other pork recipes you will love: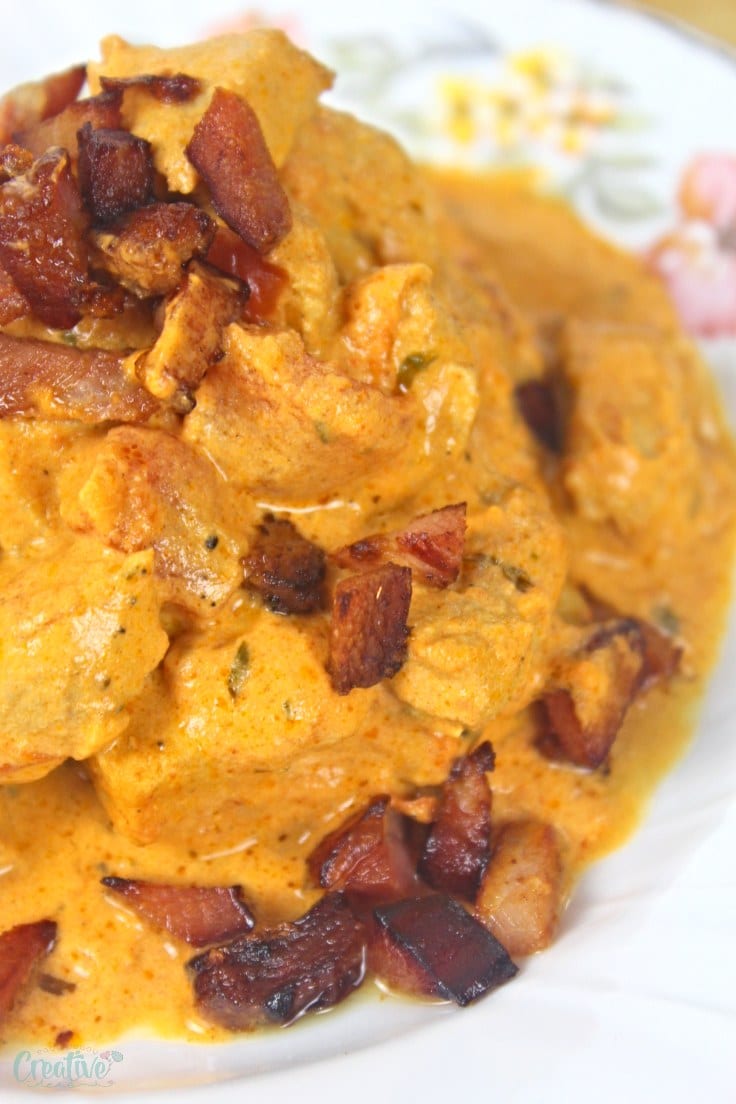 What can you serve these slow cooker pork chops with?
Serve with salad of fresh spinach and lemon zest to complete the amazing flavors of this delicious recipe. You can also serve it with cheesy spinach pasta, carrots and baby spinach salad or mashed potatoes and add more flavors or change the ones in my recipe if you love them more. For example, you can add cheese, green beans, zucchini or carrots. As this recipe turns out so easy to make, just play with the ingredients until you find the perfect mix you will all love.
What kind of meat do you need for these easy slow cooker pork chops?
Now about the pork chops: you can use boneless pork chops as I did or leave the bone for added flavor. As for the meat, you can use the chop as whole, or you can cup the meat into 1″ cubes or shred it once cooked and add it back into the sauce. In this case, you may want to have a little more sauce.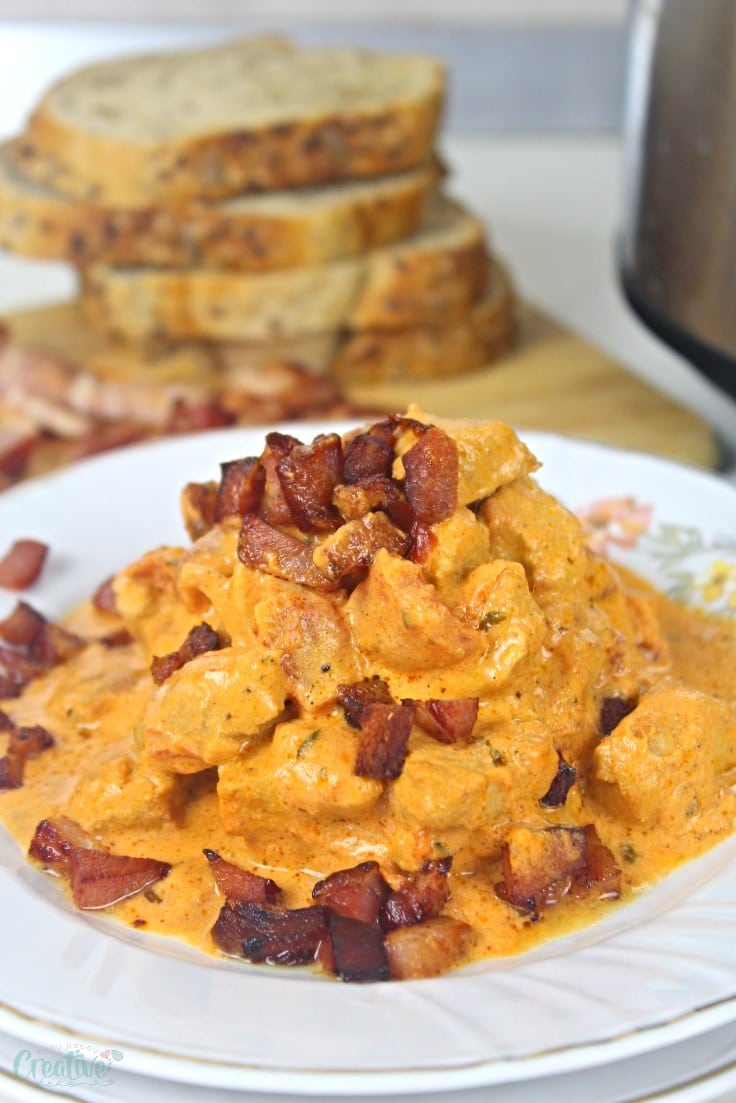 How to make the best slow cooker pork chops?
To lock in the flavor and add a bit more color, I recommend searing the pork chops first in a pan;
It's best to cook on the low or medium setting rather than high. I tried both ways and figured out it's a lot more flavorful cooked on low. For less cooking time, medium is a good alternative but if you have ample time, choose the low setting and cook for an extra hour than what I recommend in this recipe.
The best chops are thick-cut or medium cut, as thin ones will cook too fast and can become over-cooked. It's also best to choose cuts that have a little bit of fat in them, to keep the dish moist.
Boneless chops reduce the cooking time. But if you're adding the bones, your recipe will be more flavorful.
Add more or less heavy cream and/or tomato sauce depending on how much sauce you like;
Use your favorite tomato sauce, the one recommended here is not exclusive, it's just our favorite and we use it in tons of recipes, not only pasta.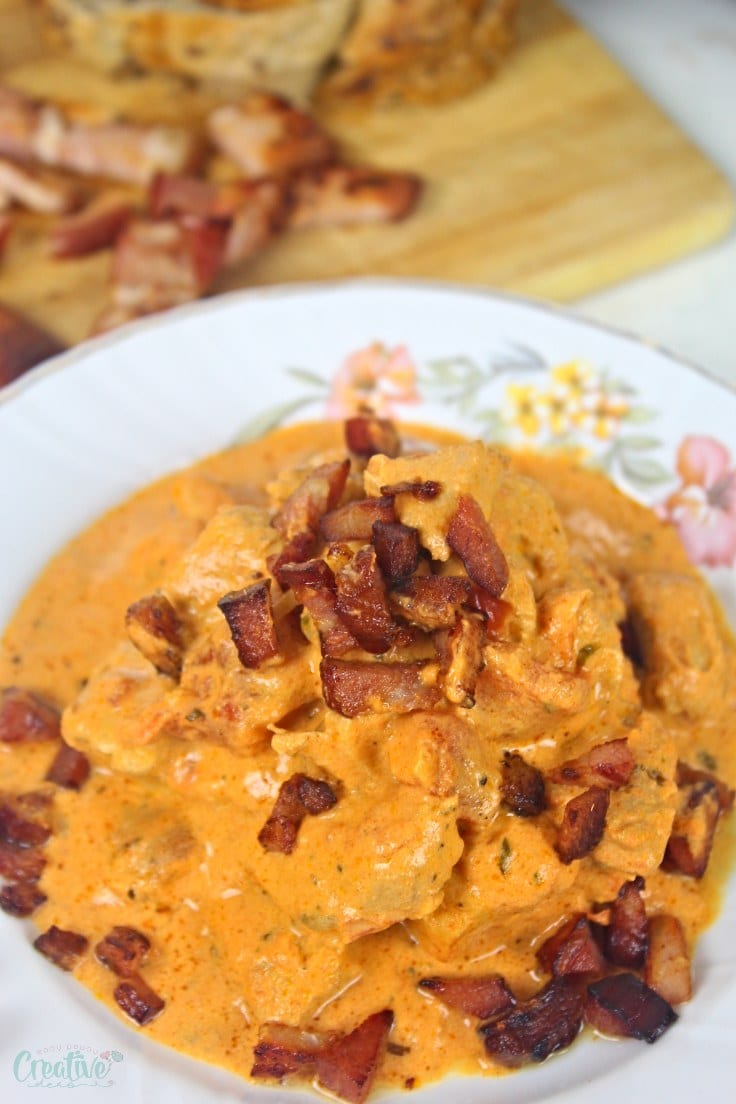 Can you freeze slow cooker pork chops?
I like to store this in an airtight container in the fridge, where it's good for up to 4 days. I rarely get to freeze it as it's so good, my family finishes it too quickly. But good news is, you can freeze this dish or any leftovers if you ever end up with such a thing. Cool it completely within a 2 hours time frame, put them in a freezer bag or an airtight container and freeze for up to 3 months. Thaw in the fridge before reheating in a microwave, on the stove or in the oven.
Tell me if you loved this recipe as much as I did, and what unique flavors you added to it to make it even more delicious.
Easy slow cooker pork chops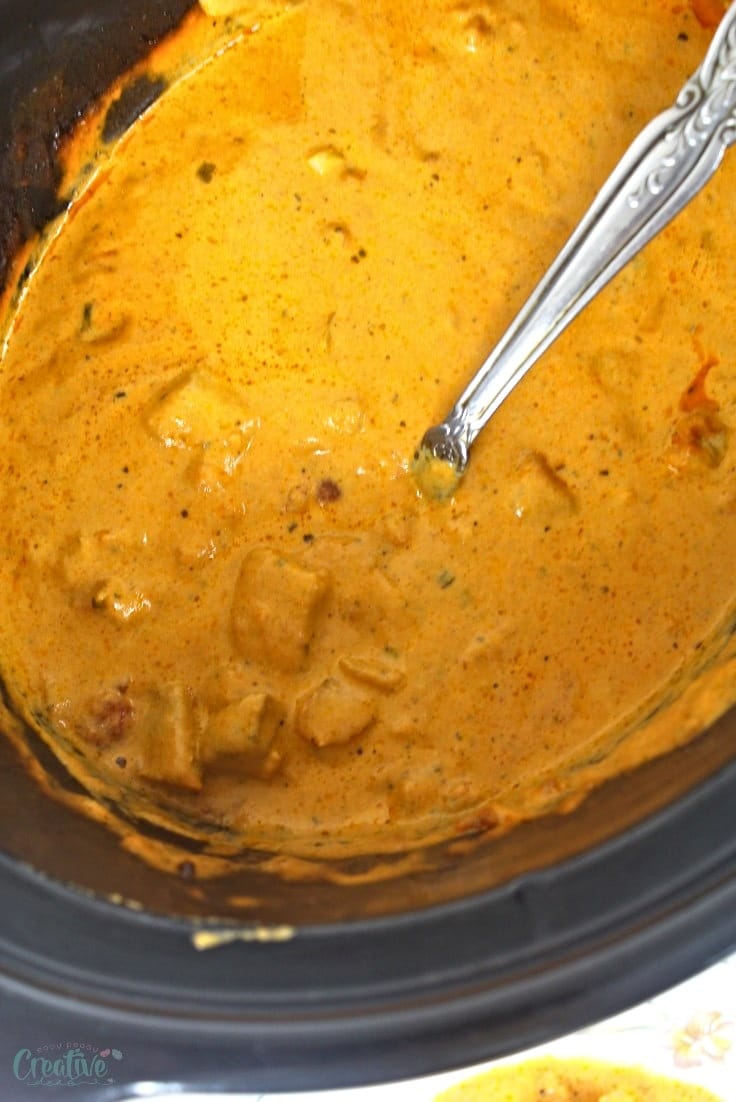 What do you need to make these Tuscan pork chops?
This is such an easy recipe that requires simple ingredients most home cooks have in the pantry or freezer/fridge:
pork chops – I used boneless for this recipe but chops with bones on are good too.
heavy cream – while heavy cream is the best option here, at times I used whipping cream when heavy cream wasn't available. It may sound crazy but the difference wasn't huge, just a little sweeter and less fatty with the whipping cream. Something to keep in mind if you are out of heavy cream.
tomato sauce – our favorite is Napoletana sauce from Barilla. Sometimes I swap this sauce for their Basilico, Olive or Puttanesca sauces when I want a little variation to my slow cooker pork chops recipe.
Herbs and spices: sweet paprika powder, salt and pepper, garlic and dry thyme (which at times I replace with rosemary which will change the flavor of this dish slightly)
butter – optional
How do you make slow cooker pork chops?
It's all done in 1,2,3:
Sear the chops in a non stick pan until no longer pink then transfer to the slow cooker.
In a mixing bowl, combine all other ingredients then add to the slow cooker.
Cook on medium for 6 hours or low for 7 hours.
Pin to save for later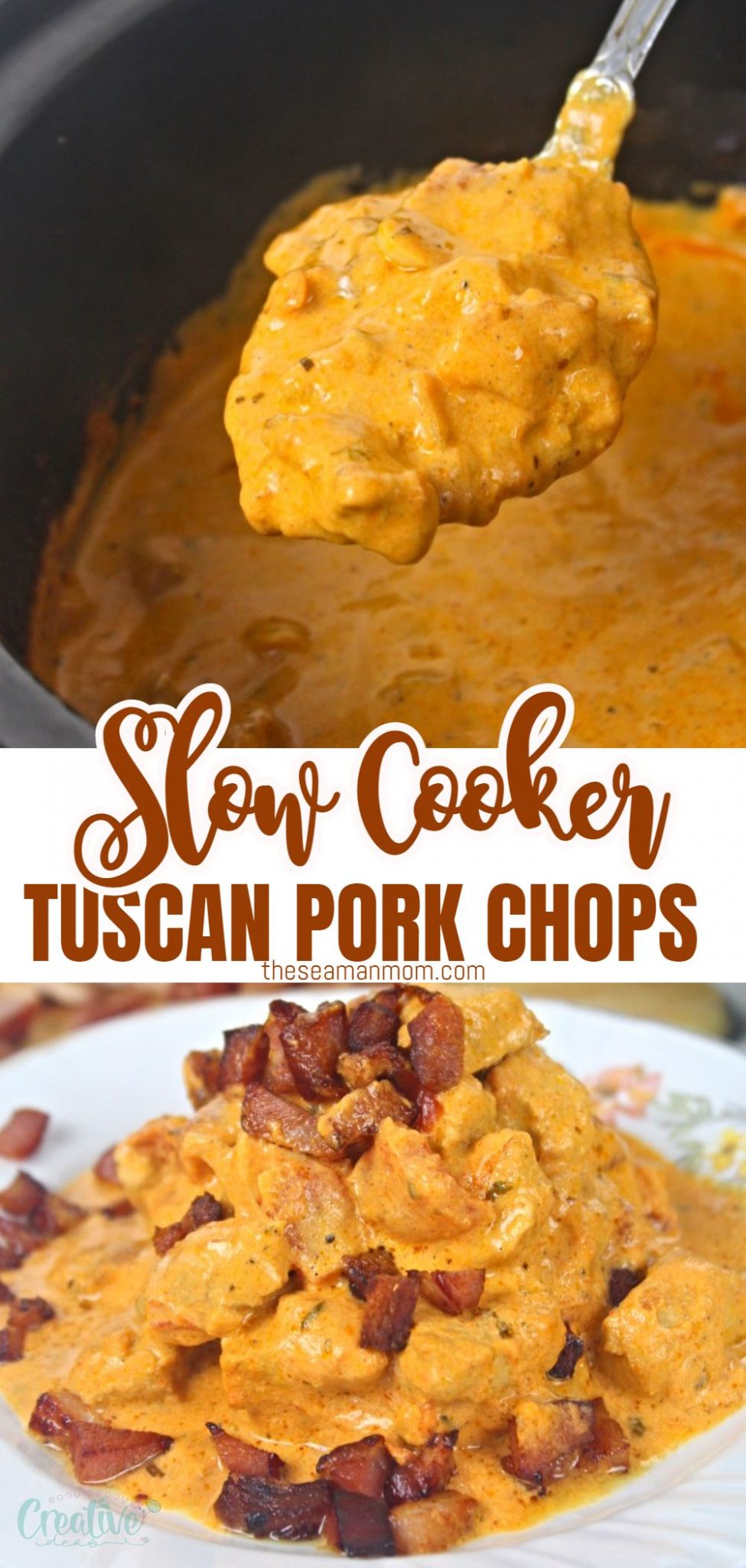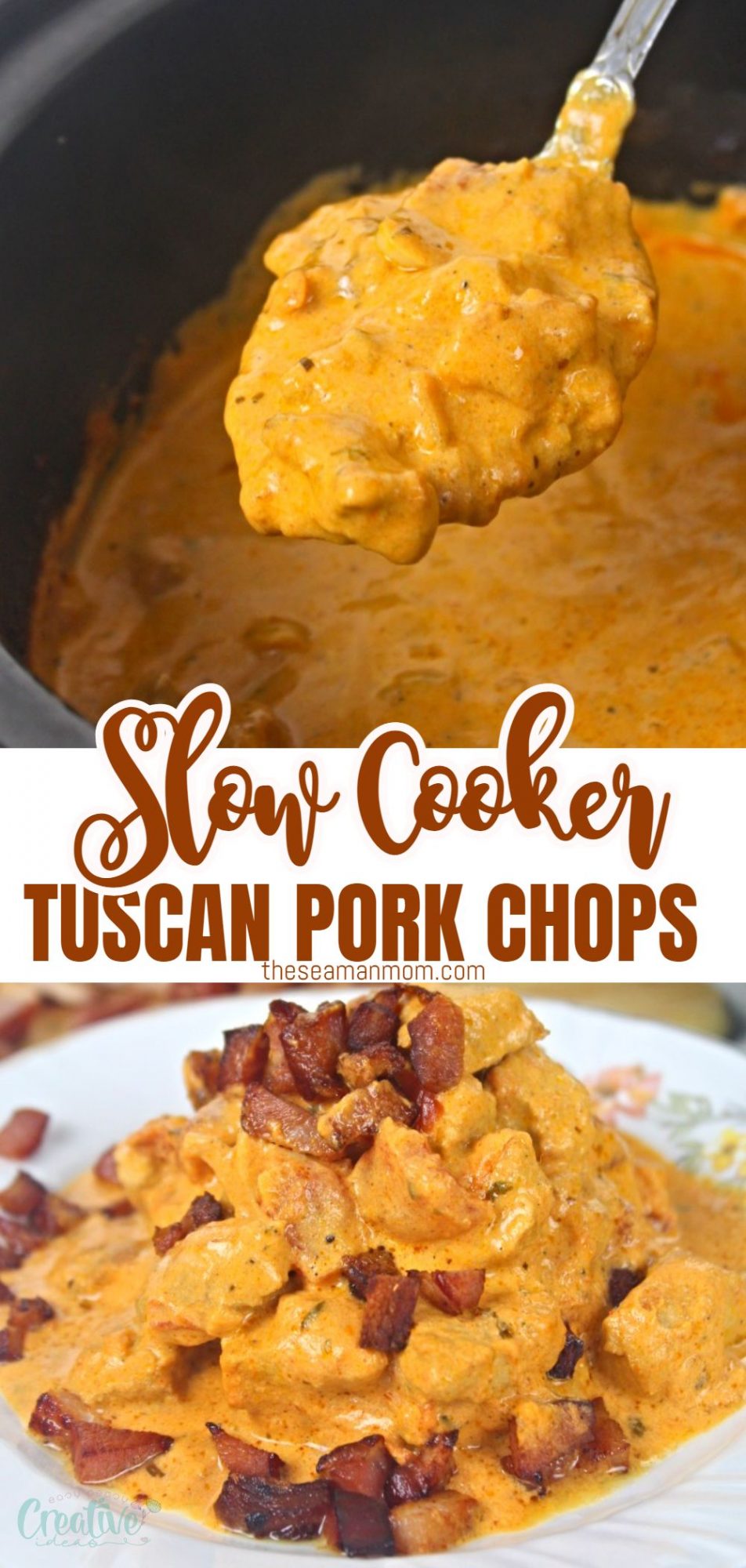 Print the recipe card
Slow cooker pork chops
Slow cooker pork chops is a very luscious but easy recipe to make with ingredients you already have at home, so it can easily turn into a staple dish in any home.
Ingredients
1 and 1/2

lbs

pork chops

boneless

1

tbsp

vegetable oil

1 and 2/3

cups

heavy cream

2

jars

Napoletana sauce from Barilla

1/2

cup

ketchup

1

tbsp

sweet paprika powder

1

tbsp

dry thyme

1

tsp

salt

1/2

tsp

ground pepper

4

cloves

garlic

sliced

1/4

stick

butter
Instructions
Cut the meat into 1" cubes

Add the oil to a frying pan and sear the meat until no longer pink. Then transfer to the slow cooker.

In a mixing bowl, add all the sauce ingredients and mix well to combine. Pour over the pork chops in the slow cooker. Add butter and cover with lid.

Set your slow cooker to medium and cook for 6 hours (or 7 hours on low).
Most popular recipes: