Now You Can Have The Slow cooker meatballs Of Your Dreams
Article may contain Amazon & affiliate links. As an Amazon Associate I earn from qualifying purchases at no additional cost to you.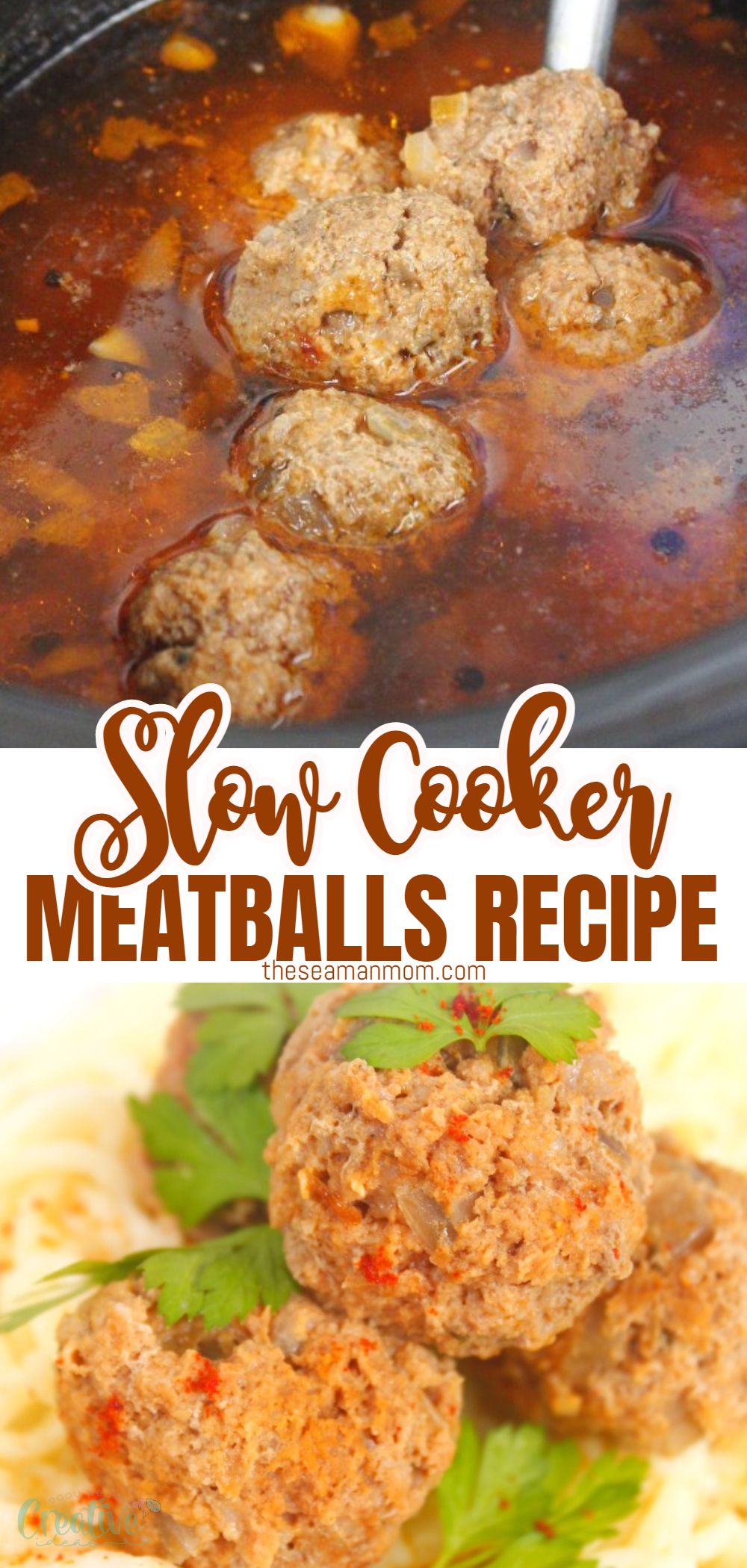 Meatballs are everyone's favorite, and kids especially love them as they are small, tender and really tasty! These slow cooker meatballs are also super-easy to make and a lot healthier than the classic deep-fried version.
Slow cooker meatballs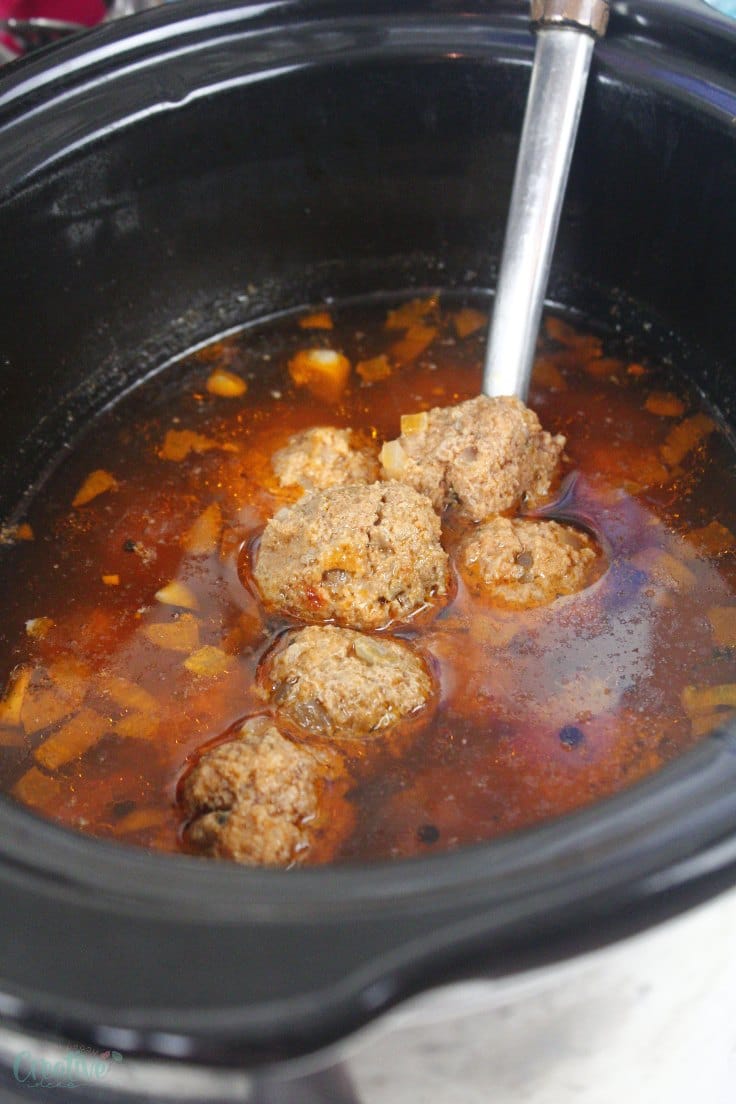 Slow cookers come in very handy when you have a large family to feed, and you want to make sure they eat good, healthy food, that would otherwise take a lot of time to prepare. I love using the slow cooker and have it do the time-consuming work for me, without having to watch it constantly. I can just leave these slow cooker meatballs inside in the morning, let them cook for 4-6 hours and come home to a perfectly cooked, delicious meal.
Need more slow cooker ideas?
First, let's see some ideas, tips & tricks for making the best slow cooker meatballs:
I prefer using a mix of beef and lean pork for my meatballs, as it's not too fat, but has a lot of flavor. You can use any kind of meat you like, though. Just keep in mind that pork is a bit more greasy;
Chop the onion as fine as you can, to make it blend well with the other ingredients and also make it kid-friendly;
Don't over mix the ingredients. I just mix them until combined;
Use a cookie or ice cream scoop to easily portion perfectly round meatballs;
This recipe can easily be doubled if you're planning a party or a large family dinner;
Adapt the herbs and spices to your own taste. Also, you can leave the garlic out if you don't like it;
These slow cooker meatballs can be easily frozen for a quick weeknight meal, so you can batch cook. Just remember to take them out and thaw in the refrigerator for about 48 hours.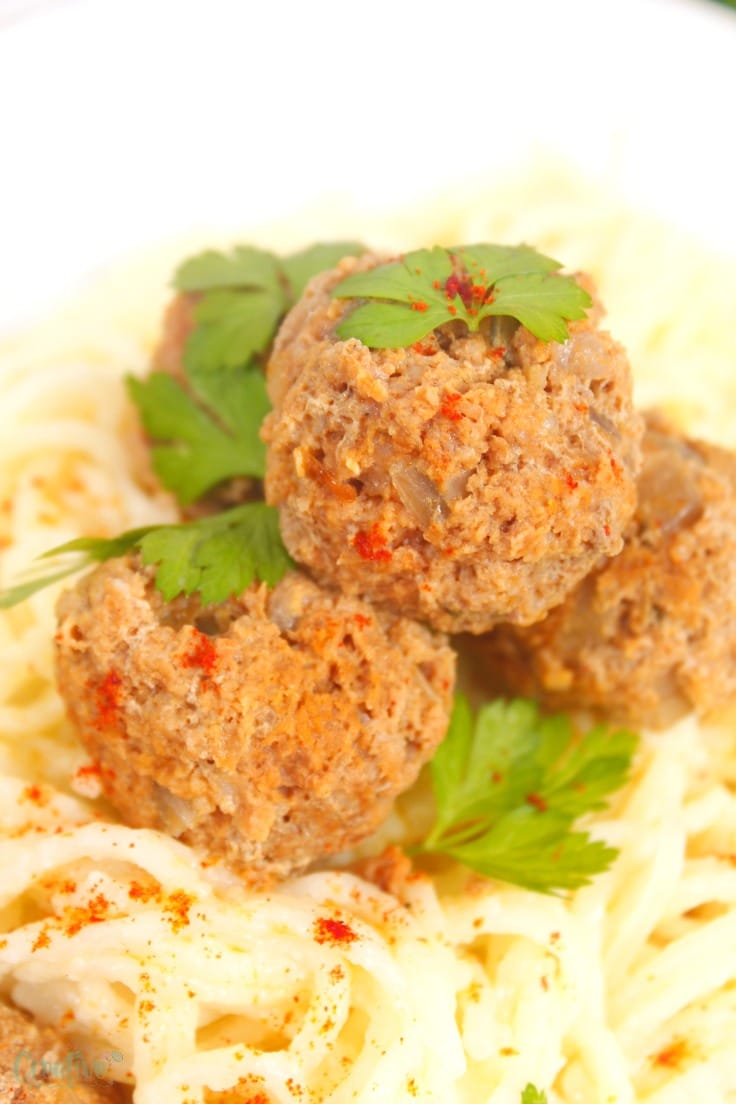 Should I brown the meatballs before putting them in the slow cooker?
No, the slow cooker will do all the work for you. These easy slow cooker meatballs will cook perfectly tender and juicy without needing any pre-cooking. It's also safe to put raw meatballs in the slow cooker, but broiling them a bit first will guarantee they will hold their shape well and won't stick while slow cooking. It will also add a nice roasted flavor to the dish. It's just an extra 10 min to get a great result.
How do I make sure the meatballs remain tender?
The secret to make tender meatballs is moisture. The protein in meat will make it shrink while cooking, so binders like breadcrumbs and eggs, as well as milk, will help keep the meatballs tender.
Can I cook for 4 hours on high instead of 8 hours on low?
It depends on the recipe. Usually, a recipe that calls for about 6 hours or less on low should be left as it is. On the other hand, an 8-hour recipe on low setting can usually be converted into a 4-hour on high.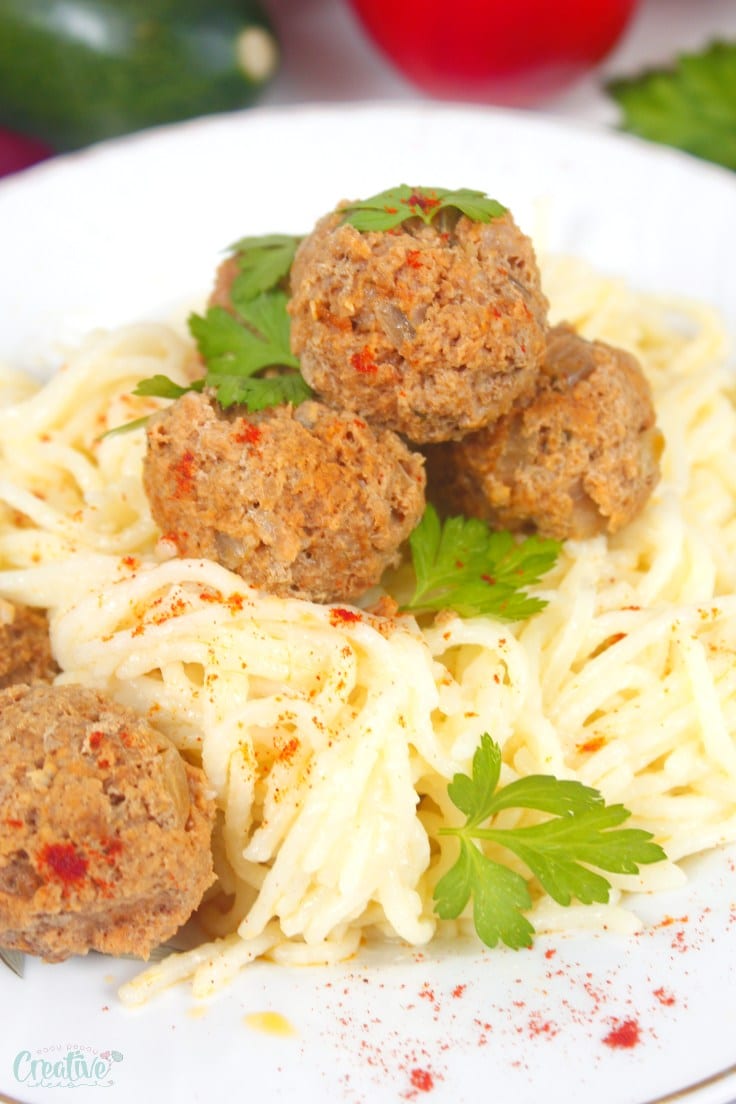 What should I serve with meatballs?
Meatballs are so versatile they can be served by themselves, or with many other sides:
On top of your favorite pasta, with tomato sauce and parmesan;
Mashed potatoes;
Salads;
Make a meatball sub, top with mozzarella and broil;
Make a meatball casserole with fusilli, mozzarella and parmesan cheese and bake together for 20 minutes.
Being so versatile, they go great with many sauce types, like tomato, barbecue, mushroom sauce, sweet and sour or honey garlic sauce. They are also great without any sauce, so you should try and see which works best for you and your family.
What special ingredients do you love to add in your meatballs to make them even more delicious? Any secrets to share for the best slow cooker meatballs? Please share with us in the comments.
Slow cooker meatball recipe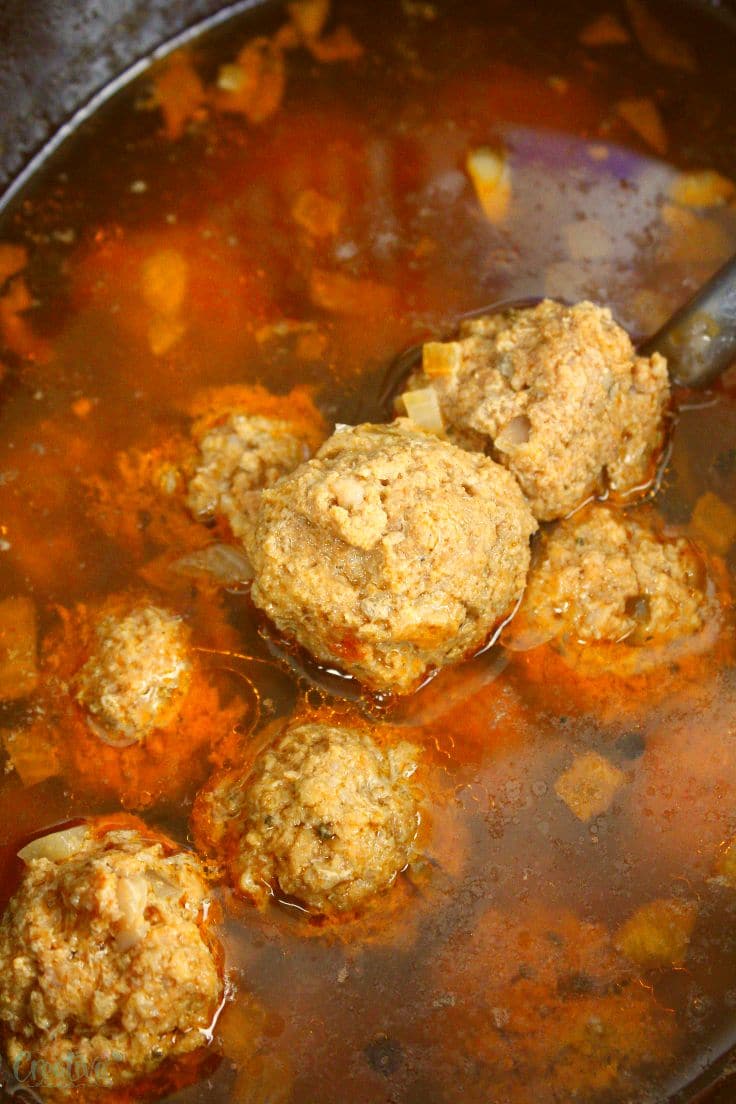 Meatballs in slow cooker are gently simmered, so they stay tender and juicy, and also packed full of flavor. They are great over pasta or just by themselves, as a hearty appetizer with a side of broccoli and garlic knots.
What do you need to make these meatballs?
Ground meat (I used a mix of pork and beef meat)
Bread crumbs – I prefer homemade (here's my recipe)
White onion – finely chopped
Garlic – smashed or finely minced
Eggs
Herbs and spices: salt, pepper, parsley (fresh or dried), sweet paprika powder, dried bay leaves.
Tomato paste
Milk
How to make meatballs in slow cooker?
Mix the meat with onion, tomato paste, egg, spices and herbs. Add milk if mixture is too thick (milk will also help the meatballs get fluffy and light)
Shape into balls with your hands.
Place in the slow cooker, add a cup of water and the bay leaves.
Cover and cook on high for 4 hrs or low for 6 hrs.
When almost ready, cook the spaghetti as instructed on the package then add the meatballs to the spaghetti. Adding a bit of the sauce to the plate is optional.
Pin to save for later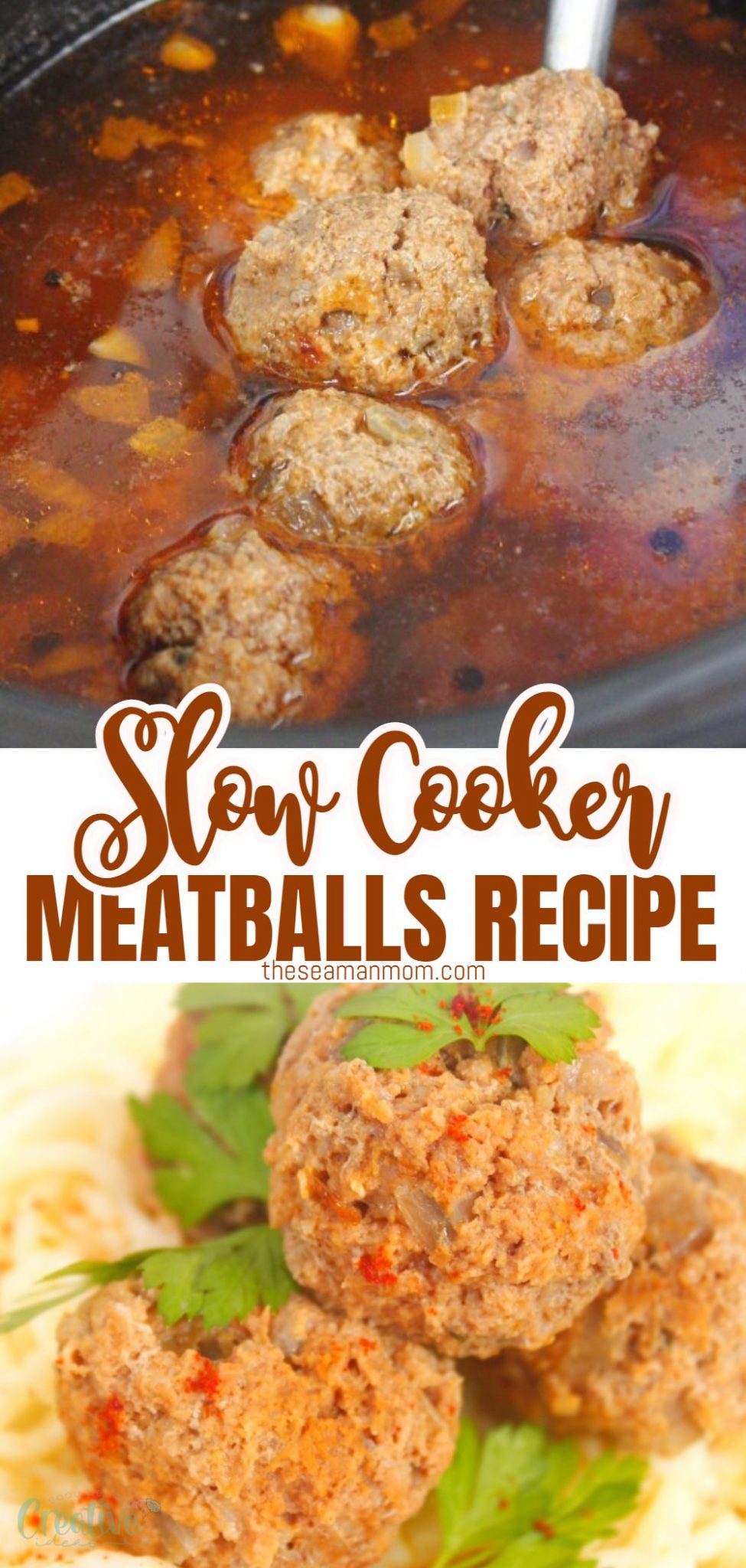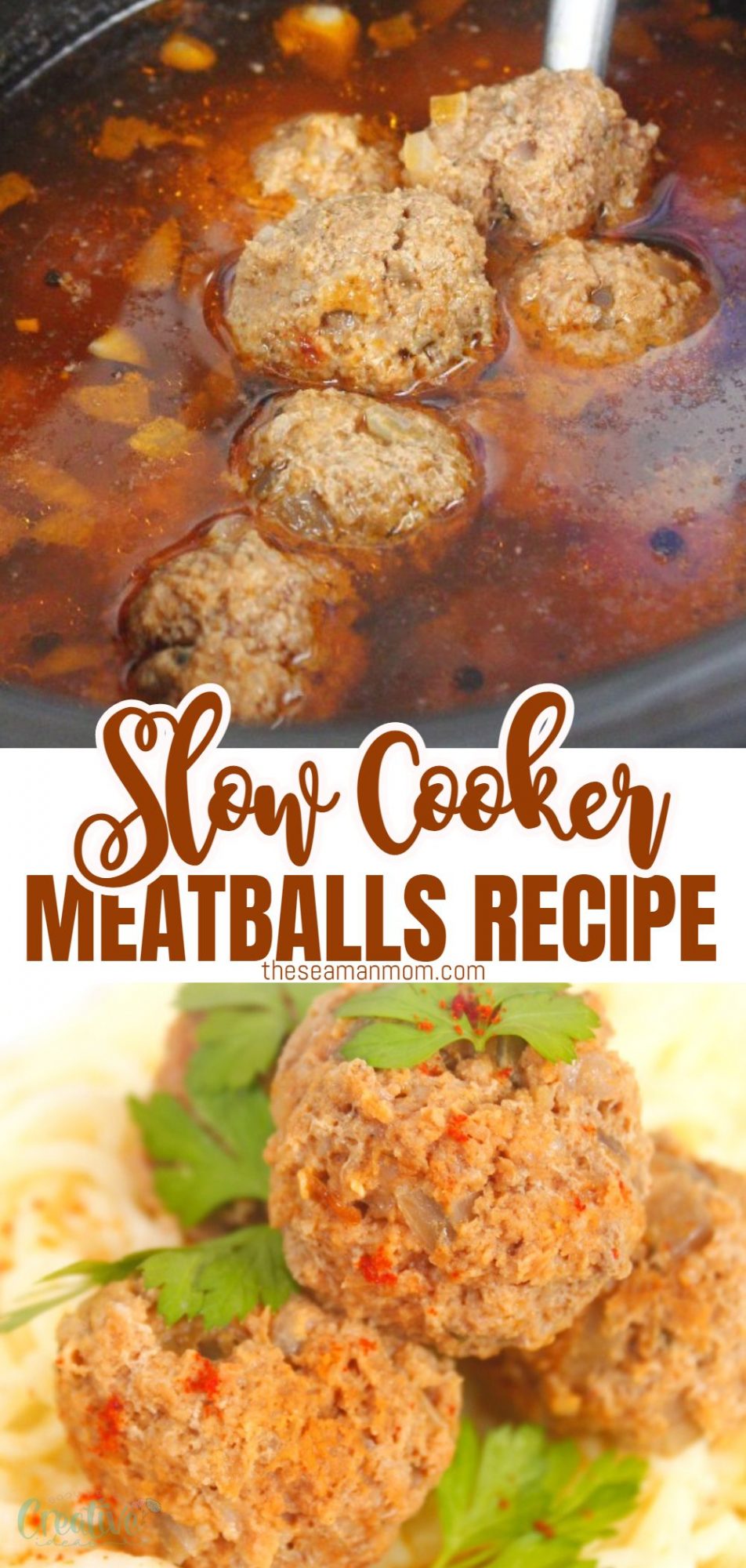 Print the recipe card
Slow cooker meatballs
Meatballs are everyone's favorite, and kids especially love them as they are small, tender and really tasty! Slow cooker meatballs are also super-easy to make and a lot healthier than the classic deep-fried version. 
Ingredients
1

lb

ground meat

a mix or pork and beef

1/2

cup

homemade bread crumbs

1

small onion finely chopped

5

small garlic cloves smashed

1

egg

large

1/4

tsp

salt

1/4

tsp

pepper

1/4

tsp

sweet paprika

handful of fresh parsley finely chopped

or 1 tsp dried parsley

2

tbsp

tomato paste

1/4

cup

milk optional

if you find the mixture too thick

2

dried bay leaves

large or 3 medium

1

cup

water
Instructions
In a large mixing bowl, mix all ingredients except for the bay leaves and milk. Add the milk if the mixture is too thick for your taste.

Shape the mixture into balls of about 1".

Place the meatballs into a slow cooker

Add water then cover and cook on high for 4 hrs or low for 6 hrs.

When meatballs are almost ready, prepare the spaghetti as instructed on the package.

Drain spaghetti and distribute to plates. Top each plate with meatballs and some sauce.

Serve warm
Most popular recipes: