Looking for a Thanksgiving side recipe to wow your guests? This easy oven roasted potatoes recipe will give even the first timers a delicious, fancy looking but easy potato side dish, with crispy skin and a moist inside.
Crispy Potato Roast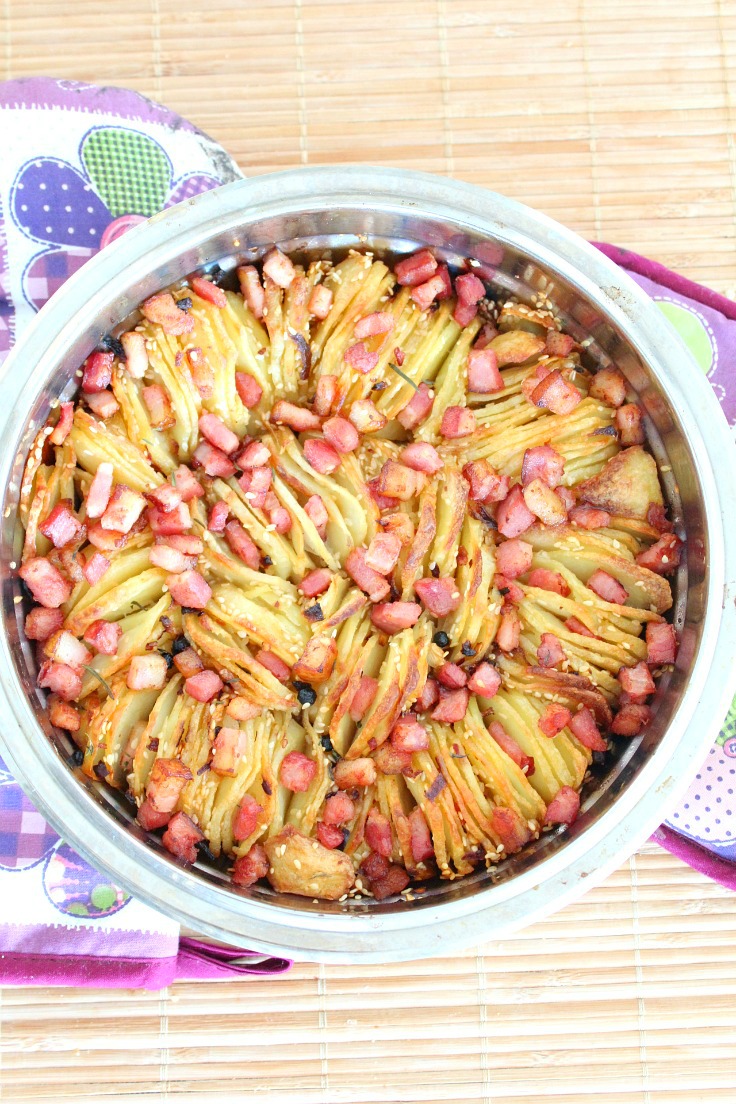 I'll take absolutely no credit for coming up with these easy oven roasted potatoes! It's all Martha Stewart's! But when I saw this recipe I felt it was truly calling my name as it's not only so appealing to the eye but by reading the instructions, it sounded really simple and easy to make too. Time consuming, yes, but totally worth it!
Print the recipe

SEE MY MOST RECENT VIDEOS HERE
Ingredients
5 tablespoons butter, melted
5 tablespoons extra-virgin olive oil
10 medium russet potatoes, peeled
Coarse salt
1 small onion, peeled and very thin sliced julienne
1/4 teaspoon red pepper flakes (optional) (I used them only on half the potatoes because I was gonna serve this dish to my 4 years old too)
a few fresh thyme sprigs
a couple of fresh rosemary sprigs
1/2 teaspoon black peppercorns
About 80 g = 3 oz bacon, cubed
Round 9" baking dish
Instructions
Mix oil and melted butter in a small dish. Set aside.
Brush a round baking dish with a little of the butter/oil mixture.
Preheat oven to 375 F = 190 C.
Slice the potatoes as thin as possible crosswise (the thinner, the crispier).
Arrange potatoes in circle in the baking dish.
Wedge onions in between potato slices.
Brush more butter and oil mixture.
Sprinkle salt, pepper flakes, peppercorns and sesame seeds.
Bake for 1 hour and 25 minutes uncovered. While baking, check potatoes every 1/2 hour and brush more oil/butter mixture. Separate the slices with a knife if you need to. Depending on your oven you may need to adjust the oven temperature.
While potatoes are baking, brown the bacon in a skillet. Drain on a paper towel. Set aside.
Remove potatoes from oven.
Sprinkle bacon and stuff some throughout the potatoes too.
Lay the thyme and rosemary sprigs on top of potatoes.
Bake for an additional 35 minutes
Remove from oven.
Sprinkle on a little more salt.
Serve immediately, simple or with sour cream. Make this a main dish by serving it with a bowl of salad.
https://theseamanmom.com/thanksgiving-dinner-side-crispy-potato-roast/
Pin to save for later

Need more potato recipes?
I am not one to spend so much time in the kitchen (this recipe calls for 2 hours for baking and about 20 minutes preparing the ingredients)! BUT! I thought since I'm not making these sliced roasted potatoes on a daily basis, I can spend a bit more time in the kitchen making a simple but festive looking dish. Turns out I made the right choice as although my crispy oven potatoes spent 2 hours in the oven, I had time to do other stuff in between checking them up to brush some more oil and butter on. I actually finished 2 other projects for this site while these splendid easy oven roasted potatoes was baking. Pretty impressive!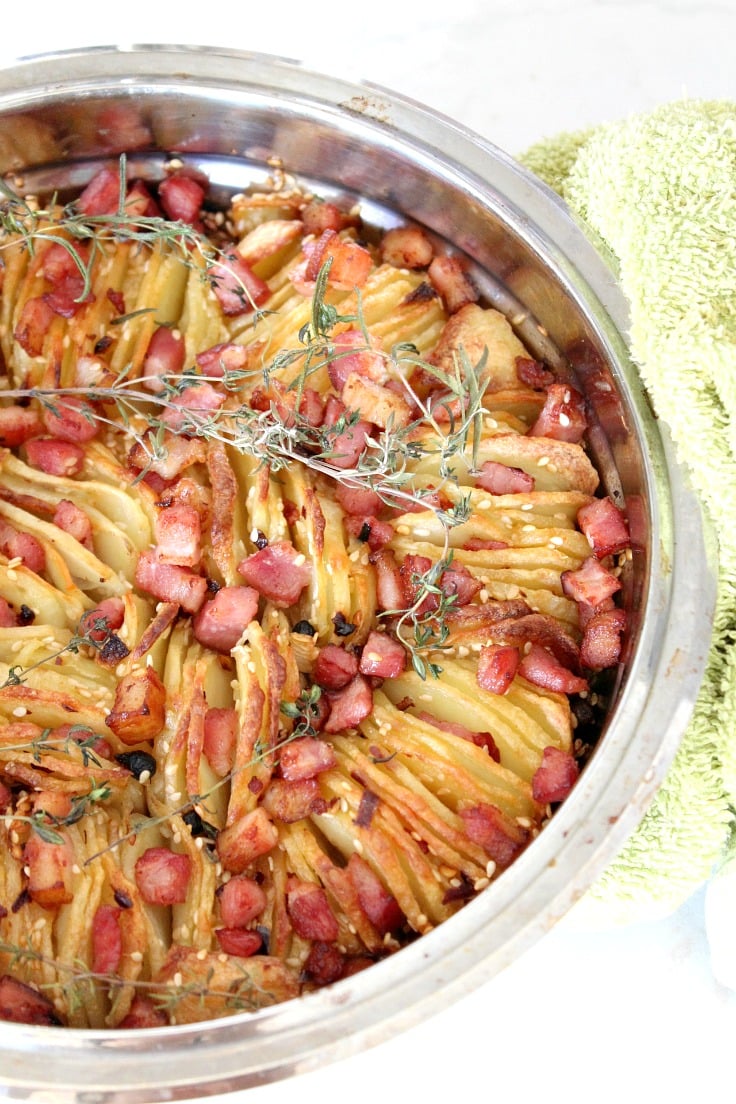 I made a couple of alterations to the original crunchy roast potatoes recipe by adding bacon, some chili pepper flakes, sesame seeds and a bit more butter and oil (because of my nasty oven which keep playing tricks on me every time I bake something; or maybe I just suck at baking! Who knows?).