A comprehensive guide to different TYPES OF DRESSES
Article may contain Amazon & affiliate links. As an Amazon Associate I earn from qualifying purchases at no additional cost to you.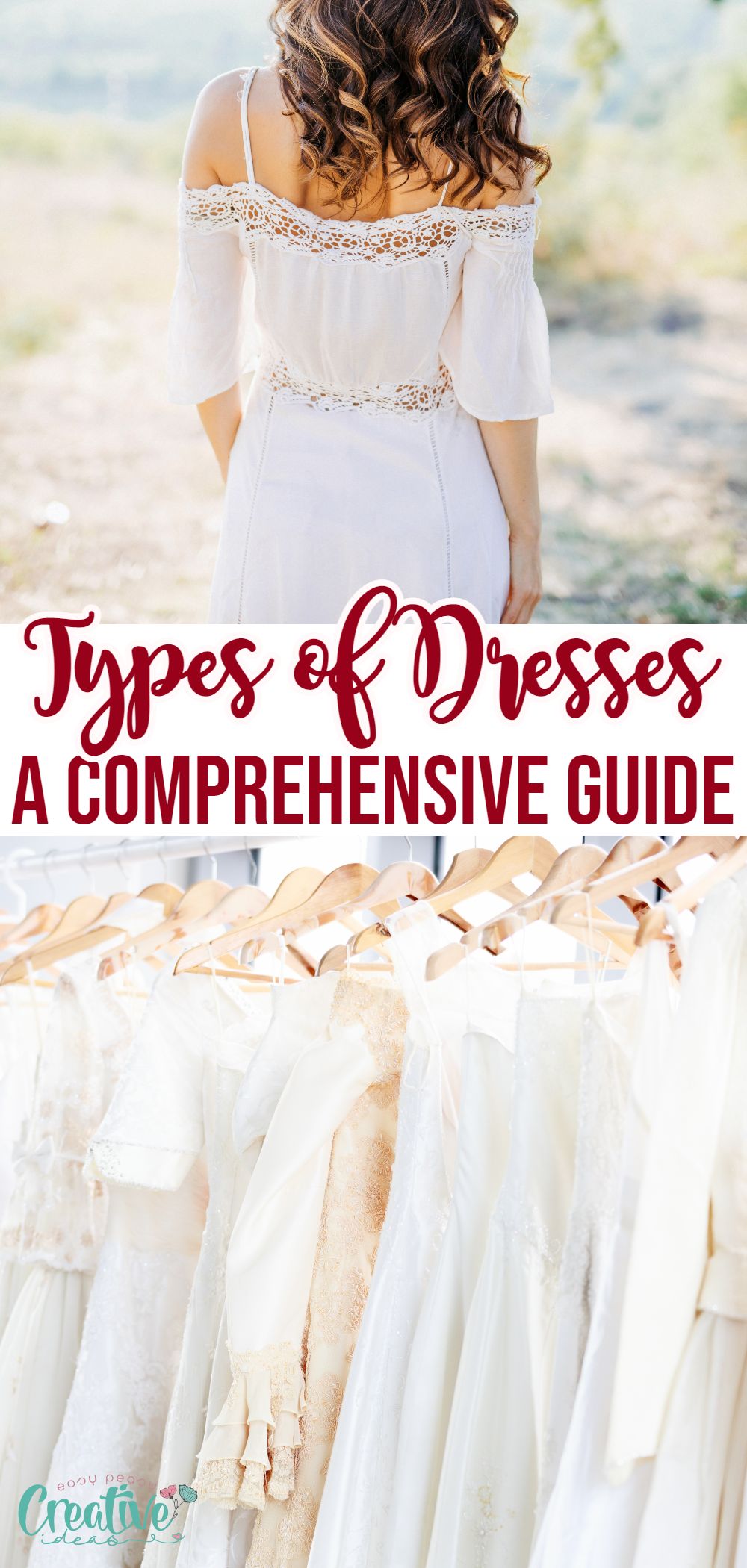 Ever wondered what the difference between a cocktail dress and an evening gown is? Or how about a maxi dress vs. a midi dress? I've got you covered with this comprehensive guide to various types of dresses.
Types of dresses guide
There are so many different types of dresses out there, it can be hard to keep track! But don't worry – I'm here to help you figure out which one is right for your next event or occasion.
The dress is the most feminine garment of all times, although pants seem to be more comfortable with today's active lifestyle. Nevertheless, it's always lovely to see a girl or a woman wearing a dress which expresses her personality. Browse through my list of different types of dresses for women to find the prettiest dress types and find the one that suits you the most.
Whether you need something formal or casual, long or short, I have all the information on every different types of dresses imaginable in my helpful guide below! So sit back and relax as I take care of everything for you. You'll never have to stress over finding the perfect outfit again!
What are different types of dresses?
We can sort dresses out by various criteria: length, silhouette, style, occasion, and many others. The thing is, there is a dress for everything and everyone. Different dress styles can flatter different body types and we should choose a dress that suits our needs and makes us look fabulous.
How many types of dresses are there?
There are seemingly endless types of dresses out there, but I've narrowed it down to the most popular types below. Scroll through and see which one is right for you!
What types of dresses are slimming?
There are a few types of dresses that are generally considered to be slimming, helping you look like you've lost a few lbds. A sheath dress, for example, will cling tightly to your body and make you look curvier. If you're looking to hide a few extra pounds, this might be the perfect type of dress for you. Additionally, empire waist dresses and wrap dresses are also great options for creating a flattering silhouette.
Which dress gives a good look for short girls?
Short girls can look incredibly stunning in a maxi dress. By wearing a floor-length dress, you'll elongate your body and make yourself appear taller. Maxi dresses are also a great way to show off your pretty feet and legs, so don't be afraid to give this style a try!
What's the best dress for tall girls?
Tall girls have a lot of options when it comes to dresses – they can pretty much wear any style that they want and look great in it. However, if you're looking for something that will elongate your body even more, then I recommend choosing a dress with a high neckline or a dress with a floor-length hemline. This will help to elongate your body and make you look even taller!
What are the different types of dress codes?
There are different types of dress codes for different occasions, and it's important to know which one to wear to the event you're attending. I've outlined the most common types of dress codes below for your convenience.
Casual
A casual dress code usually means that you can wear pretty much whatever you want – from jeans and a t-shirt to a dress or skirt. This is the most relaxed dress code, and it's perfect for everyday wear or when you don't know what else to wear.
Semi-Casual
A semi-casual dress code is slightly more dressy than casual, but still allows you to wear jeans and a nice top or a dress. This dress code is perfect for things like lunches or dinners with friends, or when you want to look a little nicer than usual but don't want to go all out.
Formal
A formal dress code means that you need to wear a more dressed-up outfit, such as a skirt or pantsuit. Heels are usually a must with this dress code, and it's generally best to avoid jeans and other casual items. This dress code is perfect for things like weddings, business dinners, or black tie events.
Cocktail
A cocktail dress code is similar to formal, but it's a bit less dressy. You can wear a cocktail dress or a nice pantsuit, but you should avoid wearing too much jewelry or accessories. This dress code is perfect for things like dinner parties, business events, and other semi-formal occasions.
Evening
An evening dress code is the most formal type of dress code, and it usually means that you need to wear a floor-length gown. Heels are a must, and you should avoid wearing anything too casual. This dress code is perfect for things like balls, red carpet events, and black tie galas.
Now that you know all about different types of dresses, it's time to find the perfect one for your next event! Scroll through the list below and find the type of dress that's perfect for you. Have fun!
Types of dresses by length
Mini
The mini dress is the shortest type of dress, which created great outrage when it first appeared, in the 1965s. Back in the day, it was anything but decent to appear in public showing your bare legs. Luckily, nowadays even though shorter, these dresses are a lot more common and less scandalous. These types of dresses are very sexy and emphasize beautiful legs.
Mini dresses are anywhere above the knee. Micro skirts are the shorter version of the mini, ending just under the hip area.
Midi and knee-length
Midi dresses reach between the knee and calf area. This length is usually suitable for office dresses or casual day dresses when you need to look feminine, but you don't want to worry about showing too much skin. Knee-length dresses reach right to the knee area, like the name suggests.
Long
Long dresses reach down anywhere between the calves to the ankles, but don't drag onto the floor. You can wear a long dress at any event and at any time of the day, from a beach walk to the office or a wedding reception.
Maxi and floor-length
Maxi and floor-length dresses are the longest of all types of dresses and are quite similar in length. The maxi dresses reach almost to the floor, but barely touch it, while floor-length may even drag a bit onto the ground. Ballgowns fall into this category, as the traditional ones were floor length, not allowing the toes to show.
Types of dresses by silhouette
A-line
This style has a flared cut, wider at the hem than at the shoulders. When laid out on a table, it has a triangular shape that resembles the letter A, hence its name. It is usually waist-fitting or tied at the waist with a belt to mark it. The A-line dress is flattering for pear-shaped bodies, and the amount of flare may vary from just a bit to very full.
Princess
As its name suggests, this historical style has a fitted bodice and a very full skirt that is usually floor-length. Newer, more casual designs have now emerged, having the same silhouette, but shorter skirts. This shape is fit for everyone. It accentuates the natural waist, hides most flaws, and highlights the arms and shoulders.
Fit and flare
The fit and flare style is between the A-line and the princess dress. It has a fitted bodice that flares out to a wide skirt and may or may not have a waist seam. This dress is very flattering for those with a pear figure and may help conceal small flaws in the abdominal area.
Mermaid dress (trumpet)
This shape is great for wearing at formal events. It has an elegant form-fitting figure and flares al the middle of the thigh or calf, looking just like a mermaid's tail. Perfect for those with a pear or hourglass figure. Because of its long, straight cut, those with column-esque bodies should choose a gown that is looser on the waist and hips. Also, petite women should avoid this style.
Bodycon
The bodycon dress is a tight, form-fitting dress, usually made of stretchy fabrics. It has a sexy fit, showing off the wearer's beautiful curves and natural waistlines, and is excellent for those with an hourglass figure. It is perfect for a night out, but also during the day when you want to look more classy.
Pencil
This style resembles the bodycon dress a bit but is classier and more elegant. Usually made of stiffer fabrics with no frills or bling, it generally reaches knee-length. It is very form-fitting and gets its name from the pencil tip shape you see as it elegantly hugs the legs. It is an excellent shape for a little black dress or an office outfit.
Empire waist
Another historical design, this shape was very popular during the 18th century (seen Pride and Prejudice, for example?). It has a very high waist, gathering just under the bust, and goes straight all the way down, with just a little bit of flare. Petite women will benefit from this style, as it elongates the body, giving the illusion of longer legs.
Types of dresses style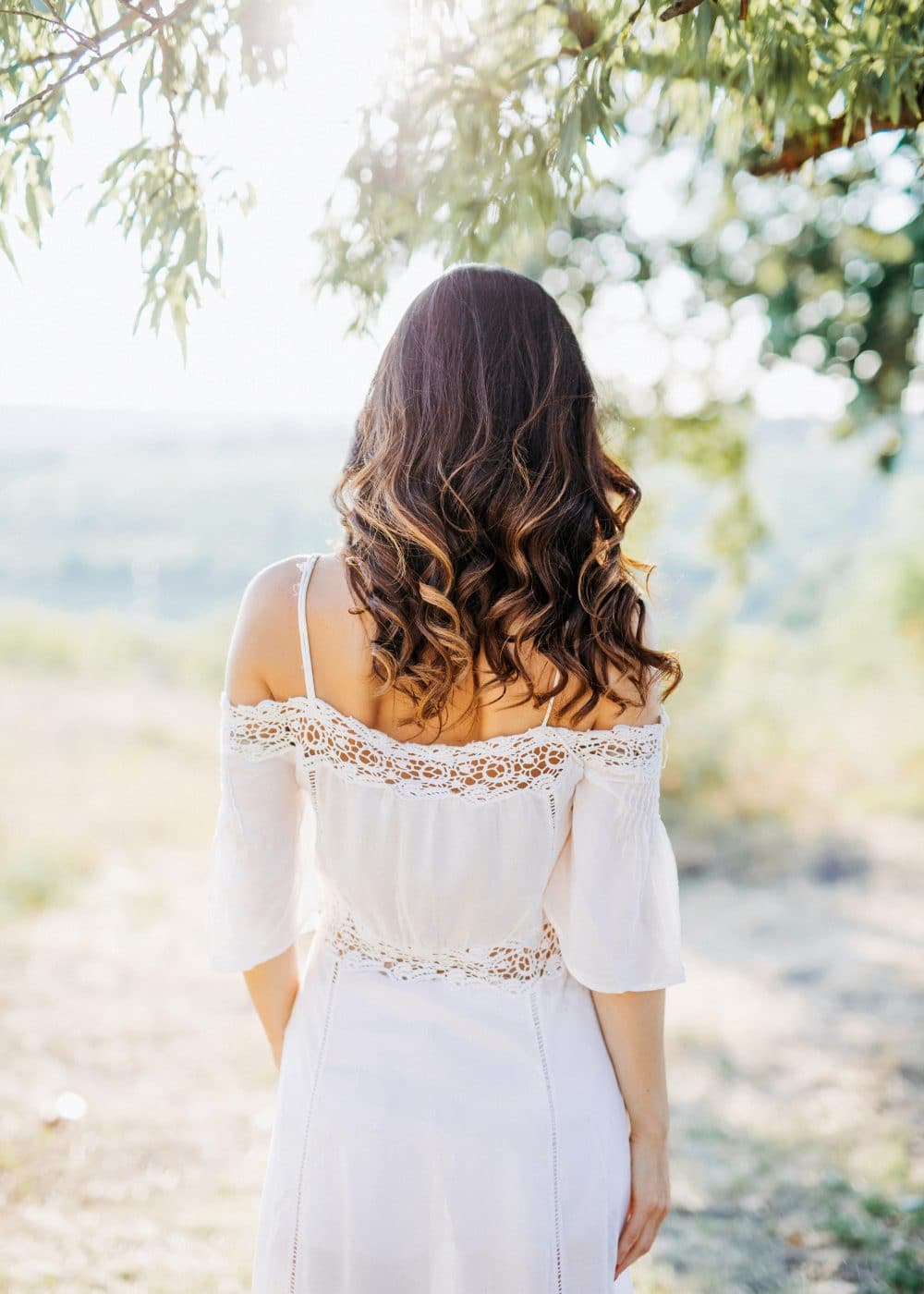 Little black dress
As its name suggests, this is a simple, usually short or knee-length black dress with clean lines and very little to no bling at all. All women should have one in their wardrobe and can be worn on many occasions. Pair it with a daring red lipstick and a statement necklace for an evening event, or a clean make-up and discreet jewelry for more sober events.
As Karl Lagerfeld once said: "One is never over-dressed or under-dressed with a little black dress!"
Ball gown
The ballgown is an elegant, formal dress, usually worn at black tie events. It can be A-line, princess or mermaid style, but is always made of fine, elegant fabrics and is usually floor-length. Modern styles can be asymmetrical, being shorter at the front and floor-length at the back. Either way, this dress is a show-stopper.
Wedding dress
The wedding dress is the most important dress a woman will ever wear in her life. It's the dress that most brides to be agonize over for months, trying to find the perfect one that will reflect their personality and make them look like a princess on their big day.
It is special, unique and should be chosen with care. It can be any style, but is usually a ballgown or A-line shape. The fabric should be luxurious and the details very intricate.
It is important to find the right wedding dress for your body type and personality. If you are shy and reserved, a simple ballgown (even long sleeve ones) might be the right choice for you. If you want to feel like a princess on your big day, go for an A-line dress with lots of tulle, satin and lace.
No matter what style you choose, make sure it makes you feel beautiful and confident on the most important day of your life!
Corset dress
Regardless of its length, the corset dress flatters the waistline thanks to its incorporated laced-up corset. The lacing can be at the back, front or on the sides. It can also complement the design or made as a contrasting part. Either way, it helps you achieve a very elegant posture thanks to the stiffness of the corset.
Cocktail
The cocktail dress is a more sophisticated, yet still a bit casual formal dress. It is less restrictive and uses different neckline or sleeve types, as well as a bit of bling to attract attention. This dress type is great for a night out or a fancy business event.
Shift dress
The shift dress is a very simple, straight cut dress that hangs loose from the shoulders. It has no darts, pleats or fitted waist and is perfect for those who want to hide their curves or are apple shaped. Because of its simplicity, it can be worn at any time and for any event, making it a perfect go-to dress.
Peplum dresses
The peplum dress is a recent fashion trend that has taken the world by storm. It is a very feminine style that accentuates the waistline and hips with a flared, ruffled or pleated hem. This style is perfect for hourglass figures, as it emphasises their curves. It can be worn at any time, for any event, making it a very versatile dress.
Peasant
A very flowy and summery dress made of thin fabrics. It has a loose fit with long or short, usually gathered sleeves. The sleeves and neckline are usually gathered with elastic or a drawstring. It can be worn on or off the shoulders.
One shoulder
An asymmetrical dress built with only one strap or sleeve, and the other shoulder bare. This cut can be used for either elegant or casual dresses.
Off-the-shoulder
These dresses highlight the shoulders and arms. They have a very low neckline that falls off the shoulders (hence its name) and can be either style that supports it, like A-line, flared, or corset.
Halter neck
Sleeveless dresses with the upper part tied behind the neck to support the dress. This design flatters thin shoulders and arms and is great for a fun, summer look.
Asymmetrical
There are many kinds of asymmetrical dresses. Basically, they will have one side longer than the other. It can be either a one-shoulder dress, a high-low dress (the skirt shorter at the front and longer at the back), or shorter on one side. They may also have just one sleeve.
There are many asymmetrical designs, casual or formal, that are very playful and flatter all body shapes.
Wrap dress
This is a comfortable style, with sides crossing over and tying at the back or the side. It drapes nicely on the figure and creates a flattering shape. It's very important to be made out of a smooth fabric that drapes nicely and doesn't create too much bulk.
Camisole
A light dress resembling a camisole, this is a casual design with thin spaghetti straps and a clean design. It sometimes has a bit of stretch and is made of soft fabrics that hug the figure loosely, but somehow fit.
Sweater
This dress is a loose and comfortable knitted dress with long sleeves and a straight design. It is great to wear during fall or winter, paired with boots and tights.
Shirt
A loose, casual dress that looks like a longer shirt. It is usually short or knee-length, with a straight design which can be worn as it is or tied at the waist, depending on how the wearer likes it.
T-shirt dress
A very casual design that looks just like an overly elongated T-shirt. Great for wearing during summer days, and very comfortable.
Skater dress
One specific fit and flare design, this one has a fitted, but comfortable bodice and a full, short skirt. Its shape is based on dresses worn by ice skaters, which allow a wide range of movements.
Denim dress
This can be any style dress made of denim. Usually, simpler designs are made of this fabric, as it is stiffer and doesn't bounce that much.
Versatile dress
A very popular dress design nowadays, this one is usually flared from the waist, while the upper part consists of two long, wide straps. The straps can be tied in many ways to help create various designs like halter, one shoulder, sleeveless, wrap, etc. These dresses are also very widely known as "bridesmaid's dresses", as they are very popular among bridesmaids. They can each wrap their dress in a unique style, and are able to wear them again after the wedding.
Halter dress
A sleeveless dress with the upper part tied behind the neck to support the dress. This design flatters thin shoulders and arms and is great for a fun, summer look.
Baby doll dress
These are a short, loose-fitting, flare dresses that are flaring out from the waistline. Their shape is meant to resemble a baby doll's clothes, which is why it got its name. It can be made out of many different types of fabrics, like cotton or silk, and is perfect for summer days and any body shape.
Pinafore dress
This dress is a very short, A-line design with a Peter Pan collar. It is made to look like a child's pinafore, which is why it is also known as a "bib dress". It can be made out of many different types of materials, but typically cotton or linen are used so it can be comfortably worn in the summer.
Traditional or inspired by traditional dresses
Sari (Saree)
The Sari is one of the traditional Indian dress types and maybe one of the most well-known. It is usually long or even floor-length, with its distinctive feature being a long piece of fabric draped around the body.
Drindl
The dirndl is a traditional German dress consisting of a loose blouse, a tight-fitting bodice with a low, square neckline, a gathered high-waist skirt and an apron. The skirt is usually knee-length.
This dress type originated in the Alpes between the 16th and 18th centuries.
Kimono
A type of wrap dress, this style is inspired by the traditional Japanese kimono. It has a straight cut and long sleeves, which may be tight or wide. Modern kimono dresses may have a lateral slit to allow more movement.
Kaftan
A loose, traditional Turkish or Arabian dress style with a straight cut, usually made of bright fabrics. The pattern usually consists of a single, long piece of fabric folded at the shoulders. It is a very comfortable type of dress made in lightweight fabrics, that is nowadays used in the Western world as a beach dress.
Qipao
Inspired by the 17th century Chinese dresses of the Manchu dynasty, the Qipao maintains its high neckline and straight skirt. Originally made of silk and with fine embroidery, this dress type is a great insight into the complex Chinese culture. Modern Qipao dresses have gained popularity in the 1920s and have one or two lateral slits, for more movement. Sleeves have also changed over time so now we can see dresses with short or no sleeves.
There is a dress style for everyone, and this guide only shows us it's the time to start wearing more dresses. There are a lot more styles apart those above, so please share your favorite styles in the comments below, and also tell me how you like to wear them.
Pin to save for later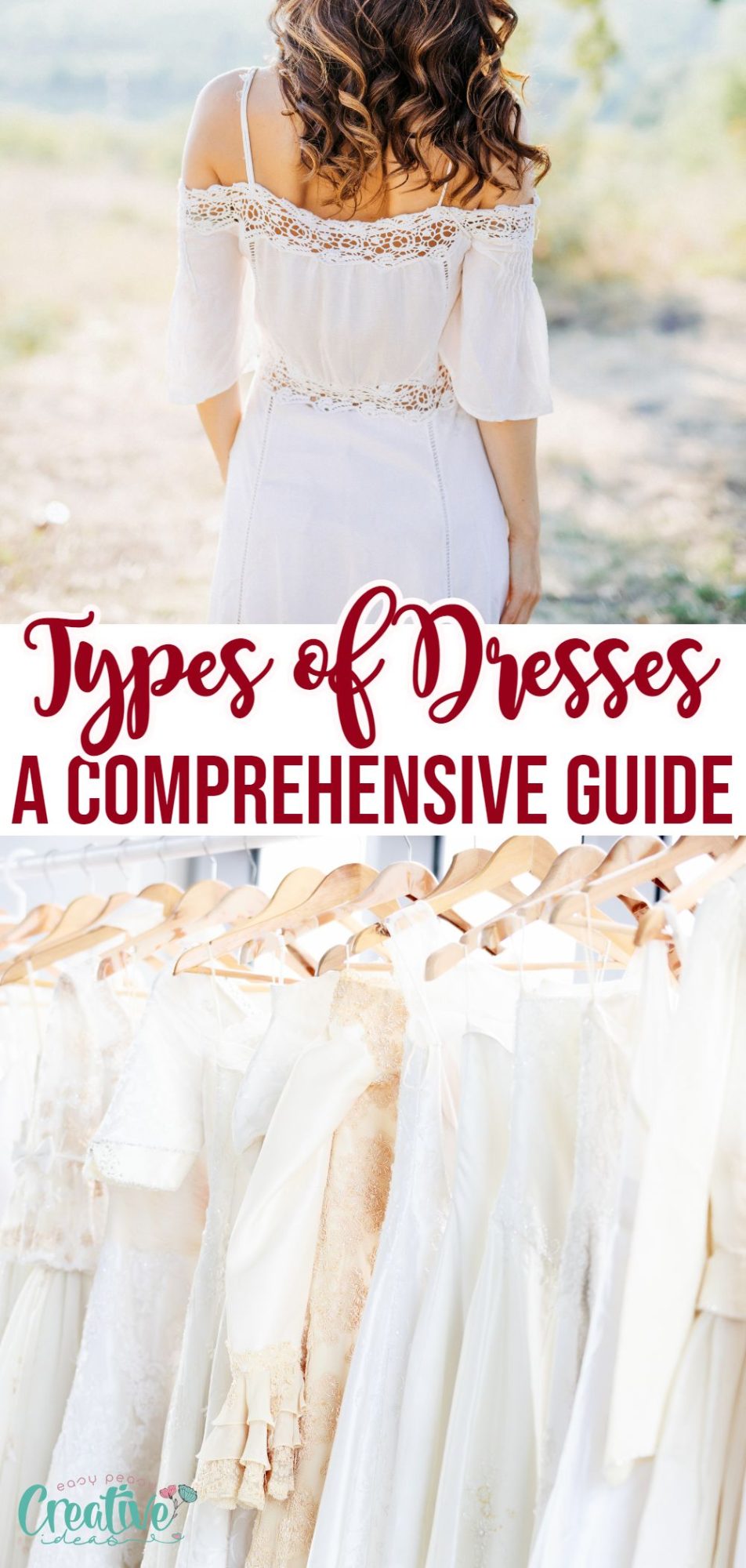 Most popular sewing projects: