How To Laminate Fabric At Home
Article may contain Amazon & affiliate links. As an Amazon Associate I earn from qualifying purchases at no additional cost to you.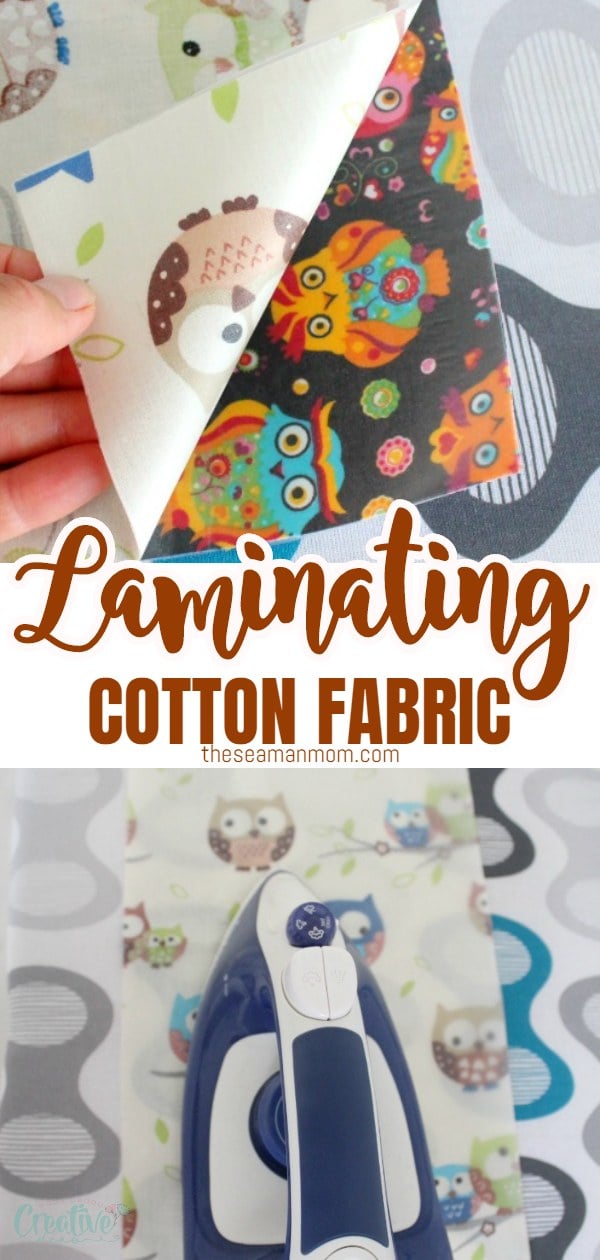 There's a variety of great sewing projects that require laminated cotton fabric. And laminating fabric at home is now so easy peasy! Learn how to laminate fabric at home with this simple and easy method!
How to laminate fabric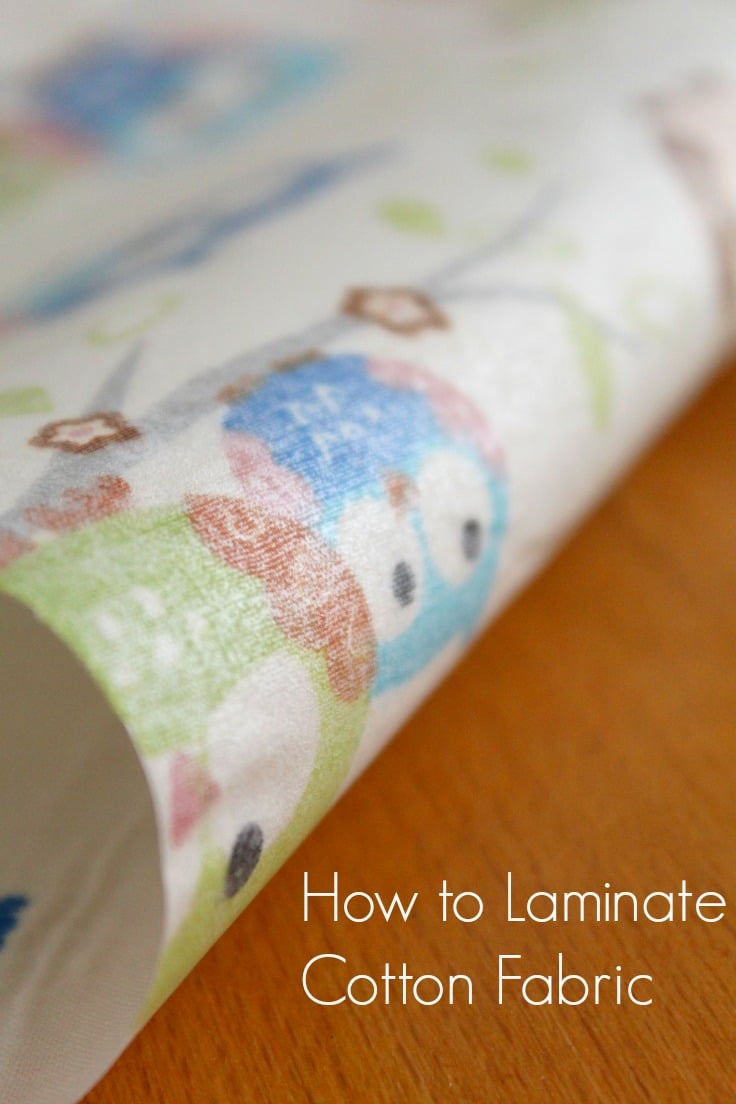 I've been meaning to make a little reusable snack bag for myself and my daughter for ages but never got to start working on the project because I never find the right vinyl fabric to suit my taste. So I thought I should make my own. In this simple tutorial I'll show you how to laminate fabric yourself and laminate fabric in the colors and pattern you like and need for your projects.
This tutorial on laminated cotton is super easy and comes together in less than 5 minutes but the results are a gorgeous laminated fabric you could use on lots of projects that require vinyl or water proof fabric. In theory you can laminate any fabric but cotton is the easiest to handle and also sturdier than thin fabric or fabric that has a deep texture. Cotton is the ideal fabric for this project and that's what I've used in this tutorial too.
My daughter is pretty crazy about owls and a while back I purchased some fabric with an owl print to make a little Halloween tote bag for her. I keep using it ever since, it seems like this fabric never ends! I'm left with bits and pieces now, perfect for a snack bag project which is an awesome way to use up fabric scraps.
More sewing tips you will love:
For this tutorial on how to laminate fabric I used an iron-on transparent film that can be fixed in place and can then be sewn on any sewing machine. It's suitable for almost all fabrics, can be wiped off with a damp cloth and is comfortable to iron-on. The finished products are protected from getting dirty and the film is also food safe. To clean, just wipe with a damp cloth, do not wash!
There's no need to laminate your whole fabric piece and waste the film. Just cut out the pieces for your project and laminate them separately if they have simple shapes. For more intricate shapes, cut out a larger square of fabric and film and cut out the final piece after ironing. This will also keep your fabric from slipping while cutting.
Is laminated cotton waterproof?
Laminated fabrics have a very thin transparent layer of polyurethane film fused with the right side, which is waterproof, durable, more easily cleaned, but still drapes well. Still, it is less flexible than non laminated fabric, so consider choosing a simple pattern with little shaping or pleats.
As laminated fabrics come in very limited print options and they are usually pretty expensive, this was the best thing I could do to make sure I'm using the fabric I want. The great advantage is that I can laminate just how much I need and not spend too much on a large piece of fabric that will stay in my stash. I was also able to use stash fabric, so I didn't spend a cent on new fabric.
What is laminated fabric used for?
Laminated fabrics, also called oilcloths, are great for using in messy projects, like lunch or makeup bags, baby bib clothes, spill-proof tablecloths or placemats, coasters, chair covers, raincoats, changing pads, shopping bags, electronics pouches, as they are so easily cleaned and you don't have to worry about the laundry.
Depending on how you want to use the fabric, waxing can be an alternative for laminating. You can use waxed fabric for wrapping food or covering bowls in your fridge. This is done by soaking a piece of fabric in molten wax, or spreading wax evenly over the laid fabric and cooking it in the oven until it melts and distributes evenly.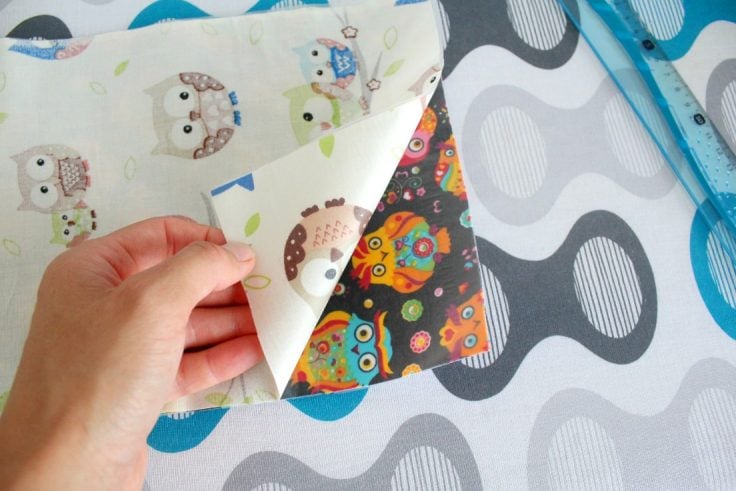 Tips for working with laminated fabrics
Preparing
When sewing with laminated fabric you're gonna need to treat it like vinyl or leather so you'll need to use a leather needle and a teflon foot. You might also want to check out these tips for sewing vinyl!
When applying the vinyl, only remove about 1 inch of the backing, fix it on the fabric and slowly remove the rest of it to avoid air bubbles forming;
Usually, ironing laminated fabrics is not necessary, as it is stiff enough and doesn't wrinkle. But if you need to iron it, only iron from the wrong side. If you must iron from the right side, always use a backing paper or another piece of cloth. You don't want to get vinyl on the iron.
Sewing
Clip it instead of pinning it, or pin carefully along the seam line. Holes remaining from the pins will be permanent. Some of them might disappear with ironing or a hair dryer, but it's not guaranteed;
Use a longer stitch length than usual, as shorter stitches can weaken the seams, creating too many holes;
The fabric may stick to the presser foot and the feed dogs may not feed it properly. If you don't have a Teflon foot, you can also use scotch tape or painter's tape to cover the presser foot for easier sewing;
Thanks to the coating, laminated fabrics don't fray, so there's no need to finish off the seam. You can just use a rotary cutter to make a nice and straight end which can even be exposed if you like.
Storing
To avoid wrinkling while storing or transporting, roll the fabric in a tube rather than folding it; creases can damage the coating, but sometimes they can be fixed by ironing carefully;
If the finished product wrinkles, you can fix it with a hair dryer. Don't touch the fabric and use a low setting;
Store bags made of laminated fabric with a stuffing inside, to preserve the shape. Also, clothing should be hanged on a thick hanger;
Laminating fabric at home is super fun and affordable!