How to make a cheap and cute DIY Christmas wreath
Article may contain Amazon & affiliate links. As an Amazon Associate I earn from qualifying purchases at no additional cost to you.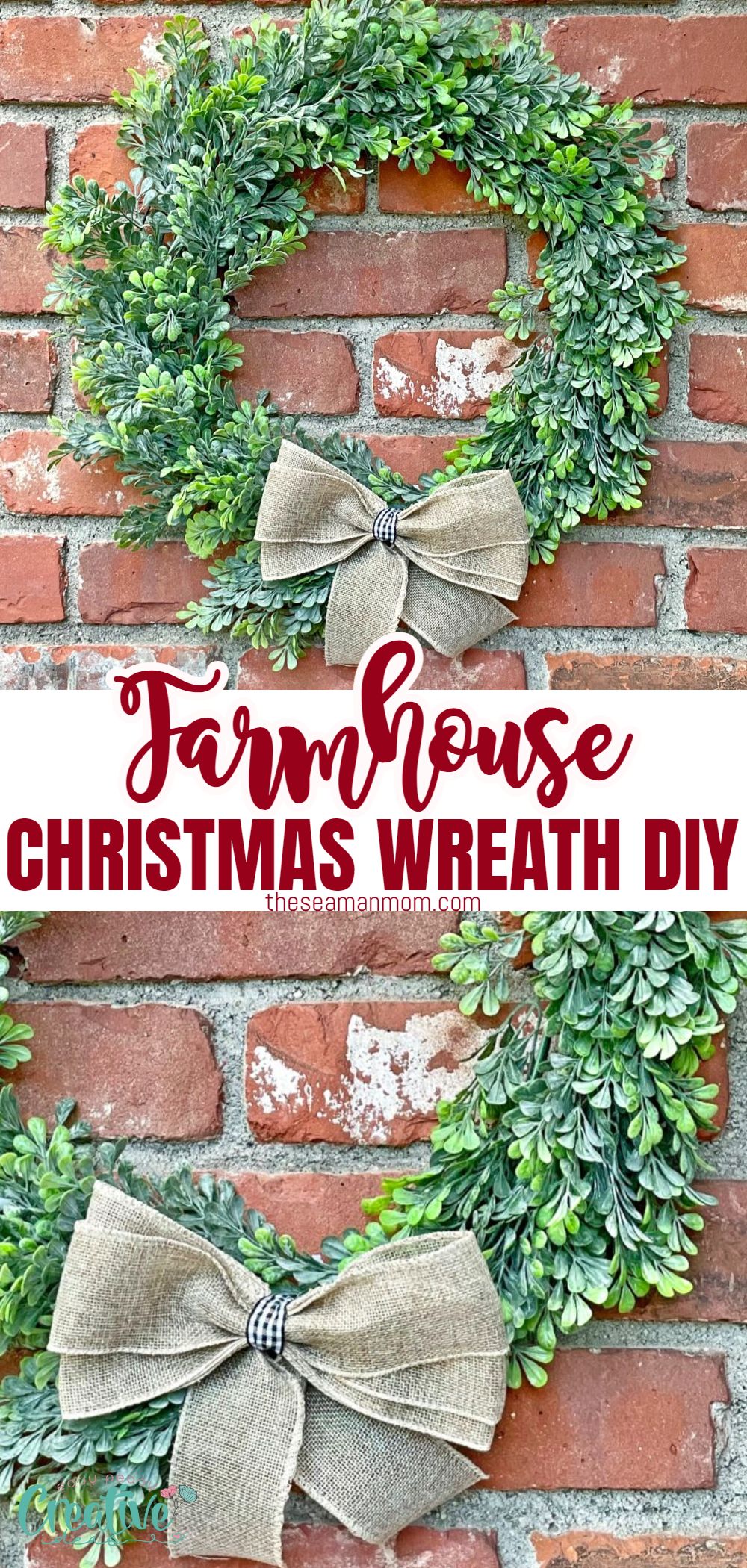 Boxwood wreaths are one of my favorite ways to add farmhouse charm to my front door during the holidays. But there's no reason to spend a fortune on a real boxwood wreath when you can make your own at home for $10! Using supplies from Wal-Mart and Dollar Tree, make your own DIY Christmas wreath for a fraction of the price of a real one using this easy tutorial.
DIY Christmas wreath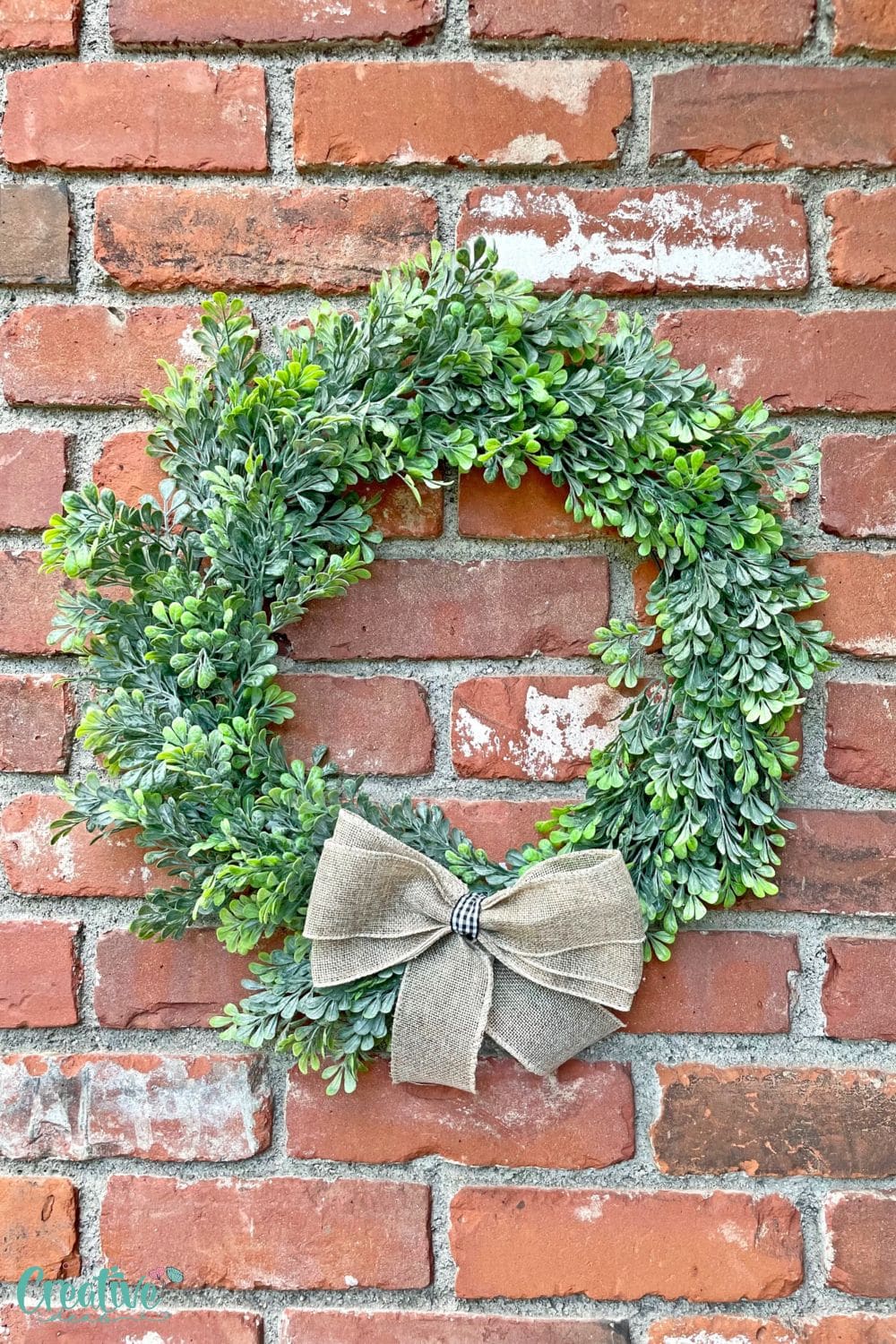 Who doesn't love a beautiful homemade DIY Christmas wreath? And, who doesn't love saving money? Check out this sweet and inexpensive farmhouse Christmas wreath that any crafty person can whip up! In this article, you'll learn how to make your own Christmas wreath on the cheap using dollar store materials!
If you're a Christmas or winter holiday season lover, you must have one nice, cute, and easy DIY Christmas wreath! And if you've been looking for inexpensive DIY Christmas wreath ideas, this one is perfect for you!
Imagine having all of the glory and goodness of a real boxwood Christmas wreath, without all of the mess and stress of keeping it alive. Use your DIY Christmas wreath to decorate your home or present it as a gift to your family. This evergreen wreath is a great way to show your Christmas spirit and welcome guests into your house! And if you plan on gifting this beautiful wreath, I recommend using some nice wrapping paper.
More similar content you will love: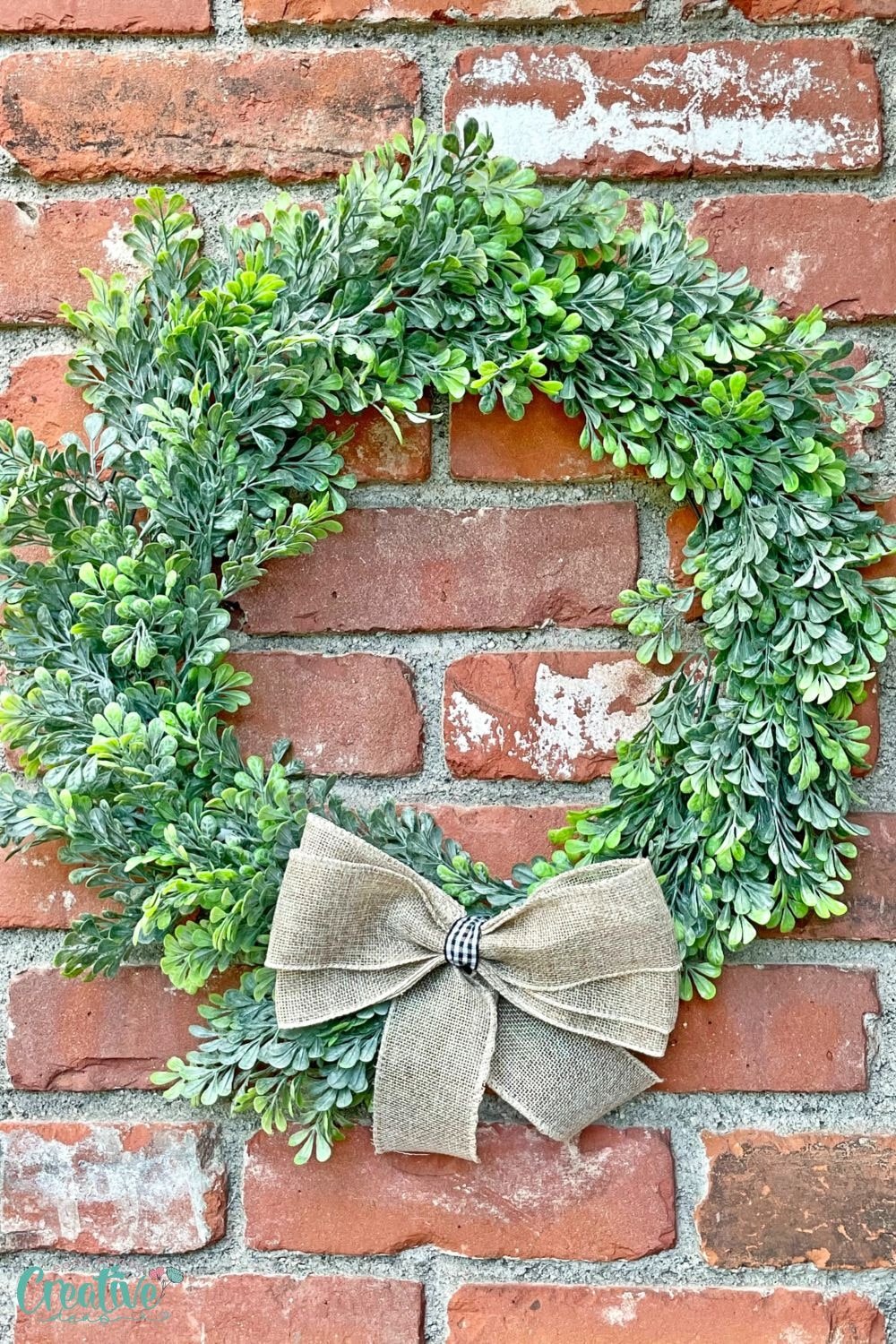 Supplies for this Christmas wreath craft
What I love most about this budget-friendly farmhouse Christmas decoration is that you can easily find everything you need to make it at the dollar store and Wal-Mart! To make your own DIY boxwood wreath, you'll need:
Wire wreath frame. You can find a 14-inch wire wreath form in the craft section of Dollar Tree for just $1 or head to the floral section of Wal-Mart to grab a wreath form for your craft. A styrofoam wreath would work too.
Ribbon. This farmhouse style wreath uses two different types of ribbon – both from the craft aisle of the dollar store. Grab a roll of burlap ribbon and a roll of black and white check ribbon for your boxwood wreath.
Boxwood picks. The only element of this wreath you won't be able to find at Dollar Tree are the boxwood picks. But don't worry! You can get one pick for $.98 at Wal-Mart! You'll need at least 8 picks to fill out your boxwood wreath.
Zip ties. Attach the ribbon and picks to your wreath form with zip ties from the dollar store. You can usually find zip ties in the automotive or household section of Dollar Tree.
Tools needed
Hot glue gun. In addition to using your zip ties, you'll also need a hot glue gun to attach all the elements to the wreath. While you can't get a hot glue gun at the dollar store, you can score a big bag of hot glue sticks to use while making your wreath in the craft aisle!
Wire cutters. To make cutting your box wood branches from your picks, wire cutters are a handy tool to have. But if you don't have wire cutters at home, you can also use a sharp pair of scissors to cut off the branches.
How to DIY Christmas Wreath
Making your own Christmas wreath couldn't be easier! In fact, you can put together your own holiday wreath to decorate your front door in just three steps:
Attach the boxwood to the wreath form. Cut each branch off the box wood stems and attach each stem to the wire form with your zip ties.
Make a bow. Use your burlap and checkered ribbon to create a farmhouse style bow to decorate your Christmas wreath.
Hang the wreath on your door. After making your wreath, all that's left to do is display it! Hang your Christmas wreath on your front door to spread holiday cheer to your neighborhood.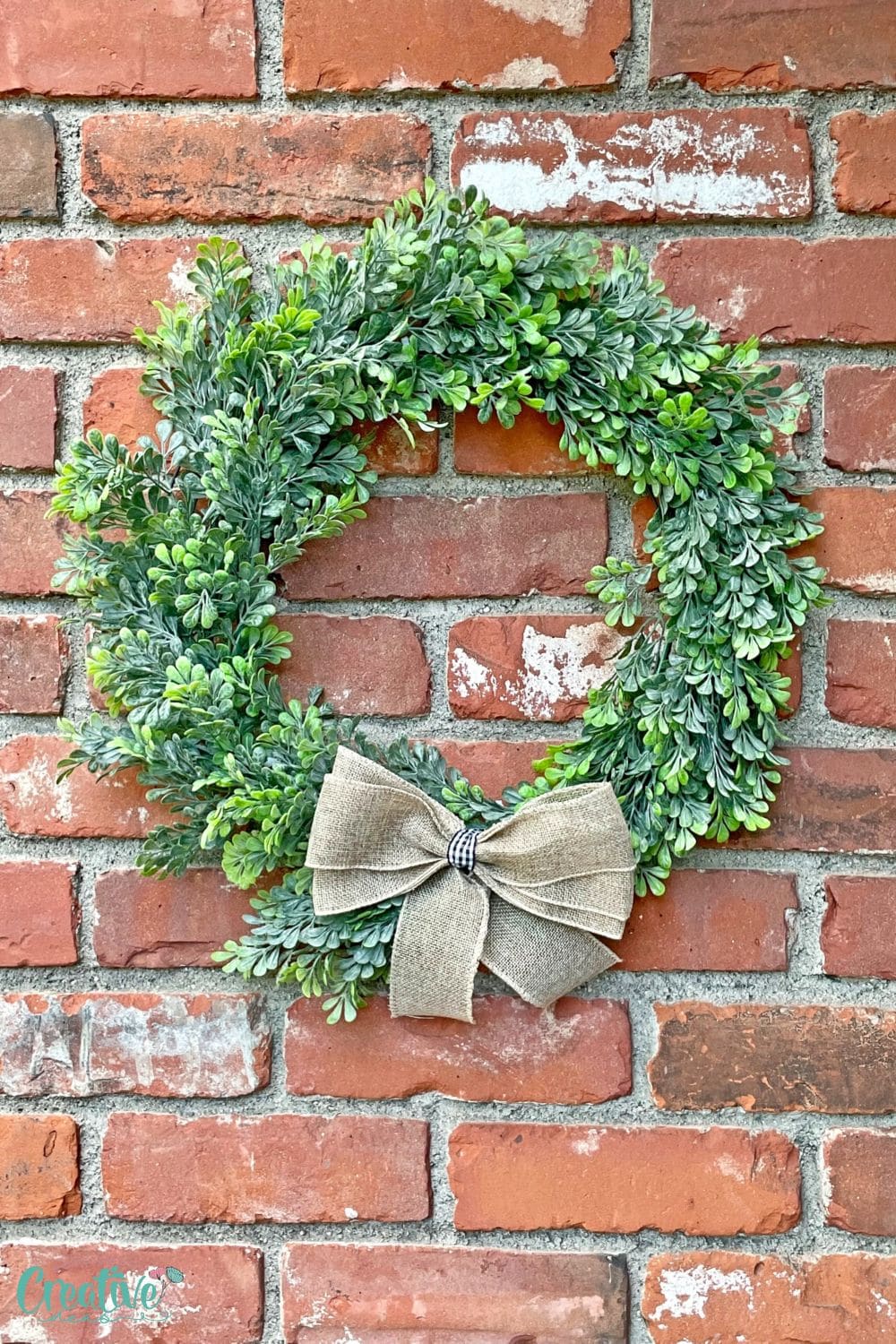 How to personalize your DIY wreath
Add some pinecones around the wreath or just a pine cone to the center of the bow.
If you want to add a pop of color to your wreath, use some fake berries or fake leaves to decorate it.
Add some candy canes to make your wreath more fun and appealing to kids.
If you have any available, add some hay straws for extra farmhouse vibe.
Insert some cinnamon sticks, dry peel from oranges or sprinkle some eucalyptus essential oil to make your wreath smell amazing.
Hang some wine corks to your wreath if you're going to have wine lovers visiting you for the holidays. Great option if you don't want to deal with the hassle of a wine cork wreath for the holidays.
Place Rudolph in the middle of the wreath.
Hang some cute Christmas ornaments to your wreath to make it even more nice and holly.
How Do You Hang a Wreath on a Door?
Now that you have a beautiful and easy DIY Christmas wreath to display, you're going to want to hang it on your front door! But if you've never displayed a wreath on your door, you might be wondering what is the best way to display your wreath. Here are a few popular methods for hanging a wreath on a door:
Use a nail. One of the best ways to hang your wreath on a door is with a nail. Hammering a nail into your door will ensure your wreath won't fall off, no matter the weather or how hard the door is shut. To use a nail to hang your wreath, grab a nail and hammer it into the door in the spot where you want the top of the wreath to hang. Make sure to hammer the nail at an angle and leave one to two inches of the nail sticking out of the door to hang the wreath.
Over the door wreath hanger. While using a nail is a great solution for hanging your wreath, the nail will cause damage to the door. If you're worried about putting a hole in your door, you have a few other options. The easiest option is an over-the-door hanger or a simple wire hanger. Simply place the hanger over the top of your door, center it, and hang your wreath on the end using jute, ribbon or yarn.
Command hooks. Another damage-free way to hang your wreath on your front door is with Command hooks. These stick-on hooks are typically made of plastic and are easy to hang and remove without damaging the door or the paint. To use a Command hook, start by cleaning the spot on the door you plan to place the hook with rubbing alcohol. When the spot is dry, place the included sticker on the back of the hook and press the sticky part onto the door. Allow the hook to hang in place without the wreath for 24 hours, then hang your wreath on the hook.
Pin to save for later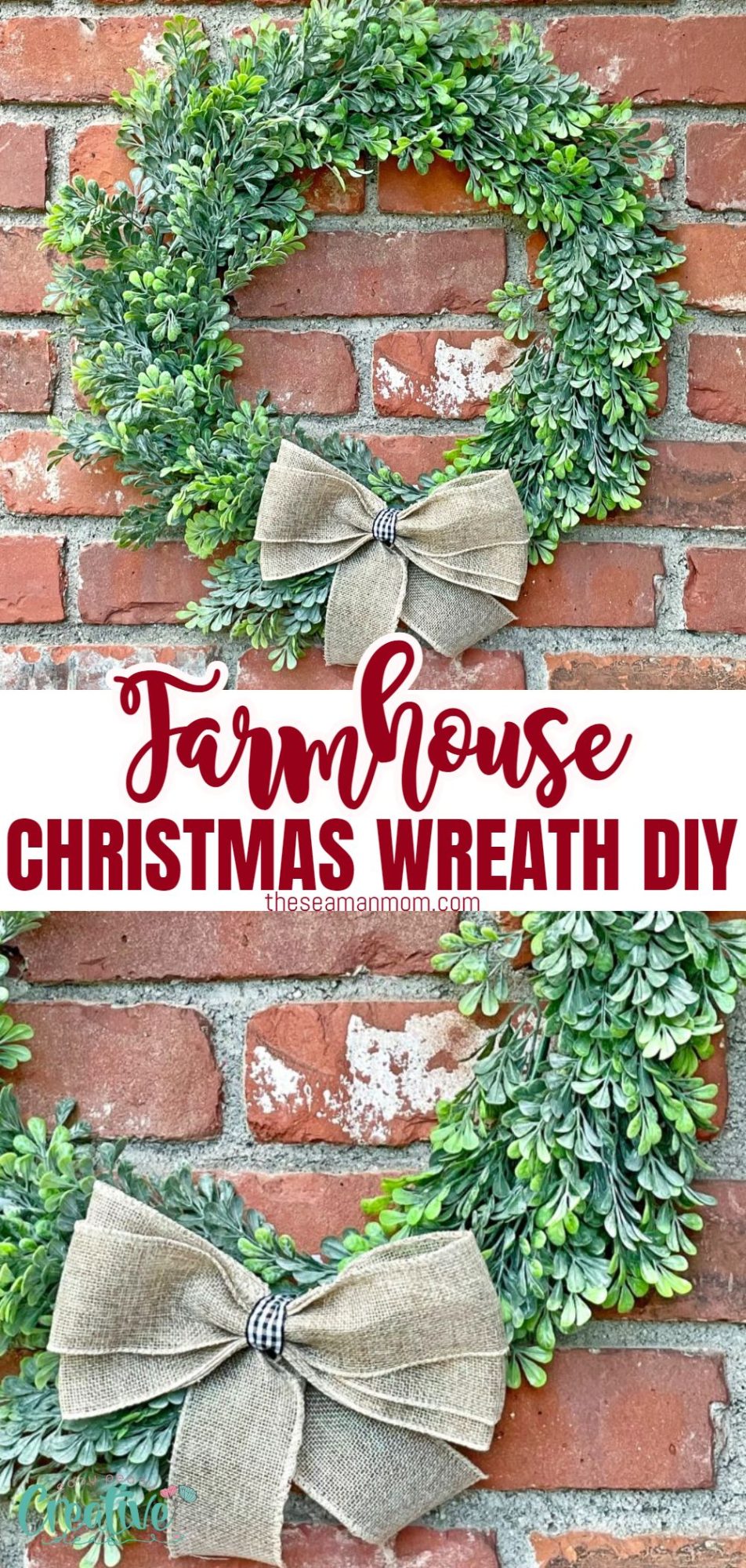 Print the craft card
DIY Christmas wreath
Check out this sweet and inexpensive farmhouse style DIY Christmas wreath that any crafty person can whip up!
Materials
14

inch

wire wreath form

Burlap ribbon

Black and white check ribbon

8

Boxwood picks
Instructions
Using the wire cutters, start by cutting the stems of the boxwood. You want to leave a few inches of the stem so you have enough to be secured by the zipties

Take 2 of the stem pieces of zip tie them to the center of the wreath form. Fan the stems out a bit so that the boxwood covers the other wreath rings. Repeat this process around the entire wreath. Add pieces to fill in if you feel like there are open spaces. In a few spaces I zip tied the stems to the inner or outer ring of the wreath form.

With the burlap ribbon. Take a 6 inch pieces and wrap it around itself 3 full times. Next cut a piece that is 10 inches long. Fold that pieces in the middle and place it on the backside of the folded burlap ribbon piece. (The backside would be the side with the ending piece you cut). Secure all of this with a zip tie in the center.

Cut a piece of the black and white checkered ribbon about 5 inches long and use it to cover the zip tie in the middle of the bow and tie it in the back. Slide a zip tie through the black and white ribbon in the back and use that to secure it to the wreath form.