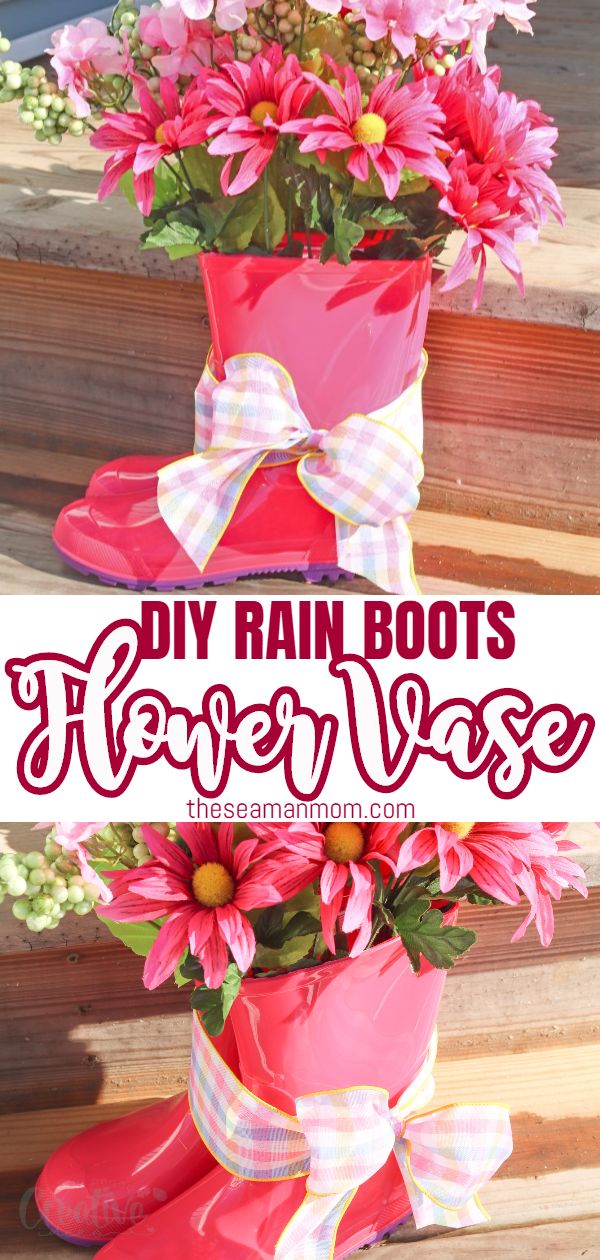 To celebrate winter's emerging departure, why not start making your own DIY spring decor? This rain boots vase is a low-key, easy peasy to make but high rewarding spring porch decor idea that will help you freshen up your home on a budget!
Rain boots vase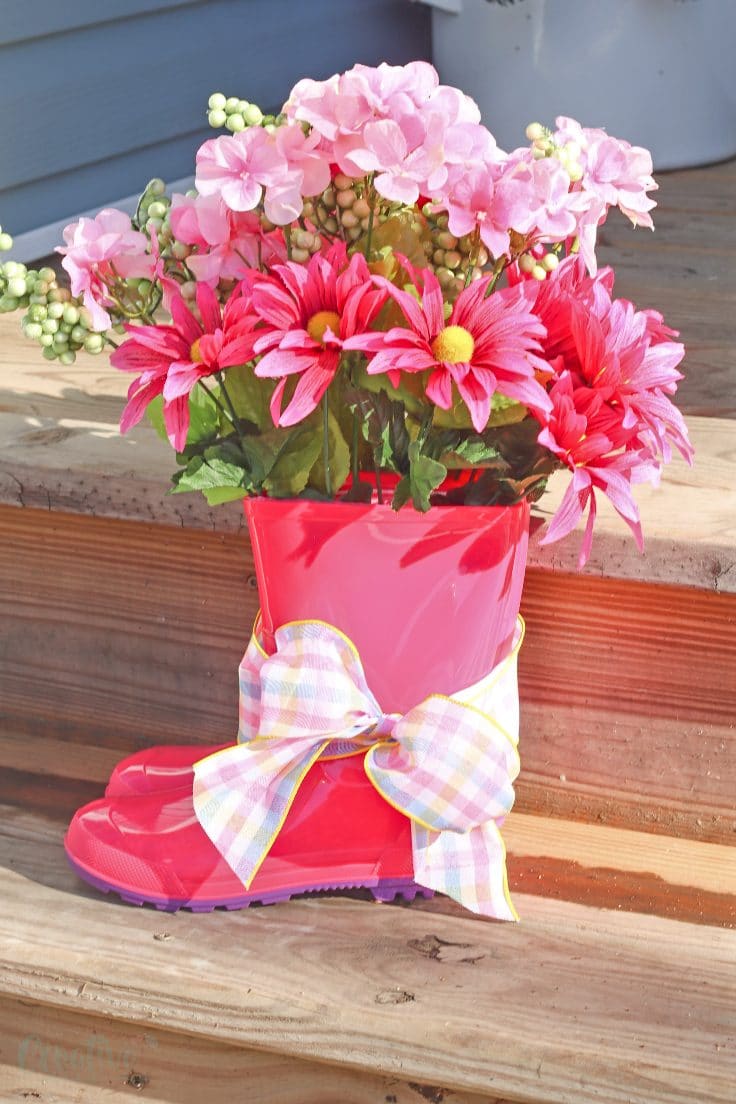 Now that winter is almost over, I'm so excited about decorating my front porch for the spring with this cute rain boots vase! In addition to adding a cute spring wreath to my front door, I also plan on adding tons of pretty flowers to my porch.
If the weather is a little bit too cold to plant fresh flowers in your planters, or simply don't want the hassle of working with dirt and real flowers, get creative with your spring front porch display! This adorable rain boots vase is the perfect way to add some spring florals to your front porch when the weather is too cold for planting.
More Spring ideas you will love:
If decorating your front porch is not your cup of tea, you could simply use these rain boots as spring centerpieces! Great way to upcycle old rain boots that are maybe a little damaged, too small to wear, or simply out of fashion!
Pin to save for later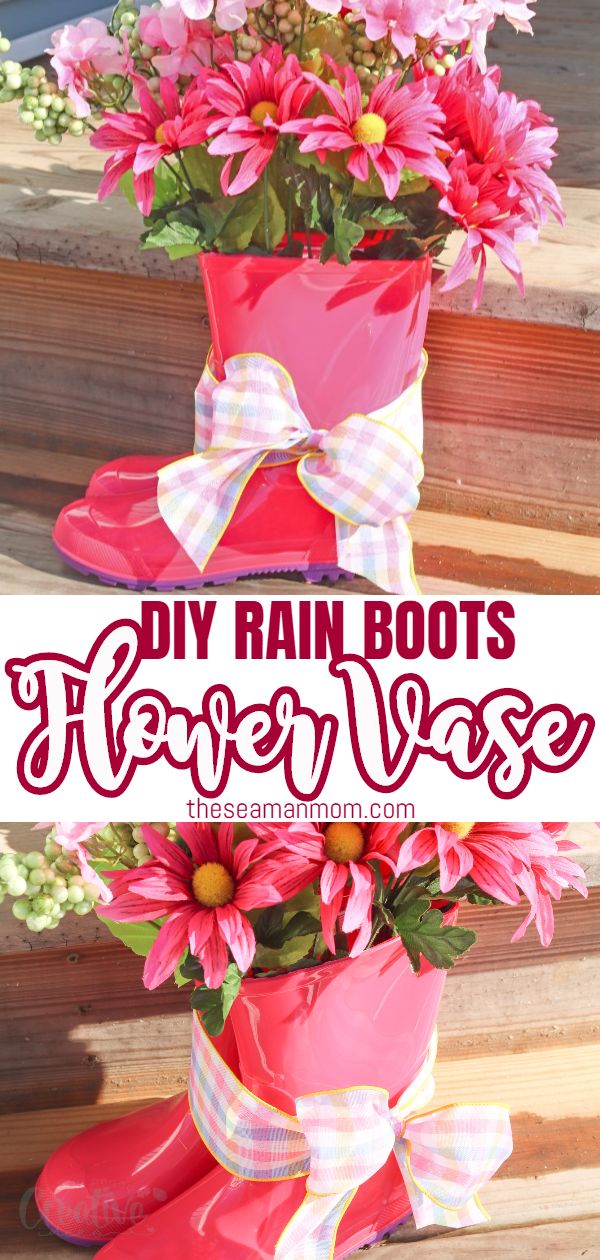 Decorating with Faux Flowers
While I love adding fresh flowers to my front porch during the spring, the early spring months are just too cold for planting. But don't let the weather stop you from adding flowers to your porch! Faux flowers are a great way to add spring decor to your front porch without the need for planting. And since you'll be decorating your front porch with faux flowers, you can be a little creative with how you display your flowers. Instead of displaying your flowers in a planter or vase, why not decorate with rain boots?
Rain boots make the perfect way to display your faux flowers on your front porch! They're a great size for holding flowers and their bright color makes them a cheery vessel for all your spring florals.
The best part about decorating with faux florals is you have so many options! To keep with the spring theme for your rain boot floral display, you could fill your rain boots with:
Daisies
Hydrangeas
Peonies
Daffodils
Lilies
Heather
Lavender
Cherry blossoms
Berry branches
The possibilities are endless!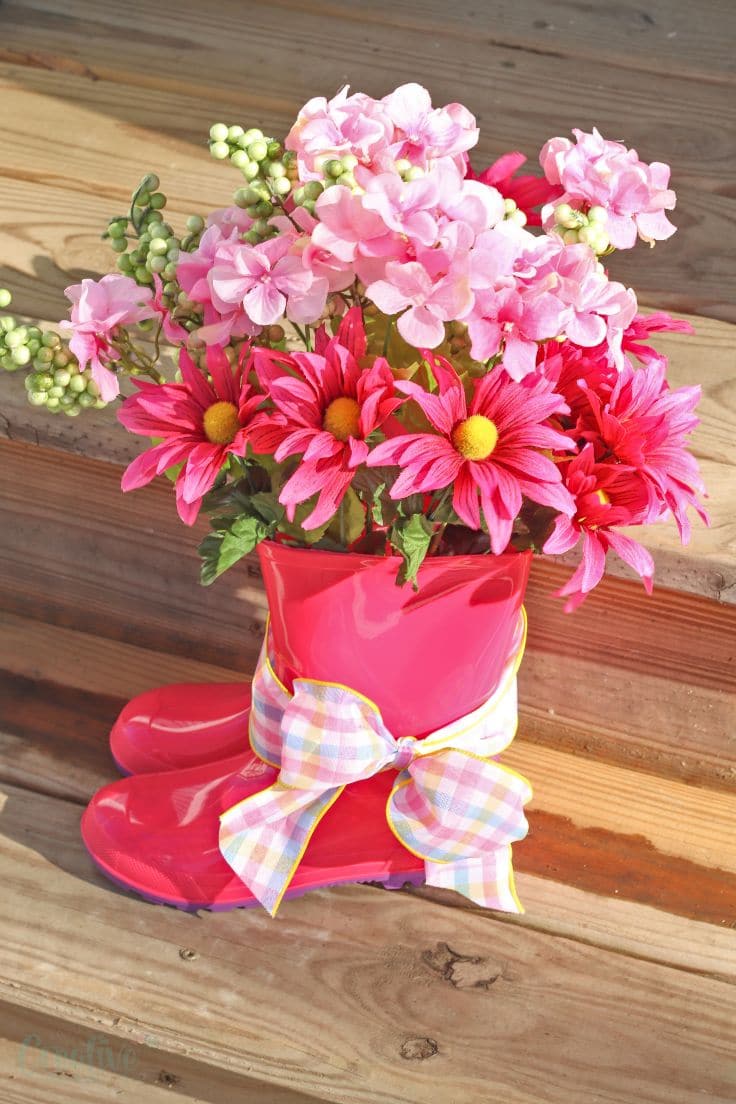 Rainboot Floral Display Ideas
If you love my rainboot front porch display but want to make it your own, you're in luck! It's so easy to customize this front porch flower arrangement. Here are a few fun variations you can make to this rainboot flower arrangement to make it your own:
Different rainboots: The pink rain boots in my floral display are adorable, but you can swap them out for something different! Use classic yellow rainboots for a cheery display or choose a neutral color to match more rustic front porch decorations.
Coordinate your flowers. Whatever style of rain boots you choose to use, try to coordinate your flowers with the color of your boots. Or influence your floral choices by finding flower colors that coordinate with the rest of your front porch decor.
Rain boot flower vase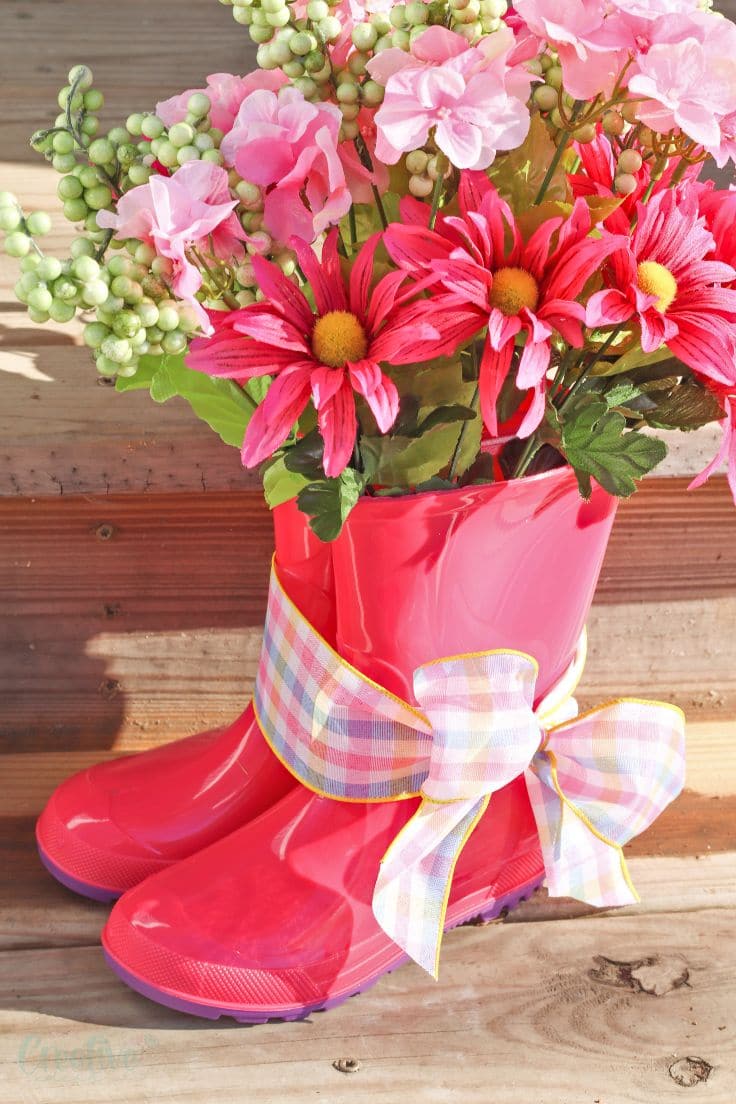 Supplies:
Instructions:
1. Set boots next to each other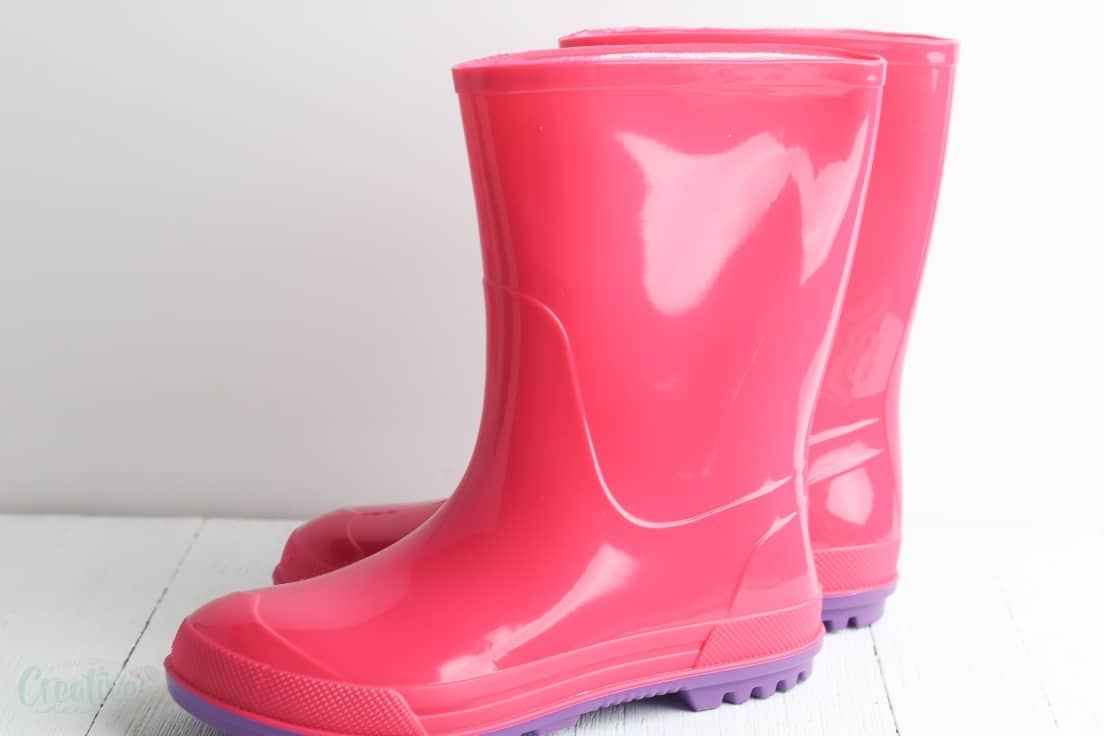 2. Fill the boots with daisies, berry branches, and hydrangeas.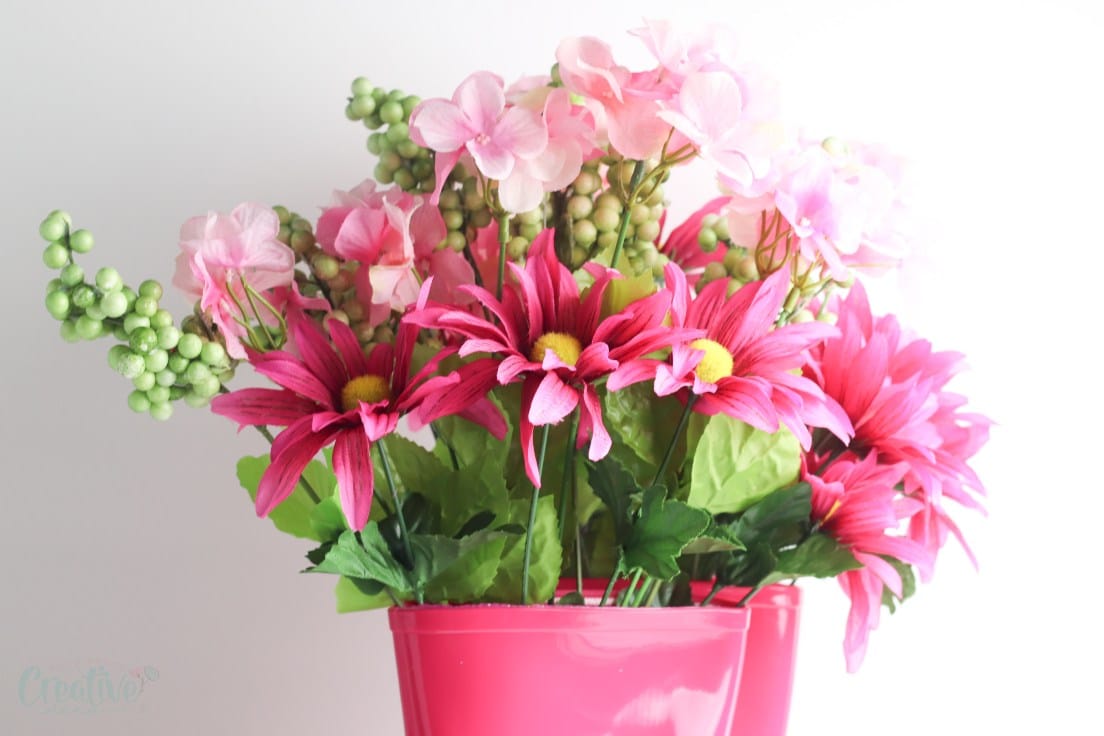 3. Secure the boots together by wrapping a ribbon around both boots and tying a bow in front.