Article may contain Amazon & affiliate links. As an Amazon Associate I earn from qualifying purchases at no additional cost to you.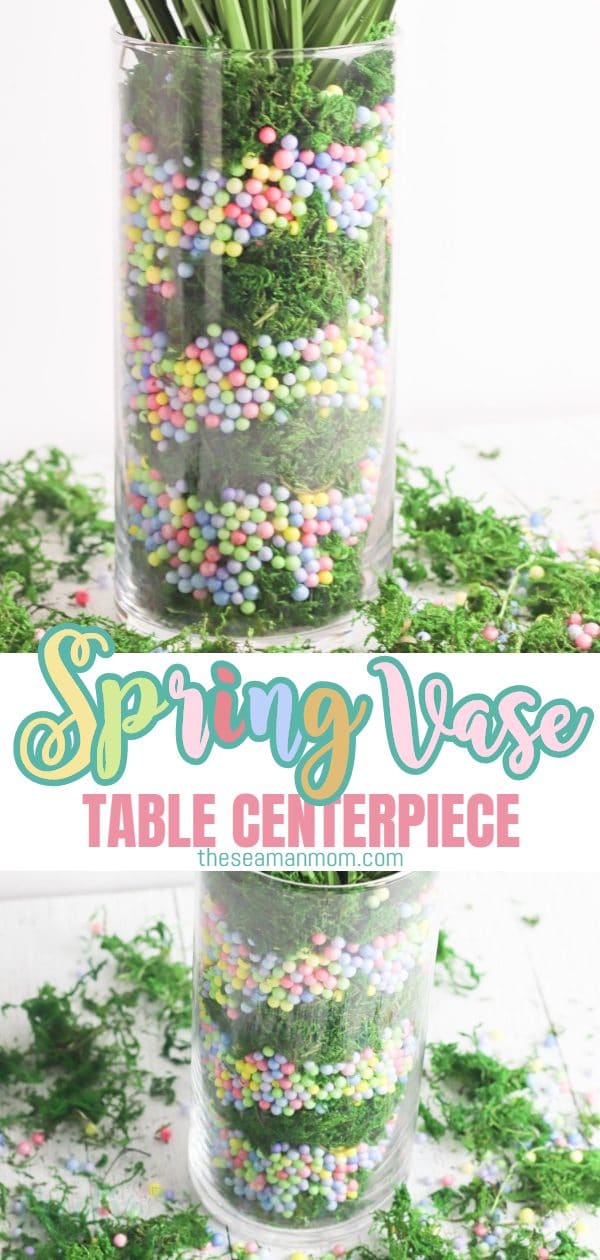 If you're looking for easy and cheap spring table decor or spring home decor, make this pastel Spring vase! All you need is a tall vase, some fillers, moss and Spring fronds to create a sweet, fresh, spring look for your home!
Spring vase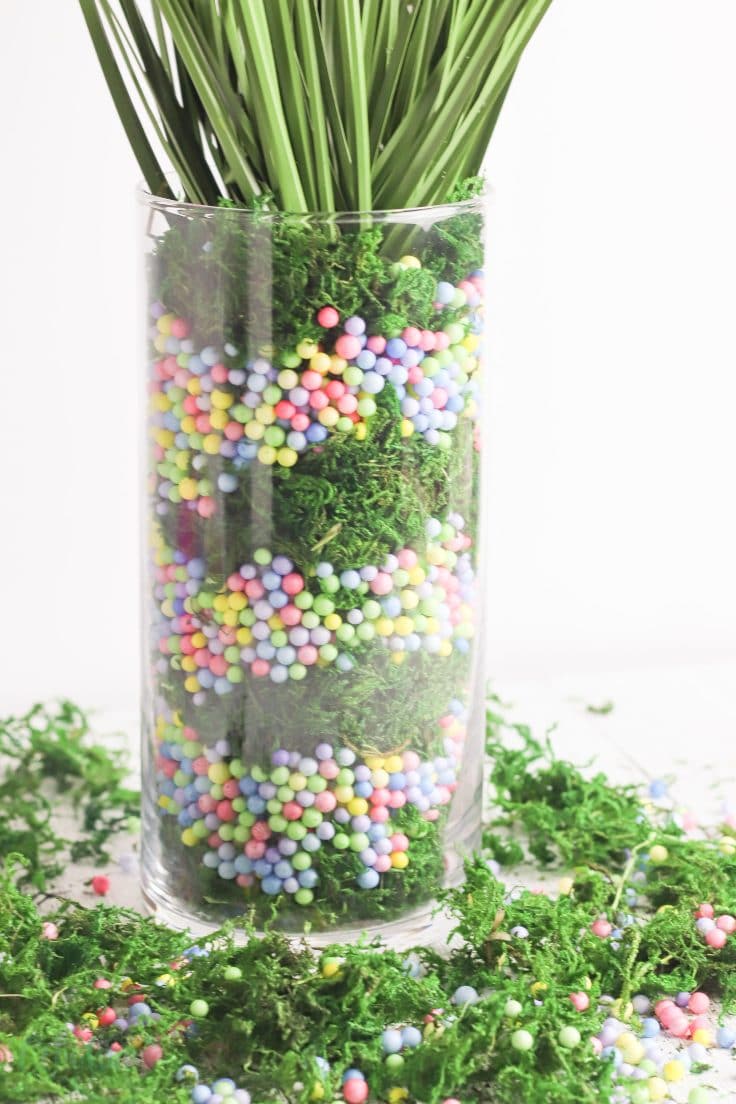 With so many reasons to celebrate during the spring months, you're going to need a beautiful spring vase centerpiece for your dining room table! The combination of moss, pretty pastels and spring florals make this easy centerpiece a great way to celebrate this Spring.
But the best part is that this simple centerpiece can be put together in just a few minutes and will instantly bring a touch of Spring to your home.
Other Spring ideas you will love:
Spring Centerpiece vase
The showstopping feature of this simple spring centerpiece is the vase. To make your own pastel moss centerpiece, you'll need a clear vase to hold your fillers and flowers. To make my centerpiece, I used a tall clear glass cylinder vase, but you could also use other items too:
A large mason jar
A large fluted vase
Several smaller cylinder vases
The only characteristic that your vase must have is that it needs to be clear and smooth to ensure you can see the pretty pattern you make with your pastel vase filler and green moss.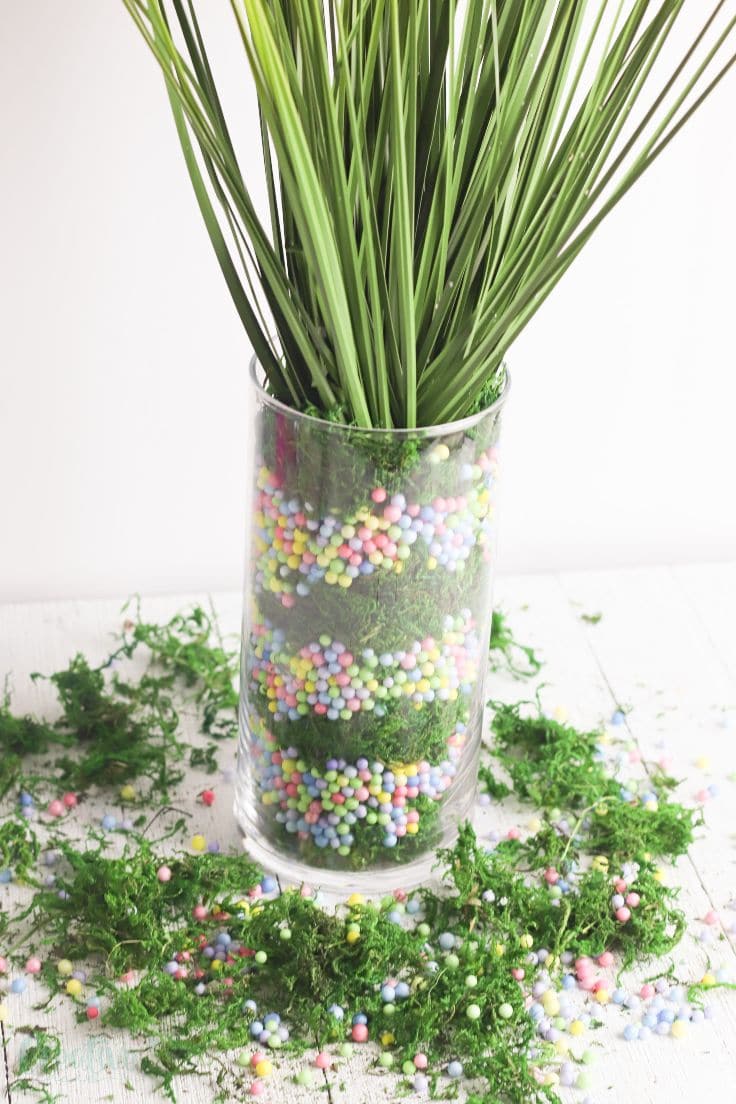 Spring vase Fillers
Since we'll be focusing on the vase for this centerpiece, you'll need some great vase fillers to make your spring centerpiece look amazing. I found the perfect fillers for my spring flower arrangement at the Dollar Tree. To fill my vase, I used one package of green moss and one package of pastel Styrofoam vase filler.
But don't limit yourself to those supplies! If you can't find these items or want to change up the look of your spring centerpiece, you could also use:
Glass gems
Painted rocks
Colorful pebbles
Painted shells
Mini Easter eggs
There are so many amazing options for your spring centerpiece! As you're putting this fun flower arrangement together, get creative with your fillers to making your own pretty centerpiece for your next spring get-together.
Spring Centerpiece Flowers
Since I wanted the focus of my spring centerpiece to be the vase, I chose to add florals that didn't distract from the beauty of the vase. These tall fronds were perfect! They add a hint of spring to the top of the arrangement without taking the focus away from the moss and pastels inside the vase. If you're hoping to add a little bit of floral flair to your centerpiece this spring, consider adding a few of these spring florals to your flower display:
Tulips
Daffodils
Lilies
Lavender
Cherry blossoms
Peonies
DIY spring centerpiece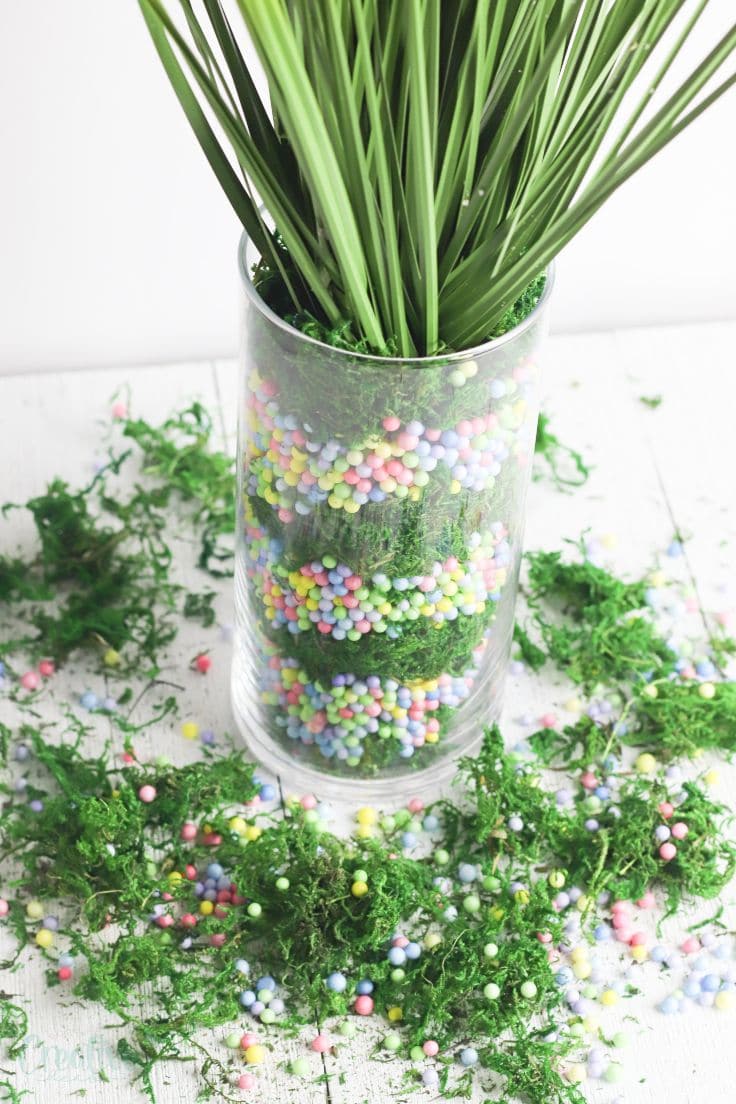 Supplies:
Instructions:
1. Tear off a small piece of green moss and place it in the bottom of the vase. Press the moss into place for a flat surface on top.
2. Add a layer of pastel vase filler on top of the moss.
3. Repeat steps one and two until vase is full.
4. Add spring fronds to the top of the vase.
Pin to save for later