Article may contain Amazon & affiliate links. As an Amazon Associate I earn from qualifying purchases at no additional cost to you.
This creamy easy tomato basil soup is a classic Italian recipe, perfect for summer! Super delicious and refreshing when served cold, this vegan tomato basil soup is made with fresh roasted tomatoes, fresh basil and thyme, onions and garlic for the most rich, thick, lip-smacking, best tomato basil soup recipe!
Vegan Tomato Basil Soup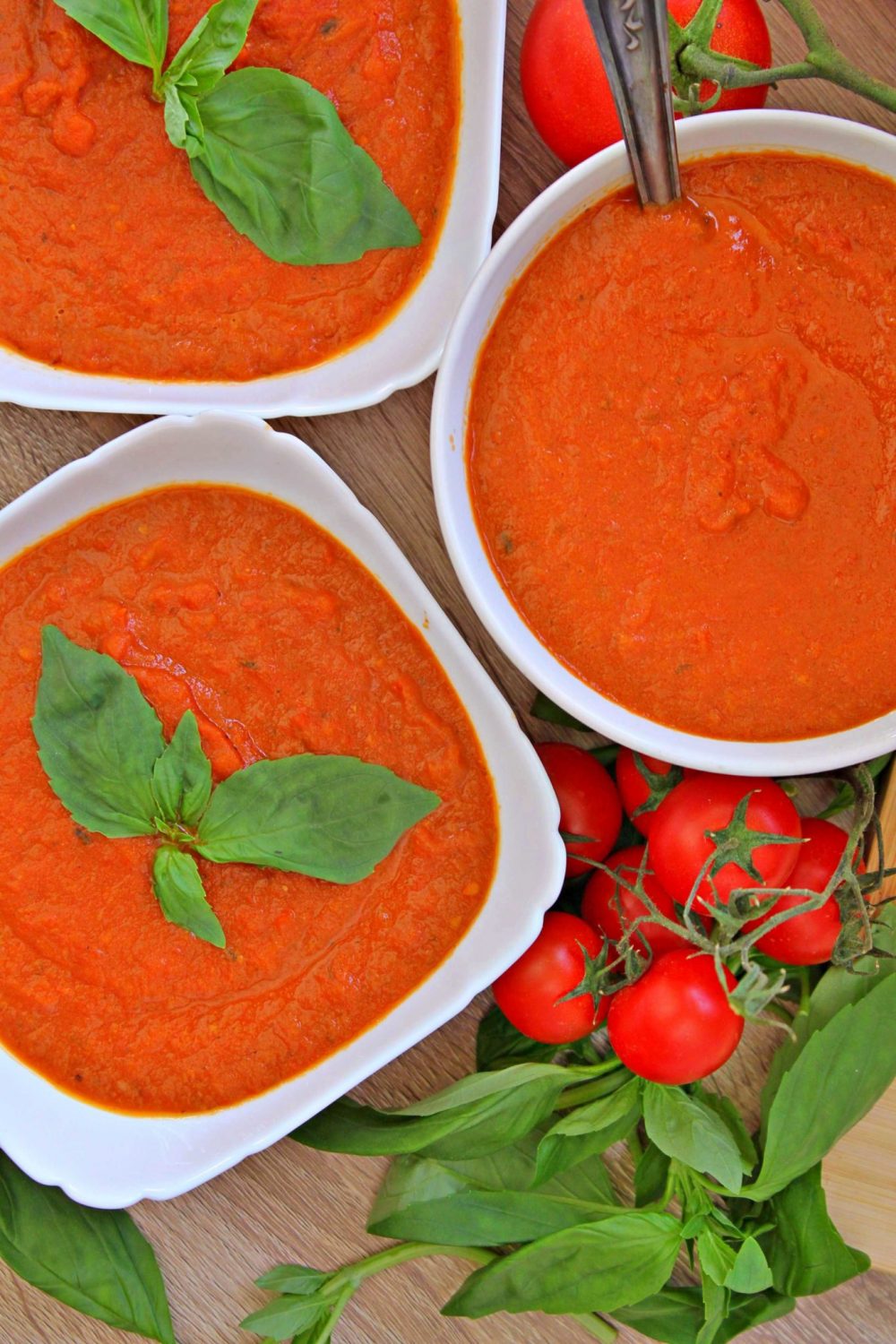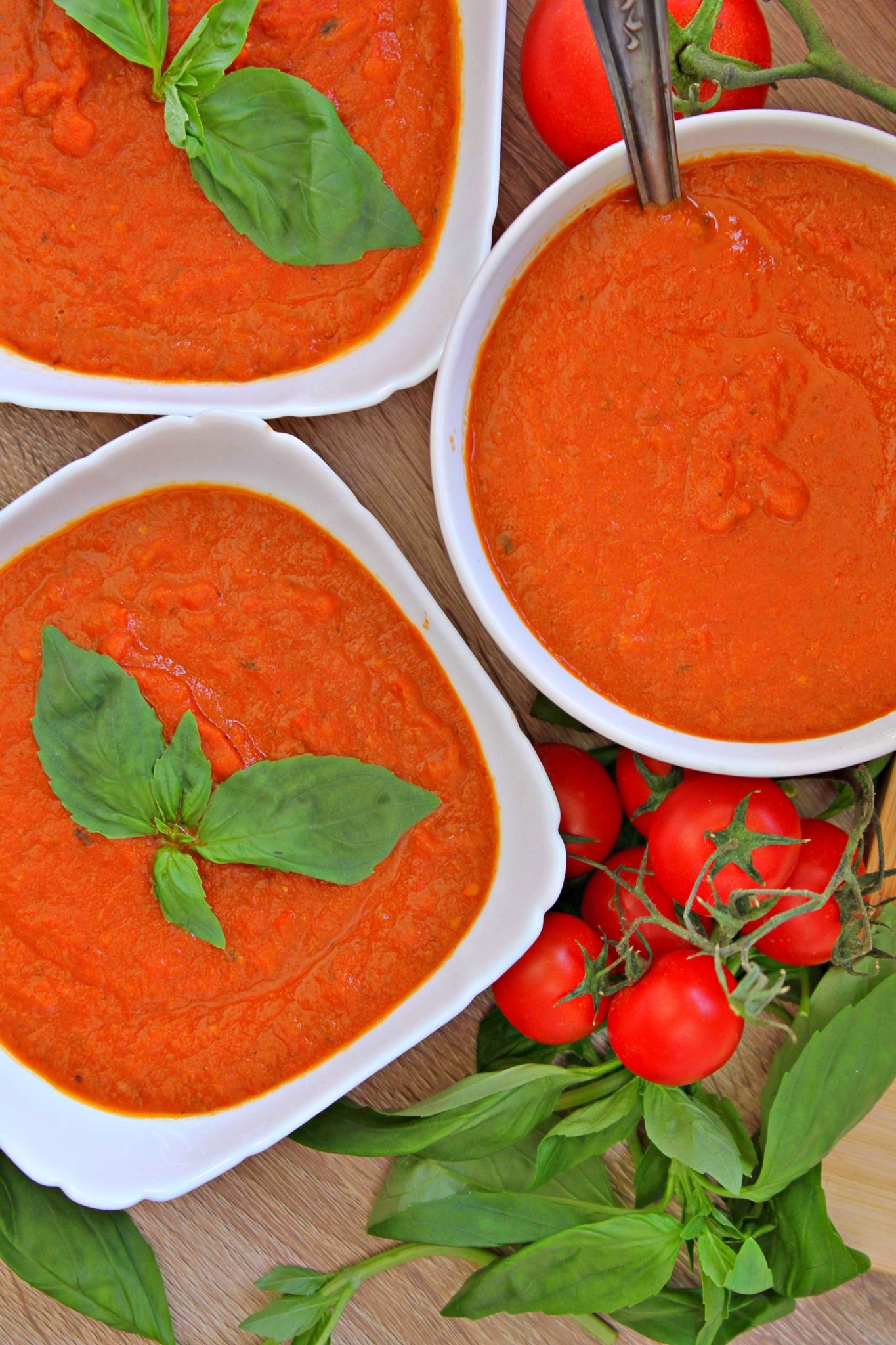 My family and I are such a huge fans of soups, especially in winter! Because what's more comforting than a warm bowl of soup on cold winter days? But hot soups are not really our thing in warmer seasons so we often rely to this easy tomato basil soup which we can serve either warm or cold depending on the time of the day we serve it.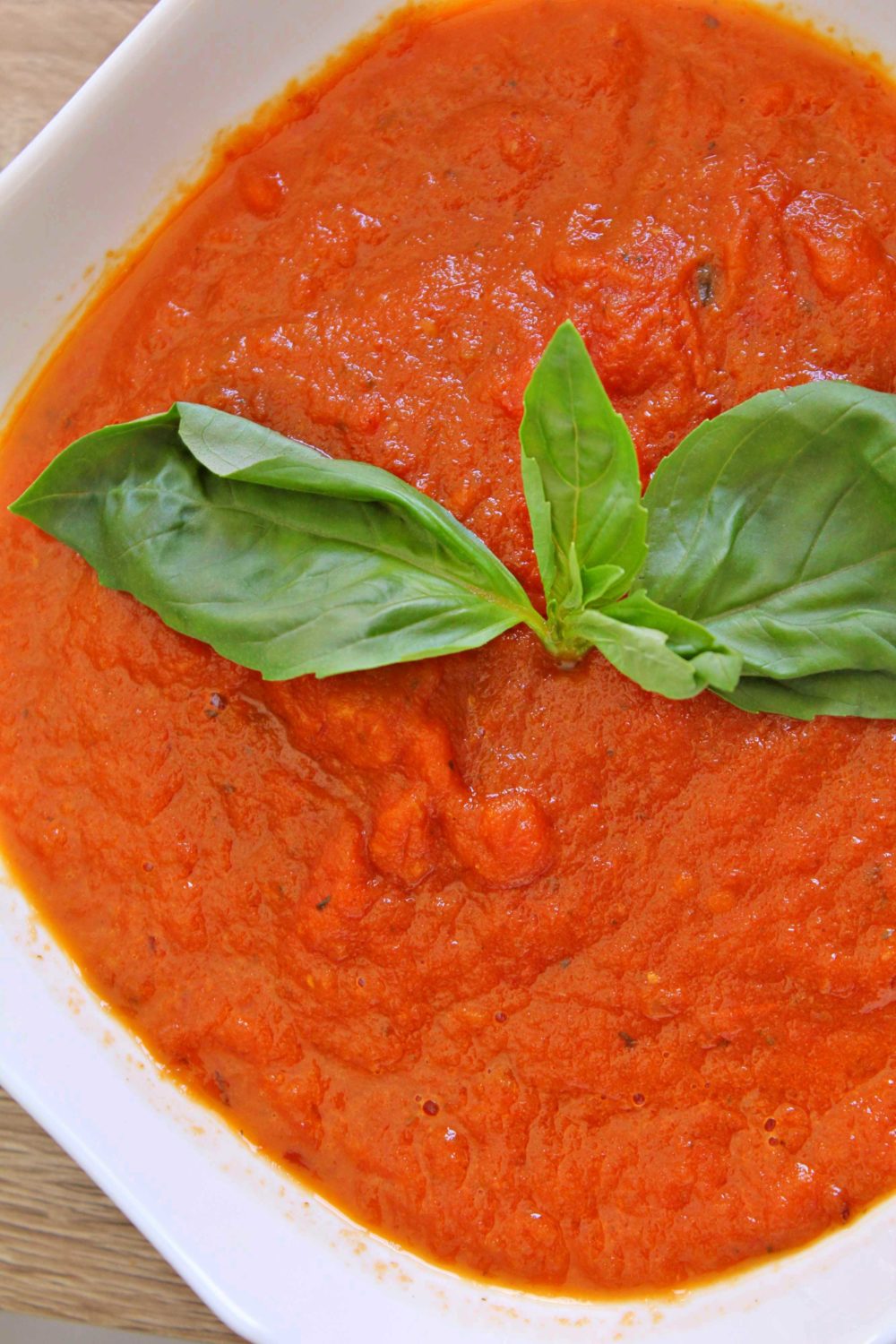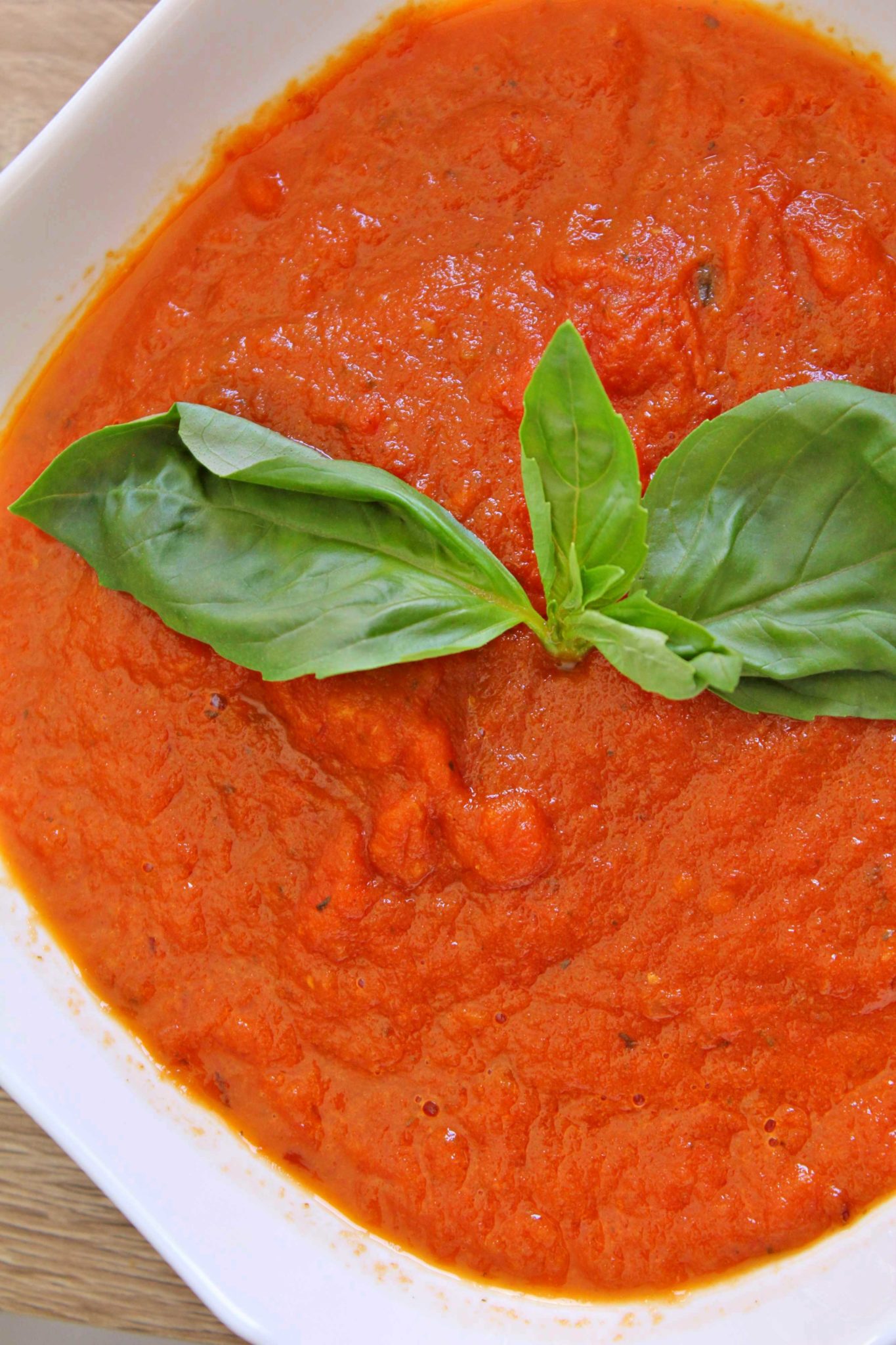 We like making this lovely fresh tomato basil soup as thick as possible, almost like a pizza sauce (and I must confess, I used the recipe for easy tomato basil soup as sauce many, many times; but let's just keep it our secret, shall we?). We could eat this roasted tomato and basil soup all day long, as a main dish or a snack, it's that yummy!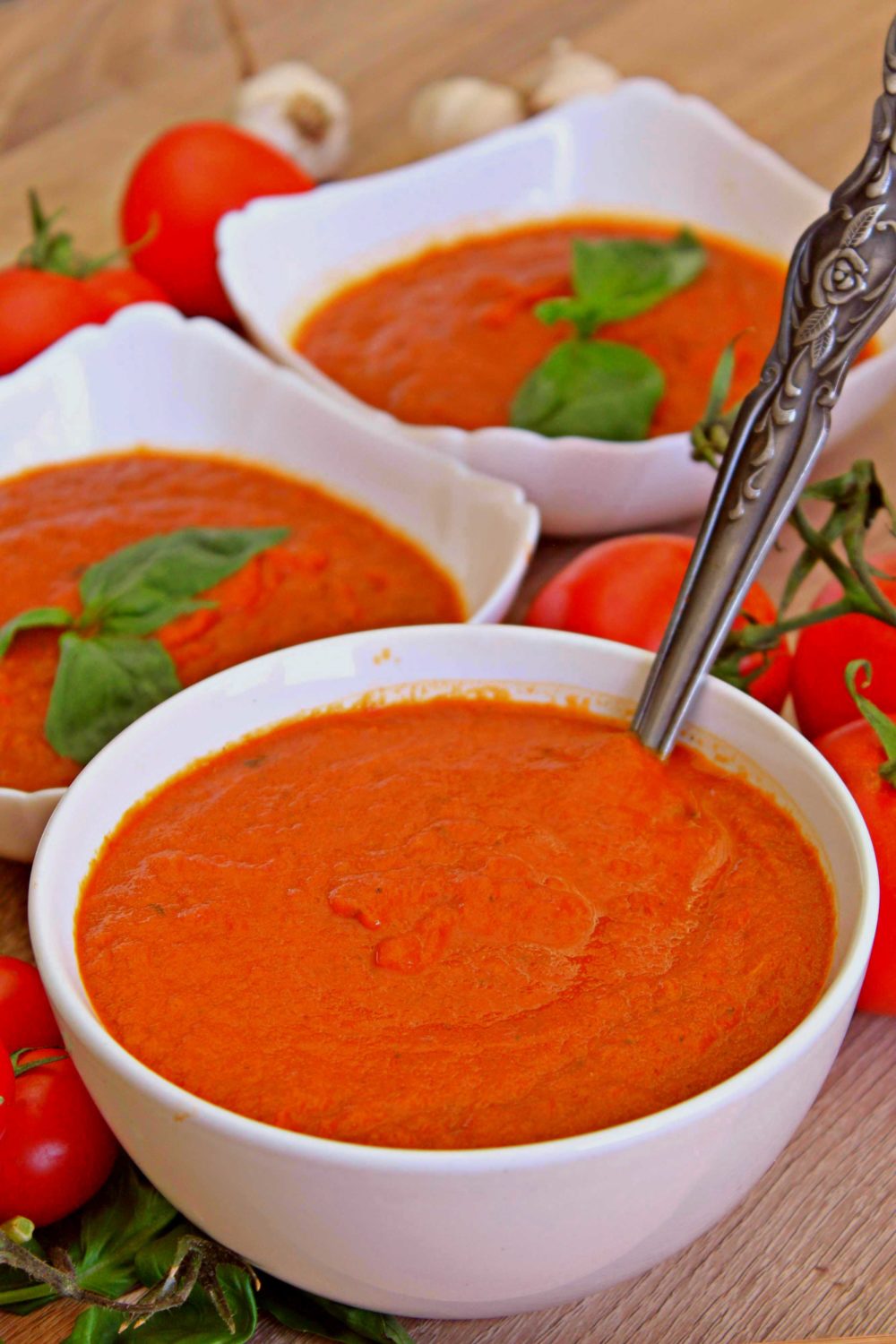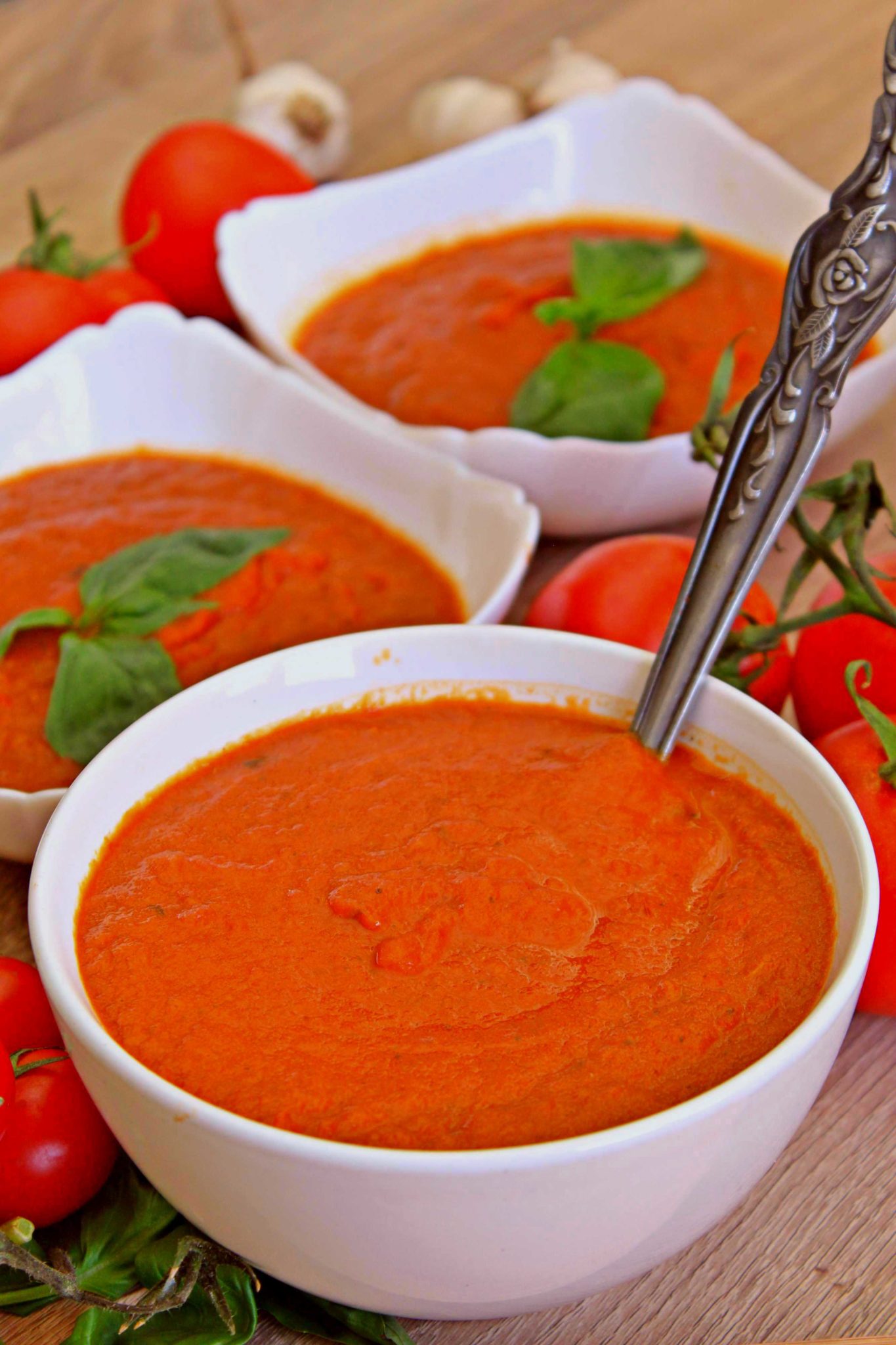 Some people think roasting the tomatoes is such a waste of time! But I swear to you, roasting makes the whole difference! I tried it both ways and there's absolutely no comparison! This thick tomato soup gets this heavenly deliciousness from roasting only, the rest of the ingredients are just adding a touch of flavor, nothing more if you ask me. The roasting part makes this easy tomato basil soup truly stand out and differentiate it from just a plain, regular tomato soup recipe.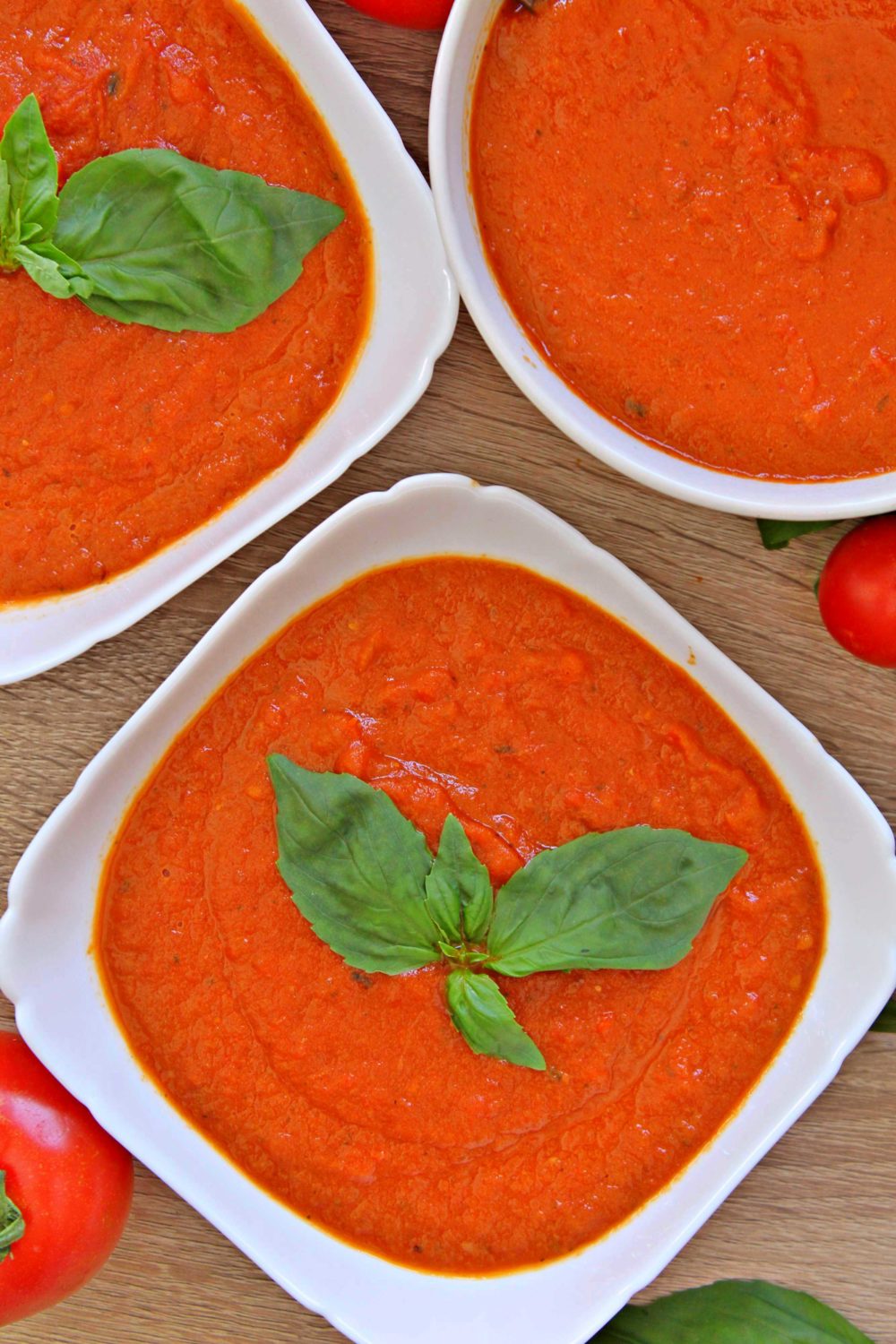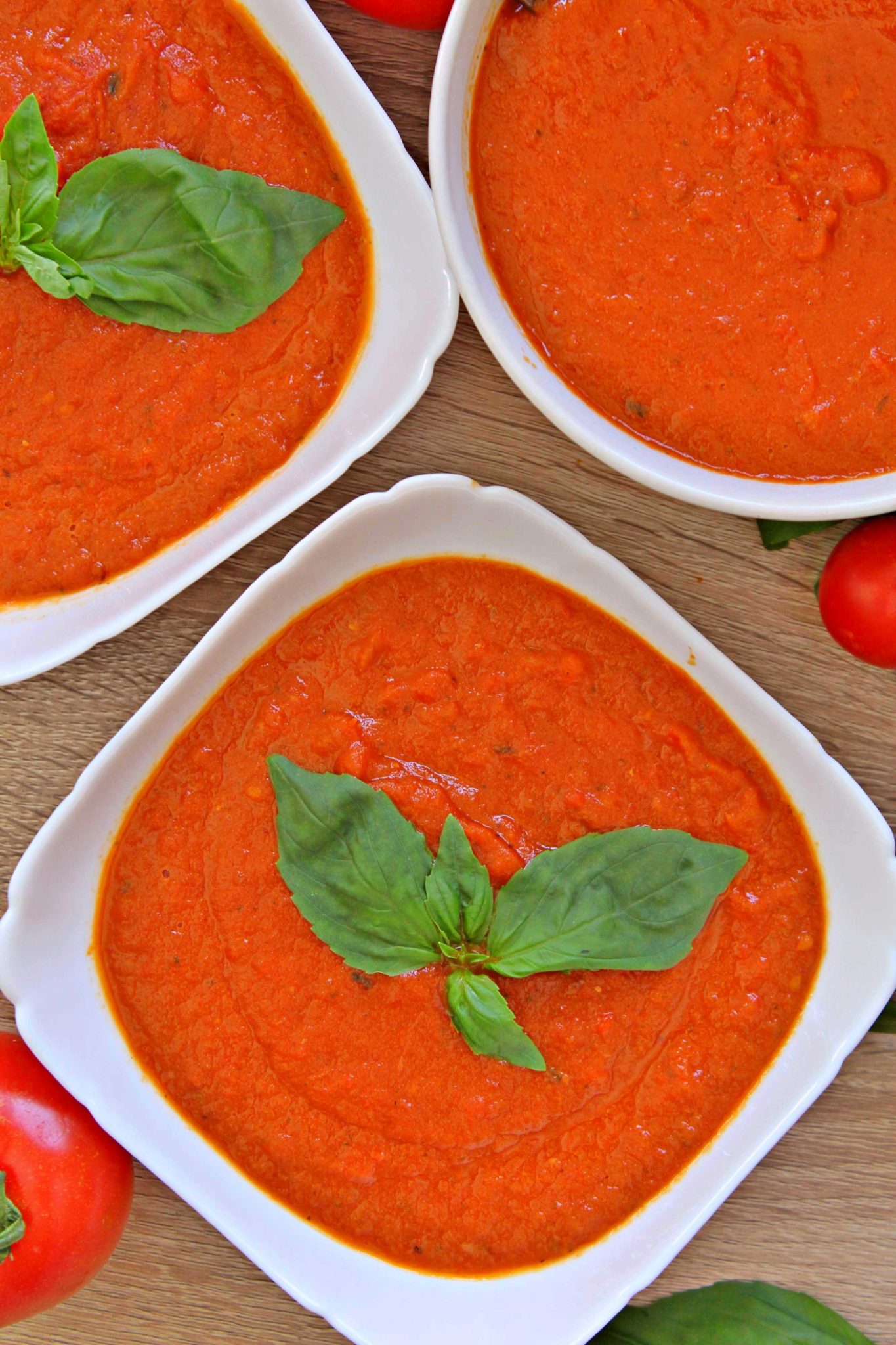 Making this vegan tomato basil soup is so easy peasy too and while it's a little time consuming because of all the roasting and making your own vegetable stock. But once you make this roasted tomato soup you'll never go back to the canned version.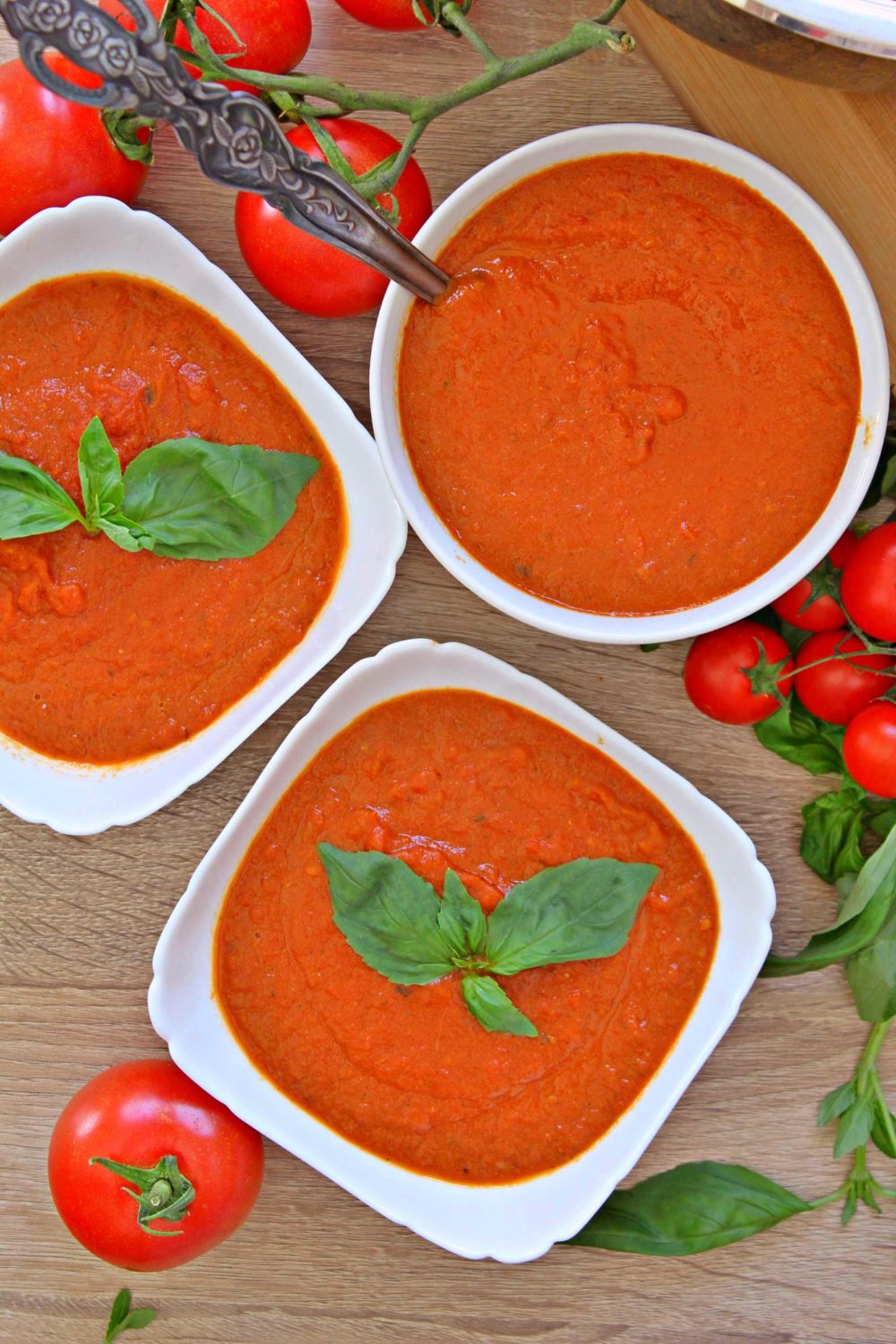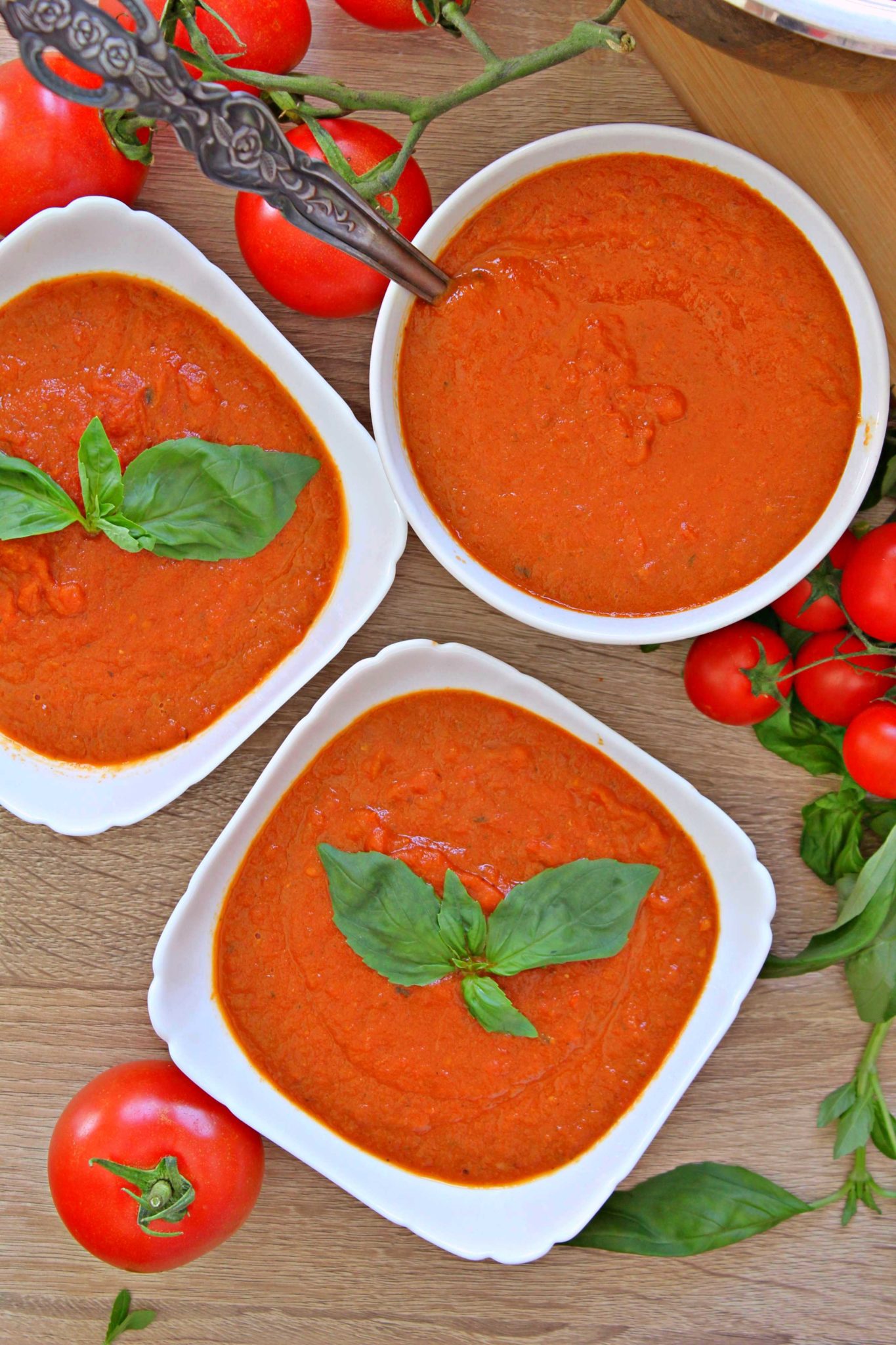 For this recipe I used fresh tomatoes, cut into wedges that I roasted in the oven for about an hour, on a bed of fresh basil, fresh thyme, onion rings and garlic. I sprinkled everything with fine salt and brown sugar and then I drizzled olive oil and a splash of red wine vinegar. While these were roasting, I made a very simple vegetable stock with carrots, zucchini and peas that I simmered for about 45 minutes.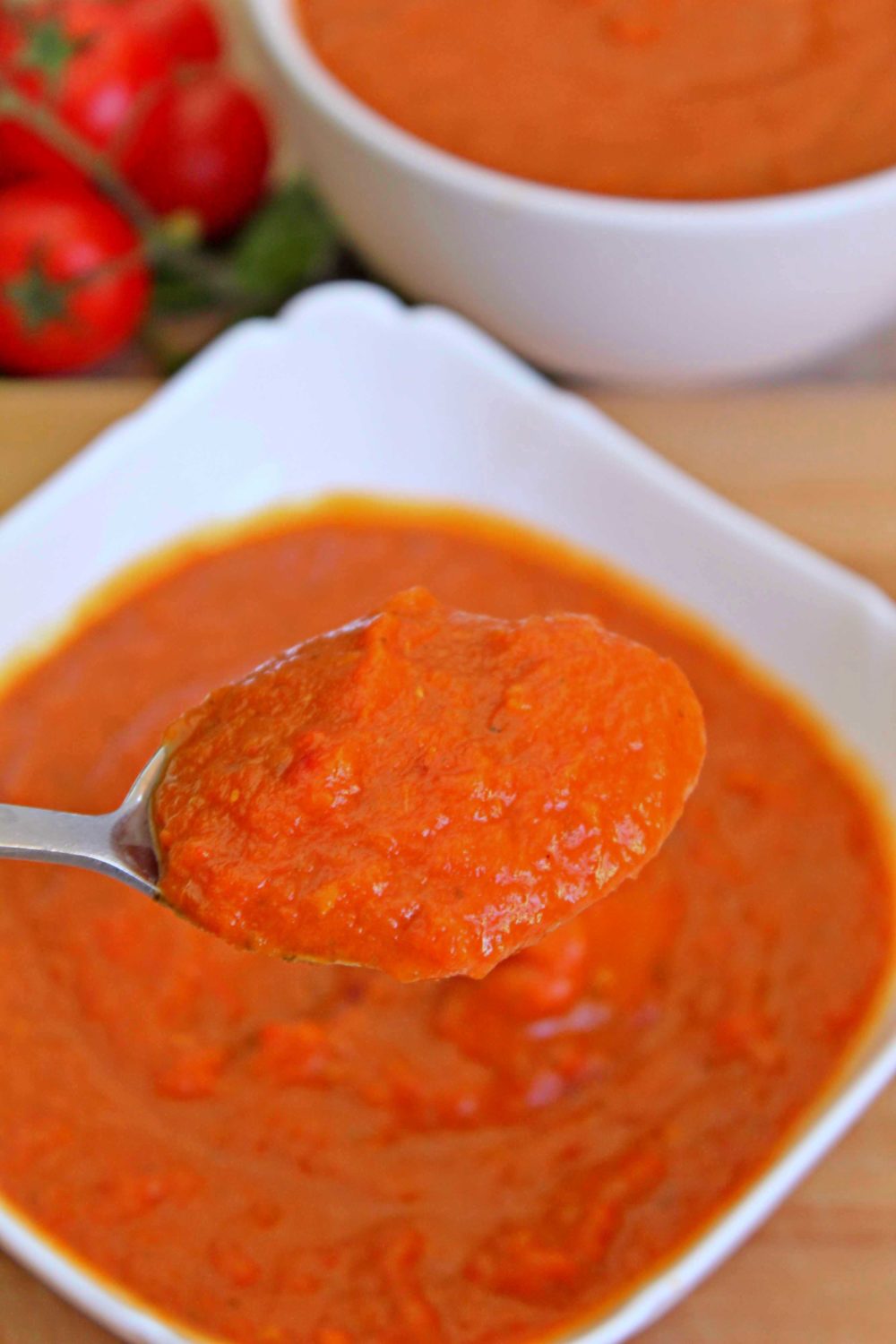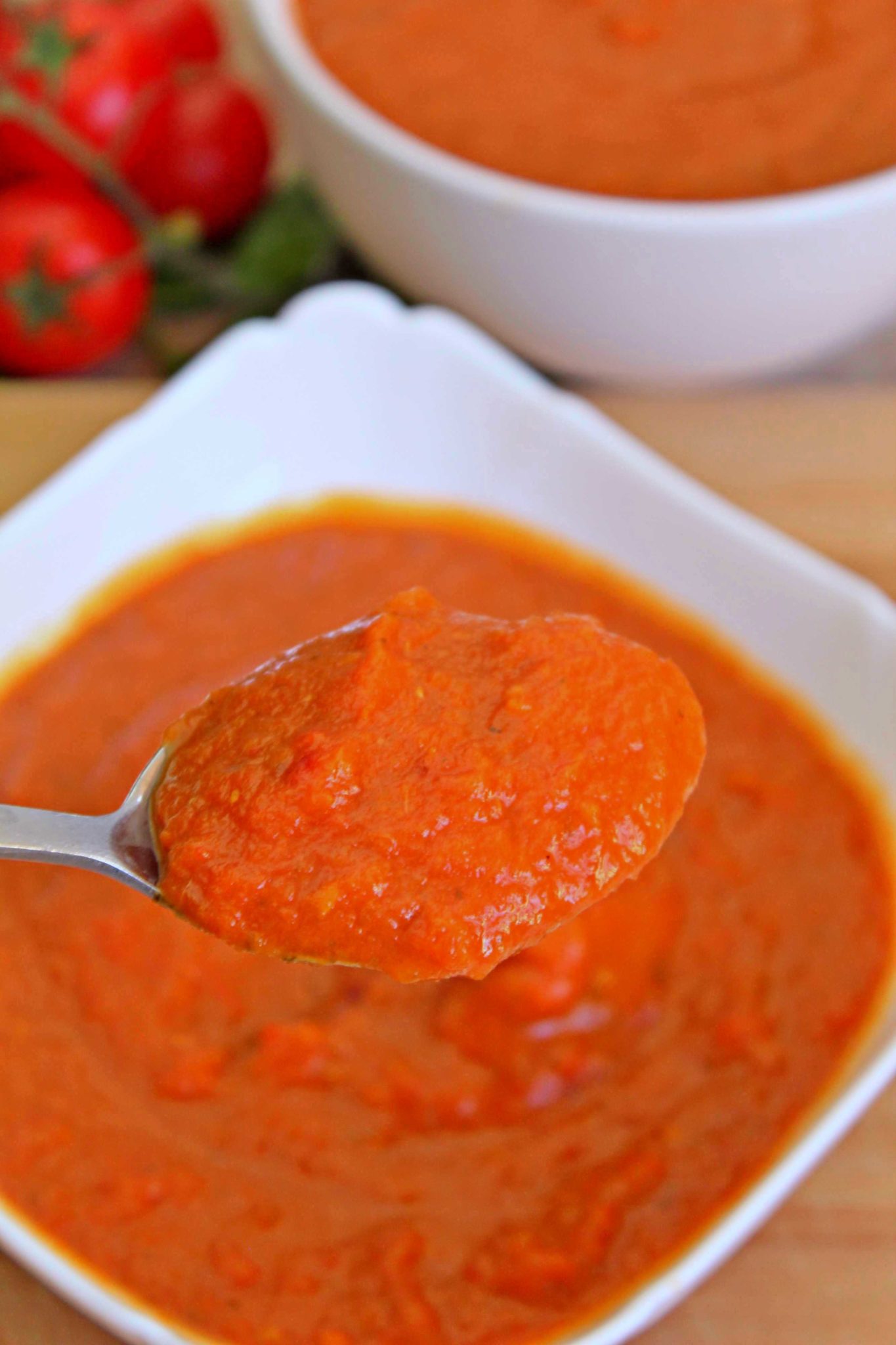 Once the tomatoes were roasted, I separated the thyme from the rest of the vegetables and moved all the veggie to a soup pot, I mixed them with the vegetable stock and simmered everything for a few more minutes for the flavors to combine. I then used a hand held blender to puree everything to my liking. Some people prefer to feel chunks of tomatoes in their soup but we love ours smooth and creamy.
Easy Tomato Basil Soup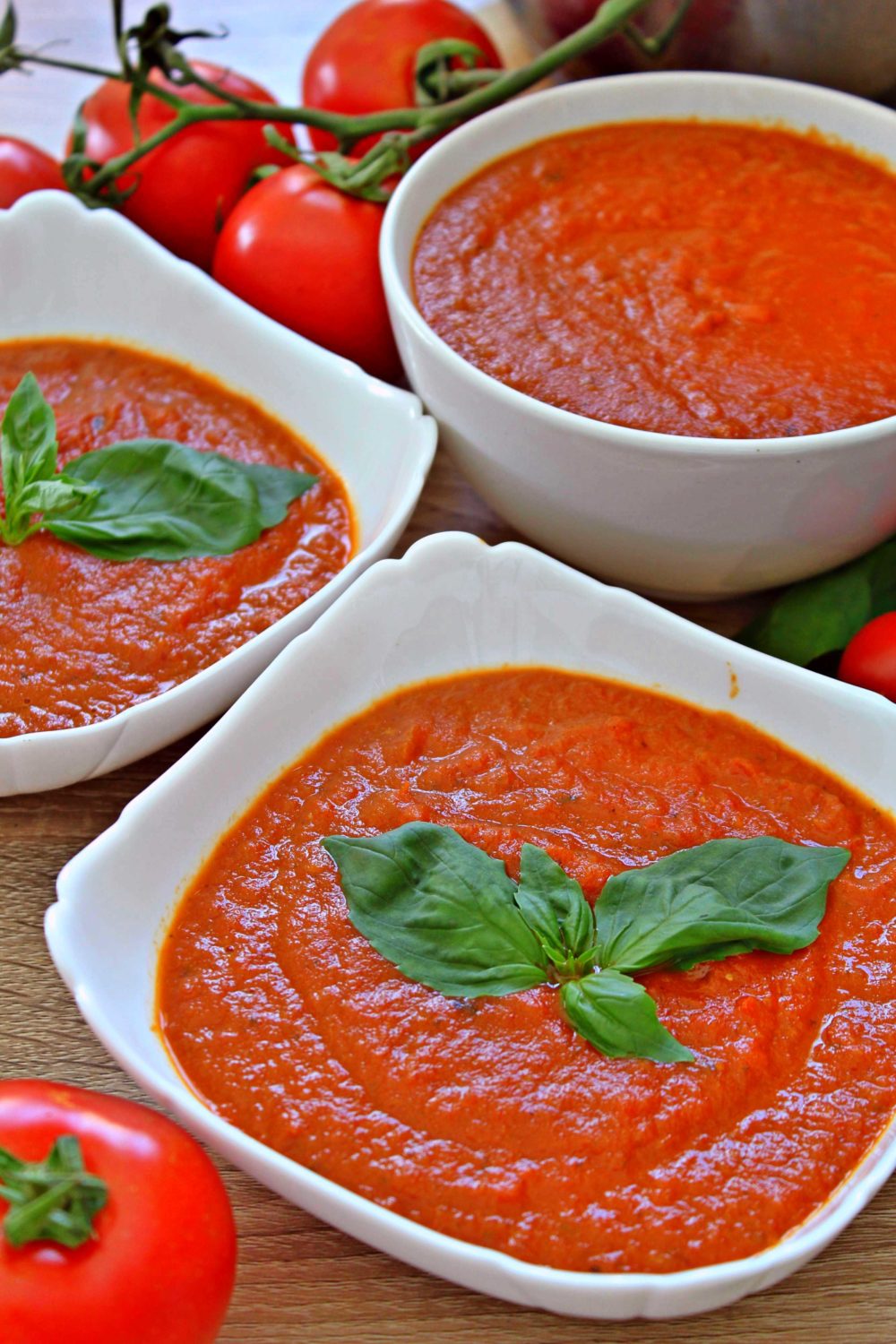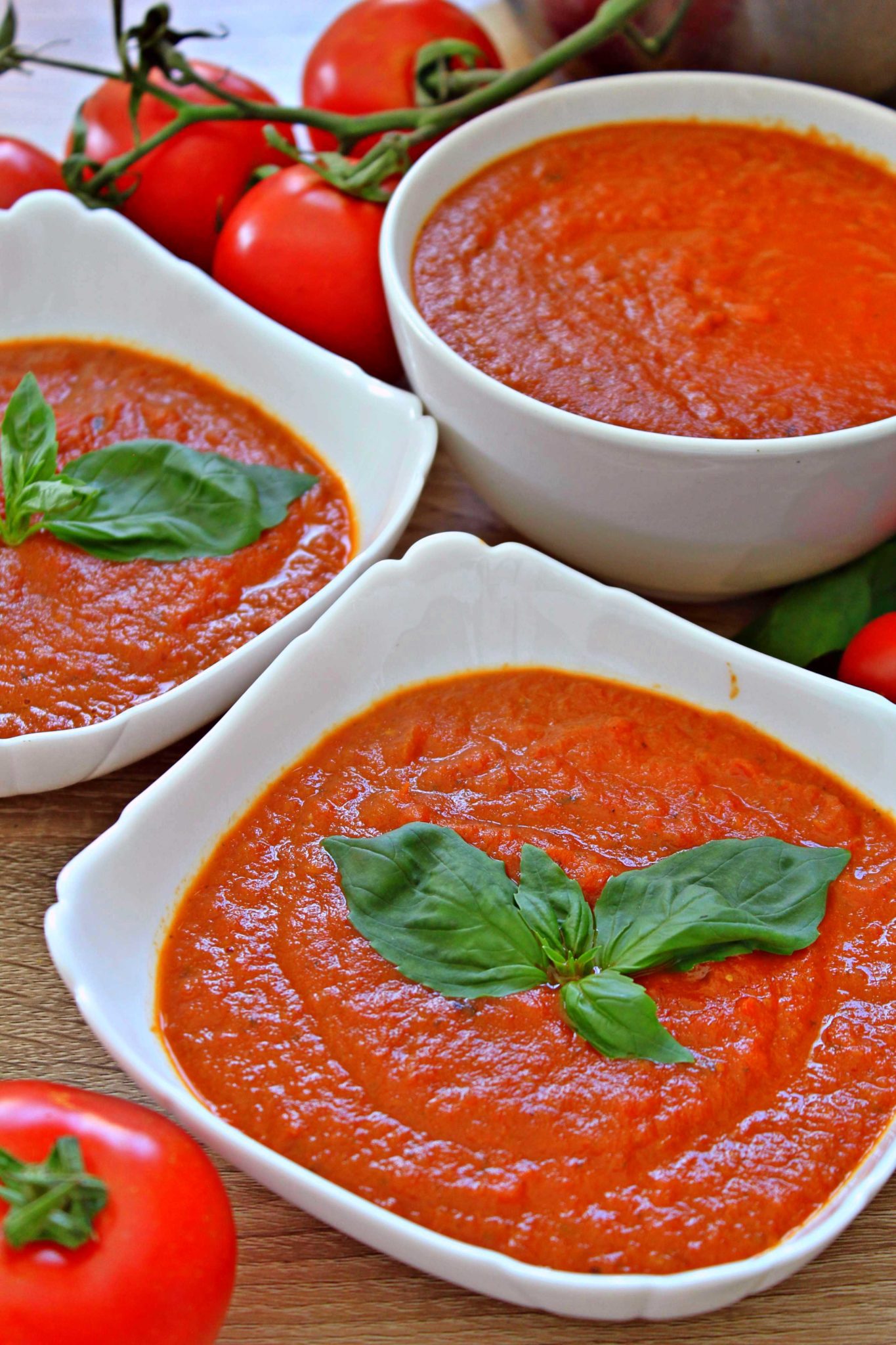 Ingredients:
12 sweet clusters tomatoes (heirloom work great too), cut into wedges
1 large white onion, cut into rings
9 garlic cloves, peeled
20-25 fresh basil leaves
8 fresh thyme sprigs
4-5 cups vegetable stock
fine salt
brown sugar
red wine vinegar
olive oil
For the vegetable stock:
1 large carrot
one medium zucchini
1 cup peas (frozen or fresh)
8 cups water
You will also need:
baking sheet
baking paper
bamboo cutting board
sharp knife
medium saucepan
collander
Directions:
Line a baking sheet with baking paper
Pre heat the oven at 375 F
Place basil leaves and thyme sprigs into the baking sheet
Add a layer of onion rings
Place garlic cloves between onion rings.
Add tomato wedges and sprinkle with salt and brown sugar.
Drizzle olive oil and a touch of red wine vinegar
Roast in the middle of the oven for an hour.
Meanwhile, boil the water in a saucepan, add carrots, zucchini and peas and simmer for 45 minutes.
When the tomatoes are roasted, remove the baking sheet from the oven, discard the thyme springs and move everything to a soup pot.
Place a colander over the soup pot and drain the vegetables in the stock.
Bring the soup pot to a boil, then simmer for about 2 minutes.
Remove from flame, grab a hand held blender and puree everything to your liking. Add more salt and pepper (optional, we haven't used any) to your taste.
Serve hot or cold, with basil leaves and a drizzle of olive oil (optional)
Easy Tomato Basil Soup
Ingredients
12

sweet clusters tomatoes

heirloom work great too, cut into wedges

1

large white onion

cut into rings

9

garlic cloves

peeled 

20-25

fresh basil leaves

8

fresh thyme sprigs

4-5

cups

vegetable stock

fine salt

brown sugar

red wine vinegar

olive oil
For the vegetable stock:
1

large carrot

1

medium zucchini

1

cup

peas

frozen or fresh

8

cups

water
You will also need:
baking sheet

baking paper

bamboo cutting board

sharp knife

soup pot

medium saucepan

collander

ladle 

bowls to serve the soup
Instructions
Line a baking sheet with baking paper

Pre heat the oven at 375 F

Place basil leaves and thyme sprigs into the baking sheet

Add a layer of onion rings

Place garlic cloves between onion rings.

Add tomato wedges and sprinkle with salt and brown sugar.

Drizzle olive oil and a touch of red wine vinegar

Roast in the middle of the oven for an hour.

Meanwhile, boil the water in a saucepan, add carrots, zucchini and peas and simmer for 45 minutes.

When the tomatoes are roasted, remove the baking sheet from the oven, discard the thyme springs and move everything to a soup pot.

Place a colander over the soup pot and drain the vegetables in the stock.

Bring the soup pot to a boil, then simmer for about 2 minutes.

Remove from flame, grab a hand held blender and puree everything to your liking. Add more salt and pepper (optional, we haven't used any) to your taste.

Serve hot or cold, with basil leaves and a drizzle of olive oil (optional)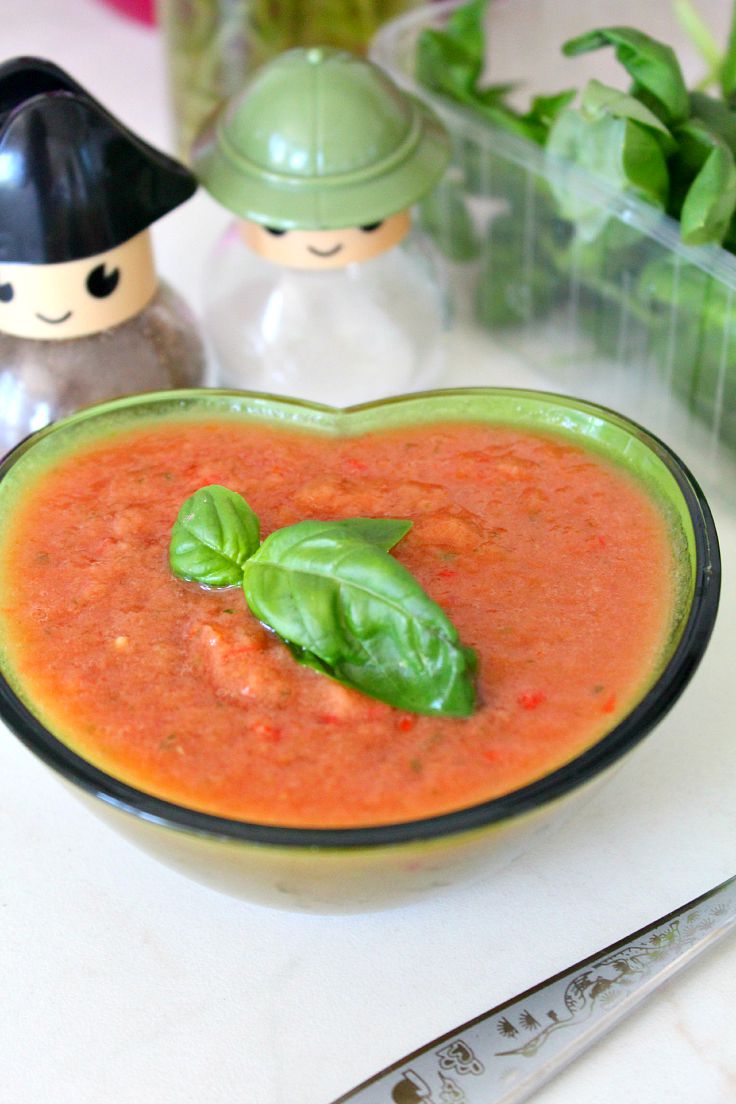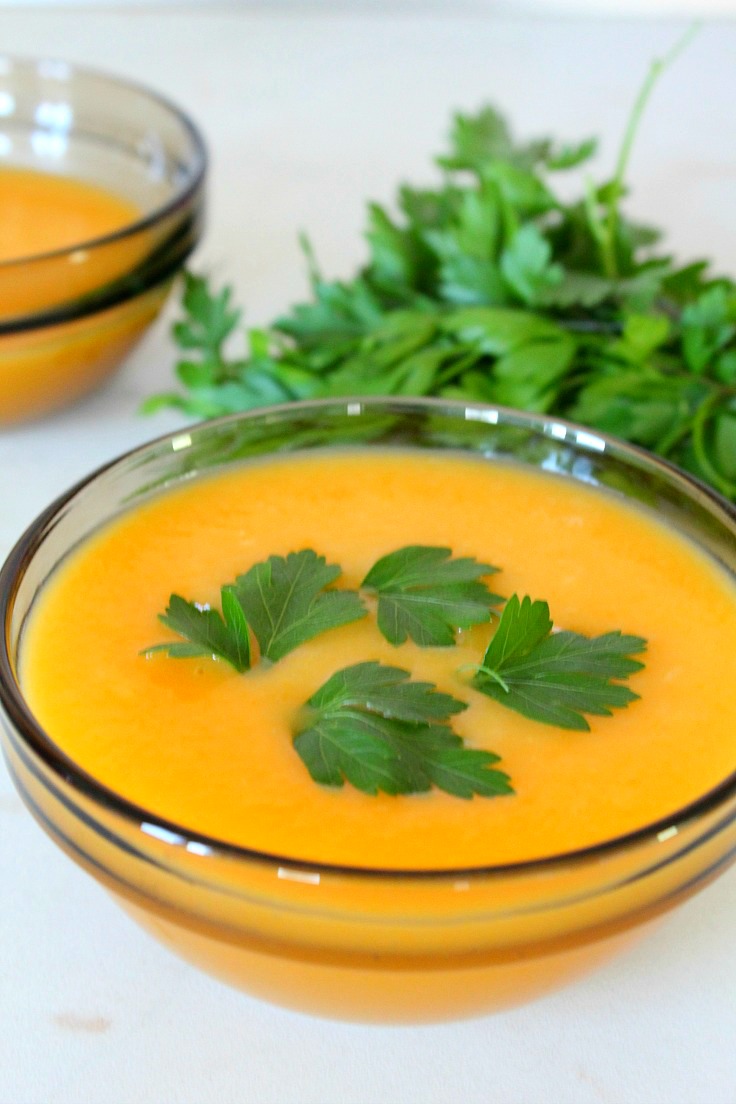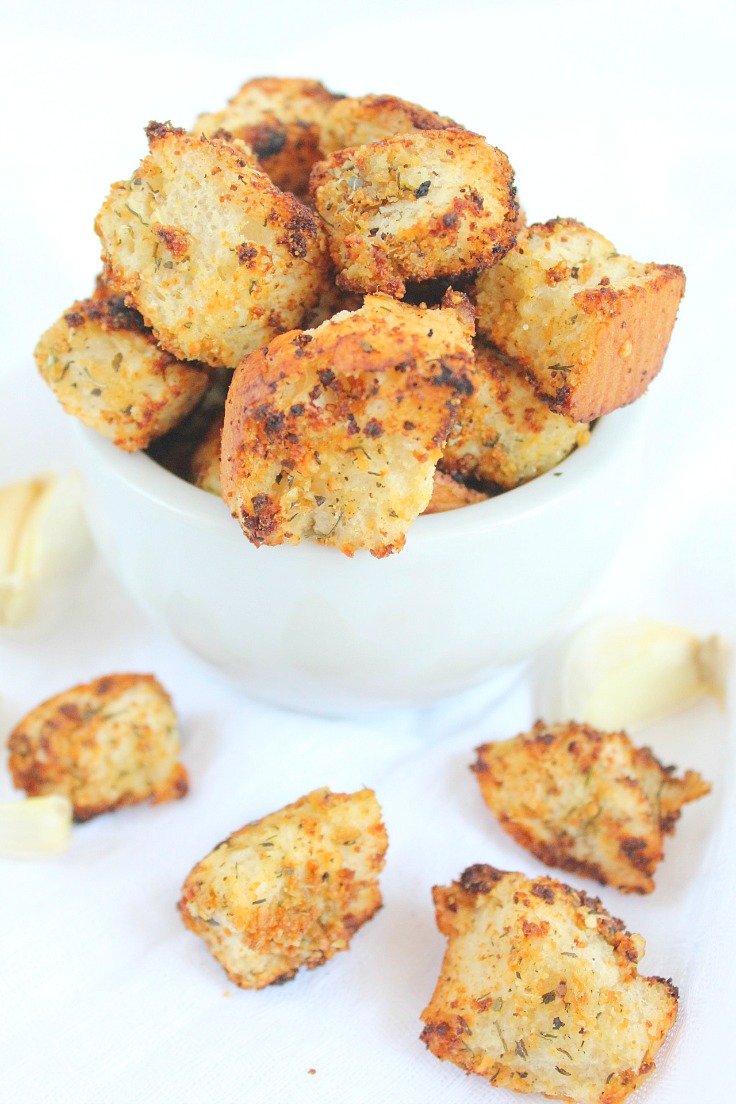 More Roasted Tomato Recipes You Might Like:
Most popular recipes