Article may contain Amazon & affiliate links. As an Amazon Associate I earn from qualifying purchases at no additional cost to you.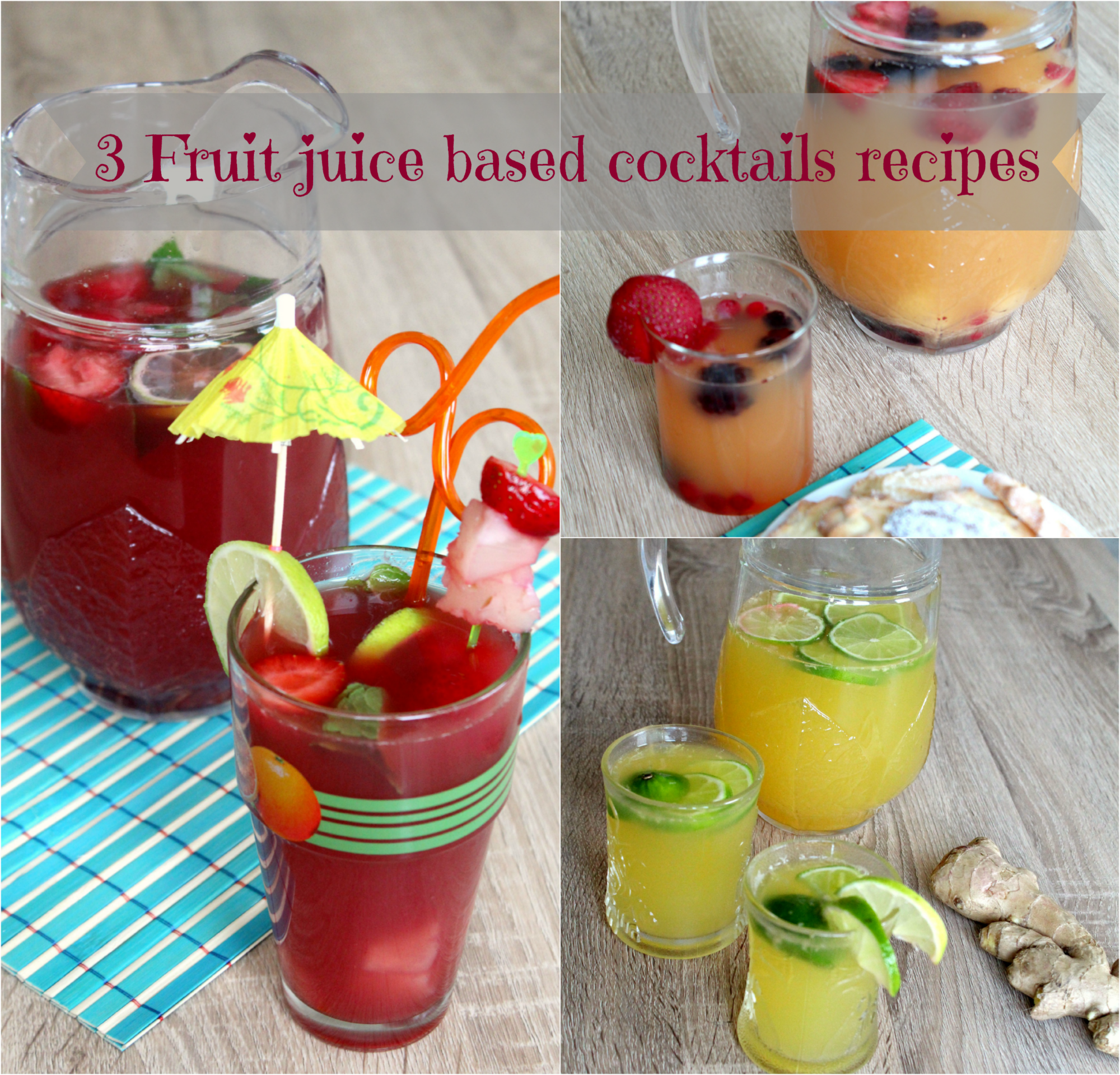 Fruit juice based cocktails
Everyone knows that keeping yourself hydrated is one of the key ingredients to lead a healthy lifestyle. While water is the most efficient way to stay on the right track you may not always be so keen on drinking plain, boring water all day long. And this is where fruit juices and fruit juice based cocktails come to the rescue.
The problem is not all juices are as healthy and many do more damage than good to your health as they are based on fruit concentrate and sugar. So be sure to check out the labels for those ingredients before buying juice or better, try and make your own fresh juice, whenever possible.
Products used for these recipes (affiliates):
Fruit juice cocktails
Pineapple Berries Cooler
Ingredients
2

cups

Pineapple juice

2

cups

fresh lime juice

2

cups

Blueberry juice

Ice cubes

Fresh strawberries or other berries

optional

Pineapple

1/2

lime

thinly sliced

Skewers

Mint sprigs
Instructions
In a large pitcher combine all juices.

Add lime, thinly sliced

Add pineapple and strawberries/berries

Add ice cubes or chill for at least 30 minutes, up to 24 hr.

To serve, ad fresh fruit on skewers.
Ginger Pineapple punch
Ingredients
2

cups

fresh Lime juice

2

cups

Pineapple juice

2

tablespoons

grated fresh ginger

1

x 1 liter = 33 oz diet ginger ale

chilled

Ice cubes if preferred

1

lime

thinly sliced
Instructions
In a large pitcher, combine lime juice, pineapple juice, and ginger.

Cover and chill for 2 to 24 hours.

Strain mixture to discard ginger

Slowly pour ginger ale into juice mixture.

Serve over ice in chilled glasses.

Garnish with lime slices.
Notes
Dress up the punch with citrus ice cubes (optional). To make these decorative cubes, fill the compartments of an ice-cube tray with lime, lemon, and/or orange slices (halve or quarter slices to fit). Fill with water. Freeze until firm.