Homemade Saltine Crackers With Seeds
Article may contain Amazon & affiliate links. As an Amazon Associate I earn from qualifying purchases at no additional cost to you.
Crisp but tender and full of flavorful caraway and sesame seeds, these yummy homemade saltine crackers are perfect to satisfy a salty tooth! Don't have one? These lovely homemade crackers are perfect to serve with a dip or a spread at parties!
Make your own crackers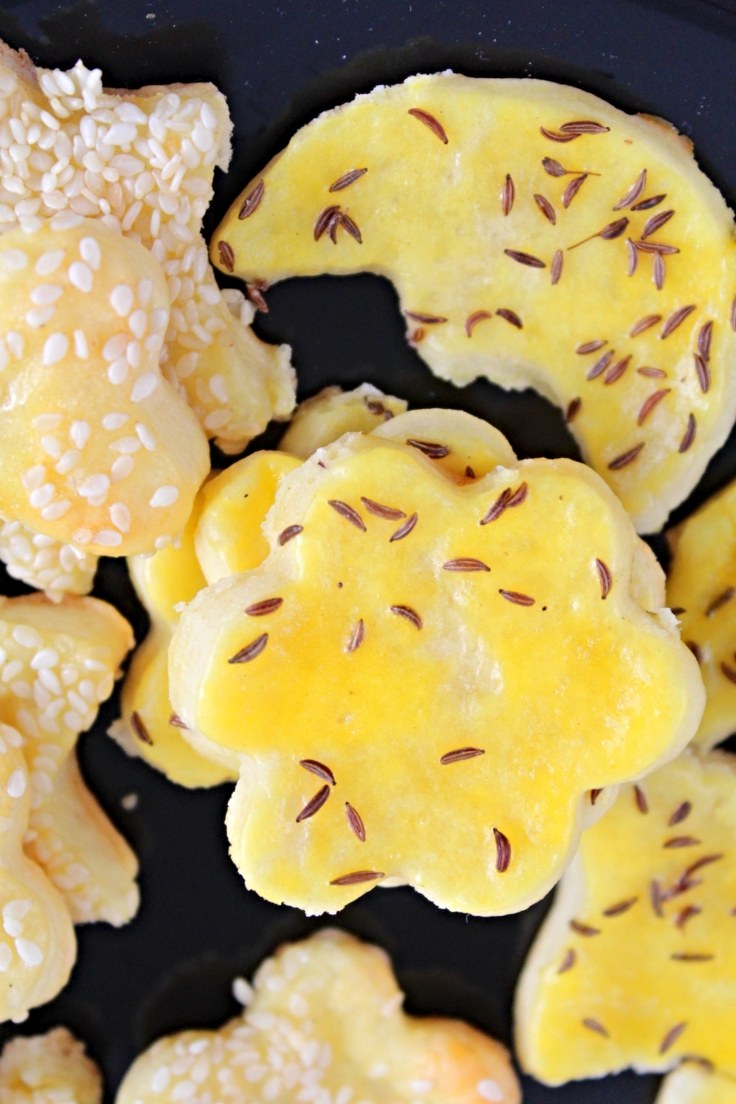 The thought of making crackers at home seemed like a dream to me when I was a kid. My mom used to make these homemade saltine crackers as snacks for my sister and I when we were kids. But since they looked and tasted like out of this world I honestly thought they were store bought. Mom used to smile all the time at my remarks but never tried to convince me she made those delicious homemade crackers.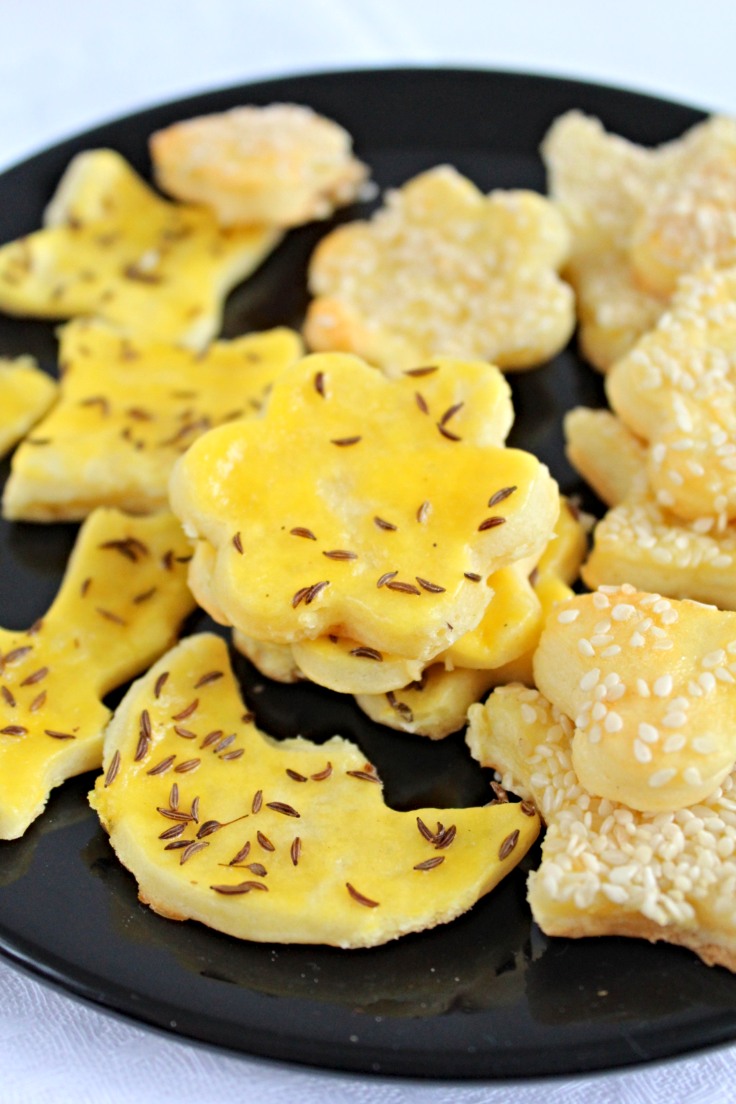 Need more appetizer ideas?
I was 35 when I found out the truth about our beloved homemade saltine crackers. My sister made them for us and they tasted exactly like our childhood snack! I was simply amazed and in all honestly, I started to have doubts she made them herself if I wasn't there when she started baking them. When I asked her how she made them she said mom gave her the recipe. She of course laughed so hard when she heard me saying I always thought those beautiful, crunchy, flavorful crackers of our childhood were not homemade! I would laugh too if I wasn't such a sour grape lol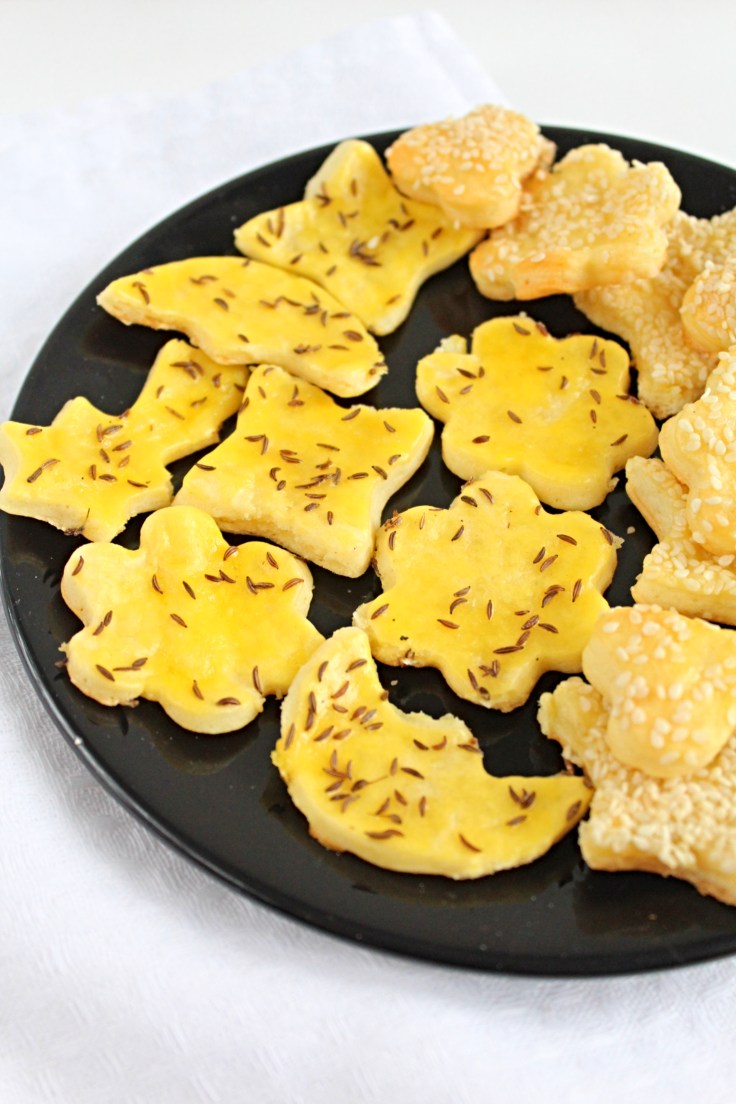 Although it may seem like they take some time to prepare and bake (I'll get to this in a moment) these lovely homemade saltine crackers are so easy to make and taste so much better than the store bought versions. These homemade crackers are ready in about two hours but only because you have to prepare the dough and leave it in the fridge for 1 hour. Preparing the dough takes just a few minutes and baking these takes about 25 minutes.
When making my homemade saltine crackers I opted for caraway and sesame seeds but any other seeds suitable for cooking would work (like poppy seeds, sunflower seeds, pumpkin seeds, flax seeds, chia seeds or a seed mix). I wanted to add just a little bit of flavor to my homemade cracker recipe so I just sprinkled the seeds. If you like a deeper flavor add some of the seeds in the dough too.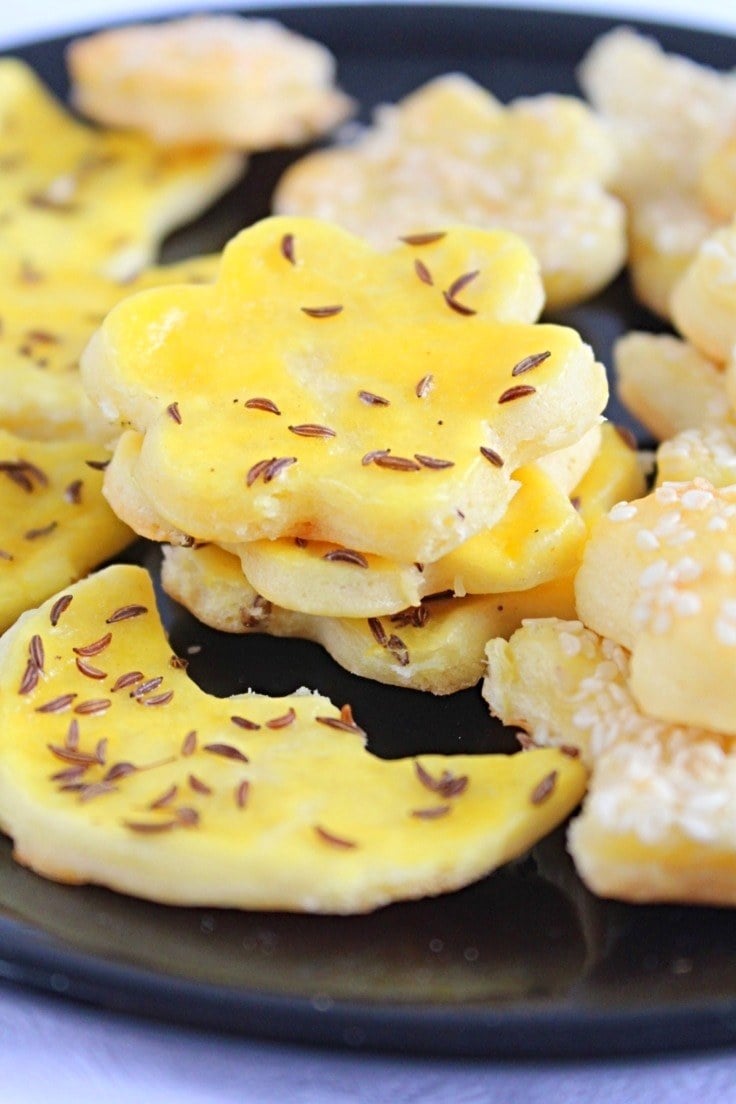 A few serving suggestions
These flavored crackers are great to serve as individual snacks, simple or with cream cheese as my daughter likes them, with soups or as appetizers at parties for dips or spreads. Here are a few recipes that would pair nicely with these homemade saltine crackers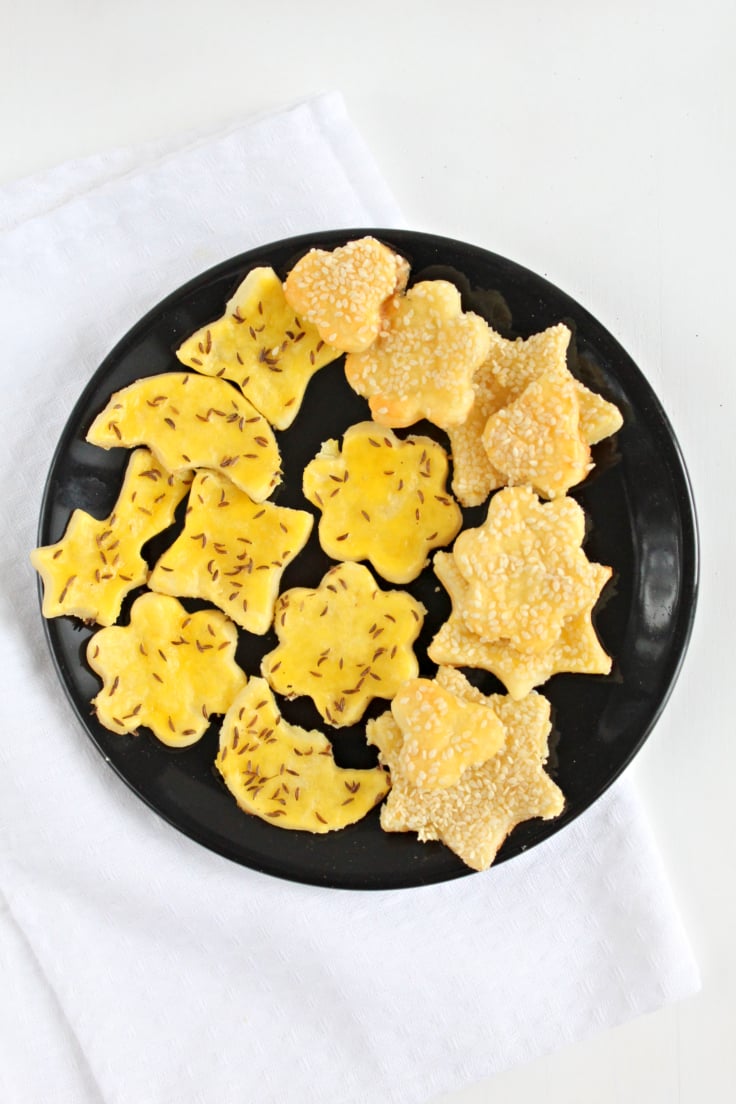 Here are a few facts about saltine crackers that you might find useful.
Are saltines good for weight loss?
Saltine crackers are often times recommended in diets as they're low in calories. So if you're looking to shed just a few pounds you can simply make a few small changes to your diet like replacing bread with a few saltines. However I wouldn't recommend it on the long run as crackers are also low in proteins, fibers and healthy fats which are essential for a healthy body.
Why are saltines good for your stomach?
Saltines as well as homemade saltine crackers are high in starch which helps absorb the gastric acid, taking away the unpleasant nausea sensation. For this reason, saltines are good for morning sickness too.
Do saltine crackers help with acid reflux?
Crackers are made with baking soda and some with cream of tartar too. These two ingredients neutralize the gastric acid, preventing the food from moving up the esophagus.
What ingredients are in saltine crackers?
Essentially both store bought and homemade saltines contain similar ingredients but store bought crackers are made with preservatives to help them last longer. Some of the store bought saltines also have added iron and vitamins. The homemade versions pretty much consist of flour, butter, sour cream or yogurt, yeast (not in all recipes) and vegetable oil (and seeds or cheese for the flavored crackers).
Homemade Saltine Crackers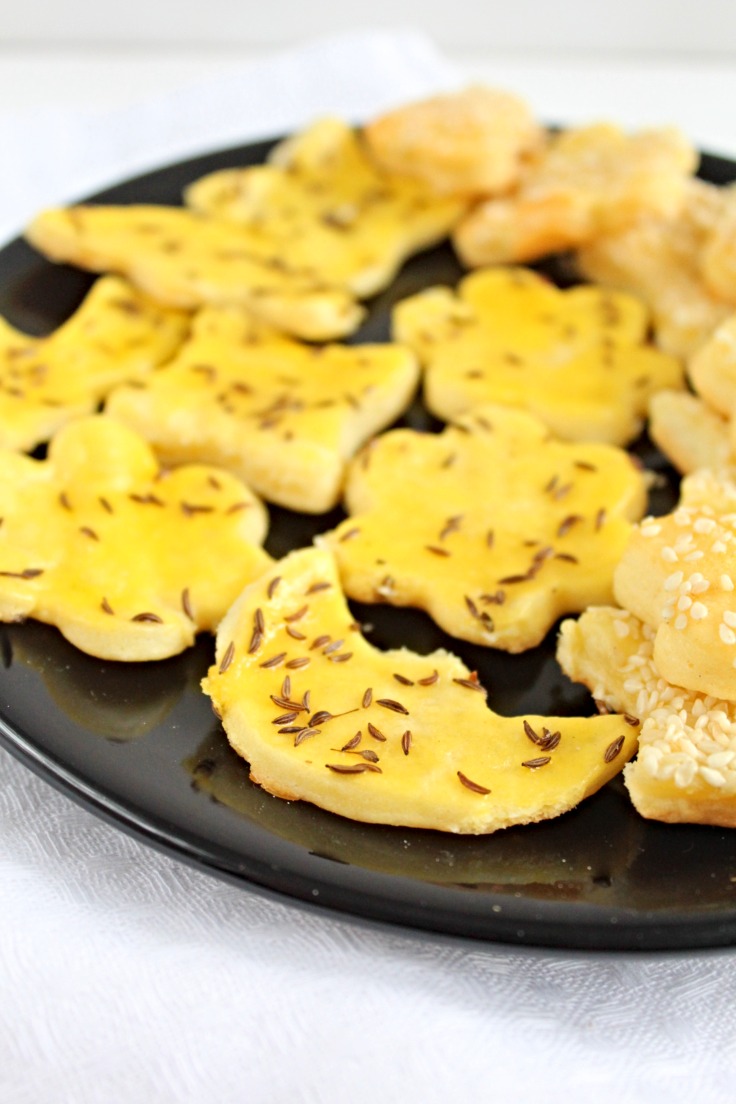 My homemade crackers are made from scratch with fresh ingredients, all at room temperature, except for the yeast. I used all purpose flour which I sifted first, salt, unsalted butter, Greek yogurt and fresh yeast. I decided to make a batch of crackers using caraway seeds and a second batch using sesame seeds. To give my crackers that golden top I used egg wash.
To prepare and bake my saltine crackers I used a mixing bowl, a large baking sheet, baking paper, rolling pin and pastry brush. I used cookie cutters in stars and moon shapes to cut my crackers. You can use the cookie cutters you have or use a pizza or pastry wheel to cut your crackers into strips.
I started by pre heating the oven and lining the baking sheet with baking paper
Then I added flour, salt and butter to the mixing bowl and mixed all ingredients. They have to blend well until the composition is smooth. I added yogurt (some people prefer sour cream) and yeast and mixed until the dough wasn't sticking to the bowl anymore. Next I covered the bowl with a clean kitchen towel and transferred it to the fridge for 1 hour. I rolled my dough on a counter but a large cutting board would do the trick too.
I place the dough on the counter and cut it in half then I rolled one of the halves until about 1/8″ thick. The I cut the dough with my fun cookie cutters and placed them in the lined baking sheet. Next it was time to brush the egg wash using my pastry brush. I sprinkle the seeds (caraway on the first dough, sesame seeds on the second dough). The crackers needed to be baked until the top got a golden color. Then I repeated the same steps for the second dough.
Homemade Saltine Crackers
Ingredients
14

oz

all purpose flour

sifted

1

teaspoon

salt

8

oz

unsalted butter

5

oz

Greek yogurt

0.6

oz

fresh yeast

egg wash 

caraway and sesame seeds

or seeds of choice
You will also need:
mixing bowl

baking paper

rolling pin

pastry brush

pizza or pastry wheel or cookie cutters in various shapes
Instructions
Pre heat the oven to 350°

Line the baking sheet with baking paper

In a large mixing bowl, add flour, salt and butter and mix until all ingredients blend well and the composition is smooth.

Add yogurt and yeast and mix until the dough is not sticking to the bowl anymore. 

Cover the bowl with a  clean kitchen towel and transfer to the fridge for 1 hour.

Dust the counter with flour (or use a large cutting board).

Place the dough on the counter and cut in half.

With the help of a rolling pin, roll one of the halves until is about 1/8" thick.

Cut in strips with a pizza wheel or use cookie cutters as I did to cut fun shapes.

Place the crackers in the lined baking sheet.

Brush with the egg wash using a pastry brush.

Sprinkle the seeds.

Bake at 350° for about 20-25 minutes or until the crackers get a golden top.

Repeat for the second dough.
Pin to save for later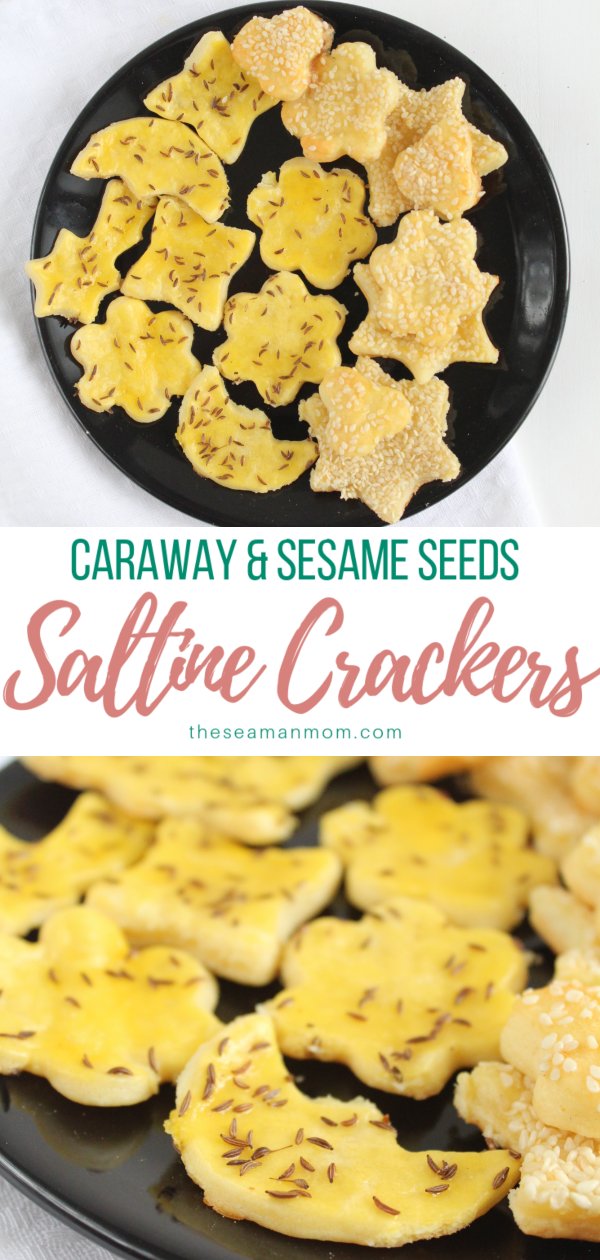 Most popular recipes: