Chicken burger with INSTANT POT TERIYAKI CHICKEN
Article may contain Amazon & affiliate links. As an Amazon Associate I earn from qualifying purchases at no additional cost to you.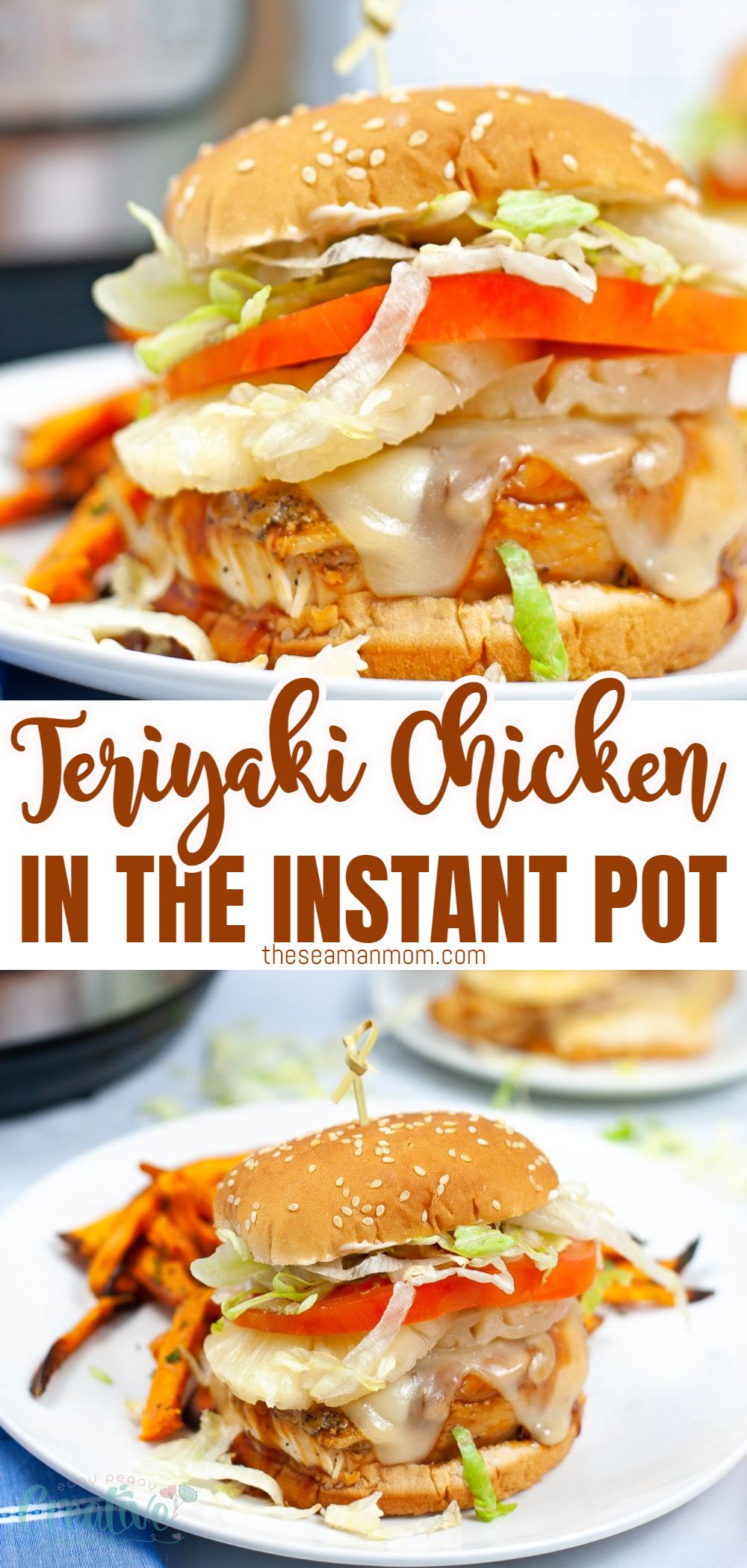 With the help of your pressure cooker, you can whip up a flavorful chicken breast just like the Teriyaki Chicken Burger at Red Robin. You'll love how easy this Instant Pot teriyaki chicken is to make!
Instant pot teriyaki chicken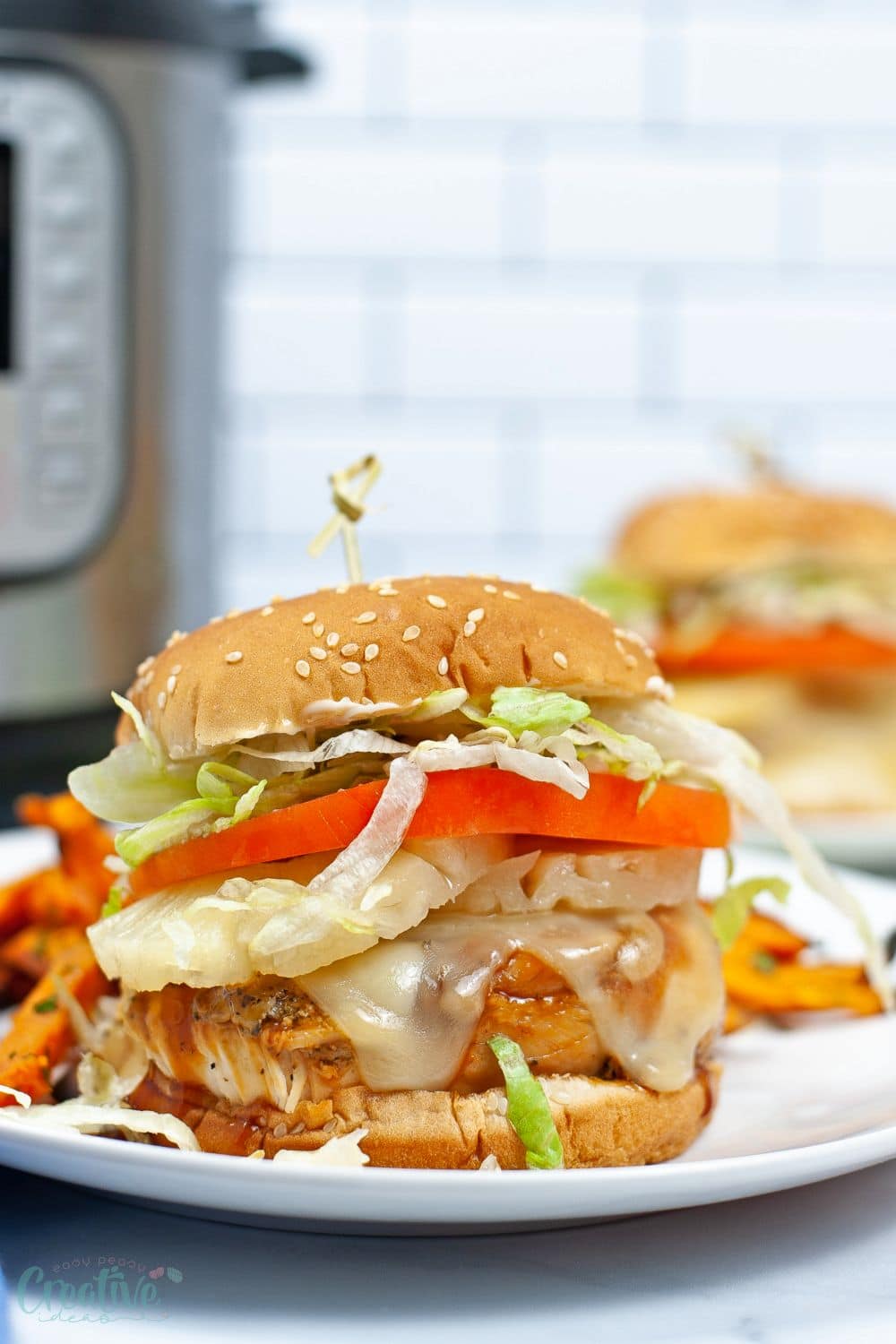 There's no need to go out to eat when you can make your favorite chicken sandwich at home, using your pressure cooker! Top your tender Instant Pot teriyaki chicken with pineapple slices and mayonnaise to create this easy copycat recipe at home.
More Instant Pot goodness you'll love:
What do you need for Instant Pot chicken teriyaki?
On top of being ready in under 30 minutes, this simple dinner recipe is made with just a few common ingredients. To prepare your own teriyaki chicken in Instant Pot, you'll need:
Chicken breast
Teriyaki sauce
Water
Those three simple ingredients are the base for a delicious Instant Pot burger. After preparing your chicken, you can make your own teriyaki burger with these additional ingredients:
Swiss cheese
Canned pineapple slices
Tomato
Shredded lettuce
Mayonnaise
Sesame seed buns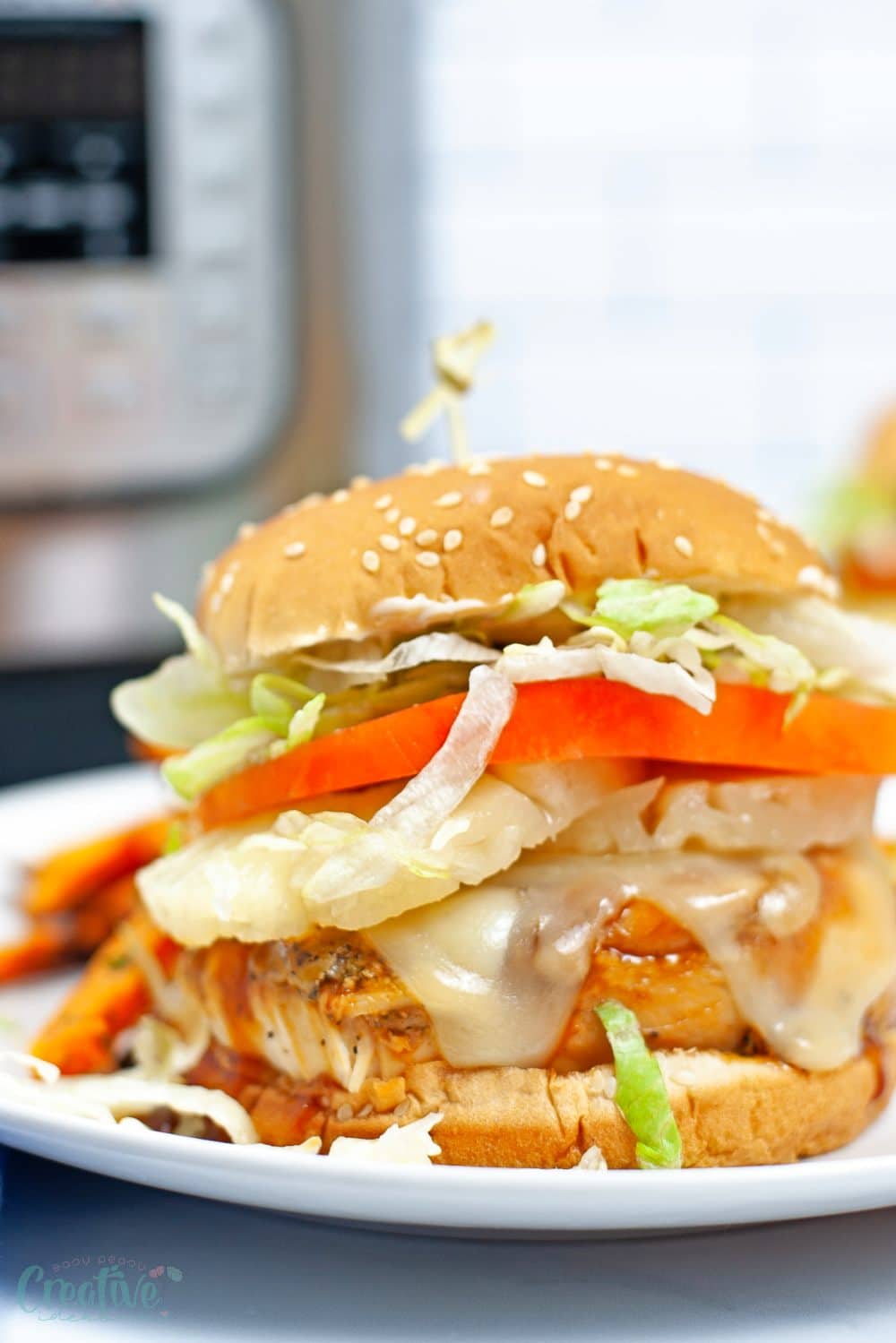 How to Marinate Chicken Breast
The key to making delicious teriyaki chicken is giving the meat time to marinate before cooking it. While marinating your chicken does take extra time, the preparation process is quick and painless. Just follow these simple steps to start marinating your chicken:
Pour the marinade in the bag. Since this recipe uses premade teriyaki sauce, all you have to do is add your sauce to a gallon-sized zip-top bag.
Add the chicken. After pouring the marinade into the bag, add your chicken. Seal the bag, making sure to remove as much excess air as possible before fulling closing the zipper. Squeeze the bag around the chicken to help the sauce completely coat all the meat.
Chill the chicken. Place your chicken back in the refrigerator to give it time to safely marinate. Always keep your chicken cold until you're ready to cook to prevent bacteria from forming.
Marinate for at least one hour. The longer you give your chicken time to soak, the more flavorful it will be. It's important to marinade your chicken in the teriyaki sauce for at least one hour. But you can keep the meat in the sauce up to overnight for even more flavor.
How to make Instant Pot Teriyaki Chicken
Once your chicken has had time to soak in the marinade, it's time to start cooking. With the help of your Instant Pot, you can speed up the cooking process. In fact, you can have juicy teriyaki chicken ready in seven minutes! Use these tips for making delicious chicken breasts in your pressure cooker:
Use a trivet to keep the chicken from boiling. Since you'll be using your chicken breasts on a sandwich, you want to keep them from becoming too soft while cooking in your pressure cooker. Using your trivet will elevate the meat in the pot, keeping it from boiling in the sauce while it cooks.
Add the marinade to the Instant Pot. While you won't be cooking the chicken directly in the sauce, using the marinade in your Instant Pot is a great way to add more flavor to your meat. Pour the sauce in the bottom of the pot and mix it with a little bit of water to flavor your chicken as it cooks.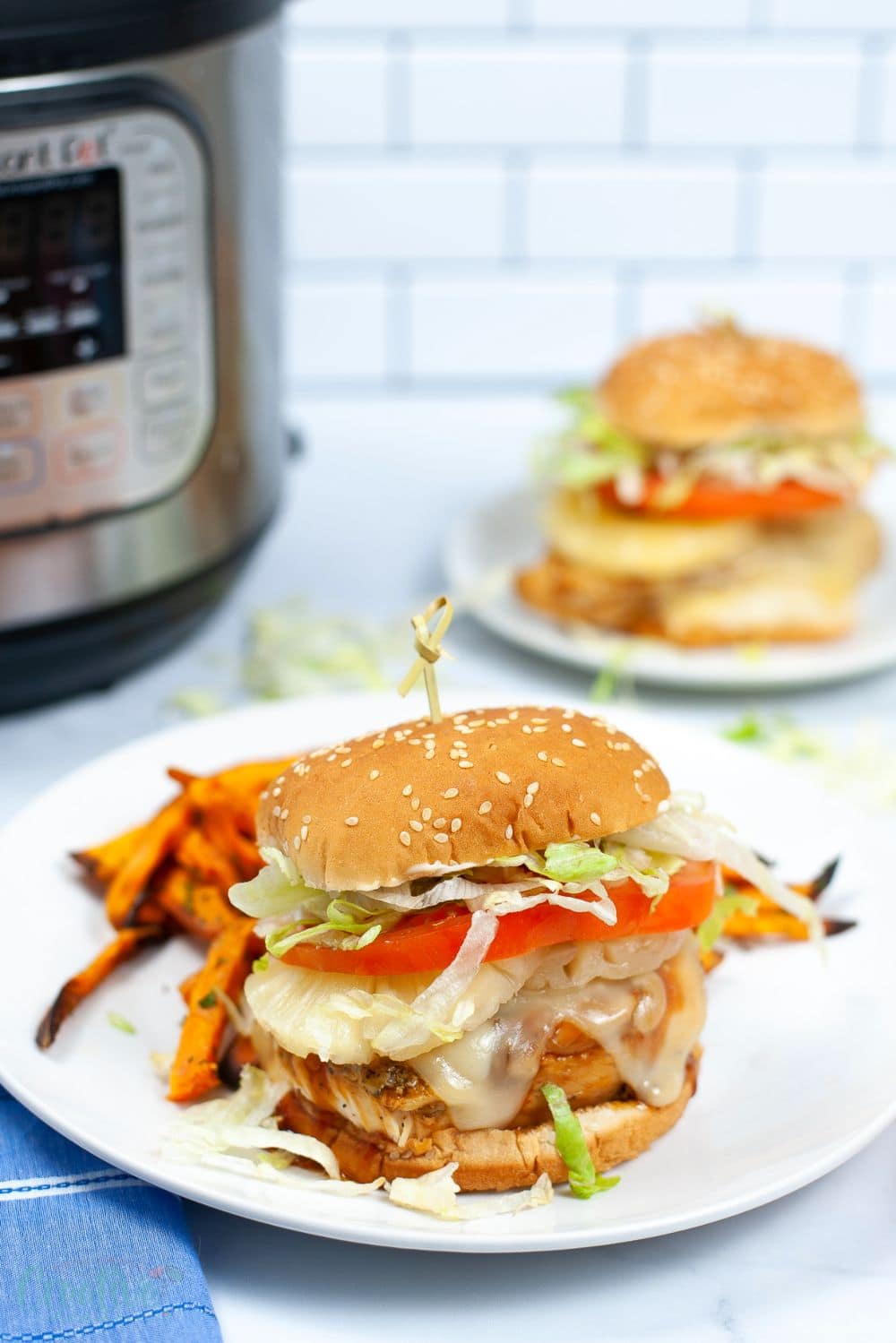 Can I Cook Frozen Chicken in the Instant Pot?
This recipe can easily be adapted to use frozen chicken in place of fresh chicken. The key to getting flavorful teriyaki chicken is to freeze your chicken in the marinade. After adding the chicken and marinade to your freezer bag, transfer the bag to the freezer. When you're ready to cook your chicken, place the frozen chicken and marinade in the Instant Pot and cook the meat for 10 to 12 minutes on high pressure.
How Long Do You Cook Chicken in the Instant Pot?
Chicken is safe to eat when it reaches an internal temperature of 165 degrees. The amount of time you need to cook your chicken depends on the thickness of the breast, not the amount of chicken in the pot. Thin breasts will cook more quickly than thick breasts. Chicken that is under two inches thick should cook for 7 to 8 minutes. And chicken that is more than two inches thick should cook for 10 minutes.
Frozen chicken should also be set to cook at a longer time than fresh chicken. If your chicken is frozen, set the Instant Pot to cook for 10 to 12 minutes, depending on its thickness.
Red Robin Copycat Chicken Teriyaki Burger
When your chicken is finished cooking in the pressure cooker, you can enjoy it as-is or make your own restaurant style sandwich at home. To use your chicken for sandwiches, follow these steps:
Melt the cheese. Before removing your cooked chicken from the Instant Pot, top each breast with a slice of Swiss cheese. The heat from the Instant Pot will help melt the cheese.
Place the chicken on a bun. When the cheese is fully melted, transfer the chicken breasts to the bottom half of a sesame seed bun.
Add the toppings. To make a Red Robin chicken burger, top your chicken breast with two slices of pineapple, a slice of tomato, and a handful of shredded lettuce. Spread mayonnaise over the top half of the bun and place the bun on top.
Pin to save for later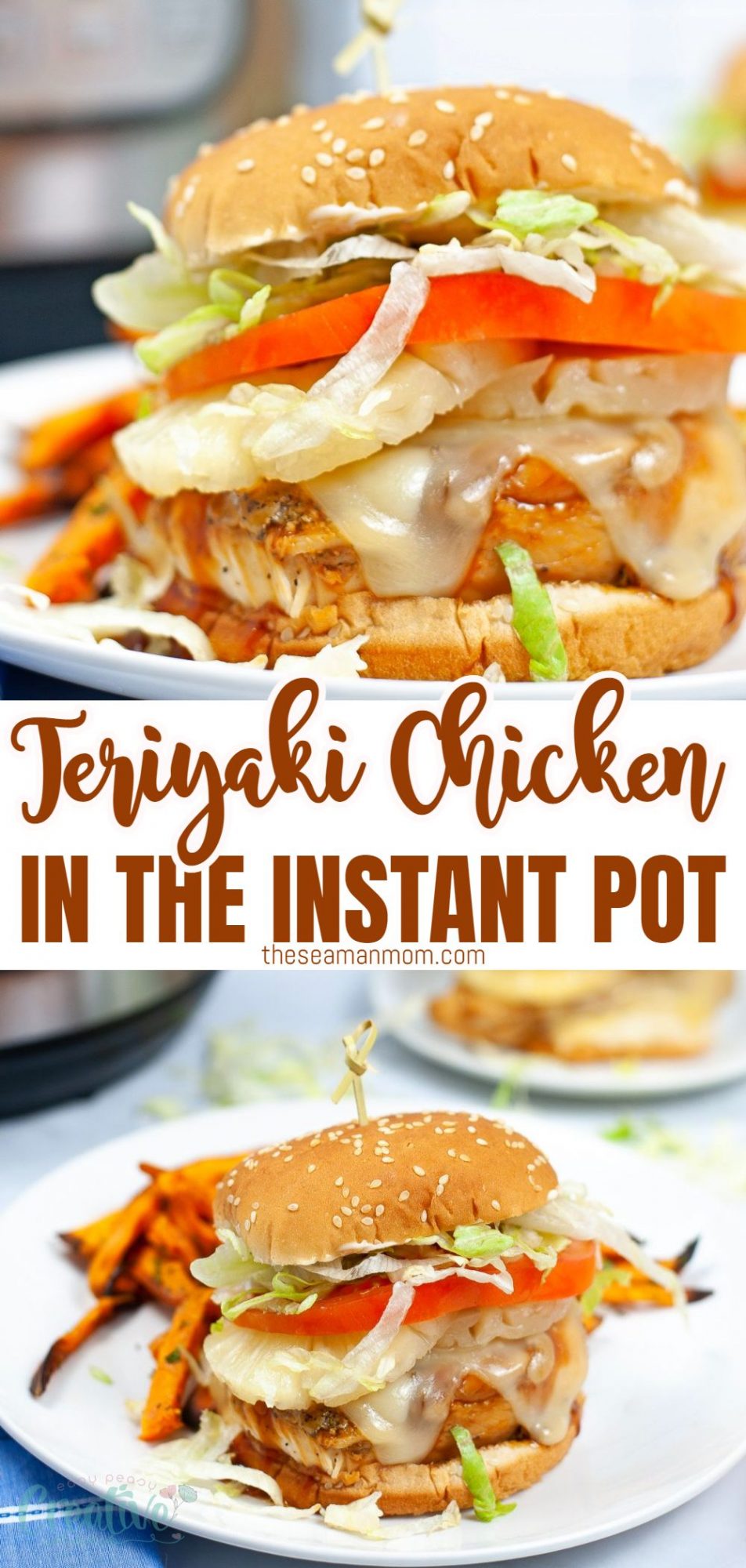 Print the recipe card
Instant Pot teriyaki chicken burger
Whip up a flavorful chicken burger with the help of your pressure cooker! You'll love how easy this Instant Pot teriyaki chicken is to make!
Ingredients
3

chicken breasts

1/2

cup

teriyaki sauce

1

tbsp

Nature's seasoning

6

slices

Swiss cheese

6

slices

canned pineapple

1

tomato

1

cup

of shredded lettuce

1/2

cup

of mayonnaise

3

sesame seed buns
Instructions
Place chicken in a zip lock bag with teriyaki sauce and place in refrigerator for 4-6 hours.

Place marinaded chicken on a trivet and marinade in instant pot with 1 cup of water.

Pressure cook on high for 7 minutes. Make sure chicken is fully cooked.

Manually release pressure and top each piece of chicken with 2 slices of cheese.

Place chicken on a bun, top with 2 slices of pineapple, a slice of tomato, and shredded lettuce. Spread 1 tablespoon of mayonnaise or more to liking on the top bun and then place top bun on the burger.