Lemon Herb Salmon With Vegetables And Couscous
Article may contain Amazon & affiliate links. As an Amazon Associate I earn from qualifying purchases at no additional cost to you.
Easy to prepare, healthy and delicious, this lemon herb salmon is baked in the oven and served with crispy/tender vegetables and couscous for a filling, flavorful dinner idea everyone will love!
Baked Salmon With Lemon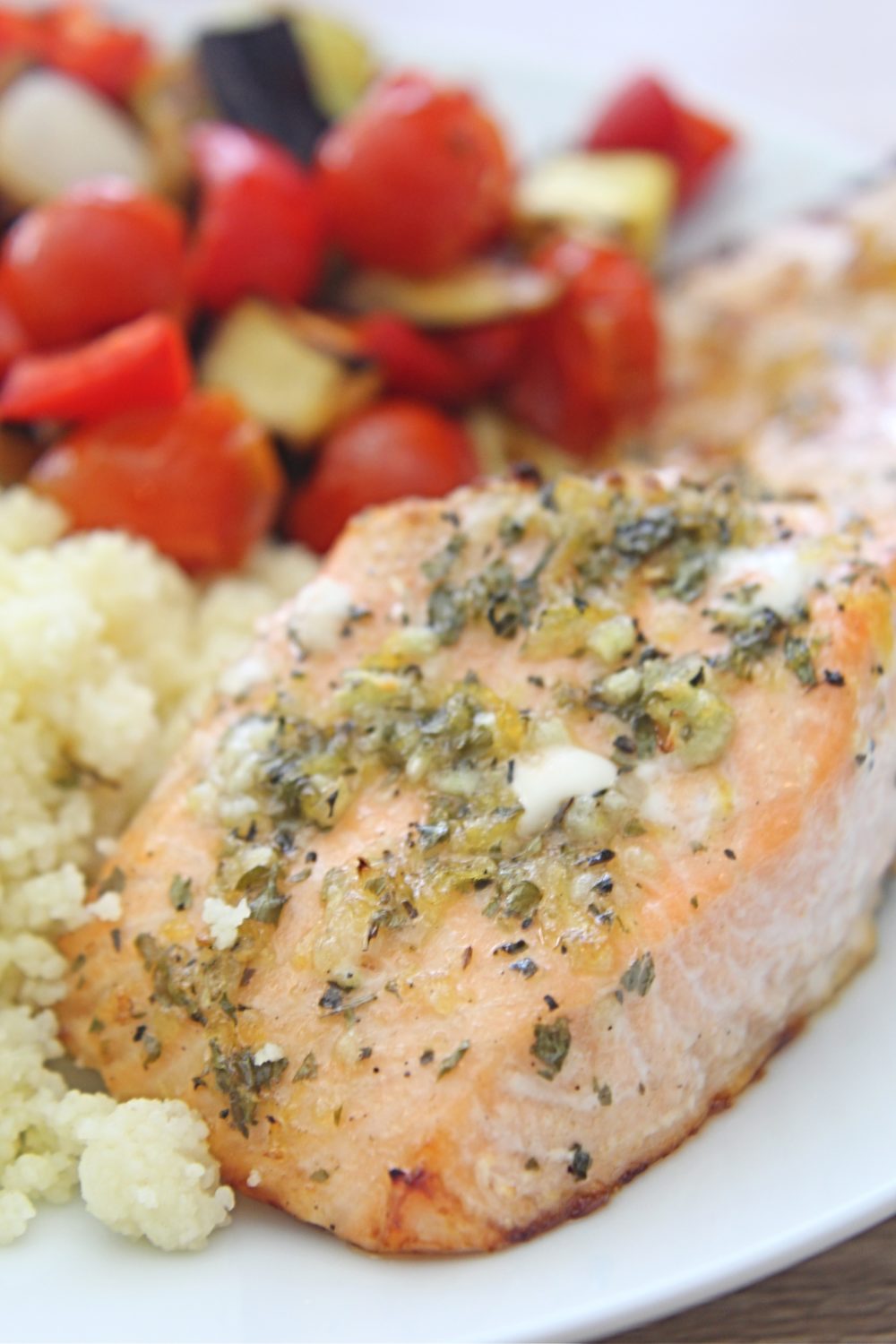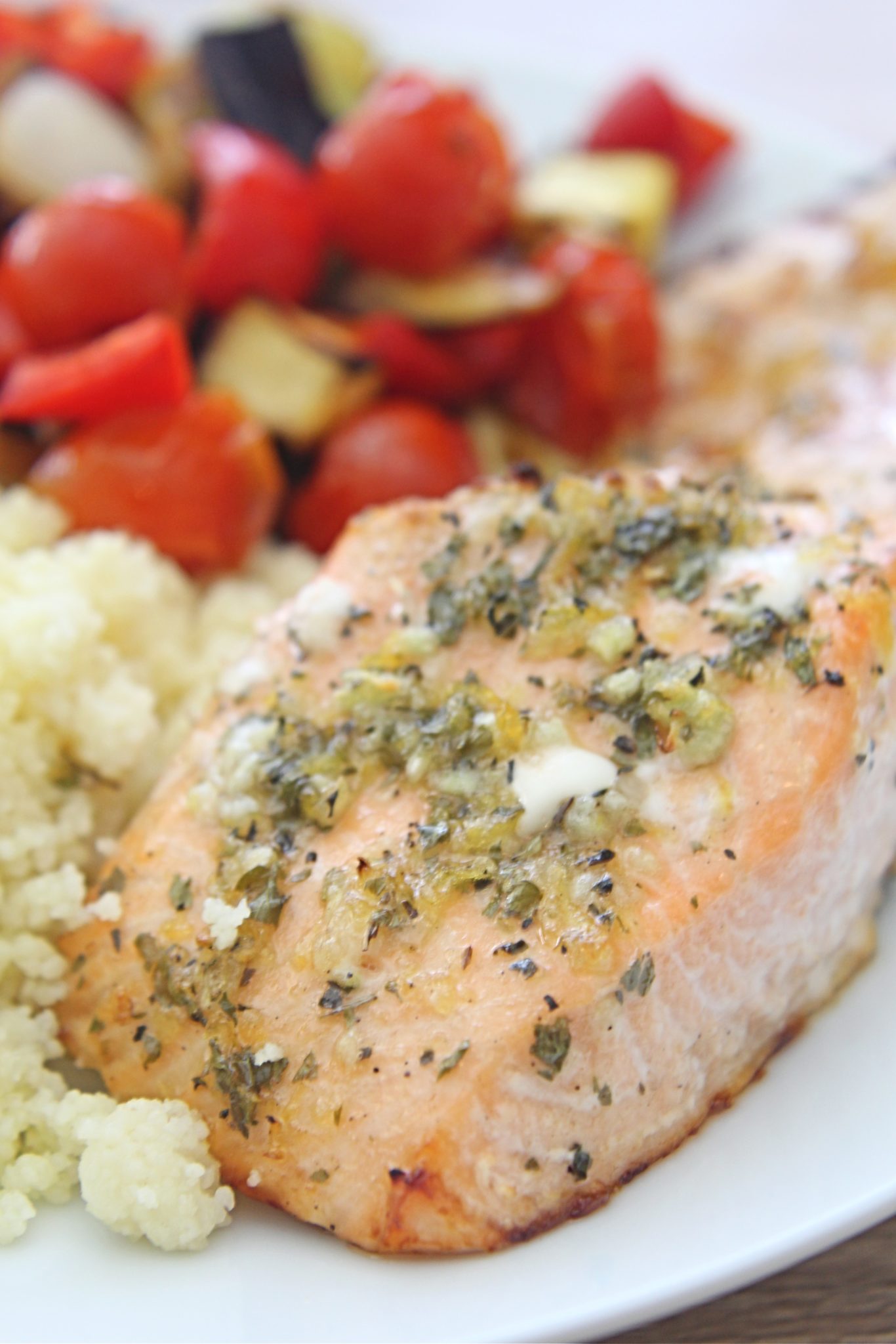 If you've been on the look out for healthy dinner recipes that are super easy, quick and yum, look no more! This lemon herb salmon is a total winner! With this delicious baked salmon with lemon, enjoying healthy recipes doesn't have to mean you'll need to compromise on flavor!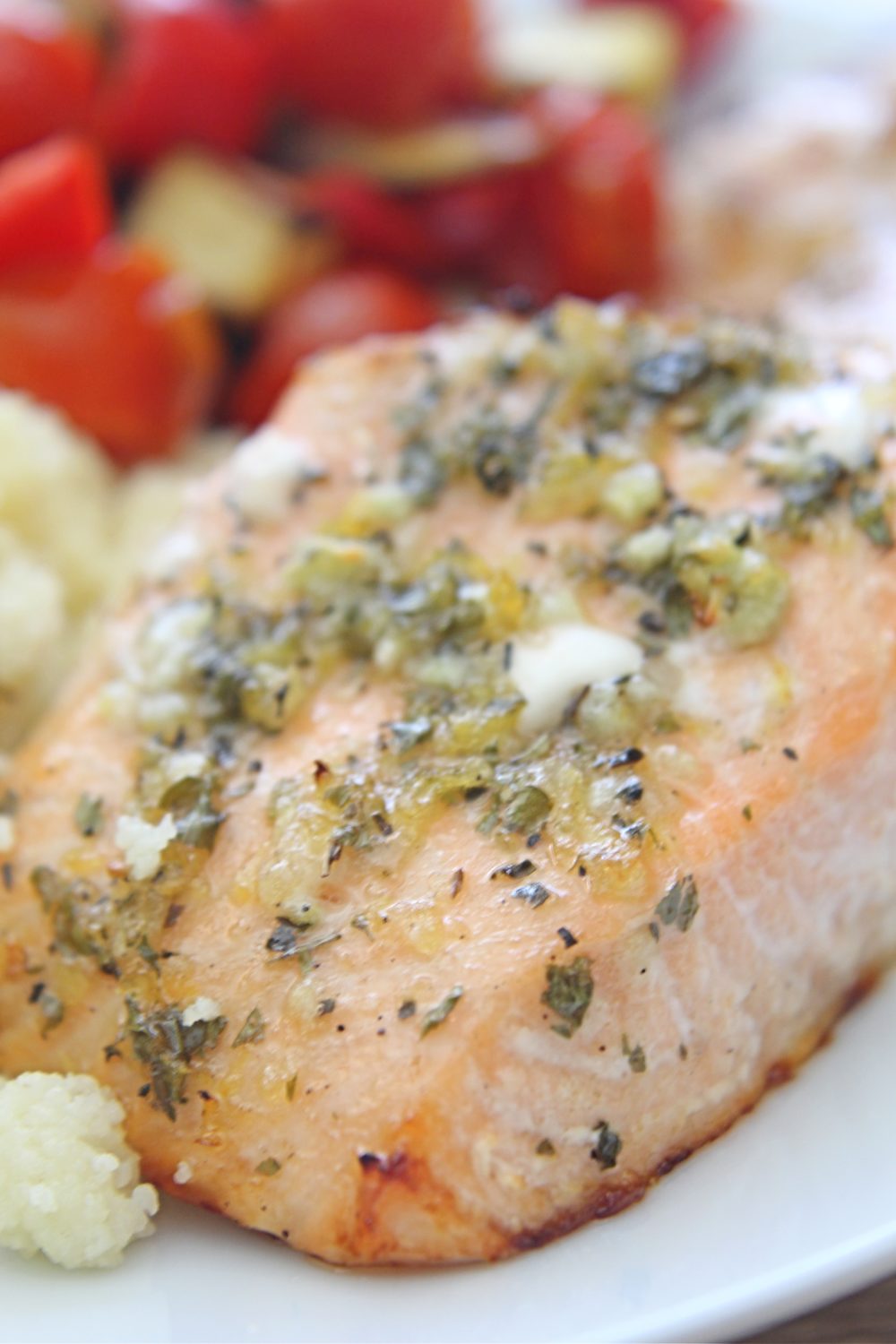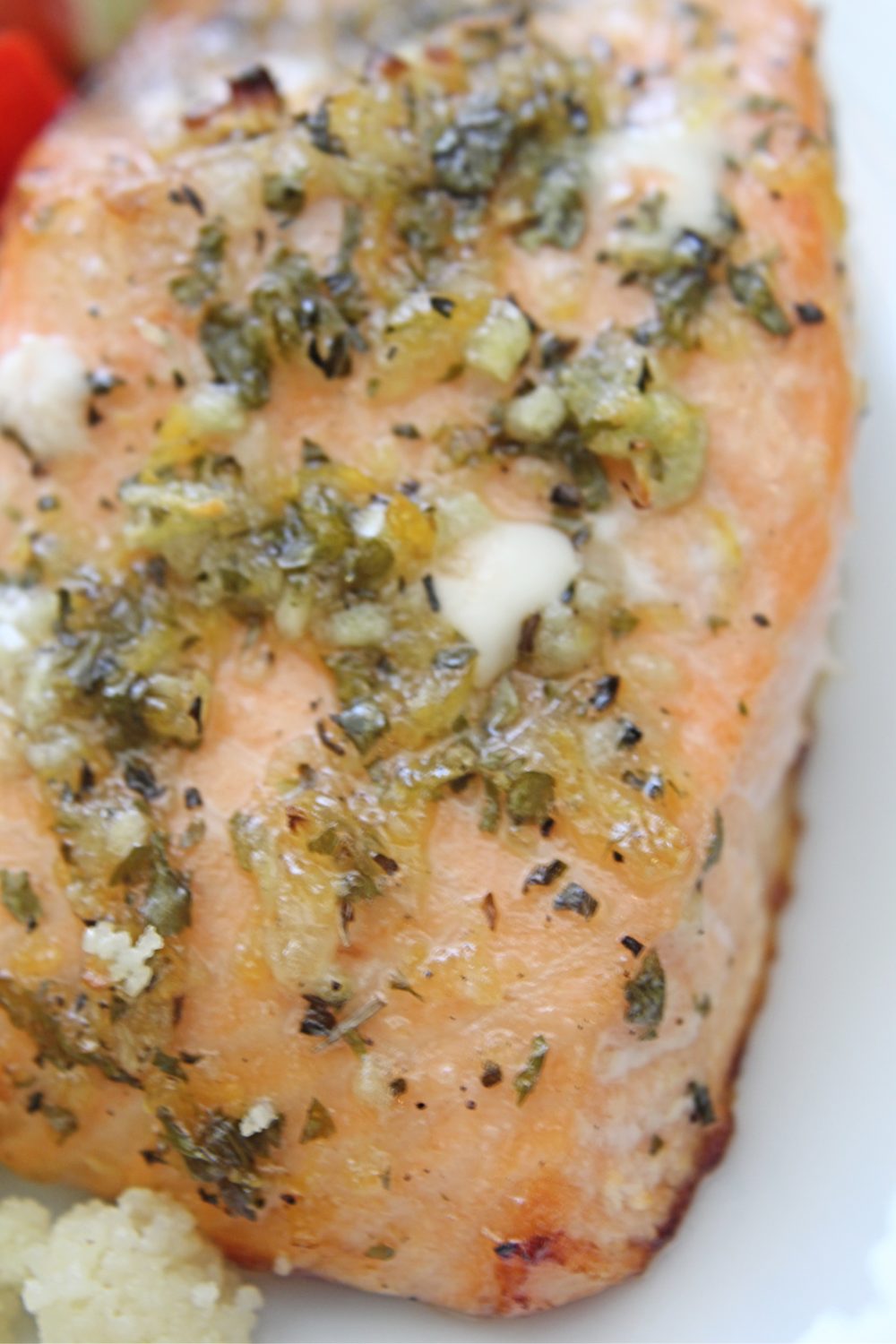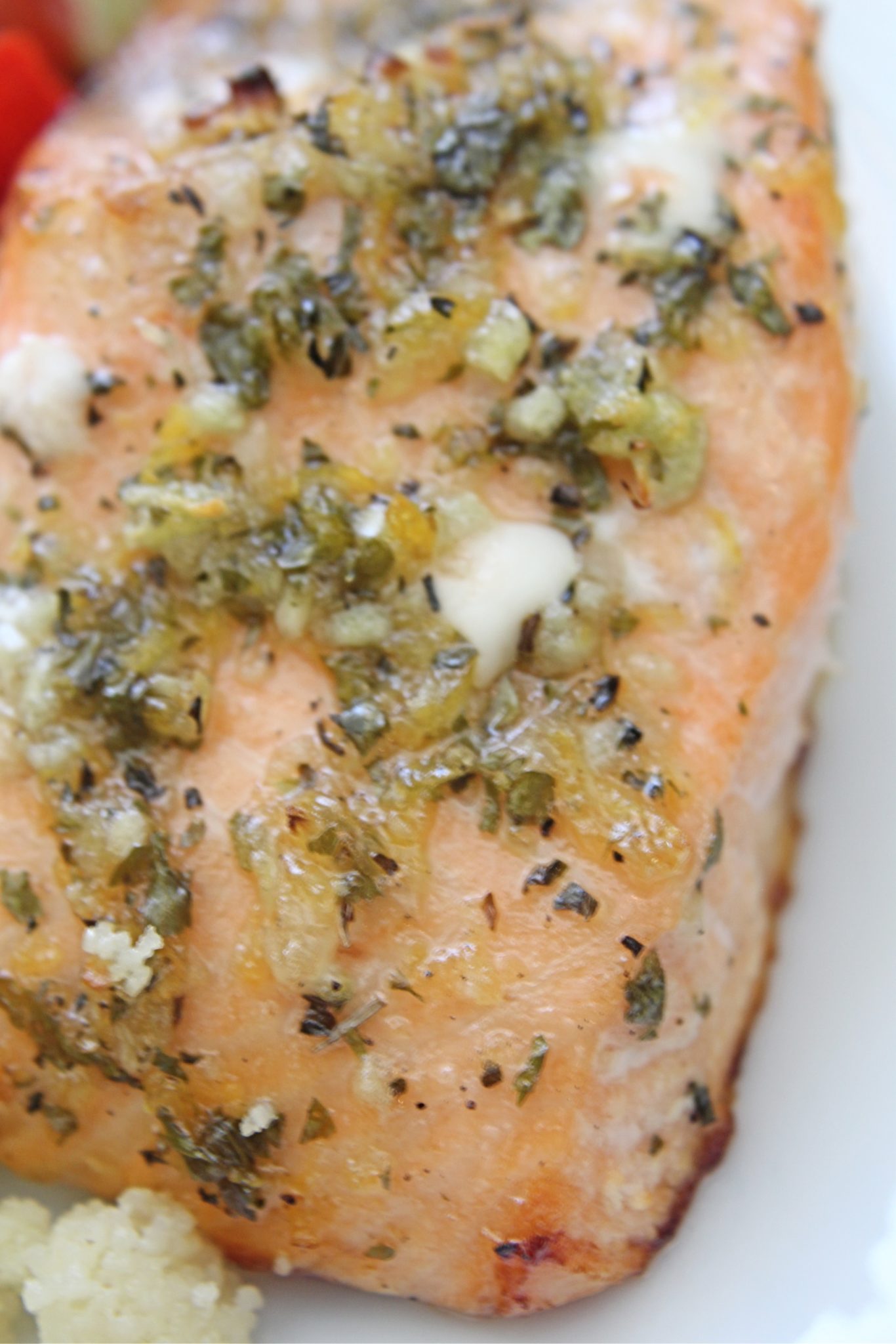 My little munchkin, Ellie is a crazy salmon fan, she would basically live on salmon only if possible! So I thought I should impress her with a special lemon salmon recipe that is so incredible, you are going to be crazy about for! This lemon herb salmon is healthy, easy, yummy, quick to make and looks pretty fancy, you could even serve this herb baked salmon to all kinds of special events too.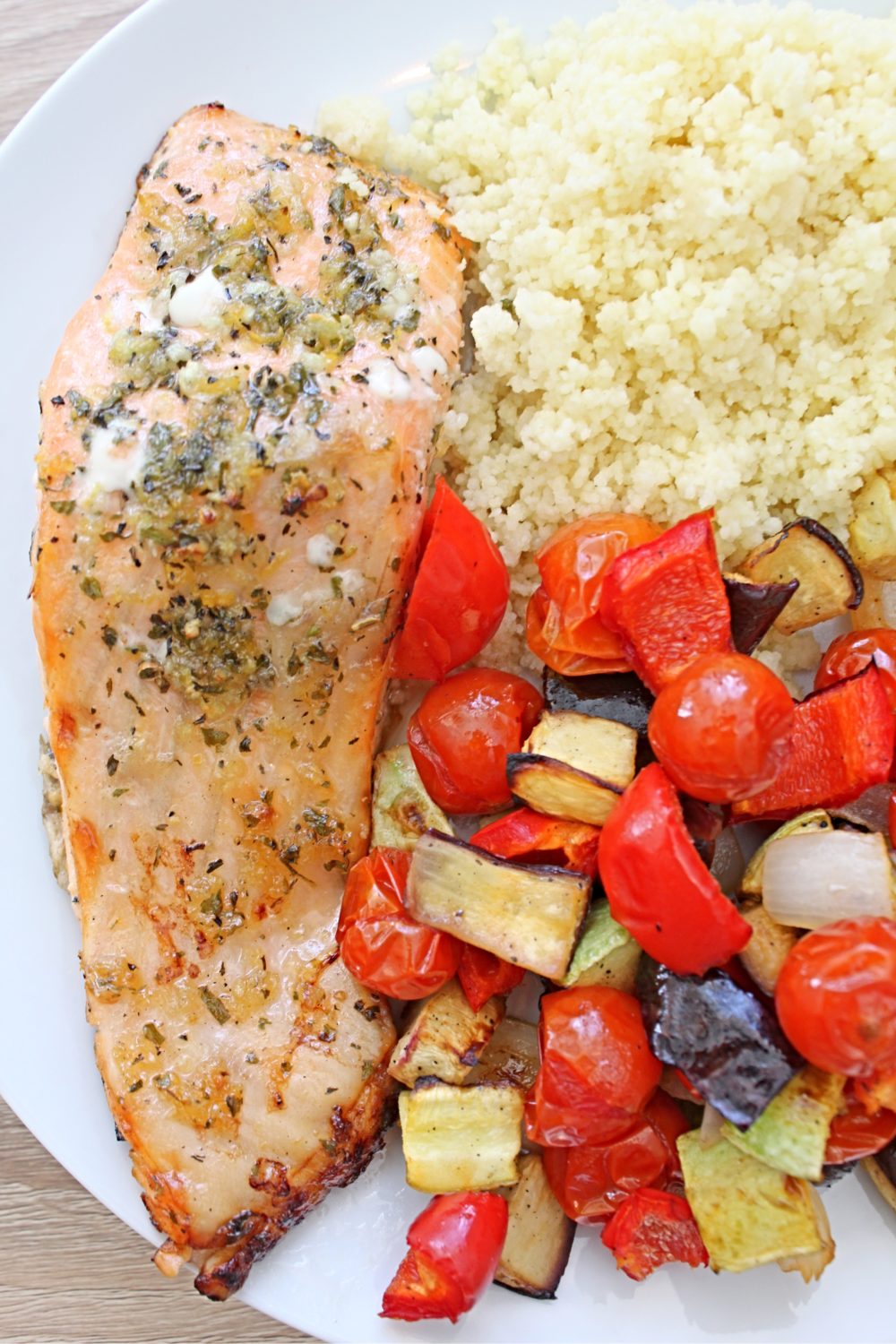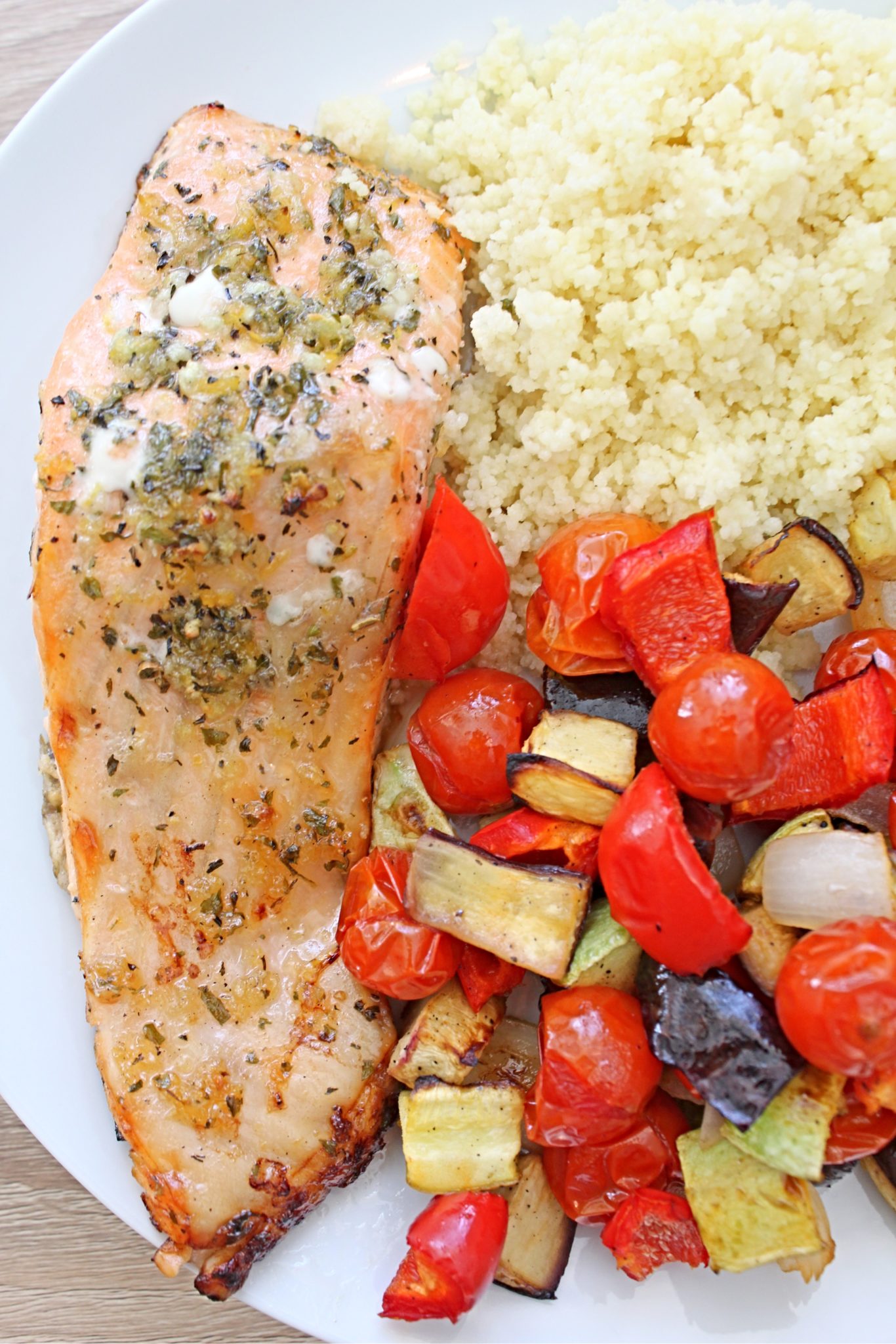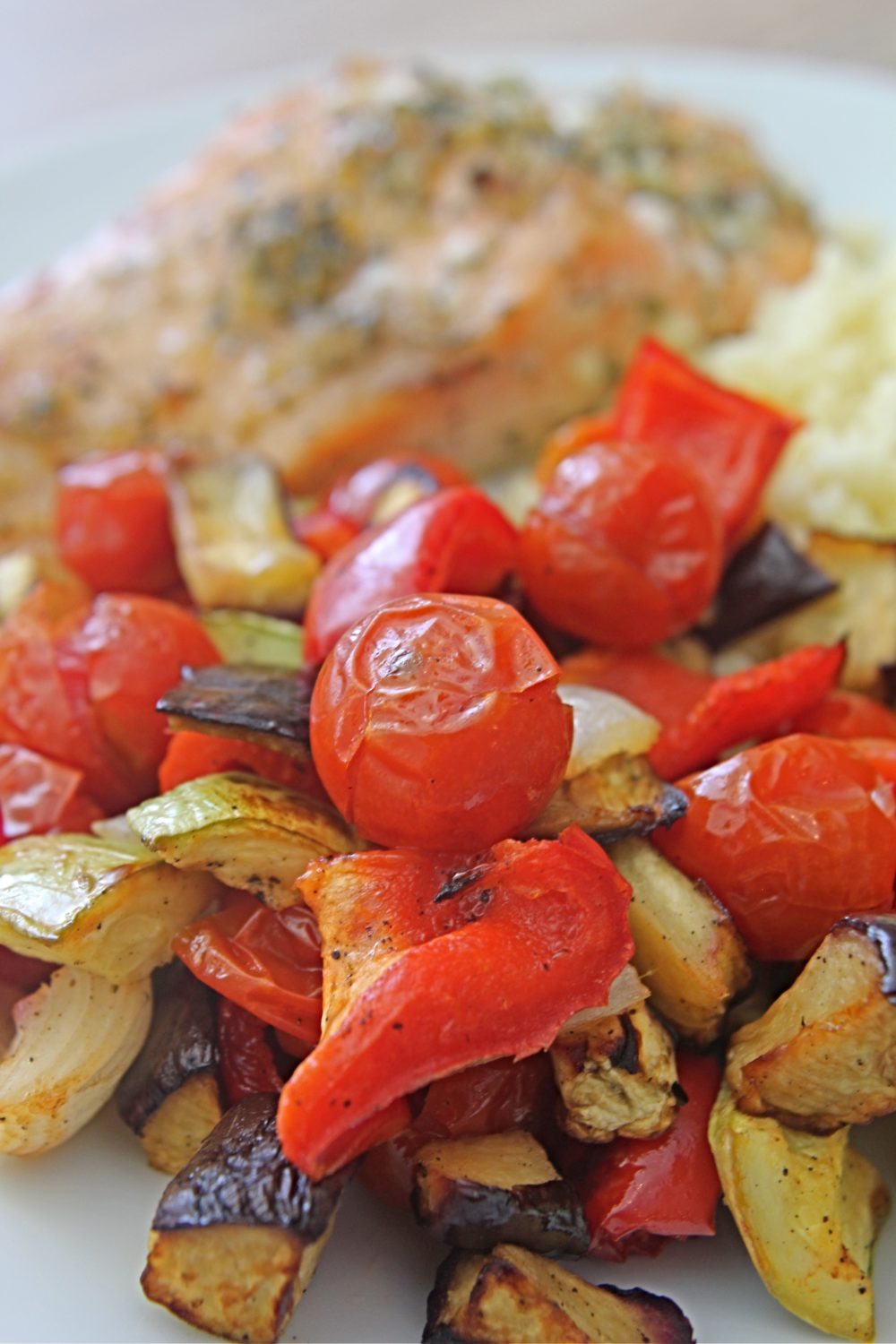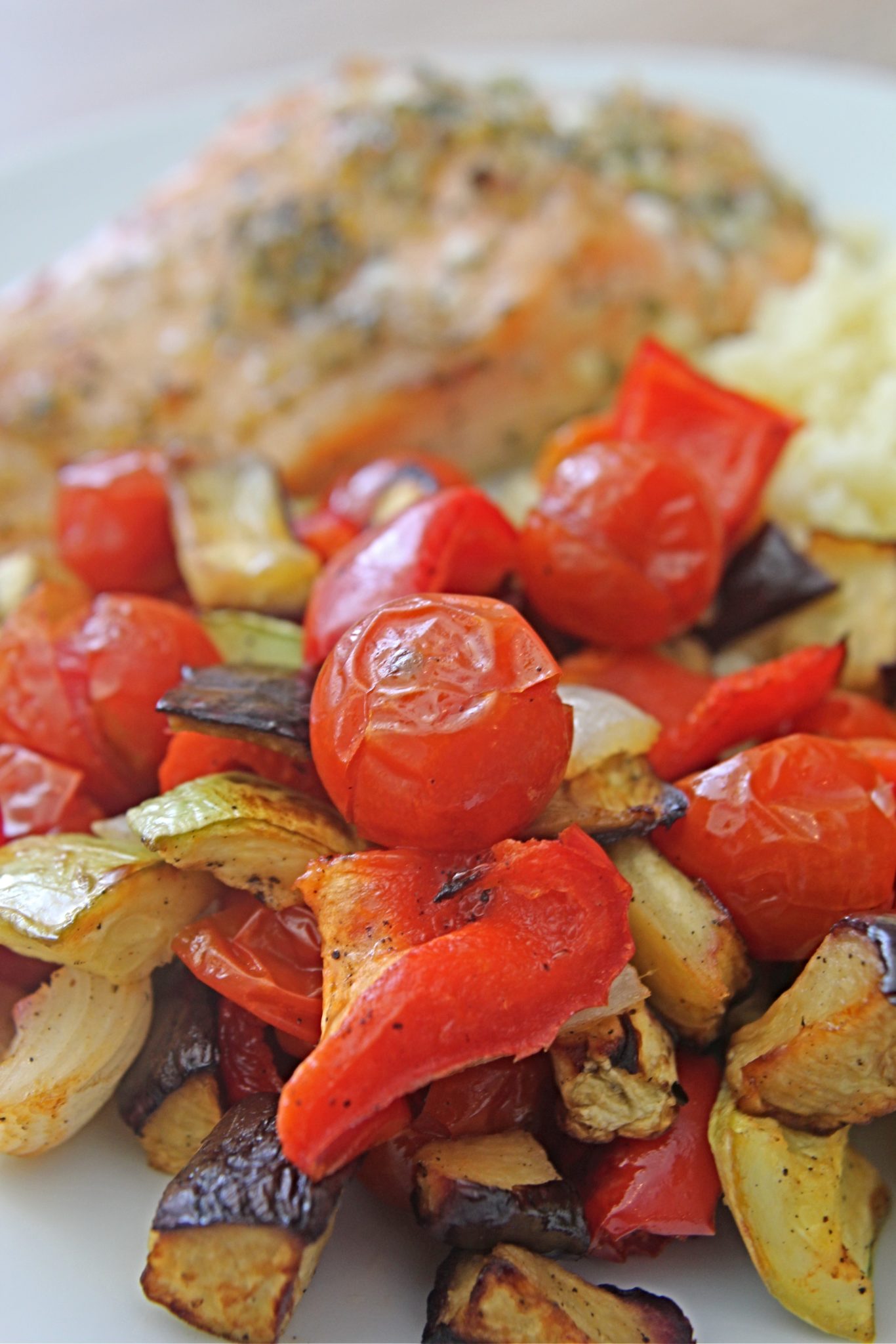 I love how easy salmon is to make, is basically fuss free and foolproof! My lemon herb salmon is also a great way to bring more veggies into your family's diet and is also nutritious and super filling thanks to the couscous addition. This lemon and herb salmon looks so beautiful and yummy, even picky eaters will have a hard time saying no to this recipe!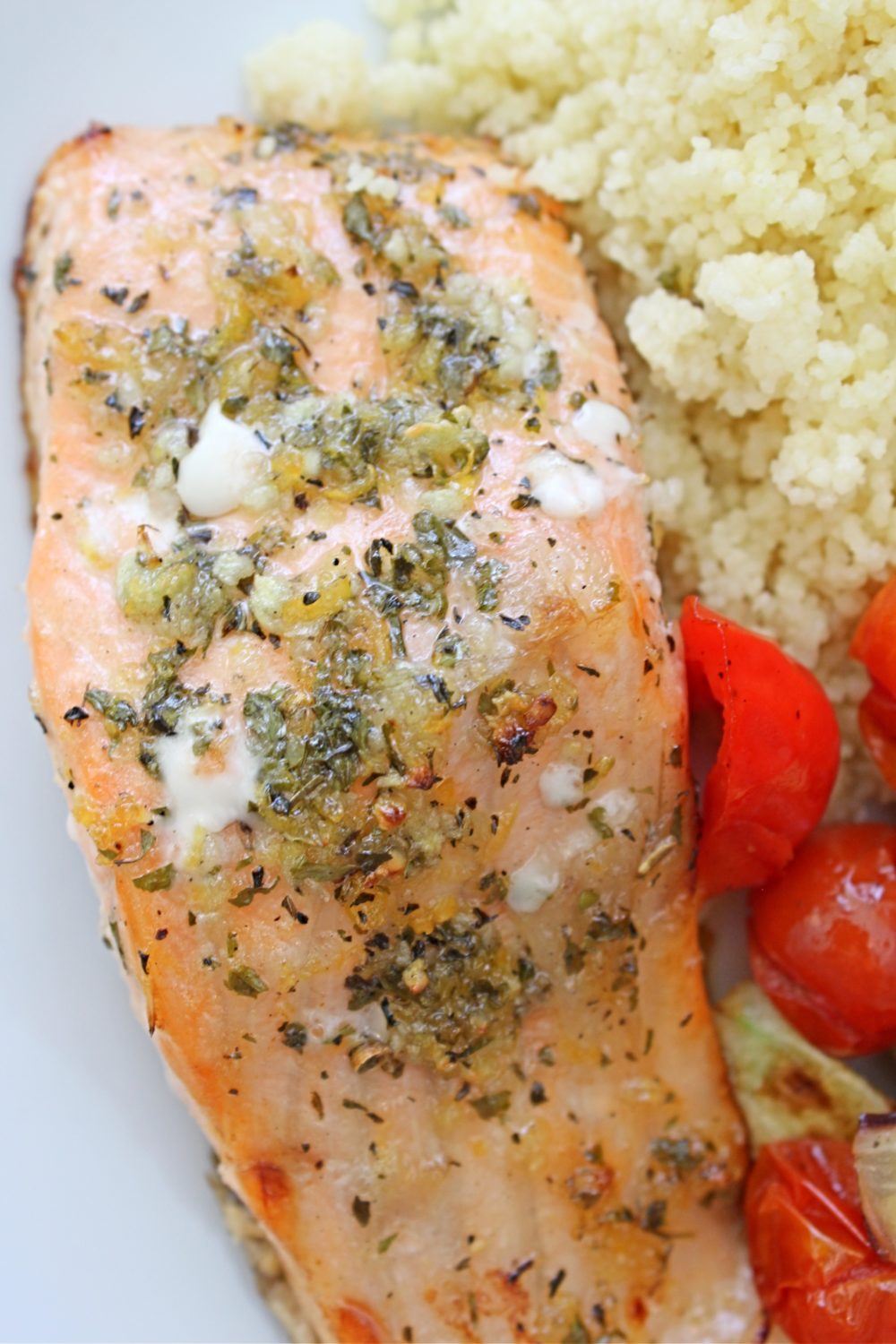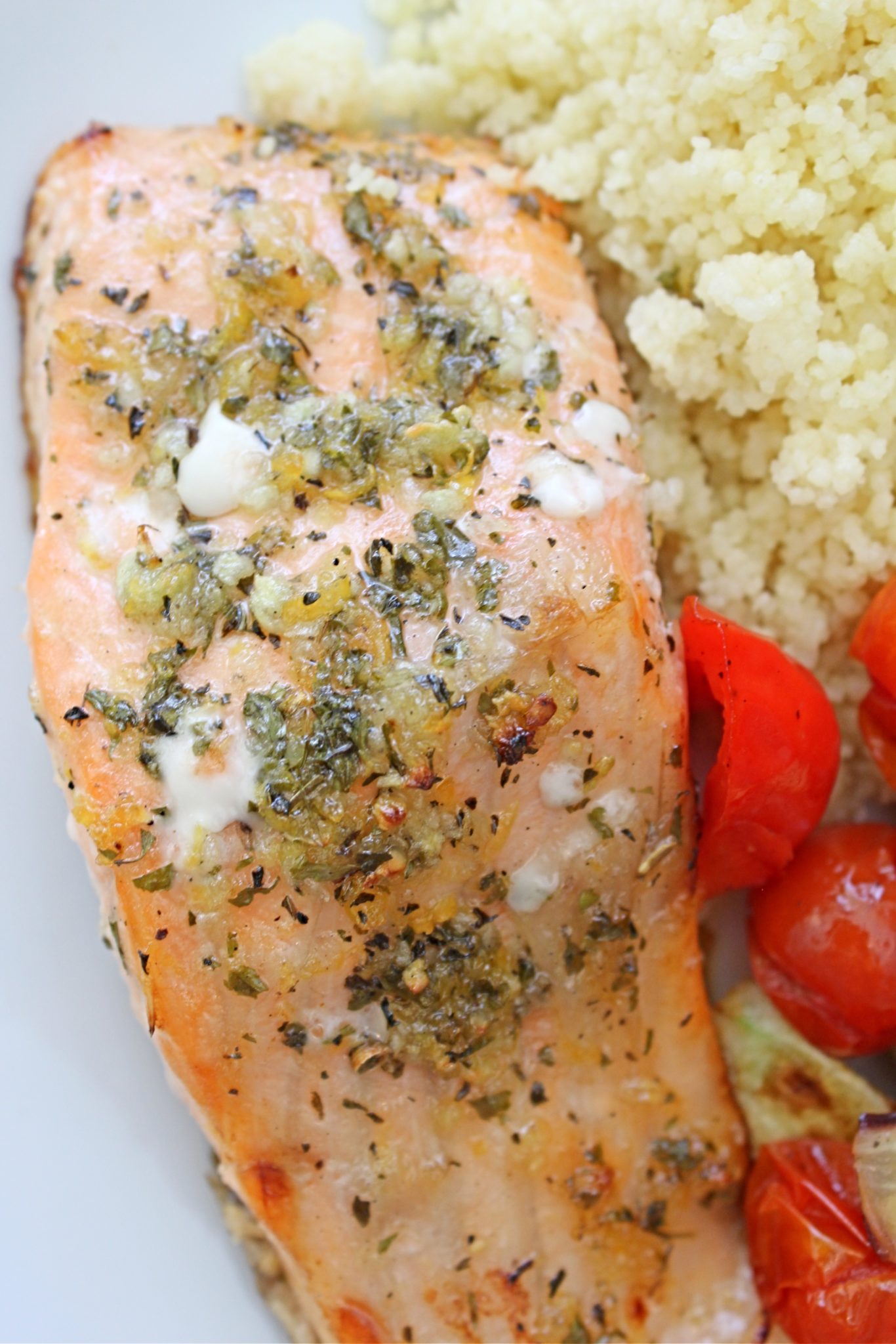 This mouthwatering lemon herb salmon, along with the roasted veggie are perfectly seasoned, made with real, healthy ingredients and are the perfect recipe for when you're short on time or running out of dinner ideas! My baked salmon with vegetables could easily be prepared in advanced and stored in airtight containers before serving. I'm always short on time and when I find a couple of free hours, I cook as much as I can and usually I manage to cover a few days worth of meals. And this lemon herb salmon tasted just as amazing fresh and after stored for a couple of days in the fridge!
The ingredients are for 4 servings (I shared mine with Ellie, it was that big!), feel free to adjust as needed.
Lemon Herb Salmon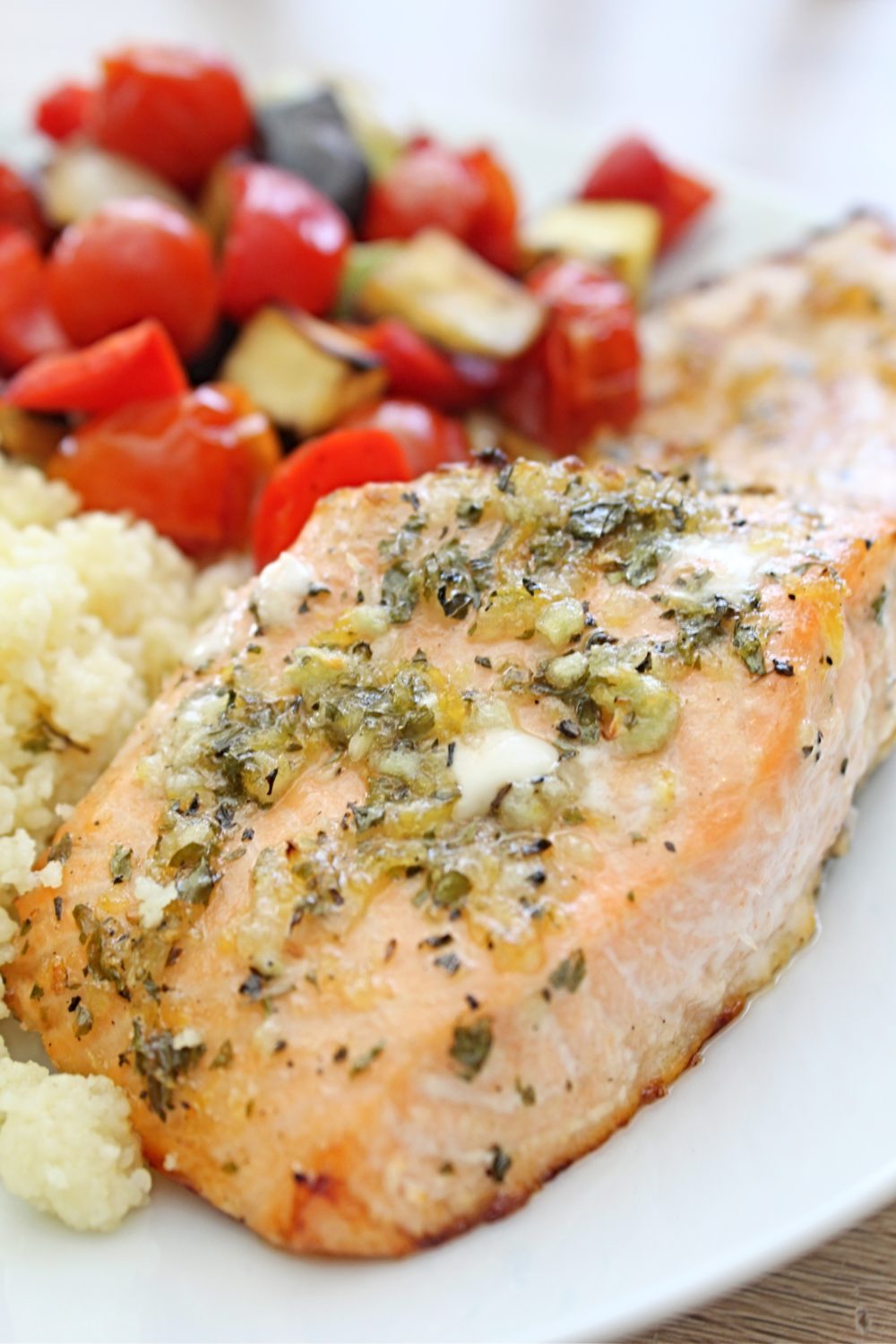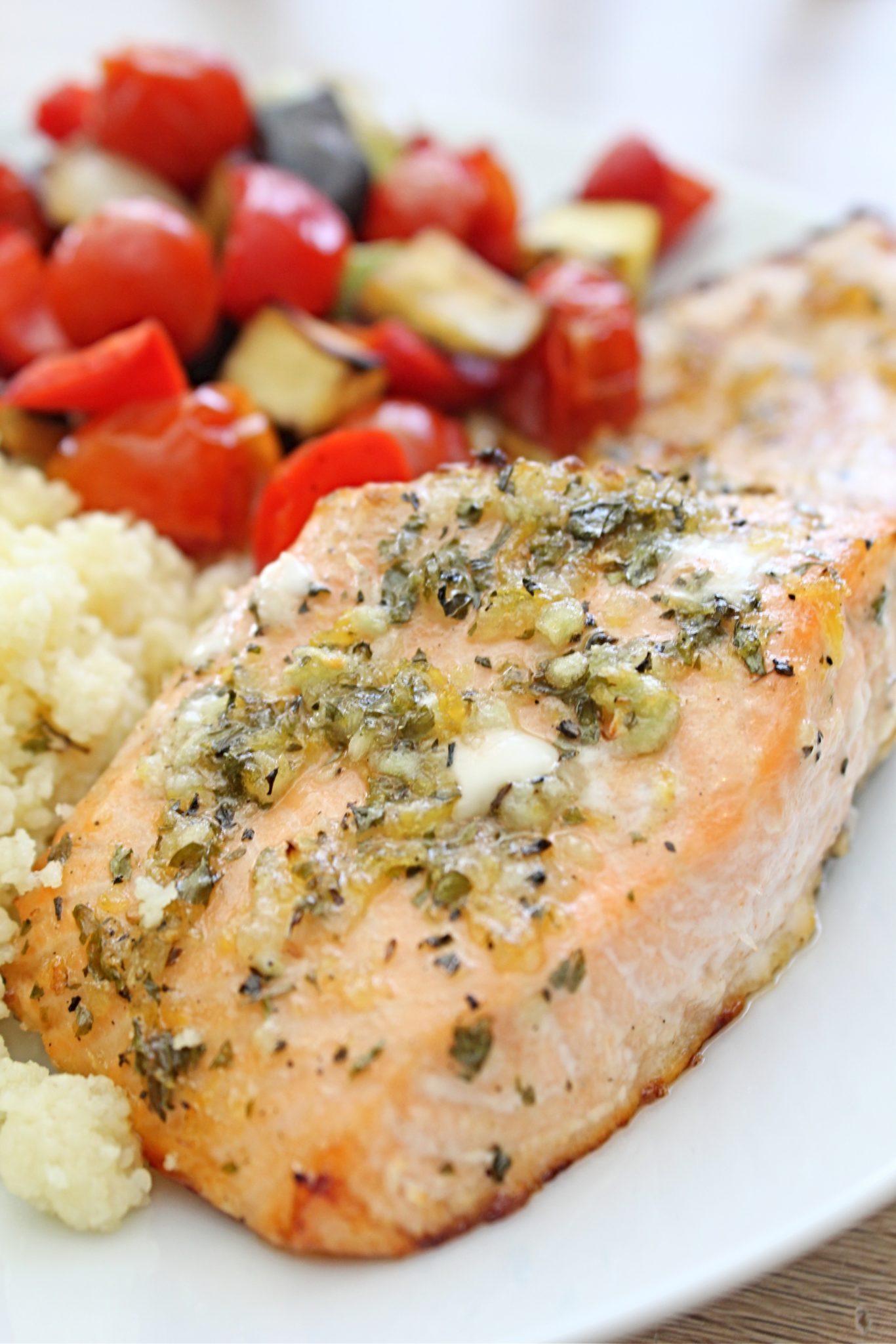 Ingredients:
For the vegetable roast:
1 medium eggplant
one medium red bell pepper
1 medium cousa squash (or zucchini)
a medium onion
2 cups cherry tomatoes
2 tablespoons olive oil
juice from 1/2 a medium lemon
salt & pepper to taste
2 rosemary sprigs
For the salmon:
2 tablespoons olive oil
1 tablespoon red wine vinegar
2 teaspoons raw honey
1 teaspoon dry mint
1 teaspoon dry parsley
3 garlic cloves, minced
2 teaspoons lemon zest
juice from 1/2 a lemon
salt & pepper to taste
1 1/2 lbs salmon, cut into 4
For the couscous:
2/3 cup couscous
2 cups water
1 tablespoon olive oil
You will also need:
large mixing bowl
small mixing bowl
baking sheet
non stick baking dish
2 oven racks
aluminium foil
2 spatulas
brush
saucepan with lid
optional – lemon wedges to serve
Directions:
Pre heat oven to 450 F
Line a baking sheet with aluminium foil and set aside.
Cut vegetables into 1″ cubes
In a large mixing bowl, gently toss vegetables with olive oil, lemon juice, salt & pepper using a couple of wood spatulas.
Spread veggie on the baking sheet and top with rosemary sprigs.
Bake in the middle of the oven for about 20-25 minutes or until veggies start to brown.
Meanwhile, prepare the salmon. In a small mixing bowl, add all the salmon ingredients, except for salmon. Mix well to combine.
Place salmon in a non stick baking dish and brush well with the sauce. Roast on the lower rack for about 10 minutes or until salmon gets a golden brown crust.
While veggies and salmon are cooking, prepare the couscous.
Add water to a saucepan and bring to a boil. Pour couscous over, mix in a tablespoon of olive oil and cover with a lid.
Serve salmon with roasted veggies, couscous and lemon wedges (optional)
Pin to save for later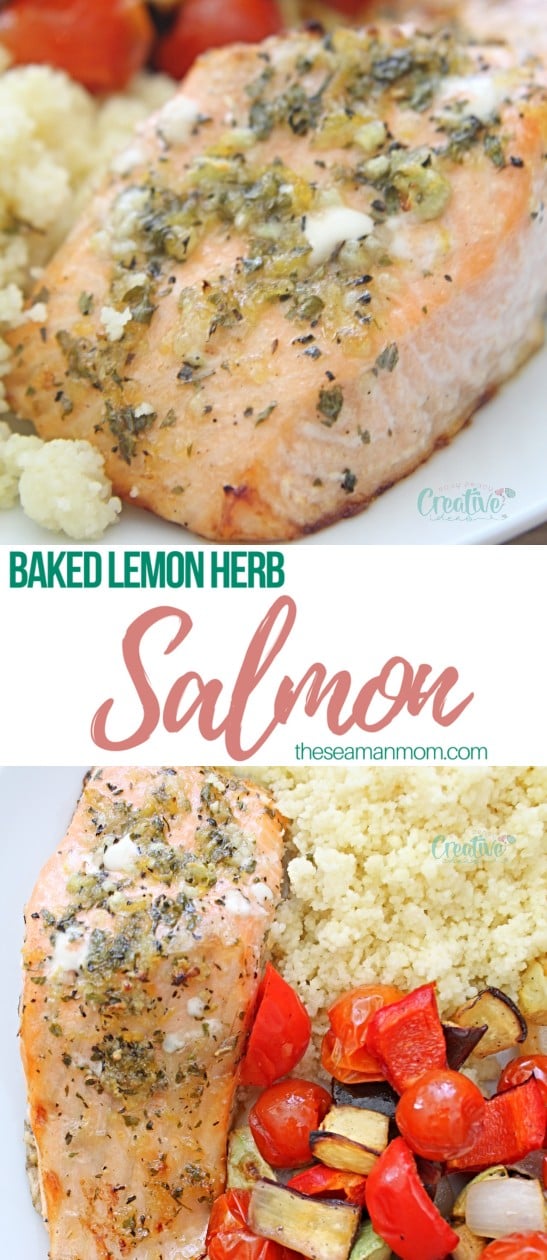 GET MORE INSPIRATION HERE >> FOLLOW ME ON PINTEREST
Lemon Herb Salmon With Vegetables And Couscous
Ingredients
For the vegetable roast:
1

medium eggplant

1

medium red bell pepper

1

medium cousa squash

or zucchini

1

onion

2

cups

cherry tomatoes

2

tablespoons

olive oil

juice from 1/2 a medium lemon

salt & pepper to taste

2

rosemary sprigs
For the salmon:
2

tablespoons

olive oil

1

tablespoon

red wine vinegar

2

teaspoons

raw honey

1

teaspoon

dry mint

1

teaspoon

dry parsley

3

garlic cloves

minced

2

teaspoons

lemon zest

juice from 1/2 a lemon

salt & pepper to taste

1 1/2

lbs

salmon

cut into 4
For the couscous:
2/3

cup

couscous

2

cups

water

1

tablespoon

olive oil
You will also need:
large mixing bowl

small mixing bowl

baking sheet

non stick baking dish

2

oven racks

aluminium foil

2

spatulas

brush

saucepan with lid

optional - lemon wedges to serve
Instructions
Pre heat oven to 450 F

Line a baking sheet with aluminium foil and set aside.

Cut vegetables into 1" cubes

In a large mixing bowl, gently toss vegetables with olive oil, lemon juice, salt & pepper using a couple of wood spatulas.

Spread veggie on the baking sheet and top with rosemary sprigs.

Bake in the middle of the oven for about 20-25 minutes or until veggies start to brown.

Meanwhile, prepare the salmon. In a small mixing bowl, add all the salmon ingredients, except for salmon. Mix well to combine.

Place salmon in a non stick baking dish and brush well with the sauce. Roast on the lower rack for about 10 minutes or until salmon gets a golden brown crust.

While veggies and salmon are cooking, prepare the couscous.

Add water to a saucepan and bring to a boil. Pour couscous over, mix in a tablespoon of olive oil and cover with a lid.

Serve salmon with roasted veggies, couscous and lemon wedges (optional)
Similar Posts You Might Like
Baked fish with lemon garlic butter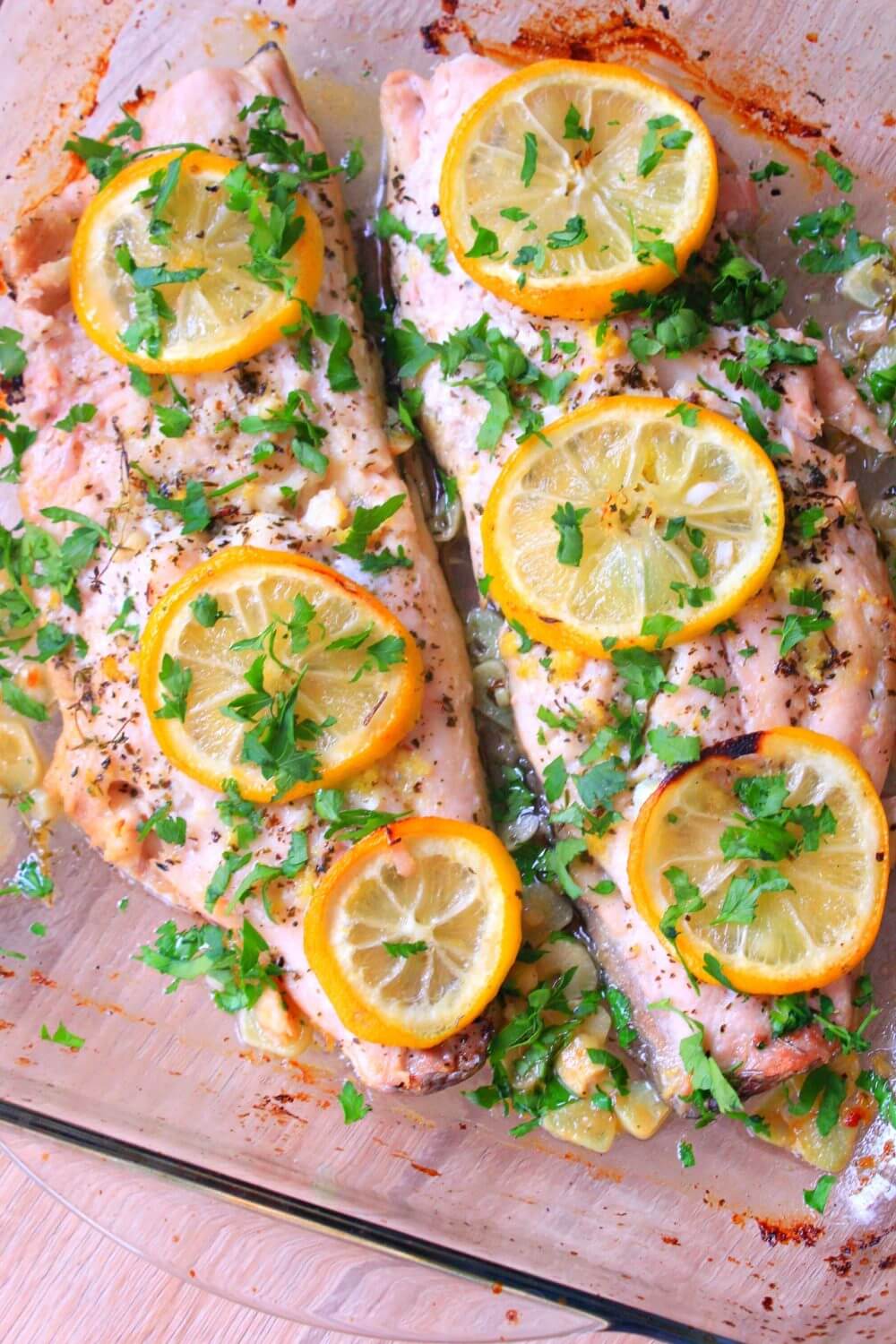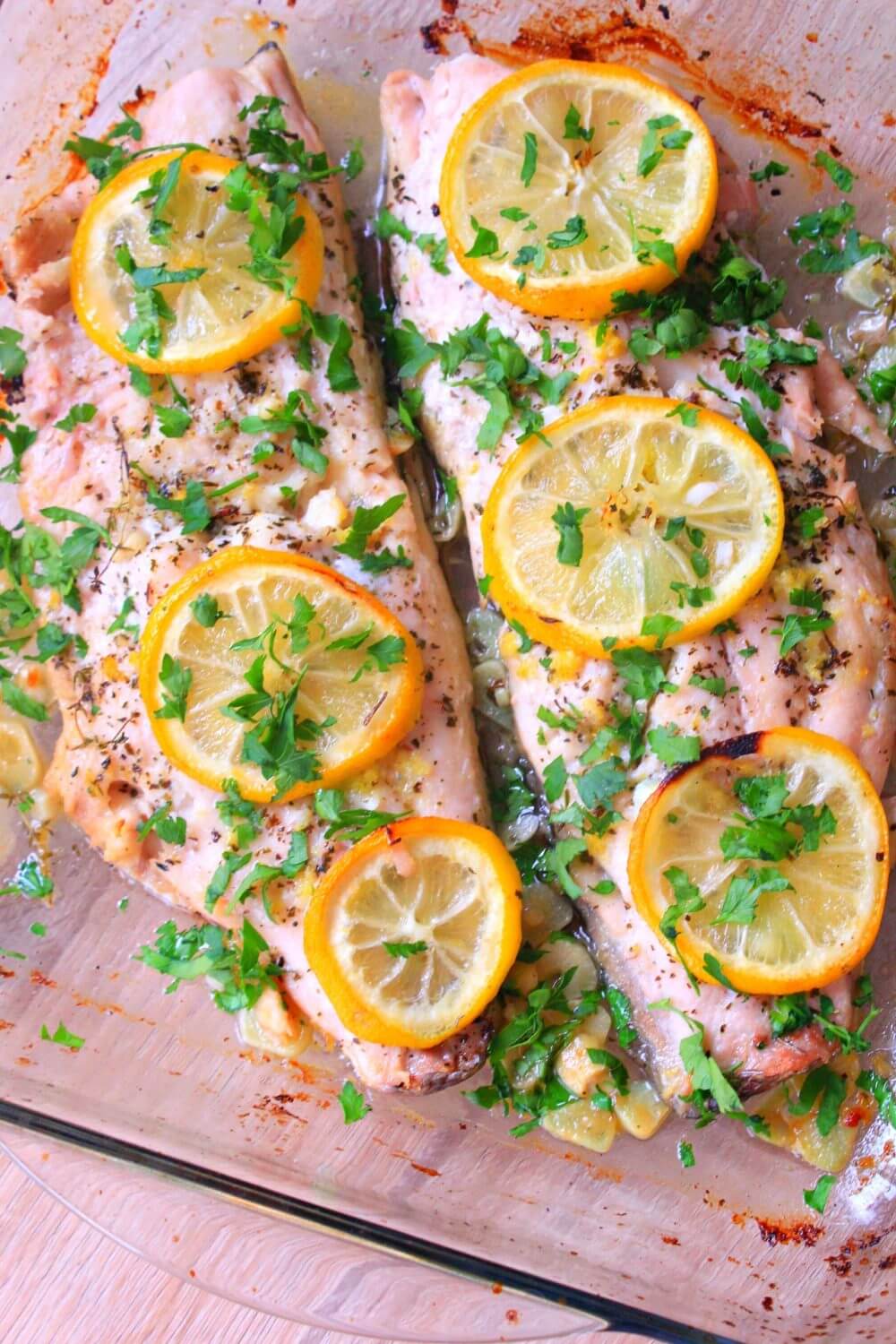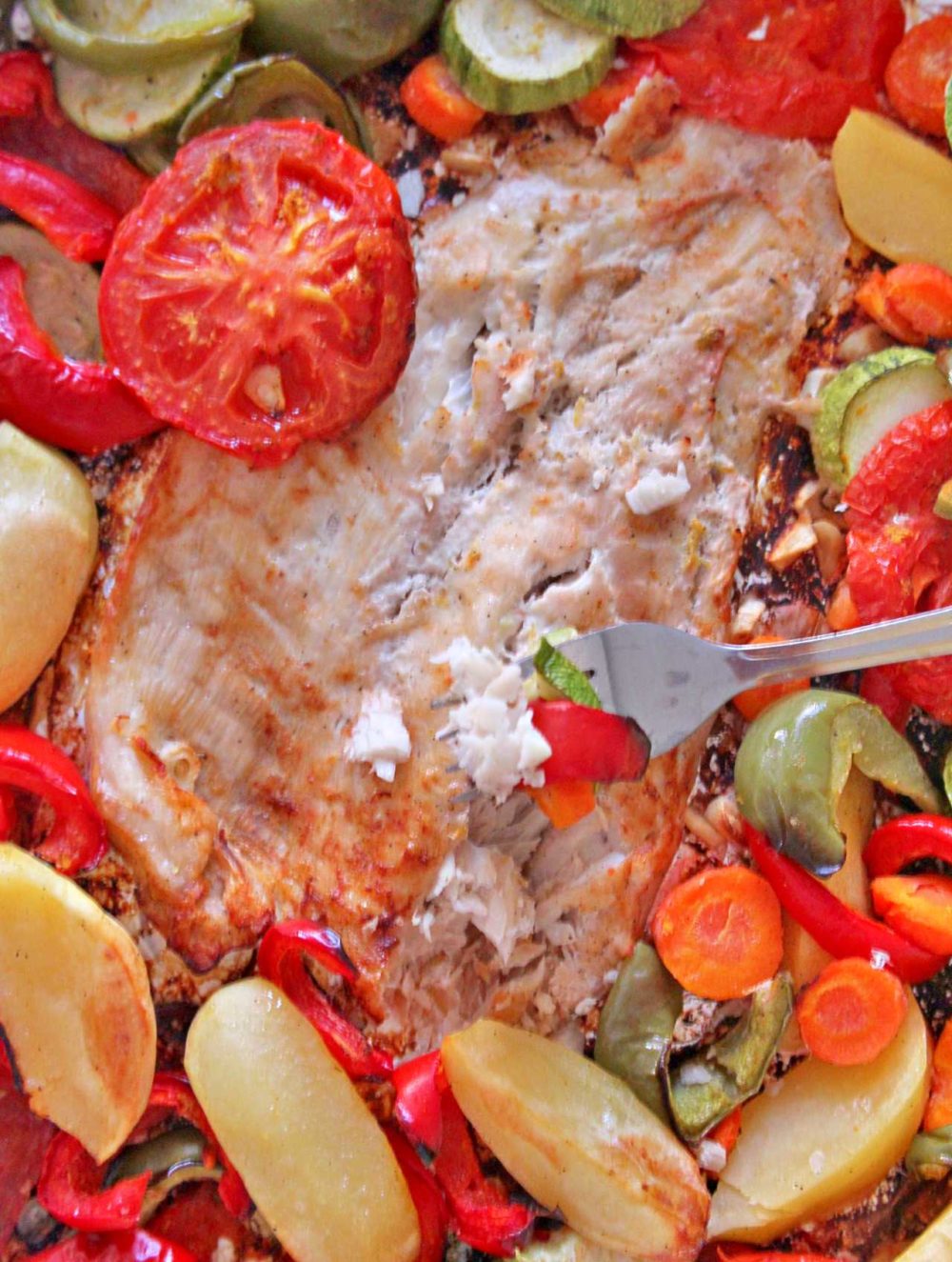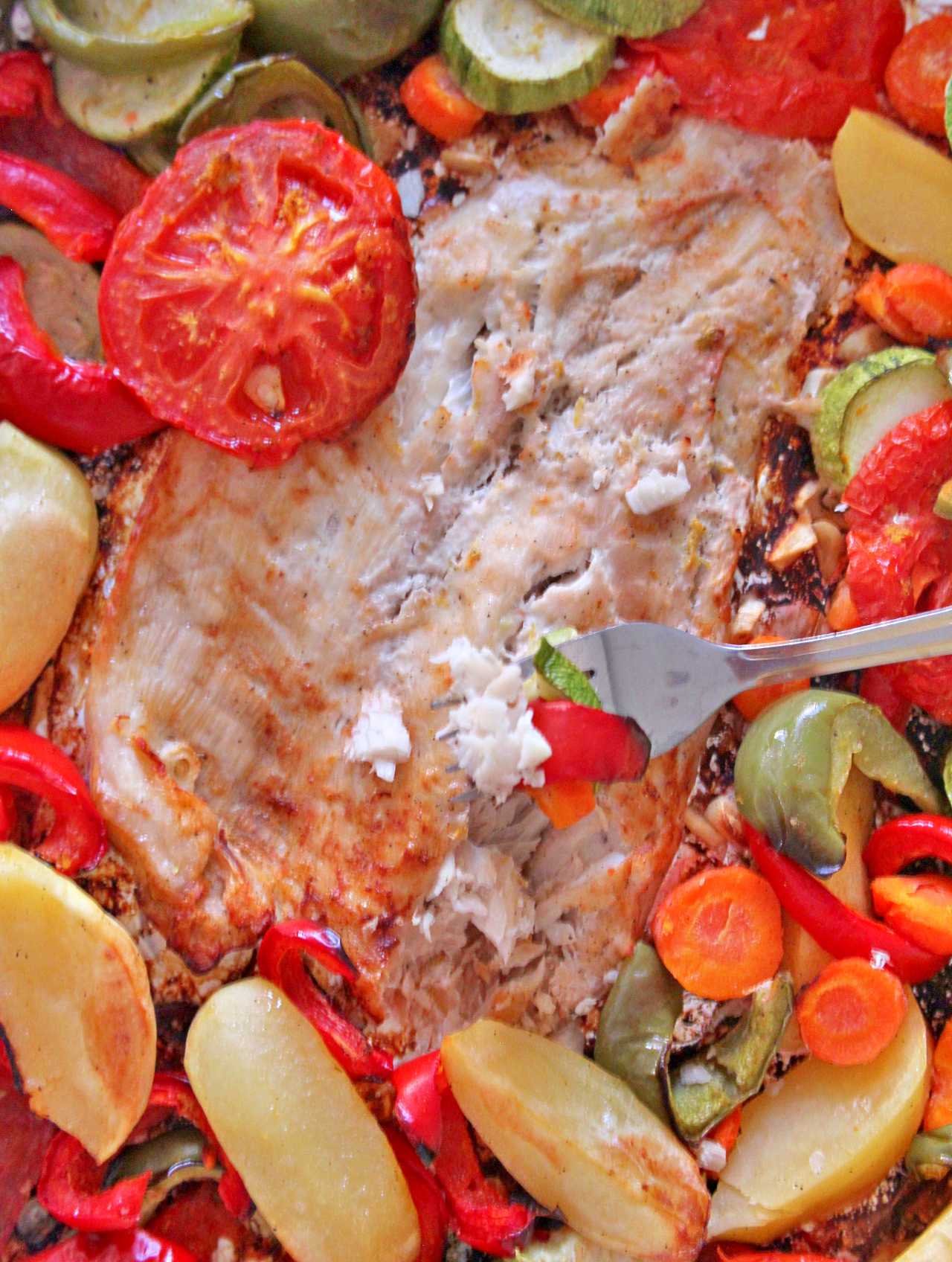 Baked fish in honey mustard sauce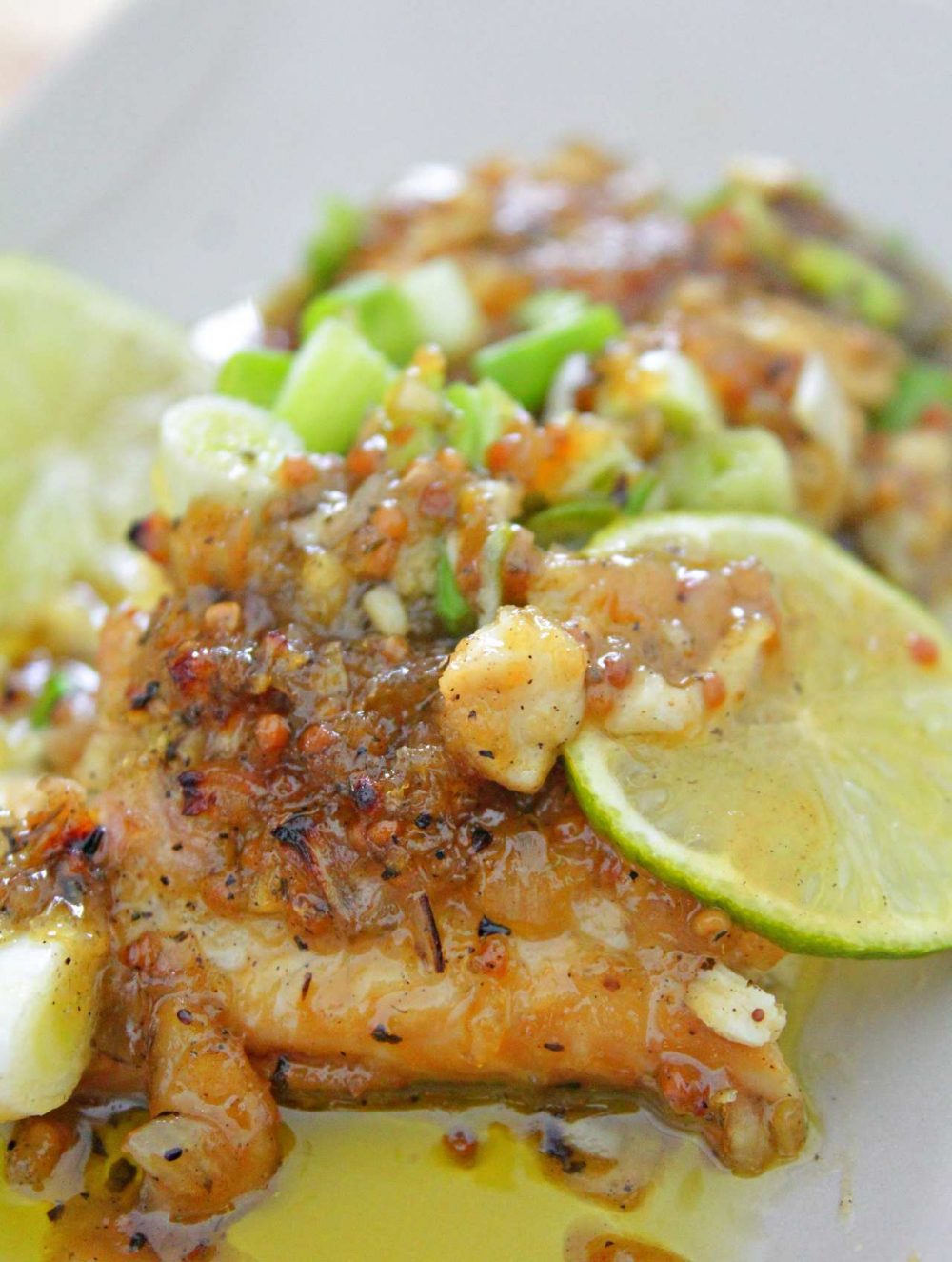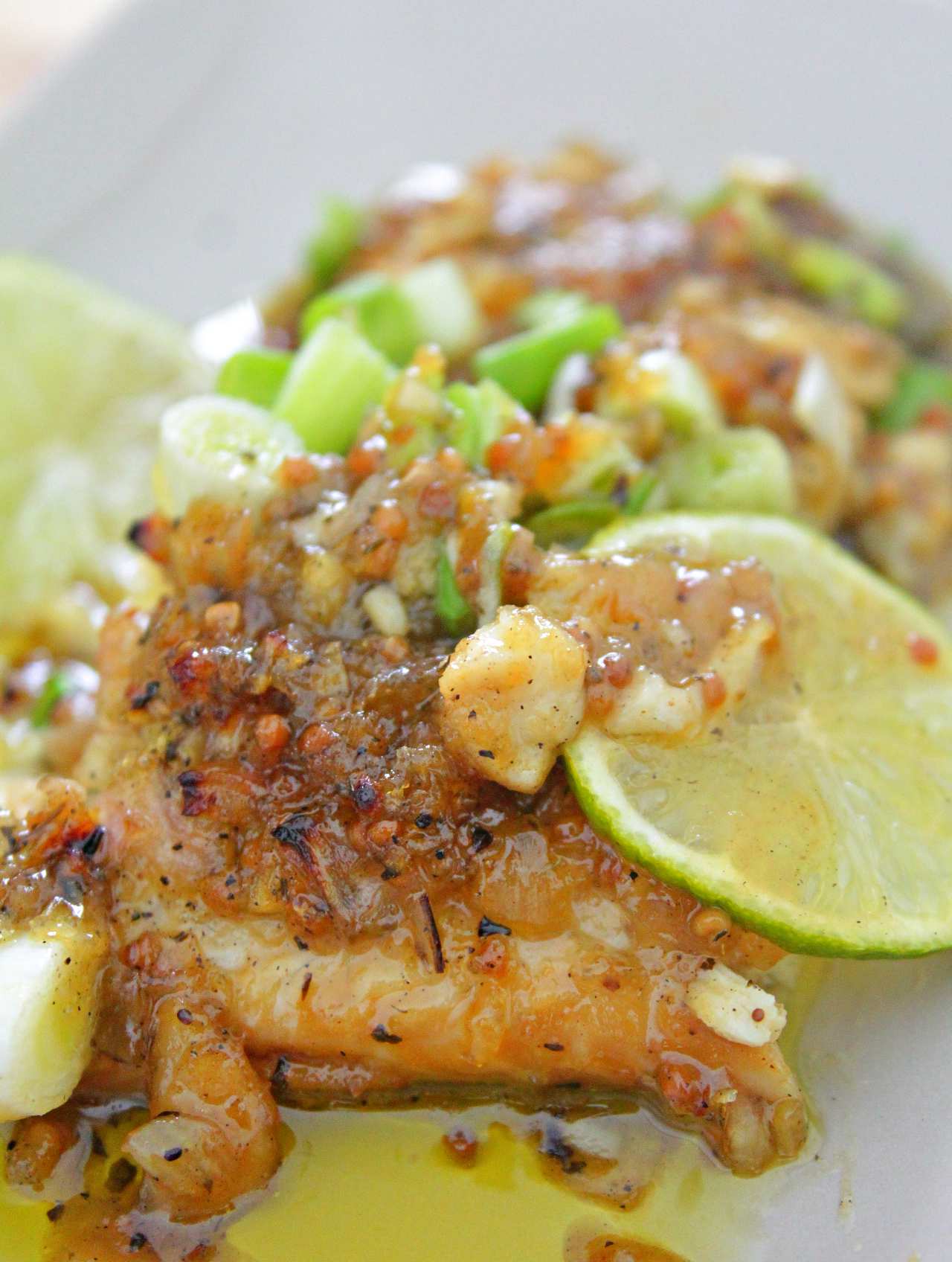 Other seafood recipes you might like:
Most popular recipe

Spiced herb roasted sweet potato wedges