Baked Honey Mustard Fish Recipe
Article may contain Amazon & affiliate links. As an Amazon Associate I earn from qualifying purchases at no additional cost to you.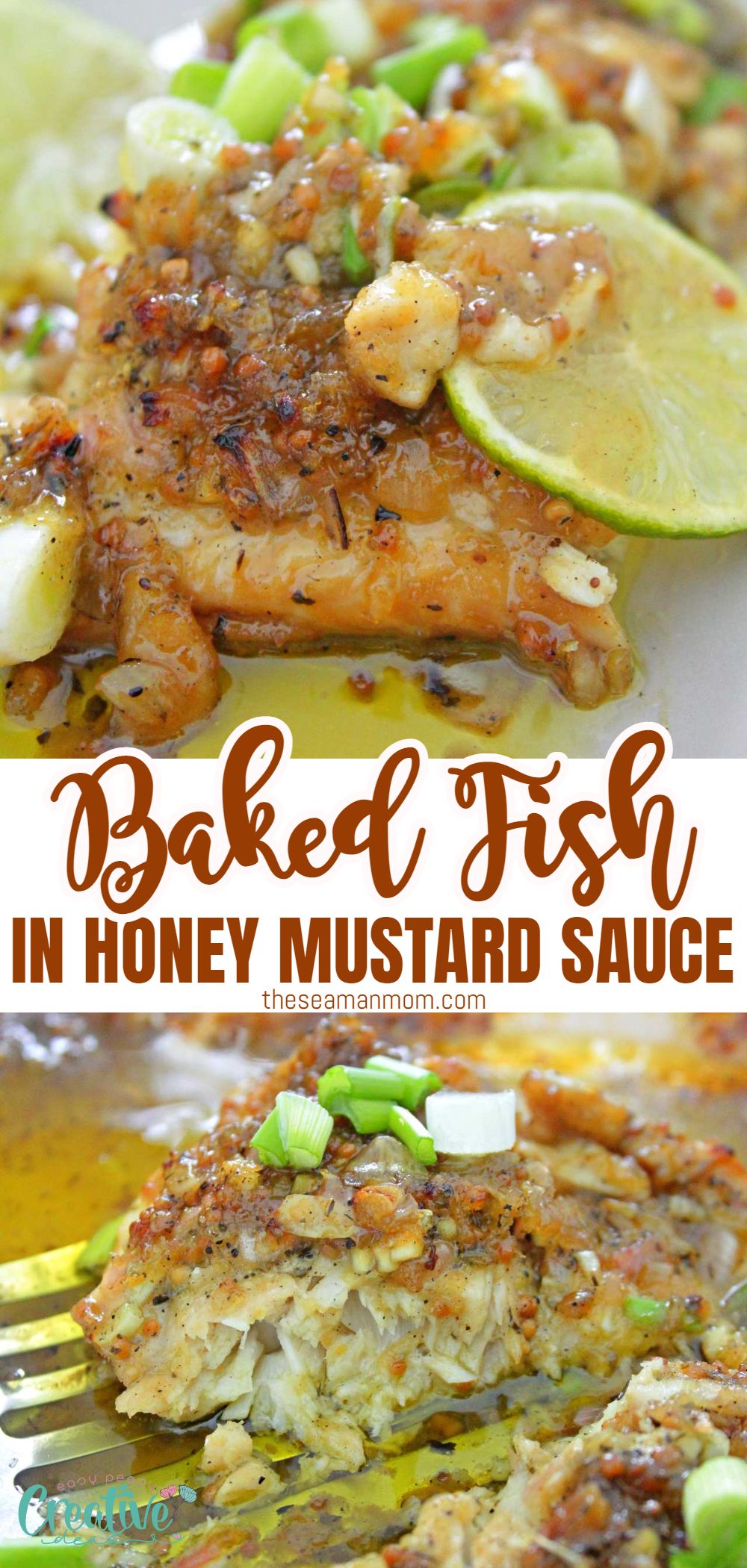 This honey mustard fish recipe is perfect for a quick and easy weeknight meal! The sauce is made with ingredients you probably already have in your kitchen, so it's simple and convenient. The fish is coated in a delicious honey mustard sauce that will leave your taste buds wanting more. Plus, this dish is healthy and low-carb, so you can feel good about eating it.
Honey Mustard Fish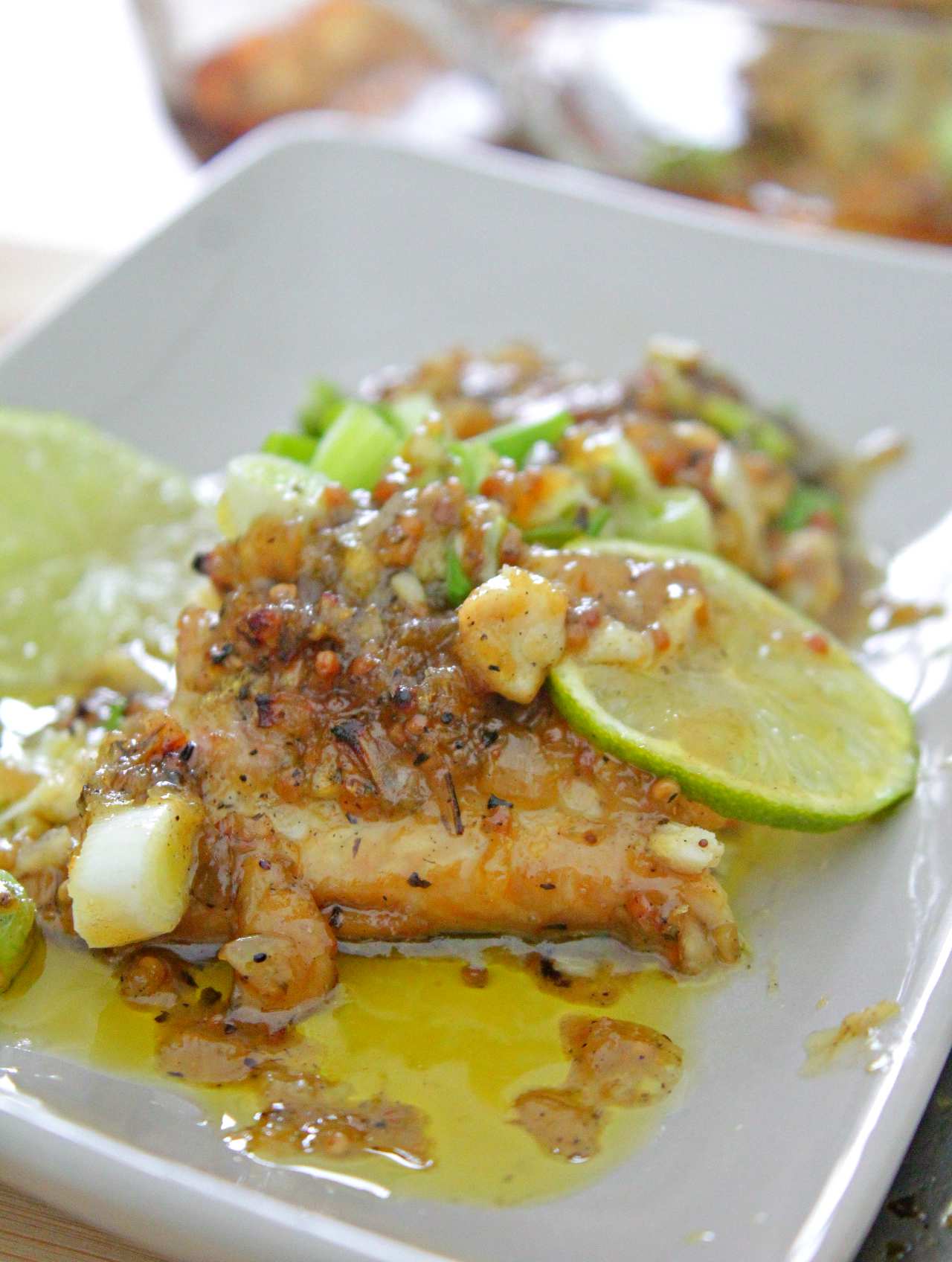 Fish recipes can easily get bland and flavorless, unless you deep fry it. But frying is not the only method to make fish delicious! This honey mustard fish is marinated in a super yum sauce made with honey, mustard and lemon juice, enhanced with onion and garlic for the most savory fish recipe!
I admit it, I am not a fish person! But my daughter is crazy for fish, she would basically eat fish with every meal if possible. She doesn't like complicated recipes though, grilled fish works perfect for her! So I was afraid this baked fish marinated in honey mustard sauce for fish, will not be well received! Luckily, I was wrong! It took about two minutes for my honey mustard fish to disappear from her plate! What a relief!
I did have to add extra lemon to this mustard fish because she found it a bit too sweet for her taste. But for me, it was perfection! I enjoyed every bit of this amazing honey fish and I can't wait to make it again for hubs, who's also a big fan of fish recipes.
More fish recipes you will love:
Why is this honey mustard fish recipe special or unique?
This honey mustard fish recipe is one of the best and easiest I've ever made! Not to mention that it's super delicious while low in calories. And since it's low in sodium, cholesterol and carbohydrates, it's a pretty healthy recipe too!
You can't go wrong with this dish, no matter if you're a beginner or experienced in the kitchen!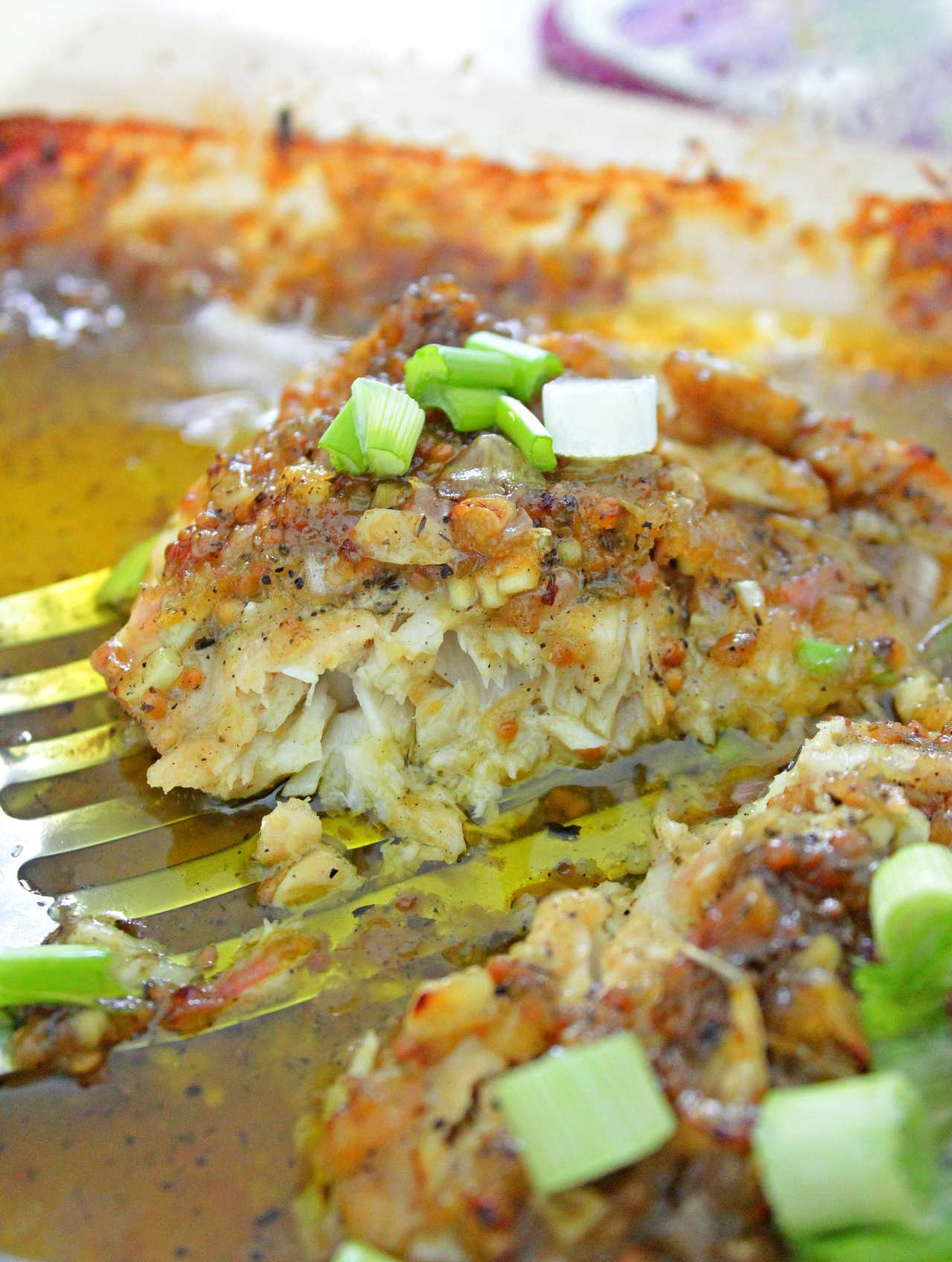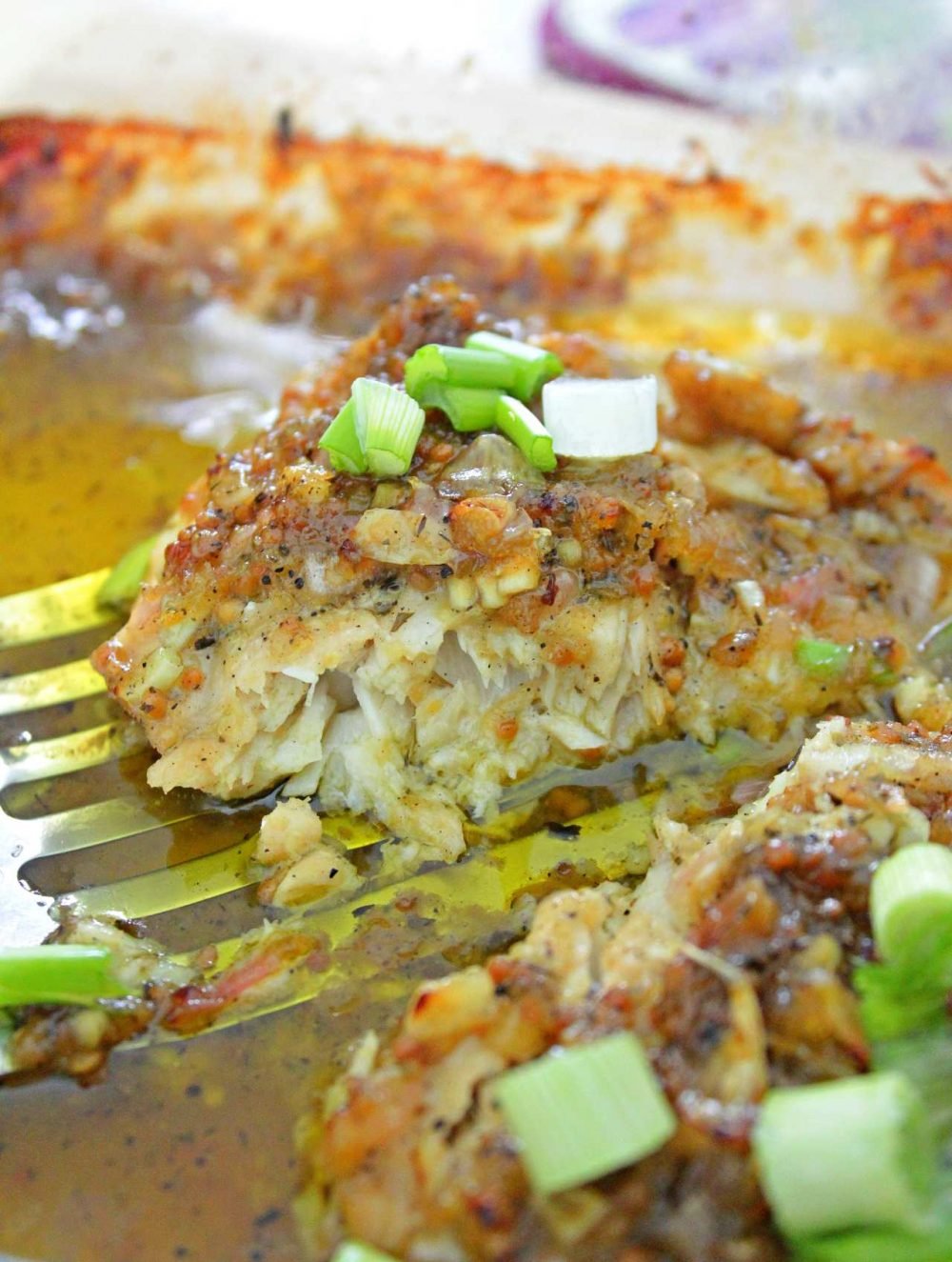 Is this recipe easy to make?
Once marinated, my honey mustard fish is super easy and quick! If you're a super busy person you can even skip marinating and just bake the fish in sauce. It will not be super tender and juicy as mine but it will still be really, really good! This is a foolproof recipe, you cannot mess this up, no matter if you're a beginner or more experienced in the kitchen!
Make this honey mustard fish recipe for an easy and special meal! This delicious sauce for fish makes the juiciest, most flavorful fish you'll ever make!
What does honey mustard fish taste like?
This fish has an incredible flavor, unlike any other fish dish I've ever made. The sauce is slightly sweet but balances really well with the lemon juice and the mustard.
The fish stays super tender and juicy even when baked instead of pan fried. It can get a bit stuck to the bottom of the baking dish though. But still very delicious!
How long did it take to make?
Prep time is about 10 minutes. Marinating the fish takes minimum 30 min – 1 hour is best.
Baking time is 15 to 20 minutes depending on thickness of fish fillet
How many servings does it make?
This recipe makes 2 generous servings. You can double or triple it for more people.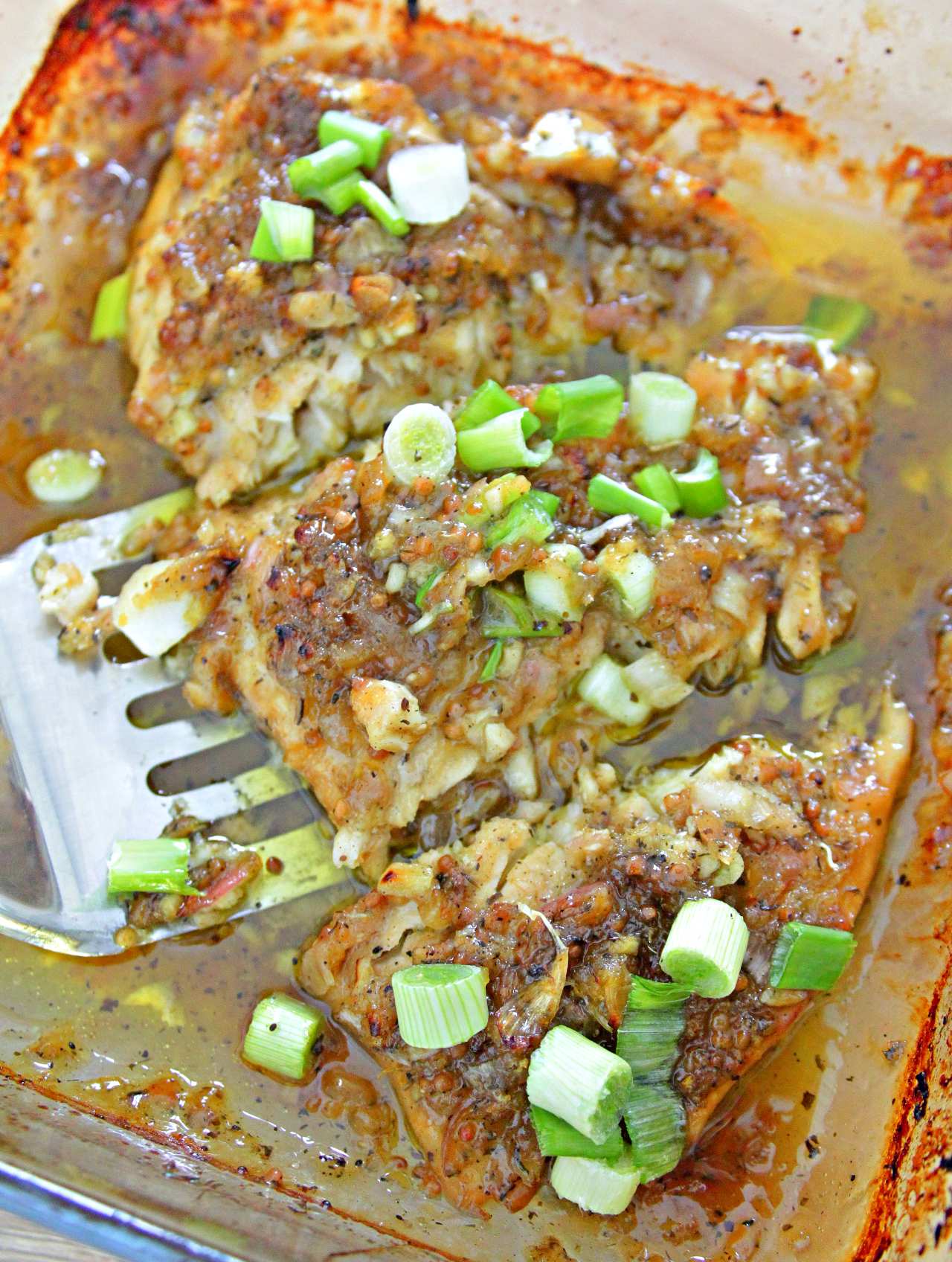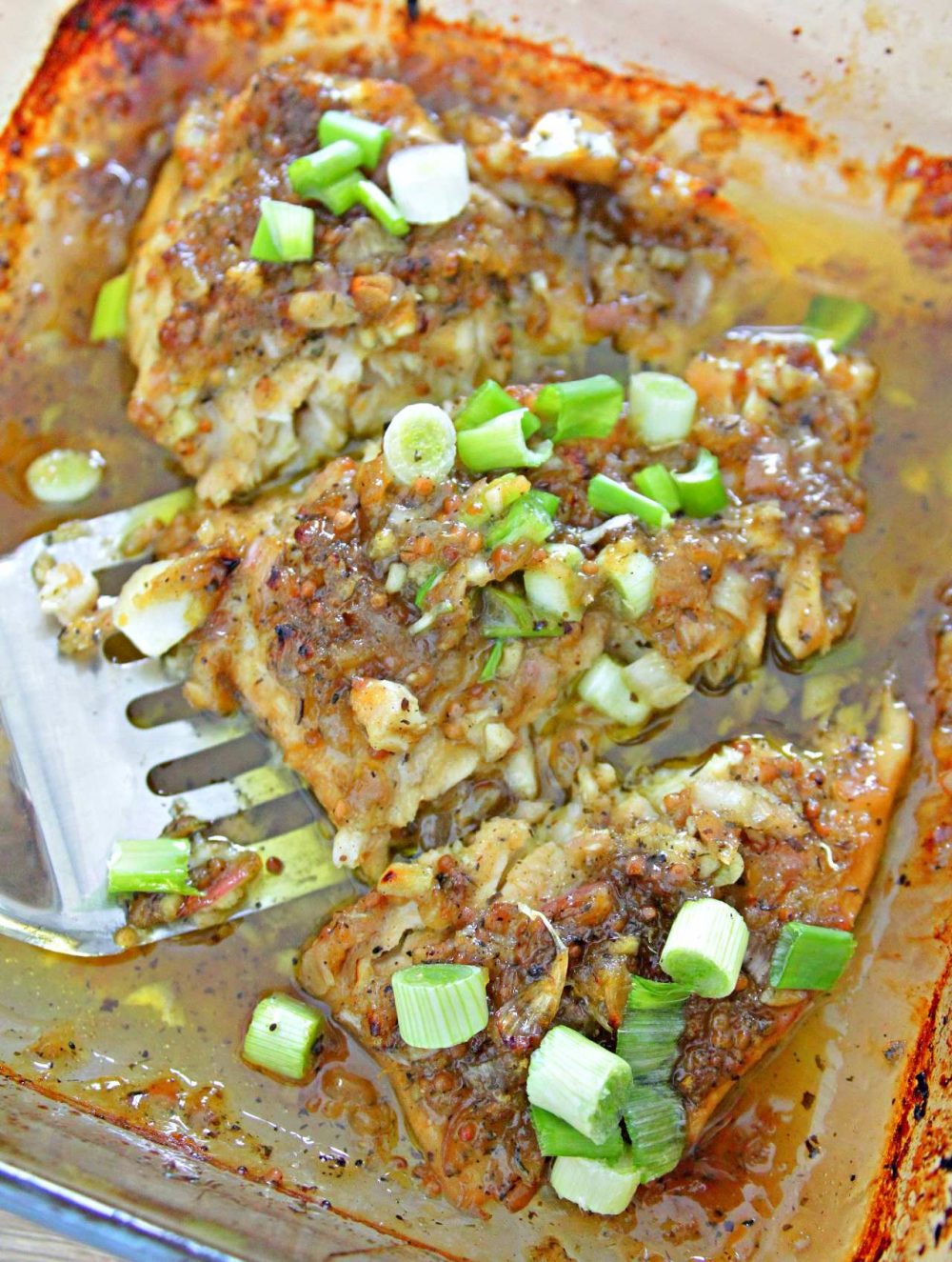 What should I serve it with?
I served this honey mustard fish with brown rice and these yellow beans, but you can serve it with any veggies of your choice, like brussels sprouts or broccoli.
Potatoes, mashed potatoes or pasta would also go very well with this mustard fish. Kids will probably love it this way!
Or eat with cauliflower mash. Couscous salad would also be a great side dish.
What type of fish can I use?
Any white fleshed fish fillet will be great. I used walleye fillet for this honey mustard fish recipe. You can use tilapia, haddock or cod. If you want to use another type of fish adjust the cooking time and thickness of fillets accordingly.
What's in this mustard sauce for fish?
My mustard marinade for fish is made with honey, Dijon mustard and fresh lemon juice. As spices I used fresh garlic, red onion, thyme, mint, salt and pepper.
To make this honey mustard marinade EXTRA good I used olive oil. You can also use unsalted butter instead of oil if you prefer, I have a feeling it will be even more delicious this way! Or you can drizzle some melted butter when serving.
How do I marinate the fish?
Combine all ingredients in a large bowl and mix well. Add the fish, cover with plastic wrap and refrigerate 30 min – 1 hour (if possible).
What else can I add to this dish?
If you want to add veggies, add them when baking the fish in honey mustard sauce. They cook fast and will be ready at the same time.
You can also add shrimp or any other seafood.
Add some fresh herbs like parsley, dill or basil. The flavor goes really well with the honey mustard sauce.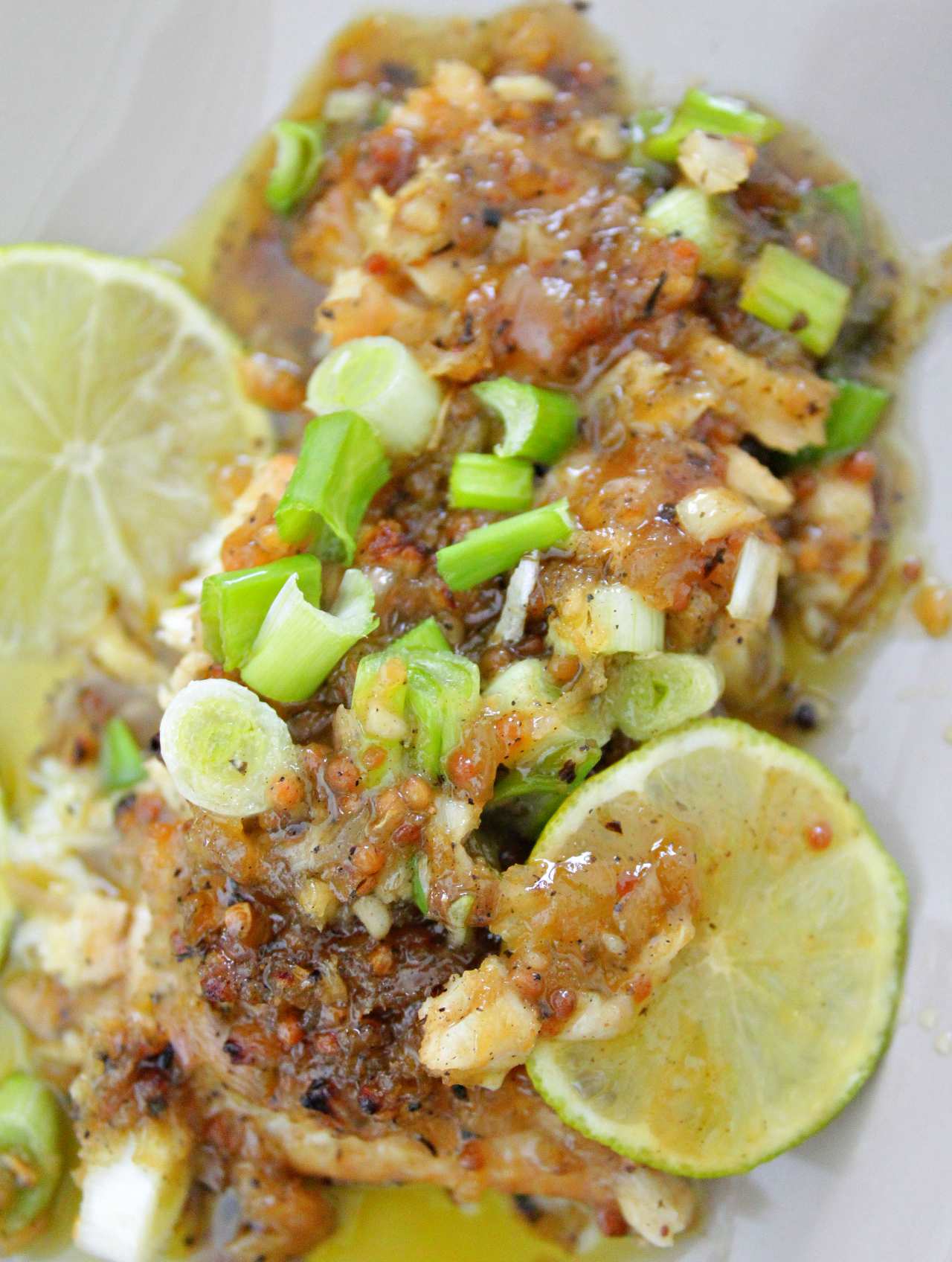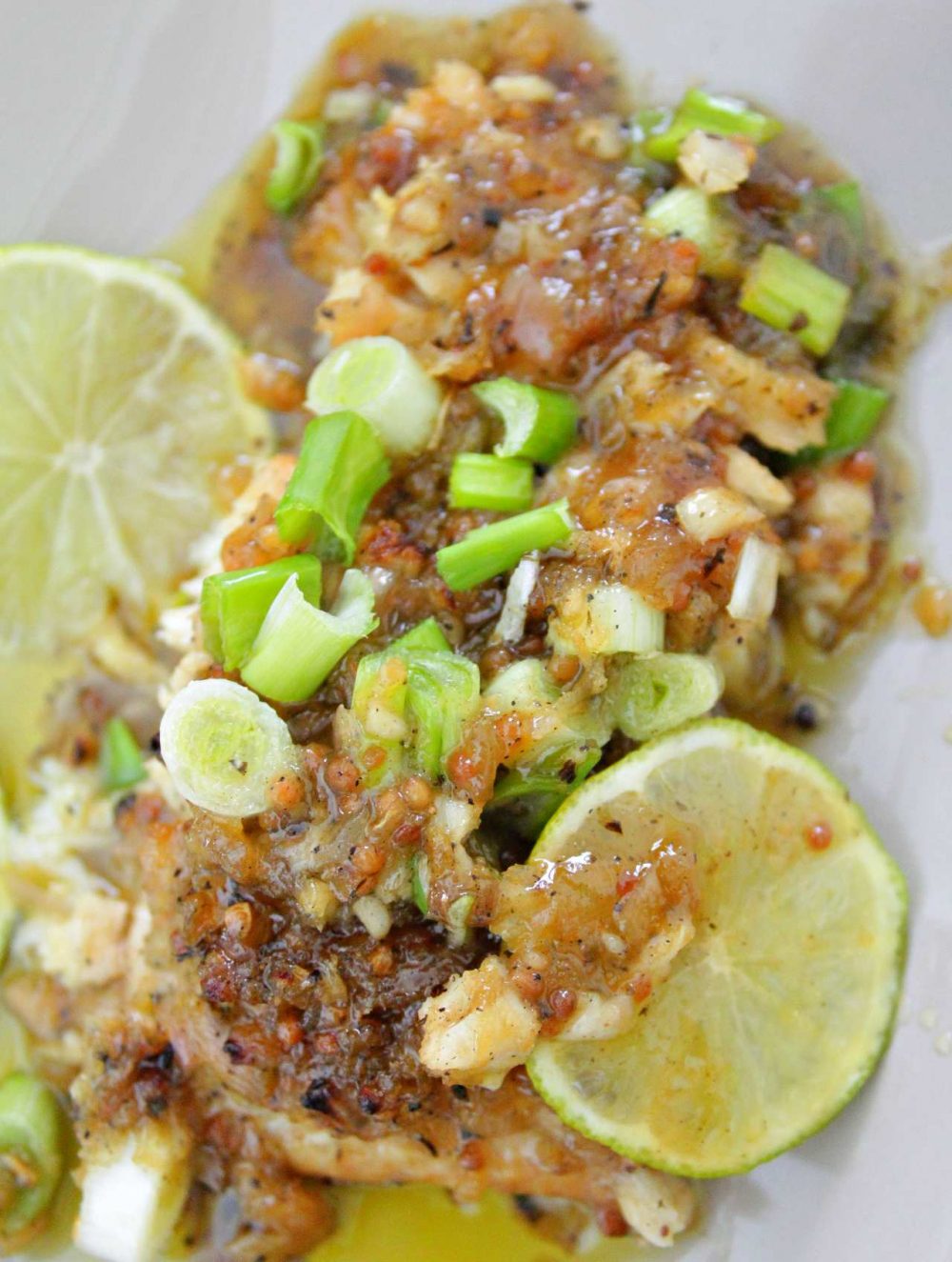 When should this dish be served?
I think this fish with mustard sauce looks festive enough to be used as holiday recipe too, especially garnished with green onions and a few slices of lime.
This honey mustard fish recipe is perfect for parties, celebrations or any special occasion.
But it's also great to serve at home on week nights during the winter months.
How long will the leftovers keep?
The leftovers can be stored in the fridge, in an airtight container or the baking dish covered with aluminum foil for up to 2 days. Or frozen for about 3 months.
Can I use this marinade for a salmon recipe?
Yes, this is a great marinade for honey mustard salmon too! For baked salmon I would use about 1 lb of salmon fillet if using this honey mustard fish marinade. Adjust the baking time accordingly depending on thickness of salmon fillets.
Bake in oven at 400 F degrees for about 10 to 15 minutes.
Recipe for fish with mustard sauce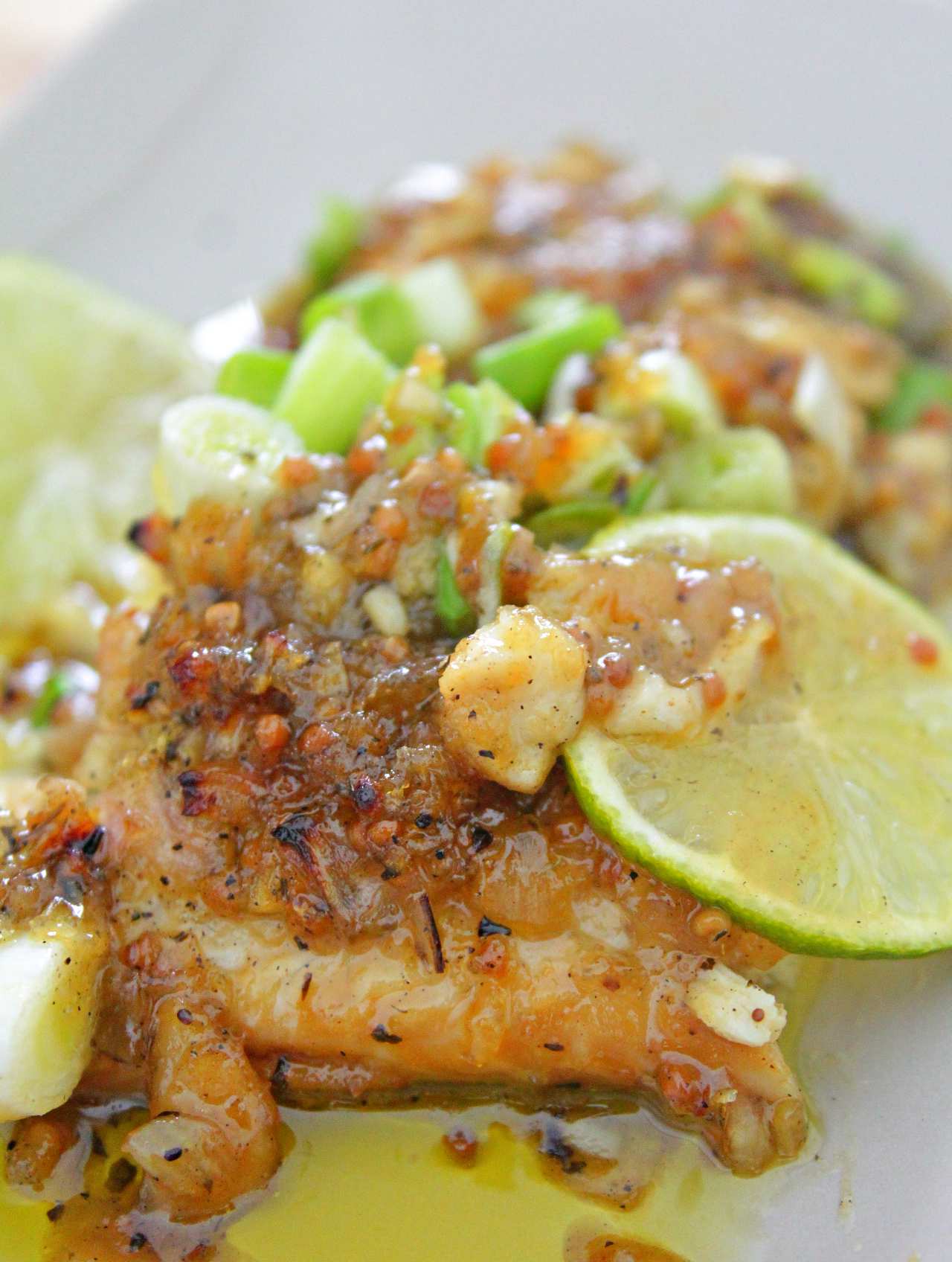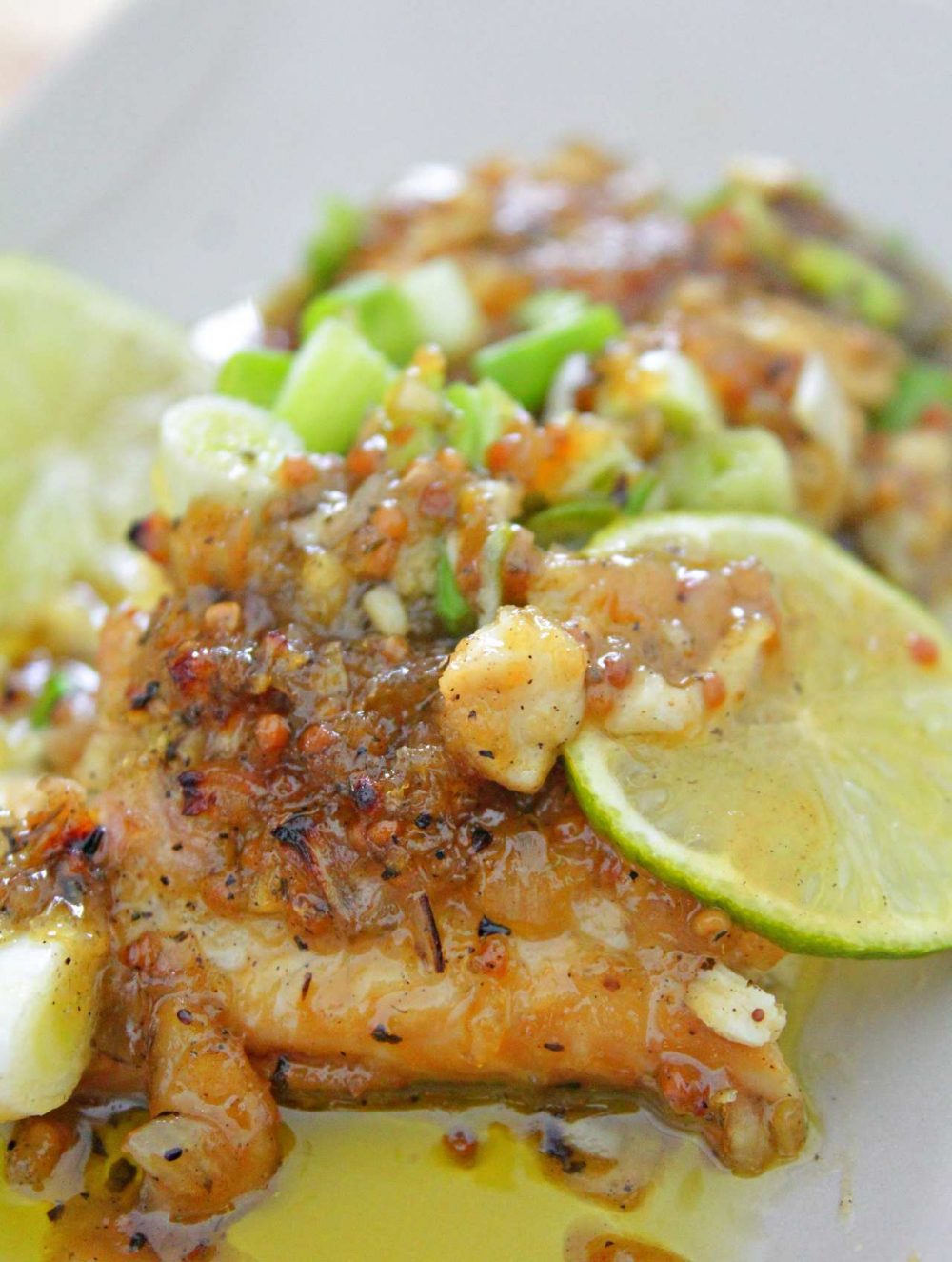 What are the ingredients?
lemon juice
olive oil
honey
Dijon mustard with seeds
garlic cloves, minced
red onion, finely diced
zest from one lemon
dry thyme
dry mint
ground black pepper
salt
large walleye fillet
green onion to garnish
You will also need:
How do you make honey mustard fish?
Add all ingredients (except for fish) in a medium bowl and whisk well.
Place fish in the glass baking dish, skin-side down and pour marinade over.
Refrigerate for 1 hour.
Pre heat oven to 400 F
Bake fish in the middle of the over for 15-20 minutes or until the fish gets brown-ish. You can test with a fork in the thickest part of the fish and if it breaks easily, it's done!
Garnish with a tbsp of chopped green onions or a tsp of fresh parsley (or both).
If you've been looking for a delicious and easy fish recipe, look no further! Serve this honey mustard fish to your family or friends, and they'll be asking for seconds. It's that good!
So what do you think? Ready to try it out in your kitchen today?! I hope so. Let me know in the comments if you give my honey mustard fish a try or if you have another great healthy fish recipe you'd like to share.
Pin to save for later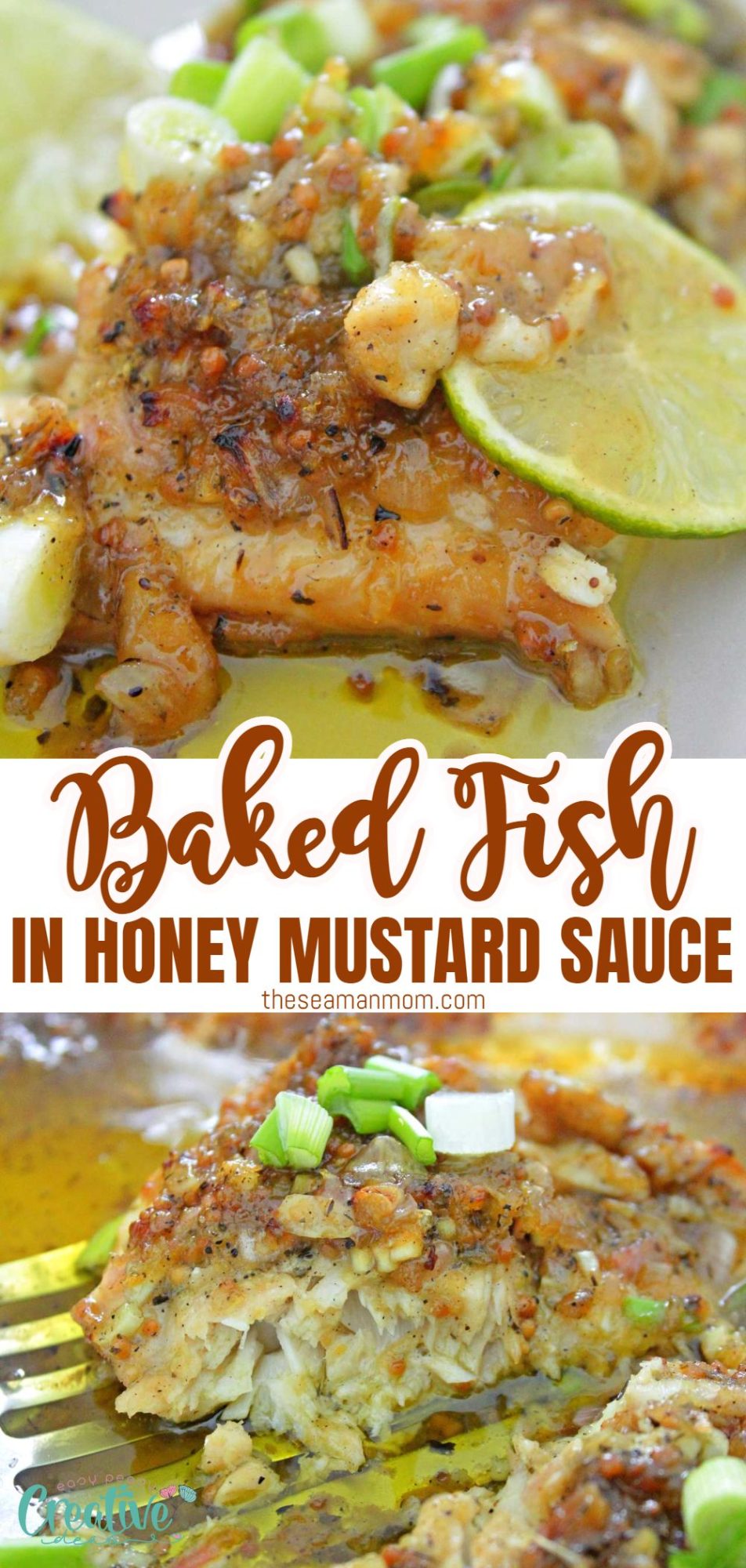 Print the recipe card
Baked Honey Mustard Fish Recipe
Looking for a delicious, easy fish recipe? Serve this honey mustard fish to your family, and they'll be asking for seconds. It's that good!
Ingredients
juice of 1 lemon

1/2

cup

olive oil

2

tbsp

honey

2

tbsp

Dijon mustard with seeds

3

garlic cloves

minced

1

small red onion

finely diced

zest from one lemon

1/4

tsp

dry thyme

1/4

tsp

dry mint

1/4

tsp

ground black pepper

1/4

tsp

salt

1

large walleye fillet

1

green onion to garnish
Instructions
Add all ingredients (except for fish) in a medium bowl and whisk well

Place fish in the baking dish and pour marinade over. Refrigerate for 30 minutes to 1 hour.

Pre heat the oven to 400 F. Bake fish in the middle of the over for 15 to 20 minutes or until the fish gets a brown glaze.

Garnish with green onions
Most Popular recipes: