Article may contain Amazon & affiliate links. As an Amazon Associate I earn from qualifying purchases at no additional cost to you.
Make this honey mustard fish recipe for an easy and special meal! Marinated in honey mustard lemon sauce for the juiciest, most flavorful fish you'll ever make!
Fish with mustard sauce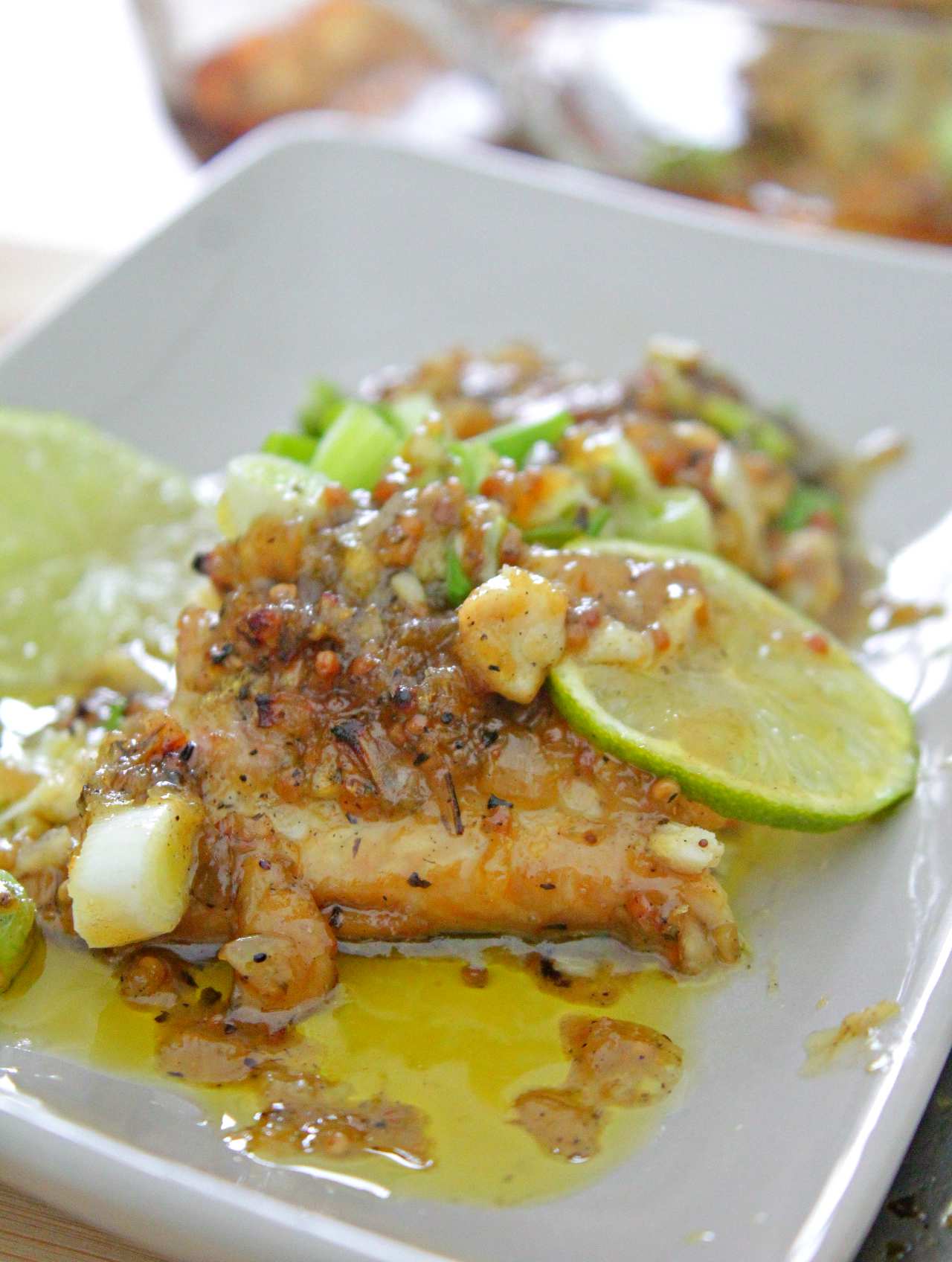 Fish recipes can easily get bland and flavorless, unless you deep fry it. But this is not the only method to make fish delicious! This honey mustard fish is marinated in a super yum sauce made with honey, mustard and lemon juice, enhanced with onion and garlic for the most savory fish recipe!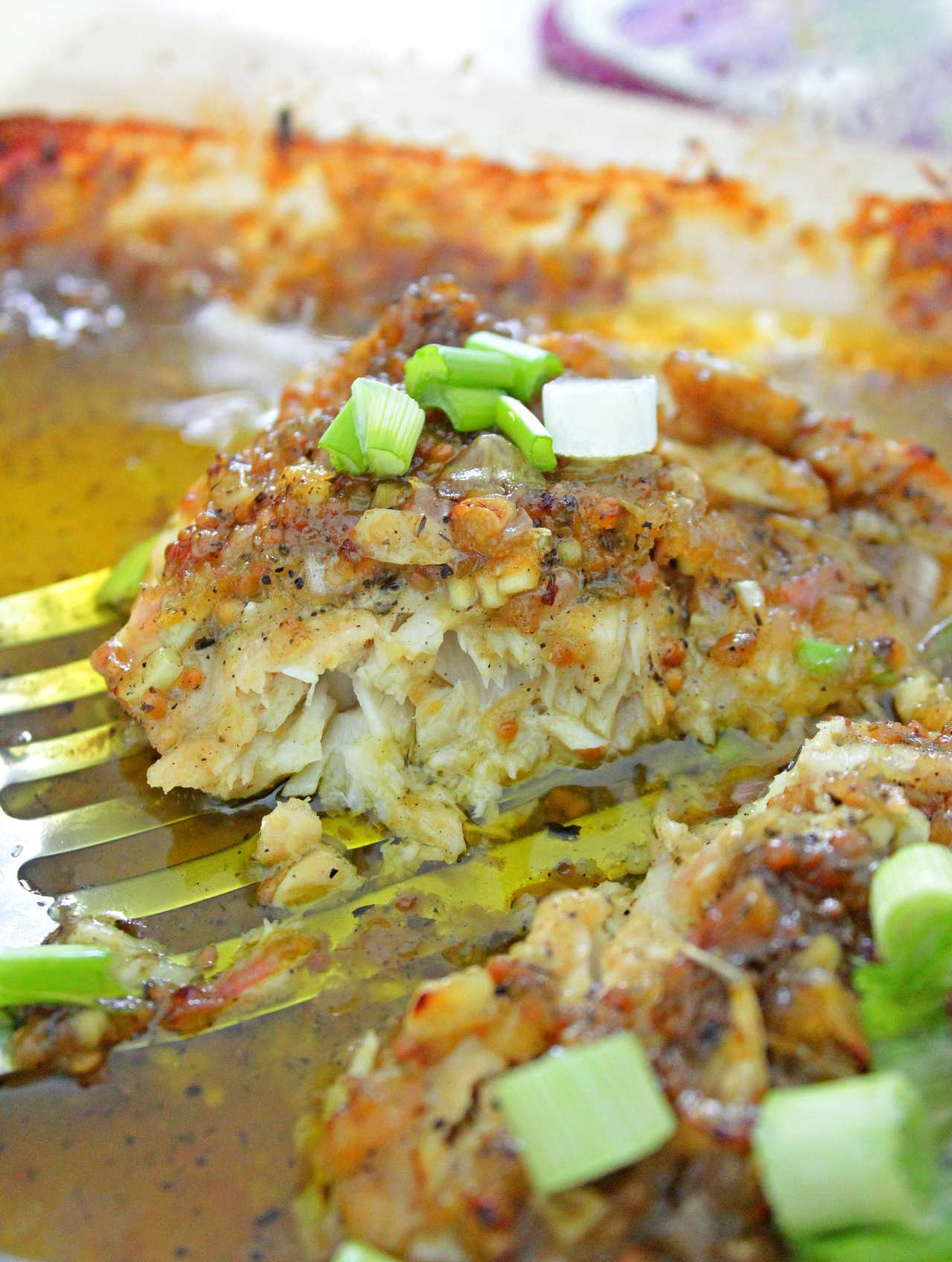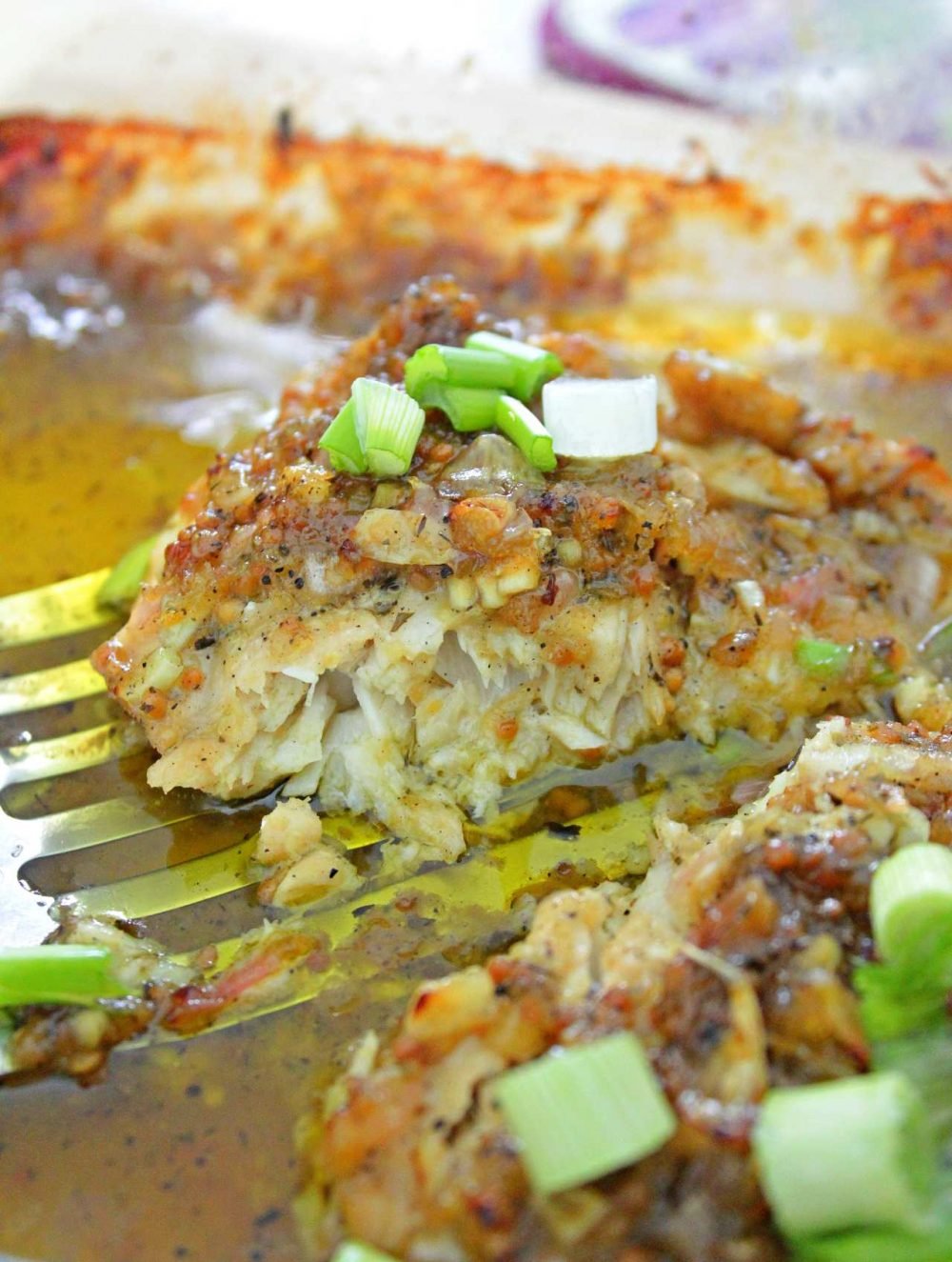 I admit it, I am not a fish person! But my daughter is crazy for fish, she would basically eat fish with every meal if possible. She doesn't like complicated recipes though, grilled fish works perfect for her! So I was afraid this baked fish marinated in honey mustard sauce for fish, will not be well received! Luckily, I was wrong! It took about two minutes for my honey mustard fish to disappear from her plate! What a relief!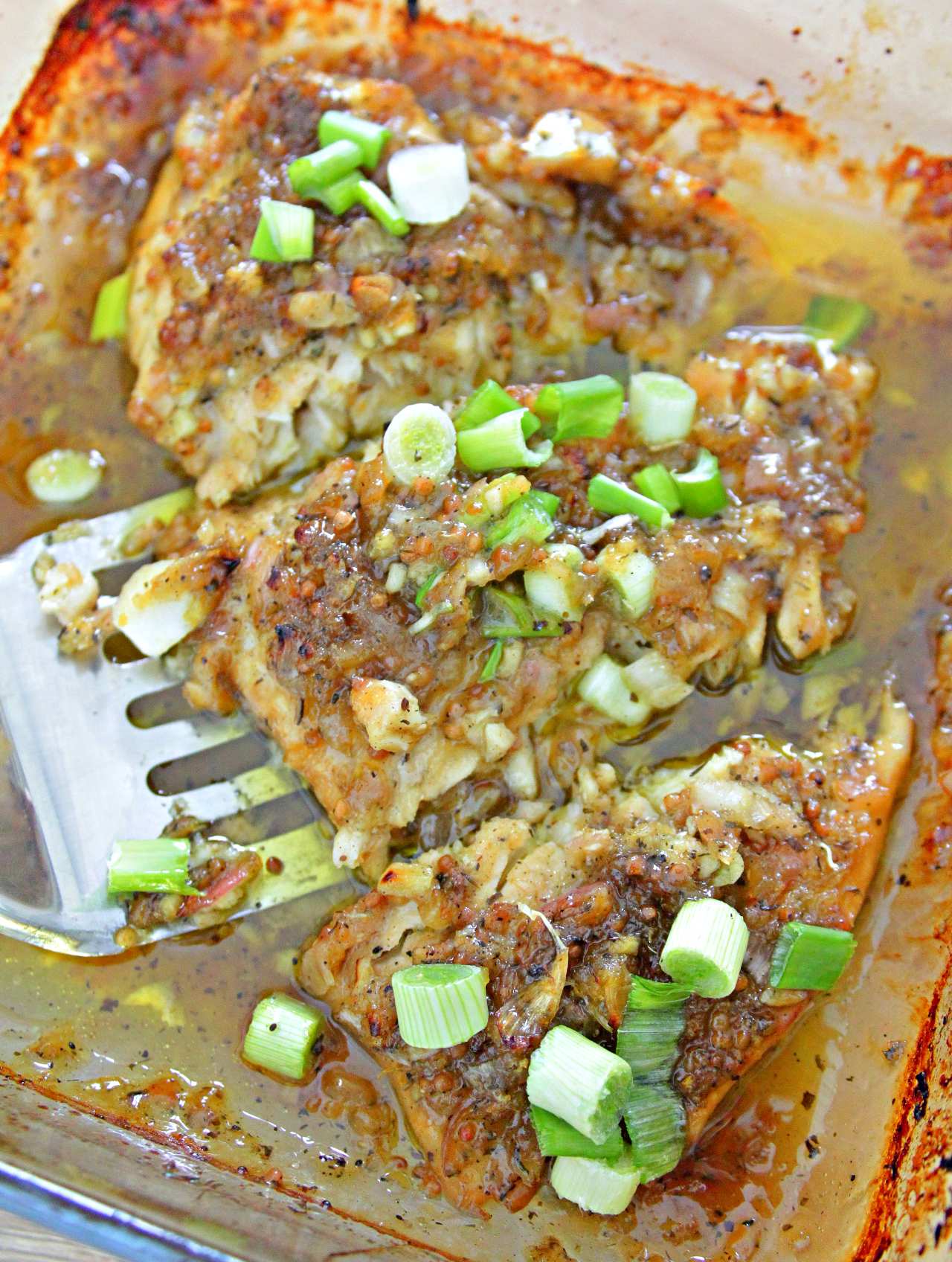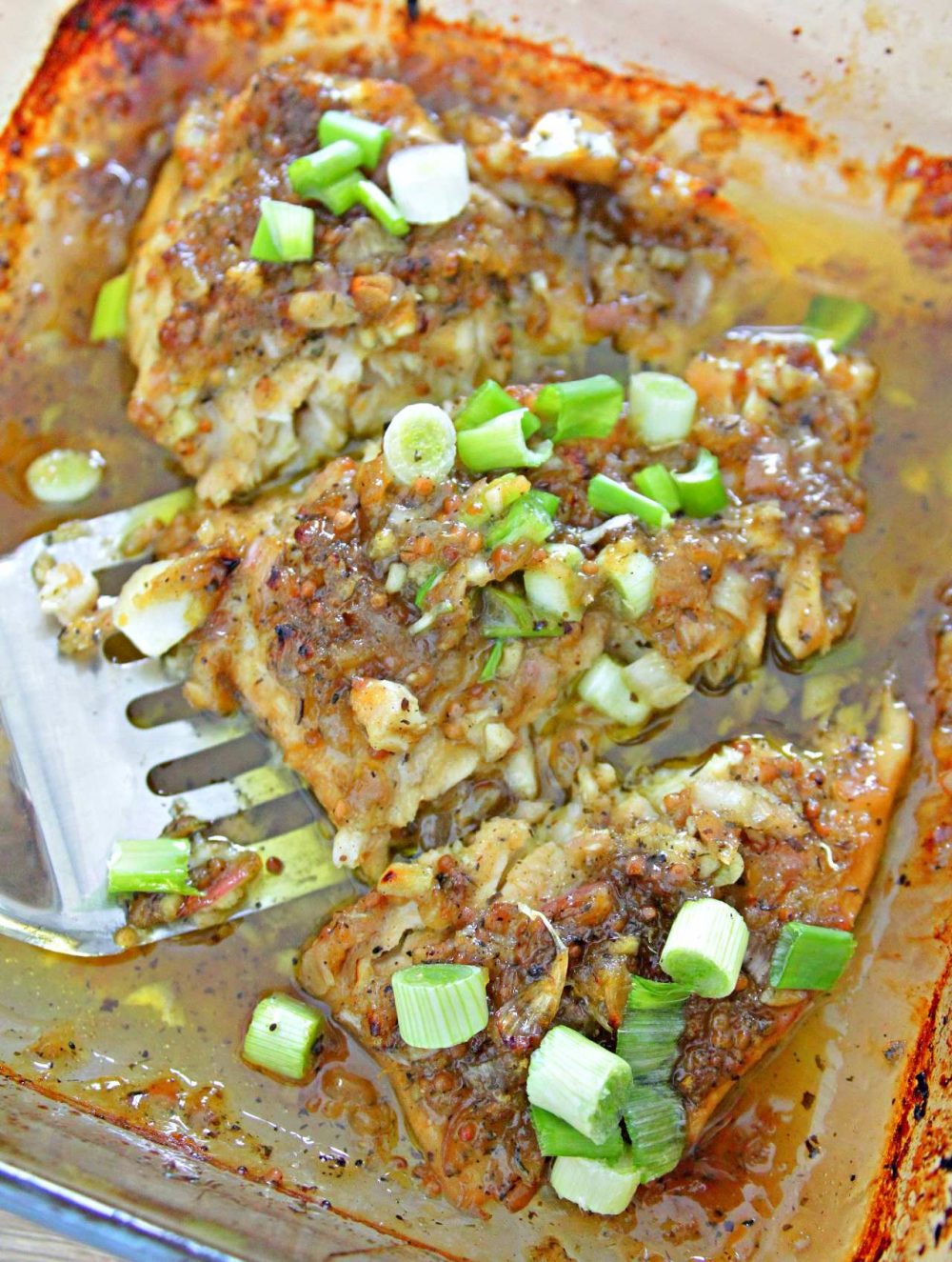 I did have to add extra lemon to her marinated fish because she found it a bit too sweet for her taste. But for me, it was perfecttion! I enjoyed every bit of this amazing honey mustard fish and I can't wait to make it again for hubs, who's also a big fan of fish recipes.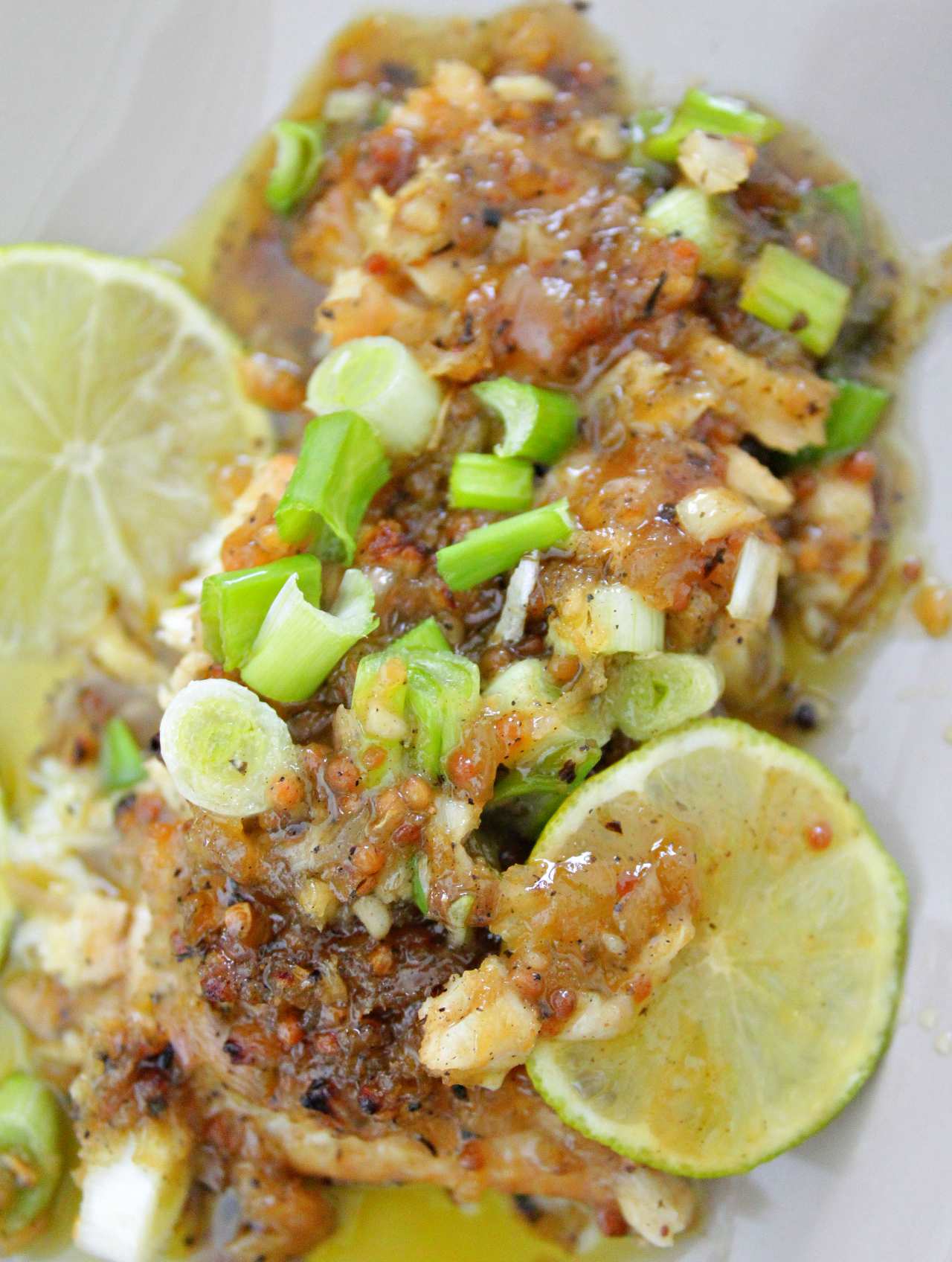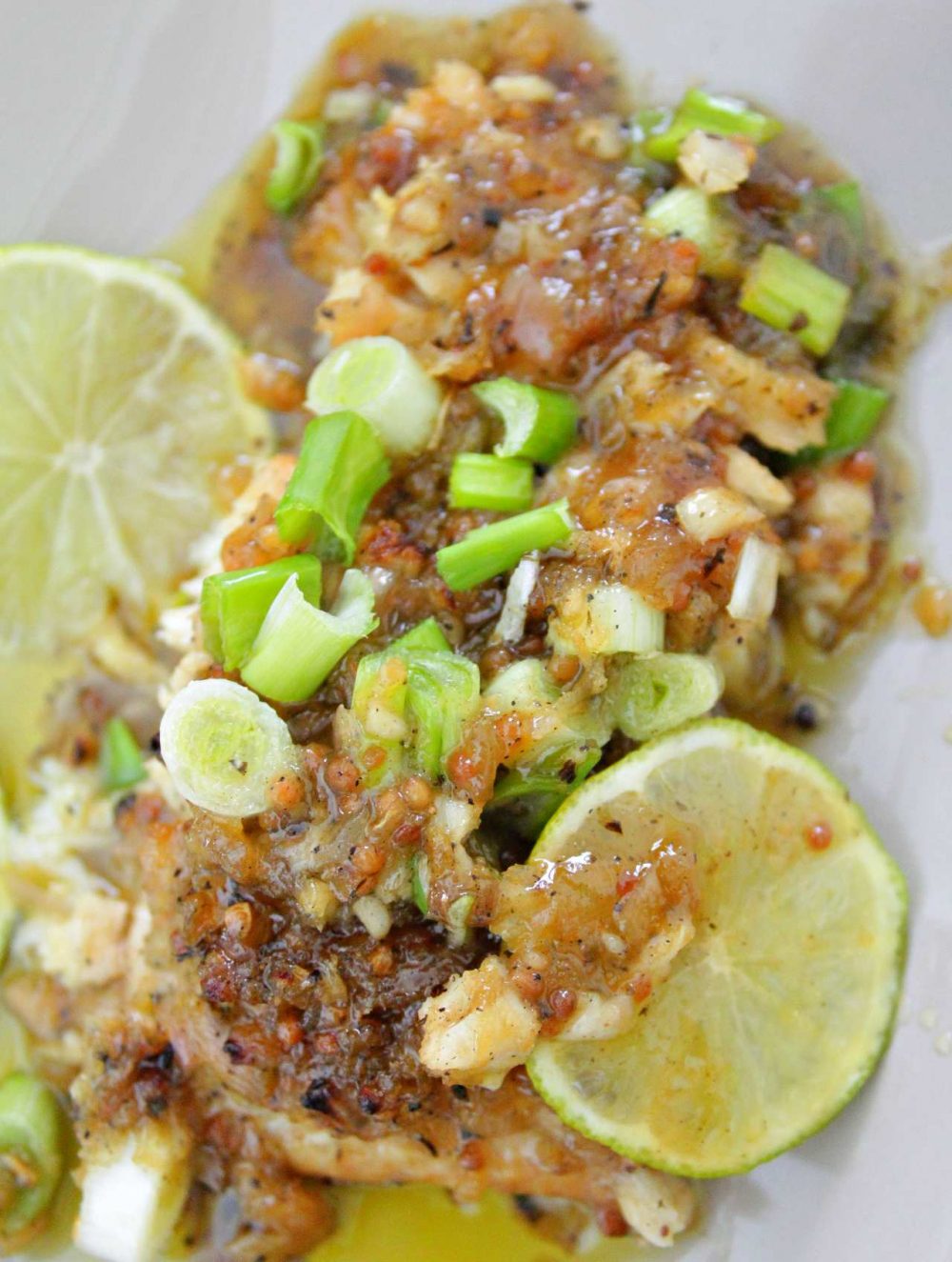 Once marinated, my honey mustard fish is super easy to make! If you're a super busy person you can even skip marinating and just bake the fish in sauce. It will not be super tender and juicy as mine but it will still be really, really good! This is a foolproof recipe, you cannot mess this up, no matter if you're a beginner or more experienced in the kitchen!
I think this fish with mustard sauce looks festive enough to be used as holiday recipe too, especially garnished with green onions and a few slices of lime.
Honey Mustard Fish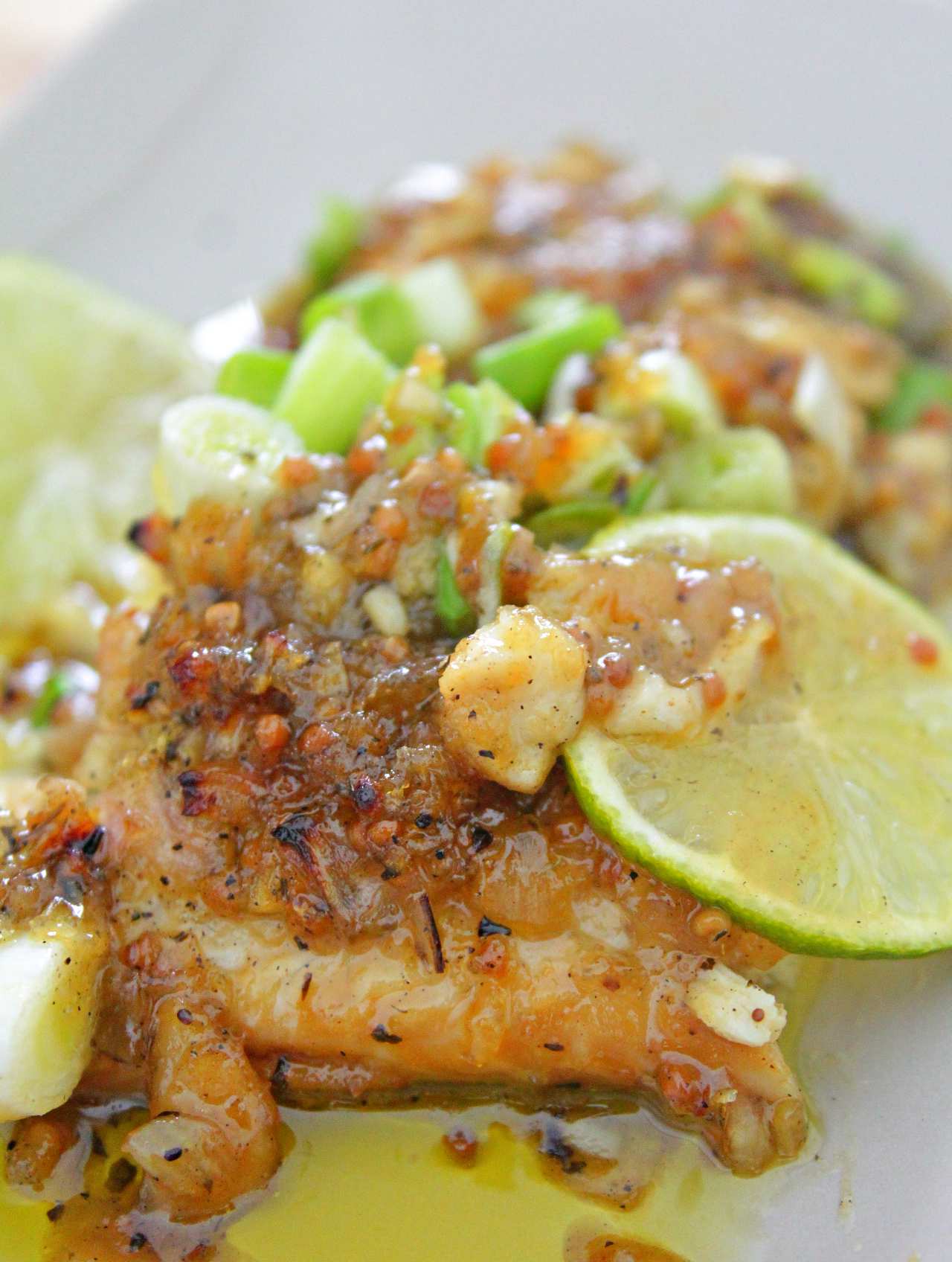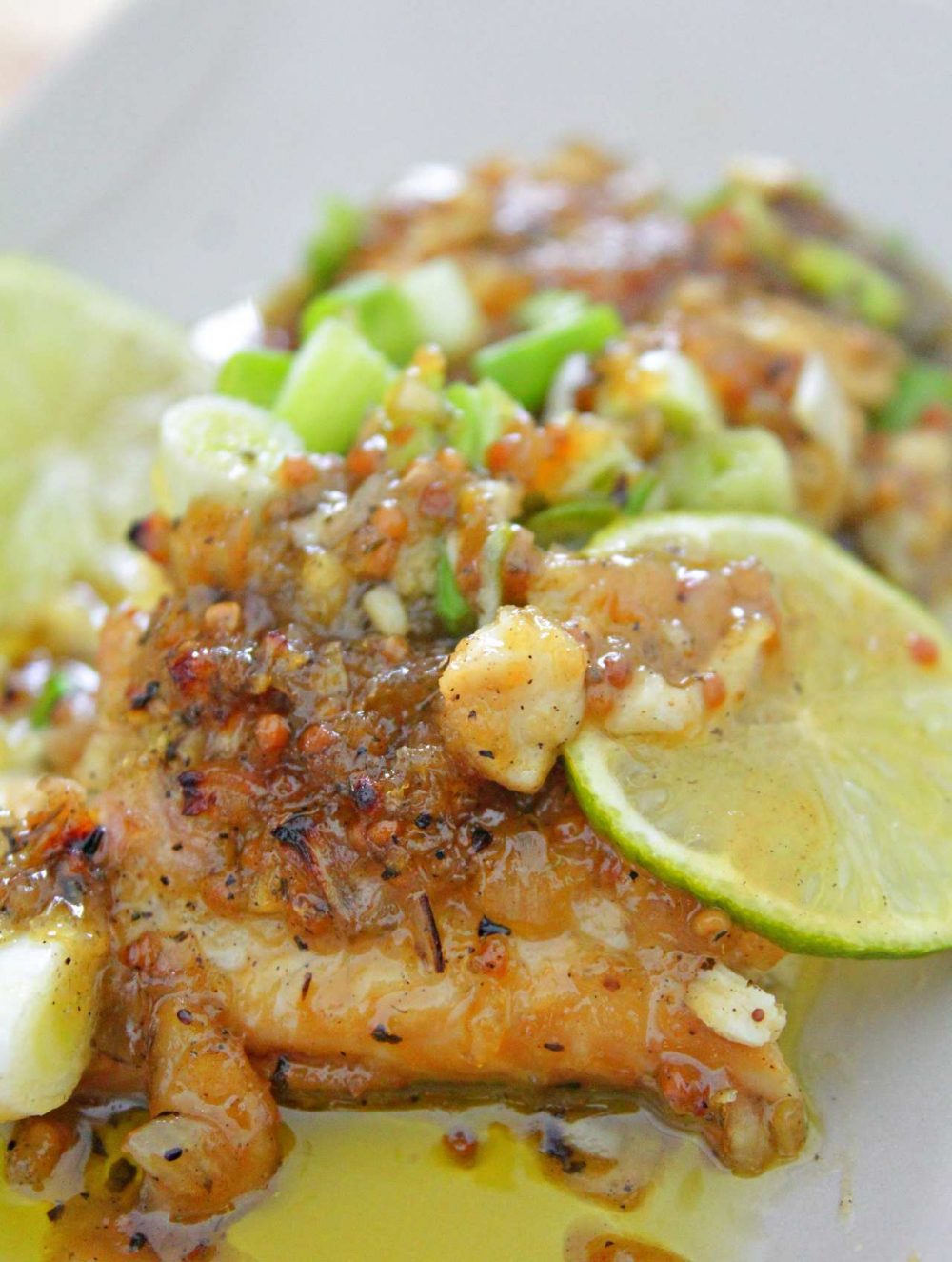 Ingredients:
juice of 1 lemon
1/2 cup olive oil
2 tbsp honey
2 tbsp Dijon mustard with seeds
3 garlic cloves, minced
1 small red onion, finely diced
zest from one lemon
1/4 tsp dry thyme
1/4 tsp dry mint
1/4 tsp ground black pepper
1/4 tsp salt
1 large walleye fillet
1 green onion to garnish
You will also need:
Directions:
Add all ingredients (except for fish) in a medium owl and mix well with a spatula.
Place fish in the glass baking dish and pour marinade over.
Refrigerate for 1 hour.
Pre heat oven to 400 F
Bake fish in the middle of the over for 15-20 minutes or until the fish gets brown-ish.
Garnish with green onions.
Baked Honey Mustard Fish Recipe
Ingredients
juice of 1 lemon

1/2

cup

olive oil

2

tbsp

honey

2

tbsp

Dijon mustard with seeds

3

garlic cloves

minced

1

small red onion

finely diced

zest from one lemon

1/4

tsp

dry thyme

1/4

tsp

dry mint

1/4

tsp

ground black pepper

1/4

tsp

salt

1

large walleye fillet

1

green onion to garnish
You will also need:
medium bowl

bamboo spatula

glass baking dish

turner
Instructions
Add all ingredients (except for fish) in a medium owl and mix well with a spatula.

Place fish in the glass baking dish and pour marinade over.

Refrigerate for 1 hour.

Pre heat oven to 400 F

Bake fish in the middle of the over for 1520 minutes or until the fish gets a brown glaze.

Garnish with green onions
Pin to save for later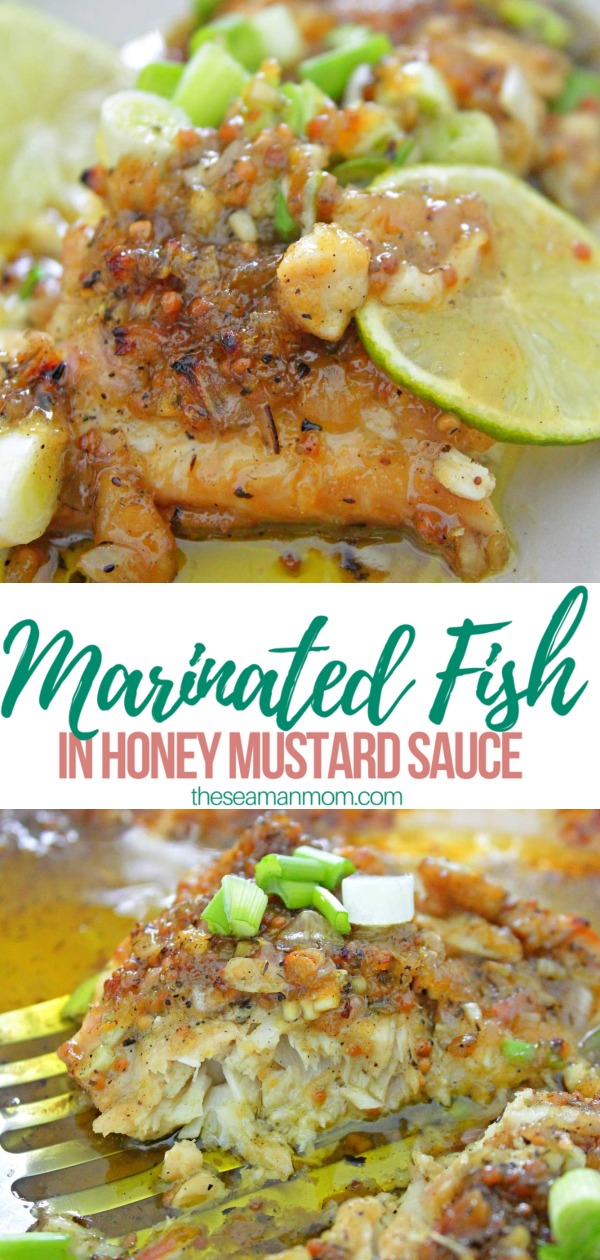 GET MORE INSPIRATION HERE >> FOLLOW ME ON PINTEREST
Similar posts you might like


Most popular recipes