Article may contain Amazon & affiliate links. As an Amazon Associate I earn from qualifying purchases at no additional cost to you.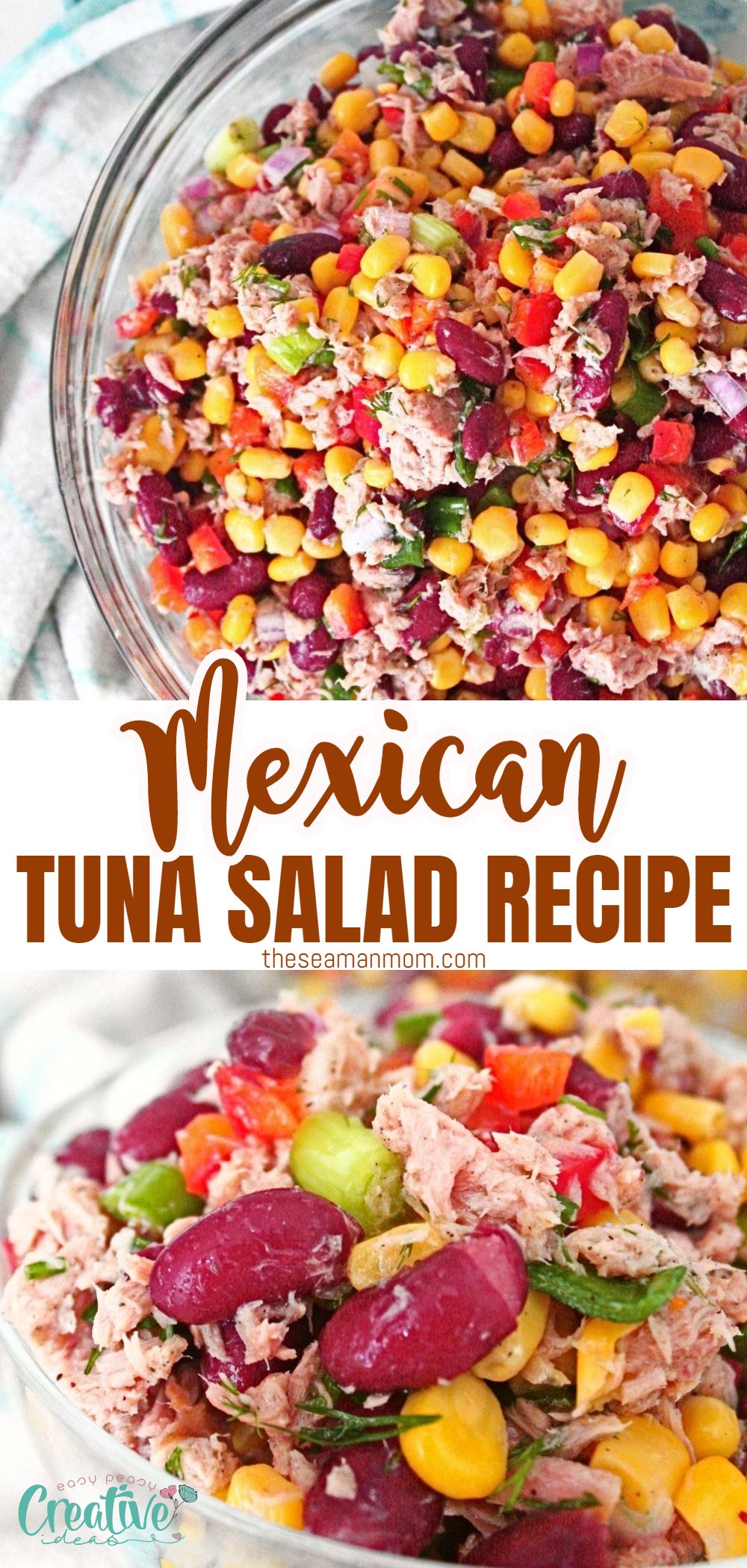 Indulge in the flavor of this tasty Mexican tuna salad for an unforgettable culinary experience! Treat yourself to a delicious tuna salad for lunch or dinner with only canned ingredients, red onion, and peppers!
Mexican tuna salad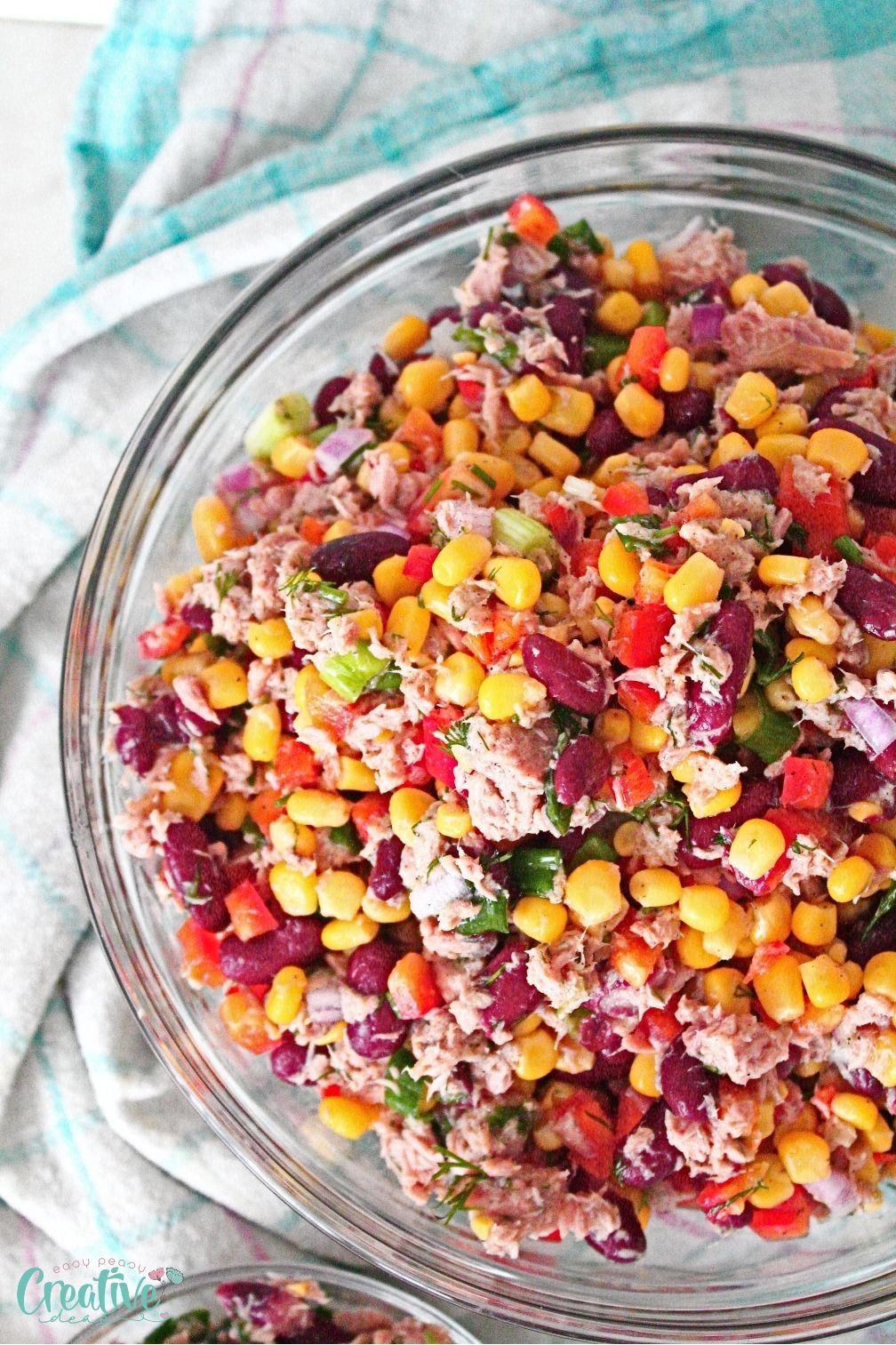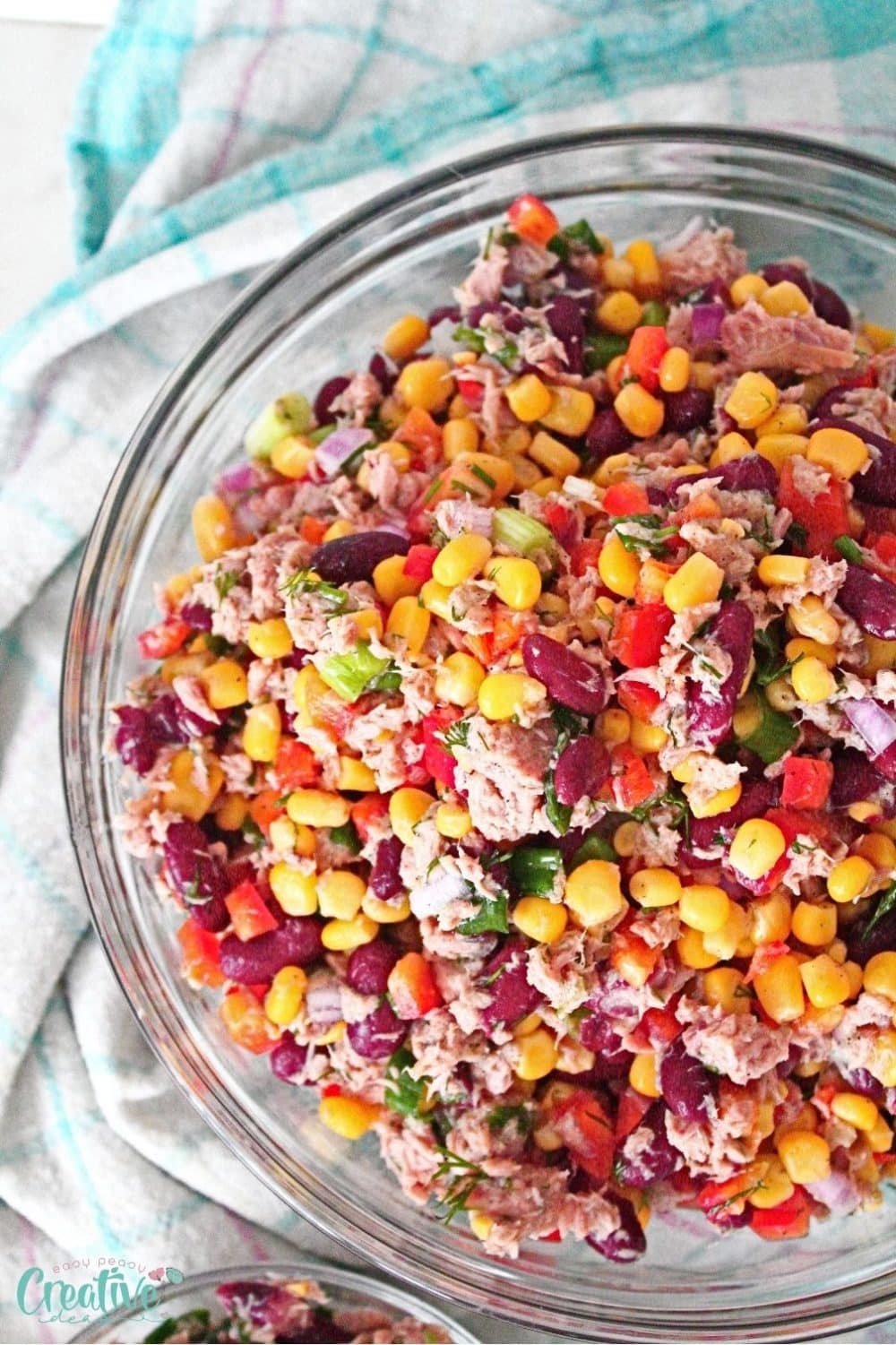 Taste the flavor of Mexico in this simple and scrumptious Tuna Salad recipe–no need to look any further! This Mexican tuna salad is simple to make, bursting with flavor, and sure to be a hit with your friends, and family, or just as an easy lunch for yourself. Using both fresh and canned ingredients and a few spices, this Mexican tuna salad is just the thing to fill you up and satisfy your cravings. Read on to find out how to make this easy Mexican tuna salad in just a few minutes!
I absolutely love Mexican tuna salad! It's healthy, delicious and super quick, and easy to make. It's packed full of Mexican flavors and involves no cooking, so it's also great to make on hot summer days when you want to stay away from the stove or grill.
Mexican cuisine is packed full of great flavors, which have spread across the whole world. There is nothing bland in Mexican food, and neither is this super easy salad recipe.
Why use canned tuna?
Canned tuna is a good and healthy protein, and always at hand. You can keep the cans for a long time in your pantry, so just grab the best offer. I guarantee it's also budget-friendly. Plus, canned tuna is great for a lot of recipes and salads, so I always make sure I am well-stocked.
This yummy recipe is great for meal prepping because it keeps well in the fridge for a few days, so you can make a big batch in advance in just a few minutes and enjoy lunch or dinner for a few days. It's also great as a healthy afternoon snack or as an appetizer.
This easy tuna salad goes great at picnics or road trips. Just secure it in a Tupperware with a lid or a wide jar, and you're ready to go.
This canned tuna salad is also light and won't make you feel heavy and full. On the contrary, it's full of protein and super healthy, also great for diet lovers.
This is a perfect desk lunch you can always change or adjust, and the ingredients you can add are countless: peppers, beans, tomatoes, avocado, onions of any kind, corn, cucumber, parsley, cilantro, different seasonings, etc. It's mostly a matter of taste, but you still need to keep texture and Mexican in mind. This means some staples like beans or corn should still be in there, as well as peppers or onions for some crunch.
Switch lemon juice with lime if you like it better, or for a more authentic Mexican flavor. I personally prefer lemons, so I added some lemon juice. Cilantro is always more on the Mexican side, but it has a more particular taste. If you don't like it, just keep to the more classical parsley, as I did. Surely there are a lot of Mexican families that use it, too.
Want more delicious salad recipes?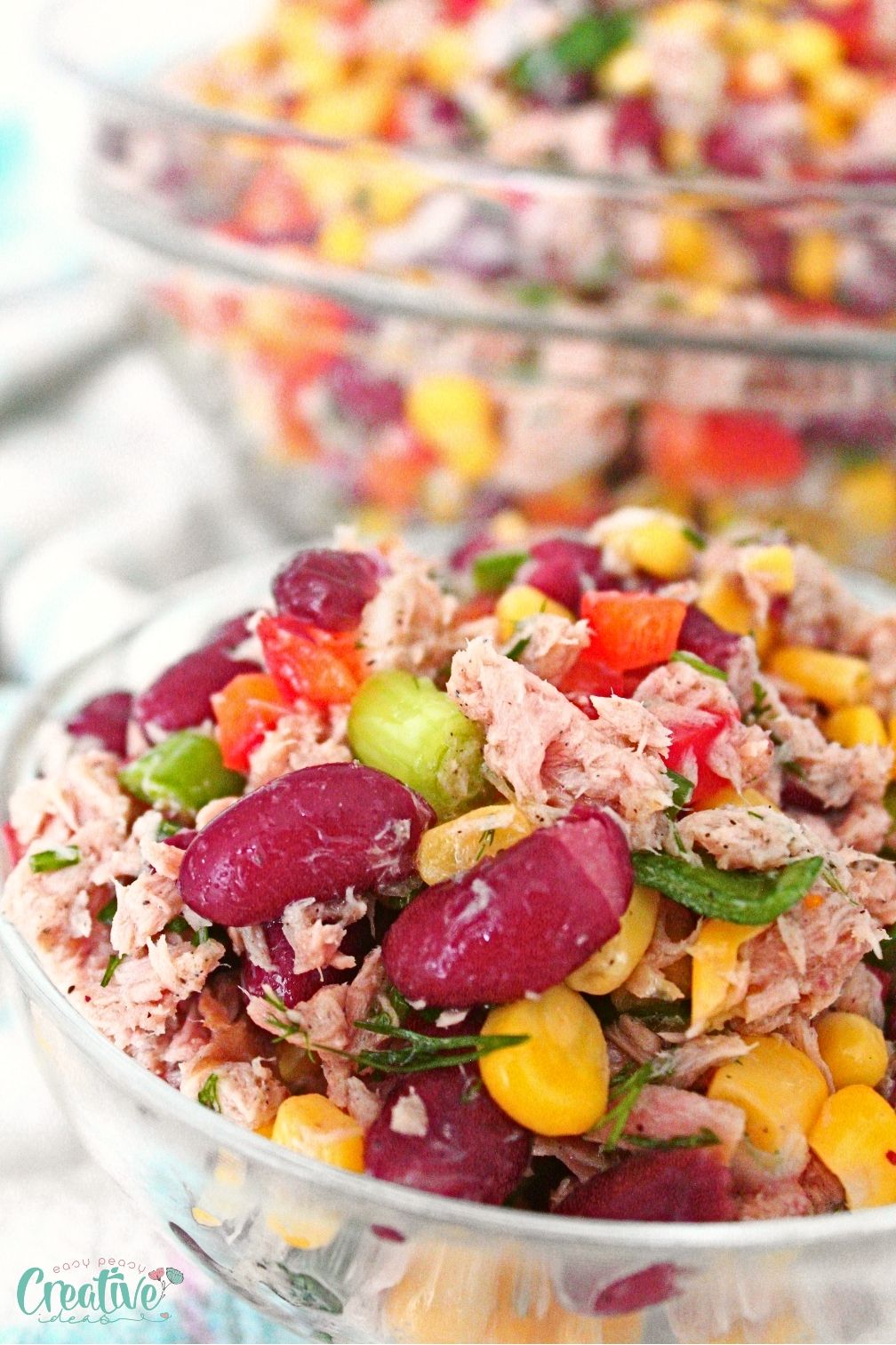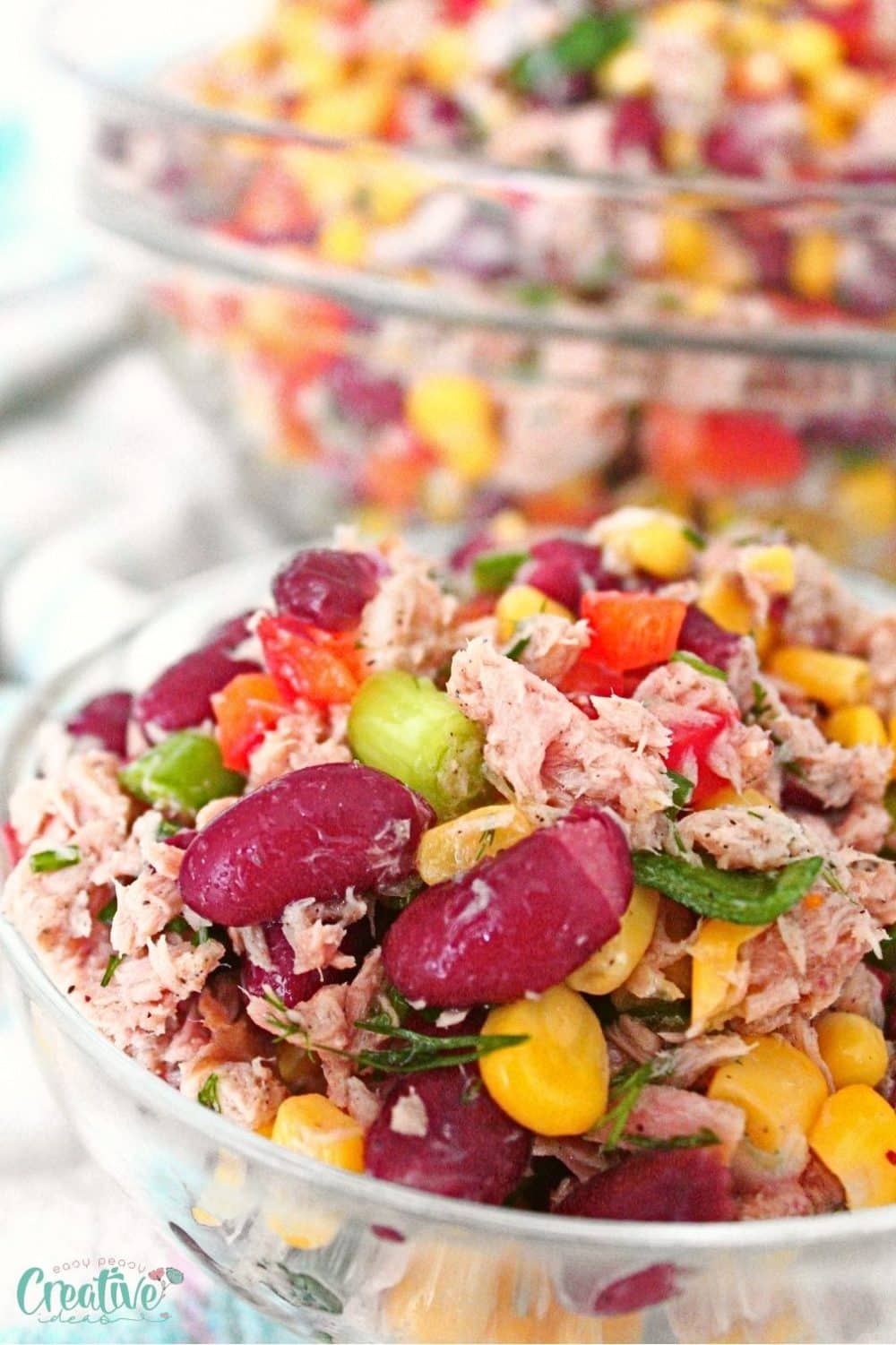 Tips and tricks:
Corn is also a staple ingredient which comes in many varieties. I used kernel corn, but this doesn't mean you cannot switch to roasted, for example;
Tuna salad will taste great immediately after mixing, but will be even better if left to sit in the fridge for at least 20 minutes, to allow the flavors to blend;
If you use over-ripe avocado, only add it before serving;
How to serve Mexican tuna salad
There are countless ways of serving this delicious tuna salad, one for every picky eater.
The easiest and most handy is to eat it plain with the fork right from the bowl or scooped on top of a quinoa bowl.
For a more filling dish, scoop it with potato chips or tortilla chips or roll it up in a tortilla like a burrito. If you want a carb-free variation, take the corn out and serve or roll the tuna salad in a lettuce boat.
Avocado goes great with tuna, so you can spread some mashed avocado or guacamole on a tostada and scoop some tuna salad on top.
Make a delicious sandwich by filling a large bun and taking it away with you. Don't forget the avocado, I guarantee it's going to burst with flavor.
How do you make spicy tuna salad?
If you're a fan of spicy food, all you need to do is add some fresh or pickled jalapenos. You can either finely chop them and mix them in the salad, or serve it on the side as an extra topping. Or you can add a pinch of cayenne pepper for some extra kick. Try out different combinations until you find your favorite and make Mexican tuna salad a staple in your kitchen.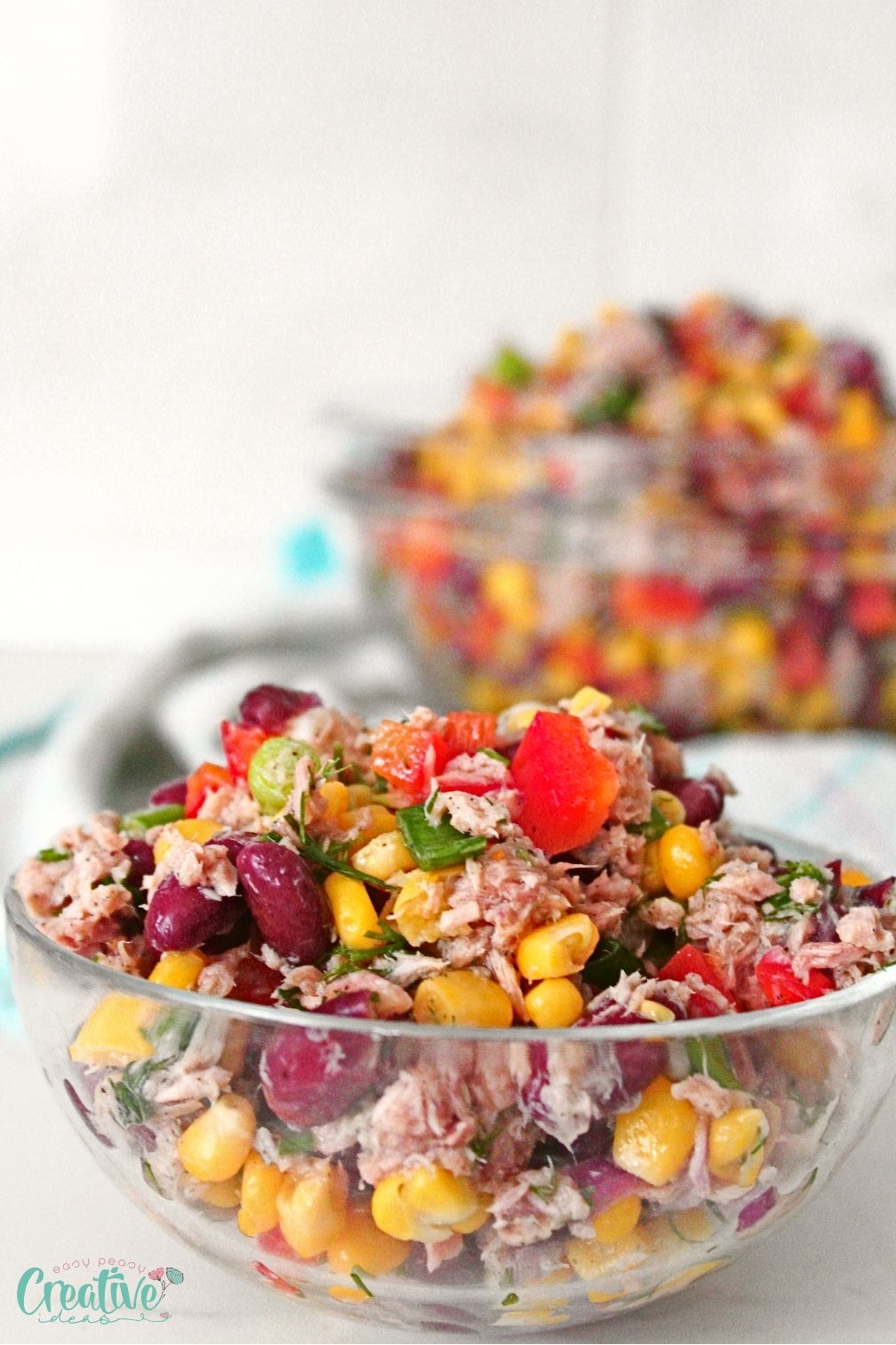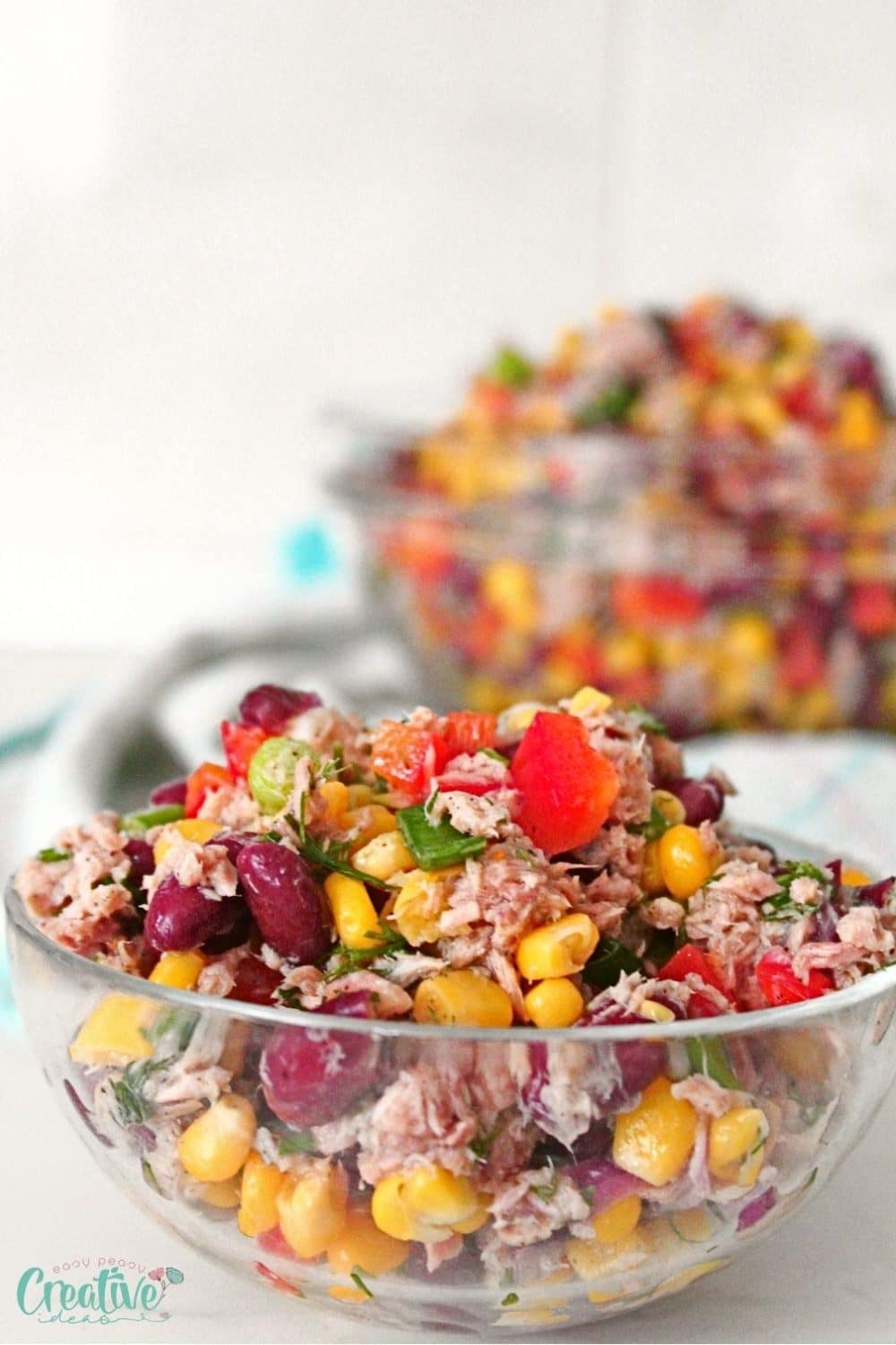 What seasoning goes best with tuna?
Taco seasoning is a great option for Mexican tuna salad, as it adds an abundance of flavor. You can also use cumin, garlic powder, or chili powder to give the dish its Mexican flair. But always remember to taste and adjust seasoning according to your taste buds.
How to pack a tuna sandwich for lunch without it getting soggy?
The best way to prevent your Mexican tuna sandwich from getting soggy is to pack it with some type of bread that can hold up well. Try using sturdy artisan bread, like sourdough or ciabatta. You can also use homemade wraps for an even sturdier option. Lettuce wraps are also an option especially if you want a meal low in carbohydrates and calories.
Another trick is to put a piece of butter or mayo between the bread and tuna, as it creates an oil barrier that won't let moisture in. Make sure your Mexican tuna salad is well mixed and not too wet before packing it up.
The last step is to wrap the sandwich tightly with plastic wrap or aluminum foil, to avoid any air from getting in.
Or you can simply pack the bread and the salad separately and assemble the sandwich right before eating. This way, you can have a delicious Mexican tuna sandwich without worrying it will be soggy.
Tuna salad ingredients
canned tuna in oil
canned black beans
canned corn kernels
red bell peppers
red onion
green onions
fresh dill
lemon juice or lime juice
olive oil
salt & pepper to taste. Skip the salt for a low sodium version, especially if your canned tuna is already salted.
Optional ingredients:
Tacos, taco chips, or crackers for serving;
Jalapeño for a spicy flavor;
Lettuce for serving. It adds a little bit more crunch and can act as a serving bowl;
Pickles;
Avocado: adds more creaminess, taste, and healthy fats to the salad;
Taco seasoning. Add this before adding any salt. If it has enough salt, don't add more. If it's low in salt, add more until you're happy with the taste;
Mayonnaise.
Fresh lime juice instead of lemon juice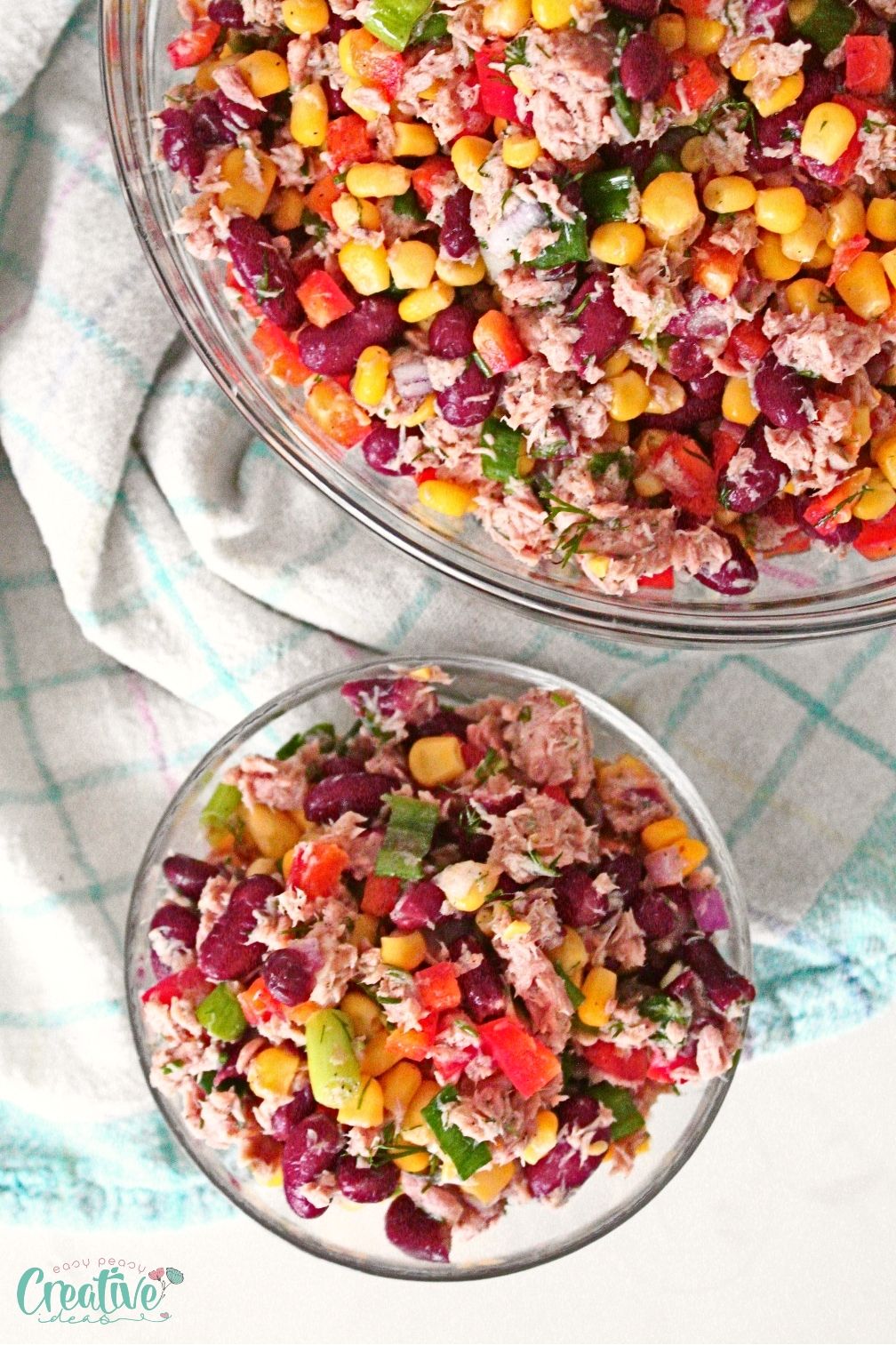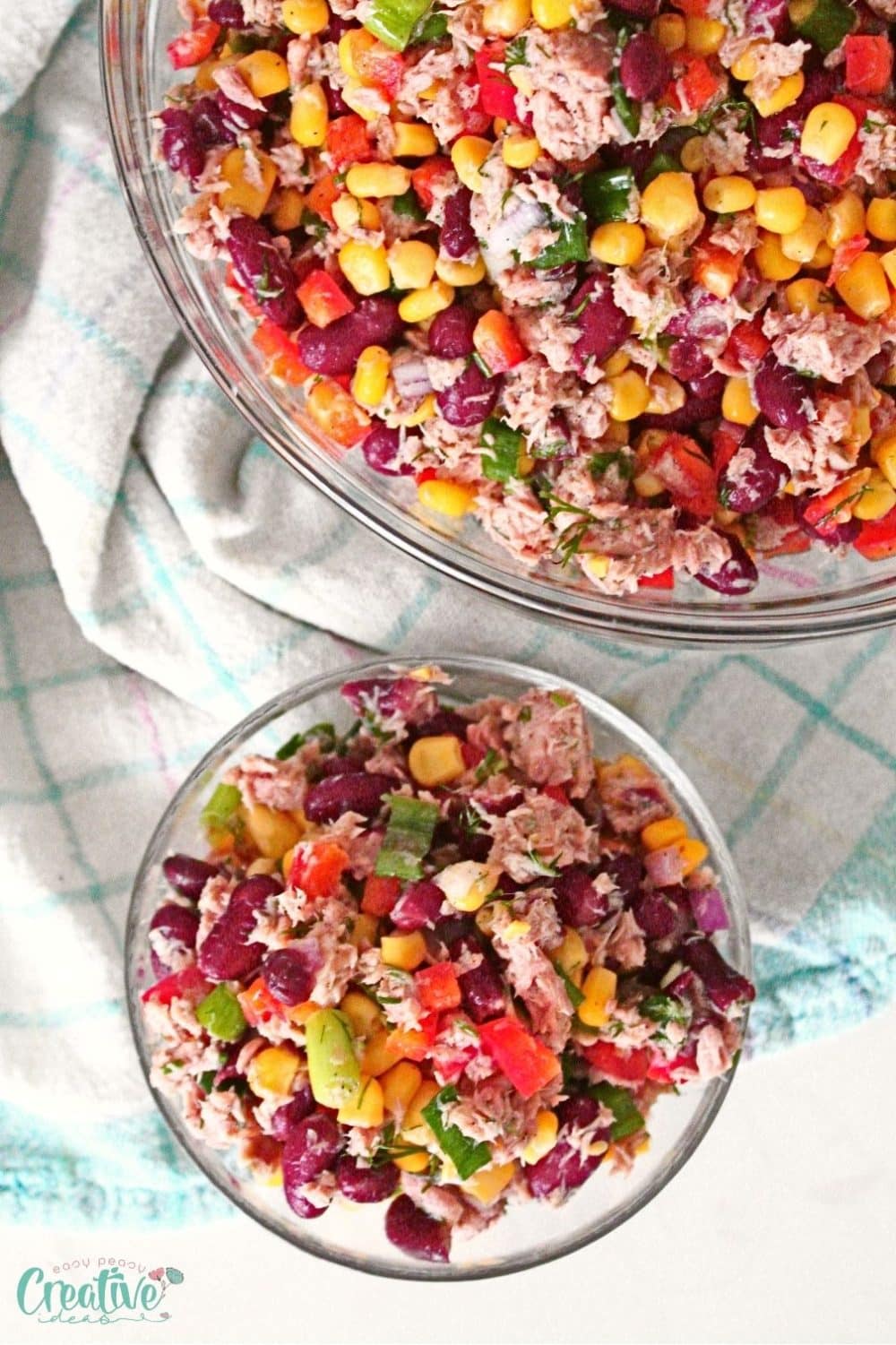 Cooked or fresh veggies?
Each family in Mexico has its own recipe, as each person has a different taste. This amazing salad can be made with either fresh or cooked vegetables. It really depends on how you want it to be.
Cooked or canned vegetables are very handy and have a milder taste. Cans are available all year round, so you don't need to worry about seasonal produce. The bad thing is, you have to spend some extra time cooking.
For a fresher feel, or for a cool summer salad, fresh vegetables are best. They also retain all their nutrients and add more texture and crunchiness to the salad. You can shop for seasonal veggies at the farmers' market, so you also help local producers. Plus, this kind does not involve any cooking and is the quickest to make.
Pickled vegetables also add texture, as well as a sour hint. Many people like to use pickled jalapenos when they want a spicy salad.
How to make Mexican tuna salad?
Empty all cans in a large strainer, rinse well in cold water, and let drain for 5 minutes
Chop onions and fresh dill
Dice peppers
Drain tuna
Add all ingredients to a large bowl and toss gently to combine.
How to store Mexican tuna salad?
Store it in an airtight container or covered bowl and place it in the refrigerator. It should last 3-4 days when stored correctly. I wouldn't recommend freezing it as it can lose its crunchy texture and flavor.
Mexican tuna salad is a very versatile dish and can be customized according to your own preferences. It's a recipe that you can play around with and experiment with, so go ahead and have fun!
What do you like more about this Mexican tuna salad recipe, and what is your special ingredient? Share your ideas in the comments below, I just can't wait to read them.
Pin to save for later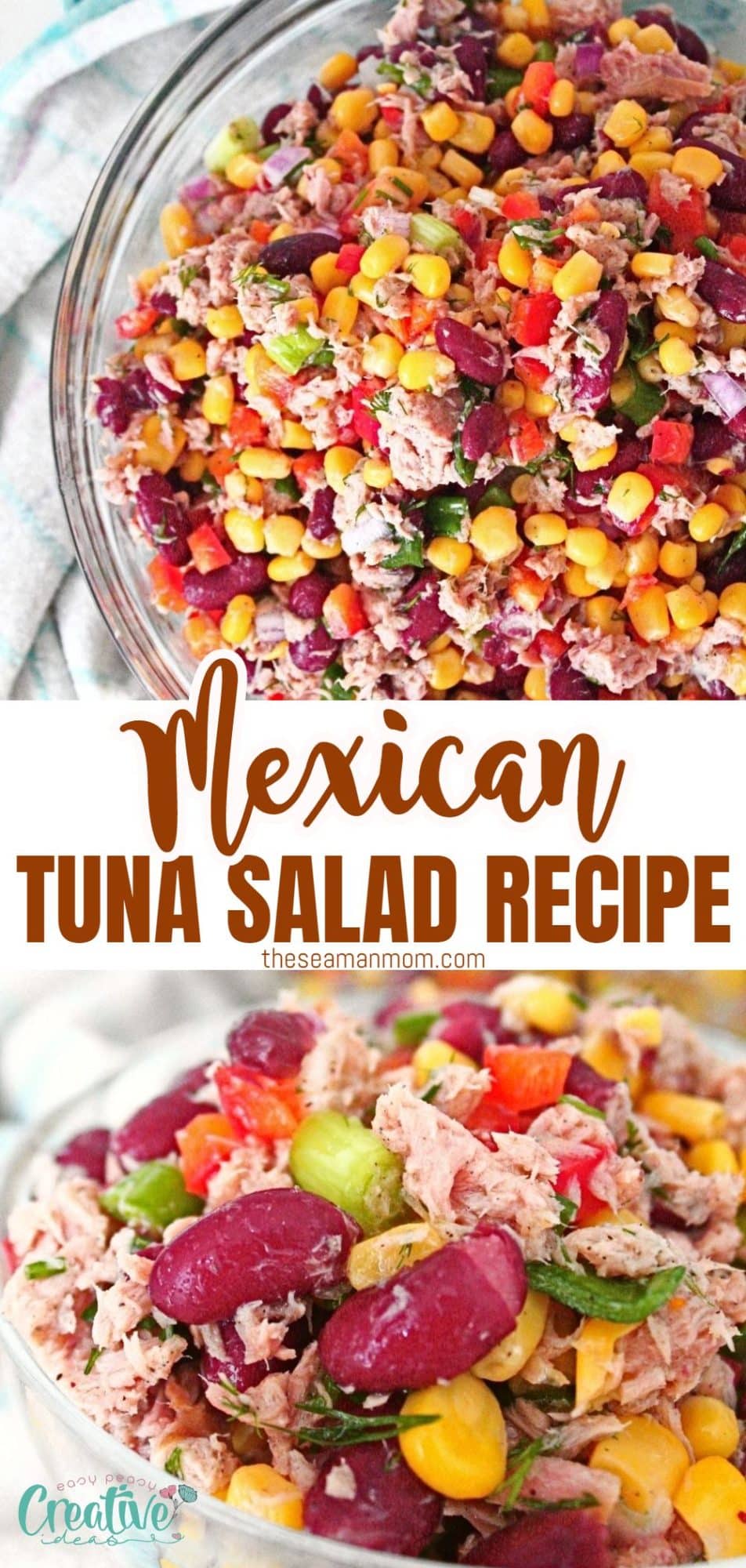 Print the recipe card
Mexican tuna salad
Indulge in the flavor of Mexican tuna salad for an unforgettable culinary experience! Treat yourself to a delicious salad for lunch or dinner
Ingredients
8 x 3

oz

canned tuna in oil

2 x 15

oz

cans kidney beans

2 x 12

oz

canned corn kernels

2

bell peppers

large

1

red onion

large

5

green onions

1

bunch

fresh dill

1

lemon

juice

¼

cup

olive oil

salt & pepper to taste
Equipment
large strainer

salad tongs
Instructions
Empty all cans in a large strainer, rinse well in cold water and let drain for 5 minutes

Chop onions and fresh dill

Dice peppers

Drain tuna

Add all ingredients to a large bowl and toss gently to combine.