Absolutely delicious PEACH COCKTAIL with peach syrup and thyme
Article may contain Amazon & affiliate links. As an Amazon Associate I earn from qualifying purchases at no additional cost to you.
This peach cocktail has arrived just in time for peach & pool season! With an easy to make simple syrup, fresh peaches, thyme, and your favorite liquor this delicious peach gin cocktail will be one beverage you'll want to drink all summer long.
Peach cocktail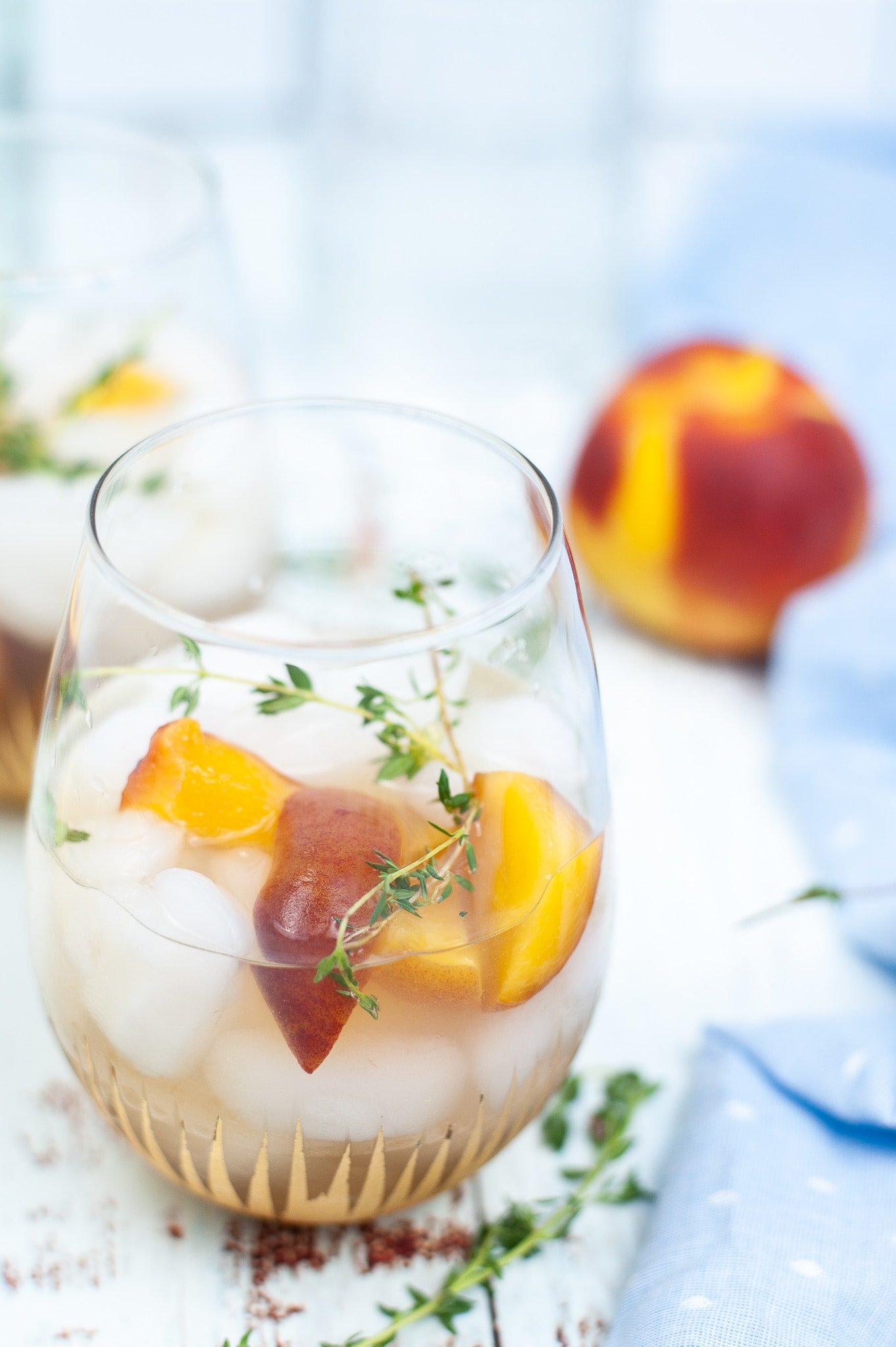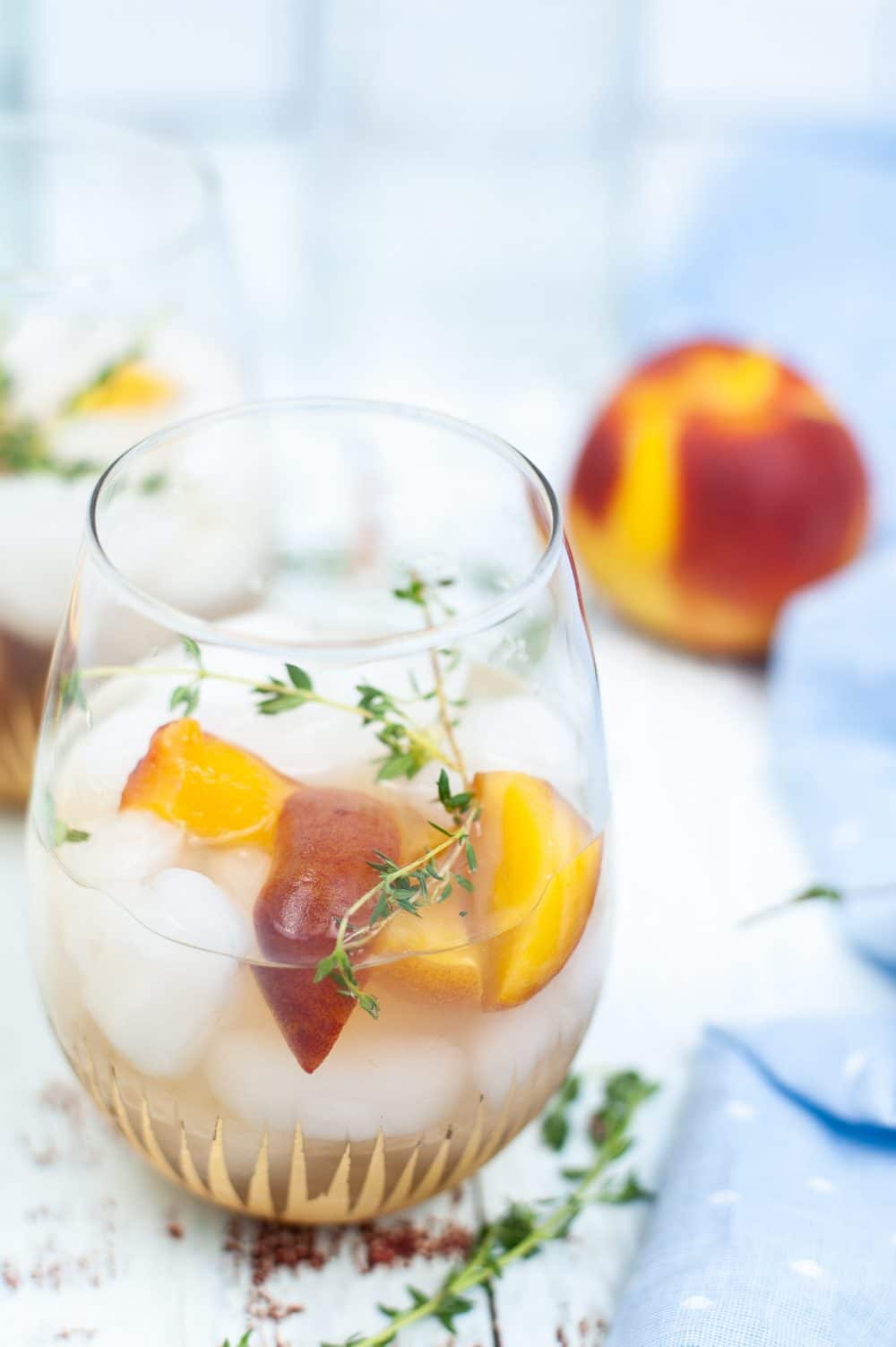 When it comes to thirst-quenching summer cocktails it's impossible to go wrong with a spritzer, especially one packed with juicy peaches and thyme! Combining the sweetness of peaches and honey with the refreshing spice of thyme and floral tang of gin this peach cocktail will be an absolute hit at any summer get together.
It's incredibly simple to make, enjoyable to drink, and there are so many ways to customize this spritzer everyone will love it!
Can I replace the gin in my peach spritzer?
Now, gin can often be a controversial spirit, many people either absolutely love it or hate it with little room in between but not to worry, there are many different options to make this fit your taste perfectly!
The gin in this recipe can easily be replaced with vodka using the same exact measurements.
You can also try a crisp white wine or a sparkling rosé.
Hard seltzer is another good option for those who don't necessarily want to drink liquor in their spritzer; try a lemon or tangerine flavored hard seltzer in place of the gin and soda water, or even in addition to the gin!
Another way to try this spritzer cocktail sans gin is to add some silver tequila. If you choose to go the tequila route, I would recommend swapping lemon juice for lime, adding a splash of bitters and a sugared rim with a slice of lime to garnish.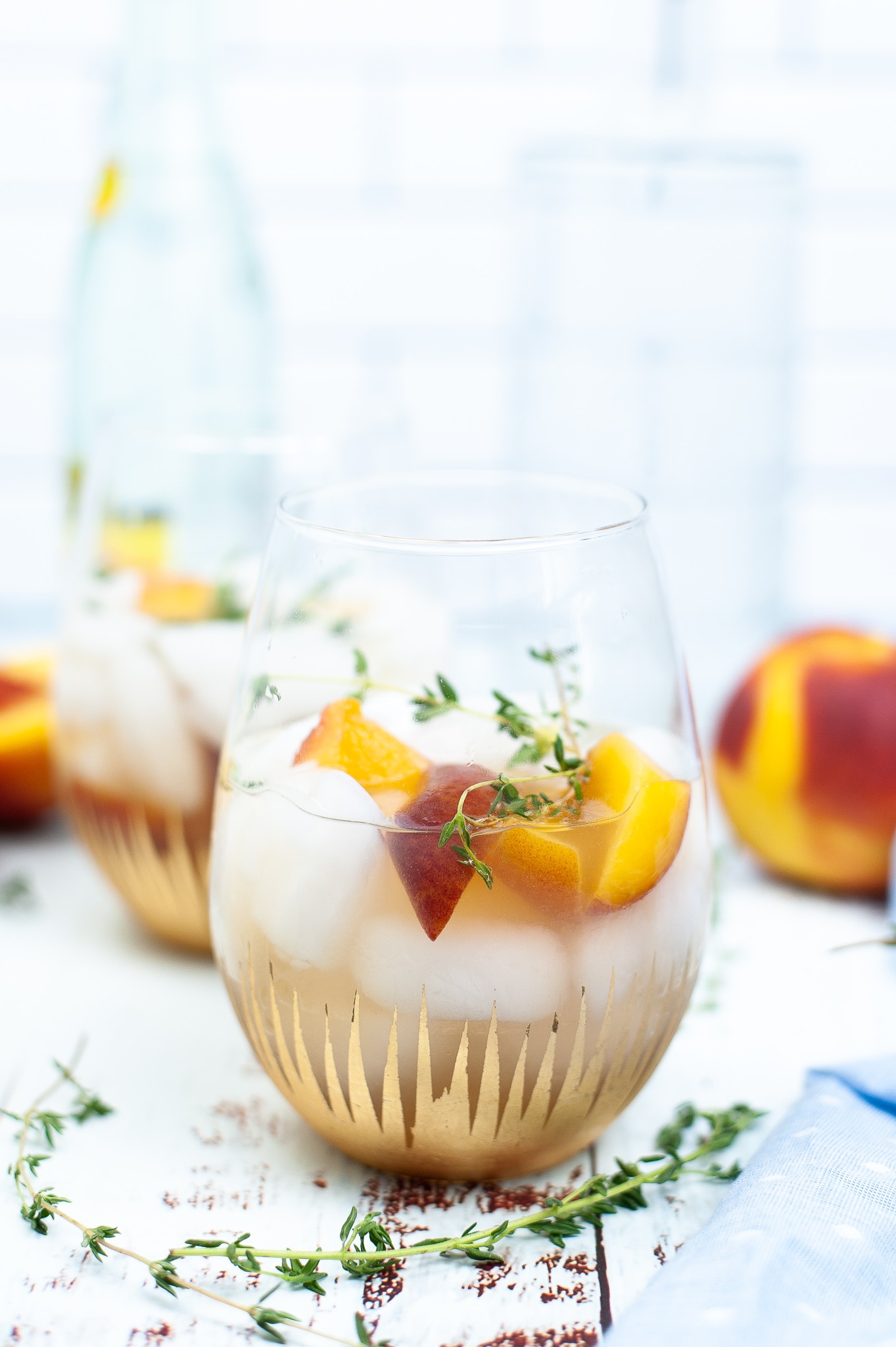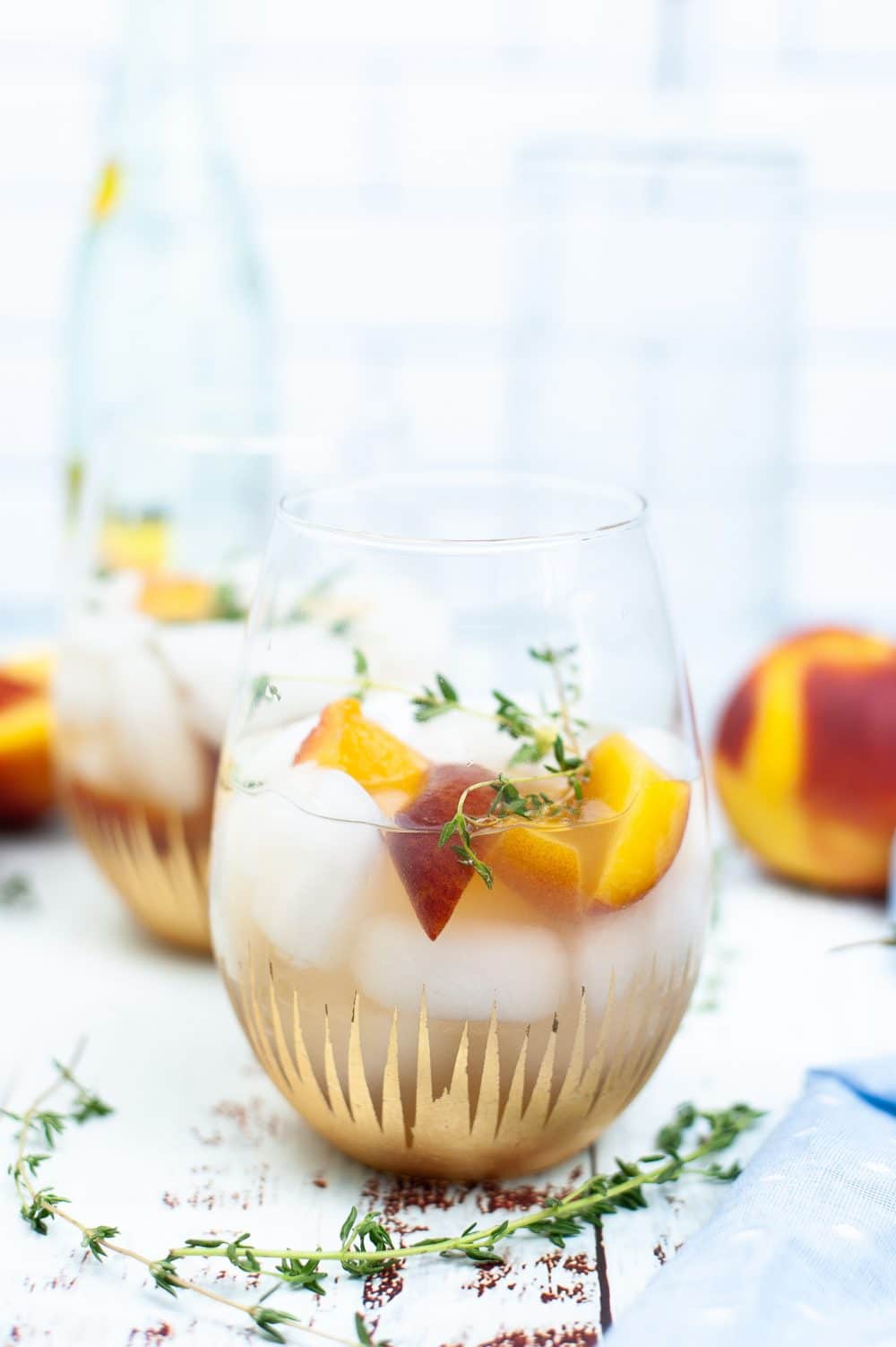 Can I make my peach syrup cocktail non alcoholic?
Turn a cocktail into a mocktail by making this spritzer completely non-alcoholic! To do so you can leave the liquor out and add a bit more soda water. Or you can also try adding lemonade, a lemon-lime soda, or tonic water. This way the whole family can enjoy!
Other non alcoholic drinks you will love:
How do I diversify my peach cocktail?
If you're looking for some more twists to this spritzer you could try adding a different citrus in place of, or in addition to the lemon, like lime or grapefruit juice. Adding some fresh fruits in the pitcher like peach slices or raspberries would not only add to the flavor but also the charm of this exciting summer cocktail.
Do I stir or shake my peach gin cocktail?
You can make it either way!
For those who like it shaken, not stirred, or even just for a bit stronger peach and thyme flavor, add a small amount of the cooked peaches you've reserved from making your simple syrup to the bottom of a cocktail shaker and muddle them. Pour your gin, or other preferred liquor, the syrup and lemon juice over the muddled peaches and shake!
Shaking the cocktail rather than stirring can aerate the drink and give it a slightly bubblier texture. Add the soda water to this shaken cocktail and enjoy a sweet, crisp, and even fizzier spritzer cocktail.
What foods go well with this spritzer?
Peach and thyme spritzer cocktails are the ultimate addition to any backyard or poolside get together this summer. This spritzer would pair perfectly with any summer BBQ food like burgers and chicken, or if you opt for tequila over gin, try it with some spicy chicken tacos.
Peach cocktail recipe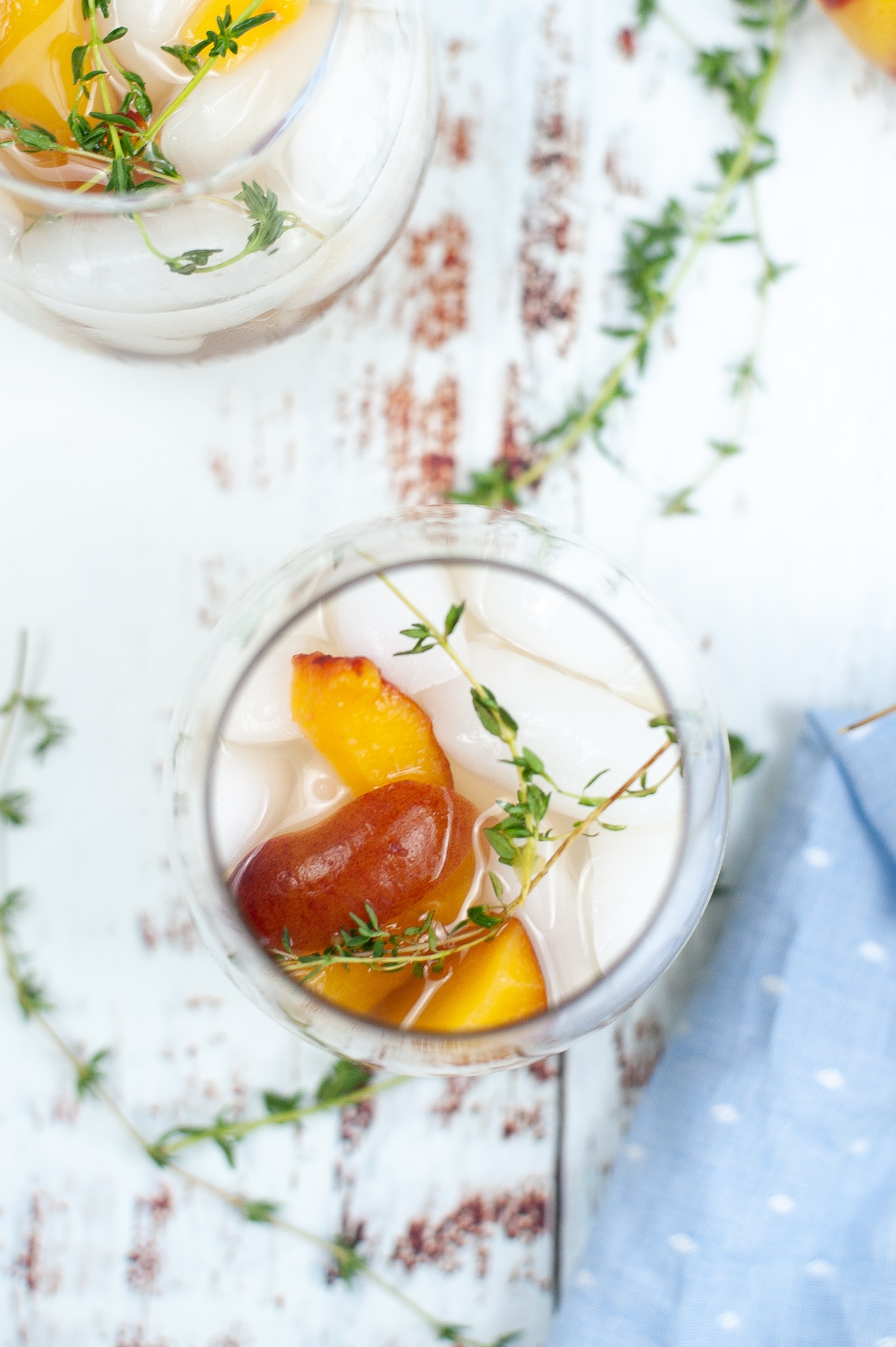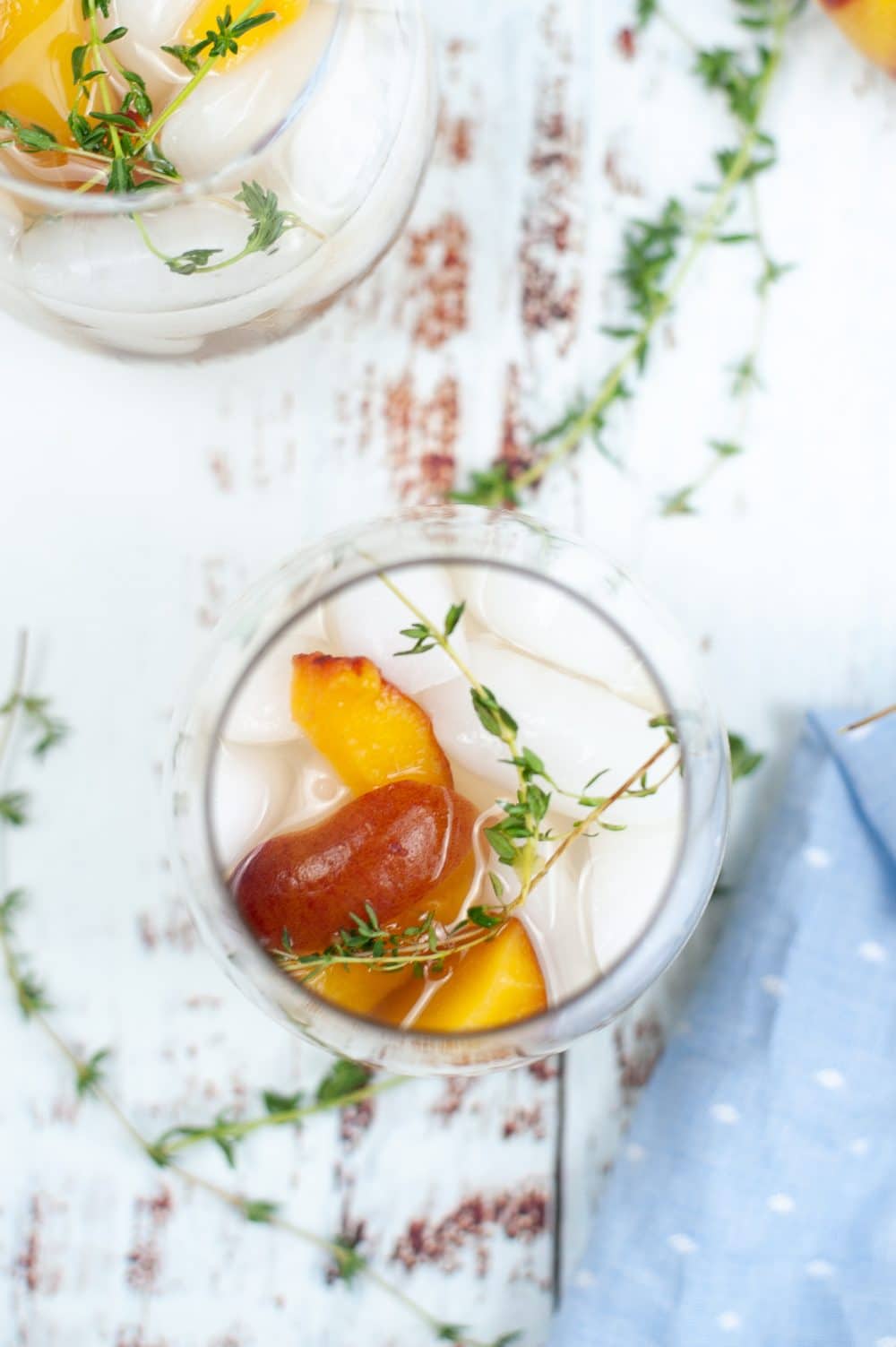 What ingredients do I need for this recipe?
You'll need peaches, a lemon, a few sprigs of thyme, honey, gin, soda and water.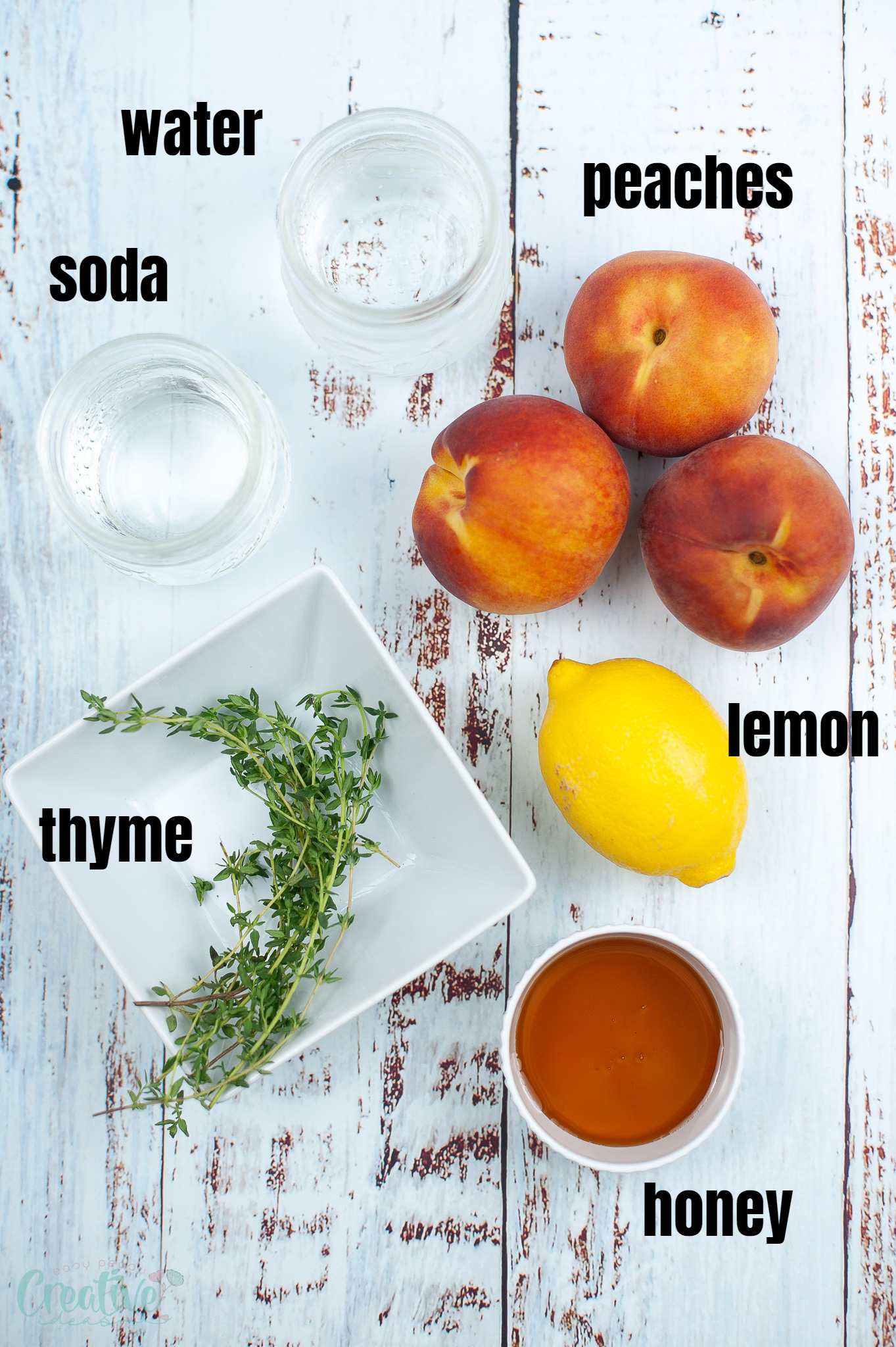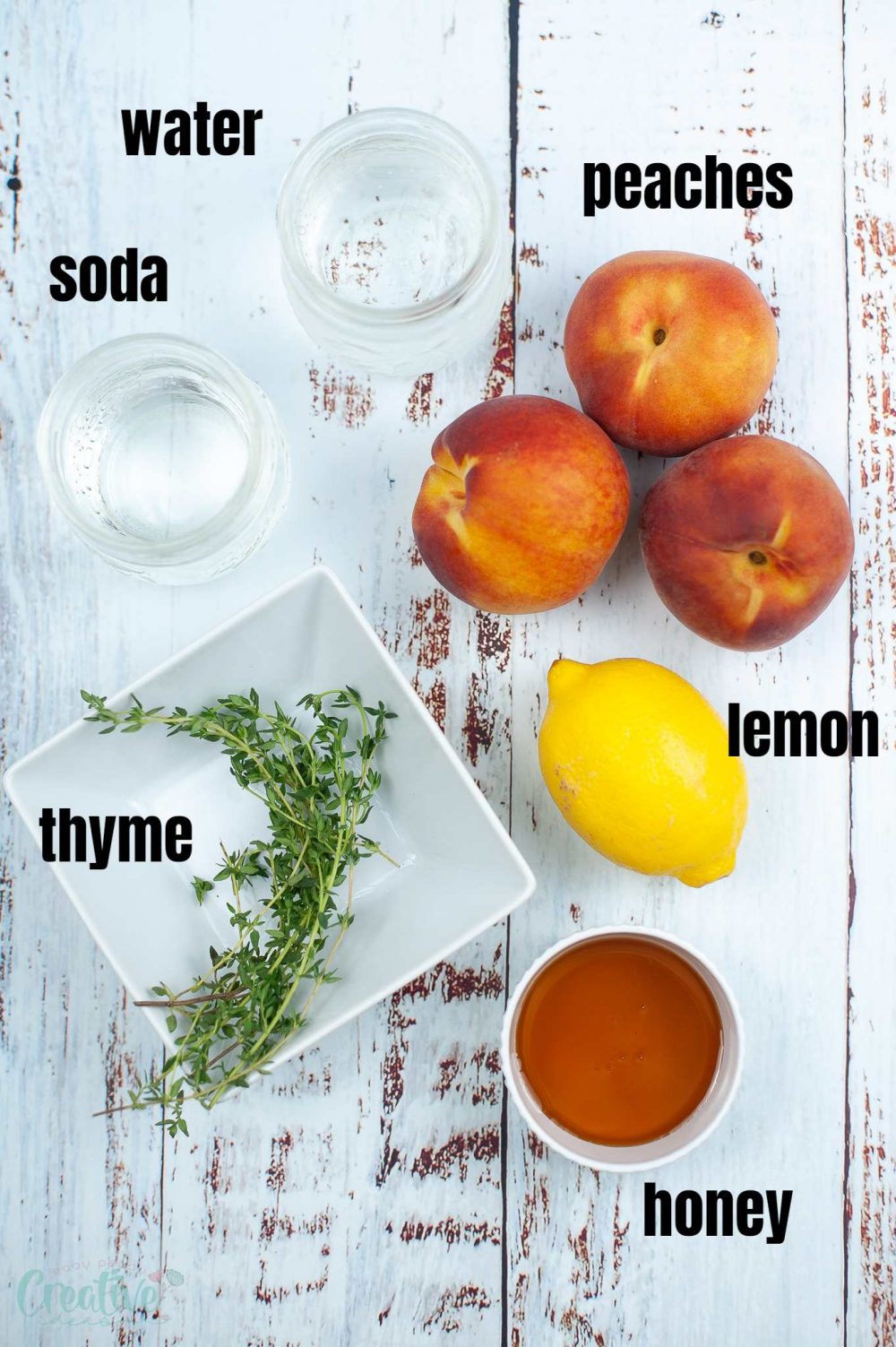 How do I make this cocktail?
The first step in making this soon-to-be new favorite spritzer is to make the simple syrup which is, well, simple! Begin by dicing your peaches and placing them in a saucepan with your water, honey, and sprigs of thyme. Cook them on a medium heat until they start to boil, and peaches have softened. Then remove from heat, cool and strain, making sure to keep your liquid. You can even reserve the peaches and thyme to use in a future recipe like a tart, skillet cake, or even just to toss on top of some vanilla ice cream. This syrup will be the base ingredient in your spritzer.
After your syrup is strained and chilled the mixing can begin. In a pitcher add gin, the peach and thyme simple syrup, lemon juice, and soda water.
Give it a good stir and you've got yourself the brightest and tastiest spritzer anyone could ask for on these hot sunny days.
Fill a cocktail glass with ice and pour the spritzer over. Add a fresh peach slice on the rim and sprig of thyme for garnish.
If you're looking for an even more picture worthy cocktail than this already is try a cocktail skewer with alternating fresh slices of peach and lemon or go all out with a cocktail umbrella!
Pin to save for later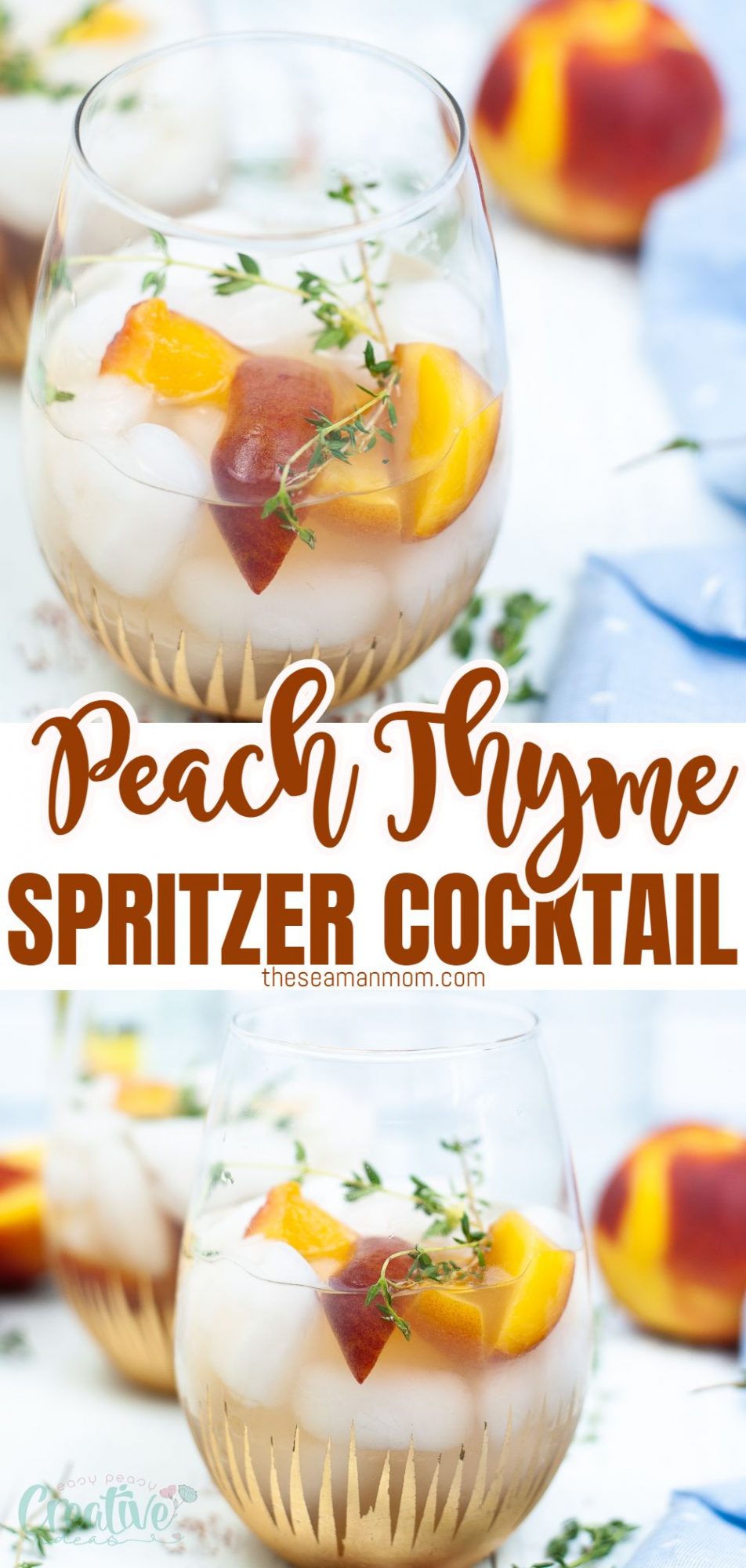 Print the recipe card
Peach cocktail with gin and thyme
With an easy to make simple syrup, fresh peaches, thyme, and your favorite liquor this delicious peach gin cocktail will be one beverage you'll want to drink all summer long.
Ingredients
2-3

peaches

Juice of 1 lemon

8

sprigs of thyme

2

tbsp

of honey

8

oz

of gin

12

oz

of soda water

1/2

cup

of water

ice
Instructions
Dice 2-3 peaches and place in saucepan with water, honey and 4 sprigs of thyme.

Bring to a boil and cook until peaches soften. Remove from heat to cool.

Strain the mixture catching the syrup and set the peaches and thyme aside for other use. Place the syrup in the refrigerator to chill for 1 hour.

In a large pitcher add gin, soda, lemon juice and syrup. Give a good stir to combine.

Serve over ice and garnish with fresh peach slices and thyme sprigs