10 Minutes Vegetarian Pita Sandwich
Article may contain Amazon & affiliate links. As an Amazon Associate I earn from qualifying purchases at no additional cost to you.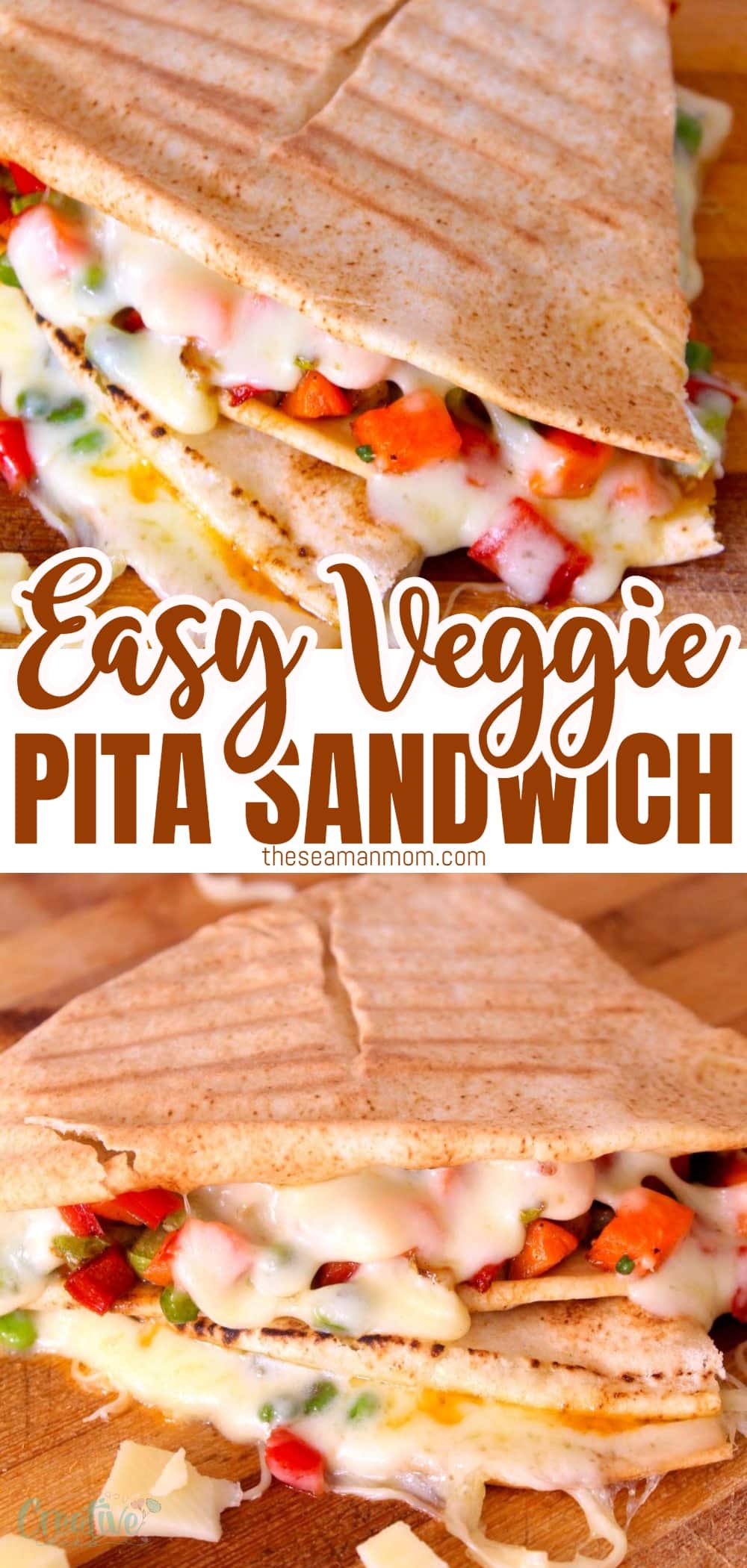 If you're looking for a quick and delicious meal idea for dinner or lunch on the go, give this incredibly easy pita sandwich a try! These vegetarian pita pockets are loaded with healthy vegetables and cheese, and they're packed with amazing flavor!
Pita Sandwich with vegetables and cheese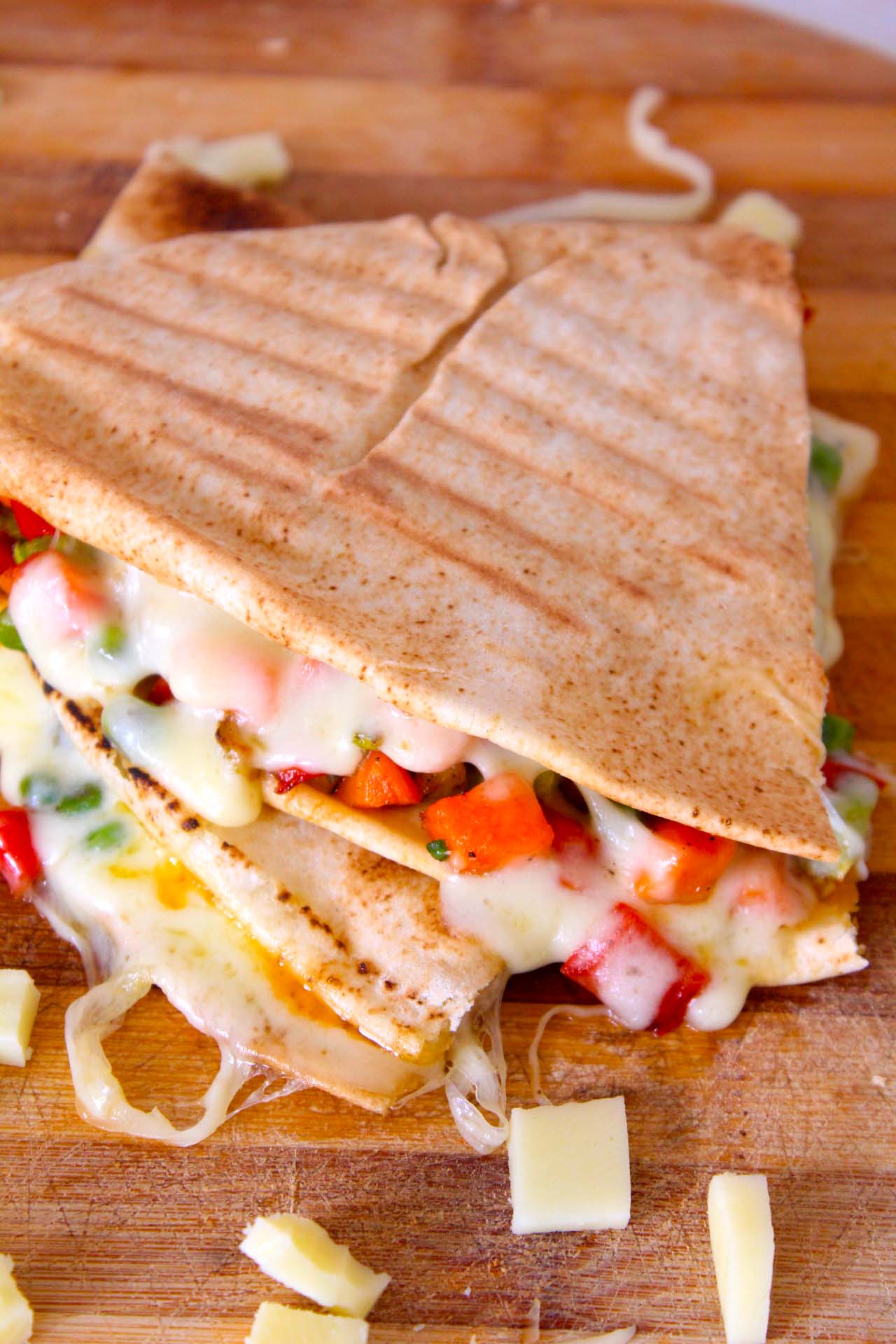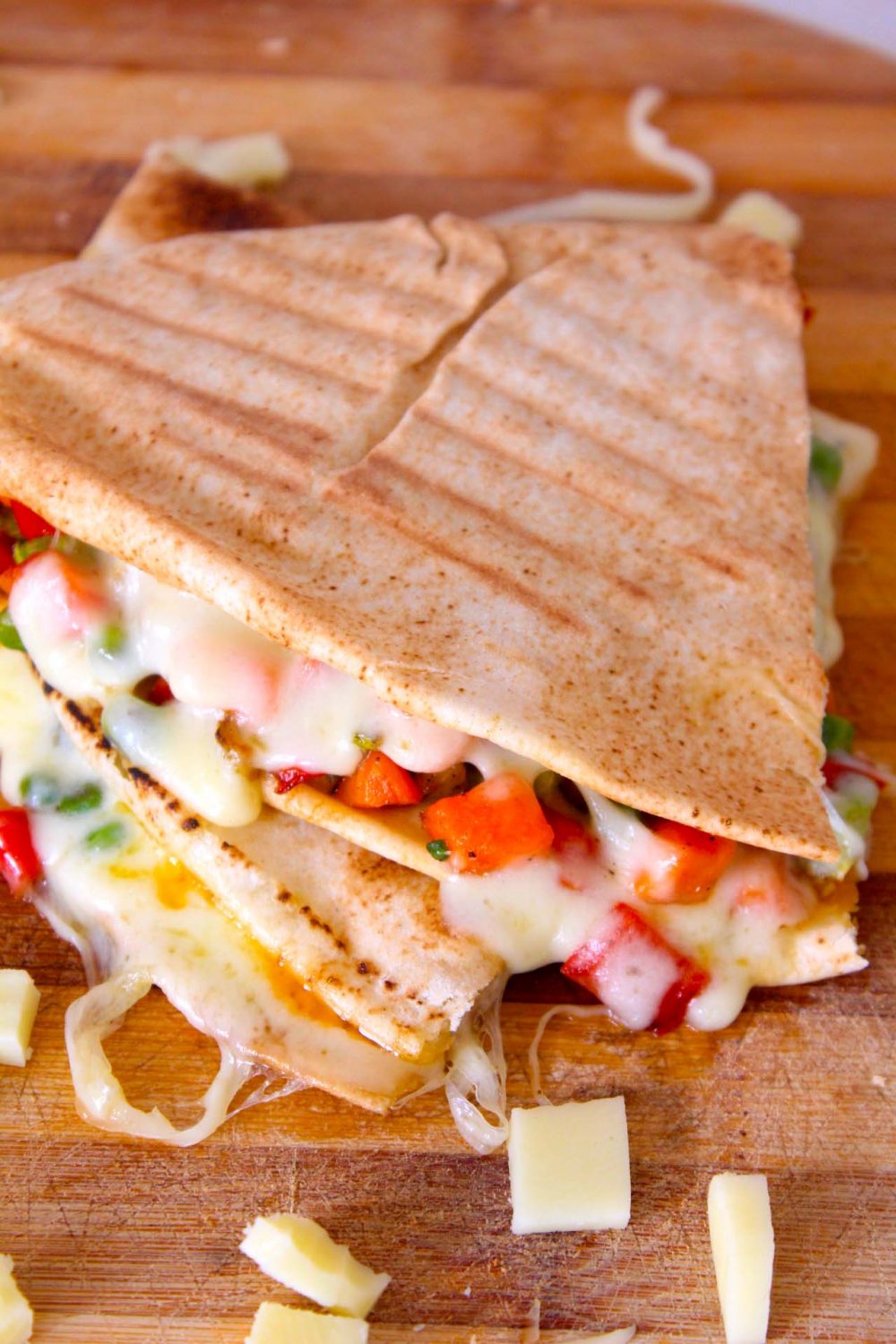 This amazing vegetarian pita sandwich is the perfect solution for those days when you need something delicious and healthy in a flash! Filled with fresh vegetables and melted cheese, this pita pocket recipe is sure to be a hit with kids and adults alike. Best of all, it only takes 10 minutes from start to finish! So if you've been looking for delicious pita sandwich ideas that are easy and quick to make, you're in the right place!
I find that simple, effortless recipes often times taste the best! Just like this pita sandwich that I made one afternoon when I was running really, really, really short on time! And it also happened to be the day when I don't eat meat. Pretty tough when you crave delicious, satisfying food!
Want more delicious sandwich ideas?
Maintaining a healthy routine can be challenging due to tempting food options like fast food, cake, and sweet drinks like frappuccinos. Furthermore, our busy lives often lead to rushing and not being able to savor life. However, preparing a yummy veggie pita sandwich filled with colorful and flavorful veggies and delicious melted cheese can be a healthy alternative that tastes heavenly.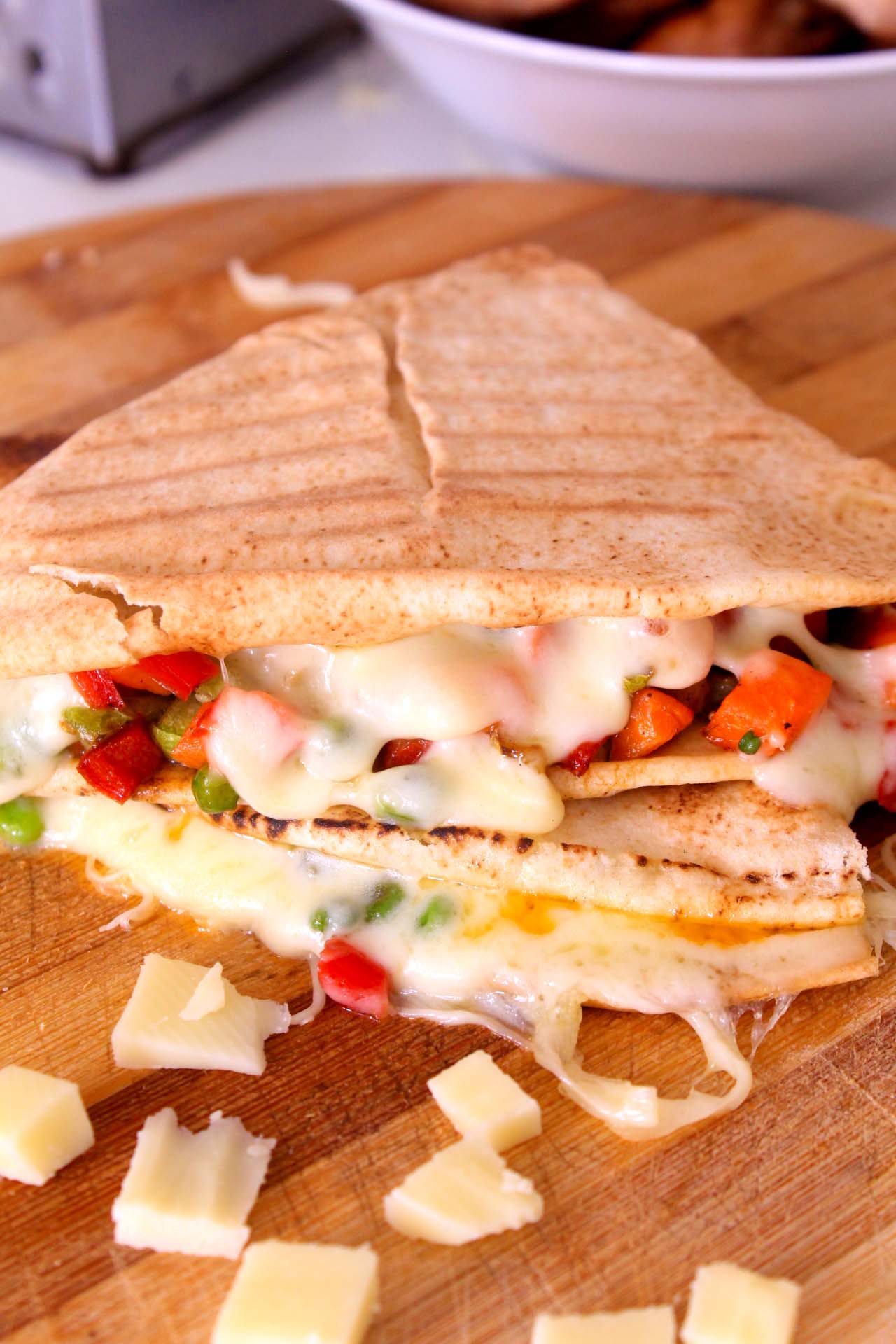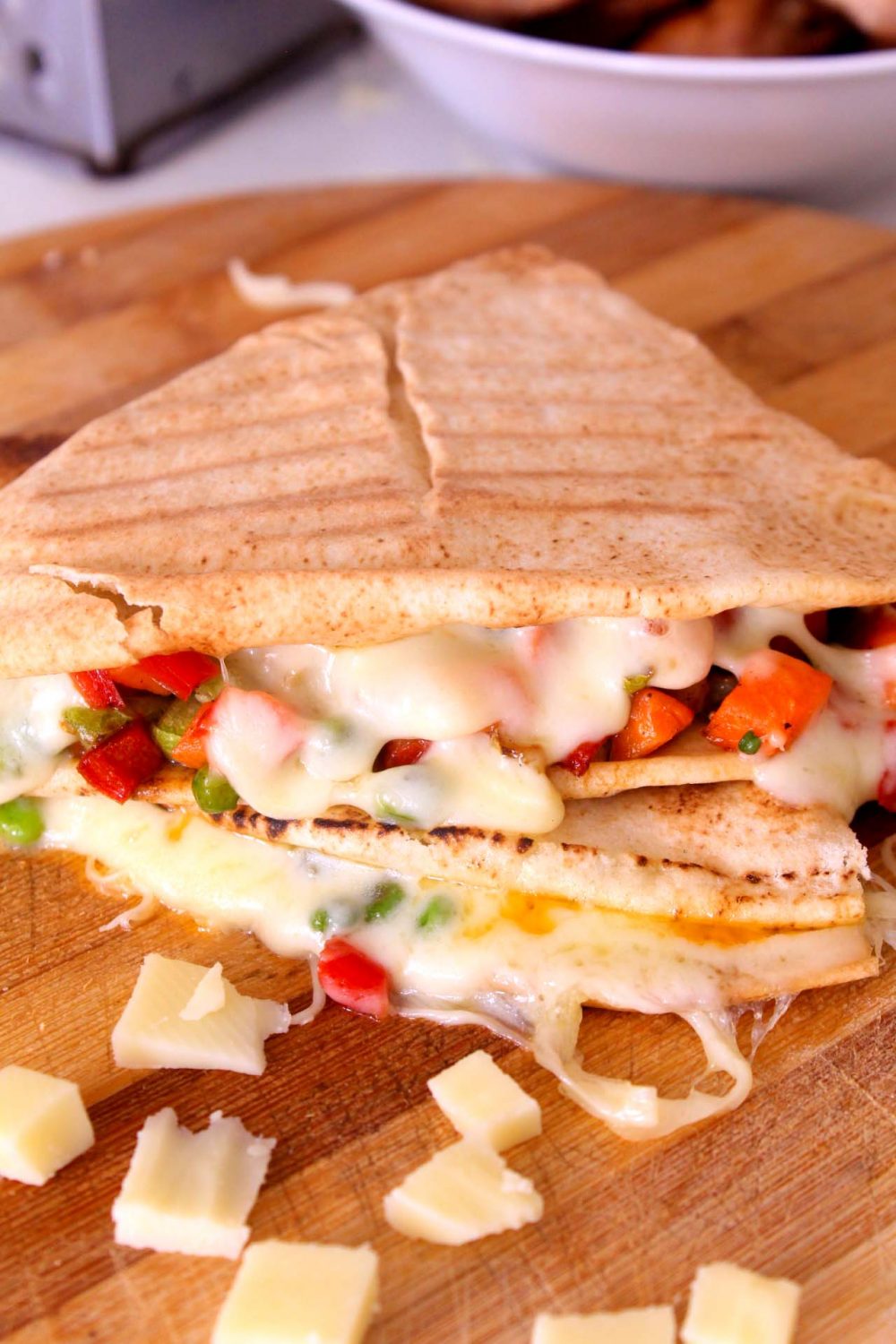 These lovely veggie pita pockets are so quick to make, they only take minutes so they could be a great dinner idea for busy people, or even a lunch at the office or on the go. If you're trying to keep calories under control but your hectic life gets in the way, this pita pockets recipe might be your best buddy!
My pita sandwich is totally customizable, you can use your favorite veggie and cheese, or use skim mozzarella cheese or use goat cheese for an even lighter sandwich. And if you don't have a grill on hand, you could just throw these in the microwave or a few minutes in the oven until the cheese melts.
What is the difference between pita and tortillas?
Pita bread is a traditional Middle Eastern flatbread made with wheat flour that puffs up when cooked. Tortillas are thin, round discs of unleavened dough (traditionally made from corn or wheat) used to make tacos and burritos. Pita pockets are usually larger than tortillas, making them the perfect option for an open-faced sandwich.
What are the benefits of making a pita sandwich?
Pita sandwiches are a great option for those who are looking for a delicious, healthy meal without spending too much time in the kitchen. These sandwiches are high in fiber and protein but low in fat, making them a great choice for those trying to maintain a balanced diet. Furthermore, they're incredibly versatile – you can fill them with whatever veggies and cheese you have on hand, making them ideal for those days when you need something quick and delicious!
So next time you're in a rush to make dinner or lunch, try this easy pita sandwich recipe – it's sure to become your go-to meal in no time!
What is a pita sandwich called?
A pita sandwich is also commonly known as a pita pocket.
Is pita healthy?
Yes, pita bread is a healthy option. It's low in fat and high in fiber, making it an excellent choice for those looking to maintain a balanced diet. Pita pockets are also a great source of protein and healthy carbohydrates and are delicious when filled with veggies and cheese. So why not give this vegetarian pita sandwich recipe a try – you won't regret it!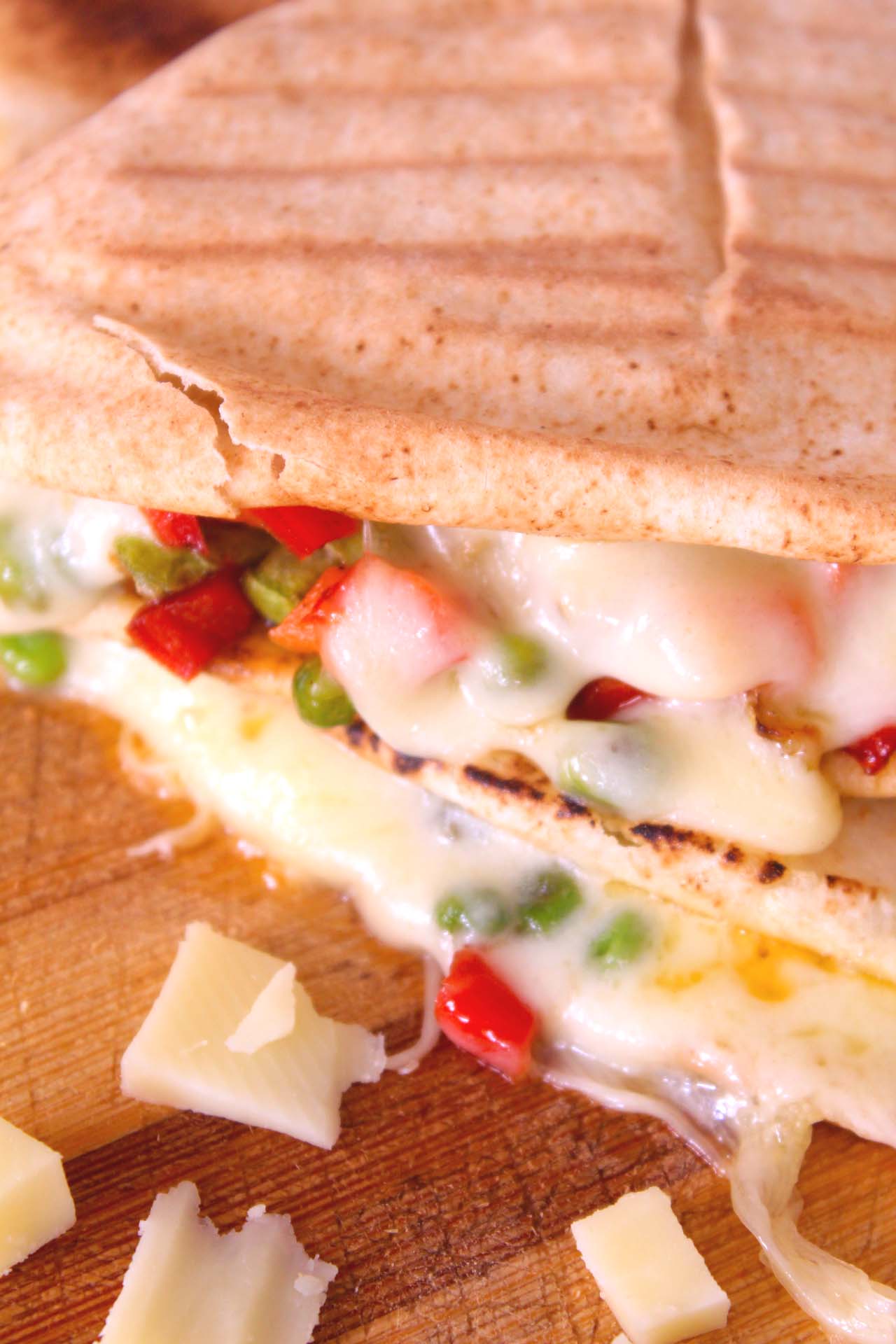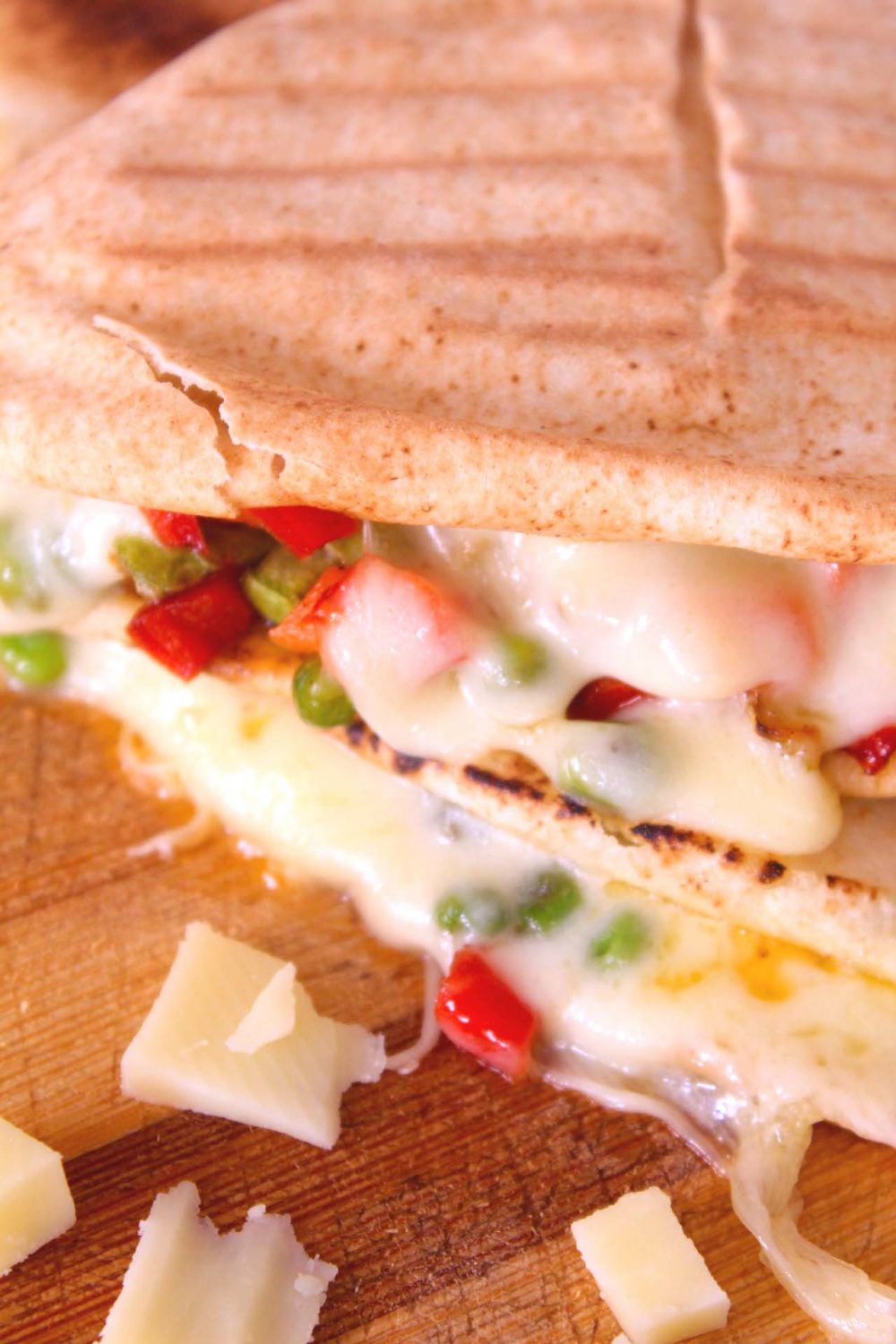 What goes well with pita bread?
Pita bread pairs well with a variety of toppings, including hummus, tzatziki sauce, tahini sauce, yogurt sauce made with Greek yogurt, garlic flavored olive oil, fresh herbs such as parsley and veggies. Feta cheese is also a great way to add some flavor to your pita sandwich. You can also get creative by adding roasted peppers, sun-dried tomatoes, or olives for an extra punch of flavor. So the possibilities are endless – enjoy creating your own unique pita sandwich!
How do you fill pita pockets?
Filling pita pockets is easy – just stuff them with your favorite veggies (fresh or grilled) and cheese. Start by slicing the pita in half, then fill with thinly sliced vegetables like bell peppers, red onions, tomatoes, cucumbers, avocados and olives. Drizzle the veggie with some lemon juice for added zest. Add some feta or mozzarella cheese for extra flavor. Grill the pocket sandwiches until they are golden and the cheese has melted. For those who love meat you can add cooked shredded chicken or ground beef inside together with the veggies and cheese.
What if I don't have pita bread on hand?
No worries! You can make delicious pita sandwiches with either tortillas or flatbread. Just use the same filling ingredients as you would for pita bread and enjoy a tasty, healthy meal! So don't let a lack of pita bread stand in your way – get creative and experiment with other types of breads to create unique and tasty recipes.
What type of cheese is best for pita sandwiches?
Feta cheese is a great option for adding flavor to your sandwich, but other options such as mozzarella or provolone are also delicious.
Is it possible to fill pita pockets without using oil?
Yes! You can use a non-stick skillet and roast the vegetables without any oil if you prefer.
How can I make the sandwiches healthier?
You can add a few tablespoons of hummus to your sandwich for extra protein, or try replacing the cheese with tofu for an even lighter option. Additionally, adding plenty of fresh vegetables will increase the nutrient content and make it a more wholesome meal.
Is it possible to make the pita sandwich ahead of time?
Yes, you can prepare the ingredients in advance and then assemble the sandwiches when you're ready to eat. Simply warm up the vegetables and cheese before grilling the pocket sandwiches. You can also assemble the pita pockets but grill just before serving.
By following the easy steps below, you can enjoy a delicious and healthy vegetarian pita sandwich in no time. Whether you're looking for a quick lunch on the go or something to whip up for dinner, this recipe is sure to hit the spot. So why not give it a try and let me know what you think! They are so incredibly easy to make and taste great with a simple side of fresh salad or just on their own. You can also add some hummus if you want an extra bit of flavor and protein. Have fun experimenting and enjoy!

While I'm a big fan of using garlic in my foods, I skipped the garlic for this recipe as I had a meeting right after lunch but if you're a big garlic fan as myself, these would taste even more awesome with a little bit of smashed garlic mixed in. The ingredients listed below are for a full medium pita bread, divided in 2 sandwiches; adjust as needed.
vegetable oil
zucchini or squash, diced
red bell pepper, diced
frozen peas and carrots
salt and black pepper to taste
dry thyme
provolone cheese
pita bread
You will also need:
How to make pita sandwiches?
Heat oil in a skillet and roast zucchini for a minute.
Add red peppers, frozen peas and carrots, salt, pepper and thyme and roast for 2 more minutes.
On a cutting board, slice the pita bread in half.
Fill half of these pitas with veggie then add a couple of teaspoons of cheese on each.
Fold and grill until the cheese melts.
Enjoy your delicious pita sandwich recipe!
So if you've been looking to add a bit of variety to your regular lunch routine, give this vegetarian cheesy pita sandwich a try! With its delicious flavor and healthy ingredients, it's sure to make your next meal one to remember!
Pin to save for later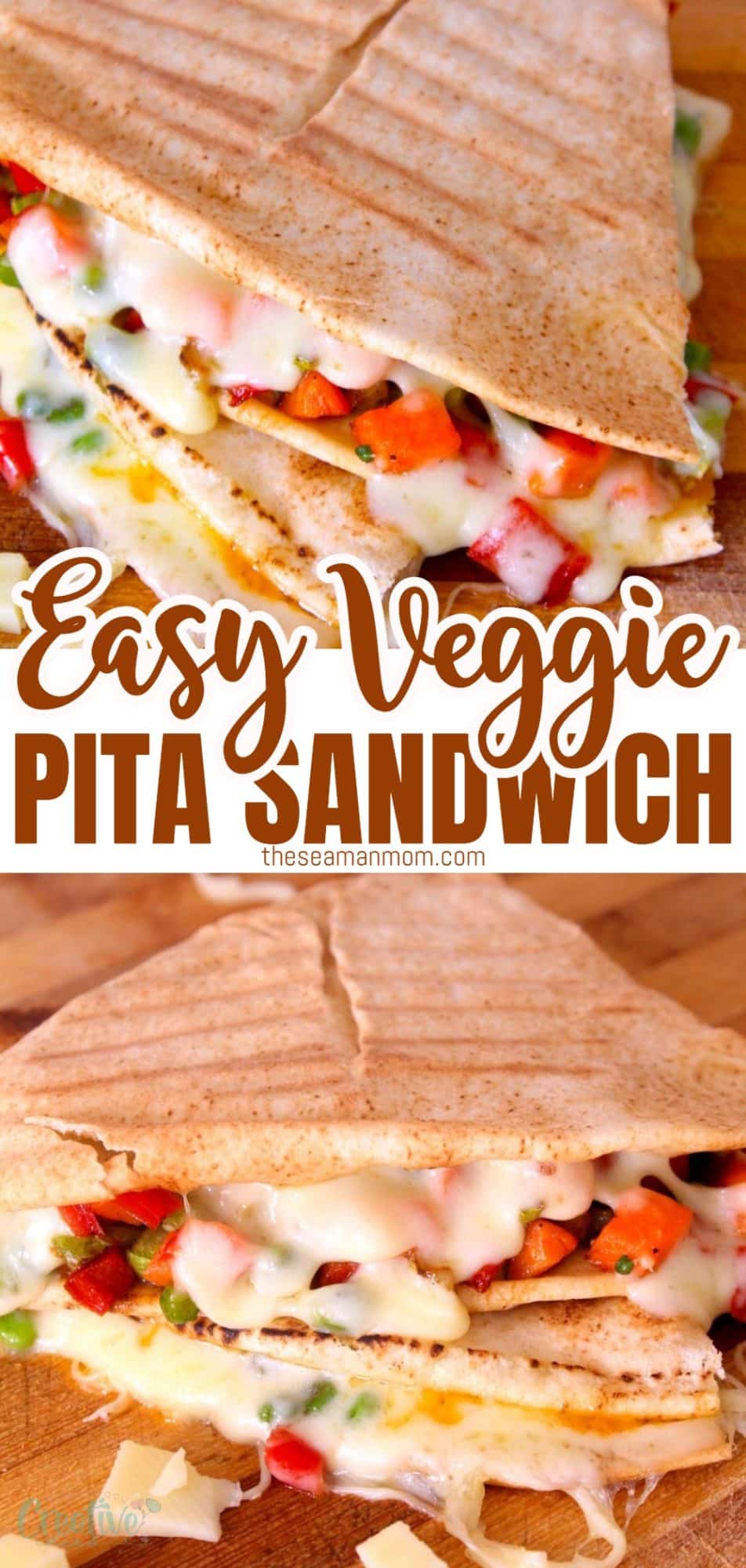 Print the recipe card
Pita Sandwich Recipe
Create a delicious vegetarian cheesy pita sandwich in just 10 minutes! Perfect for a quick, tasty lunch or dinner, these pita pockets are sure to be a hit!
Ingredients
1

tablespoon

vegetable oil

1/2

zucchini

medium, diced

1/2

red bell pepper

diced

1

cup

frozen peas and carrots

salt and pepper to taste

1/4

teaspoon

dry thyme

1

cup

provolone cheese

shredded

1

pita bread

medium

3

garlic cloves

optional, smashed
You will also need:
non stick skillet

bamboo spatula

cook's knife

bamboo cutting board
Equipment
Knife

bamboo cutting board
Instructions
Heat oil in a skillet and roast zucchini for a minute. 

Add bell peppers, frozen peas and carrots, salt, pepper and thyme and roast for 2 more minutes.

On a cutting board, slice the pita bread in half.

Fill half of each of these halves with veggie

Fold each in half to close

Grill until the cheese is melted
More pita recipes you might like: