Article may contain Amazon & affiliate links. As an Amazon Associate I earn from qualifying purchases at no additional cost to you.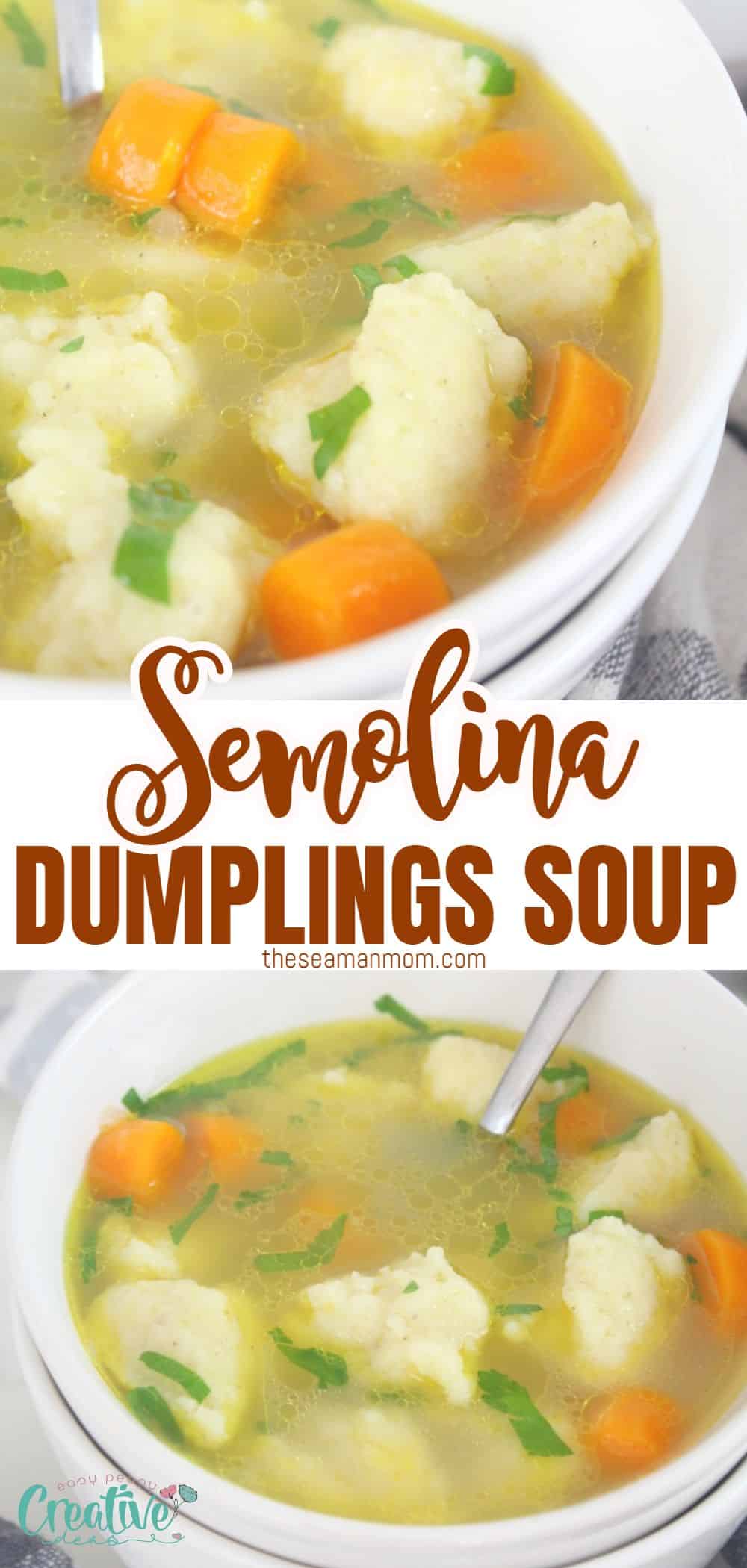 Discover the secret to making Semolina Dumplings Soup – a popular dish in German-speaking countries and amongst people of German origin. Not only is it easy to make, but with its tantalizing taste, you'll want this delicious entrée or warm winter meal every night! Let me show you how to quickly rustle up this yummy delight that will surely satisfy even the pickiest eaters!
Semolina dumplings soup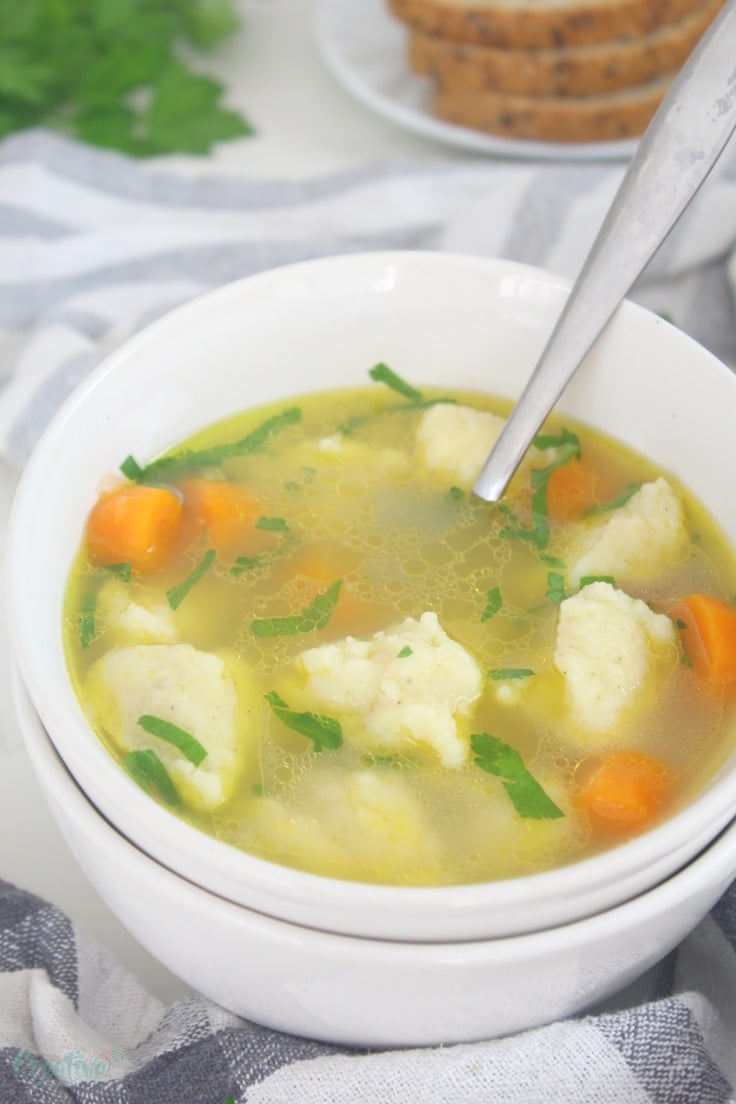 This comforting and delicious semolina dumplings soup is Ellie's most favorite dish ever, she eats about 10-11 dumplings at a time, for lunch and dinner! Which turns out to be a big problem as we can't cover a healthy balanced diet of veggies, fruit and dairy for the rest of the day. I mean how much a kid can eat in one day after she's been stuffing her face with this nourishing soup? Twice!
Check out these delicious soup recipes:
To make the perfect chicken and dumpling soup is important to choose the right type of semolina. Coarse ground wheat farina is the best in this case. Germans call it Griess and apparently it's also common in India, named Sooji.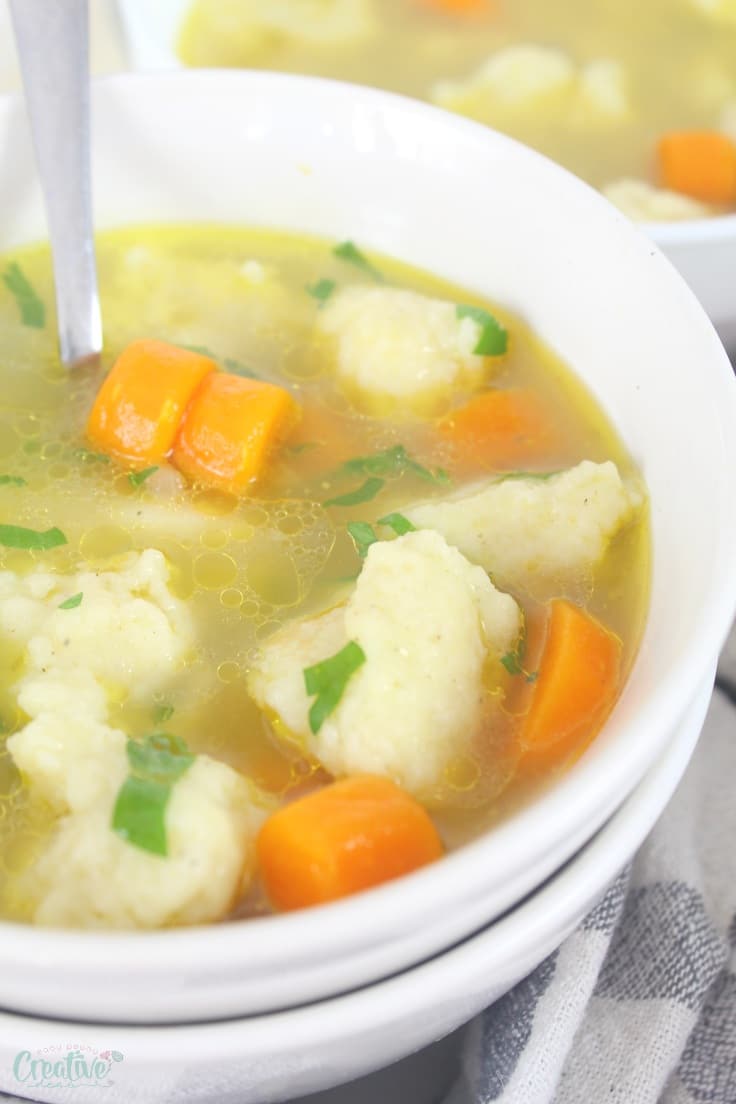 The traditional German recipe is made with beef stock, but chicken is also a great option (and the most flavorful in my opinion). Make sure you use a bit of chicken fat to give the soup a fuller taste. In some European countries, people use to say "old chicken make better soup" and that's true. Older chickens (or hens/roosters) tend to be more fat and thus the richer taste.
How to make the perfect dumplings?
There are two ways of cooking the dumplings.
You can cook the dumplings either in salted water and add them to the soup later or directly in the broth as I do. I think they taste better when cooked in broth as the flavors from the soup transfer to the dumplings while boiling. But you may end up with small pieces of dumplings floating around and the soup which may end up not so clear. To keep the soup clear, boil the dumplings in water seasoned with a bit of salt and only add them to the soup when serving.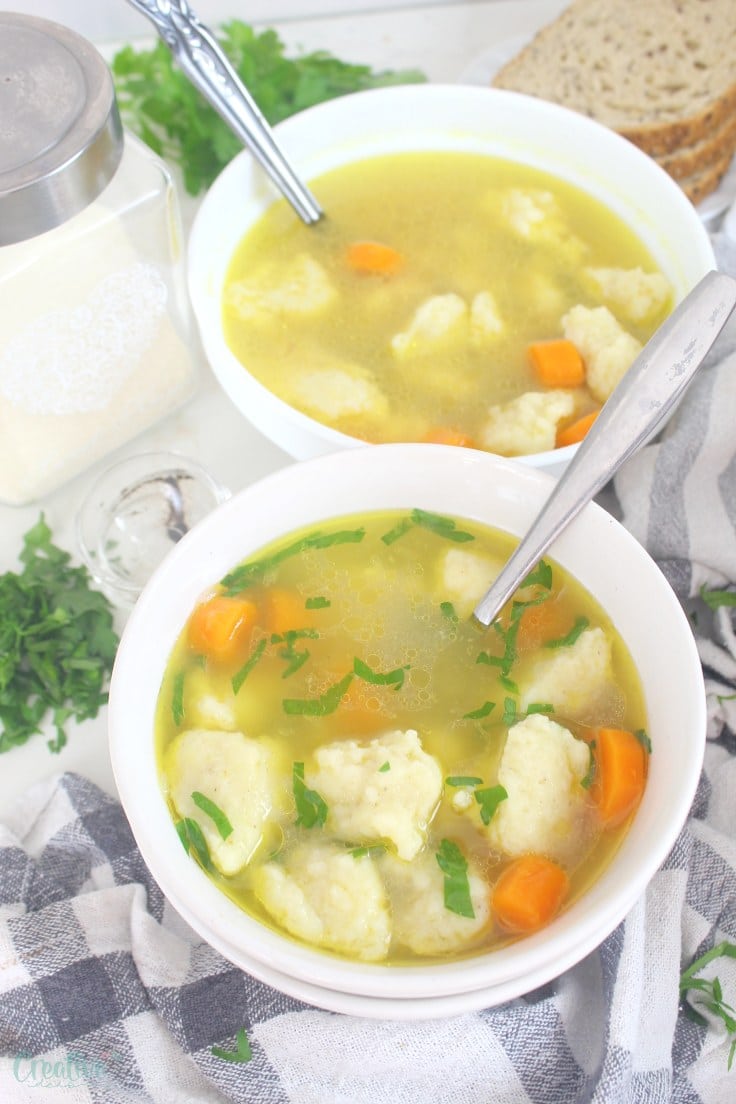 At first, the dumplings will fall to the bottom of the pot, but will rise when the semolina starts to cook and swell. Once floating and fluffy they are ready to take out and serve. Don't keep them in liquid as they will turn out mushy over time. Only ladle the hot soup over the dumplings when serving.
Or if you prefer the dumplings cooked directly in the soup, make sure you allow the semolina to absorb the eggs for a few minutes and form the dumplings with a spoon while pressing the dumplings so they're compact not loose.
Sprinkle with freshly chopped parsley or chives if you like to add a little more color and flavor. This step is optional, but it does add a bit of freshness too.
What kind of broth works best for semolina dumplings soup?
The best broth for this delicious semolina dumplings soup is a homemade one. Store-bought will never have that rich, healthy taste and you will miss out on amazing flavors. You can opt for beef or chicken broth with the latter being the most popular.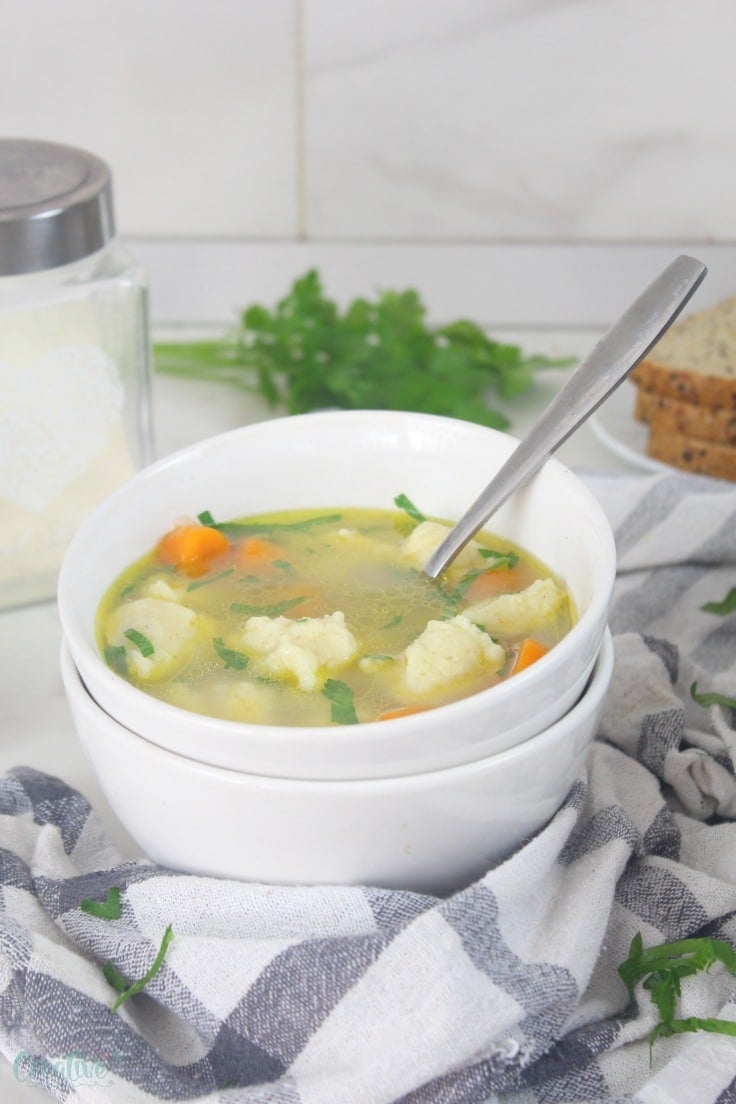 Why do my dumplings fall apart in soup?
Semolina dumplings may fall apart for three main causes:
The water temperature may be too high and the water is boiling too much. The water should only simmer when you put the dumplings in, so that they don't move and break;
The batter can be too soft and cause the dumplings to dissolve. This is why it's important to leave it rest in the fridge for 15 minutes, so that the semolina can absorb the moisture and get more firm; or allow the semolina to absorb the egg and fluff up before forming the dumplings and put them in soup.
They may be too loosely shaped. Semolina dumplings can break apart if they are not tightly shaped. They should have smooth surfaces and clear edges, so make sure you press well when shaping.
What to serve with dumplings soup?
Serve this semolina dumplings soup with some bread or biscuit on the side. I like to have a hearty slice of rye or wheat bread, but you can use whatever type of bread you like or have on hand.
If you want to make it a more filling meal, top with some cooked shredded chicken breast or thighs. You can also add some chopped vegetables such as carrots, celery, peppers or peas for extra nutrition and crunch.
Additionally, you can garnish with freshly chopped parsley or chives for an extra hint of freshness.
Dumplings soup recipe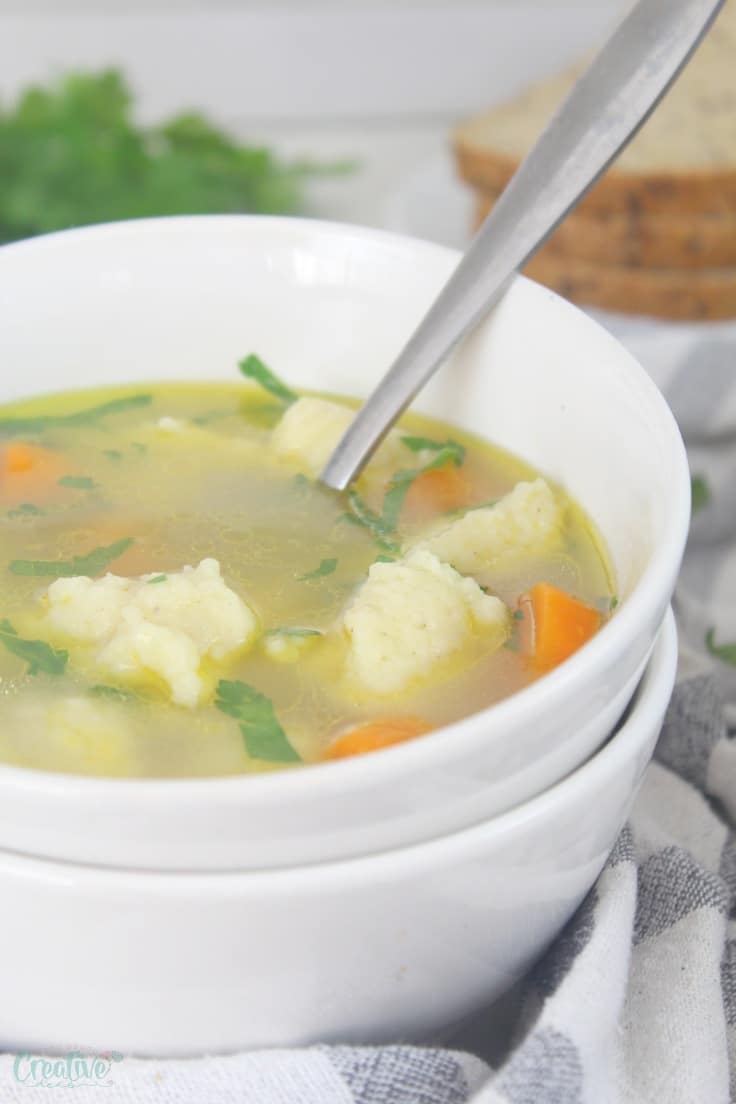 This easy chicken dumpling soup is an amazing soup for someone with a cold or the flu! The nutritious vegetables and the protein left by the chicken (or beef if you choose it) are great healers. My mom would always take out a pot and begin preparing this delicious comfort food whenever I had a runny or stuffed nose and it was just sooo conforting!
Ingredients:
For the soup:
Chicken parts – I like to use a combination of legs, breast, wings and backs. The legs, wings and especially the backs have a lot more fat and flavor than the breast and that's what makes this soup tasting super special and simply amazing.
Carrots – You can use whole carrots and then slice them when cooked but you could also slice them while fresh and cook them with the chicken parts
Onion – Use a large onion (yellow or Spanish onions are best for this soup), peel it and place it in the pot without chopping if your family doesn't like to taste and feel onions in their soup. Once chicken is cooked, remove the onion and discard. If you use chopped onion it will change the flavors a little, the soup will taste a bit like a mix of onion soup and chicken soup.
Water – Add as much as you like, depending on how thick or thin you like your soups.
Chopped parsley – This is optional but gives the soup extra flavor and makes it look more appealing. If your kids don't like greens in their soups, place a whole bunch of parsley in the soup, without chopping first and serve the soup to kids without greens.
For the dumplings:
Eggs – we prefer free range for the healthy factor, color and flavor
Vegetable oil (or melted butter for extra flavor and creaminess)
Semolina – Medium semolina works best but I've had good results with fine semolina too.
Salt – Add salt to the dumplings after beating the eggs.
optional – a pinch of garlic powder for extra flavor and/or your favorite herb (thyme powder works well with this recipe)
How do you make dumpling soup from scratch?
Start with the chicken, clean, wash and remove unwanted parts.
Peel the onion and carrots.
Place water in a soup pot, add chicken and let boil on the stove for 20 minutes.
Add onion and carrots and boil for additional 20 minutes or until carrots are tender.
Take the chicken out. The boiled chicken can be used for other dishes, grilled or fried. You can save some of your homemade chicken broth to use in this delicious rice pilaf recipe or in this slow cooker chicken and pea stew.
Add some more water if needed, add a pinch of salt.
Prepare the dumplings: In a medium bowl, crack the eggs, beat them well with a fork, add salt and mix then stir in oil and semolina. Mix until smooth. After the composition is well mixed, scoop out with a spoon and drop dumplings in the soup (your homemade dumplings will break if you put them in the pot when the water boils so turn the heat to low while dumping the dumpling batter in). Boil for 10-15 minutes on medium heat to medium-high heat until dumplings are soft and fluffy.
Sprinkle chopped parsley, chives or scallions!
How to store the leftovers?
The leftovers can be kept in the refrigerator, in an airtight container for up to 4 days. You can also freeze this soup and store in the freezer for up to 3 months! When ready to serve, thaw it in the fridge over night.
Whether you're looking for something warm and comforting on a cold day or just want an easy weeknight meal, semolina dumpling soup is a perfect choice. Try it today and enjoy its delicious flavor and the comforting feeling it brings!
Pin to save for later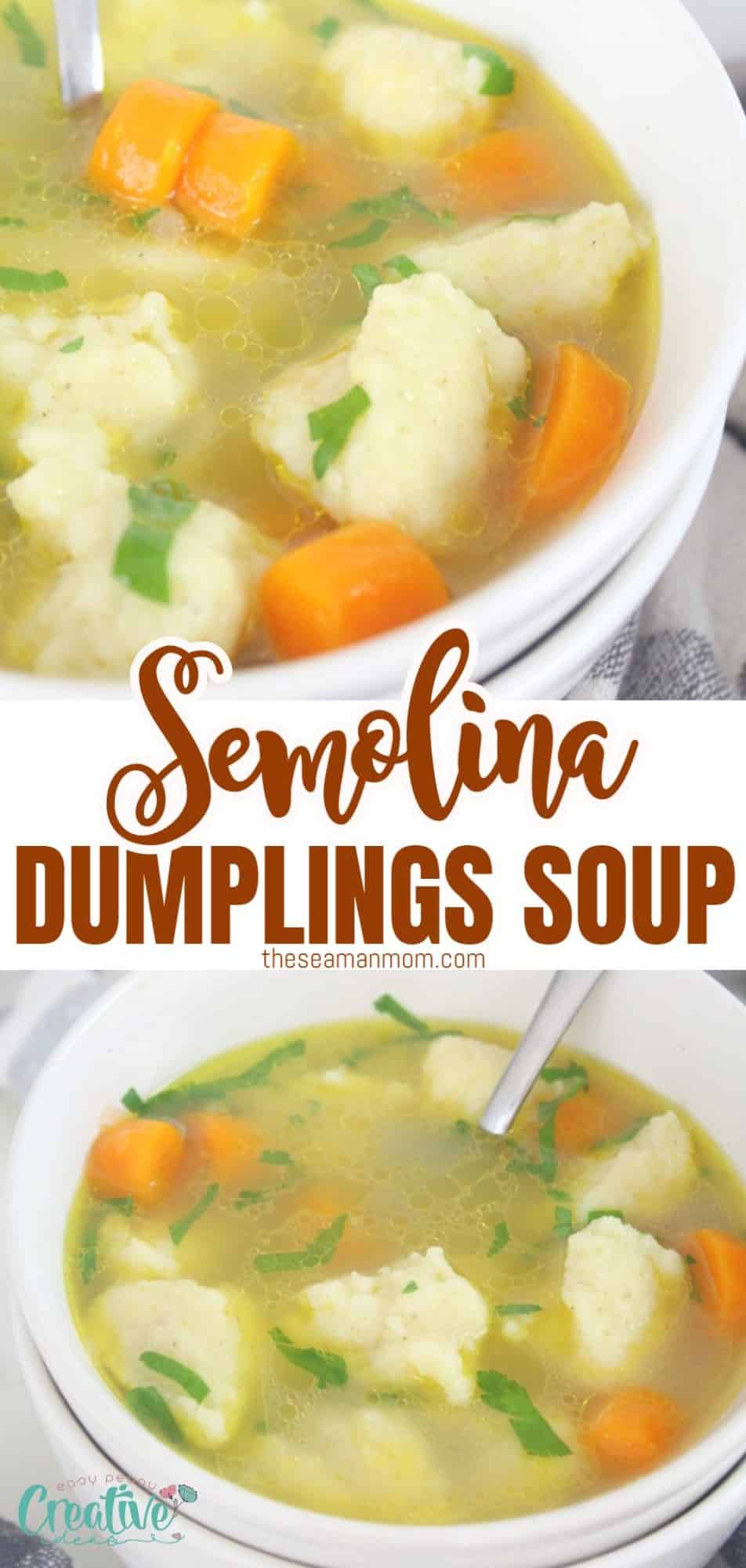 Print the recipe card
Semolina dumplings soup recipe
Semolina dumplings soup is very famous in Austrian and Bavarian restaurants and is a popular dish throughout all the areas once inhabited by people of German origin. These delicious dumplings are super quick and easy to make and taste amazing!
Ingredients
1

lbs

Chicken parts

legs, breast, wings

2

large carrots

1

onion

8

cups

water

1/2

tsp

salt

1/4

tsp

pepper

Chopped parsley 
For the dumplings:
2

large eggs

3

tbsp

oil

8

spoonful

semolina

pinch

salt

pinch

pepper
Instructions
Start with the chicken, clean, wash and remove unwanted parts. Peel the onion and carrots and chop or cut if you prefer to

Place the water in a soup pot, add chicken and boil for 20 minutes. Add the carrots and onion and boil for additional 20 minutes

Remove the chicken. The boiled chicken can be used for other dishes, grilled or fried. Or you can remove the meat from bones and place it back into the soup pot. Add more water, salt and pepper.

Prepare the dumplings: In a bowl, crack 2 eggs, beat them well with a fork, add salt and pepper, add 3 tablespoons oil and mix, add 8 tablespoons semolina and mix until smooth. After the composition is well mixed, scoop out with a spoon and put them to boil immediately in the soup. Boil for 10-15 minutes.

Sprinkle the chopped parsley.