You'll love this super yummy, comforting and easy to make noodle soup
Article may contain Amazon & affiliate links. As an Amazon Associate I earn from qualifying purchases at no additional cost to you.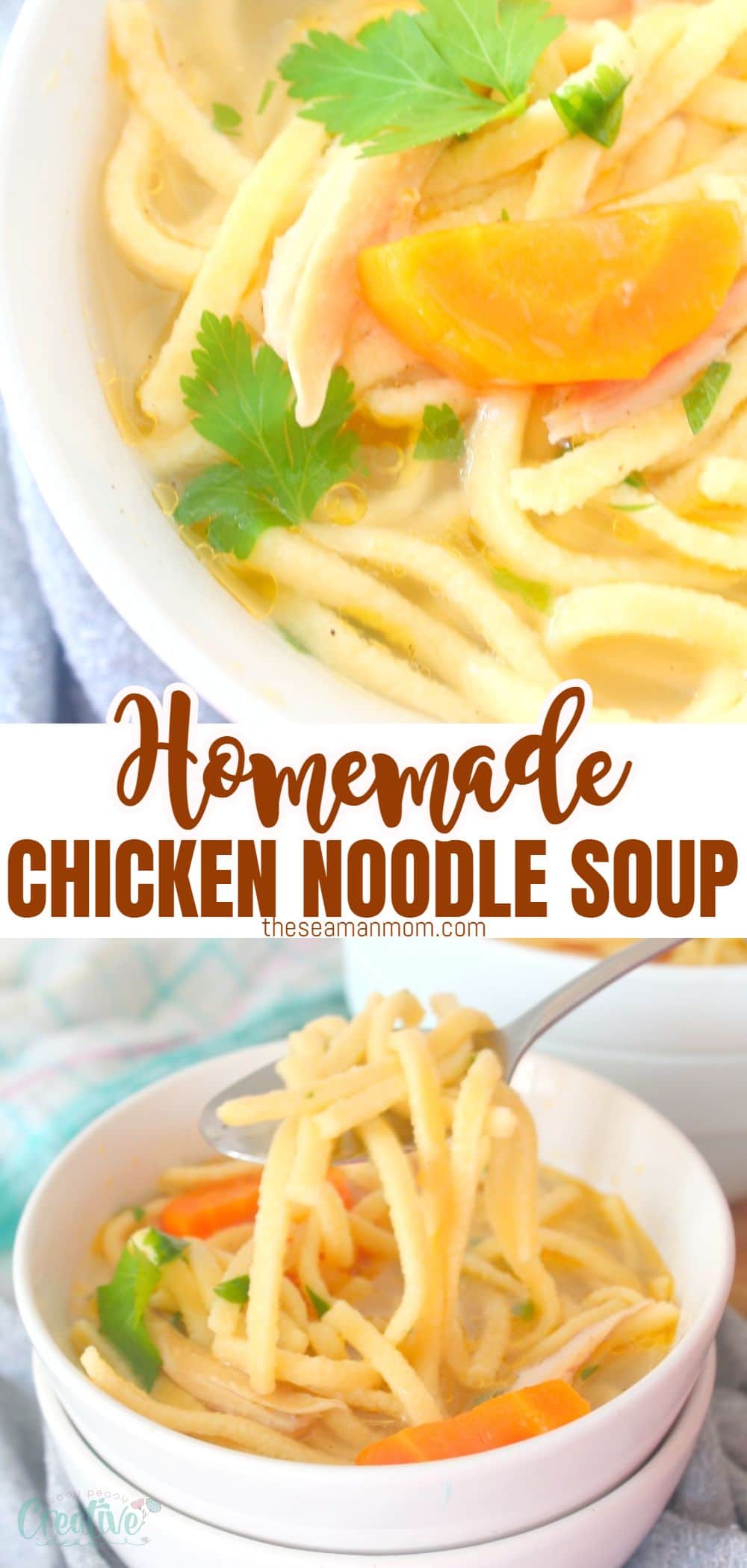 Nothing heals a cold quicker than a nice bowl of hot noodle soup! At home, we all love a hot chicken noodle soup, so I do make it quite often.
Noodle soup
A hot chicken noodle soup is the classic comfort food for cool days or when feeling sick. It's packed with nutrients like proteins and vitamins from vegetables, just what you need to boost your immunity and feel great in no-time.
The greatest part – this simple noodle soup recipe will only keep you in the kitchen for about half an hour. Perfect for making during busy weekdays after work!
Other soup recipes you will love:
My simple chicken noodle soup uses just a few ingredients and chances are you already have most of them: chicken, noodles, basic vegetables and seasonings.
Homemade broth is the healthiest and most tasty, but you can also use store-bought if you don't want to make your own or want to speed up the process. For a splash of color and extra vitamins, serve with chopped parsley, dill or chives, garlic and freshly ground pepper depending on your taste. These also add a refreshing flavor to the soup.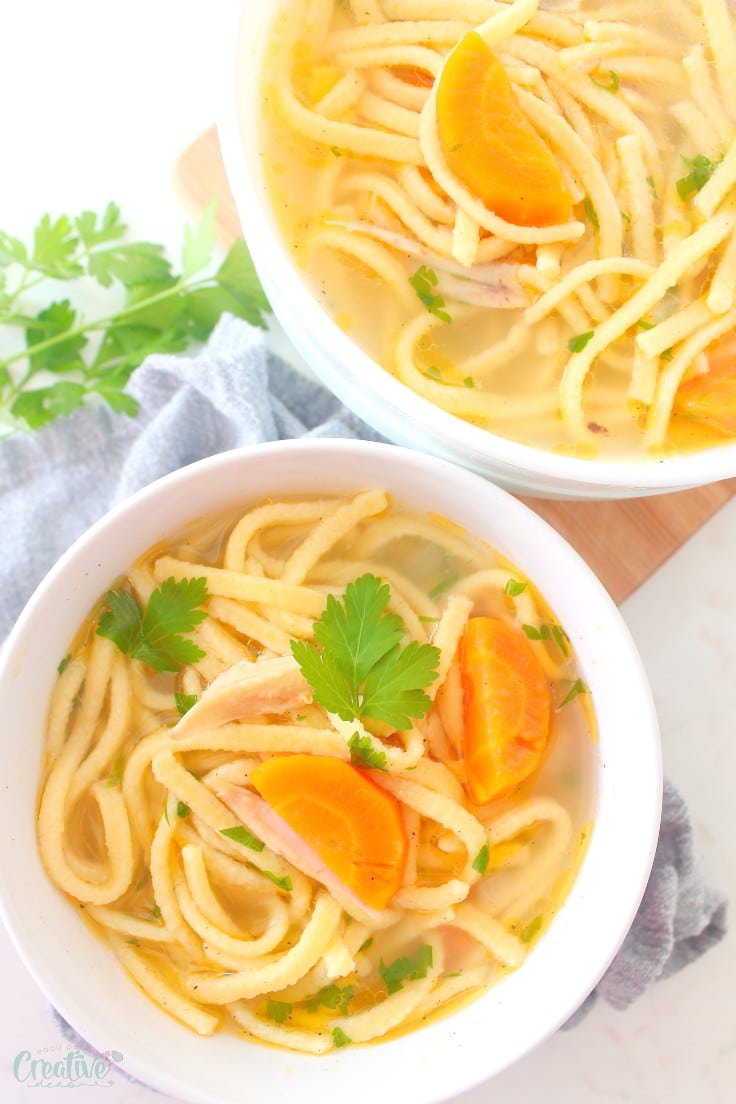 How to add more flavor to my noodle soup?
Cooking the chicken parts in chicken stock adds a lot more flavor to your soup then cooking in plain water. You can save leftover chicken bones and vegetable scraps to make stock for future soups and other great recipes.
Can I use chicken breasts instead?
Yes, you can totally replace the chicken wings and backs with breast pieces. However chicken breast has less fat and the flavor will be a little different.
Make sure the chicken breasts reach the proper internal temperature of 165 degrees and are cooked through. After cooking, set aside to cool on a plate, shred it and use the meat in other recipes or put back into the soup pot.
How to keep the chicken tender?
The secret to this one is not leaving the chicken in broth after cooking. Remove it while still tender, remove the meat from bones and return it to the soup just before serving.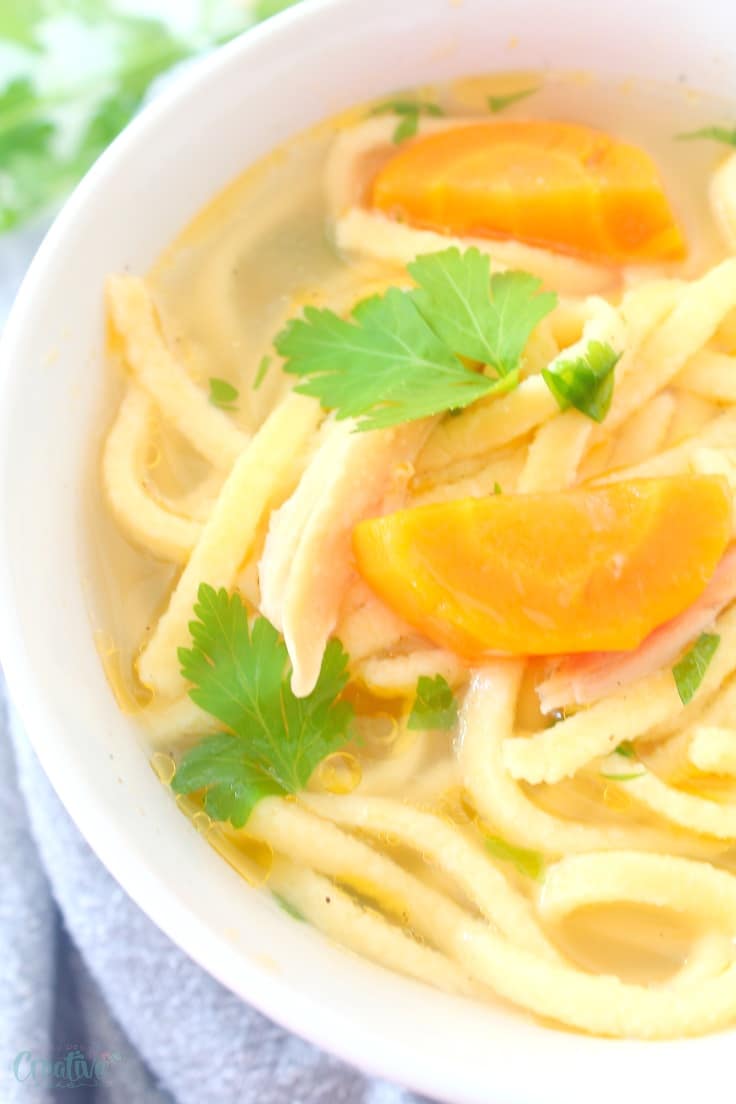 What noodles should I be using?
This is more a matter of taste. Some like using spiral noodles or egg noodles. They make the soup hearty and more filling. Slim noodles are also great if you want a thinner soup. To keep the soup clear, store the noodles separately and only ladle the soup on top of them when serving. For this soup I opted for German egg noodles (known as Spätzle or Spaetzle noodles)
To make the soup gluten-free, just add your favorite gluten-free noodles.
Is chicken noodle soup really curing?
Research shows it does have mild anti-inflammatory effects and does help clear the nose passages. The broth also helps hydrate the organism and the protein from the chicken helps you strengthen more quickly. So while it might not be a medicine per se, this noodle soup helps your body feel better and your mind happier, speeding up the recovery.
Can I store leftover noodle soup?
We usually like to make a big pot of soup and have it for most of the week. And this homemade chicken noodle soup does taste better when fresh. Still, the noodles can turn mushy if storing longer than 1-2 days, so consider storing them separately or cooking in a bit of stock right before serving the soup.
To refrigerate it, let the soup cool completely, cover and place in the refrigerator. If stored separately from the noodles, it should keep for up to a week. With noodles in, it should be good for up to 4 days.
You can also freeze it for up to 3 months without the noodles and only add them when you reheat it. To reheat the noodle soup, mix together the soup and cooked noodles and heat in the microwave or on the stovetop. Cook the noodles in chicken stock before adding to the soup.
I'm sure you all love a hot chicken soup, so please tell me about your favorite seasonings or add-ins that make it unique for you.
Homemade chicken noodle soup recipe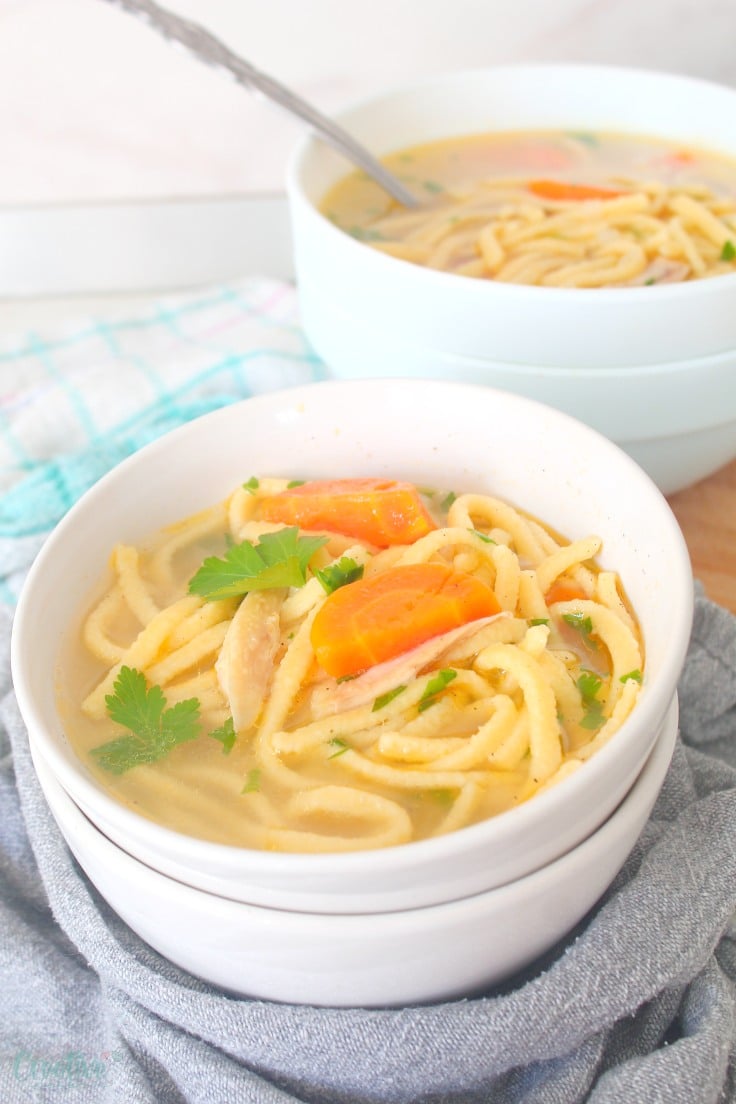 Chicken noodle soup ingredients
chicken wings and backs – see notes above if you prefer to use chicken breast. Consider adding a bit of oil when cooking with chicken breast to add a little fat to the soup.
carrots – we prefer the carrots sliced but grated or whole carrots work just as well.
onions – I used chopped onions but if you don't like your soup to smell and taste like onion, use whole onion, peeled and remove it from the soup half way through cooking.
salt and peppers to taste
chopped parsley or dill
German egg noodles – any noodle would work but I found this type of noodles really makes soups taste homemade and comforting!
How to make this chicken noodle soup recipe?
This soup is probably the easiest soups ever and quite fast, making it perfect for busy families.
Put the chicken parts in a soup pot, cover in water and boil until the meat is tender.
Half way through cooking the chicken, add sliced carrots and onion.
When the chicken is cooked, remove the onion (if used whole) and the chicken from the soup pot. Remove the meat from the chicken and use in other recipes or return to the pot.
Add the noodles and cook according to the package.
Add salt and pepper and turn the heat off then add chopped parsley.
Pin to save for later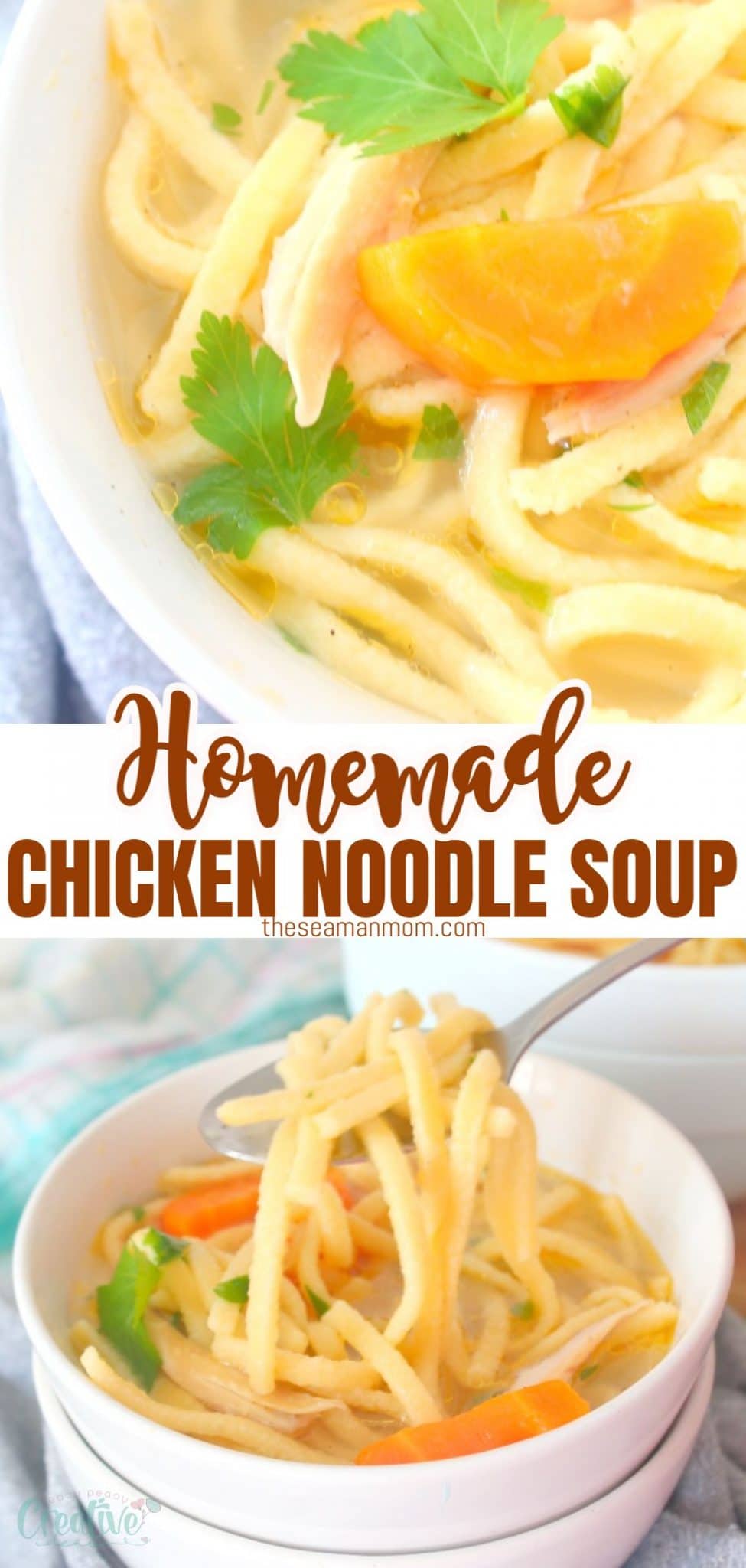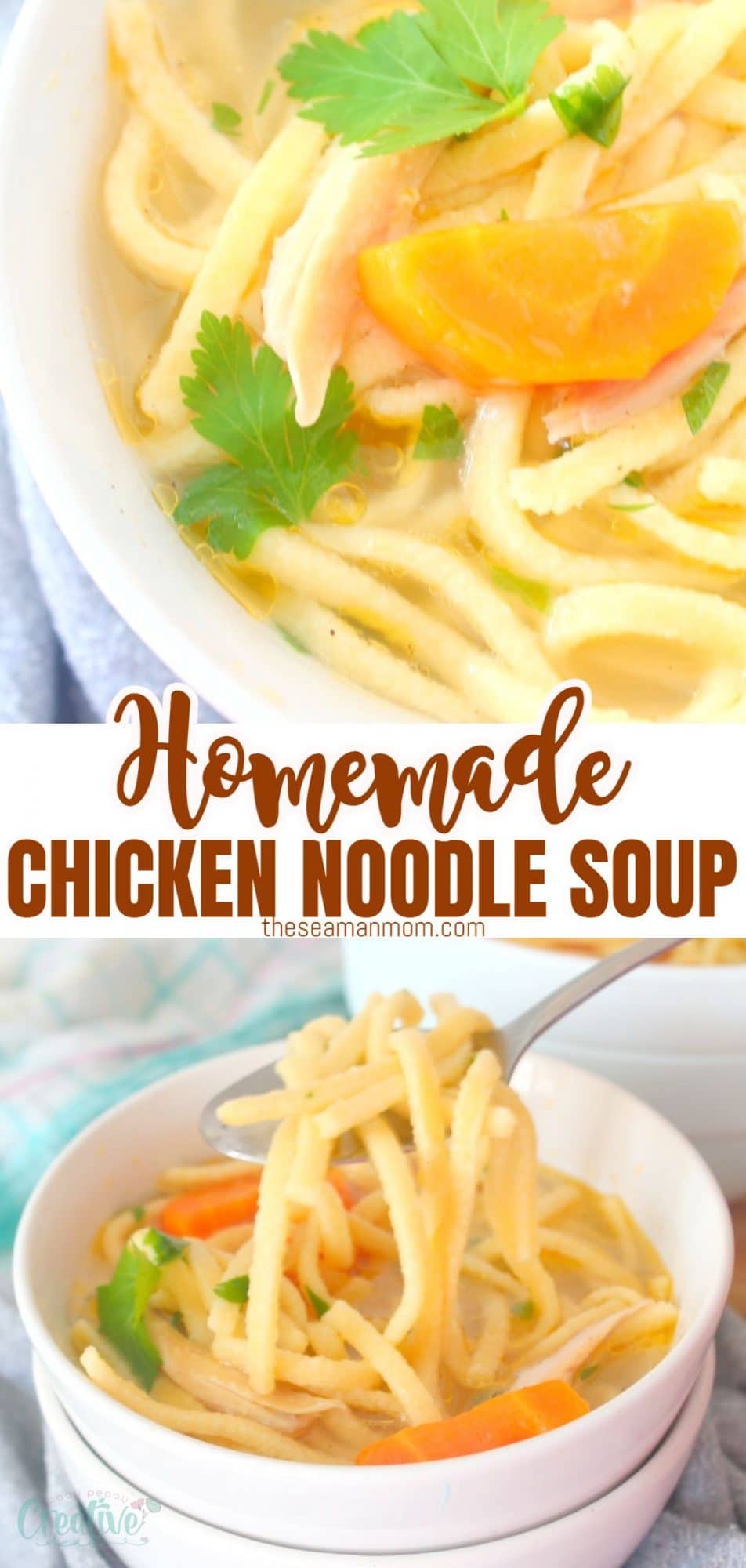 Print the recipe card
Chicken noodle soup
A hot chicken noodle soup is the classic comfort food for cool days or when feeling sick. It's packed with nutrients like proteins and vitamins from vegetables, just what you need to boost your immunity and feel great in no-time.
Ingredients
1

lbs

chicken parts

such as wings and backs

2

medium carrots

sliced

1

large onion

whole or chopped

3

cups

German egg noodles

uncooked

salt

to taste

pepper

to taste

bunch parsley

chopped
Instructions
Place the chicken in the soup pot and cover with water. Cook on the stove, on high heat. Bring to a rolling boil then turn the heat to medium. Continue cooking until the chicken is tender, for about 30 minutes. Add more water as needed to keep the chicken covered in water. Skim the soup periodically.

Meanwhile, clean the carrots and slice and peel the onion (chopping is optional). Add them to the pot half way through the cooking time for the chicken.

After the 30 minutes time frame, remove the chicken from the pot (and the onion if using it whole). Allow the chicken to cool then remove the meat from the bones and use in other recipes or return to the soup pot.

Meanwhile, add the noodles to the pot and cook as instructed on the noodle package. Add salt and pepper to taste.

Turn the heat off, add the chicken meat and sprinkle parsley. Serve hot or warm.
Most popular recipes: