Only 6 Ingredients taco soup recipe
Article may contain Amazon & affiliate links. As an Amazon Associate I earn from qualifying purchases at no additional cost to you.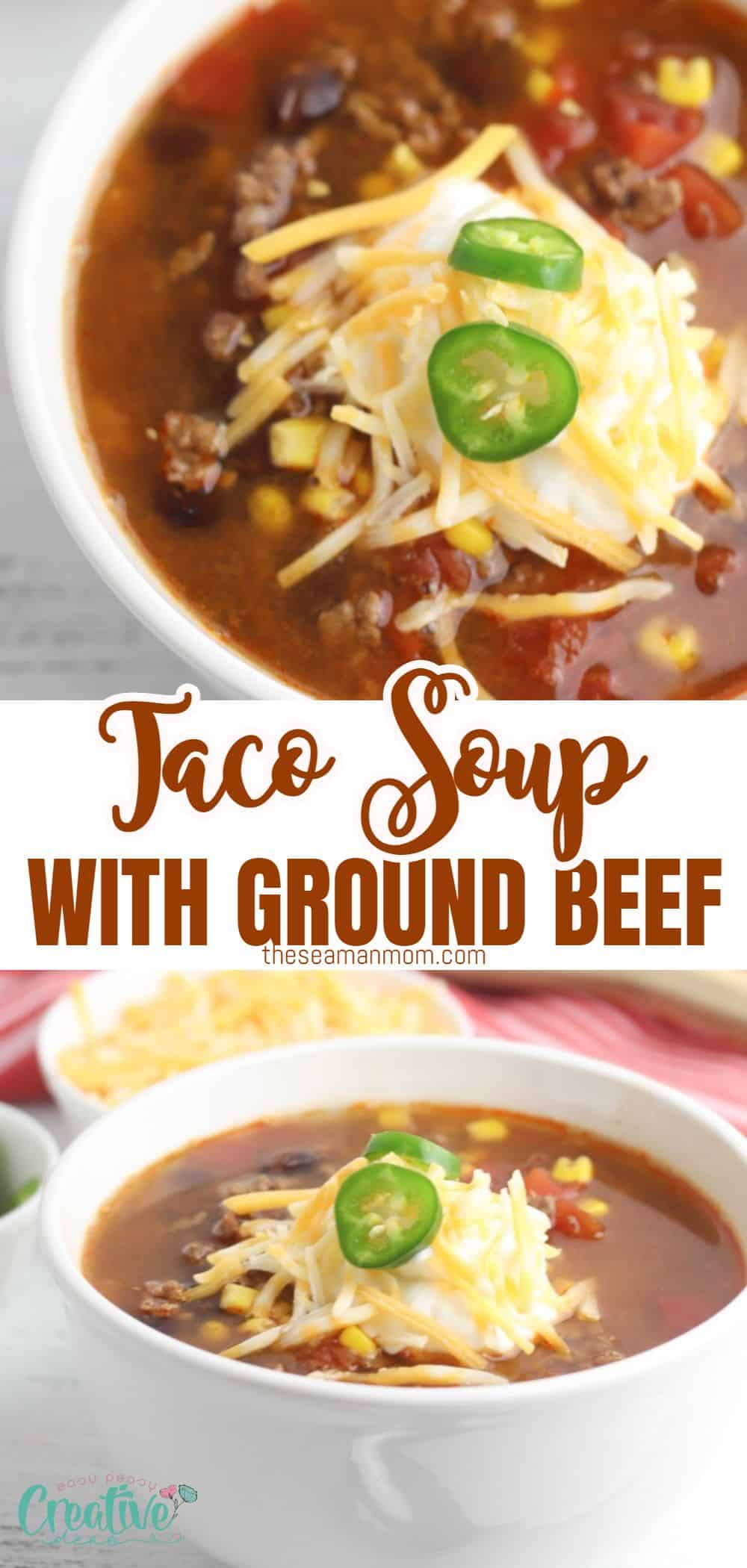 Prepare this delicious one-pot beef taco soup recipe effortlessly with just six simple ingredients. In a matter of minutes, you'll have a delightful meal that will surely please your taste buds.
Beef taco soup recipe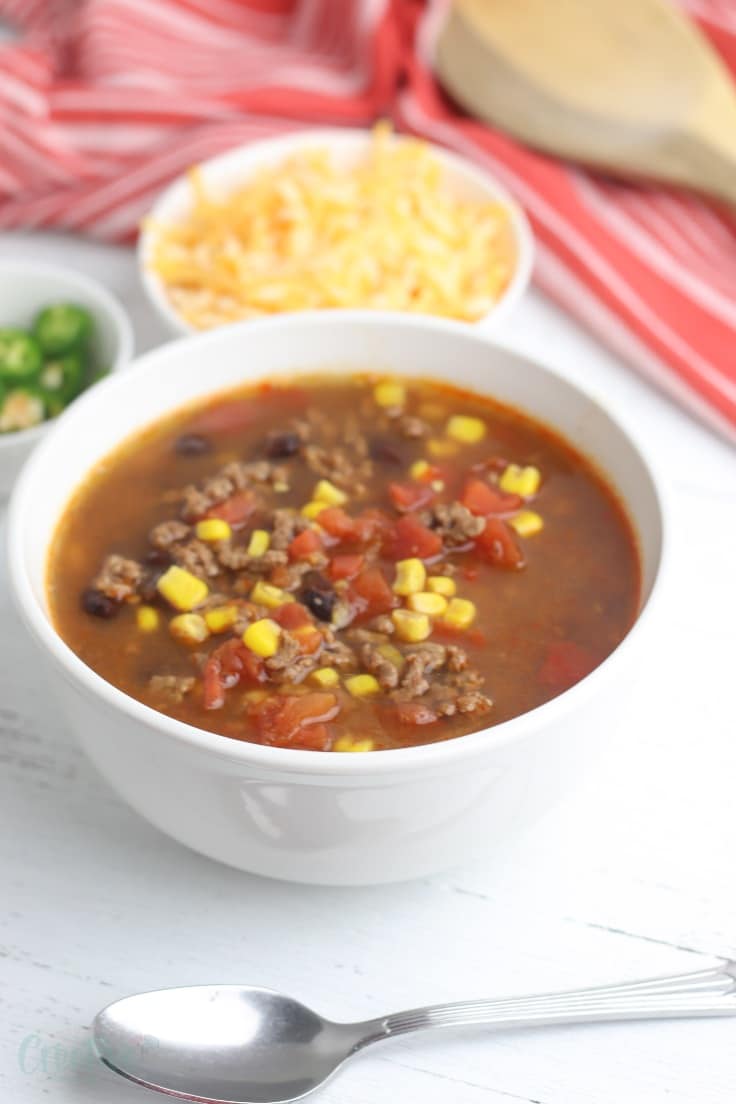 Soup is a classic cold-weather meal. But most soup recipes are time consuming and difficult to make. But not this delicious beef taco soup recipe! Just add six ingredients to a soup pot, then simply let it simmer for an hour and enjoy a yummy bowl of taco soup for dinner tonight.
For all Mexican food lovers, this soup will remind you of the famous beef chili, but brings in everything that is usually found in tacos and the same flavors: salsa, chili, beans, ground meat, corn, etc. It is just thinner and great for dinner.
As this homemade taco soup recipe uses a lot of canned ingredients like beans, tomatoes or corn and it's very likely you already have these in your pantry, it comes in very handy when you're short of cooking ideas. If you're a big fan of simple easy soup recipes, this will be your ultimate go-to, no matter the time of year!
More soul-warming soups you will love:
How do you customize taco soup?
Taco soup is gluten-free and dairy-free, so it's great for those who don't tolerate them. Adding floury or dairy ingredients is optional, as a topping.
And the best part about this easy taco soup recipe is that it can be customized to suit your family's tastes! Does your family enjoy spicy dishes? Use a spicy variety of canned tomatoes with chilies or top your soup with fresh jalapenos. Would your family rather avoid hot spices? Opt for a milder alternative by using diced tomatoes without chilies.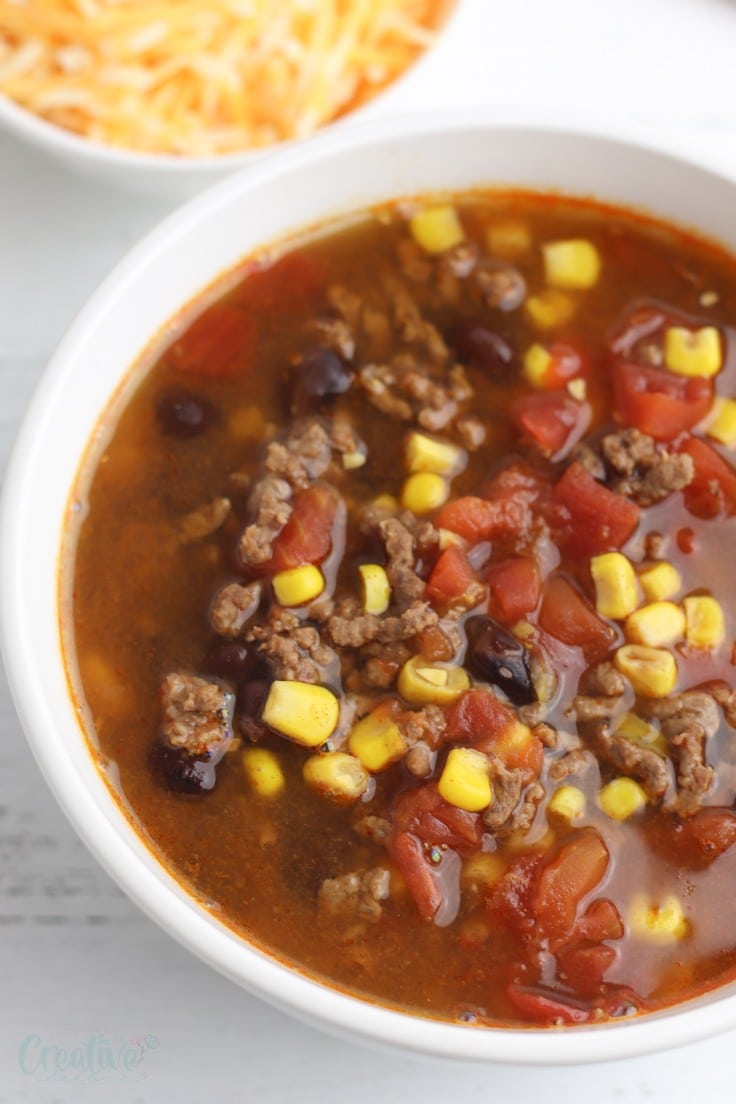 Switch the black beans with pinto beans or red beans if you like them better, add ranch dressing mix, change the spices as you like them or add some more seasoning such as garlic powder, onion powder, a pinch of cumin or green chilies or serve with some freshly squeezed lime juice. Taco seasoning is a must, though.
Taco soup tips:
Ingredients tips
Canned beans are easier to use, as it will skip the rehydration process. Though, if you have dry beans, just soak them in water overnight and they'll be good;
You can use any other veggies you like: mushrooms, peppers of any kind, zucchini, cucumbers, whatever you love;
You can use homemade or store-bought taco seasoning. The advantage of home-made seasoning is that you can create your own favorite flavor by adding more or less of each ingredient. It's also super easy to make and chance is you already have the ingredients;
You can replace the beef broth with chicken broth or vegetable broth. You can add beef broth or beef bouillon to add a beef flavor without actually using it;
Storing tips
Taco soup can be stored in the fridge for up to five days;
You can freeze the soup for up to 3 months and it will be just as tasty. Just put it in a freezer-safe container. When you want to reheat, just thaw it in the refrigerator overnight, then heat in a microwave or on the stove;
Variations
If you have unexpected guests, you can easily double or triple it by adding more broth;
For a hefty brunch, you can add a boiled or cooked egg on top;
The vegetarian version will have no meat and uses vegetable broth. You can add another can of beans for more protein or add more vegetables for more bulk. You can use potatoes, carrots or bell peppers.
No matter how you plan to modify this beef taco soup recipe, start by browning a pound of ground beef in the bottom of your Dutch oven or stock pot. No need to dirty up a skillet just to brown your ground beef! Make this beef taco soup a one-pot meal by cooking everything in the same pot. Yaaay for fewer dishes!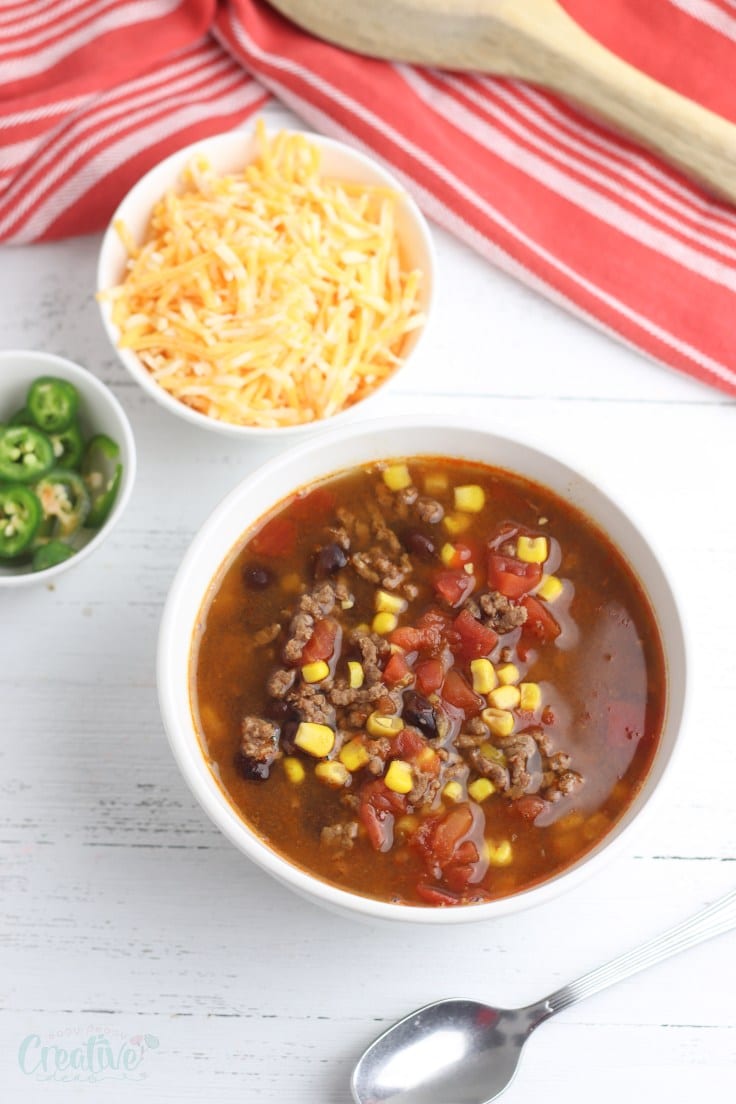 How can I thicken my taco soup?
If you prefer a thicker soup, you can mix together a couple tablespoons of cornstarch with some cold water and add it to the soup. This will thicken the broth as it cooks. Another option is to mash some of the beans against the side of the pot with a spoon, which will also help thicken the soup.
How long is taco soup good for?
Taco soup can be stored in the fridge for up to five days. If you have leftovers, simply store them in an airtight container and place them in the refrigerator. To reheat, place the desired amount of soup in a pot or microwave-safe bowl and heat until warmed through.
Can you freeze taco soup?
Freezing taco soup is totally possible! Add the soup to a large freezer friendly container or freeze individual servings in small bags or containers, for up to 3 months. Thaw in the fridge the night before serving the soup.
What goes good with taco soup?
When the cook time is up, pour this delicious taco soup into a bowl and serve with a selection of toppings for your family to choose from.
Some of my favorite taco soup toppings include sliced jalapeno, shredded cheese, sour cream, and tortilla strips.
Other people prefer topping with yoghurt, chopped cilantro, chopped green onion, slices of ripe avocado or hot sauce. This is a win for all the family, as you can use any leftovers you have while customizing everyone's plate differently.
Also, don't forget the lime wedges!
You could also provide your family with salty sides to dip in the soup, like tortilla chips, corn chips, or cheese quesadillas.
Also, sides like cheesy mashed potato puffs, garlicky roasted broccoli, cheese bread, spinach salad are great to make a complete and delicious evening meal.
No matter how you choose to serve this delicious beef taco soup recipe, once you try it, it's sure to be at the top of your weeknight dinner rotation throughout the cold fall and winter months.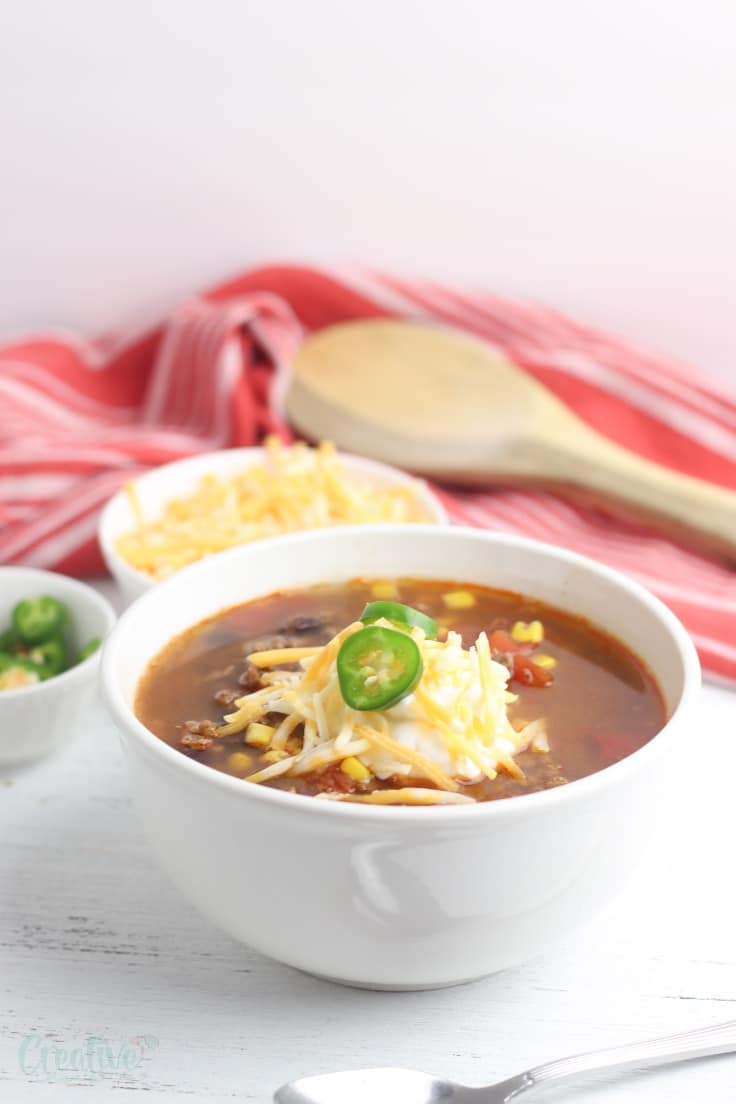 How do you make taco soup?
Prepare the beef
While traditional taco soup recipes don't call for onions, you can add more flavor to the soup by sautéing chopped onion in hot oil until soft, then add the ground beef. You can use any kind of ground meat if you don't like beef. Pork will add a bit more fat to the soup, but it will also be tasty with ground turkey or chicken.
Add the rest of the ingredients
After the ground beef is browned and crumbly, add the taco seasoning and one cup of beef broth. Stir to combine the ingredients and coat the beef in seasoning, then allow the meat and sauce to simmer for a few minutes to season the beef. Add the tomatoes with chilies (and juices), corn (and juices), beef broth and water to the pot. Pour your canned black beans into a strainer and drain the juices from the can, then rinse the beans before adding them to the pot. Stir all the ingredients to combine.
It's important to rinse the beans, as they are preserved in a salty solution which will otherwise bring a lot of sodium to the soup. Rinsing will eliminate about 40% of the salt in the can.
Cook the soup
Bring the taco soup with ground beef to a boil over medium-high heat. But after the soup starts to bubble, reduce the heat to low and add a lid to the pot. Allow the soup to simmer, covered, for an hour to help incorporate all the delicious flavors throughout the pot. Stir the soup occasionally to ensure everything is well-mixed as it cooks.
Please rate this taco soup with beef recipe and tell us how much you like it in the comments section. What do you love topping your taco soup with? Or what is your secret ingredient that makes everyone love this above all soup types?
Easy taco soup recipe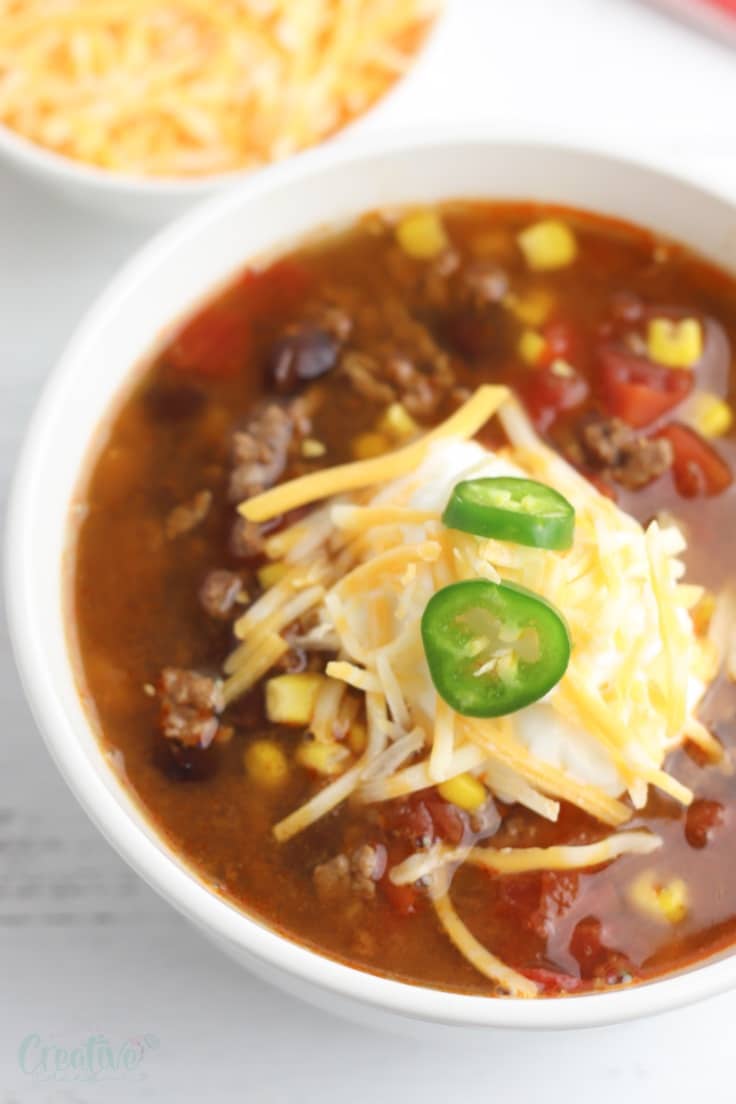 Serves 6
Prep time: 10 minutes
Cook time: 1 hour
Taco soup ingredients:
To make this delicious beef taco soup recipe you only need 6 ingredients, most of them also pantry staples so chances are you already have them in your pantry: lean ground beef, diced tomatoes with chilies, corn, black beans, beef broth and of course you'll be seasoning your soup with taco seasoning (homemade taco seasoning works too)!
How to make your own taco seasoning
To make your own homemade taco seasoning, you need ground cumin, chili powder, paprika, garlic powder, and oregano. You can find different recipes online if you don't have a favorite yet. I usually use this recipe:
1 tablespoon chili powder
1/4 teaspoon garlic powder
1/4 teaspoon onion powder
1/4 teaspoon crushed red pepper flakes (optional)
1/4 teaspoon dried oregano
1/2 teaspoon paprika
1 and a half teaspoons ground cumin
1 and a half teaspoons sea salt
1 teaspoon black pepper
Mix all the ingredients and store in an airtight container. This makes enough seasoning for two batches of taco soup.
Directions to make taco soup:
Brown the ground beef in a large soup pot or Dutch oven over the stovetop.
Add the taco seasoning and one cup beef broth. Stir to combine. Cook for 10 minutes.
Add diced tomatoes with chilies, corn, black beans, remaining beef broth, and water. Stir to combine.
Bring soup to a boil, then reduce heat to low and cover. Simmer for one hour, stirring occasionally.
Serve with your favorite taco toppings, shredded cheddar cheese or simple.
How do you make vegetarian taco soup?
For a delicious vegetarian option, simply omit the ground beef and substitute with more beans or your choice of protein. You can also use vegetable broth instead of beef broth to keep the recipe completely vegetarian. Top with your favorite taco toppings for a flavorful meal that everyone will love. So, there's no need to miss out on this delicious and easy taco soup even if you don't eat meat!
Taco soup is a versatile and flavorful dish that can be easily customized to suit different tastes and dietary preferences. From adding different types of meat to substituting with beans or protein alternatives, this soup offers endless possibilities. Plus, it's a great way to use pantry staples and add some variety to weeknight meals.
So go ahead and give this easy taco soup recipe a try, and don't be afraid to get creative with your toppings! Don't forget to share your thoughts and variations in the comments section. Happy cooking!
Pin to save for later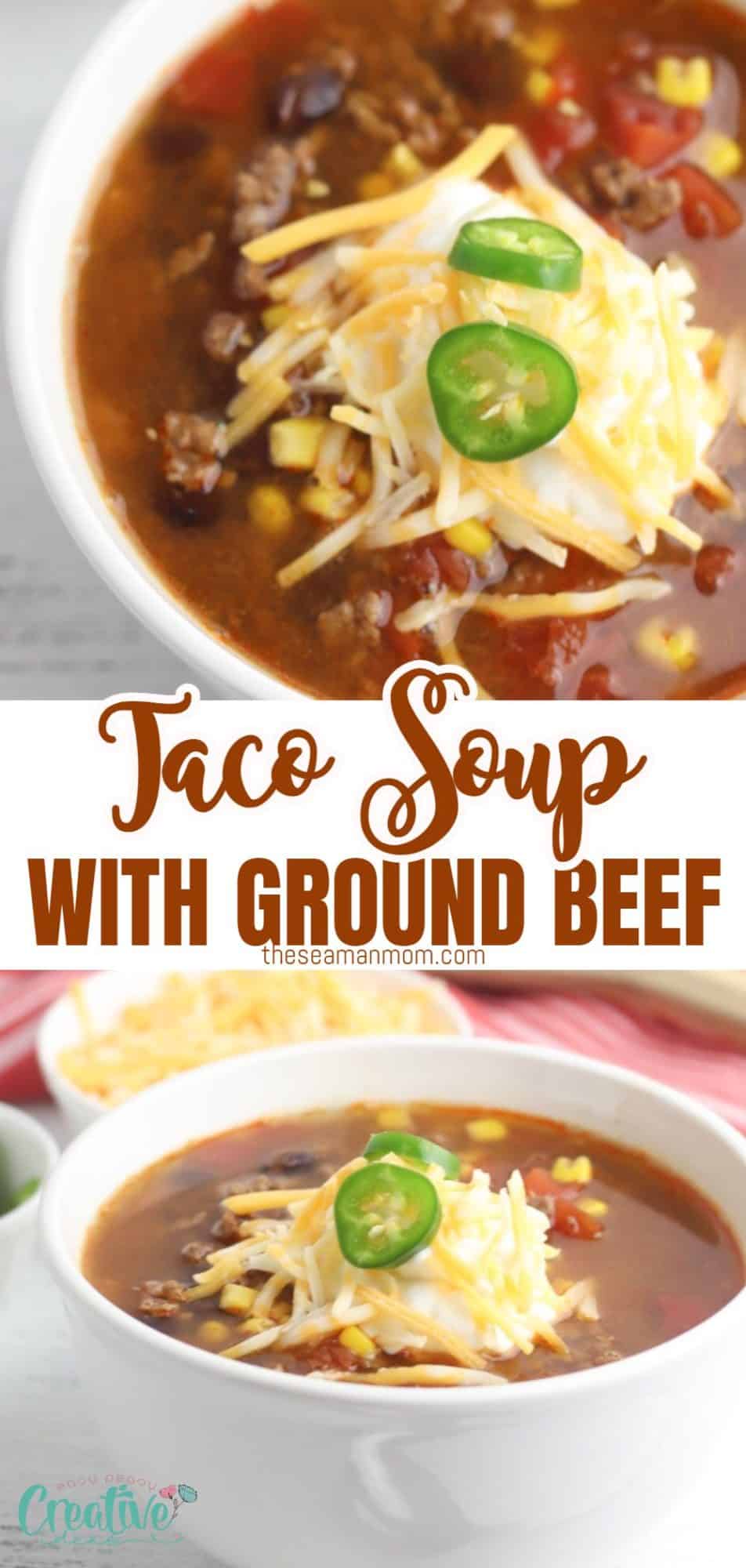 Print the recipe
Taco soup recipe
With only six ingredients, you can easily put this one-pot soup together in just a few minutes! You'll love how easy this six-ingredient taco soup is to make!
Ingredients
1

lbs

ground beef

1

packet

taco seasoning

1

can

diced tomatoes with chilies

1

can

corn

1

can

black beans

2

cups

beef broth

4

cups

water
Instructions
Brown the ground beef in a large stock pot or Dutch oven.

Add the taco seasoning and one cup beef broth. Stir to combine. Cook for 10 minutes.

Add diced tomatoes with chilies, corn, black beans, remaining beef broth, and water. Stir to combine.

Bring soup to a boil, then reduce heat to low and cover. Simmer for one hour, stirring occasionally.

Serve with sour cream shredded cheese, and sliced jalapenos for topping (optional).
Nutrition
Most popular recipes: