You'll absolutely love this yummy chicken rice pilaf
Article may contain Amazon & affiliate links. As an Amazon Associate I earn from qualifying purchases at no additional cost to you.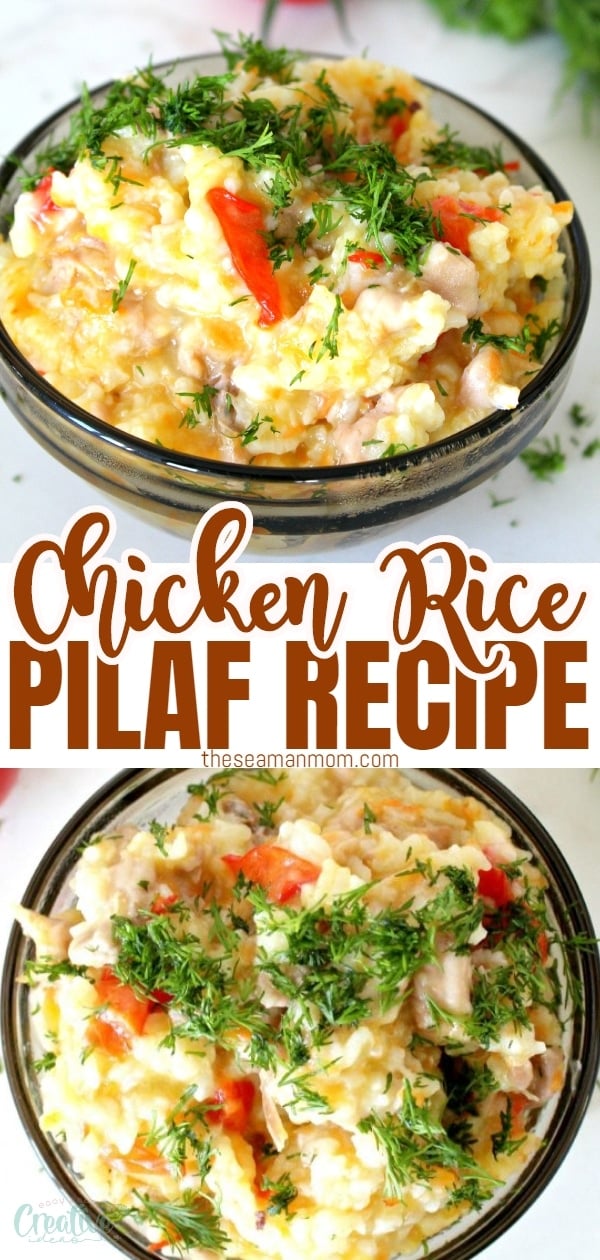 This delicious chicken rice pilaf is an easy dish that can be served as a main meal or a side dish when cooked without the chicken! It's pretty quick to make, very filling and nutritious and makes a great dinner idea for busy families!
Chicken rice pilaf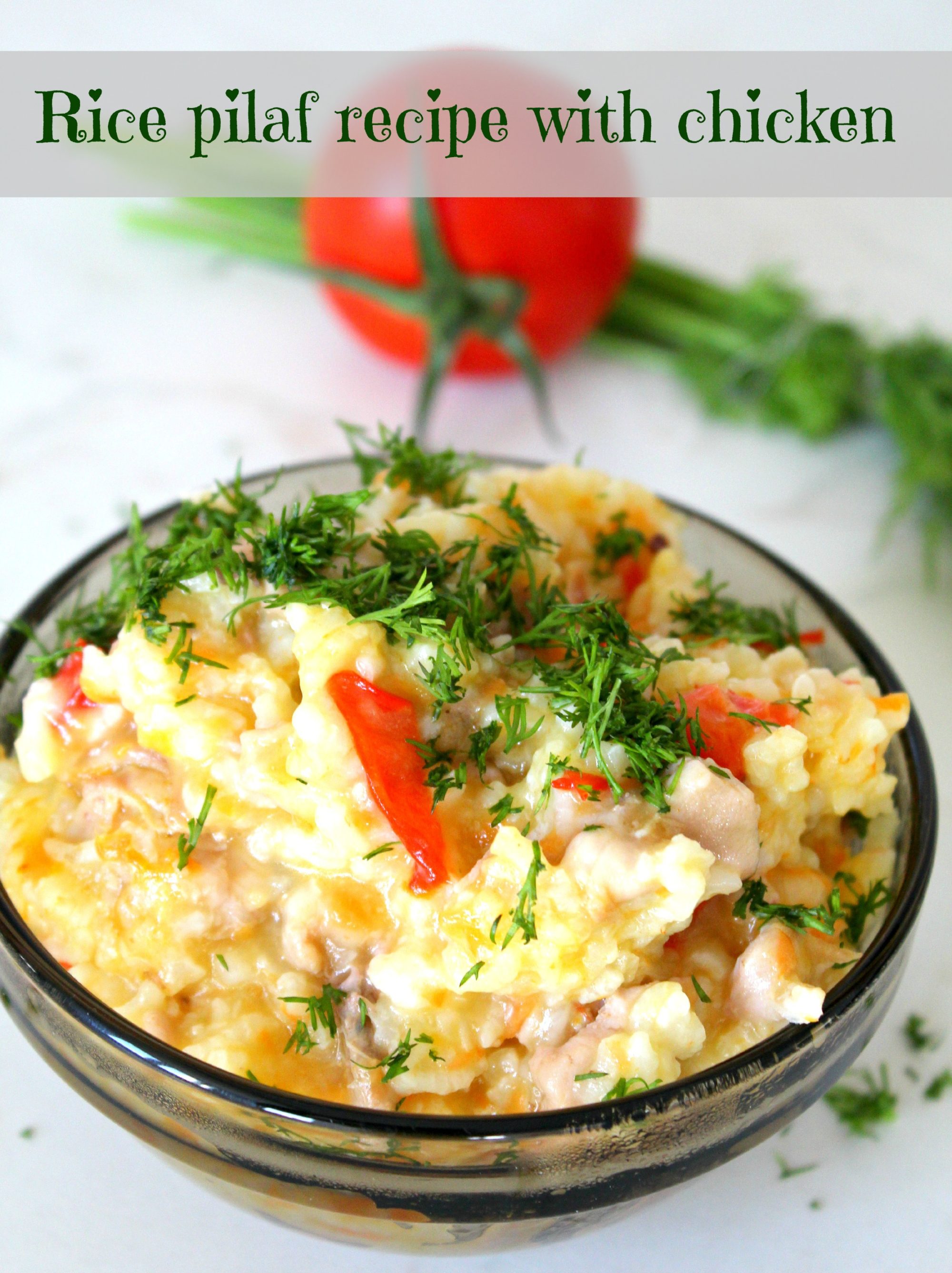 Whenever I feel a little emotional I like to enjoy the little details that give me the feeling of "home" and I found the most effective way is through cooking. I particularly like the childhood recipes that my mother used to cook so dearly. She found such great pleasure in seeing our happy faces every time she was serving us her amazing food.
This time I thought of a rice pilaf, a recipe that doesn't require much skills or attention but only some quality ingredients to give it a delicious taste. It's a pretty easy recipe, also very fulfilling and could make a great main dish or a side dish if you skip the chicken. I love pairing it with pickled cucumbers or sweet red pepper. The recipe works best with farm chicken but store bought chicken will do the trick too.
More sides you might like:

What is rice pilaf?
Pilaf is a dish spread worldwide, based on rice or, in some regions, wheat. It is usually cooked in stock or broth with a local touch of spices, herbs, vegetables or meat.
It is a very old and traditional dish, dating back thousands of years ago. The pilaf is so popular and comes under a large array of names such as: Polao, Pela, Pilav, Pallao, Pilau, Pelau, Pulao, Pulaav, Palaw, Palavu, Plov, Palov, Polov, Polo, Polu, Kurysh, Fulao, Fulaaw, Fulav, Fulab, Osh, Aş and is served in central and South Asia, Eastern Europe and the Balkans, the Greek world including Cyprus, as well as countries like Spain, southern France and in the Caribbean's.
And if you were wondering if the Spanish Paella is some form of a pilaf, well, yes it is!
Chicken rice pilaf recipe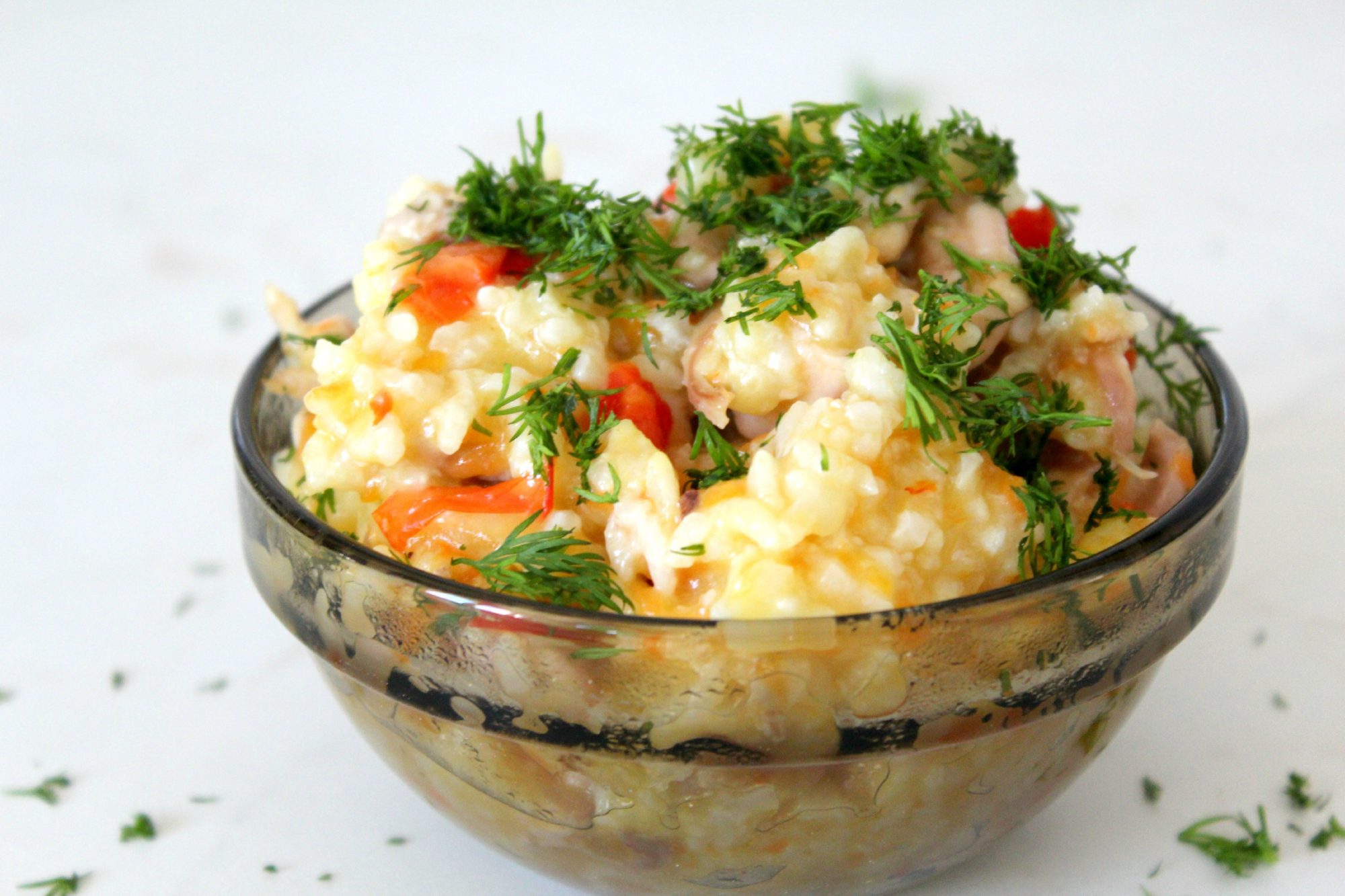 Being so versatile, you can always switch ingredients or just use up whatever leftover vegetables or meat you have. This way, you get to clean up the fridge and have a different pilaf every time.
Chopped parsley adds some freshness to the cooked dish, as well as a great flavor and extra vitamins.
How do you make the perfect chicken rice pilaf:
Add a bit of saffron or curry powder for more color and an oriental touch;
To make it more tender, I usually use chicken breast, but actually any part of the chicken will do, like wings or drumsticks. This recipe will definitely taste better with chicken thighs!
For a richer flavor, you can also saute onion in butter instead of oil before.
For a faster and dish-saving pilaf, you can also make it one-pan: just add the oil, meat and onions at first and cook, then add the rice, mix and add broth or water.
How long can I store the chicken rice pilaf?
The rice and chicken is a breeding ground for bacteria, so store it as soon as it's cooled to prevent spoiling. Keep in the fridge in an airtight container for 3-4 days.
It can also be stored in the freezer in a freezer bag for up to 3 months. Before reheating, thaw in the fridge overnight and fluff the rice.
Print the recipe card
Chicken rice pilaf recipe
This chicken rice pilaf recipe doesn't require much skills or attention but only some quality ingredients to give it a delicious taste. It's a pretty easy recipe, also filling and could make a great main dish or a side dish if you skip the chicken.
Ingredients
3

lbs

boneless chicken

breast or thighs

6 1/2

cup

water

1

cup

rice

1

large onion

chopped

2

red peppers

diced

2

medium carrots

grated

1

zucchini

diced

2

medium tomatoes

diced

4

tbsp

oil

Parsley or dill

chopped and optional

Salt

to taste

Pepper

to taste
Instructions
Cut the meat into cubes then salt and pepper

Peel the vegetables, wash and cut and grate carrots

Heat the oil in a saucepan and fry meat until light brown

Pre heat the oven to 390 F

Remove chicken and cook vegetables in the same oil on medium heat until slightly crisp, about 3 minutes

Return the chicken back to the saucepan and add water

Bring to a boil then add the rice, well washed and drained

Cover the pan with a lid and bring to a previously heated oven at 200 C

Cook for about 1/2 hour. The rice should be soft and buttery and the meat tender

Keep the lid on for 25 to 30 minutes more, until the excess soup is absorbed and the rice is fully fluffed up.

Serve sprinkled with chopped parsley or dill.
Pin to save for later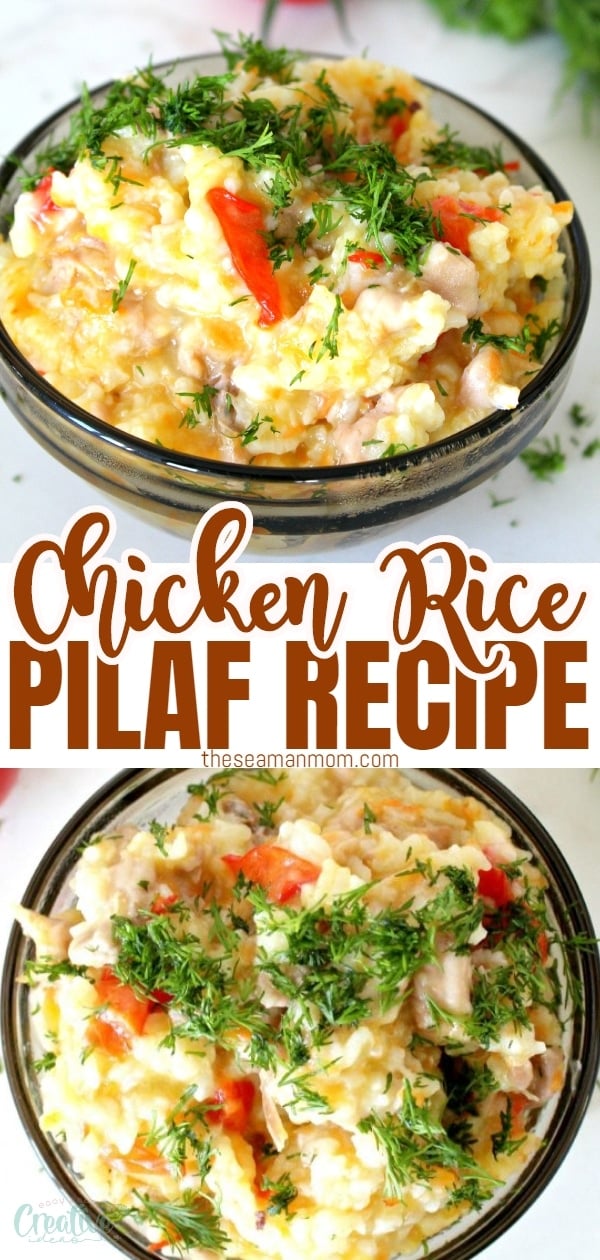 Most popular recipes: