How to create the best Valentines backdrop with yarn hearts
Article may contain Amazon & affiliate links. As an Amazon Associate I earn from qualifying purchases at no additional cost to you.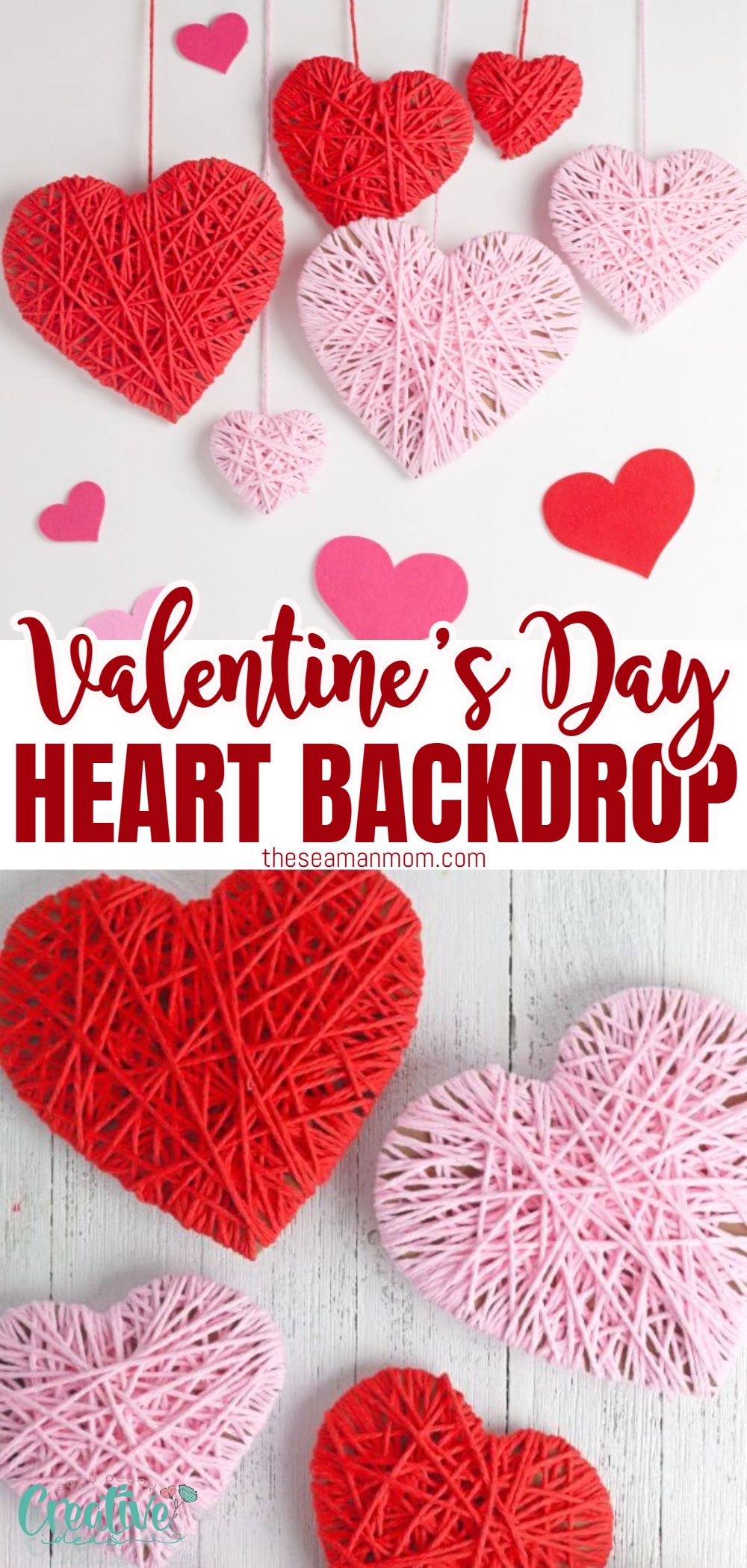 Want to impress your loved ones in the photos you take on Valentine's Day? Turn your home into a romantic date setting by following this step by step tutorial for making your own adorable Valentines backdrop!
Valentines backdrop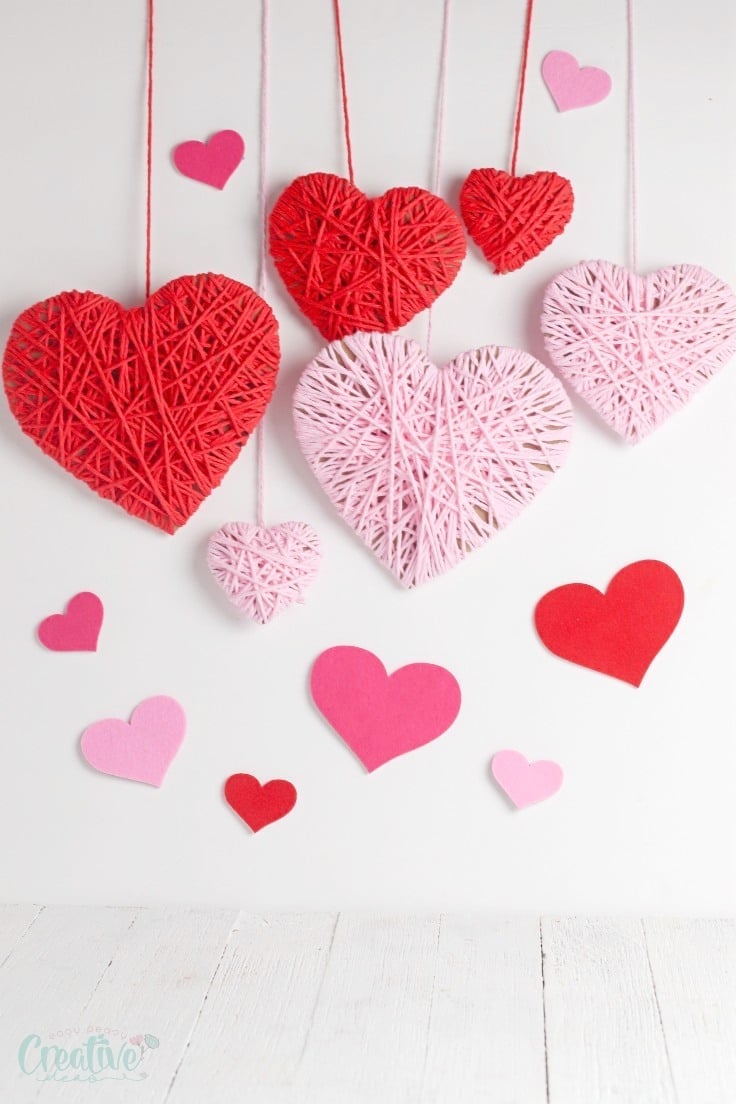 Looking for cute Valentine backdrop ideas for your party? With this simple tutorial for yarn wrapped hearts, you'll have the most adorable Valentines backdrop for your Valentine's Day festivities!
Whether you're hosting a Valentine's Day party or just want to add a little holiday cheer to your home during February, decorating with a hearts backdrop is a great idea! And by creating your own Valentines backdrop, you'll have the perfect spot for photos or a cute holiday vignette.
We all know that Valentine's Day is the most romantic day of the year. And what better way to show your love than with some beautiful photos? This tutorial will teach you how to create an elegant and romantic backdrop for your pictures. It's easy, fun, and inexpensive! You can do it in minutes.
More Valentine crafts you'll love: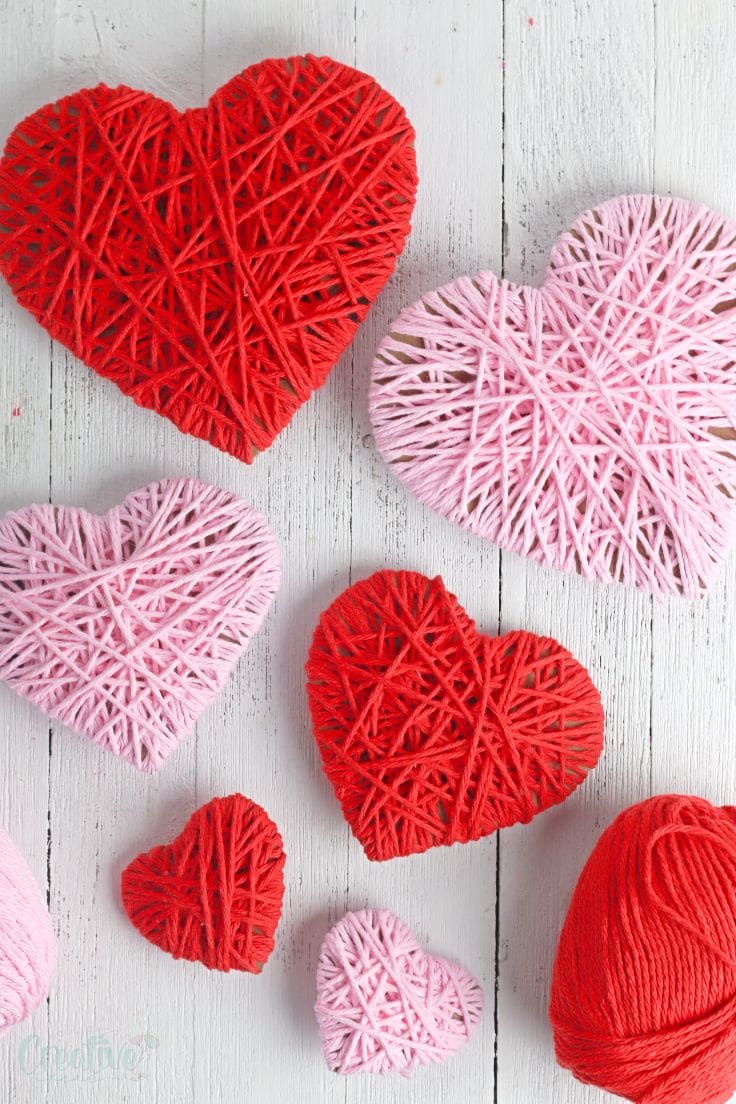 Tips for making this yarn heart craft
The basis of this cute Valentines backdrop is a handful of yarn wrapped hearts. And while these cute hearts are very easy to make, these simple tips are very helpful!
Use a template for your hearts. To make sure each of your hearts are even and cohesive, it's a good idea to use a template. Luckily, I have you covered! My printable template includes a large, medium, and small heart, so you'll have everything you need to make your own Valentine's Day backdrop.
Use thick cardboard. To make sure your hearts don't bend and buckle as you wrap them with yarn, it's best to use thick cardboard to make them. A shipping box is the perfect thickness for your yarn wrapped hearts.
Secure the end. While it's not necessary to secure the end of your yarn before you start wrapping, it is helpful. Placing a piece of tape over the end of the yarn will help you keep the yarn in place while you wrap.
Choose a thick yarn. To make wrapping the yarn hearts a little easier, choose a thicker yarn for this project. The thick yarn will help cover the cardboard, helping you reduce the amount of times you need to wrap each heart.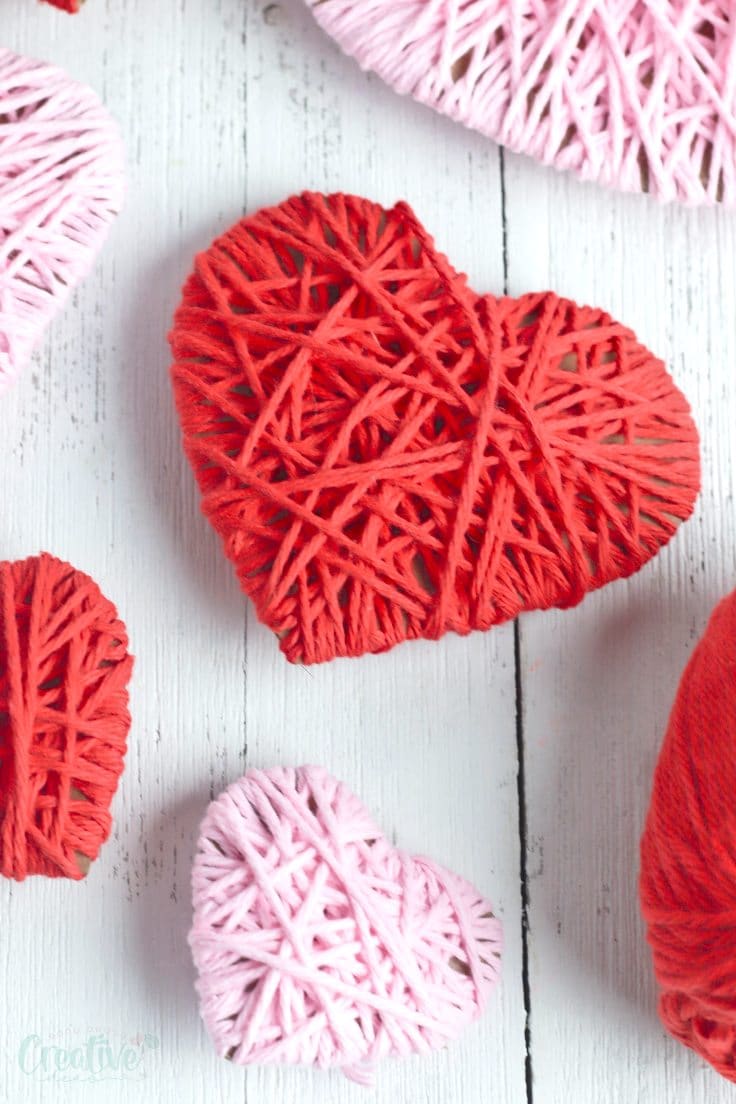 How to Use a Valentines Backdrop
Once you have all your hearts wrapped and you put your backdrop together, you may be wondering how to use it. There are a variety of ways to use a Valentine's Day backdrop:
For a photo-booth. If you're having a Valentine's Day party, this cute backdrop would be perfect for a photo booth!
For holiday selfies. And even if you don't have a party planned, this cute backdrop would look amazing in the background of your holiday selfies.
For a Valentine's Day vignette. This backdrop doesn't have to be used for photos at all! Instead, use it as a backdrop for your holiday decorations. Creating a cute Valentine's Day vignette is much easier when you have a fun yarn heart backdrop.
For school dances. If your child is in school, this Valentine's Day backdrop would be perfect for a dance!
Other Valentine's day backdrops ideas
It's not just hearts that would look good in this backdrop! You can easily change the color of the yarn to create a variety of looks. Create polka dots, stripes, or other fun patterns for your valentines backdrop.
Another idea is to use different colors of yarn for each heart, creating a multi-colored valentines backdrop. It's also super easy to make valentines backdrops in different sizes depending on your needs, making it the perfect valentine craft for kids too!
Valentines party ideas
If you're hosting a valentines party, why not add this valentines backdrop to the festivities? One idea is to set up a photo booth in your home or outside using baskets and props for a mini photo session at the party. You can cut out hearts from construction paper and let everyone's creativity show by adding fun markers and stickers!
Another idea for valentines party is to use your valentines backdrop as decoration for your cookies buffet. To do this, simply set up the valentines backdrop behind the treats!
For Valentines party decorations you can also use Valentines garland, Valentine banner or other Valentine's day decor.
There are so many other Valentine craft ideas out there! Making other Valentine crafts is a great way to repurpose the hearts after the party.
I made a template for each of the hearts. The PDF file is available here if you don't want to make your own stencil.
If you follow these simple easy steps, I guarantee that your photos will look stunning on any social media platform. Plus, this project is so simple even kids can help out! Grab some friends and family members and start making memories today! So let's get started on this awesome project!
How to make a Hearts backdrop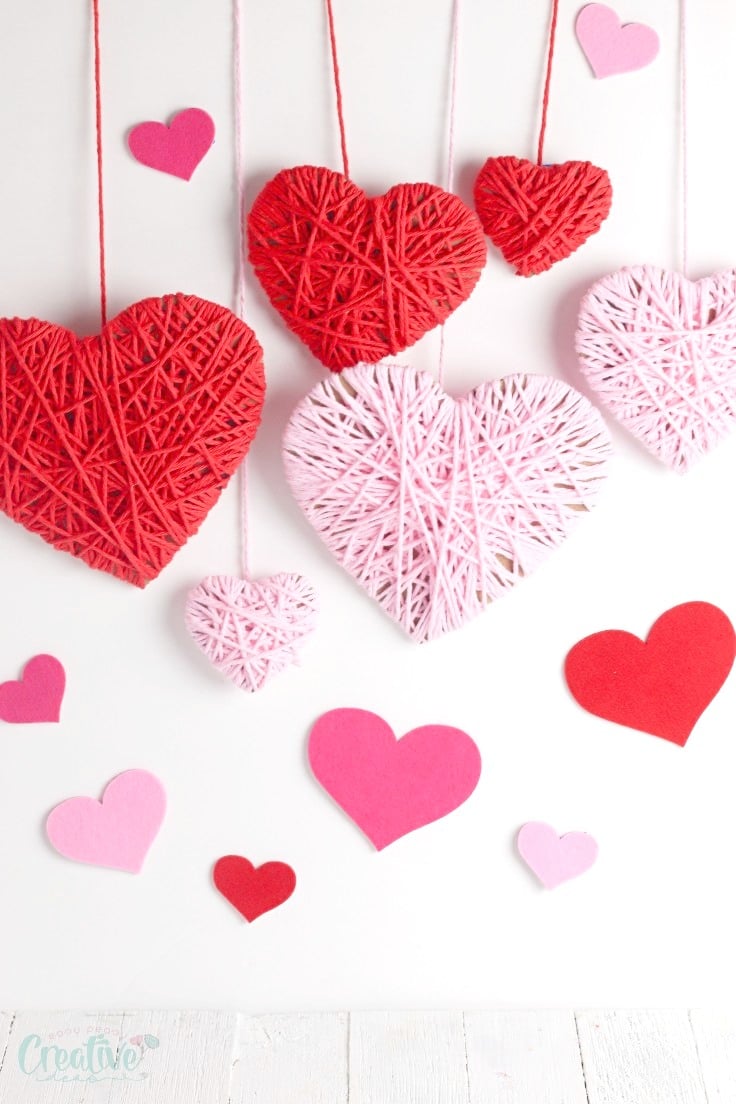 Supplies:
Of course one of the most important parts of this craft is your supplies! Here's a list of everything that you'll need to get started:
Instructions:
Cut out the heart templates and trace them on a piece of cardboard with a marker.
Cut out each cardboard heart.
Tape the end of the yarn to the back of each heart.
Wrap with yarn until it's covered.
When all the hearts are covered, attach a piece of yarn to the back and hang it from the backdrop.
Fill in the blank spots in the backdrop with felt hearts, if desired.
Remember that this Valentines backdrop can be used for parties, photos, or just decorating your home. It's the perfect Valentine craft project for you and friends! With all of these fun craft ideas, you're sure to find something that will work perfectly with the valentines backdrop!
What other valentines craft ideas can you think of? What valentine's day party ideas do you have? Do you have any other uses for this valentines backdrop? Leave them in the comments below!
Pin to save for later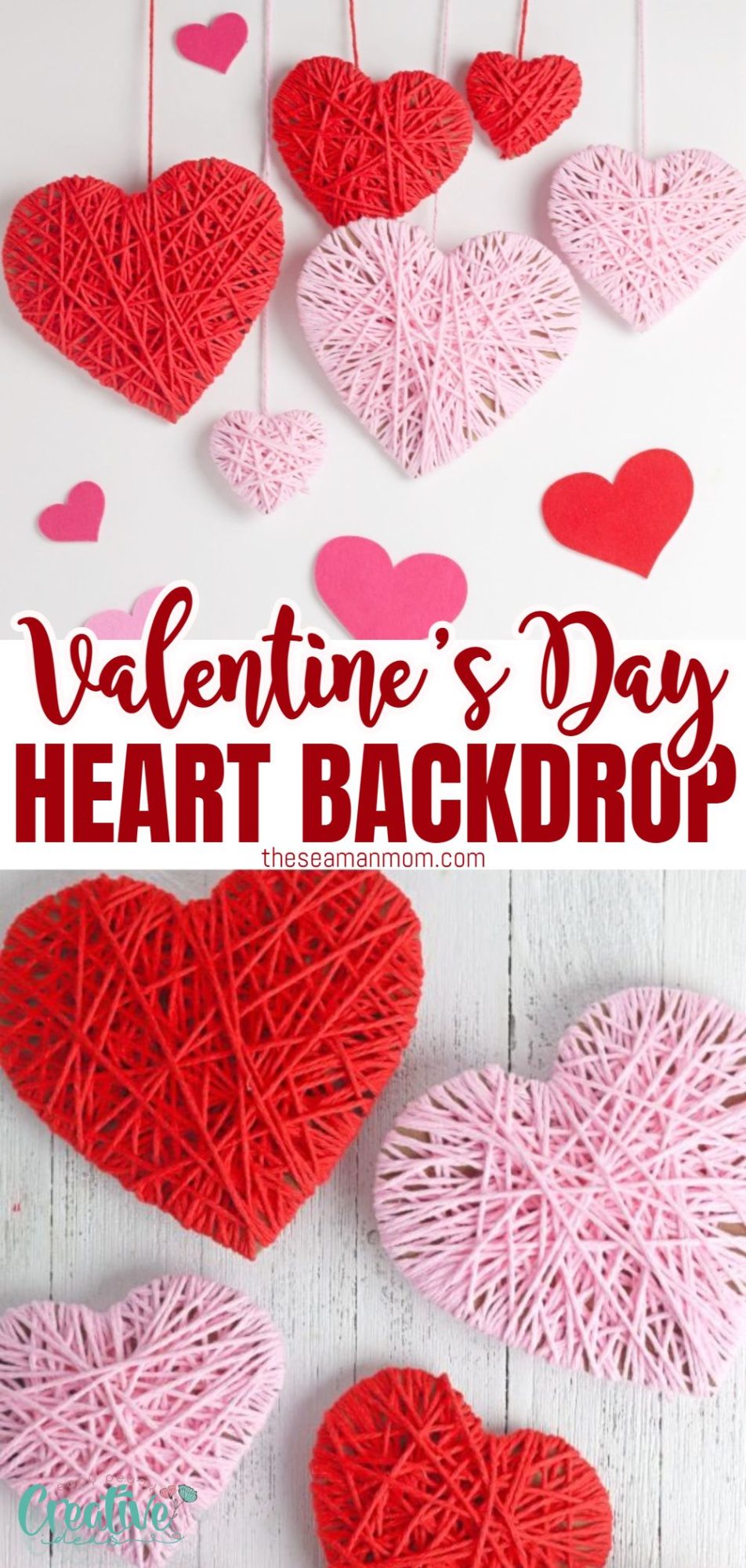 Print the craft card
Valentines backdrop craft
Materials
Printable heart template

Cardboard

Pink yarn

Red yarn

Marker

Felt hearts

optional
Instructions
Cut out the heart templates and trace them on a piece of cardboard with a marker.

Cut out each cardboard heart.

Tape the end of the yarn to the back of each heart.

Wrap with yarn until it's covered.

When all the hearts are covered, attach a piece of yarn to the back and hang it from the backdrop. Fill in the blank spots in the backdrop with felt hearts, if desired.