DIY lavender spray for linen
Article may contain Amazon & affiliate links. As an Amazon Associate I earn from qualifying purchases at no additional cost to you.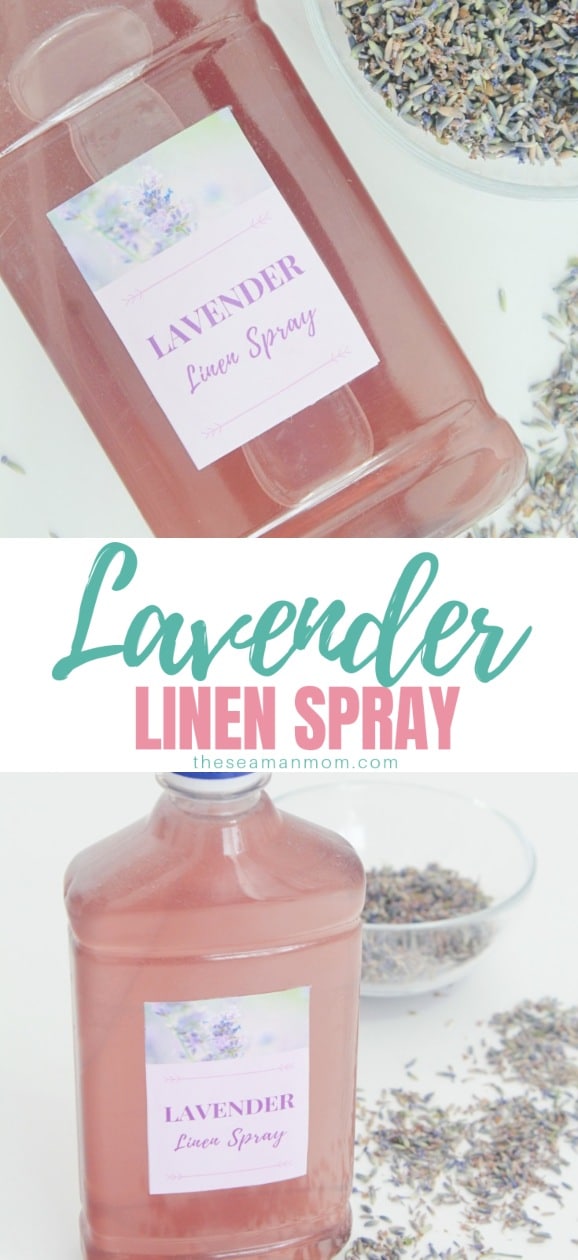 Treat yourself to some simple and inexpensive luxury when you make your own lavender spray! This DIY lavender spray is made with dried lavender buds and essential oils and is ready in just a few minutes!
DIY linen spray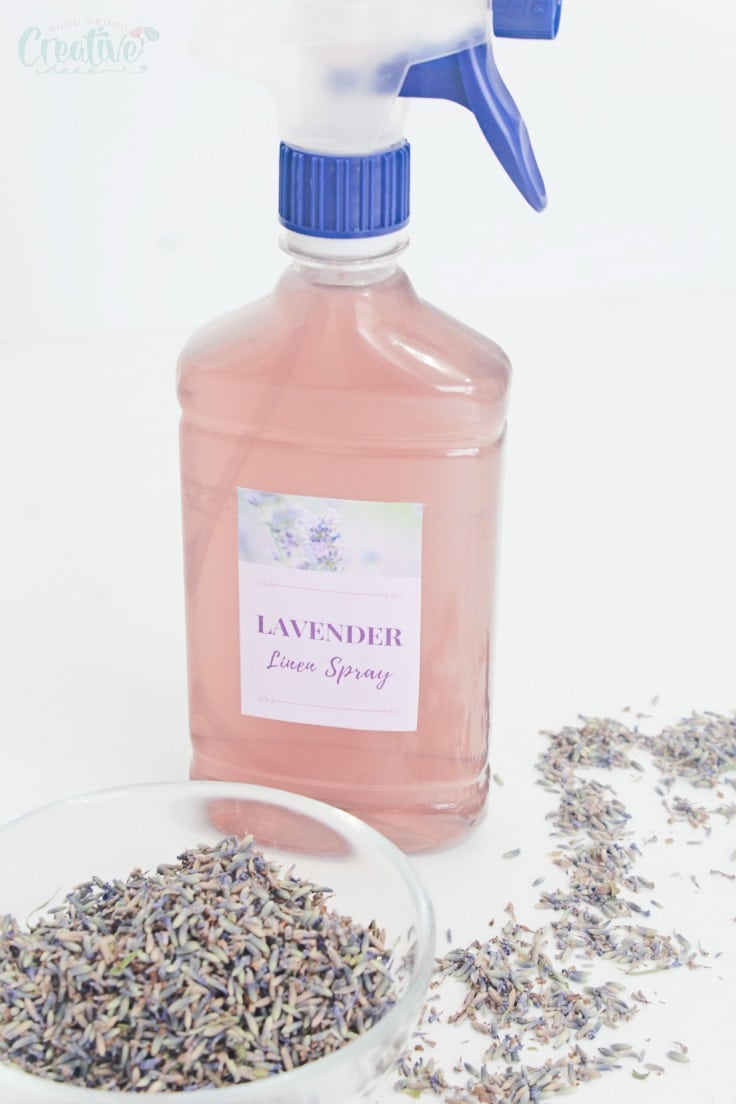 If you've been traveling quite a while and had to stay in hotels you probably noticed the linen smells like lavender, in almost all of those hotels, so fresh and relaxing! And you most likely ended up sleeping like a baby! Recreate that wonderful experience every night with your own DIY lavender spray!
This wonderful lavender mist is so easy to make from dried lavender buds and just a few drops of lavender essential oils and is ready in a blink! The ultimate luxury but on a budget, and in the comfort of your home! And if you grow your own lavender in the garden, as I do, you get to enjoy this luxury every night!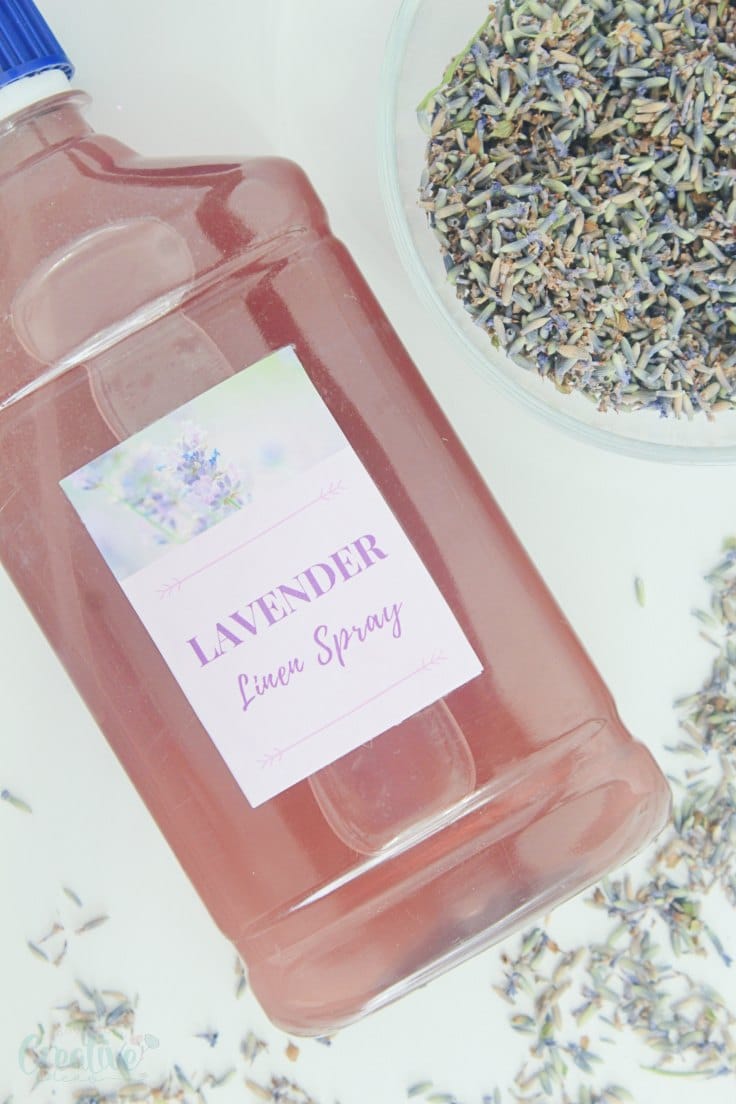 Similar posts you might like:
I started using my DIY lavender spray on linen first, as I wanted to copy that amazing feeling of sinking into fresh bed sheets every night. But then I realized I love the smell soo much I want to be surrounded by it 24/7! So I grabbed my lavender linen spray and mist it on all of the curtains in the house! It literally felt like heaven so I decided to take an extra step and made these lavender pouches to spread around the house, in the drawers and in the car. And most recently, I put together this amazing lavender sugar scrub!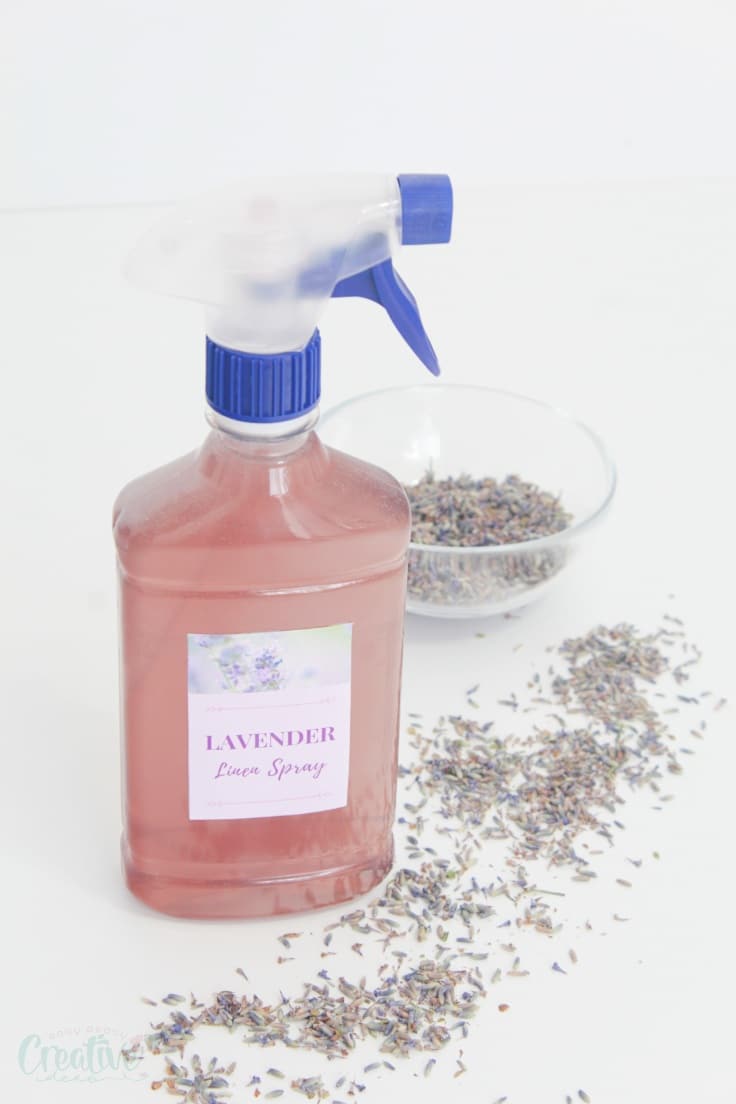 I must admit, I've become a lavender addict and I get to use this DIY linen spray every day, with no exception! We had a lot of lavender this year and I hated to see it go to waste but I never thought I would fall so much in love with lavender! I made a big batch of this lavender mist and stored some in the fridge so I'll be good for quite a while! If you're a lavender fan too, you'll want to make this DIY linen spray as soon as you finish reading this tutorial.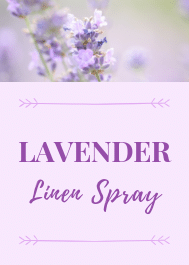 I made this label for my bottle; if you want to use it for yours, you can purchase it here or get it free when you join my craft newsletter!
DIY lavender spray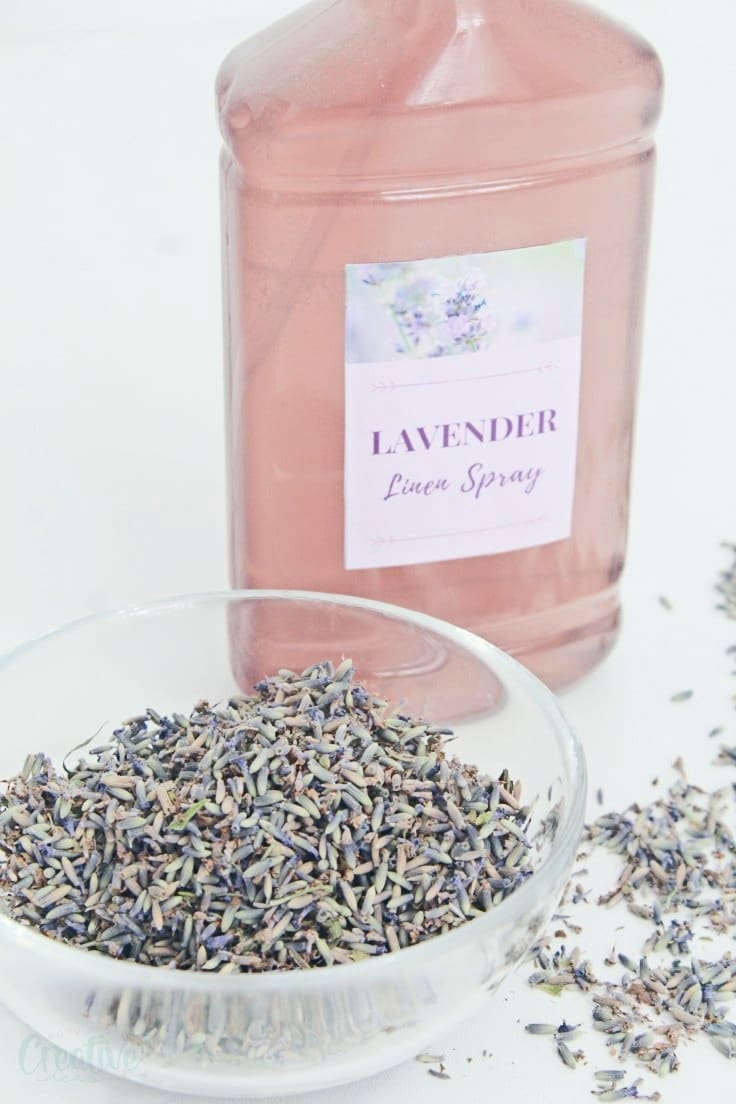 Materials:
2 cups water
5 tablespoons dried lavender buds
2 tablespoons vodka or other clear alcohol (this will help the oils mix with water and also act like preservative)
10-15 drops lavender essential oil
optional – purple food coloring (or mix red and blue to get the desired shade)
You will also need:
medium saucepan
clear spray bottle
funnel
sieve or coffee filters
Directions:
Boil the water in a saucepan.
Add lavender buds and turn the heat off.
Let it steep for 10 minutes.
Strain through a sieve or coffee filter.
Let it cool then add to a spray bottle.
Pour the alcohol.
Add the essential oil.
Add a couple of drops of food coloring – optional
Shake the bottle to mix the oils, alcohol and water.
Use the spray to keep linen smelling fresh or to deodorize a room or a closet.
Pin to save for later