How to sew a scrappy Heart Garland Simple Guide
Article may contain Amazon & affiliate links. As an Amazon Associate I earn from qualifying purchases at no additional cost to you.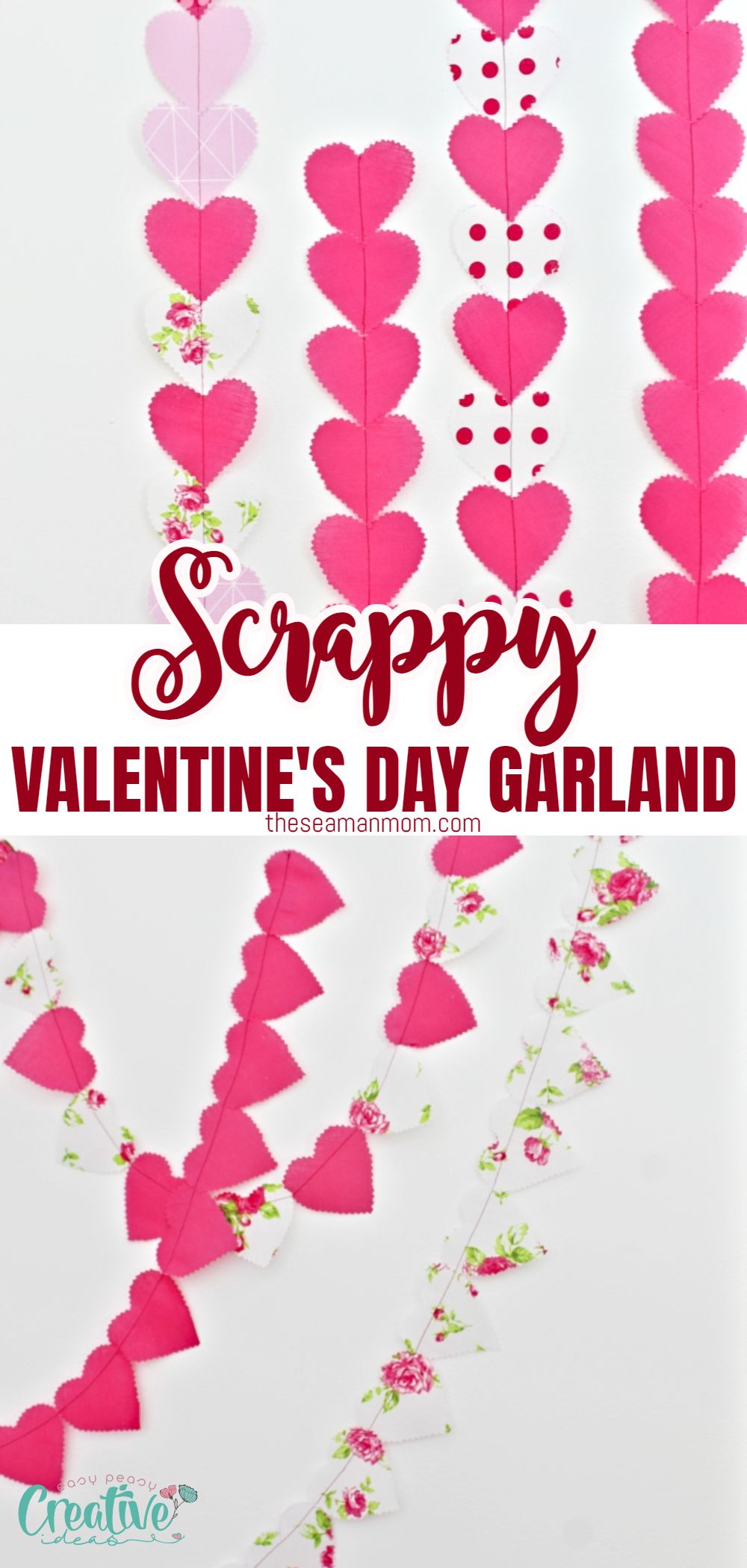 If you're looking for a sweet Valentine garland to add to your home decor or give to someone special as a gift, this adorable heart garland is perfect! Ready in no time, this fabric garland is a great beginner sewing project that doubles up as a super easy project for the novice crafter!
How to sew a heart garland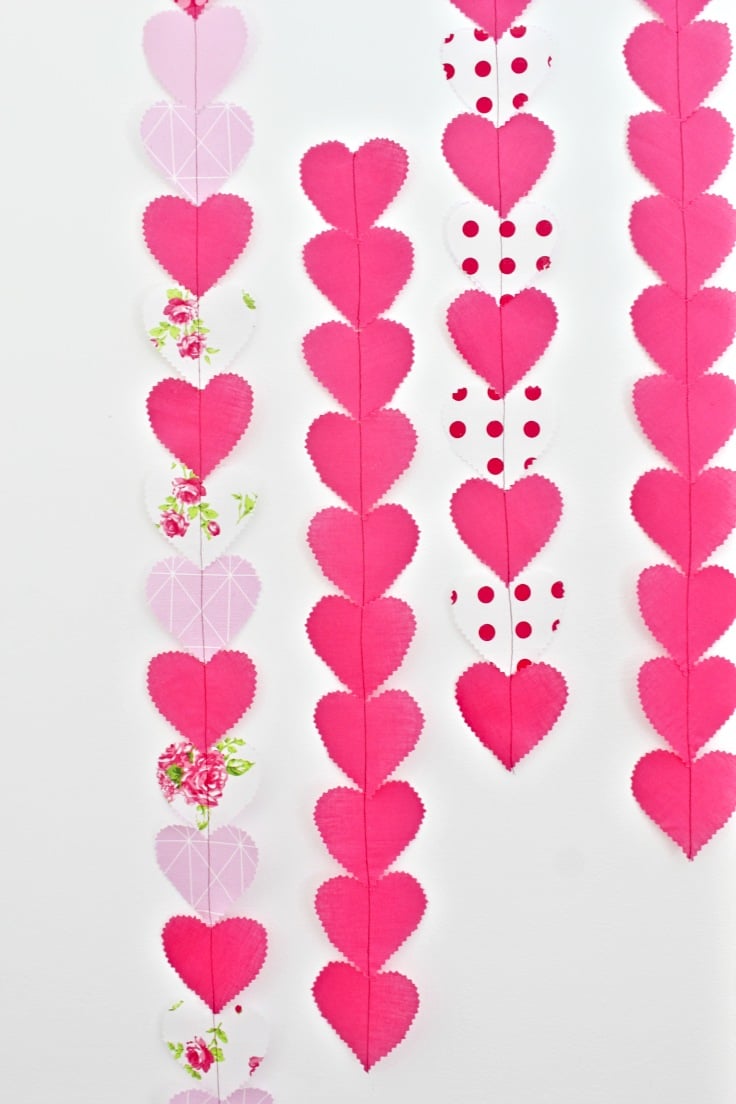 Hey, guys! Today I have a super cute and crazy easy project, a gorgeous heart garland made with fabric scraps instead of paper hearts. This project was so easy that I had double thoughts about making a tutorial. But that DIY heart garland looked so pretty I really wanted to show it to you and how I made it, with just some scraps, a pair of scissors and my sewing machine.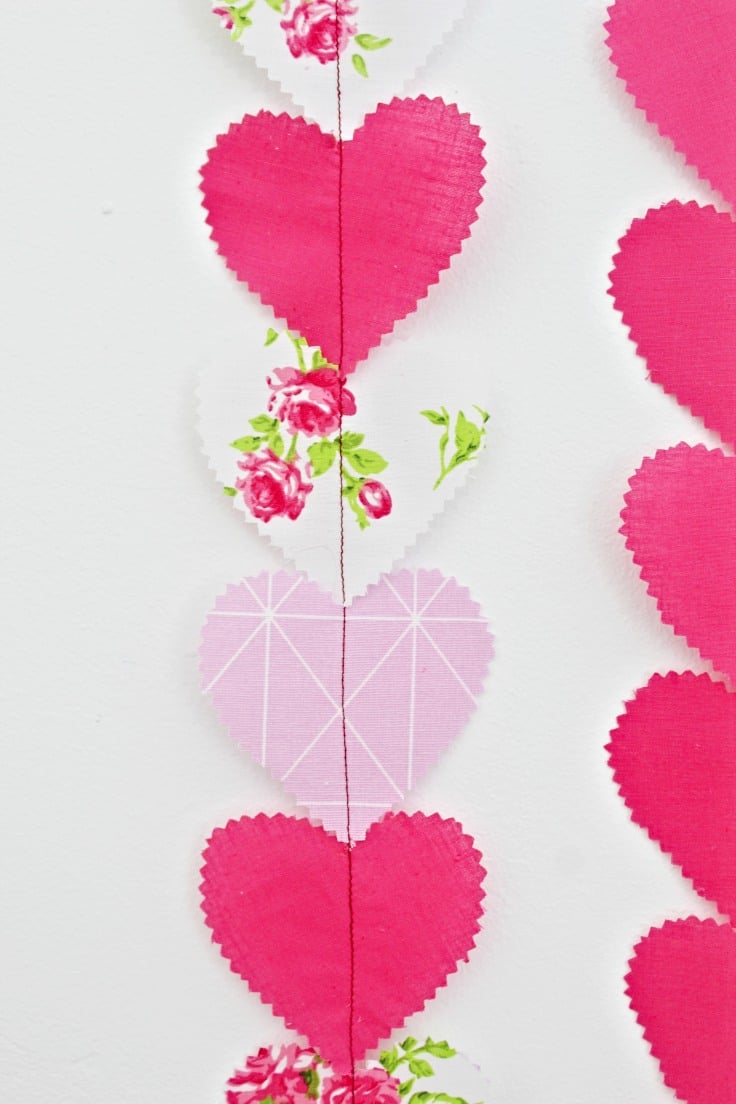 When making my heart garland I also realized this could be an excellent project for both beginner sewers and novice crafters. It only involves sewing a straight stitch and no complicated sewing skills are required. As for the crafters, if you don't sew, the hearts in this adorable fabric heart garland could easily be hand stitched. In fact I think it will be a little faster this way.
If you're running out of ideas as gifts for Valentine's day, this heart garland could make a great present. So easy and simple to make but looks very impressive and super sweet! Everyone will be in awe with your special gift idea! These fabric garlands are also awesome party decorations if you're hosting this Valentine's day. But I see this Valentine garland working just as great as a decor for a birthday party or little girls room!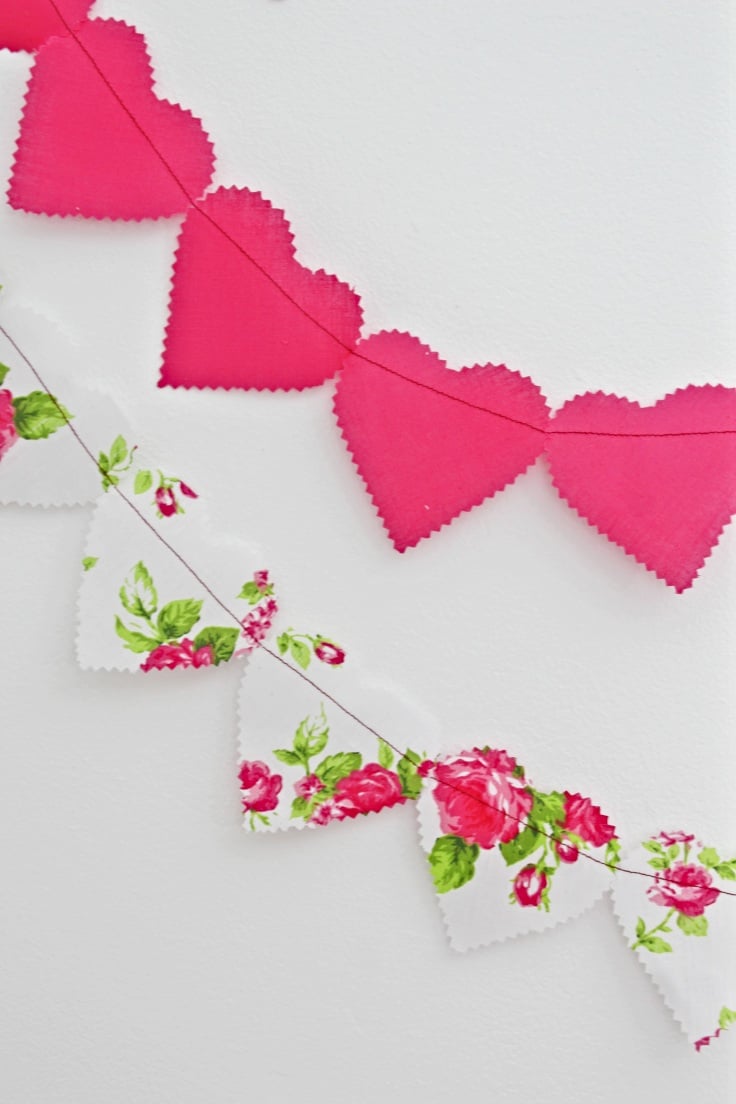 Need more Valentine ideas?
This heart garland is also crazy quick to make! It took me about 10 minutes to cut all the hearts and then about 3 minutes to sew each of the garlands. I joined the hearts in two different methods. I couldn't make up my mind on which one of the methods looks best so I've sewn my hearts in two different directions. The first set of garlands where sewn perpendicularly, joining the hearts by running a straight seam through the middle of each heart. These garlands are now hanging vertically on Ellie's bedroom wall.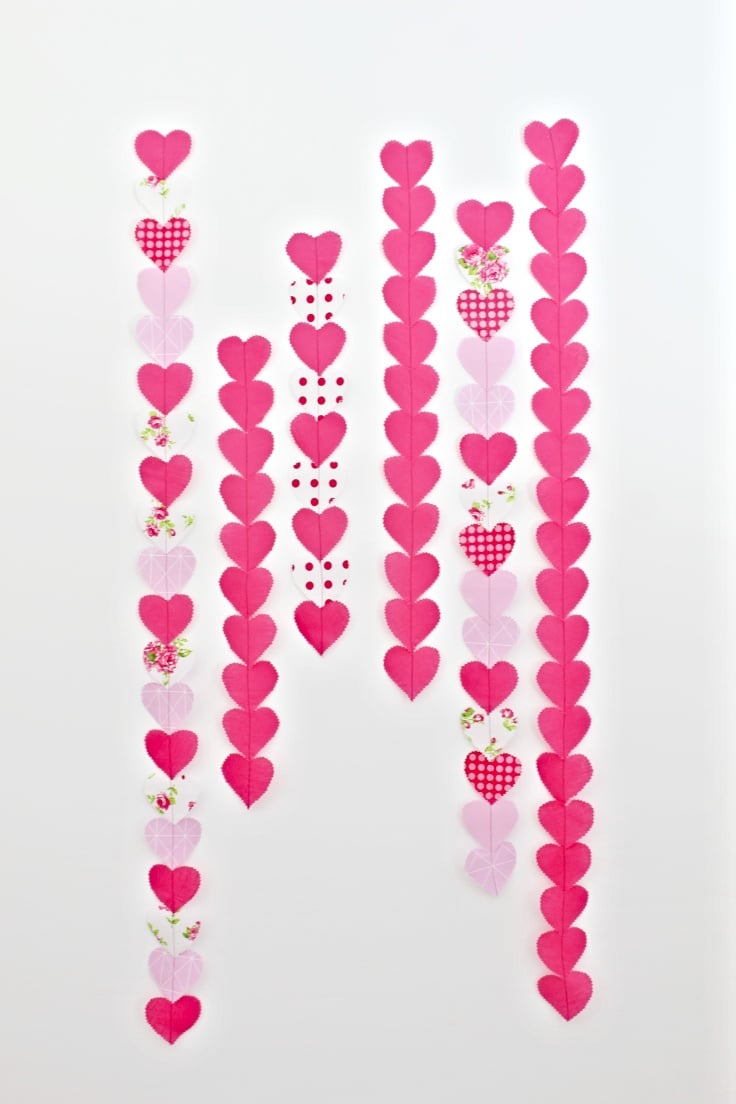 For the second set of garlands, the hearts are joined with a stitch along the top. These garlands are now hanging horizontally in my bedroom. But they'll be moved to our living room for the Valentine's day party where I'm sure they'll make a good impression.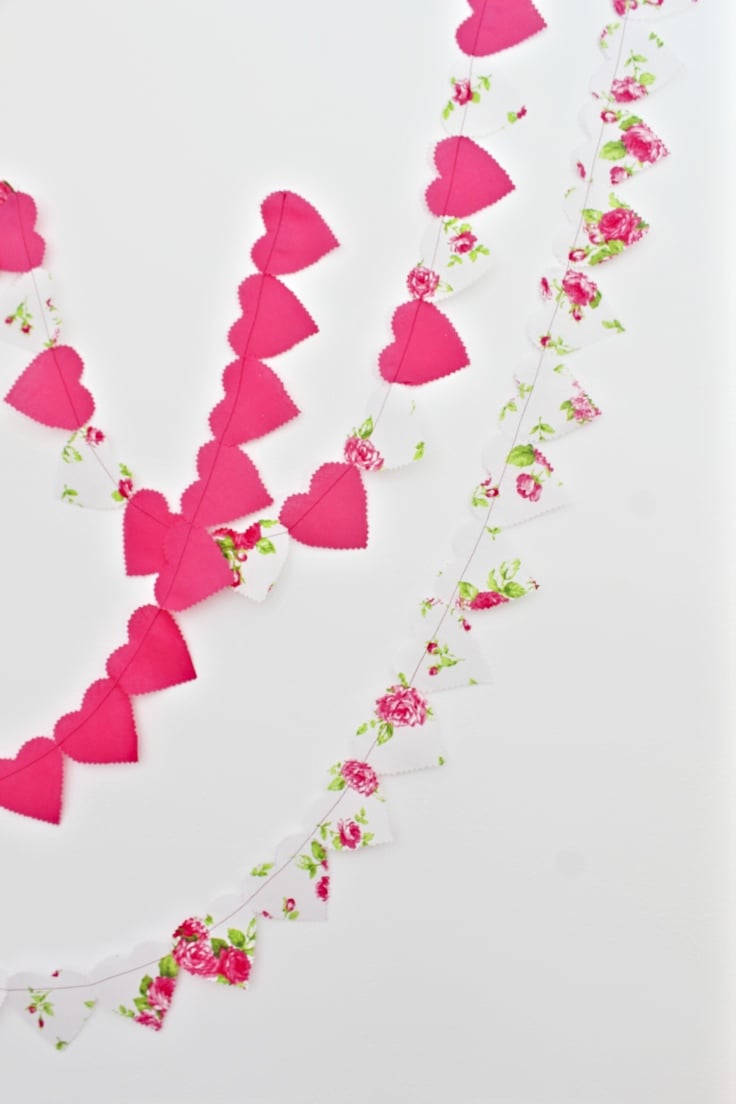 Looking at the photos now, I love how both sets turned out but if I were to choose, I'd pick the perpendicular garlands. For some reason they resonate better with my sense of style (aka OCD)
Since the fabrics I used look pretty much the same on both right and wrong side, I decided to sew single hearts but if your fabric looks totally different on the wrong side, you may wanna join tow hearts first, wrong sides together, before sewing them into your fabric garland.
To be honest, after making a bunch of these adorable decorations in such a short time, I'm never going back to paper heart garlands!
How to make a Valentine's day garland with fabric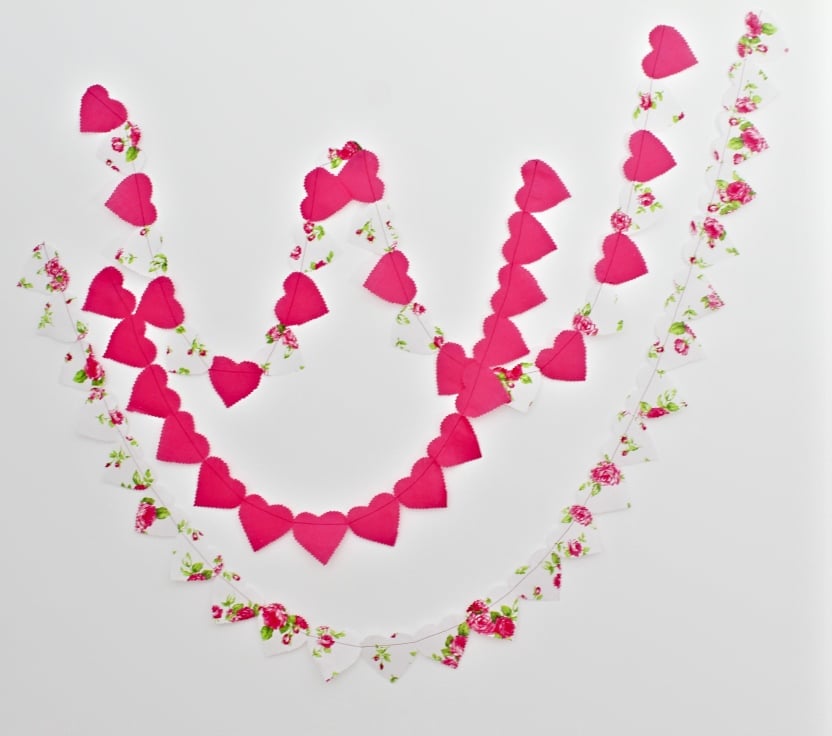 Materials:
scrap fabric in cute colors and patterns
heart shape template (you can easily make one yourself from cardboard but if you're having problems, please let me know in the comments below and I'll send my template in an email newsletter; make sure you signed up to my crafts or sewing newsletter first).
fabric pen
pinking shears
matching thread
sewing machine
hair spray
pressing iron
Directions:
Cut the hearts out
Take pieces of fabric scraps that are a little larger than your heart template and pile them up (no more than 5 or 6 layers as you'll have troubles cutting through thick layers)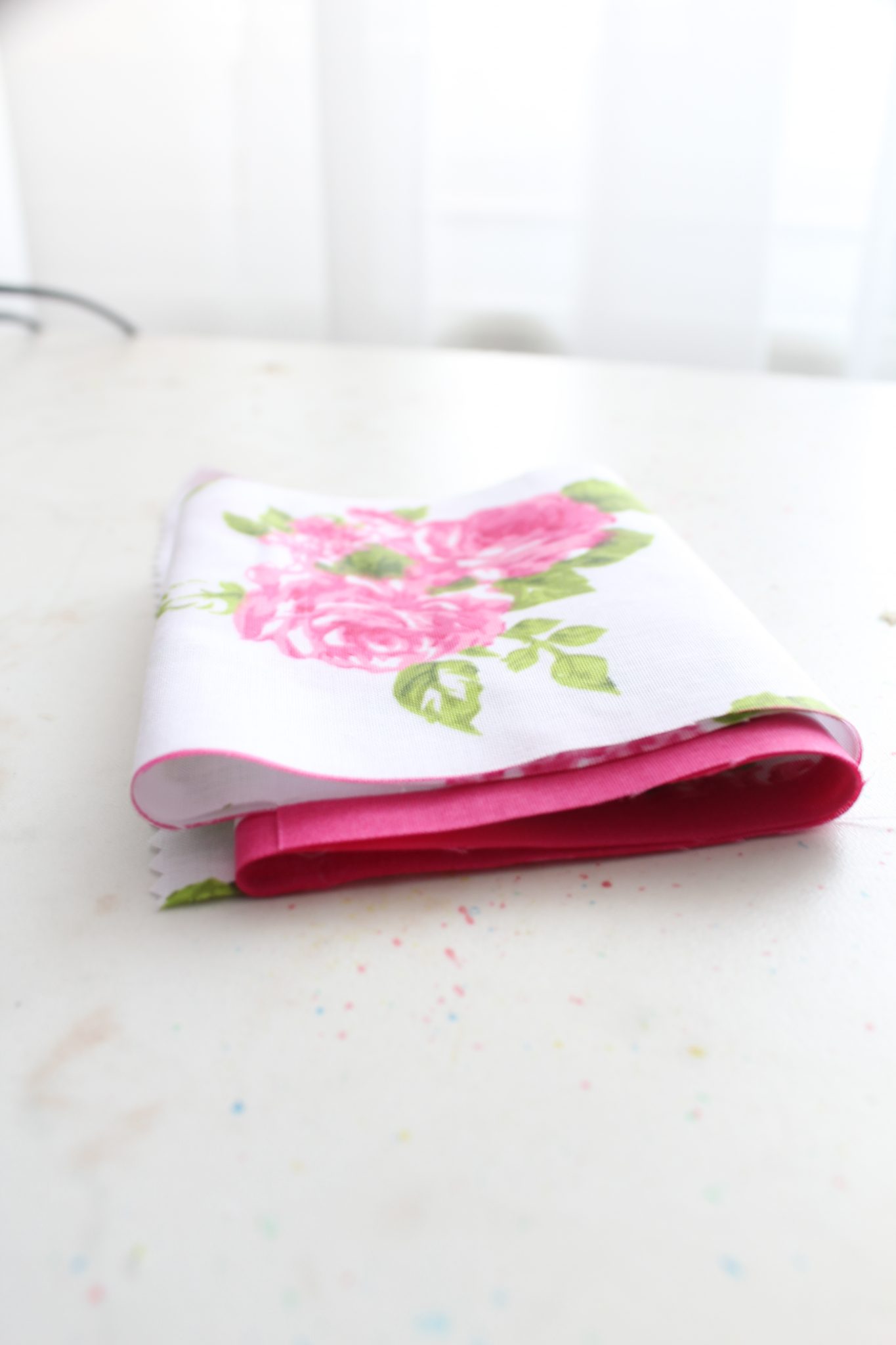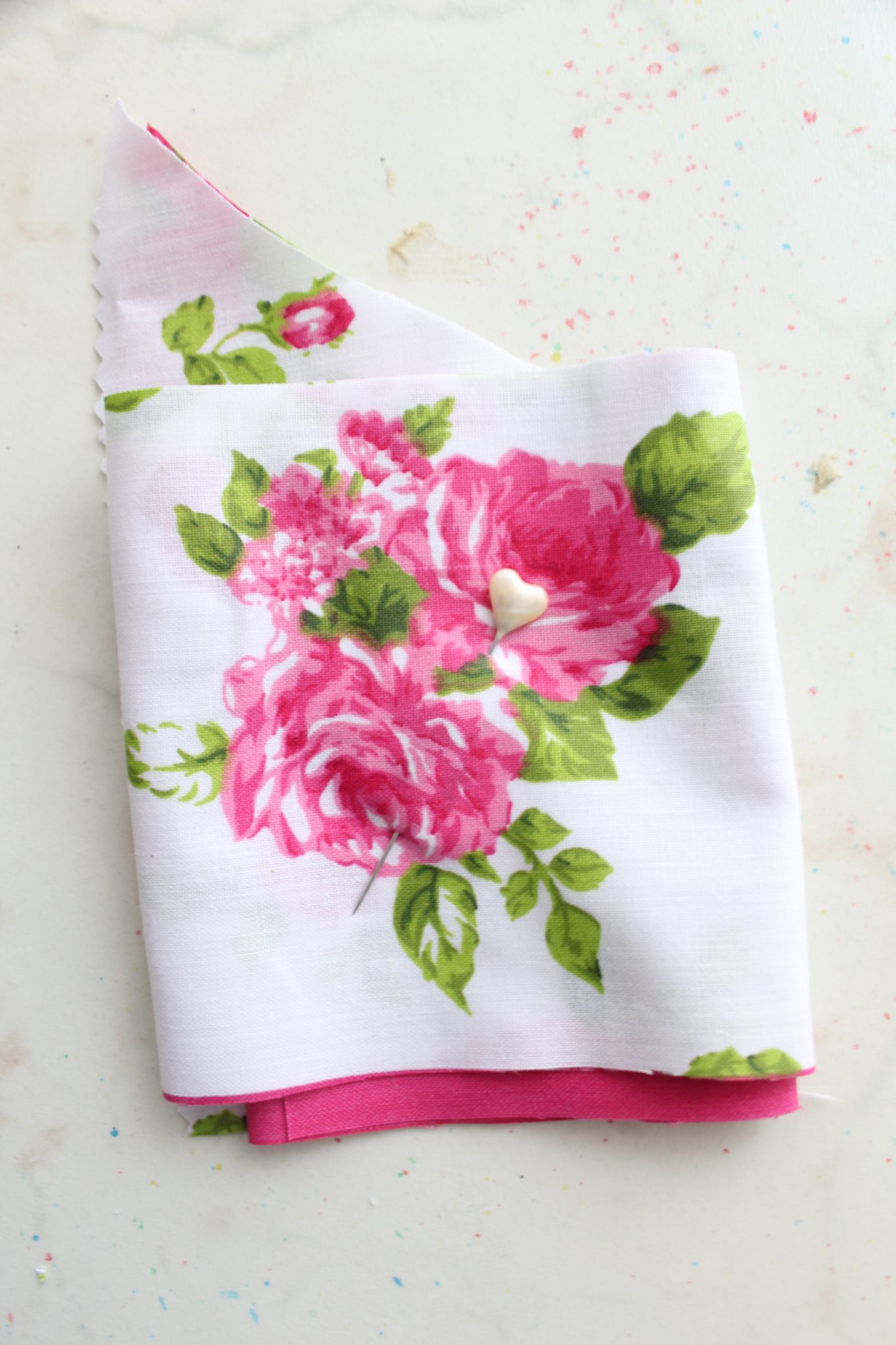 Place the heart template and trace around it with a fabric pen.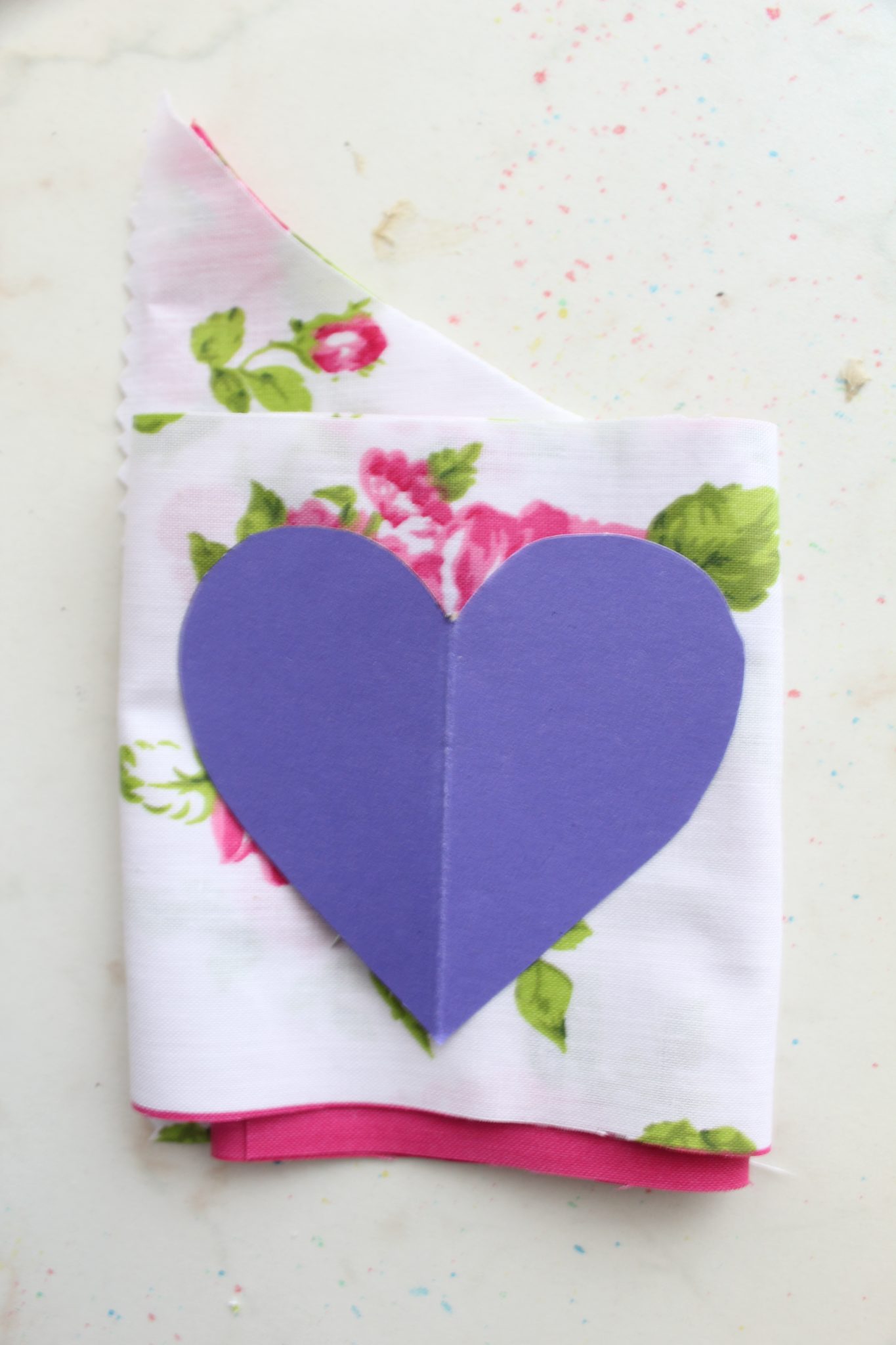 Cut out using your pinking shears. This way your fabric won't fray and also the hearts will look super special with that wavy edge.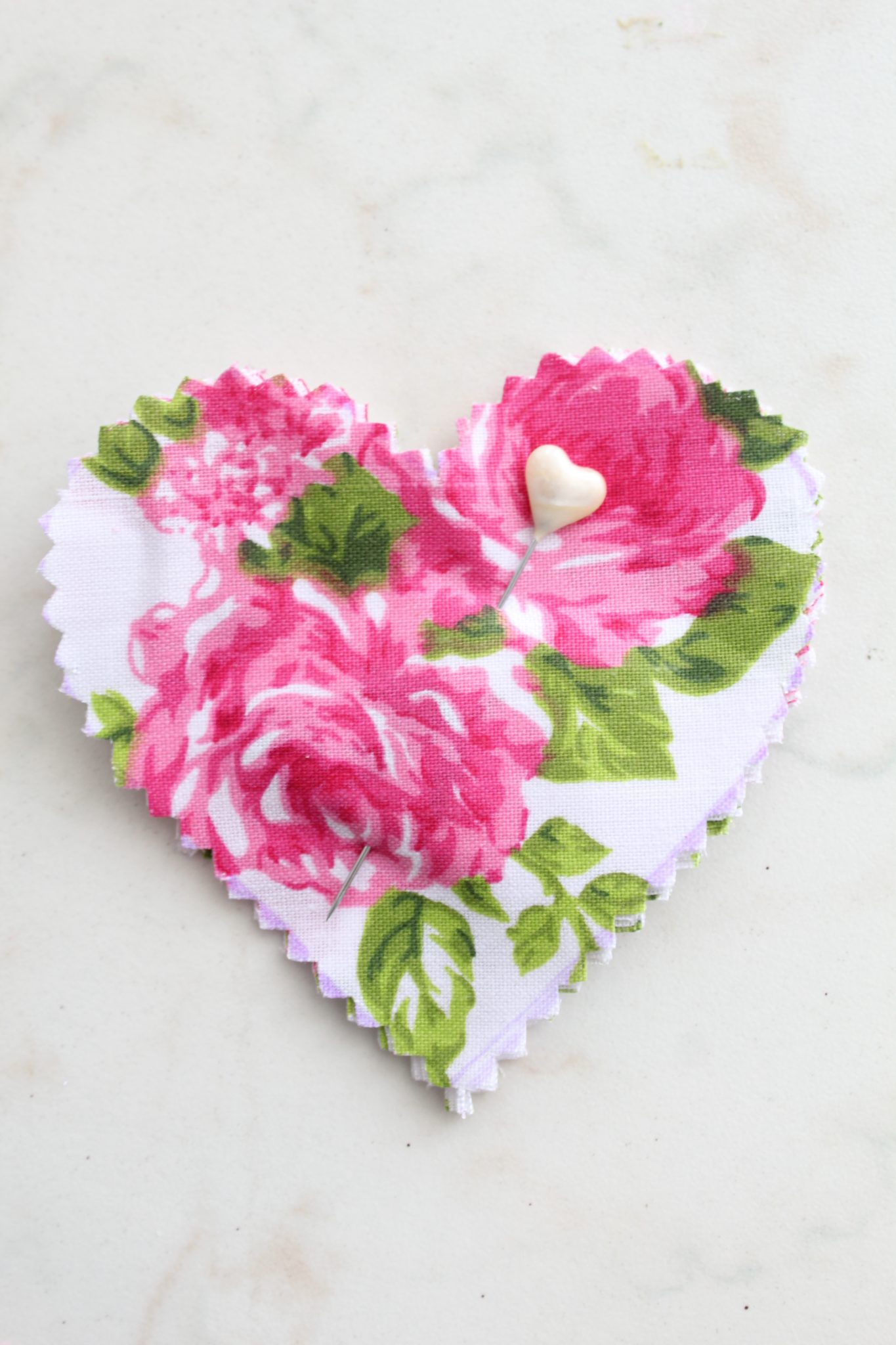 Sew the hearts method #1
For the first method, take one heart and run a straight stitch through the middle, from top to bottom.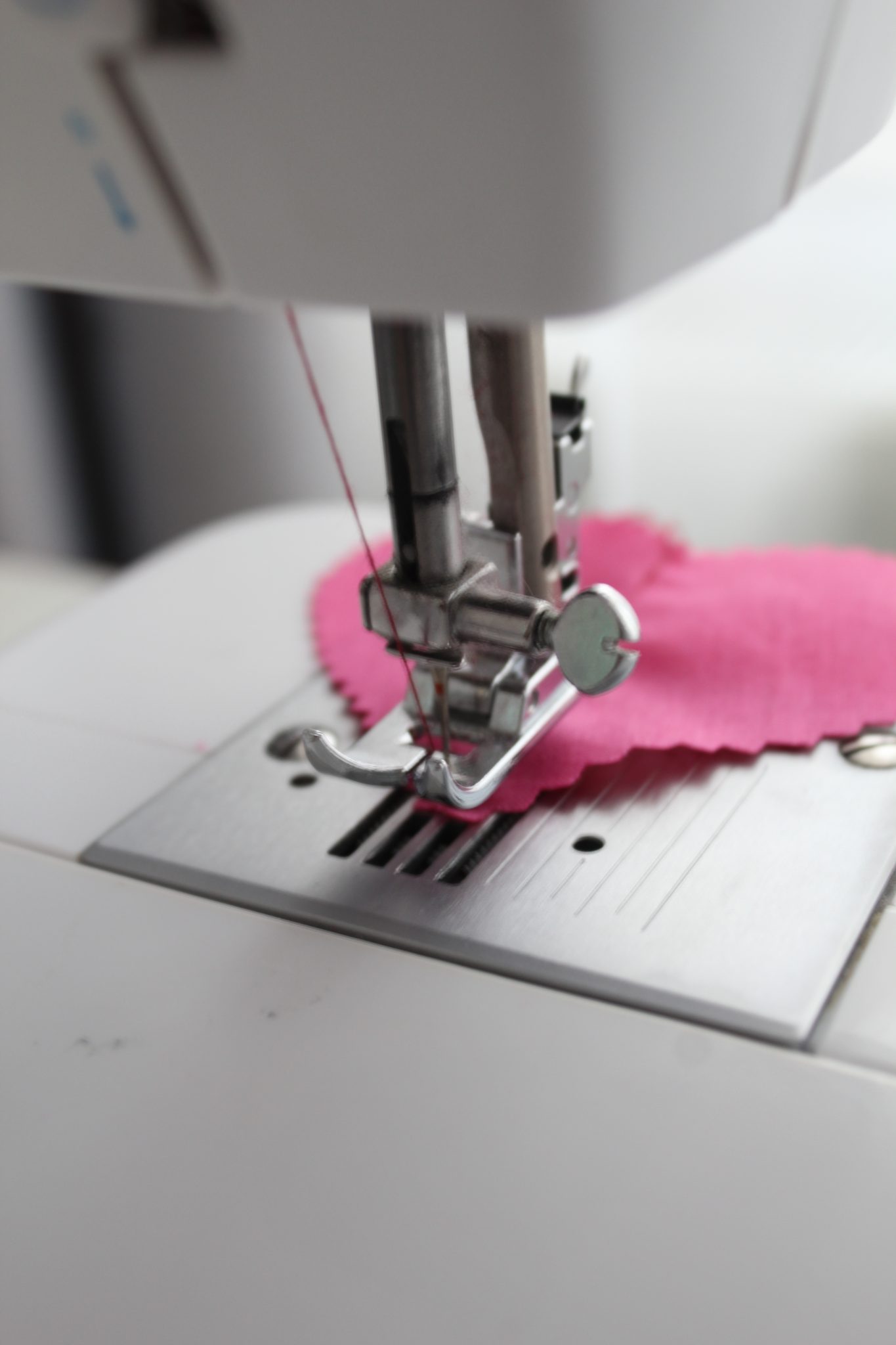 Stop at the bottom and with the needle down, lift the foot up and insert another heart under the foot until it meets the first heart.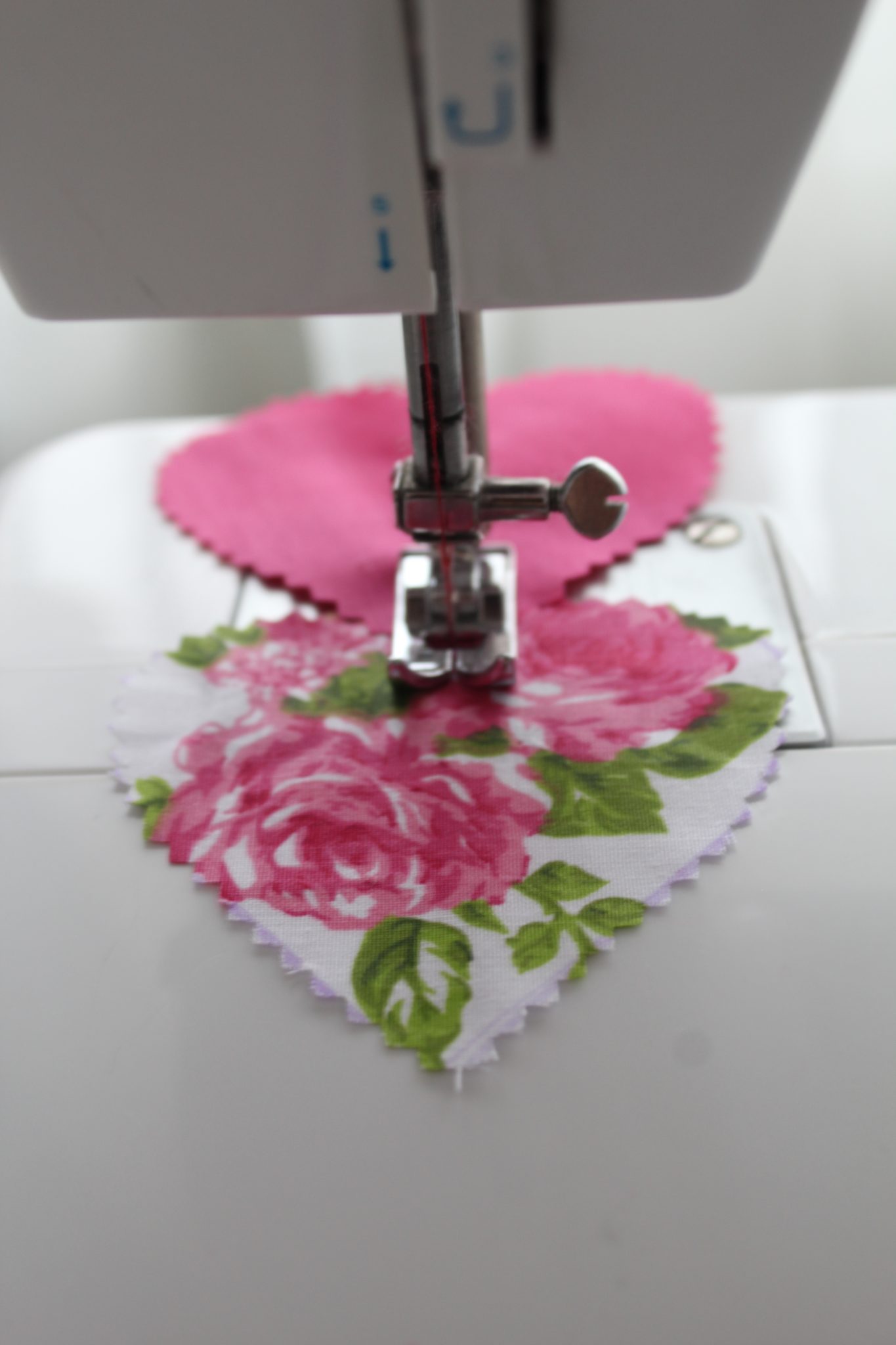 Press the foot down and continue sewing the second heart through the middle.
Continue until you're happy with the length.
You can either make individual garlands or sew all hearts together into a super long garland which you'll then trim a few times to get smaller garlands.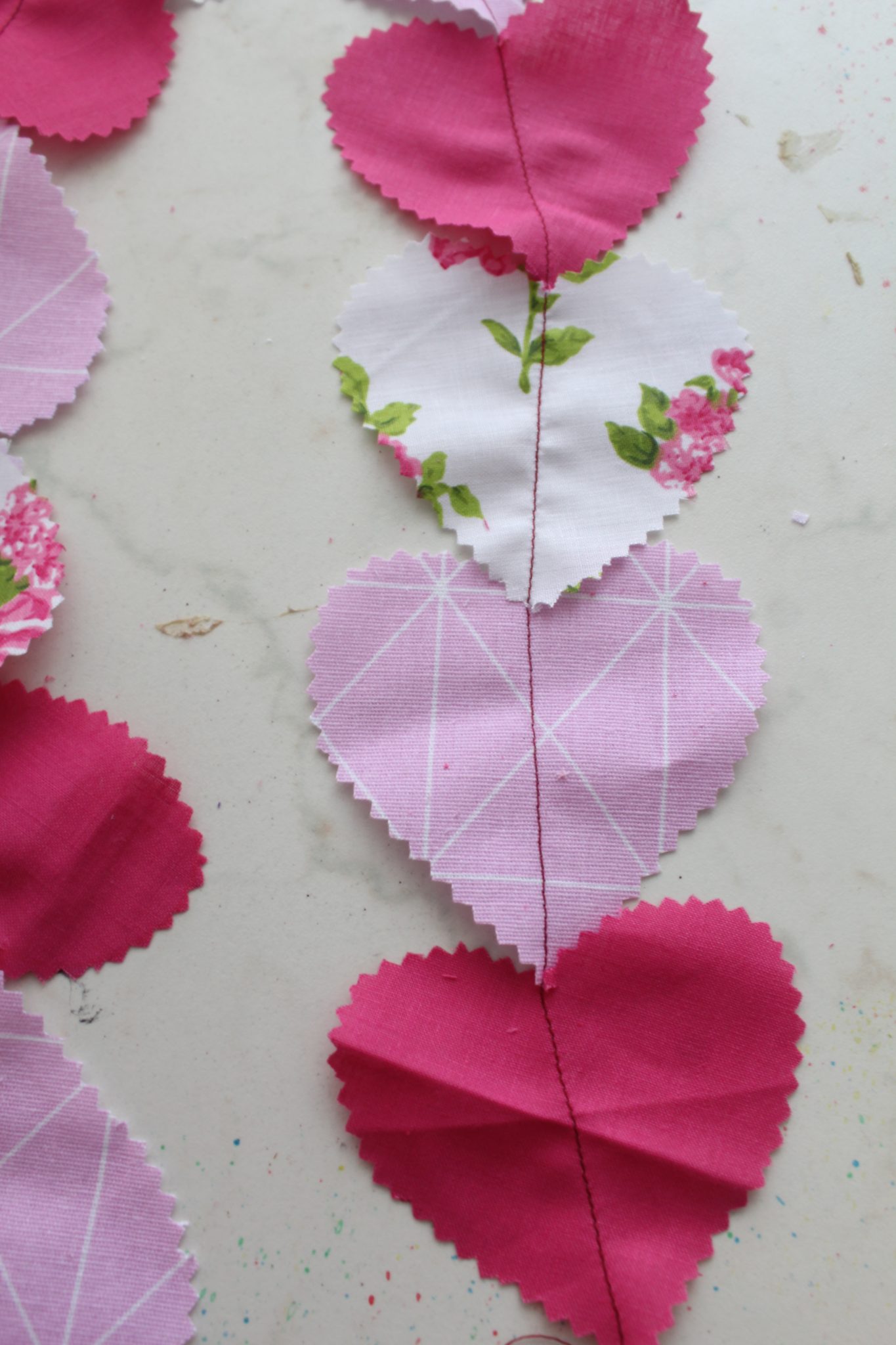 Sew the hearts method #2
For the second method, run a straight stitch along the top of the heart, catching fabric all across the stitch line.
Stop when you're almost done with the first heart lift the foot up and insert the second heart under the foot.
Press the foot down and sew the second heart in a similar method.
Repeat until all hearts are done. As before, do individual garlands or sew a super long one which gets trimmed when you're done.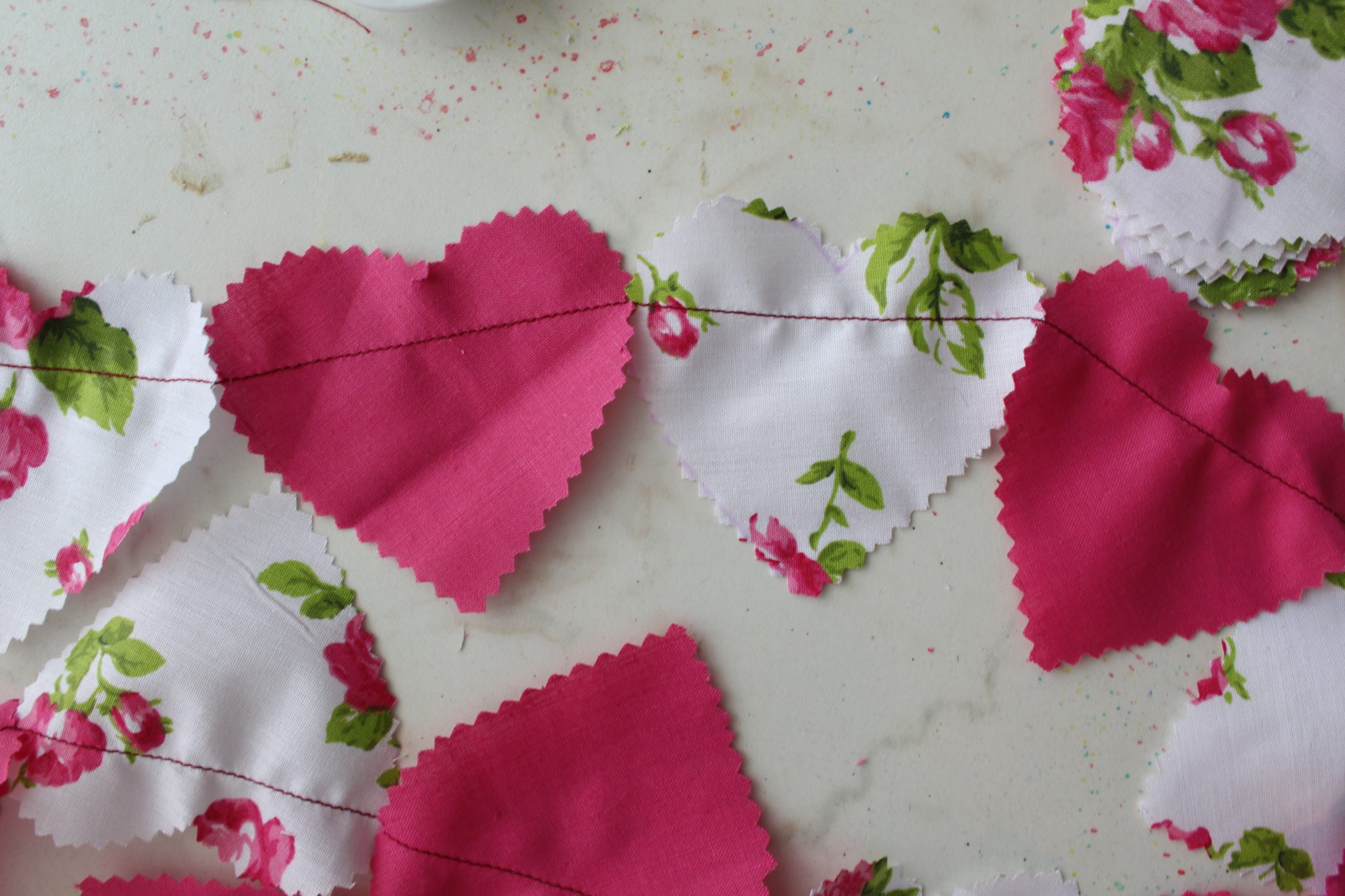 Spray the garlands with hair spray and press with the iron on steam. The hair spray will make the fabric a little stiffer and helps the hearts hold shape when you hang them on the wall, particularly good for the horizontal garlands.
To hang the garlands on the wall, tape the first and last hearts in a garland with double sided tape and stick to the wall (or doors, mantel, ceiling etc)
Enjoy your beautiful heart garland!
I hope you liked my tutorial and if you did, please let me know in the comments! And don't forget to rate it! I appreciate your support! xoxo
Pin to save for later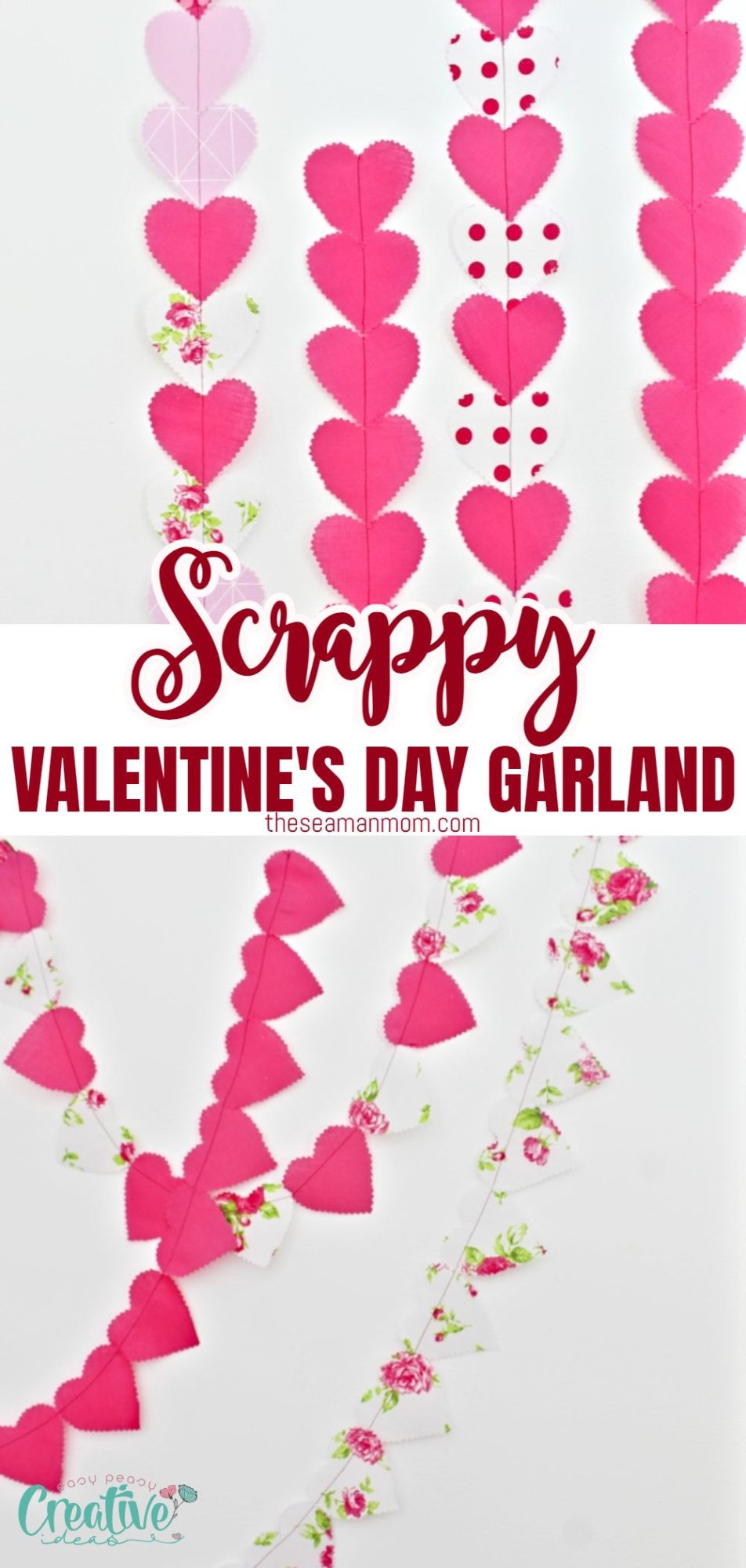 Most popular sewing projects: