Make an absolutely adorable & easy half apron
Article may contain Amazon & affiliate links. As an Amazon Associate I earn from qualifying purchases at no additional cost to you.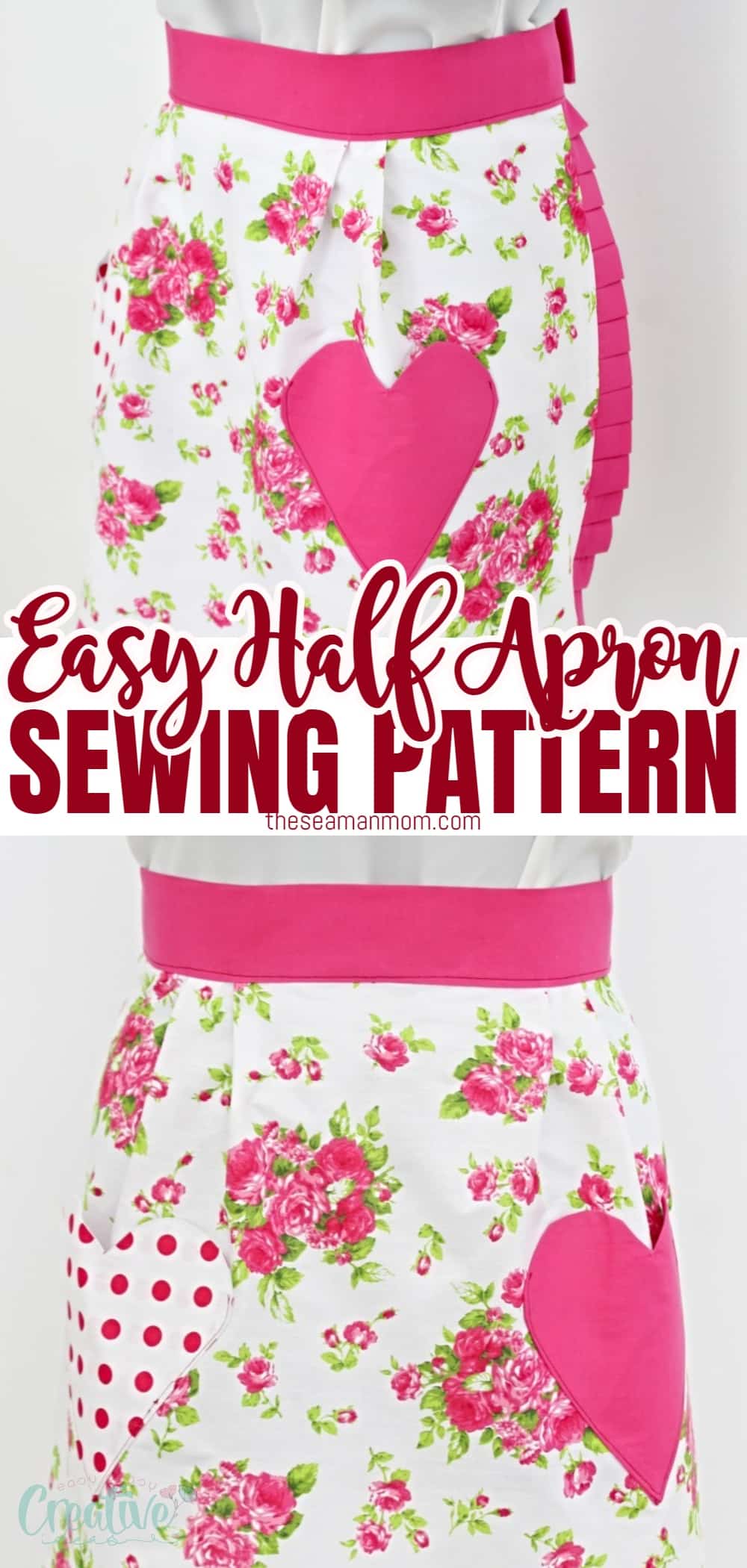 Are you looking for a special way to stitch up beautiful aprons? My half apron pattern makes the perfect Valentine's Day present or personal DIY project! With heart pockets and an adorable design, this lovely creation is sure to spruce up any kitchen in no time.
Half apron pattern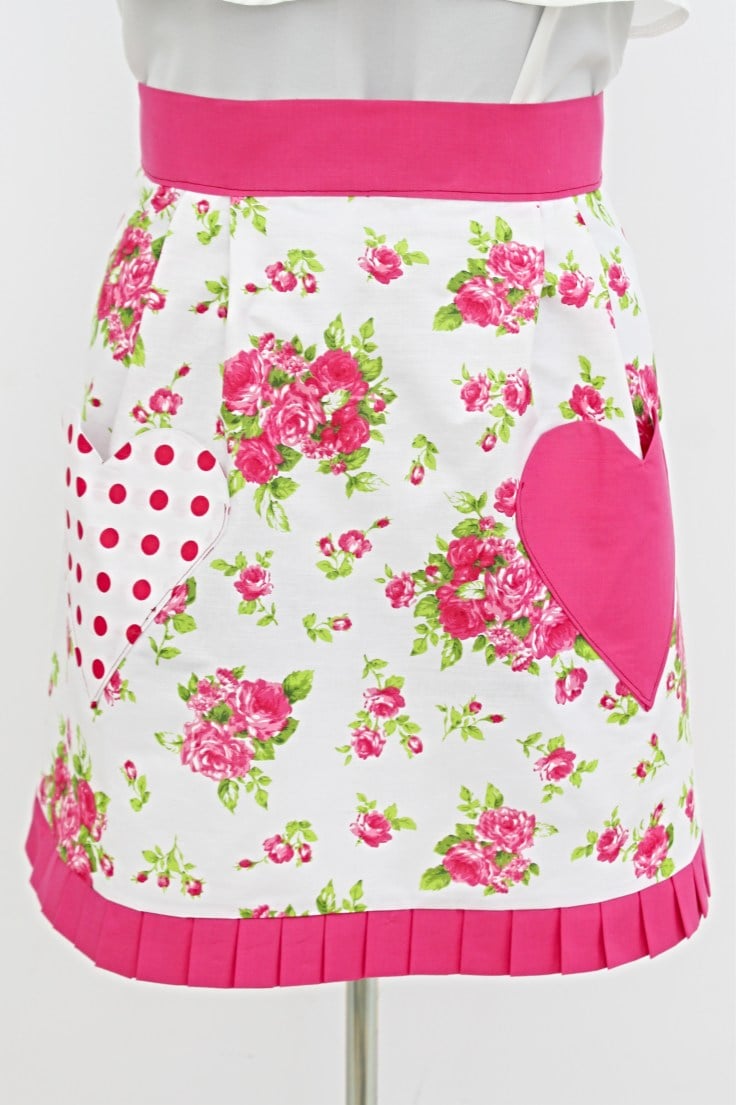 Making half aprons for yourself or a loved one is easy and fun when you use my apron sewing pattern! No matter if you're experienced in the world of sewing, or just starting out, this half apron pattern will help guide you through every step of the way. With its classic waist-length silhouette and heart pockets, this waist apron pattern is sure to make any kitchen look stylish and inviting.
Besides myself, I'm considering creating a handful of these adorable ruffled aprons as gifts for some friends who also share my passion for cooking and baking. One can never have enough aprons, and by handmaking them, you can also match their kitchen décor. If your friend has a daughter that loves to hang around and help her in the kitchen, make matching aprons for both of them so that they feel more like a team.
Another great gift would be a matching set of a half-apron, oven mitten, and kitchen towel made of matching fabrics. Get ready to indulge in a delectable "thank you" treat coming your way soon!
Just like my daughter, I am such a girly girl! And since pinky pleats, roses and heart pockets literally scream girly, off we go to make our own half apron pattern with the mentioned adorable details. My easy apron pattern is loaded with sweetness, has not one but two heart shaped pockets, and loads of pleats around the sides and the bottom of that super sweet rose print apron!
Need more kitchen ideas?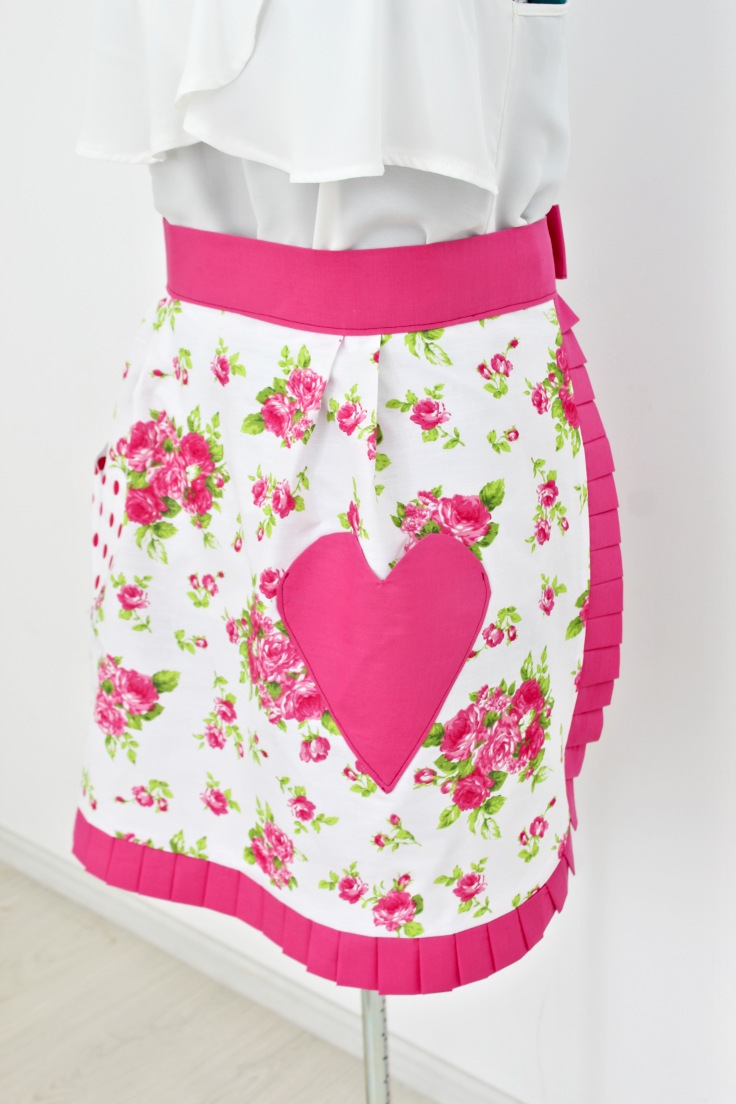 What is a half apron?
A half apron is a waist-length apron that does not come over the head or cover the body. It usually features pockets, ties at the waist and often has decorative elements. Half aprons are most often used in cooking and crafting, but can also be worn as part of an outfit for special occasions such as weddings or photoshoots.
What is the point of a waist apron?
A half apron, also known as a waist apron, is worn around the waist and is usually secured with ties or strings. It covers the front of your body from waist to just above the knees (and sometimes below the knees) and offers protection from kitchen messes and spills. Half aprons are often used in restaurants, cafes, and delis to protect clothing from dirt, grease, and food splatters. They may also be worn for decorative purposes and to show off a person's fashion sense or style.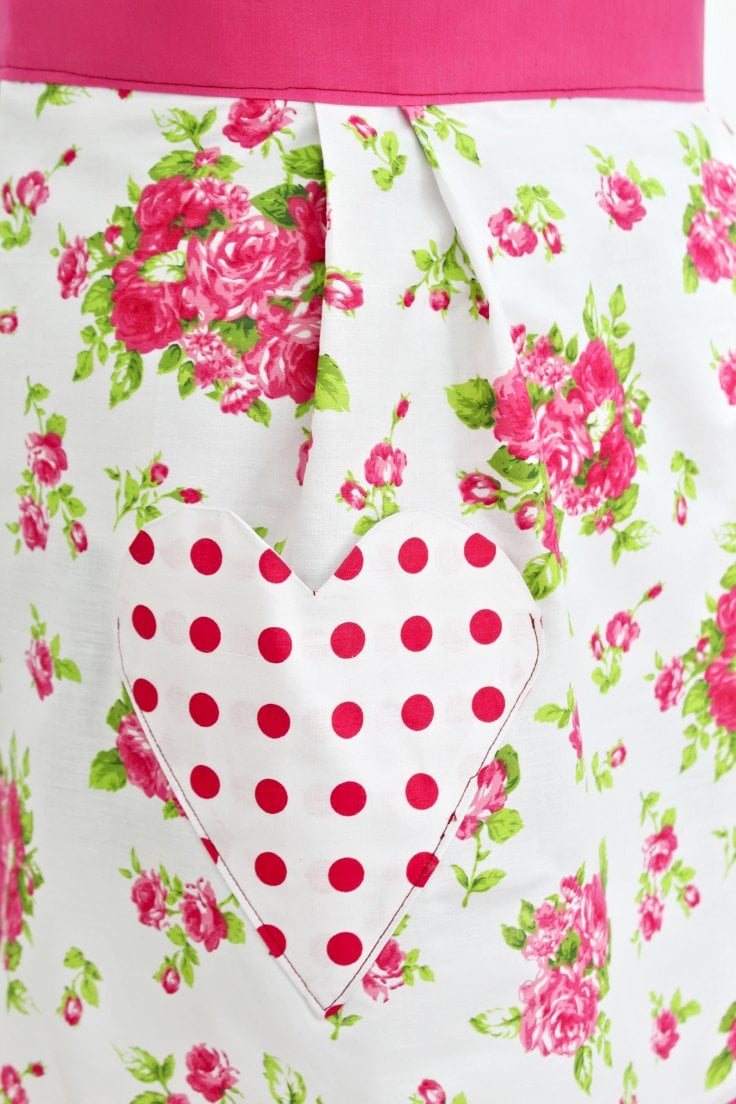 What fabric is best for an apron?
I recommend making your apron out of a sturdy fabric that holds up well machine washing so that you can really use it over and over again. But what can you do with so many amazing fabrics available? More aprons! We do need a good supply of aprons, especially those of us that spend so much time in the kitchen.
Don't just think of plain fabric when you look for something to make this apron of. You can also repurpose a cute tablecloth, a larger kitchen towel or a textile placemat. Old jeans and denim skirts are also great to turn into an apron, and they can also get that lovely, romantic look with some ruffles along the hem.
I used the same pink fabric for the waistband and the pleats as I thought the adorable rose print fabric will look even more adorable framed by a pink colored fabric. While the colors in both fabrics complement each other I think the plain fabric truly helps the rose print one really pop! I went a bit cheeky though and "splashed" the apron with a dotted heart pocket which I personally find very cute and attractive and a fun touch to my sweet half apron pattern. I made the pockets in two different colors and patterns but you can use same color if you don't like mismatched pockets.
How much fabric do I need for a half apron?
The fabric you will need depends on the size of the half apron that you are making. A half apron pattern for an adult typically requires about half a yard (46 cm) of 45" wide fabric or one-third of a yard (30 cm) of 60" wide fabric. For children, half a yard (46 cm) of 45" wide fabric should be enough.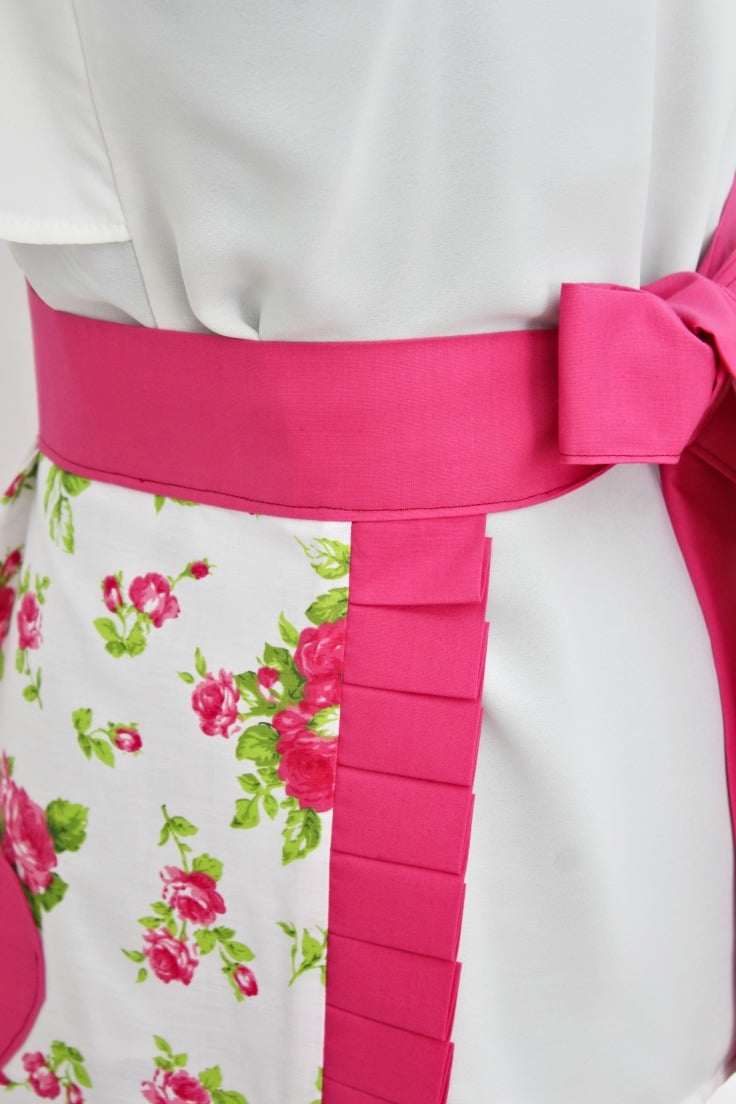 What is the length of a half apron?
The length of a half apron depends on the size of the person who will be wearing it. A half apron should extend from the waist down to just above the knees but can be shorter for children or longer for adults with more coverage. Generally speaking, an adult half apron should measure about 19 inches (48 cm) long and a half apron for kids should measure about 12 inches (30 cm) long.
How long should apron strings be?
Apron strings should be cut long enough so that they can easily be tied around the waist. For adults, the strings should measure about 28 inches (71 cm) long and for children, 18 inches (46 cm) long. You can also adjust the length of the apron strings if needed to fit your body size or if you'd like to wear the half apron higher or lower on your waist or tie it into a cute bow as I did here.
How do you make an apron pocket?
This half apron pattern will help you use up some scraps and leftover small fabrics that you couldn't yet find a use for. The pockets in this half apron pattern can be simply decorative, as they are in my apron but you can also make yours more practical so you are able to carry kitchen items in them (no, not the soup pot! lol). Just add a little interfacing on one or both sides of the heart (depending on how thick and stiff your interfacing is and also how sturdy you need the pockets).
You can also put on just one or no pockets, depending on the final look you want for your apron.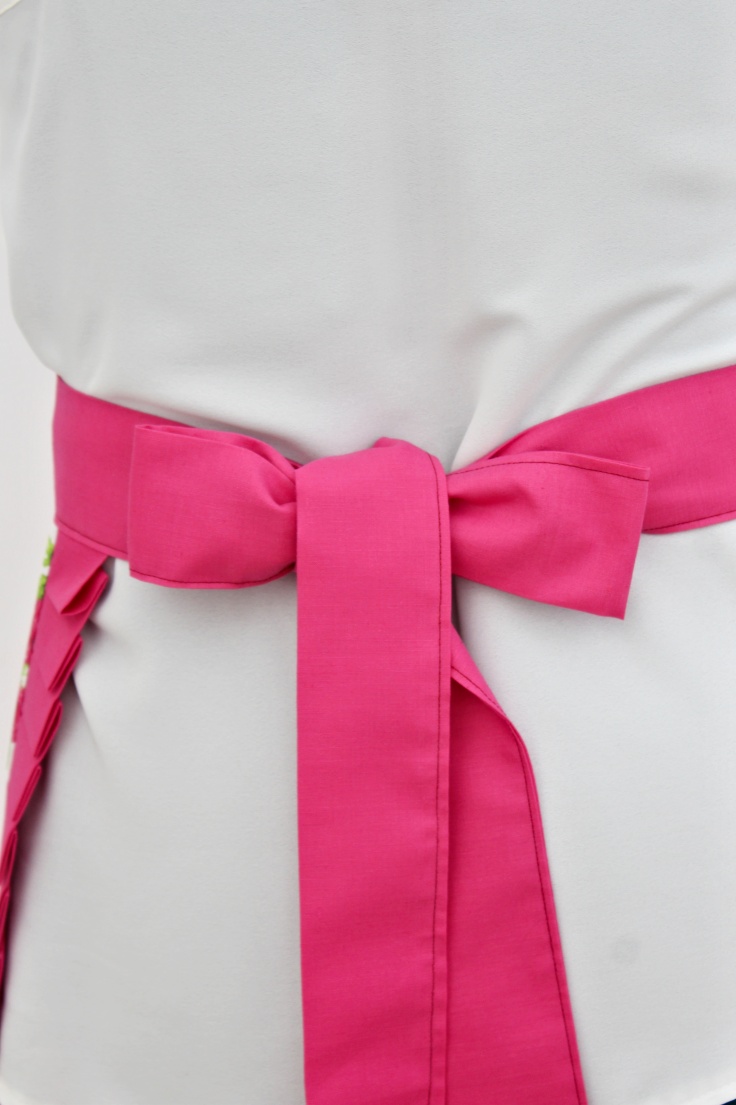 How to personalize your apron
Ruffles are optional, but they do look so cute, I just needed to add them. You can leave your apron plain if you don't like them or are afraid to try pleating. If this last one is the reason, though, I can swear pleats and ruffles are sooo easy, once you learn how to make them, you will want to add ruffles and pleats to anything.
The ruffle size and width depend on the fabric you are pleating. Thinner fabrics allow for many smaller ruffles, while thicker ones will only allow you to make fewer, larger ones.
Also, you can pleat and make the apron skirt fuller, or use less fabric and only make two pleats on each side, like I did. It only depends on how much covering you want and on your personal taste. Just remember that the fabric thickness will allow for more or less pleats, just like for the ruffles.
You can also shorten the straps if you don't plan on tying them into a large bow.
Now that we have all the basics covered, it's time to move on to sewing the half apron pattern!
---
The pattern for this lovely half apron with pockets can be purchased HERE!
---
Apron sewing pattern and tutorial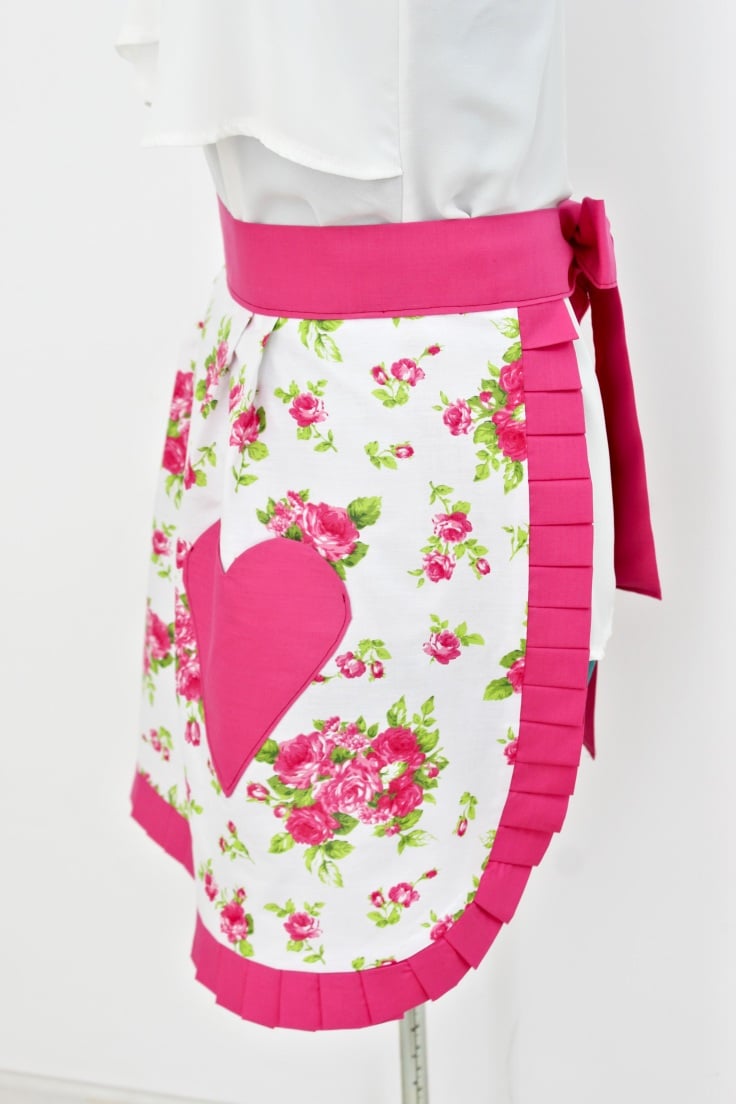 What are the materials needed for apron?
How to make a half apron:
Cutting the fabrics
Take the main fabric and fold it in half.
Place the pattern for the apron on the fold, place pattern weights, or secure with pins and cut out.
Take the fabric for the first set of hearts (the first pocket). If you use individual strips, place them on top of each other, right sides facing together, place the heart template on and cutout. If you have a larger strip, fold it in half onto the right side, place the heart template on and cut out. Pin the two hearts together and set aside.
Repeat for the fabric used for the second set or hearts (the second pocket piece).
Cut a long piece of fabric for the waistband, 6ft long and 8″ wide. I made the waistband this long because I intend to go girly all the way, make a big bow when I tie my apron at the back and truly strut my stuff in my kitchen where no one sees me like ever! If you intend to be a normal person in the kitchen, please feel free to adjust the length.
Cut another long piece of fabric, this time even longer for the pleats. I used three strips joined together totaling about 18ft in length and 4″ wide.
Making the pleats
If you don't have a super long strip of fabric, cut a few strips of 4″ wide and sew them together. Press the seams up then proceed to next step.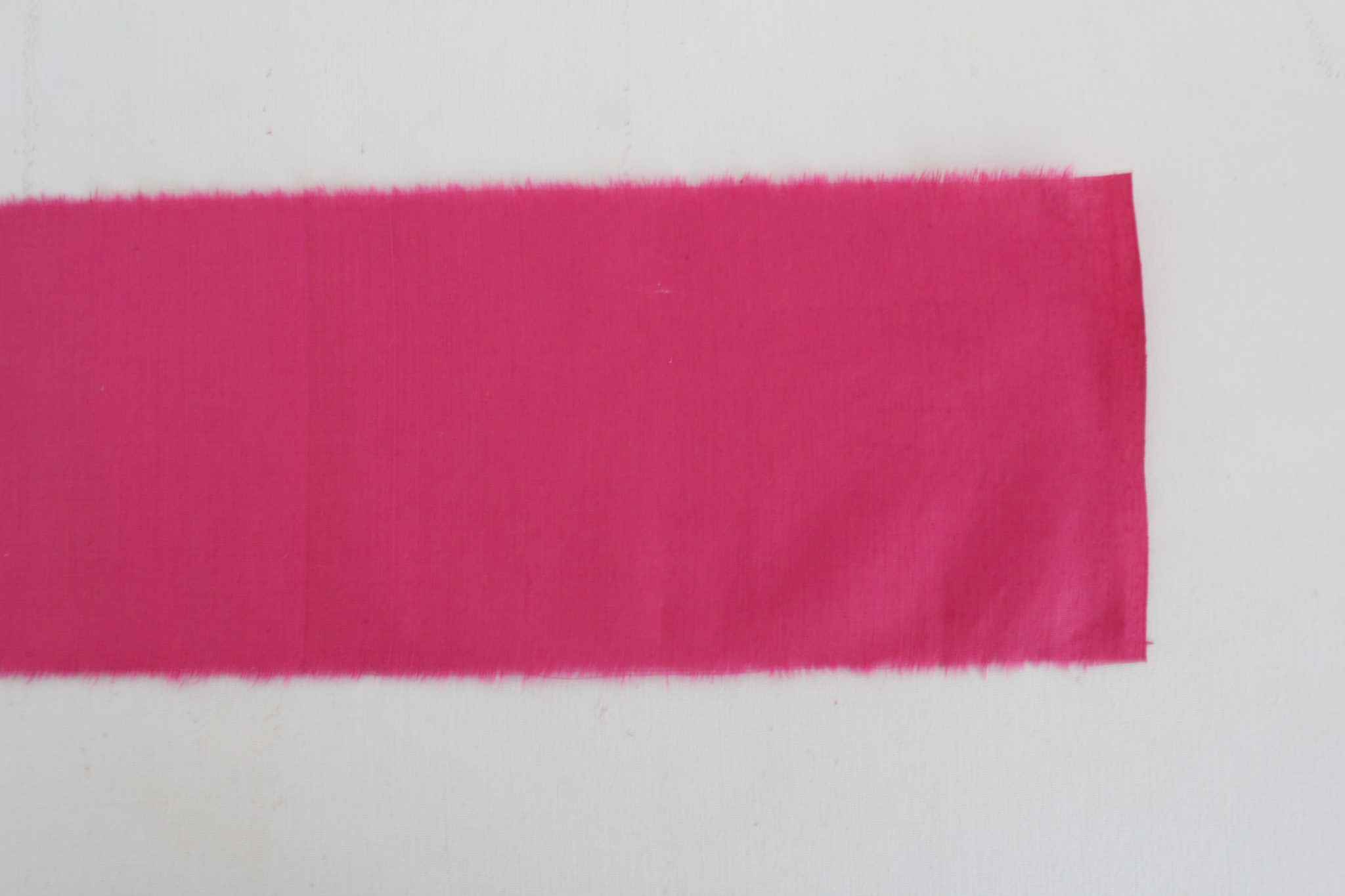 Fold the long strip in half, wrong side together, and press really well with the iron on steam, until you get a sharp fold.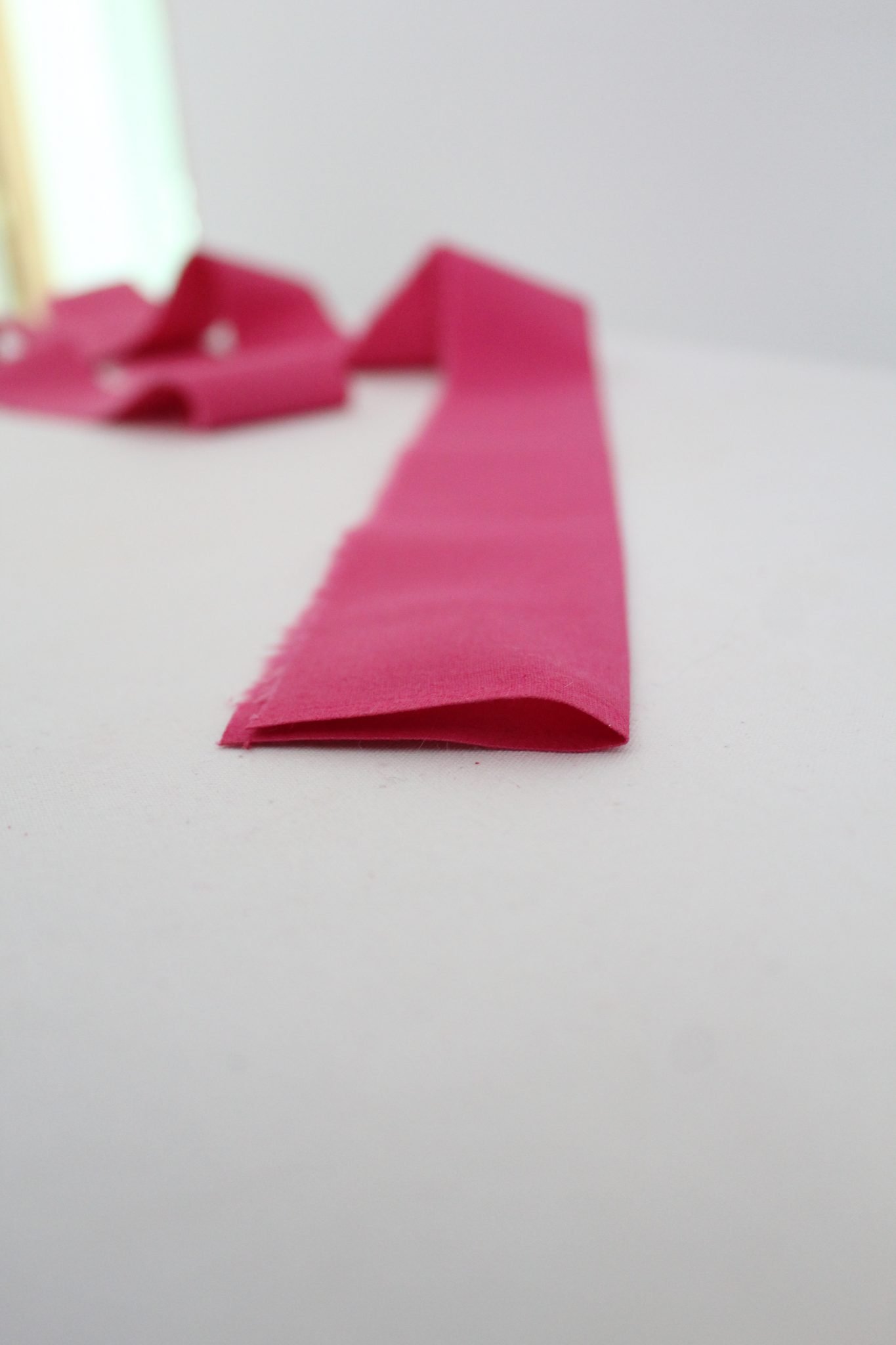 Star making the pleats, each about 1″ wide until you're done with this strip (I made a tutorial on how I make my knife pleats so if you don't know how to make yours, check out this method). The seam gauge is a real help in this step.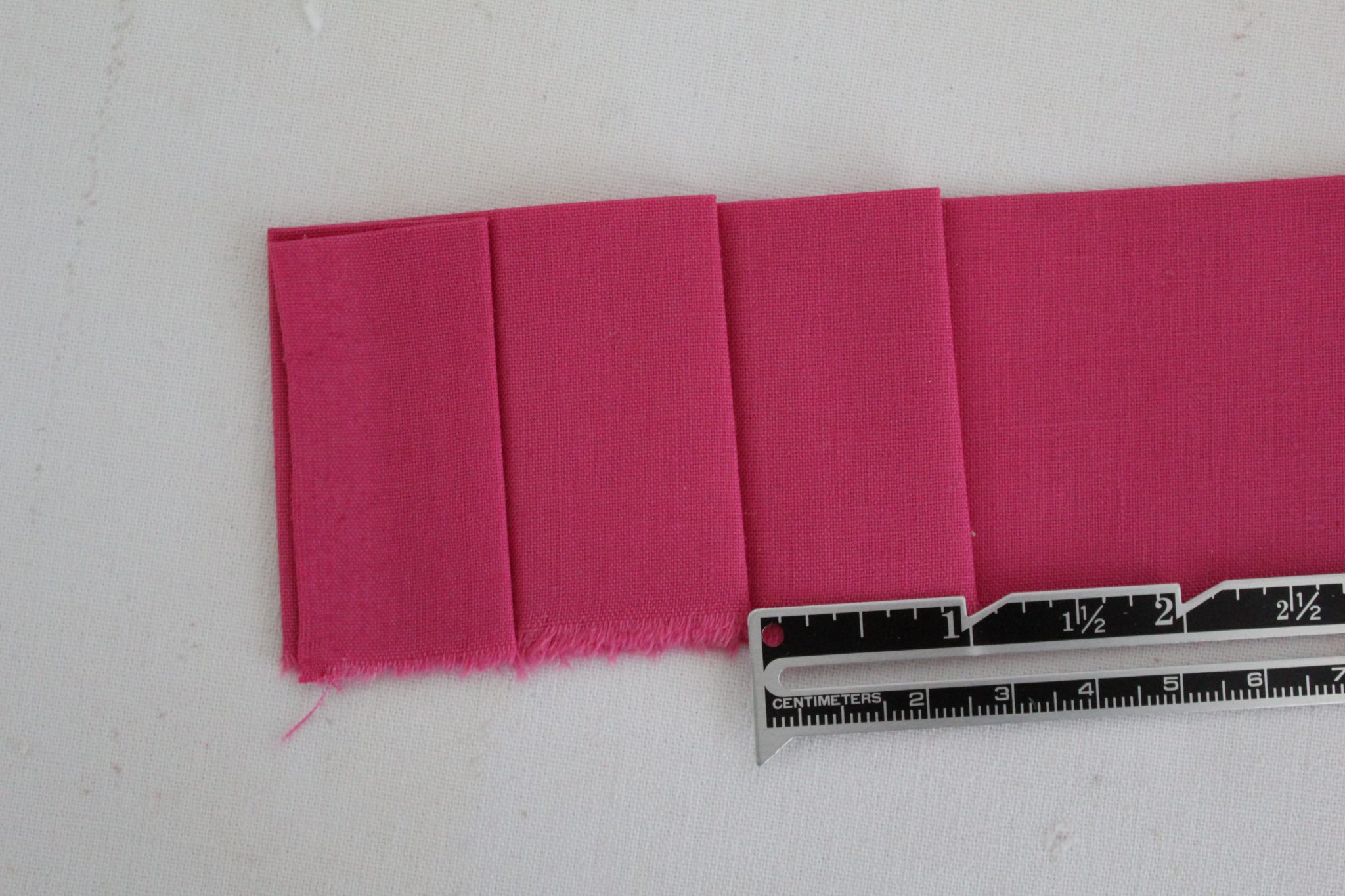 As you make pleats, secure them with pins.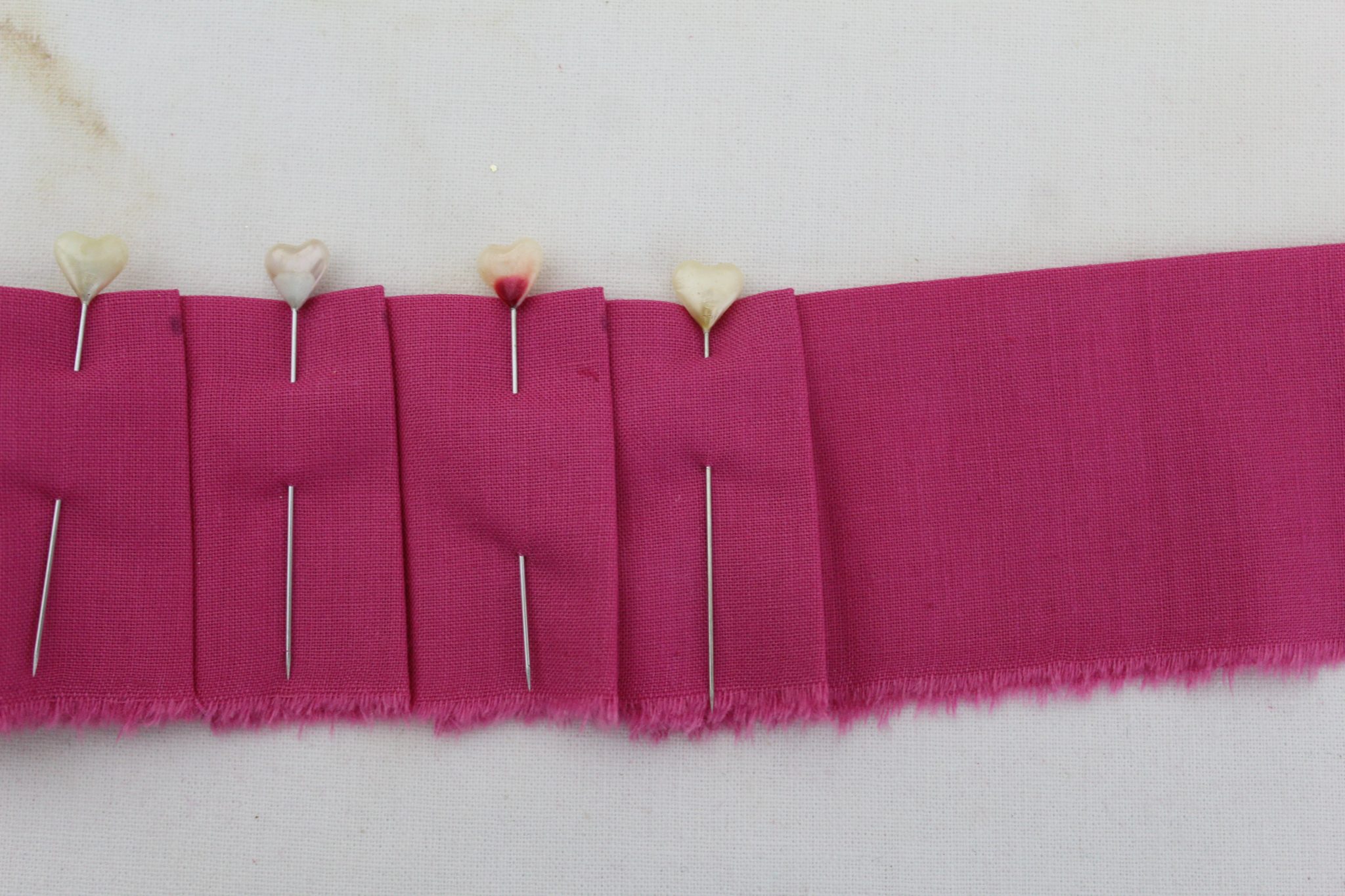 Take the pleated strip to your sewing machine and sew the pleats along the raw edge, 1/4″ away from the raw edge.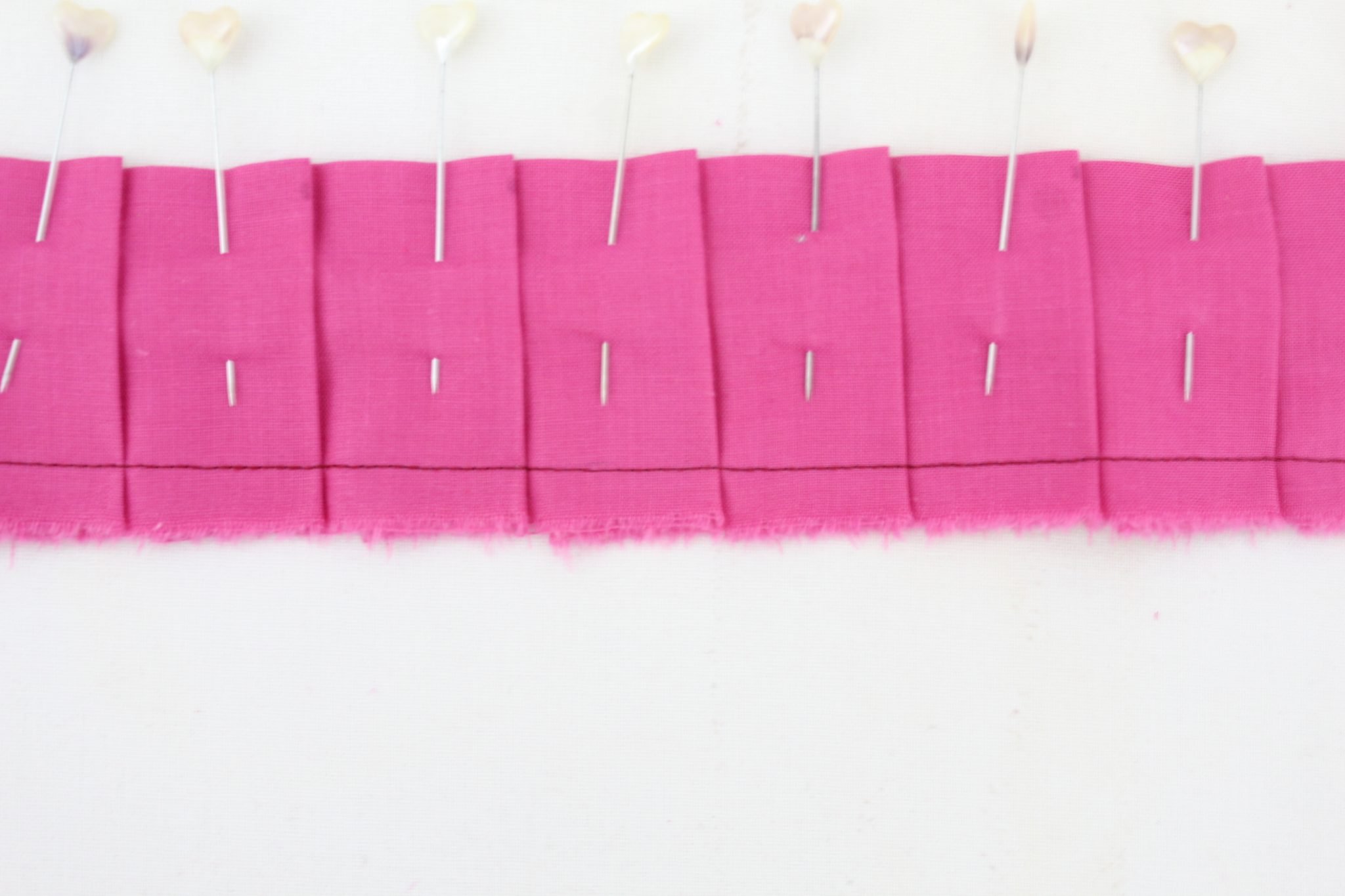 Take the pins out
Set the pleated strip aside for now.
Making the waistband
Take the strip for the waistband, fold in half and press.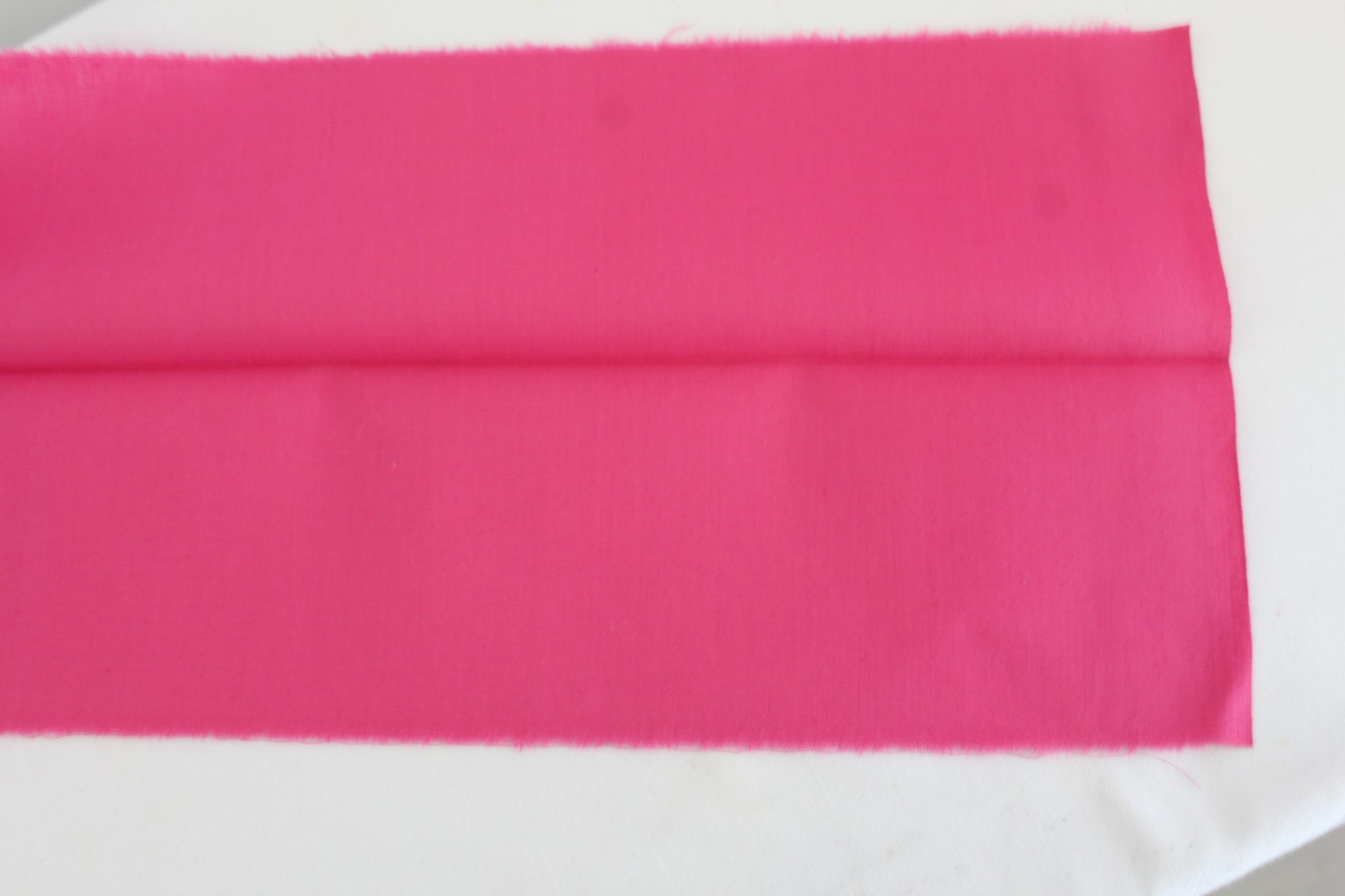 Open the folded strip, fold each half and press.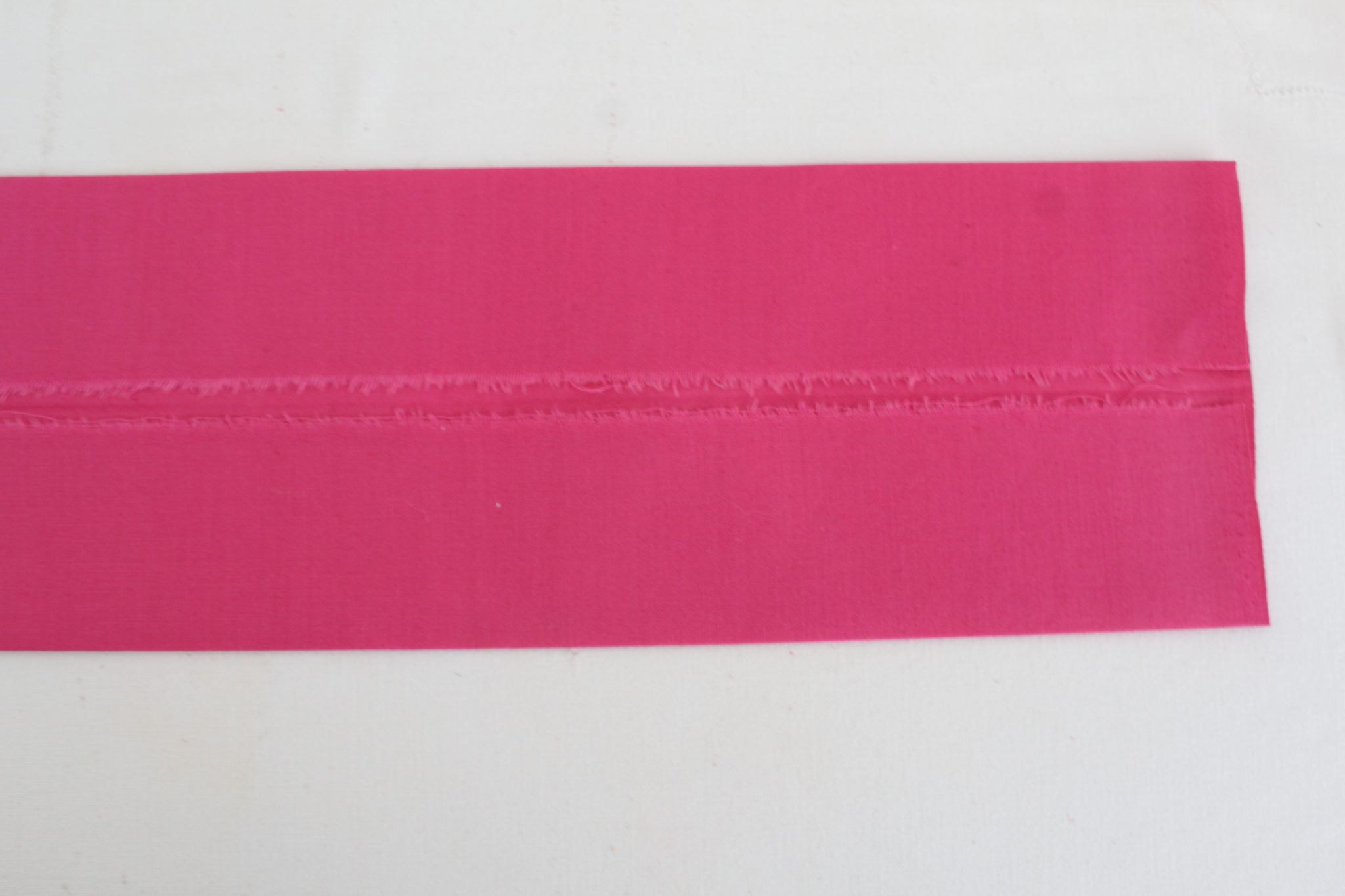 Fold the ends in (the short edges) about 1/4″ and press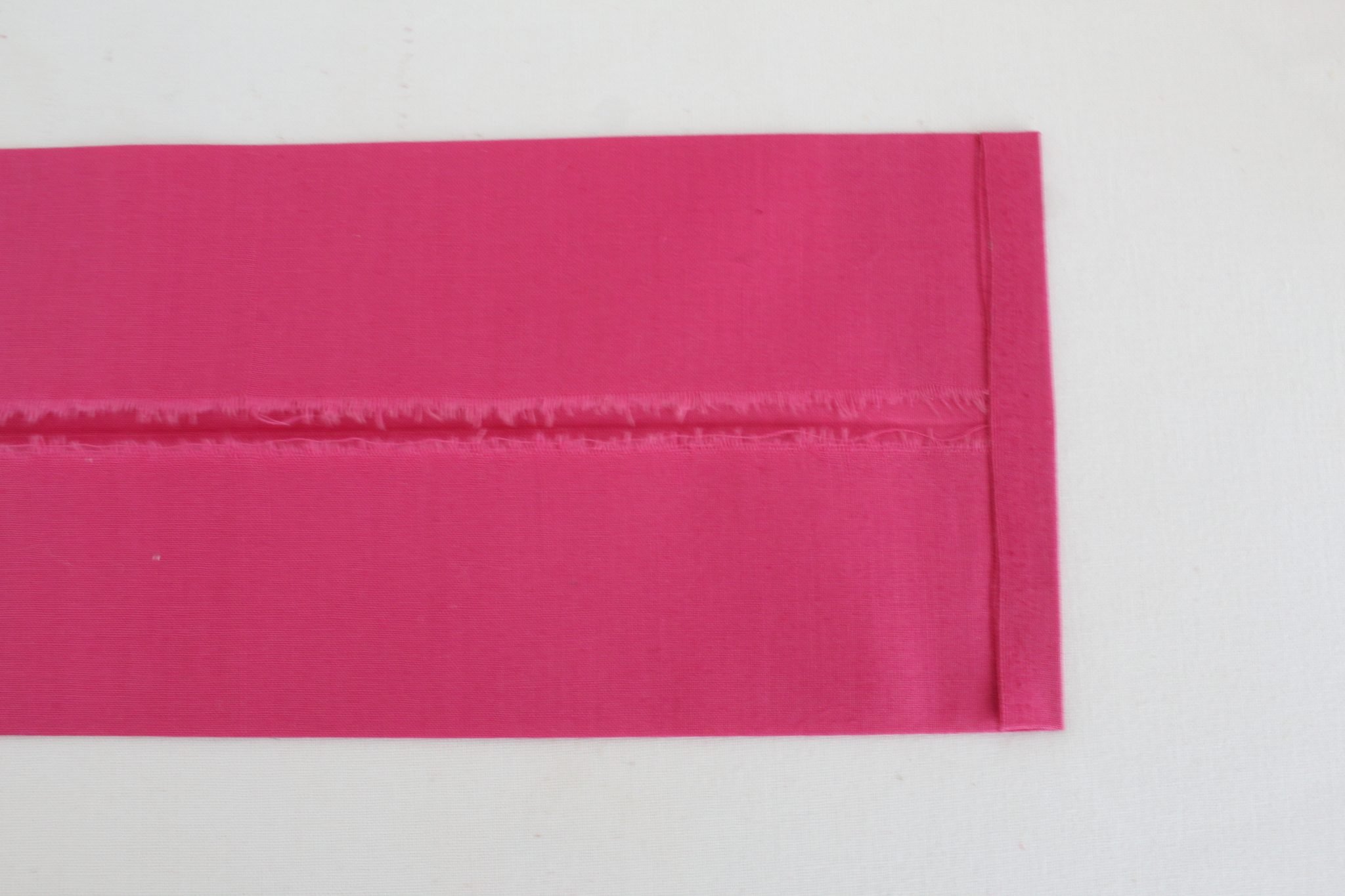 Fold the strip in half again and press.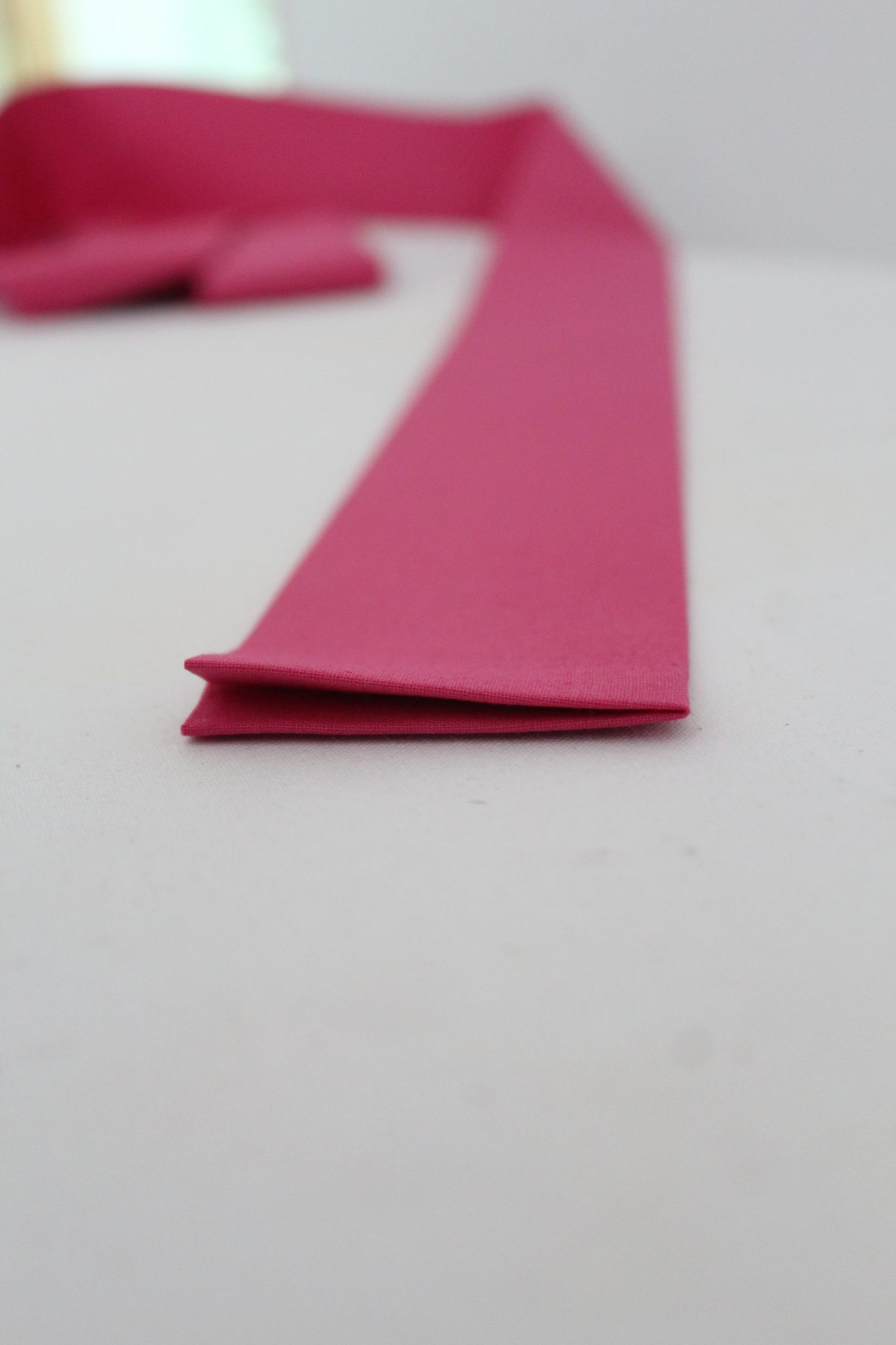 Set your waistband aside for now.
Preparing the apron
Take the apron piece and fold in half, widthwise
Fold again and using your fabric pen, mark this point on both halves of the apron.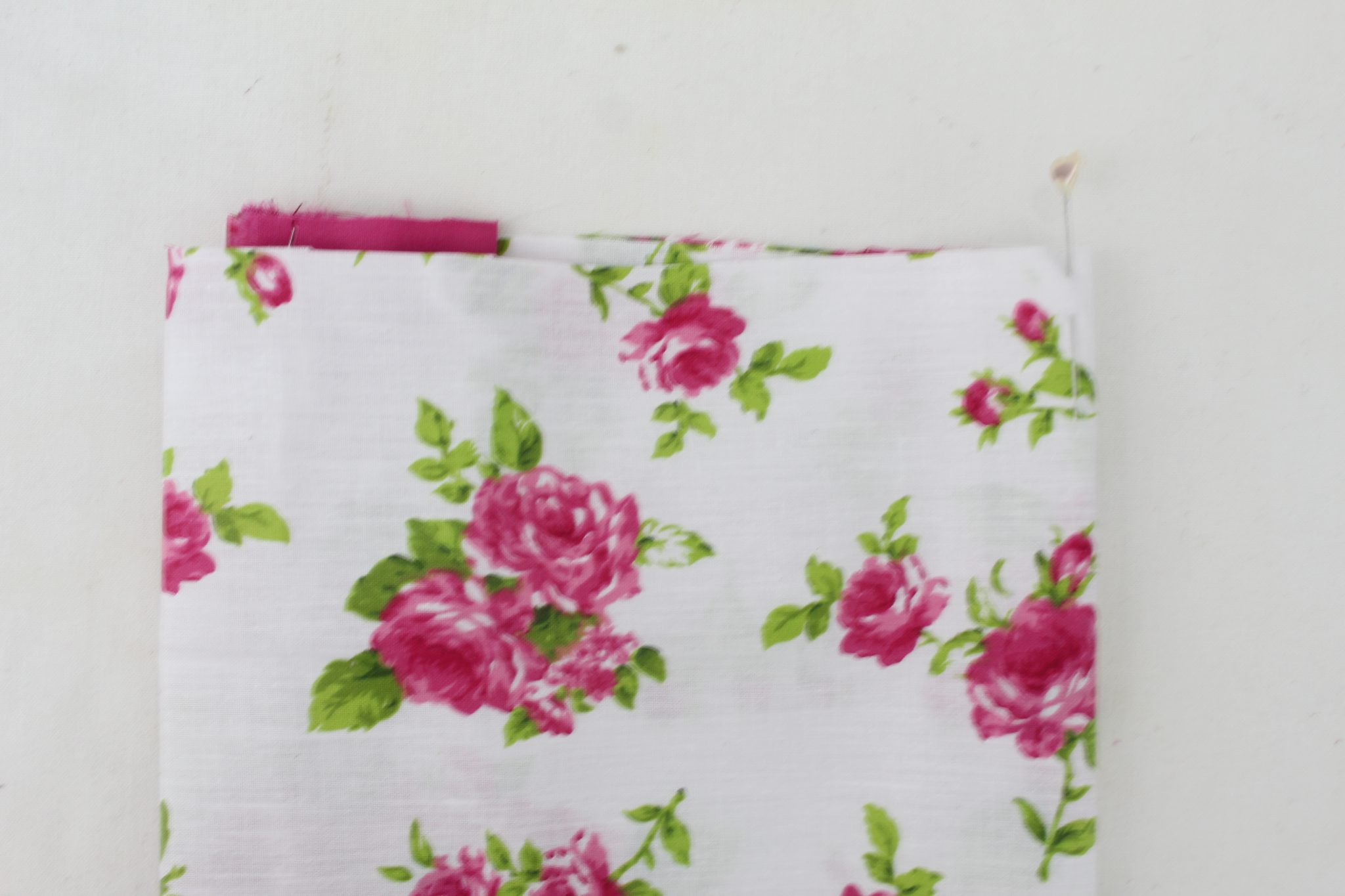 Starting from these marked dots, form two pleats on each side of the apron. The pleats should point to the sides of the apron.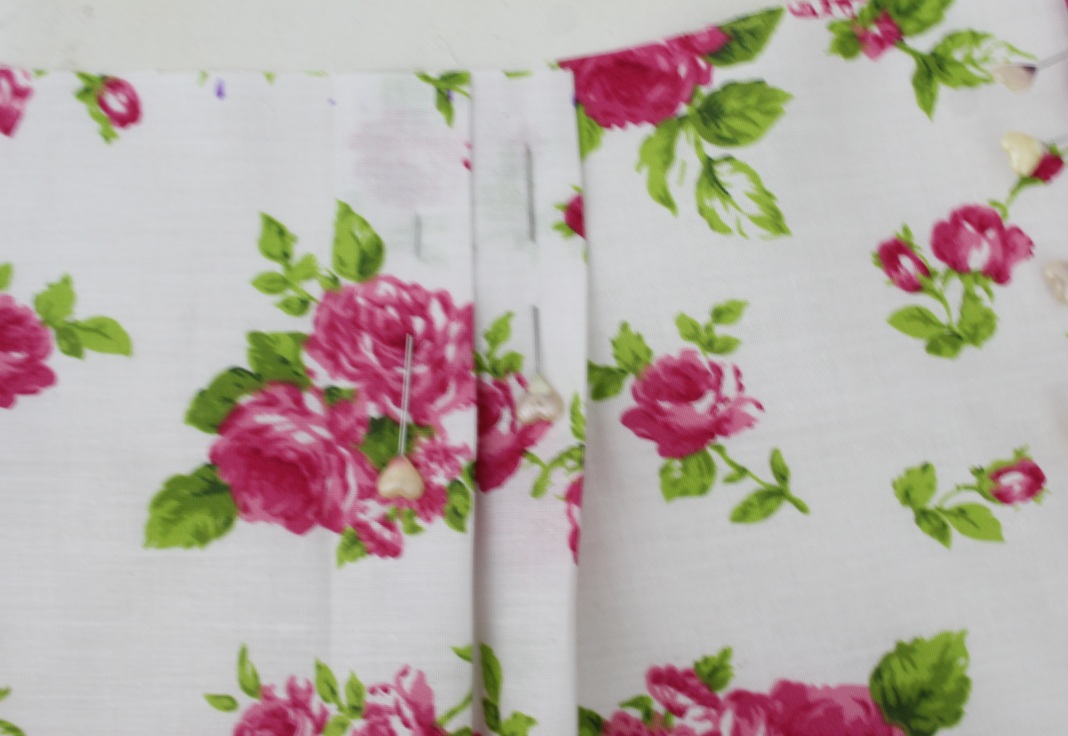 Pin the pleats and take the apron to the sewing machine.
Run a stitch along the pleats, about 1/4″ away from the top raw edge of the apron.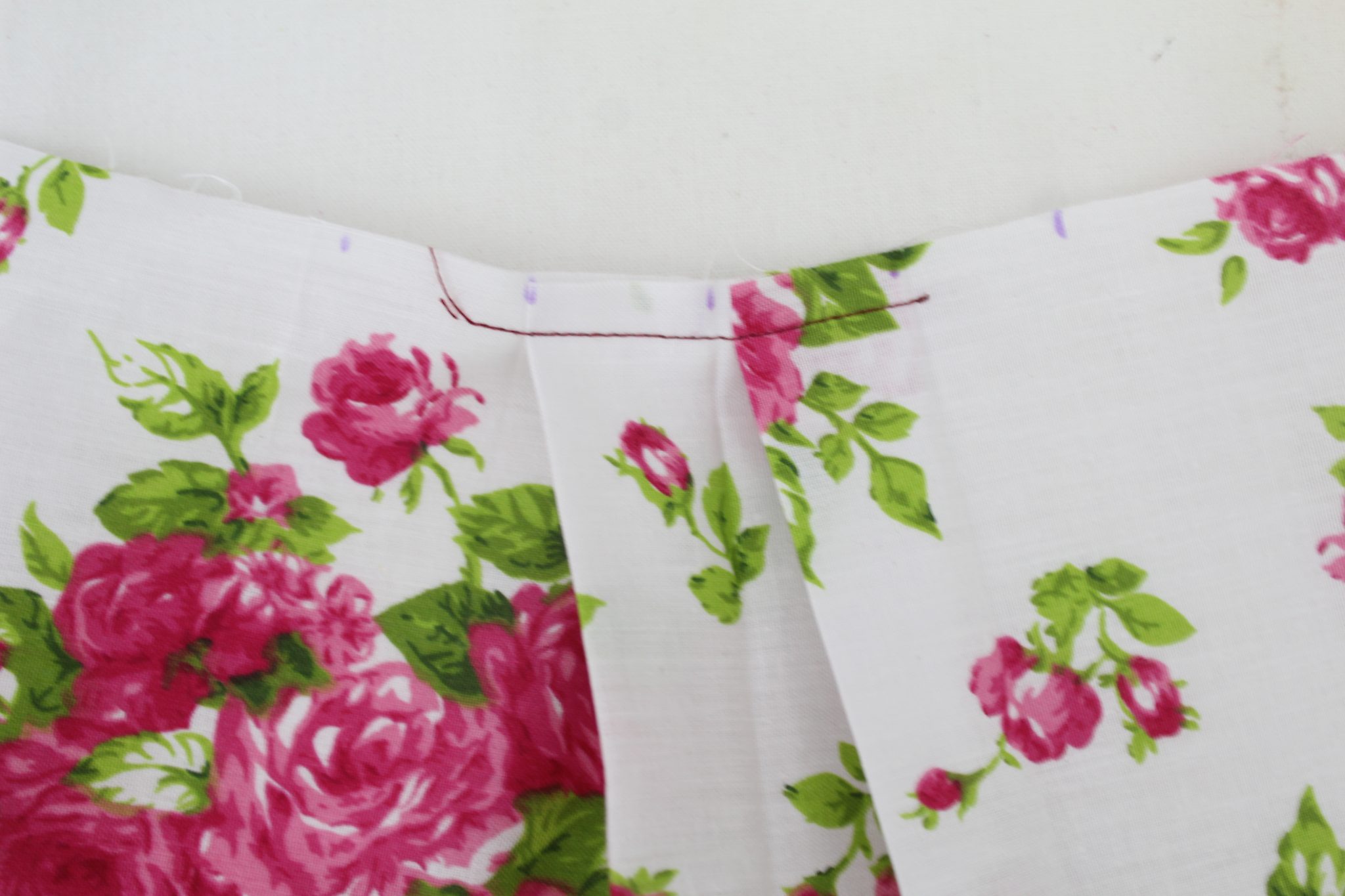 Making the heart pockets
Take the fabrics for the first pocket and if you haven't done it already, place them right sides together.
Pin and sew with 1/4 allowance, leaving a small gap for turning the hearts out.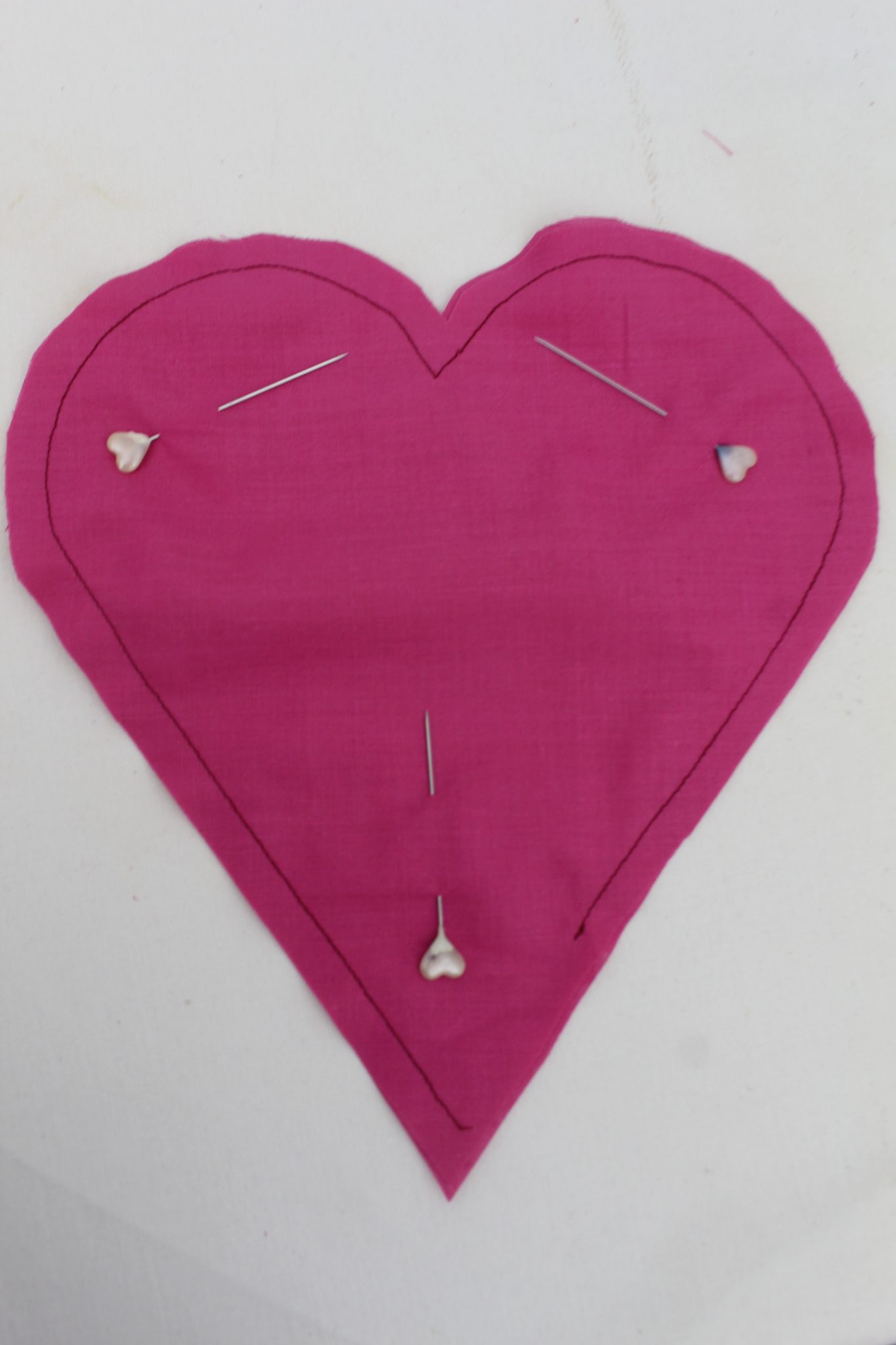 Snip the heart where the top curves meet, without snipping through the seam.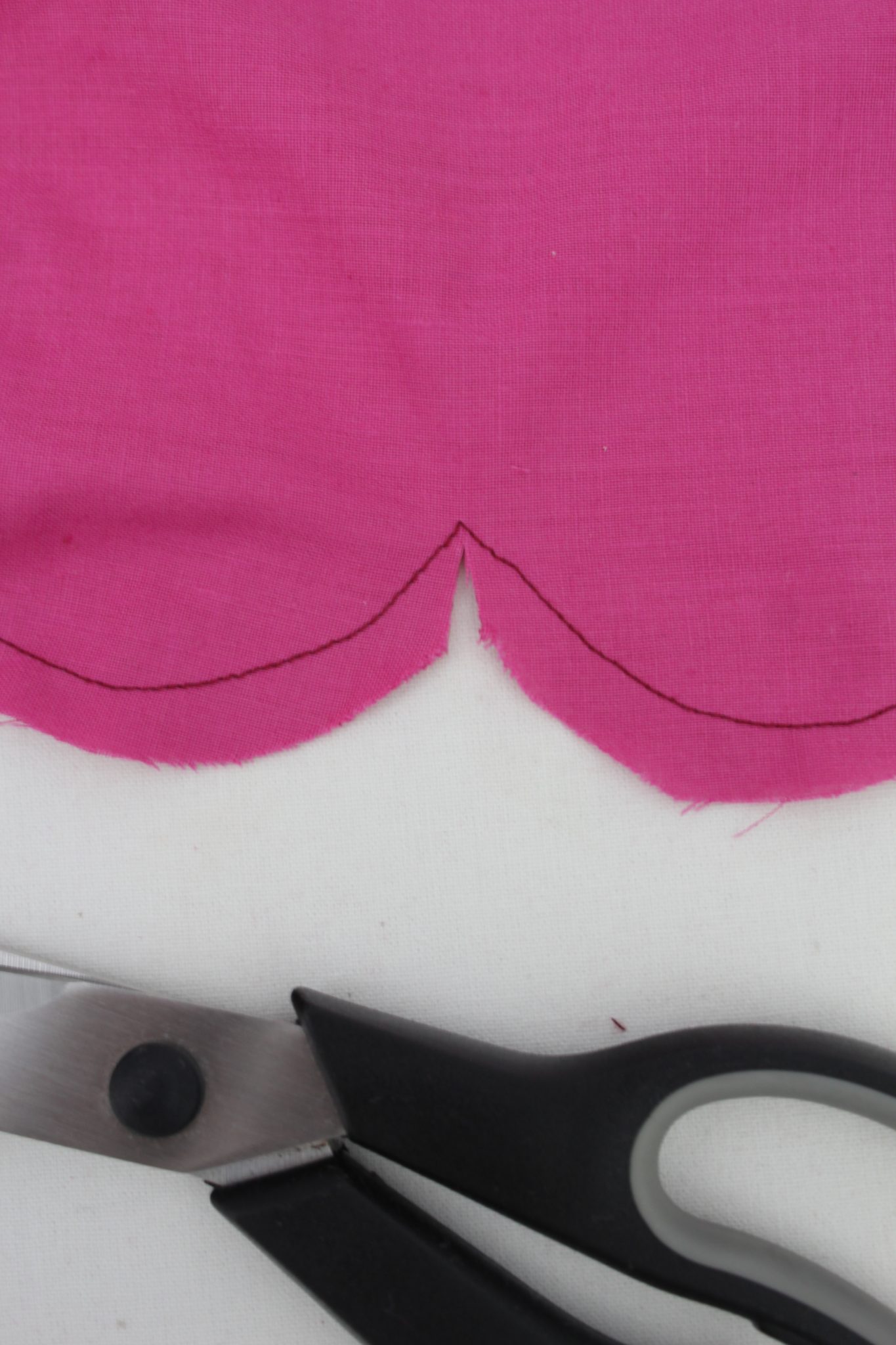 Cut notches around the curves.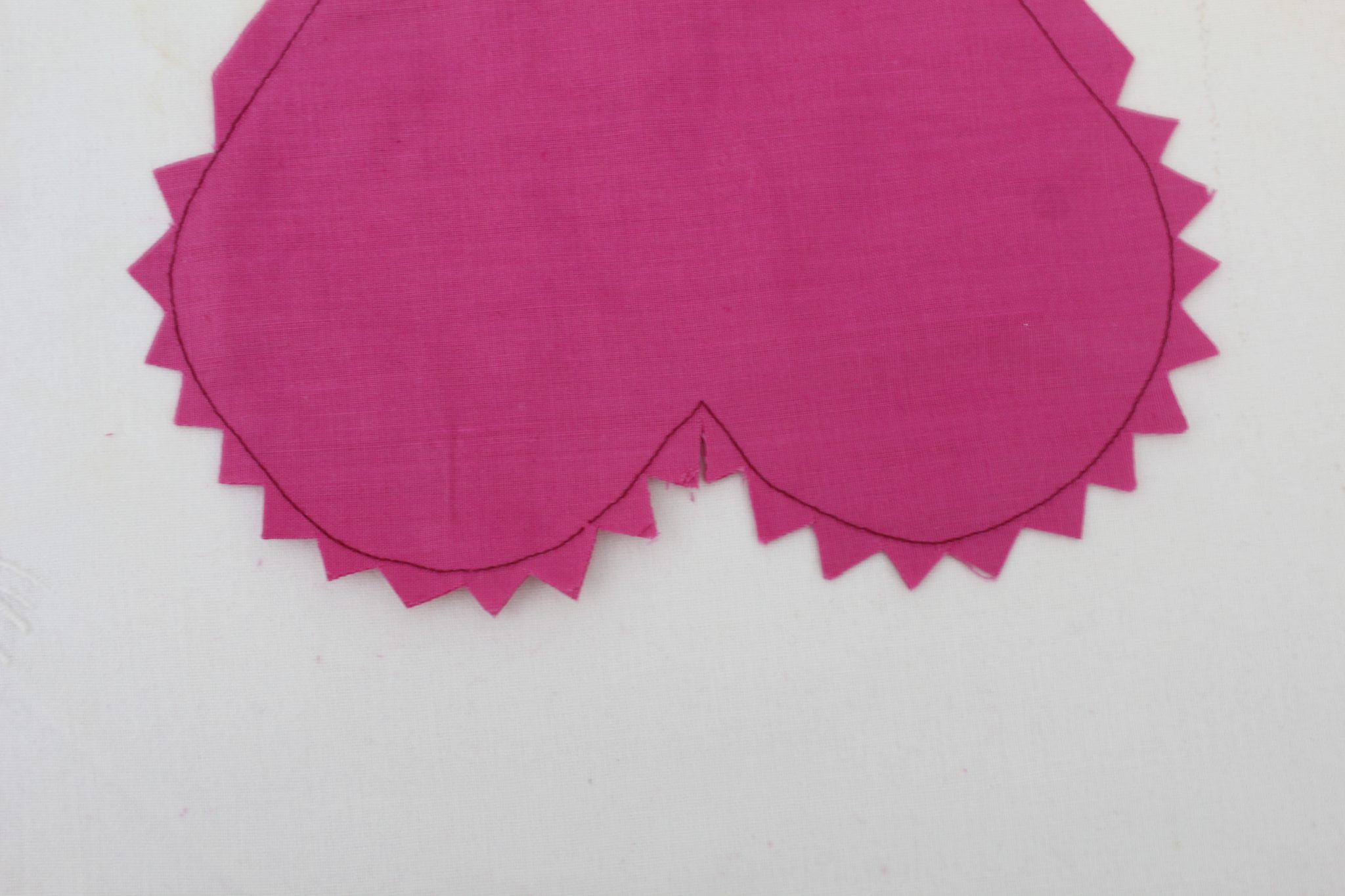 Turn the hearts right side out through the gap, pushing the corner with a blunt tool and smoothing seams with your fingers.
No need to sew the gap closed, this will be covered when the apron is assembled.
Press well and set aside.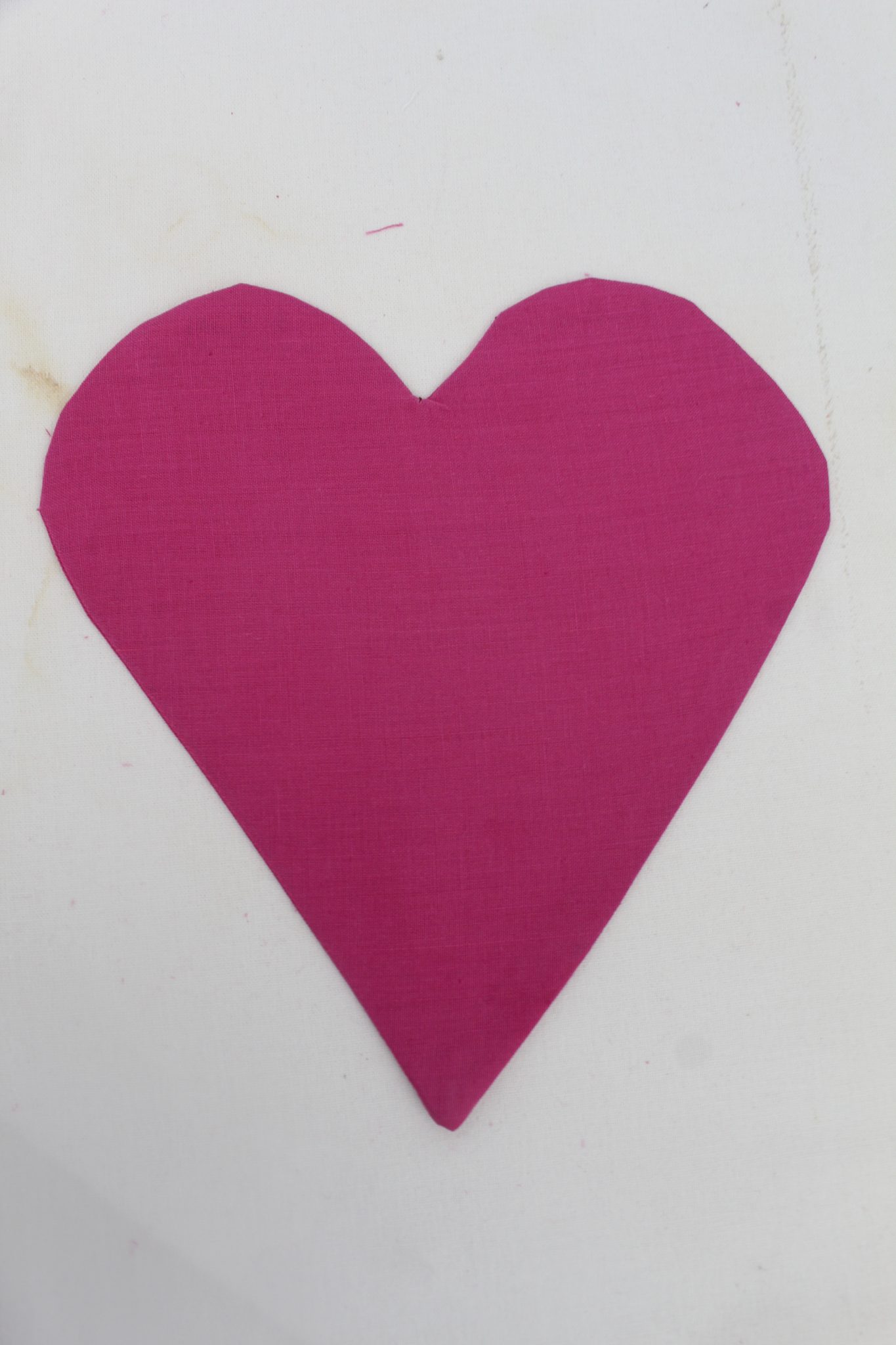 Repeat for the second set of hearts.
Attaching the pieces together
Sewing apron and pleats together
Place the apron right side up.
Place the pleated strip over the apron, starting from one side, going around the bottom and continuing to the next side of the apron. The serged edge of the pleated strip should be matching the apron's raw edges.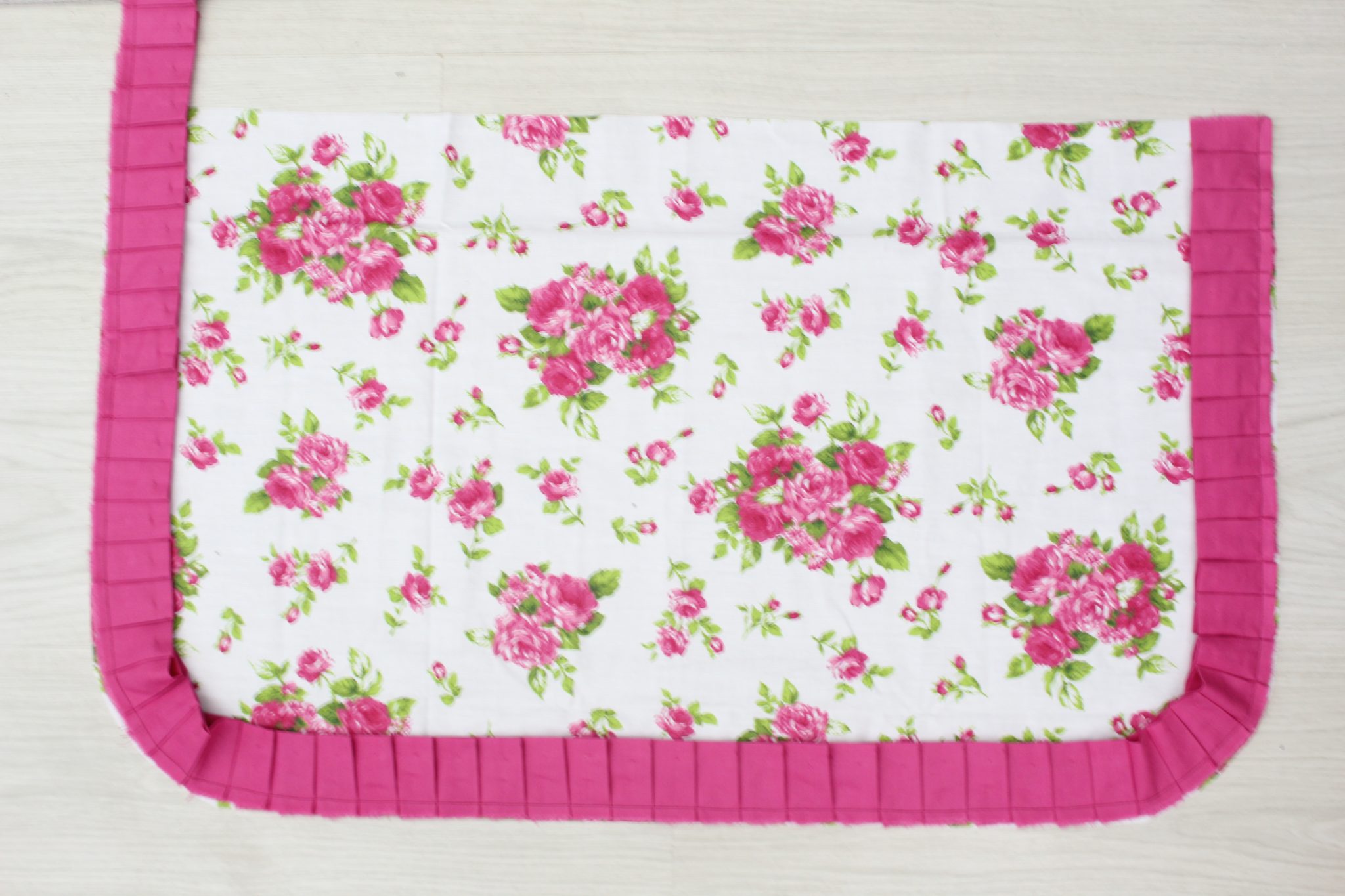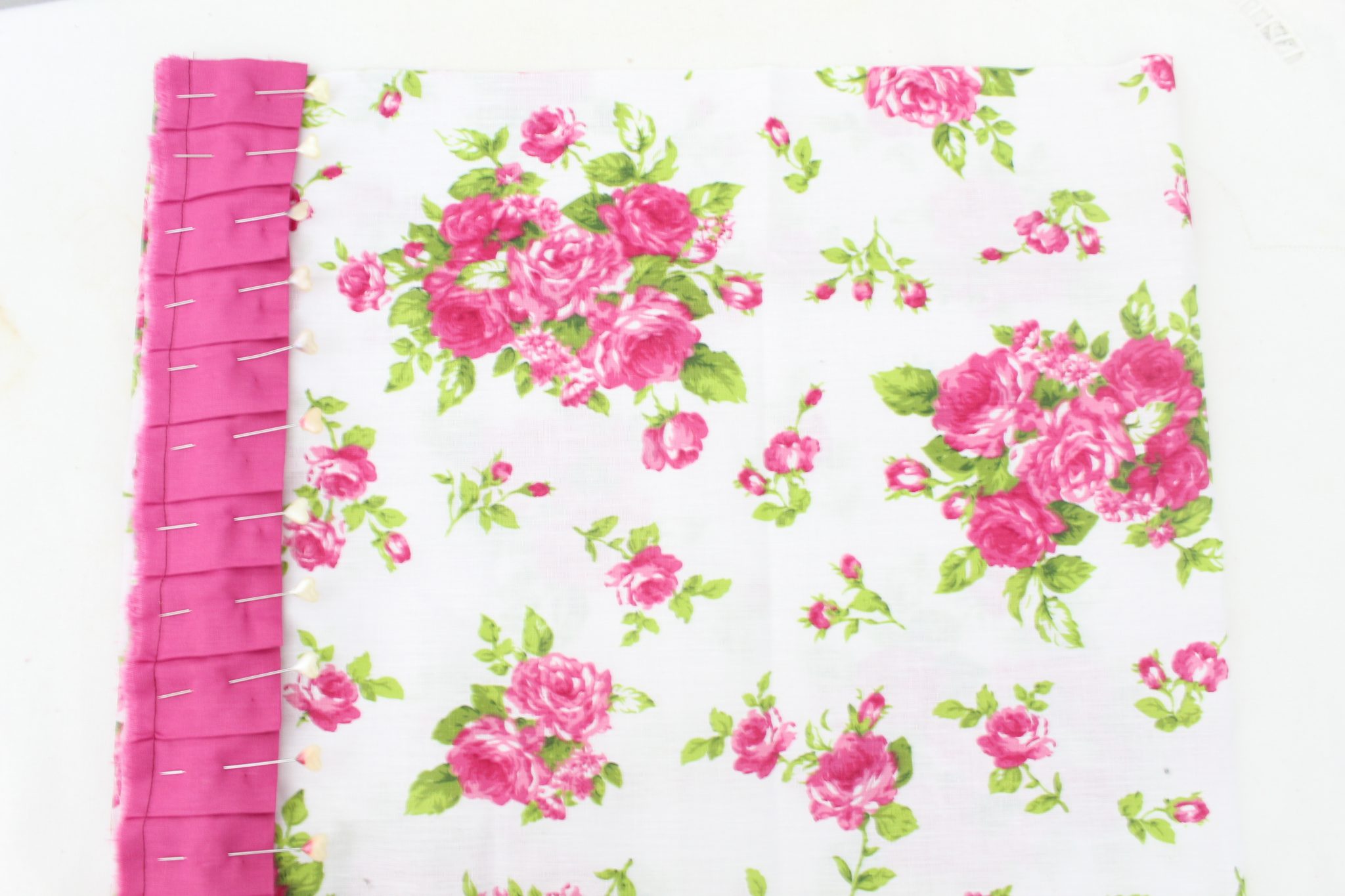 Sew right on top of the line of stitches you've sewn before on the pleated strip.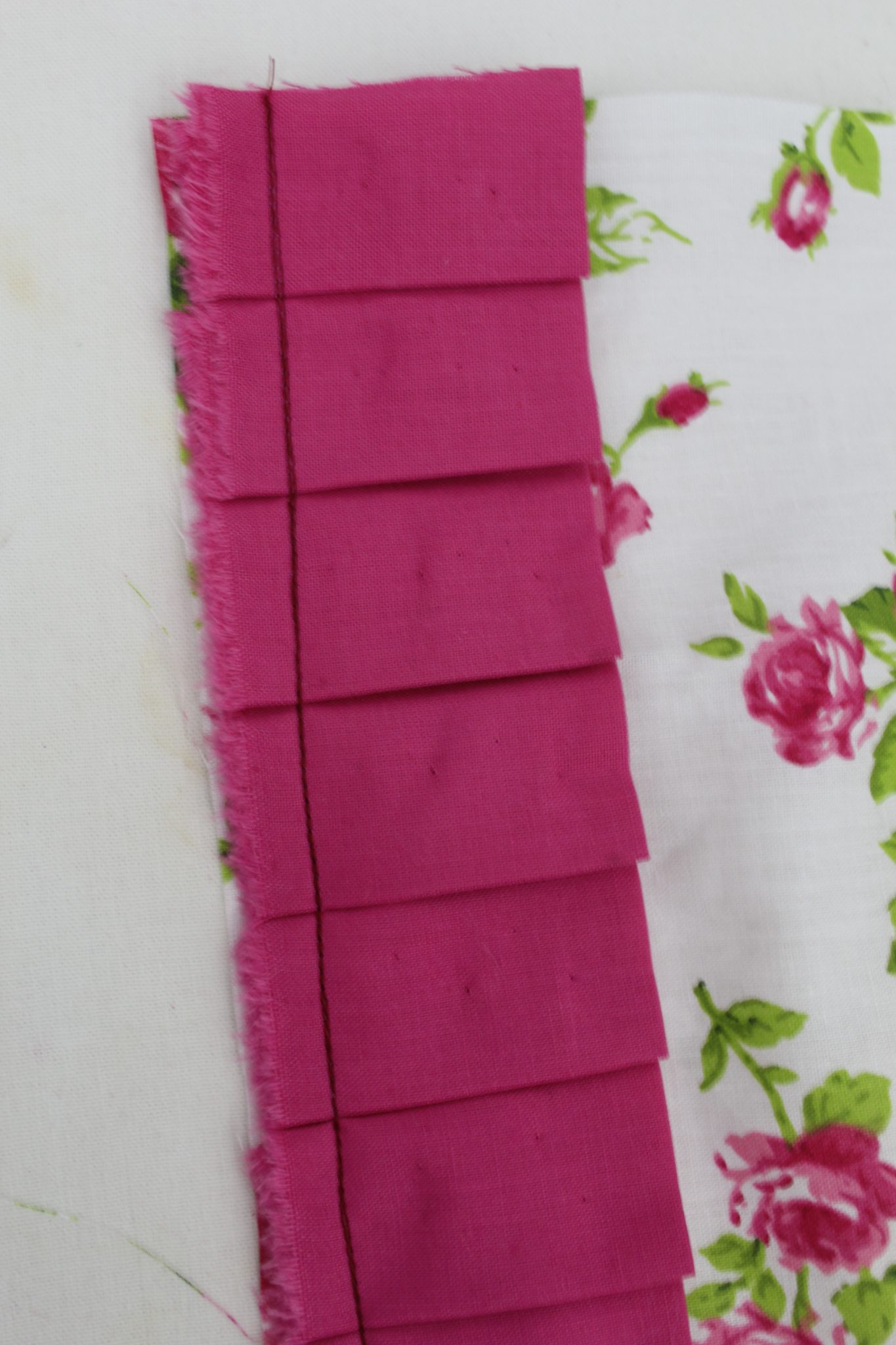 Serge or use a zig zag stitch to finish the raw edges.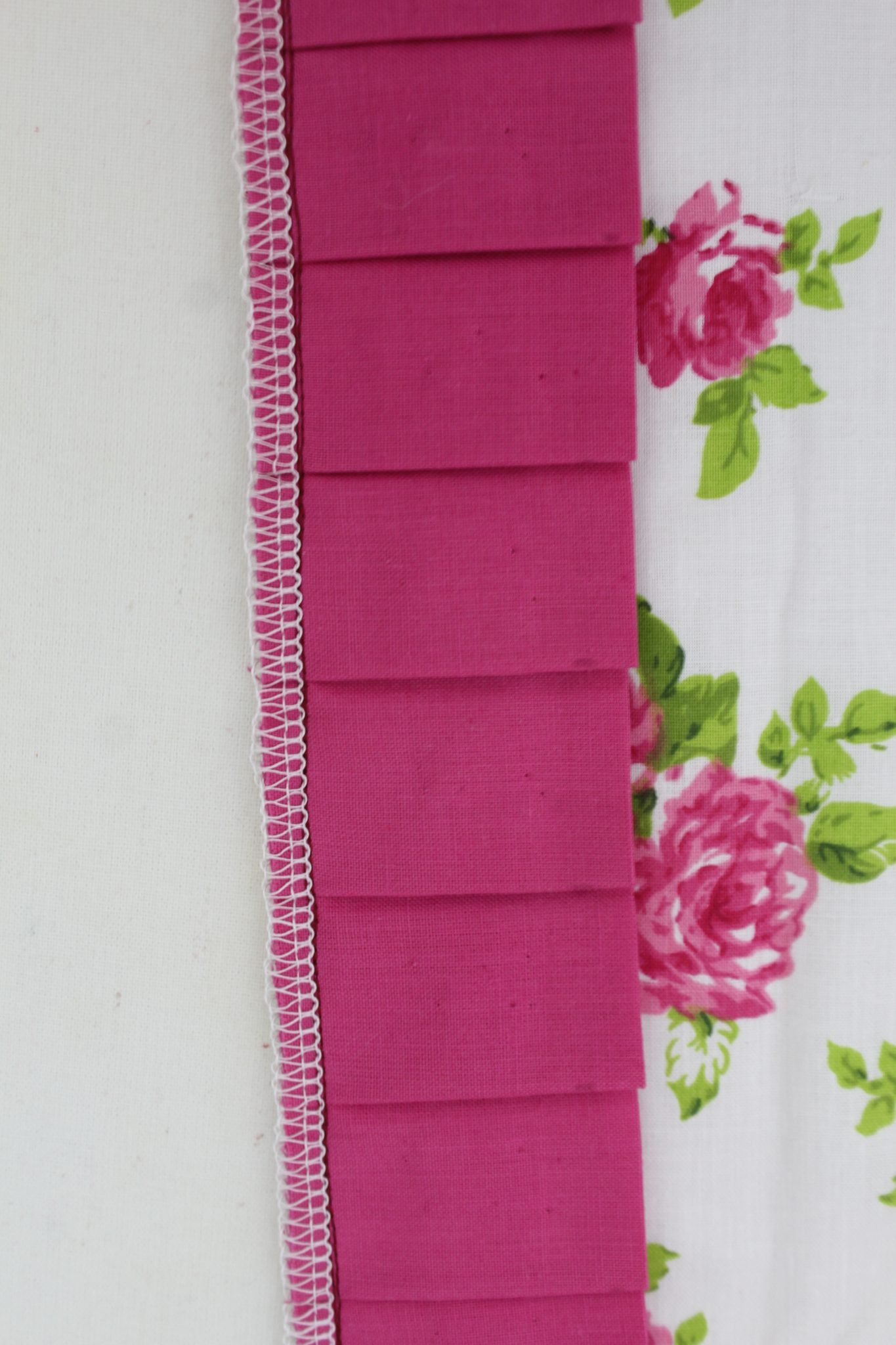 Push pleats to a side and press well.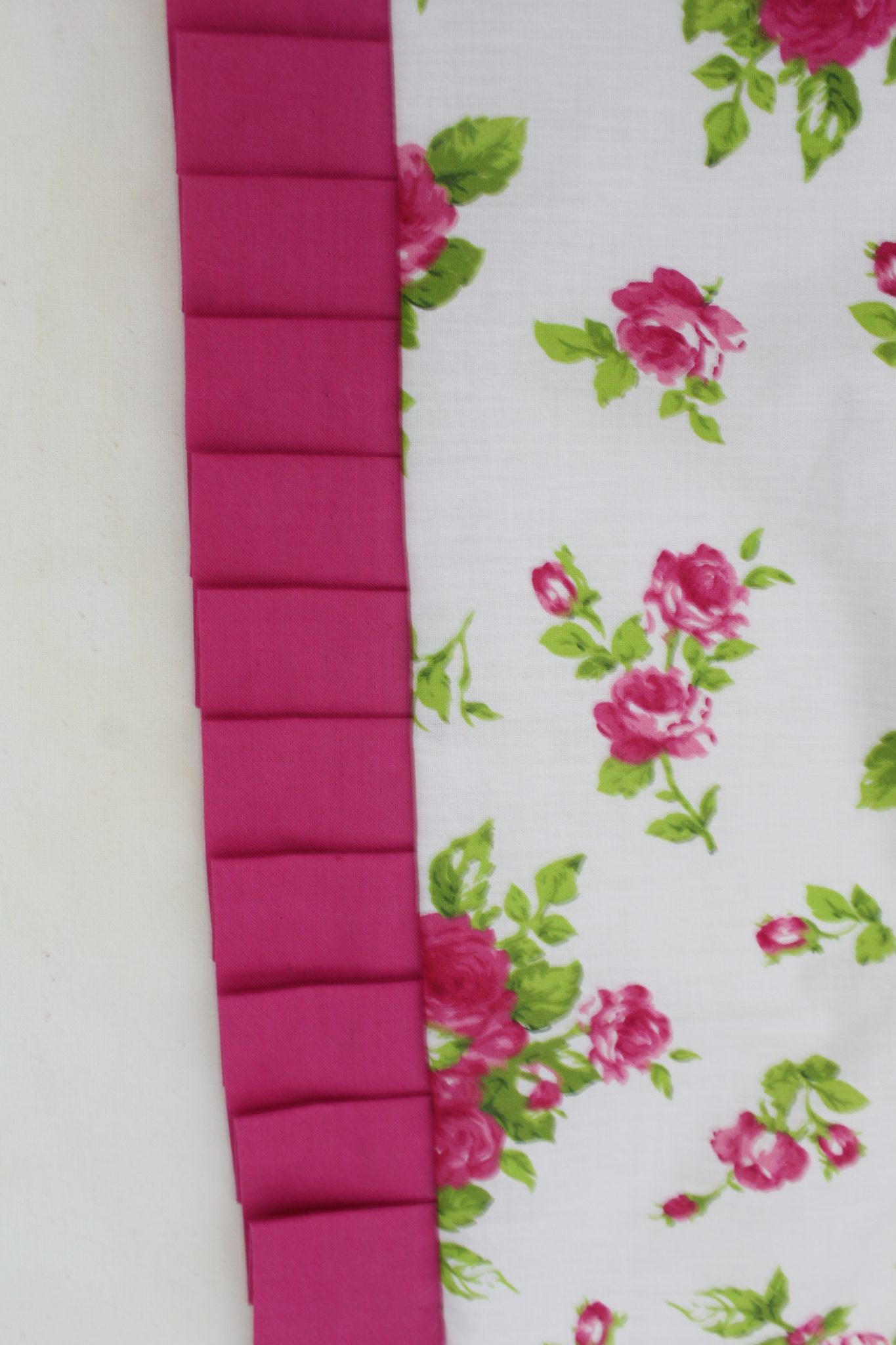 Sewing the pockets to the apron
Pin the heart pockets to the apron, each pocket about 2 1/2″ away from the side and 2 1/2″ away from the bottom.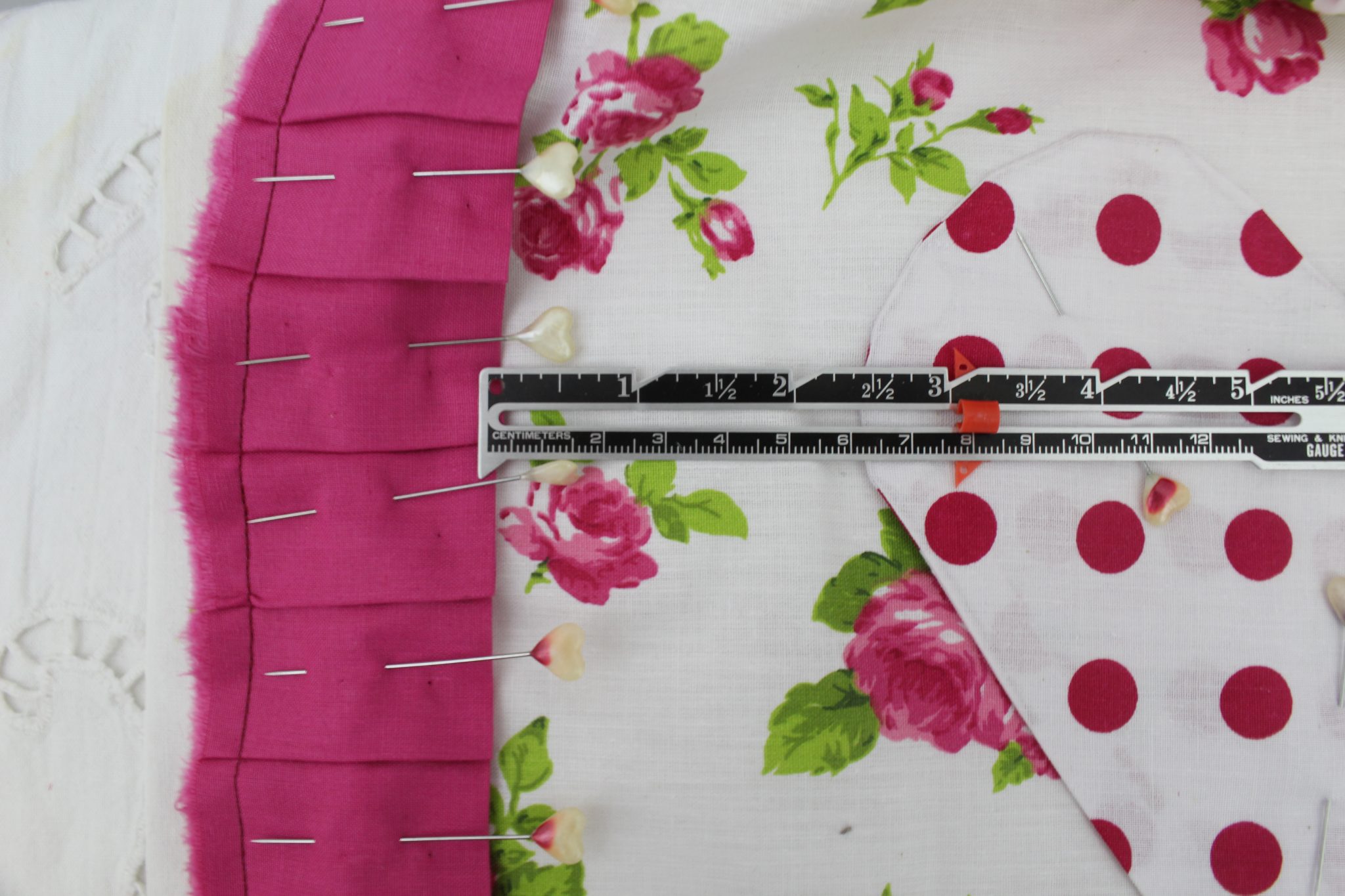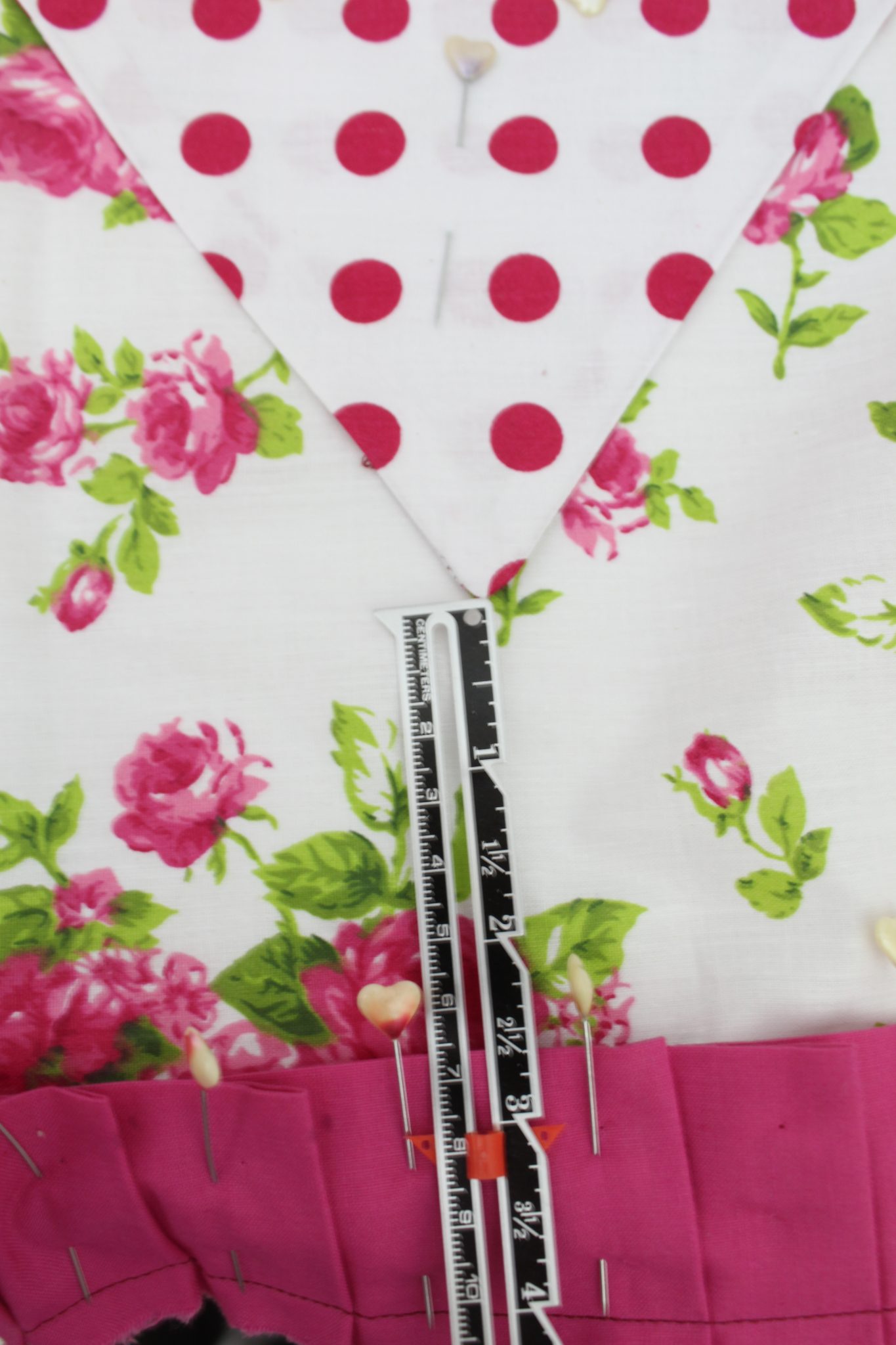 Sew around the sides with a 1/16″, catching just a tiny bit of the rounded tops too.
Sewing apron to waistband
Find the middle of the waistband and the middle of the apron top. Place a pin where these middles are.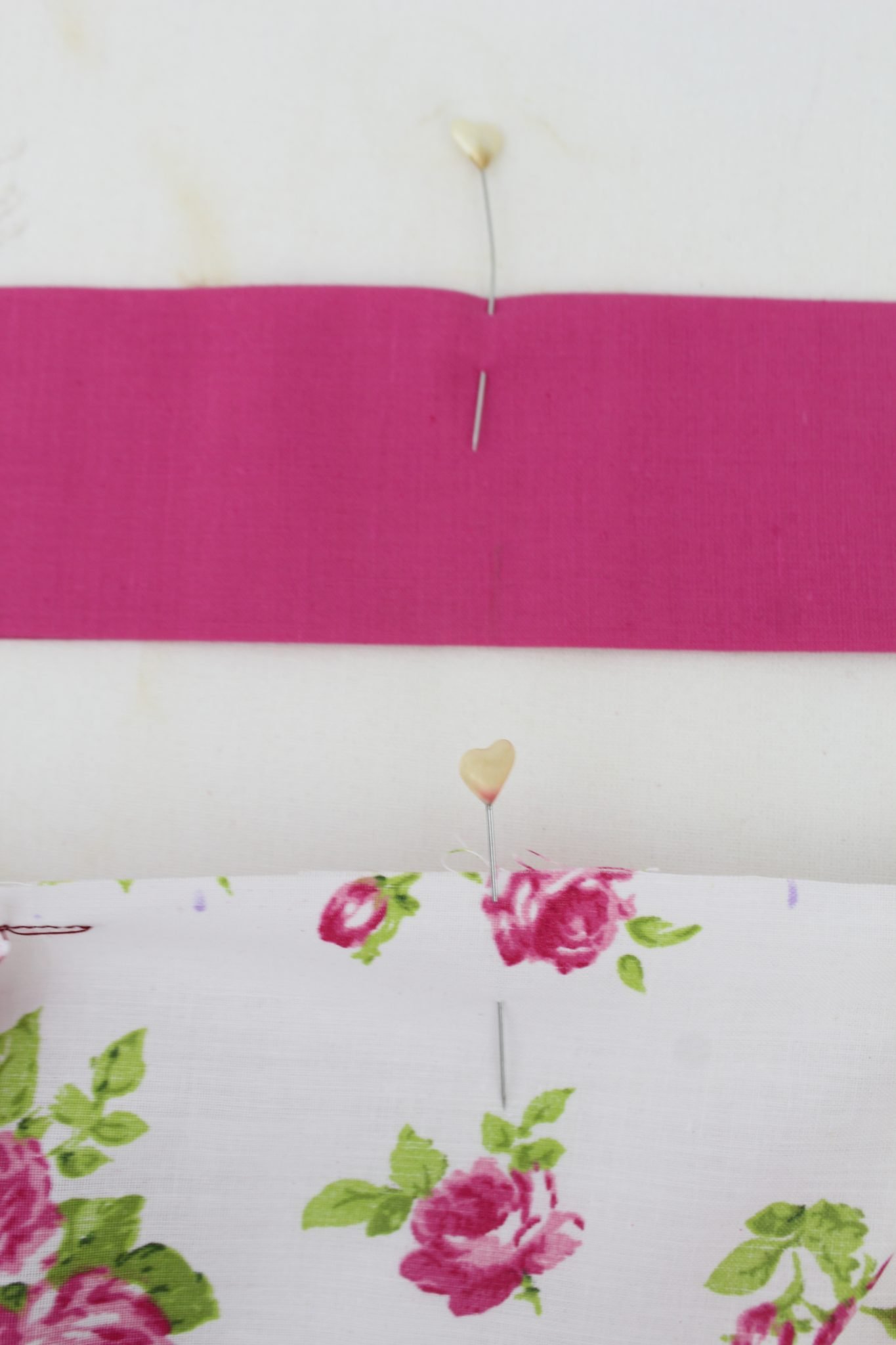 Open the folded waistband and insert the apron into the waistband, making sure the middles are matching.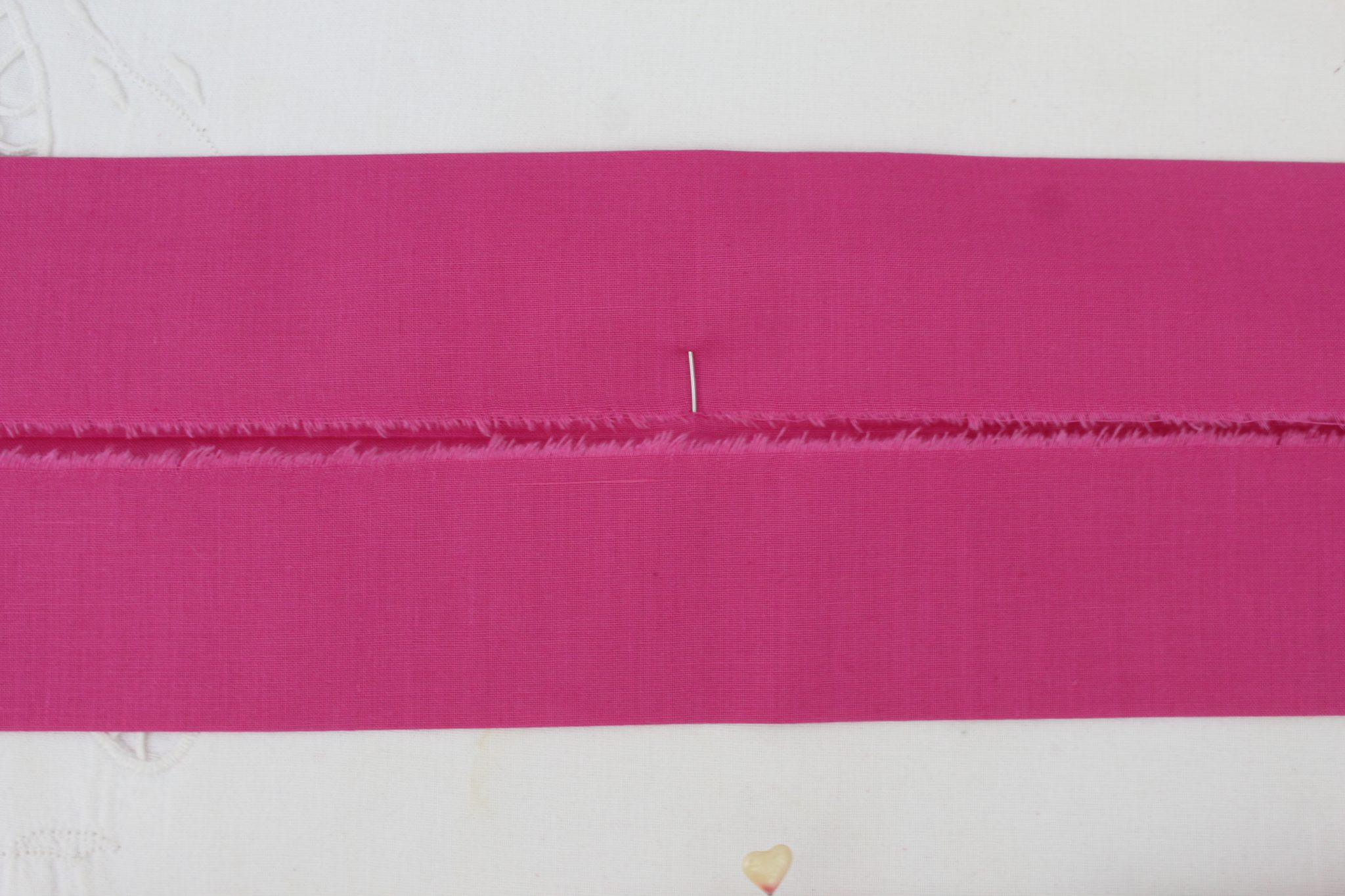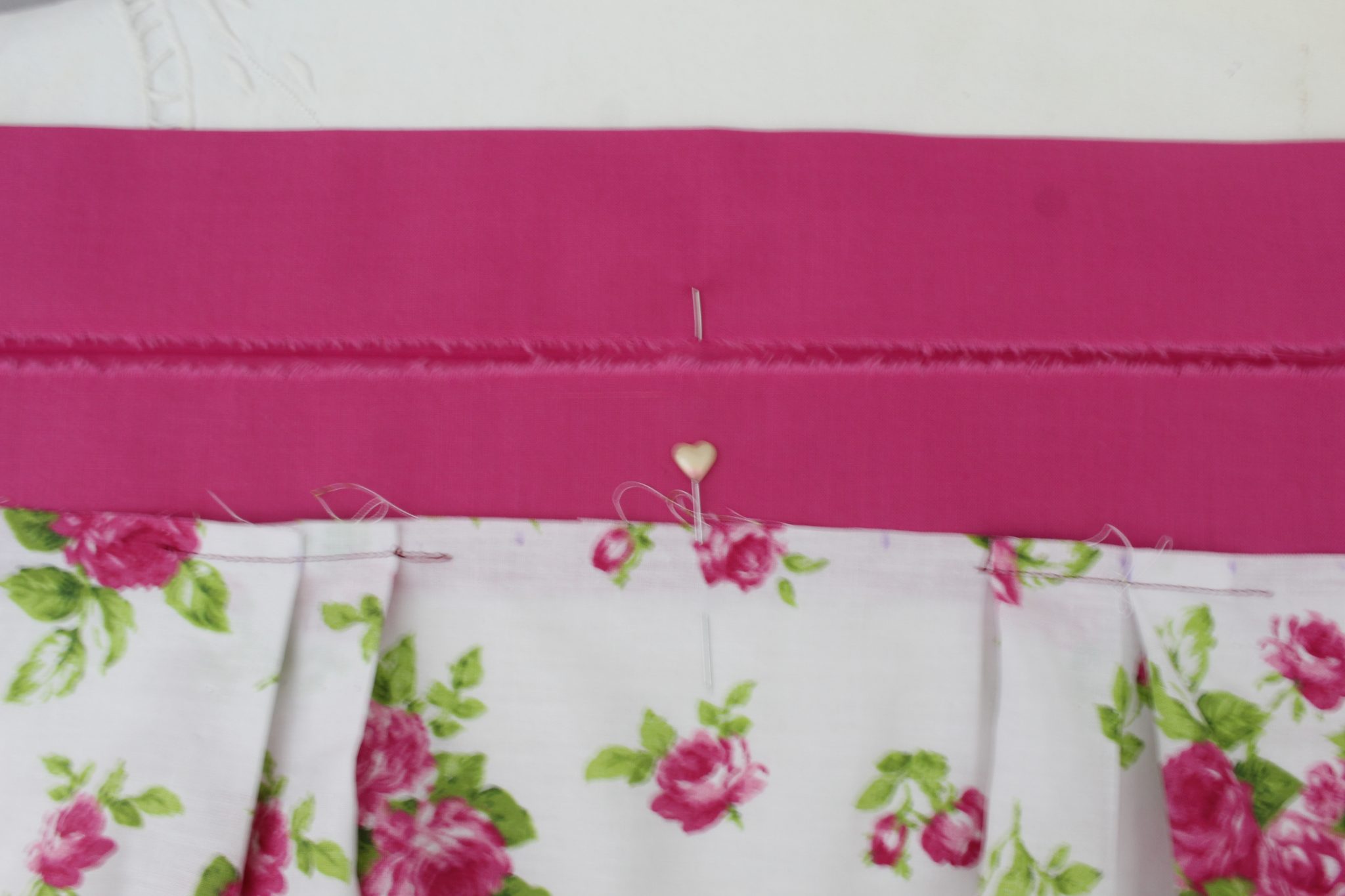 Remove the two pins and fold back the waistband over the apron (the apron's top raw edge is now enclosed into the waistband.
Pin the two pieces along the apron area.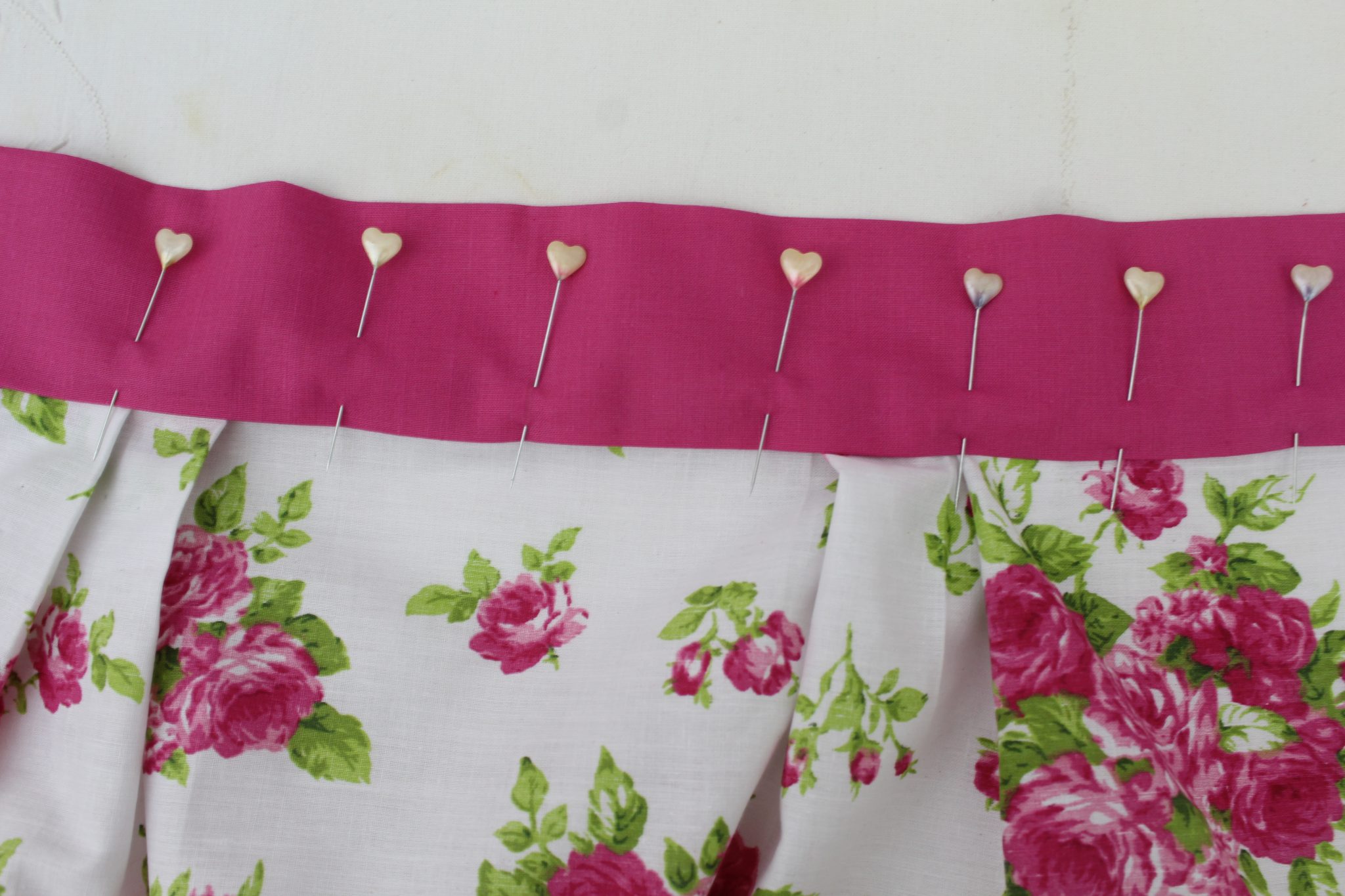 Sew a 1/8″ stitch along the long edges of the strip, starting at one end of the waistband and finishing on the other end of the waistband.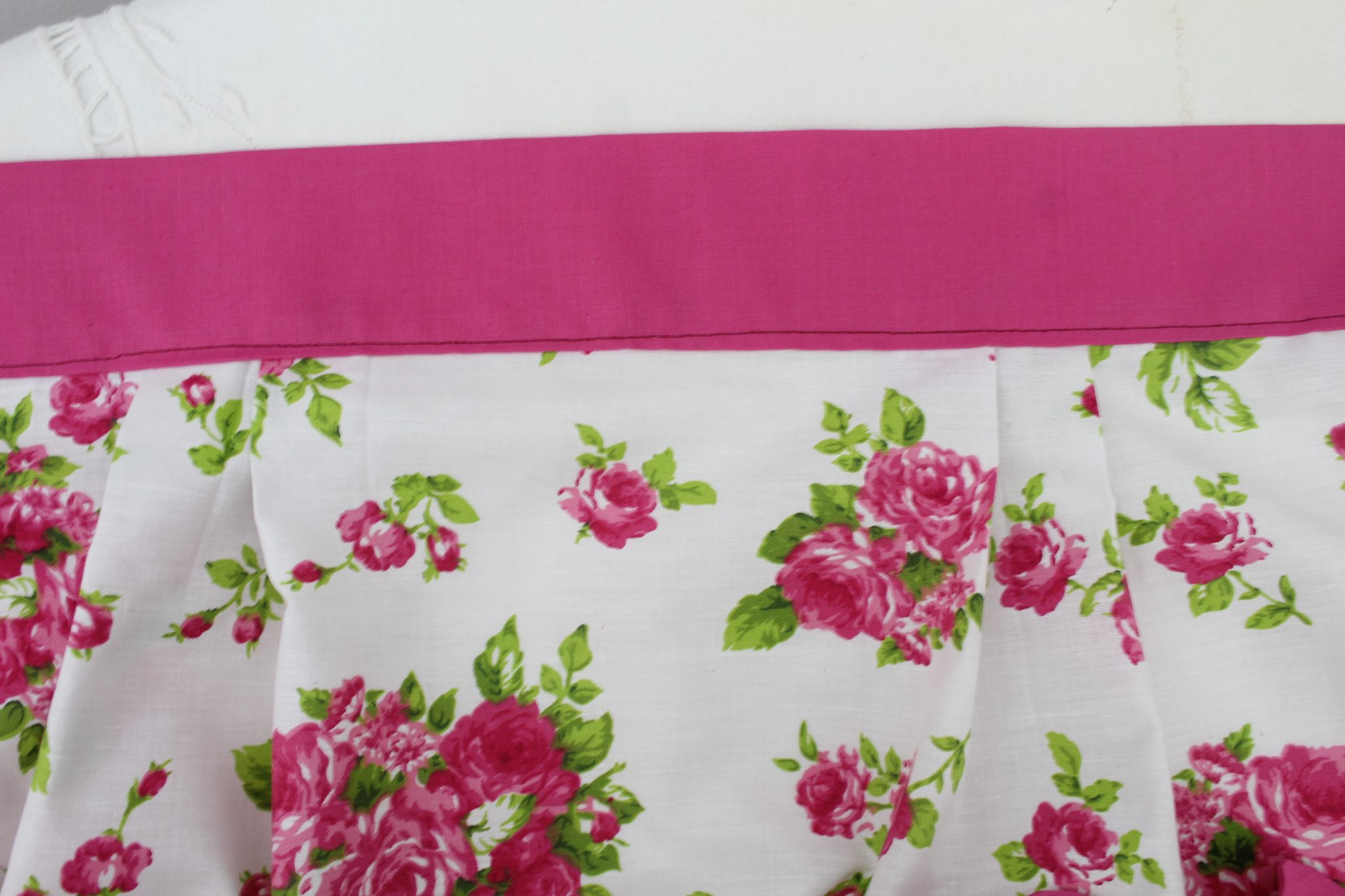 Congratulations! You now have a half apron you can use for various purposes, such as holding kitchen tools or outdoor supplies. It's also great as a gift and it's always nice to make something special with your own design.
Pin to save for later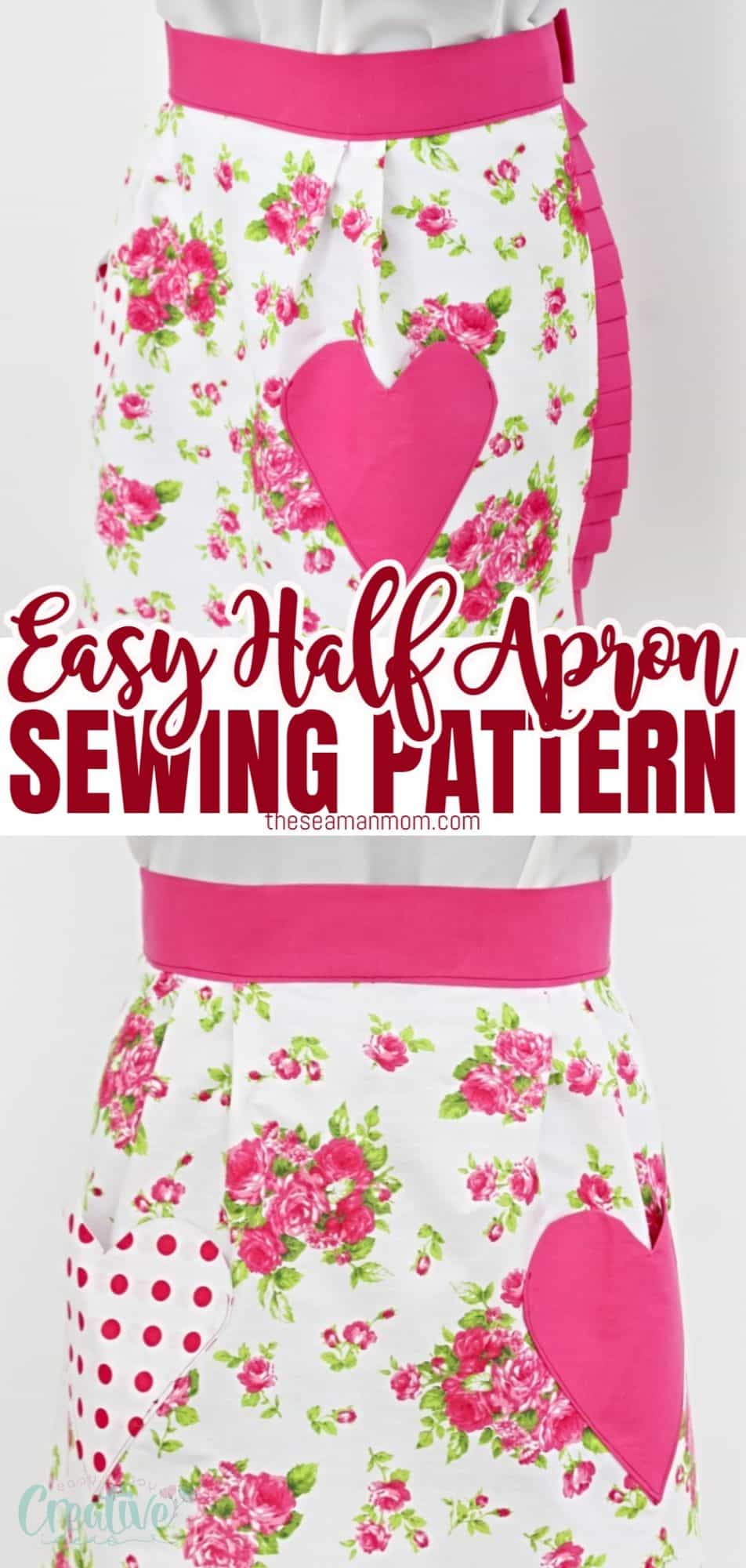 Most popular sewing projects: