Lemon Raspberry Cake With Buttermilk
Article may contain Amazon & affiliate links. As an Amazon Associate I earn from qualifying purchases at no additional cost to you.
This lemon raspberry cake makes an easy and delicious breakfast cake, a moist lemon cake dessert casserole or a refreshing lemon coffee cake using fresh or frozen raspberries, buttermilk and a wonderful sweet-tart lemon glaze!
Lemon raspberry cake recipe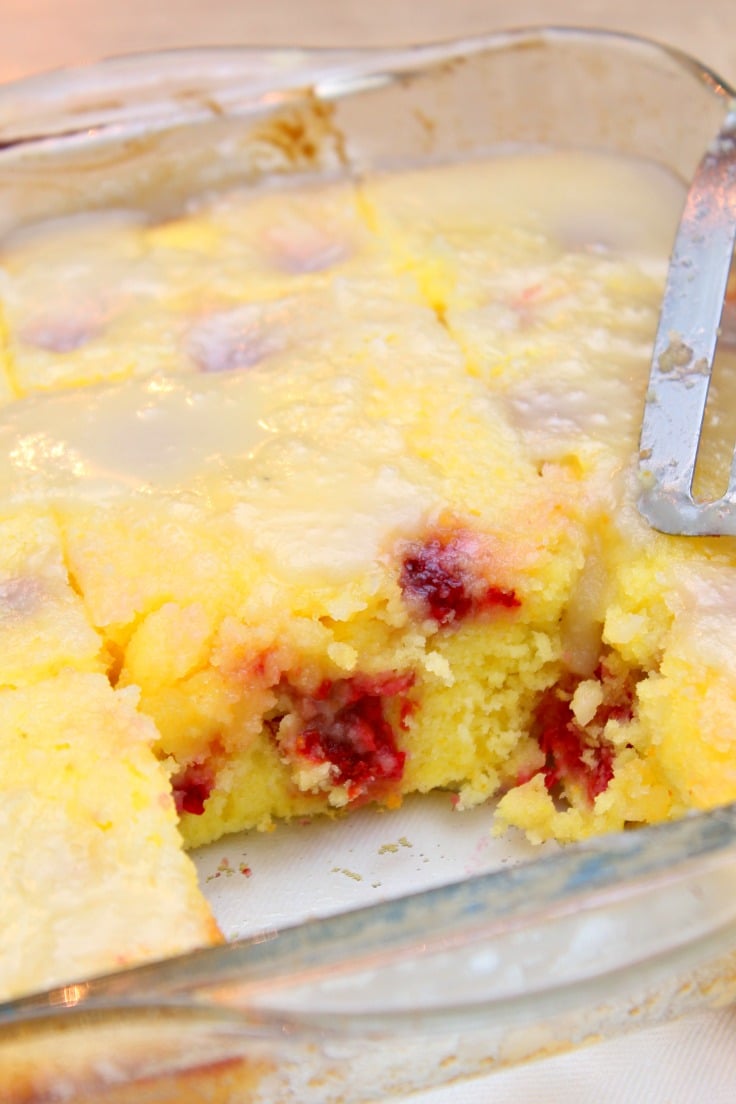 This lemon raspberry cake is so moist and fluffy, just like a little sweet-tart piece of raspberry buttermilk cake heaven! Filled with refreshing raspberries and topped with a thick lemon glaze, this lemon buttermilk cake is a great way to start your day!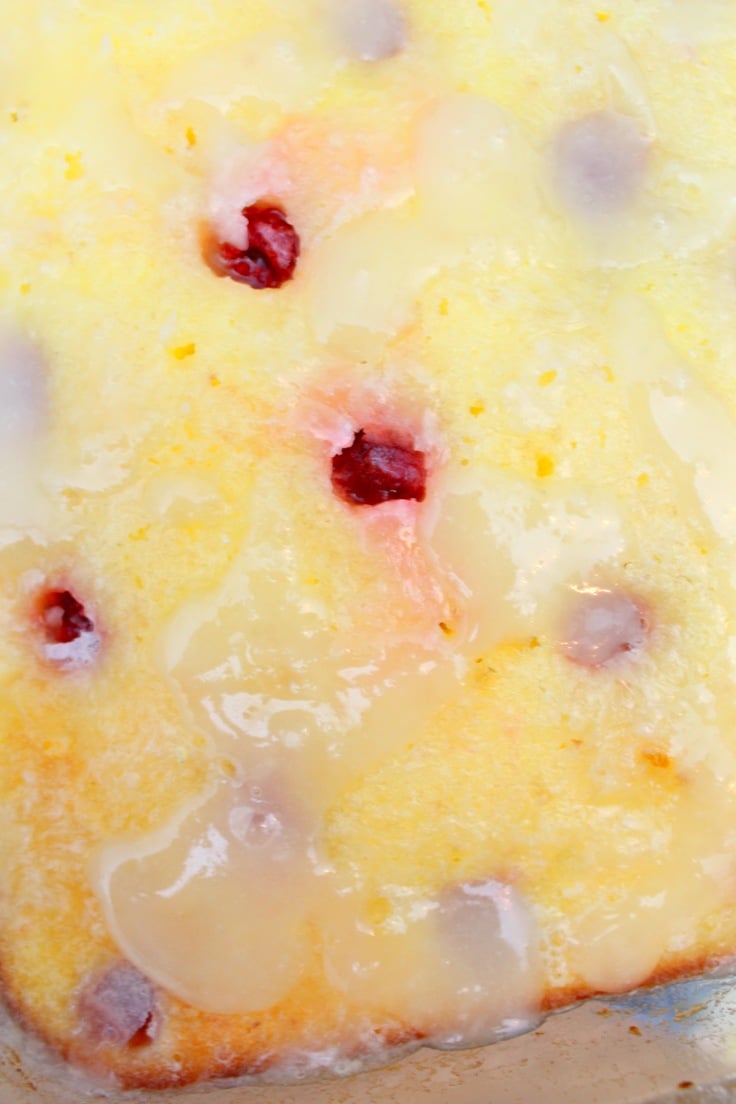 The perfect pick-me-up for when you need an energy boost or a Sunday afternoon dessert, this lovely lemon raspberry cake works just as great as a lemon coffee cake to share with friends! This super fluff cake is so moist, it literally melts in your mouth!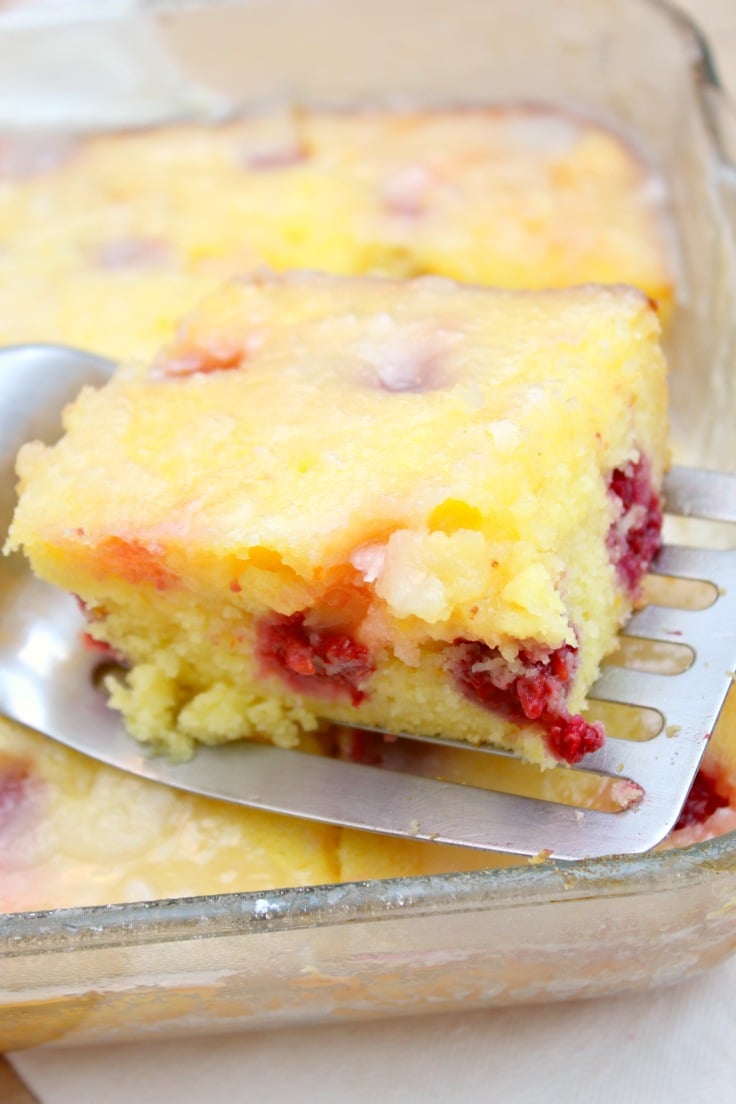 To make this lemon raspberry cake I've adapted this blueberry buttermilk cake I made a while ago. I was getting ready for a gathering with friends and I wanted to bring something "homemade" that would wow my friends and keep them asking for more! Since we'd have a meat loaded kind of gathering I figured something fresh and lemony would be a good match and this raspberry lemon cake with buttermilk proved to be the perfect choice!
I used frozen raspberries but fresh fruit would work just as great. But remember to coat the fresh raspberries in a little bit of flour before using in your cake. This will prevent them from dropping to the bottom of the cake. The buttermilk addition made this lemon raspberry cake incredibly moist and fluffy, a true delight for my taste buds!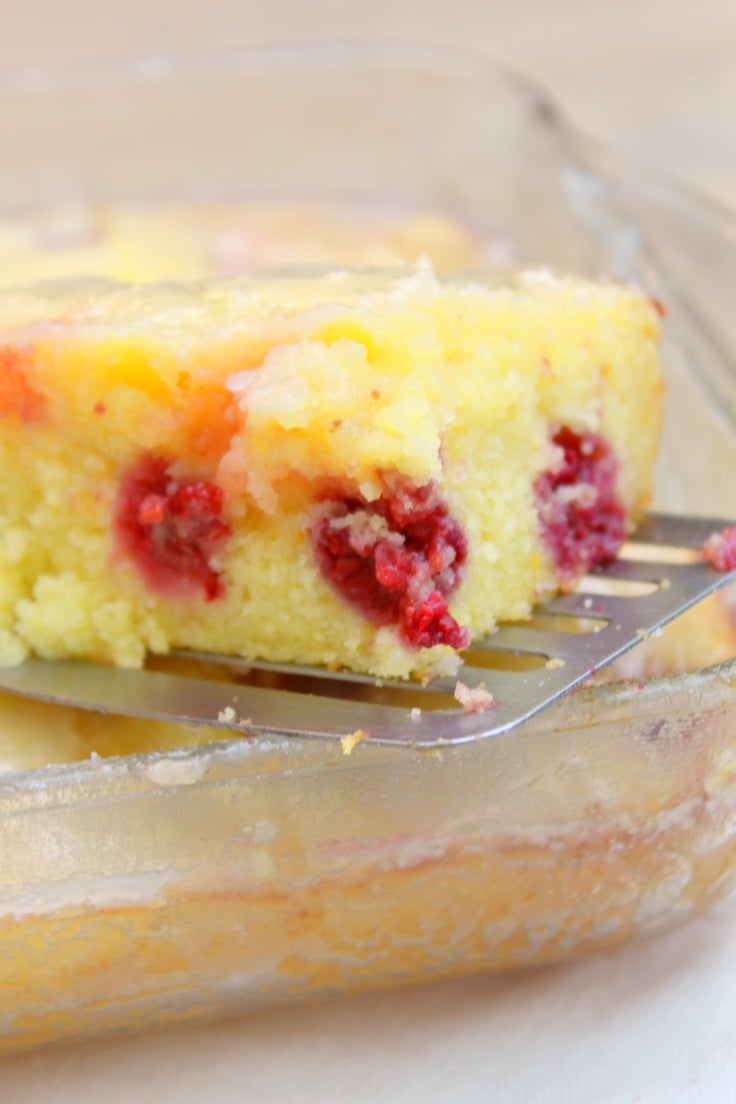 Similar cake recipes you might like:
To make my simple lemon glaze I used milk, fresh lemon juice and confectioners' sugar and I poured half of it over the cake while still hot, right from the oven! The main goal was to help the lemon glaze spread throughout the whole cake, from top to bottom and distribute that wonderful sweet-tart taste all over the cake. I sprinkled the rest of the lemon glaze over the top of the cake once both the cake and the glaze have had the chance to cool down, for decorating purposes and to give the cake a thin, crispy layer on top which I find super attractive in a cake.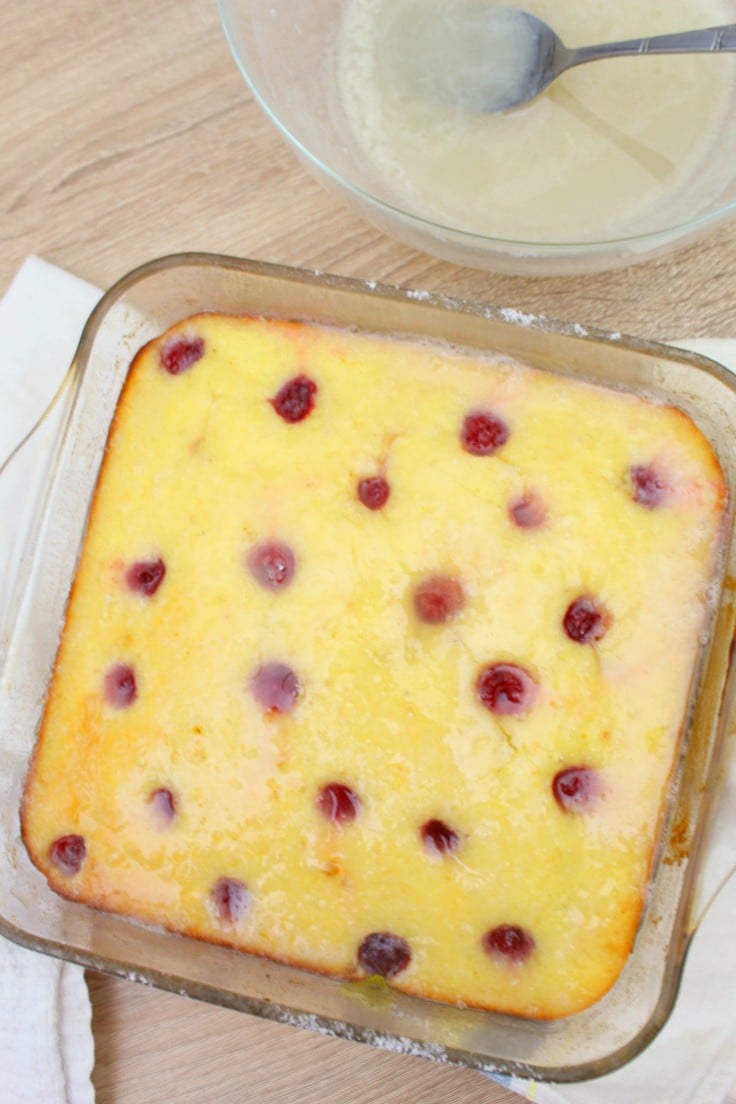 To prevent this moist lemon cake from crumbling or falling apart, I recommend you wait until it's fully cooled then proceed to cutting into medium size bars. We've baked our lemon raspberry cake into a 12″ x 12″ casserole (we've doubled the recipe so we needed a medium large casserole) and then we've cut the cake into 9 squares.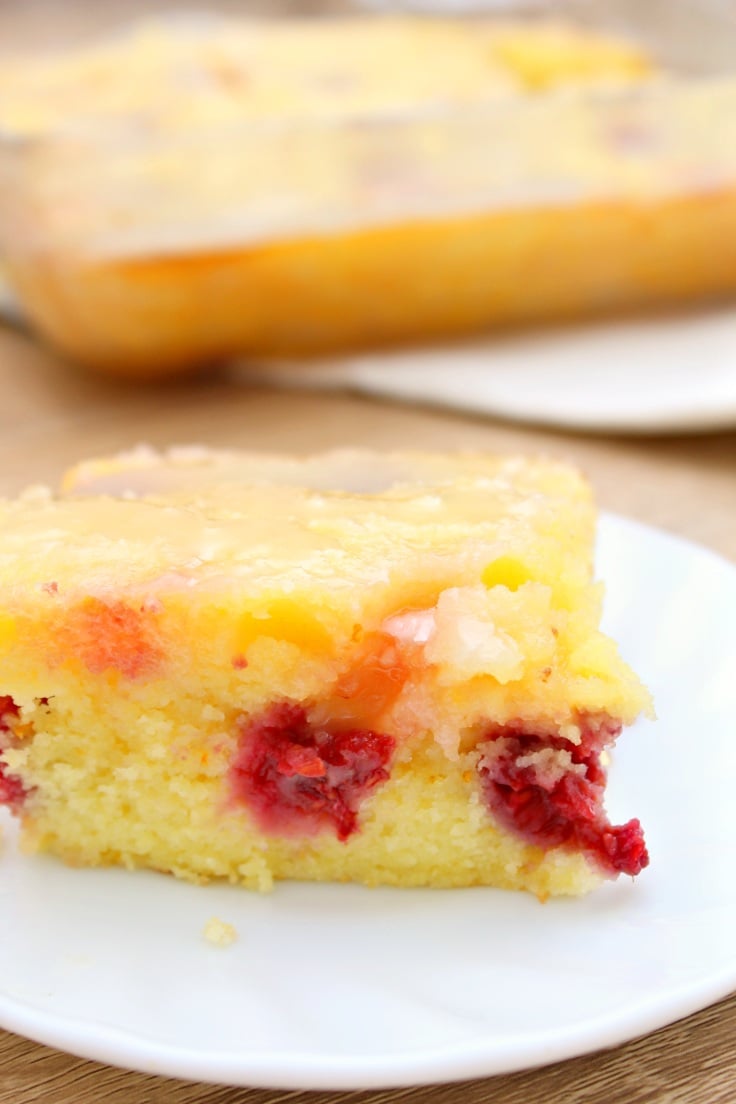 Although we've left the cake to fully cool, there was still a little bit of crumbling when serving. Some of us decided to serve it with a fork while some truly enjoyed getting their faces and plates covered in crumbs. And some of us (not giving any names here) took joy to the extremes and licked the plate clean! This cake is THAT good, you won't want to waste any crumb!
Lemon raspberry cake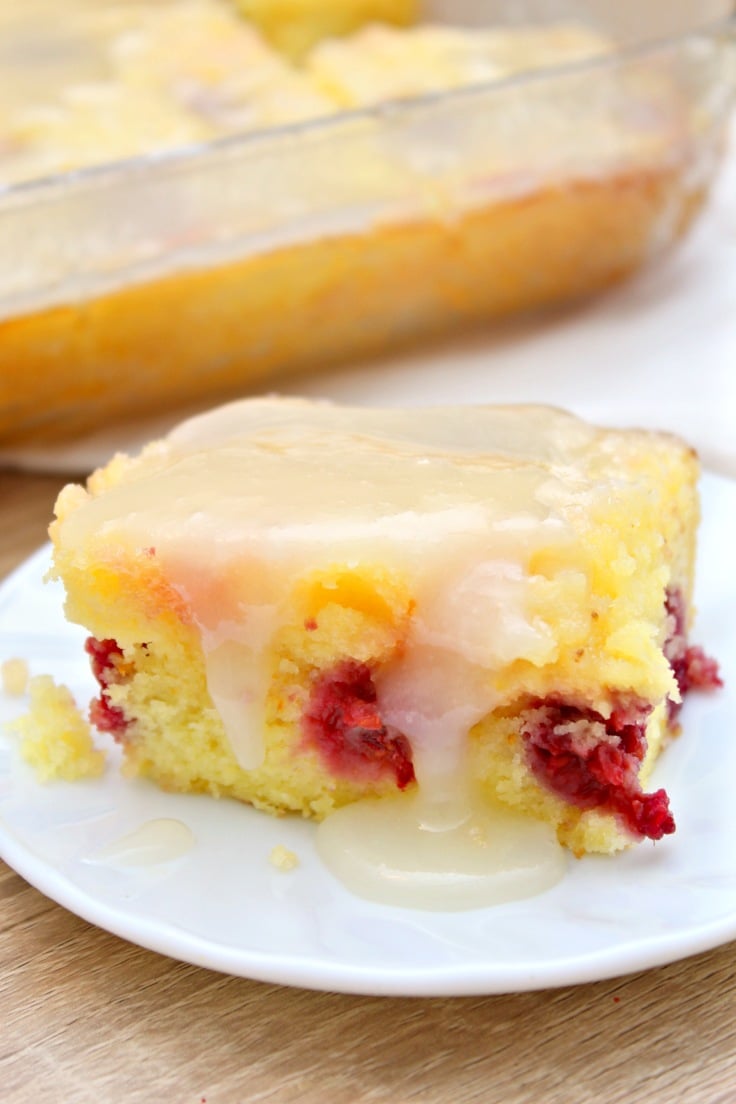 To make your lemon raspberry cake, make sure your ingredients are at room temperature, except for the buttermilk which is fine straight from the fridge and the frozen raspberries if you don't use fresh fruit. The ingredients you'll need to keep at room temperature for about 3-4 hours before using are unsalted butter and eggs.
I recommend sifting the flour before using in this cake. It adds up to the fluffiness of the cake and helps the batter come together lump free. Also make sure the confectioners sugar is lump free too.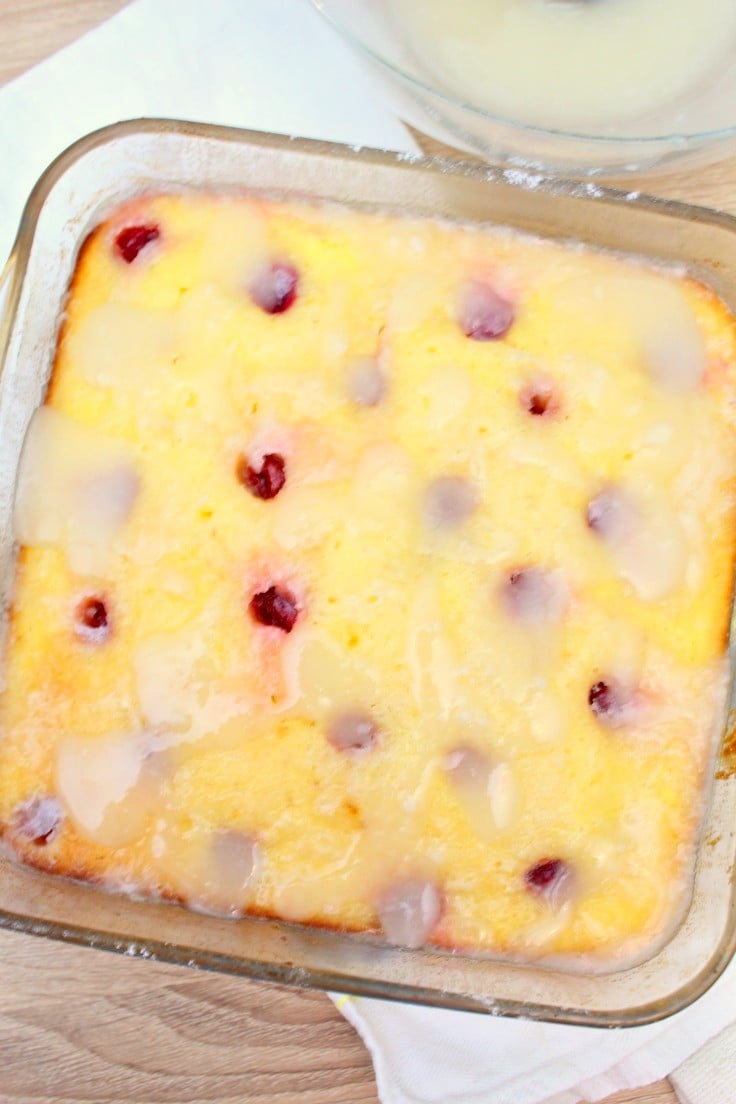 A little tip I discovered when making this cake. I absolutely hate how the butter flies all over the mixing bowl in the first couple of minutes of mixing with the confectioners sugar. So for this time I took the sugar and poured it over the butter. Then I kneaded everything with my bare hands until the sugar was completely incorporated into the butter. The mixture was smooth enough to move to the next step. I then mixed it with the hand mixer until fluffy and super smooth.
For this cake I used fresh lemon and orange zest. Dry zest works just as great if you have any available. Note: my cake has a very strong lemon taste. If you want just a hint of lemon in your cake, use half the lemon juice for the batter and make half the lemon glaze.
Lemon Raspberry Cake With Buttermilk
Ingredients
½

cup

unsalted butter

room temperature

zest from 1 lemon

zest from 1 orange

juice from one lemon

1

cup

powdered sugar

2

large free range eggs

room temperature

1

tsp.

vanilla extract

2

cups

cake flour

set aside 3 tbsp to toss with raspberries if using fresh

2

tsp.

baking powder

1

tsp.

salt

2

cups

frozen or fresh and firm raspberries

½

cup

to 3/4 cup buttermilk

start with 1/2 cup and add more if batter is too thick
For the lemon glaze:
2

cups

confectioners sugar

1/4

cup

milk

1/4

cup

lemon juice
Instructions
Preheat the oven to 350 F

Use a hand mixer to cream butter with powdered sugar until light, fluffy and smooth. Cream thoroughly, this is an important step to make your cake fluffy.

Add in the orange and lemon zest and mix until fully incorporated.

Add lemon juice and mix well

Add the egg and vanilla extract and mix to combine.

If using fresh fruit toss the raspberries with some flour

Whisk together the remaining flour, baking powder and salt.

Add the flour mixture to the batter a little at a time, alternating with buttermilk. This is also important to get that heavenly fluffiness. Mix well after each step

Grease a 9? square casserole with butter.

Spread batter into pan and lightly tap against the table to remove bubbles

Lightly press the raspberries into the batter.

Bake for about 25 minutes or until the center is cooked and the top gets a golden crust. Check the center with a toothpick. You may need to bake for extra 10 minutes is necessary.

10 minutes before the cake is done baking, prepare the lemon glaze. Mix glaze ingredients into a medium saucepan, bring to a boil then turn the heat on low and simmer for 5 minutes.

Remove cake from the oven and immediately start spooning half the hot lemon glaze over the cake. 

Let the cake cool completely before cutting and removing from the casserole dish. It may still crumble (in which case serve using a teaspoon).
Pin to save for later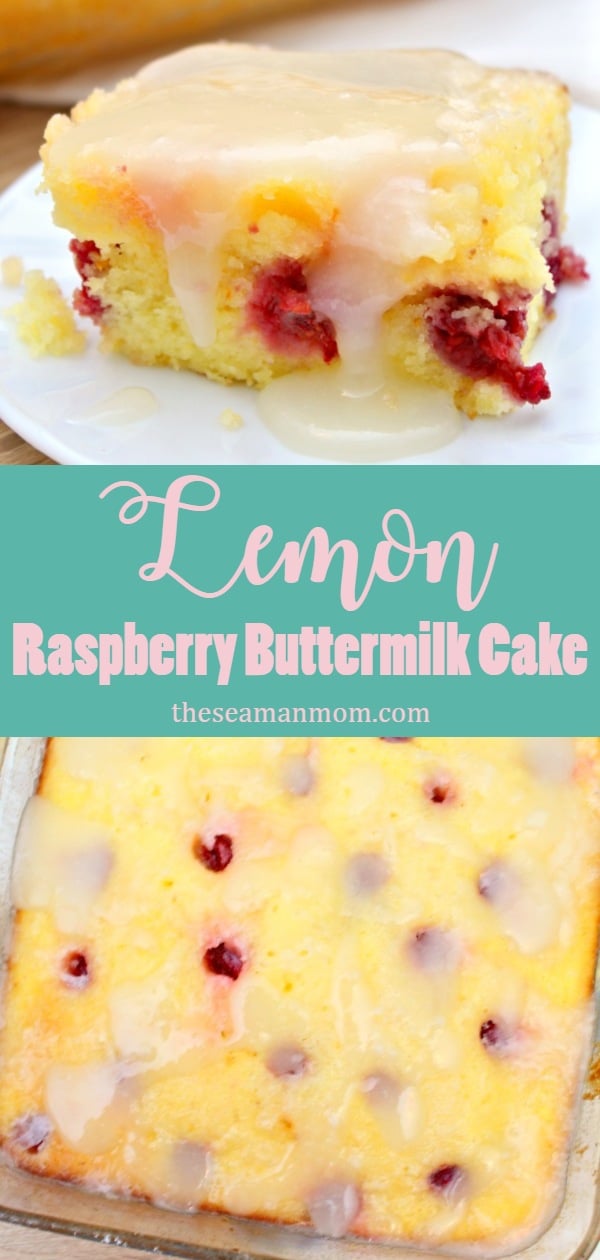 Most popular recipes: