Incredibly Easy and comfy Pillowcase Dress For Adults
Article may contain Amazon & affiliate links. As an Amazon Associate I earn from qualifying purchases at no additional cost to you.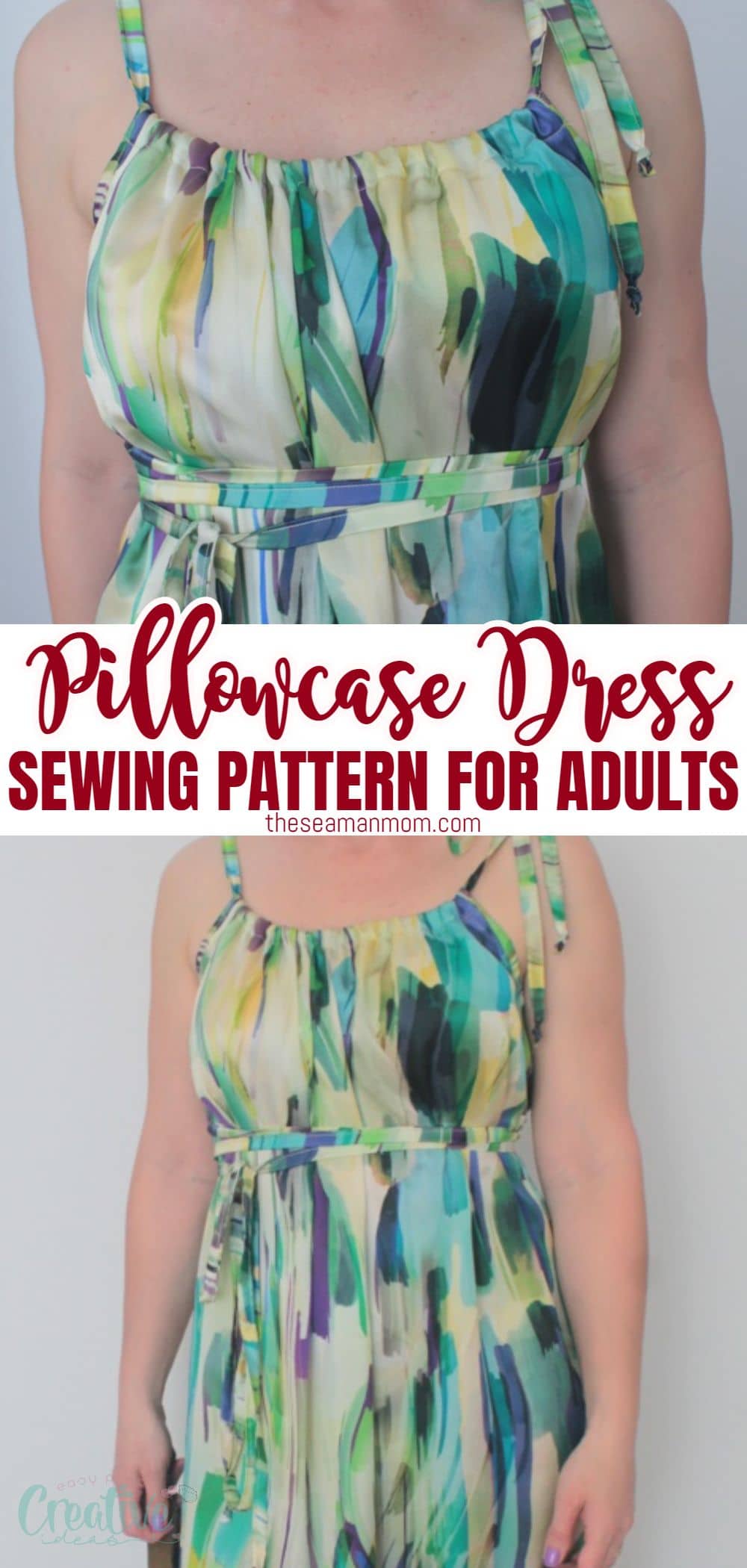 If you're looking for a dress pattern for ladies that is crazy easy to sew and ready to wear in no time, this pillowcase dress for adults is your best bet! Perfect beginners project, this pillowcase dress for women is both cute and super comfy to wear!
Pillowcase dress for adults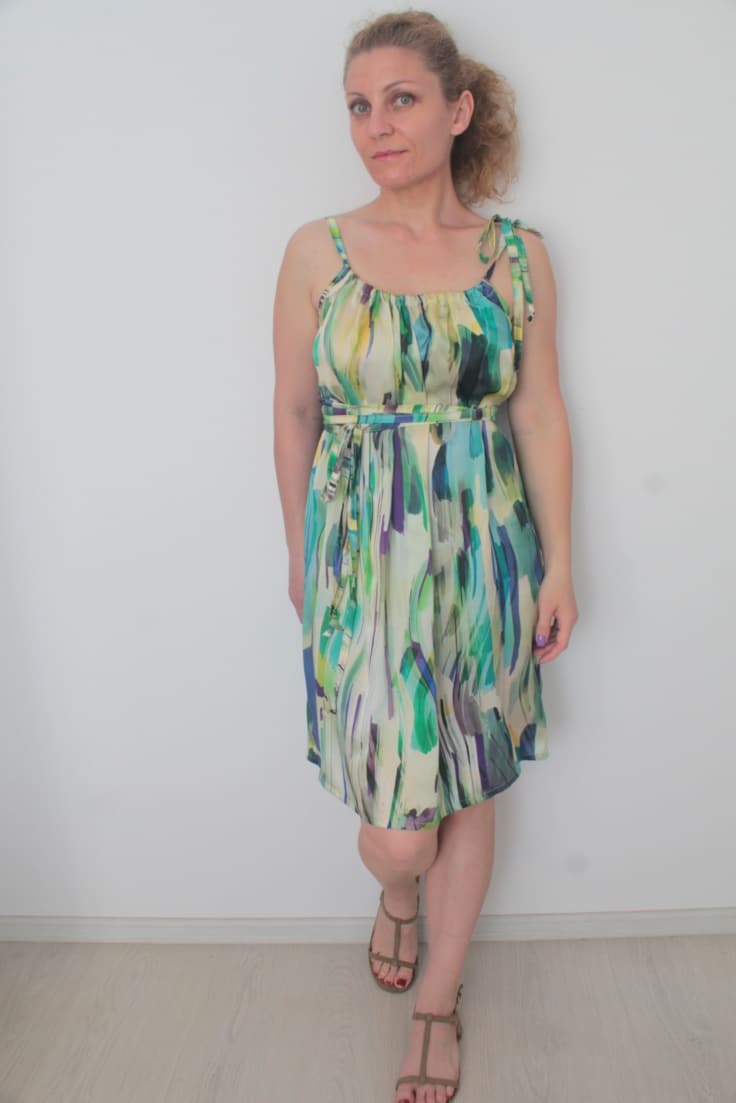 Ever since I made this sweet pillowcase dress for Ellie I wanted to make one for myself too. But for some reason I was under the impression that a pillowcase dress for adults is not as flattering as the ones for little girls.
---
This tutorial has been converted to a PDF file, available to purchase HERE. However this article is completely free to read.
---
I had this feeling that while baggy looks super cute on little ones, it will be the perfect recipe for disaster when it comes to a womens pillowcase dress pattern. I don't mean to discourage you but after making my own pillowcase dress for adults I ca testify it does look awful on grown ups! Unless you make a couple of little adjustments here and there, adjustments I will specify in just a moment below.
More dress ideas you will love: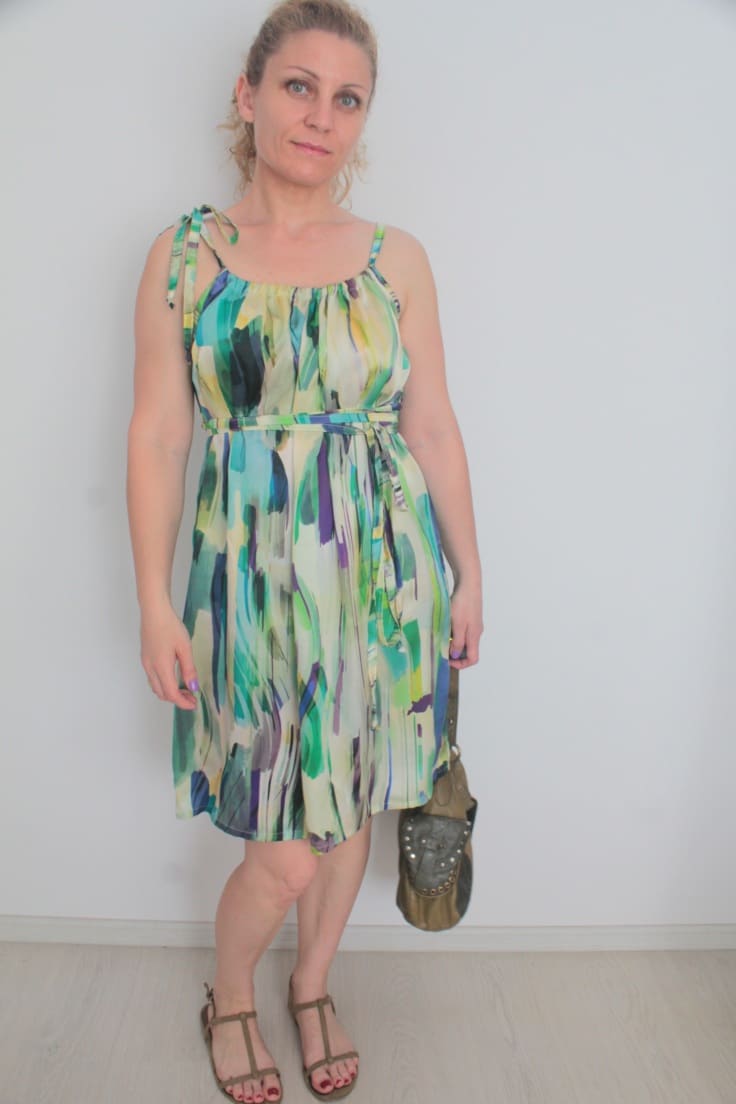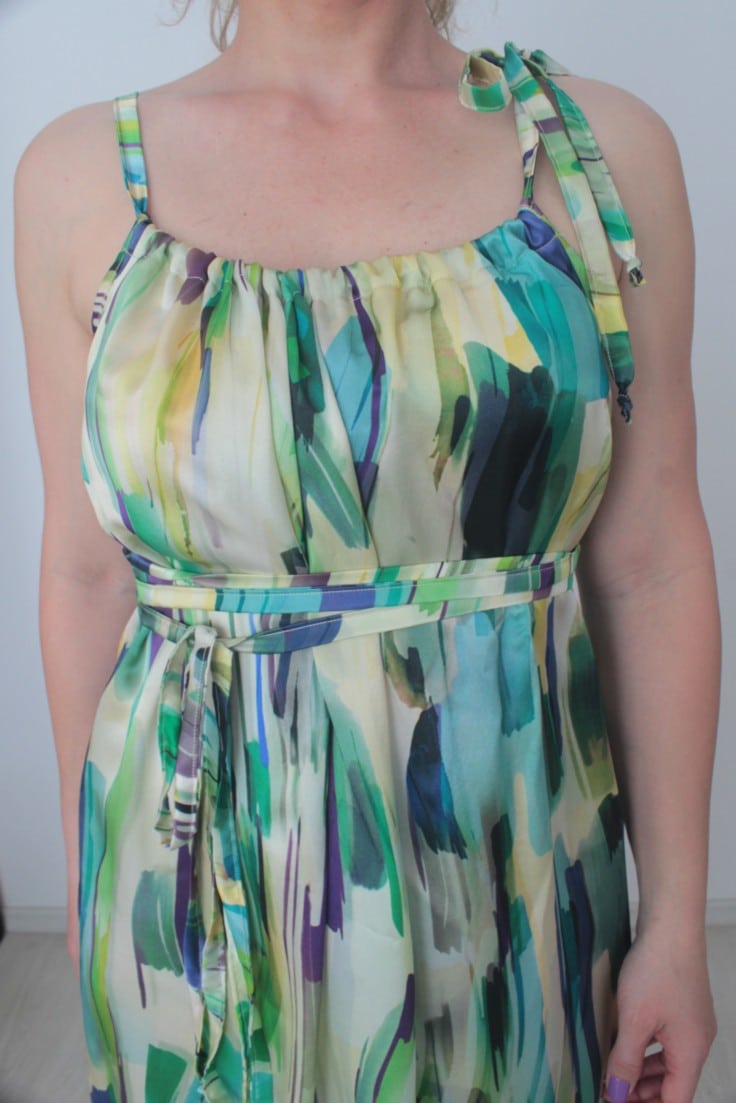 It may seem like real tough to pull off for women, please don't get discouraged! As you can see in the photos, wearing a pillowcase dress for adults is perfectly fine and it can look quite nice. And I actually encourage you to make one yourself because this kind of dresses are really really comfortable to wear and perfect in those super hot supper days! Made in the right fabric a womens pillowcase dress can actually look very nice on you and quite flattering.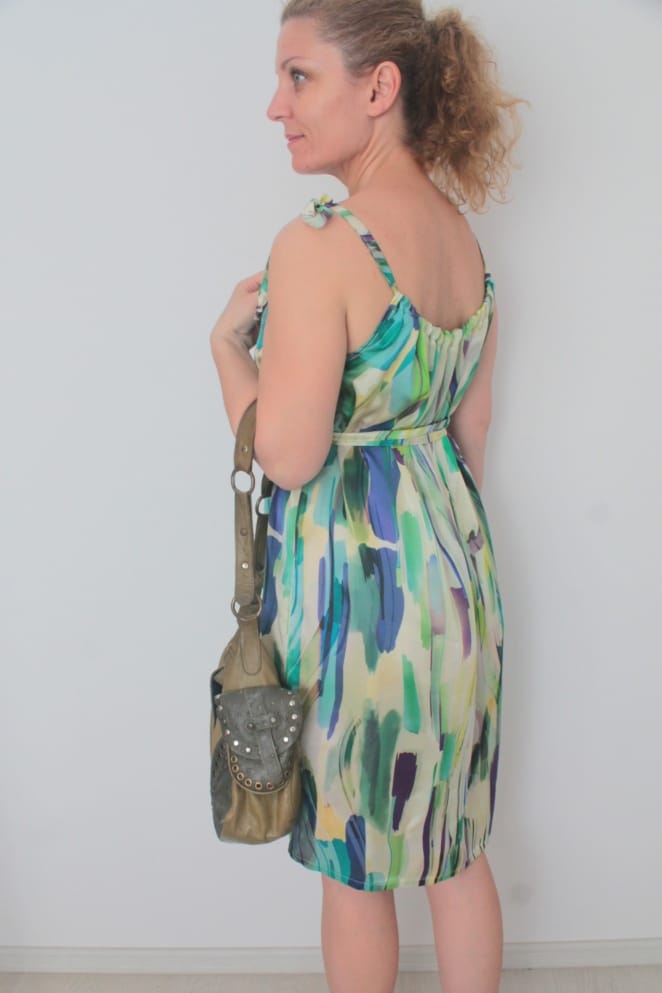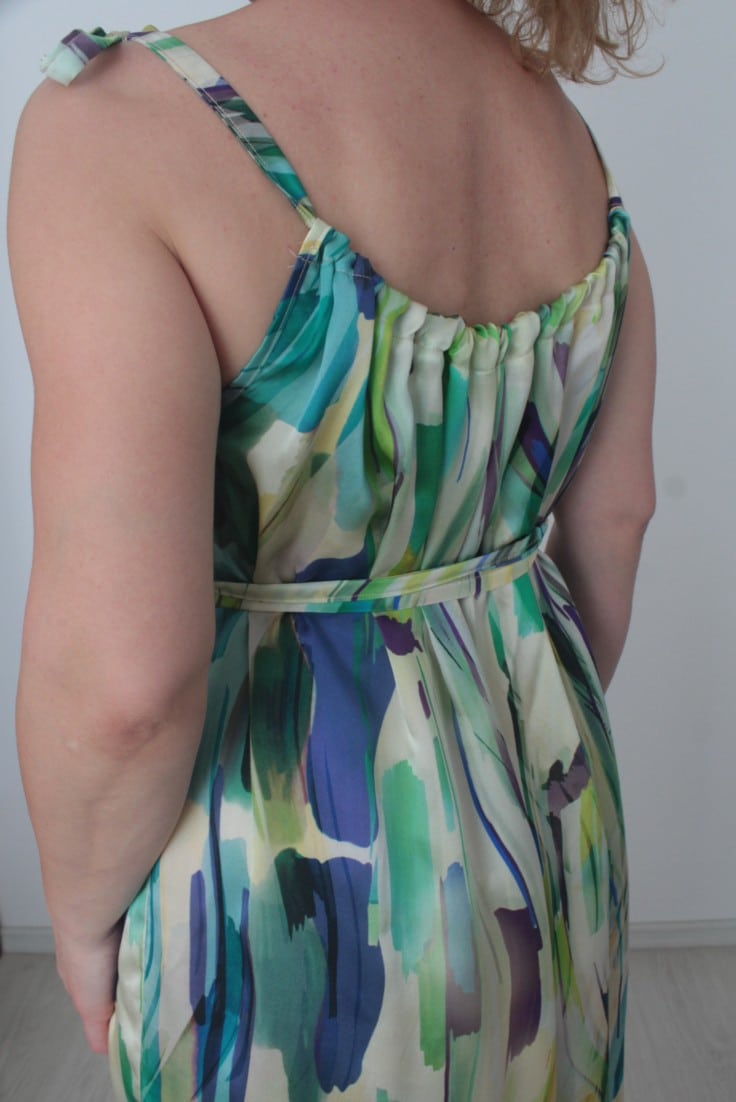 Tips for sewing a pillowcase dress for adults
Before getting into the sewing tutorial, let me highlight the adjustments I mentioned and also give a few tips about sewing your own dress:
When choosing the fabric, stick with lightweight instead of cotton or other fabrics on the stiffer side. I used silk for my sundress and it's not only amazing to feel it against the skin it's also flattering and easier to pull off. I can't stress enough how much you need to stick to this rule if you're lucky enough to have larger breast as cotton or other medium or even thick fabrics will not drape nice. Your dress will basically look like a tent!
Make your dress knee length or as a maxi dress. Short pillowcase dresses are just so unflattering on grown ups!
Because when worn the sides tend to be pulled up while the front and the back of the dress "drop" considerably, you need to either make the sides shorter when preparing your pattern or cut the top in a concave shape.
Even if you follow all the above tips, you may find that your dress still looks quite shapeless. There's just a simple and quite lovely solution: add a belt or a strap like I did. I actually love how much cuteness this strap adds to my dress. I made a couple of fabric loops on the sides, just above the waist and made a super long strap so I can wrap it around my bodice a couple of times and still have enough to tie in front.
Sundress for women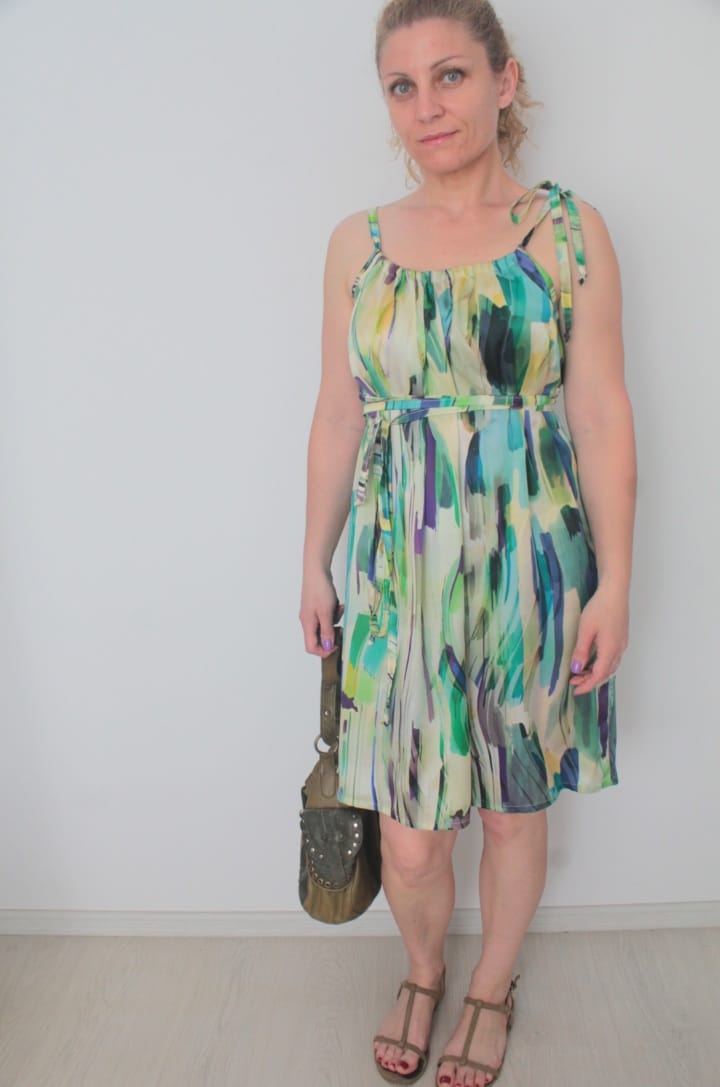 Materials:
paper to draw your pattern (you can work straight onto the fabric if you're feeling confident)
lightweight fabric that is not see-through (I chose silk with geometric print)
fabric marker
scissors
matching thread
serger (optional)
Directions:
Create the pattern
Measure around your bust and multiply by 1.5 then divide by 2. Add 1″ allowance.
Use this last measurement to draw the top of the dress.
Measure the length of the dress from collarbone down to kneecap or floor for maxi dresses. Add 2″ seam allowance
Use this measurement to draw the sides of the dress.
If you decided to make your dress an A line shape (figure 1) you need to add 1/2″ to left and 1/2″ to the right of the bottom line of the pattern. Then modify the size to meet the enlarged bottom and the top.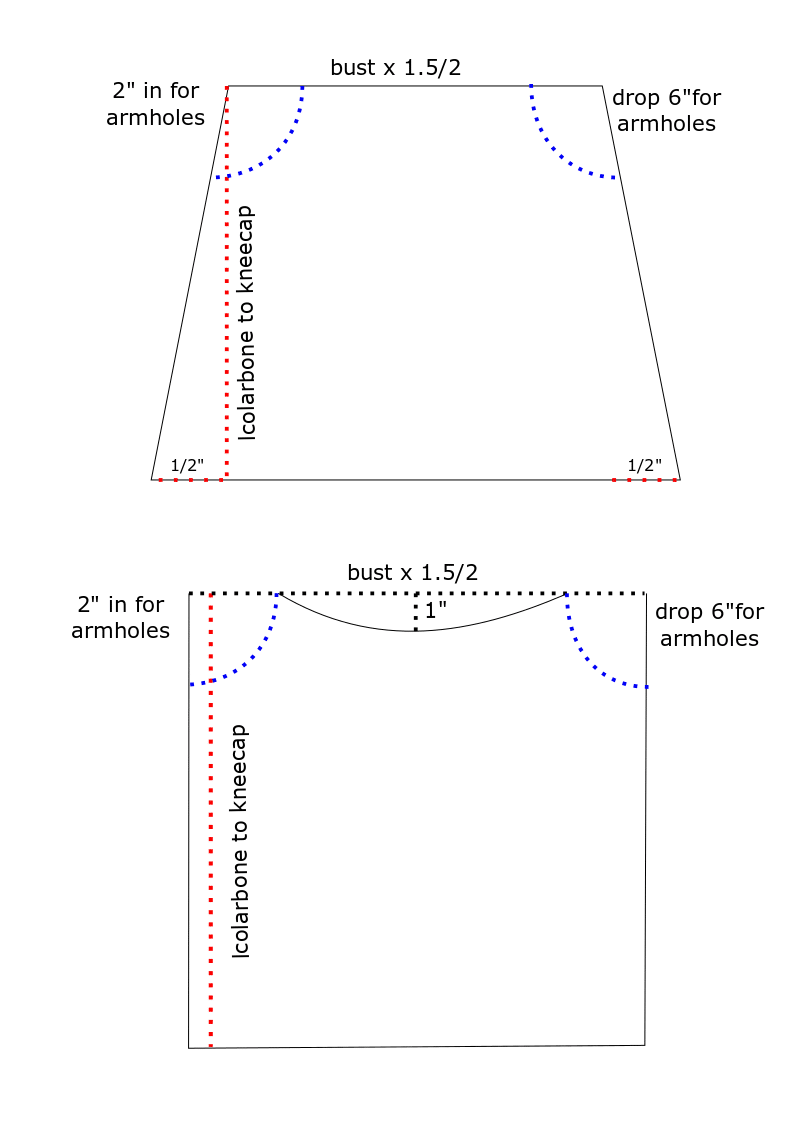 If you decided to create a concave in the top (figure 2), find the middle of the top and mark 1″ below the middle. Join the left and right of the top through this point.
Measure 6″ down and 2″ in from the top on both sides and draw a curve for armholes.
I advise you to use the A line shape pattern as it's easier to sew and hem later on.
Cut and sew the fabrics
Cut two pieces of fabric to match the pattern and place them right sides together.
Place the pattern on and cut out.
Pin the sides of the fabrics and sew with 1/2″ allowance. Finish with a serger or a zig zag stitch. (I didn't make a pattern in advance,, I worked straight on the fabric so on this image you won't see the armholes)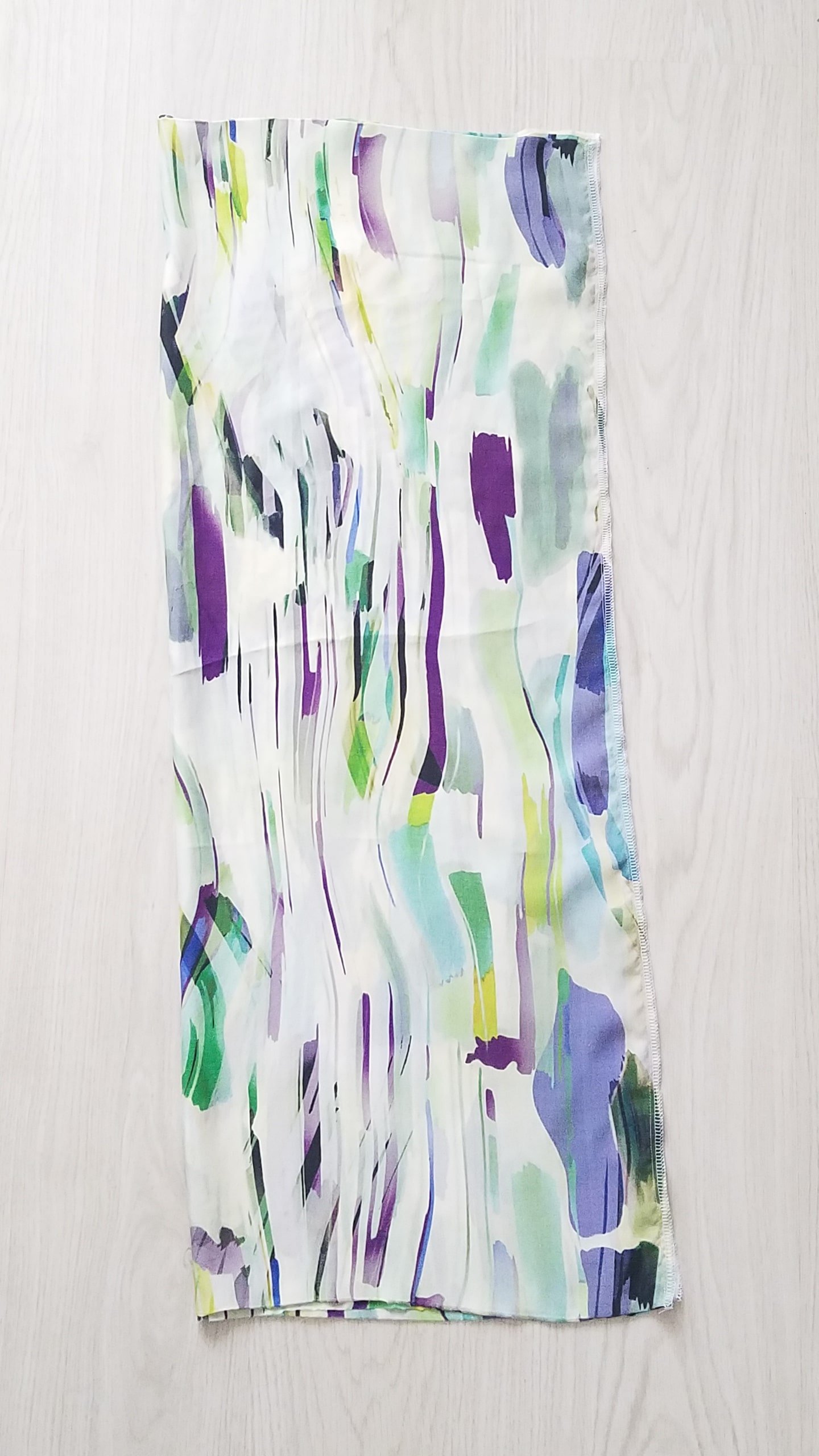 Hem the dress with a narrow hem.
Finish armholes with bias tape (I made my own in the same fabric as the dress. Check out these tutorials if you decide to make your own bias!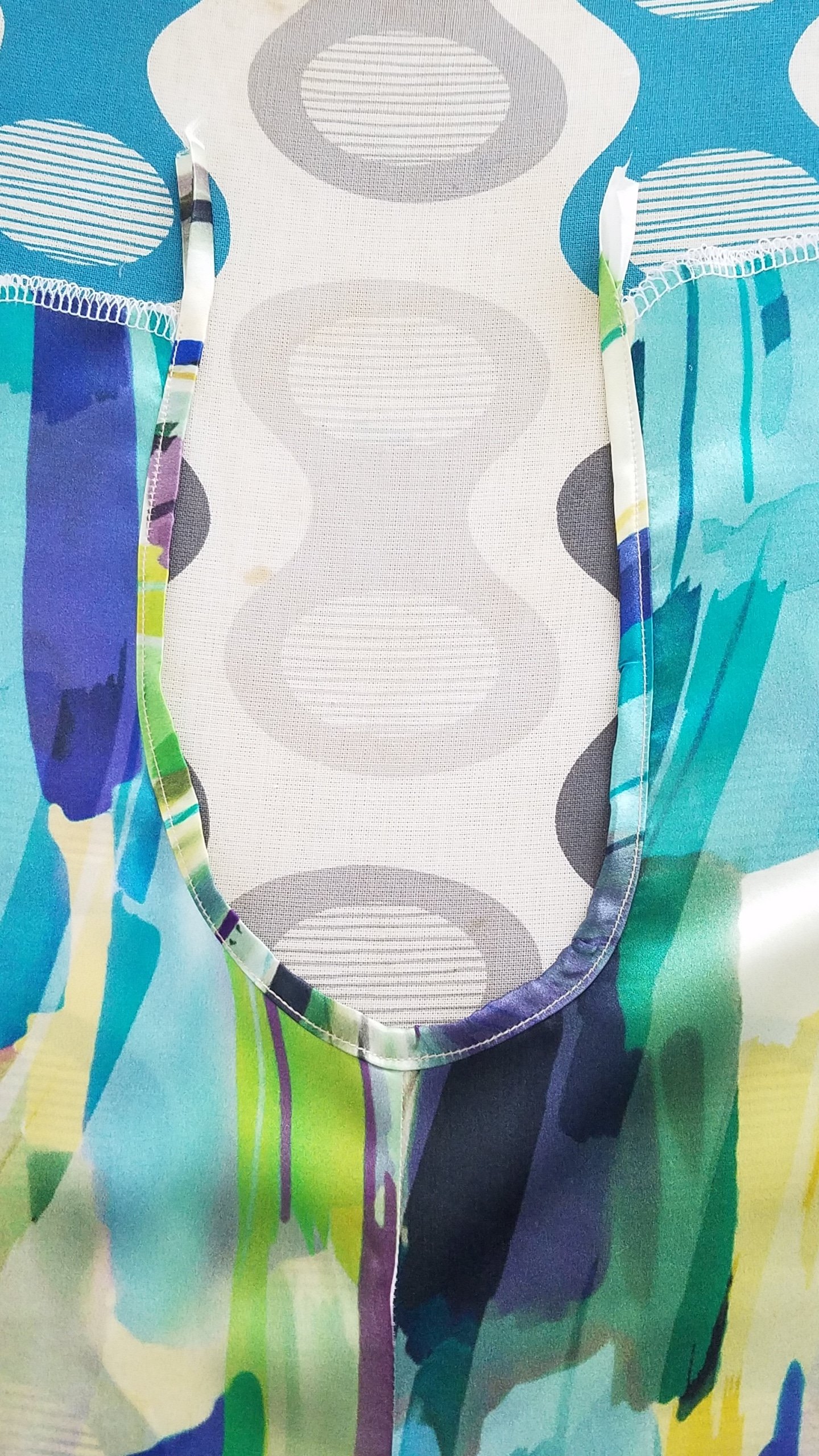 Finish the dress
Finish the top with a serger or a zig zag stitch
Fold the top in about 1″, pin and sew to create the casing for the shoulder straps.
Make a long strap using this tutorial. Make the straps long enough to use for shoulder straps and the waist belt.
Thread the strap through the dress casing and tie on one shoulder.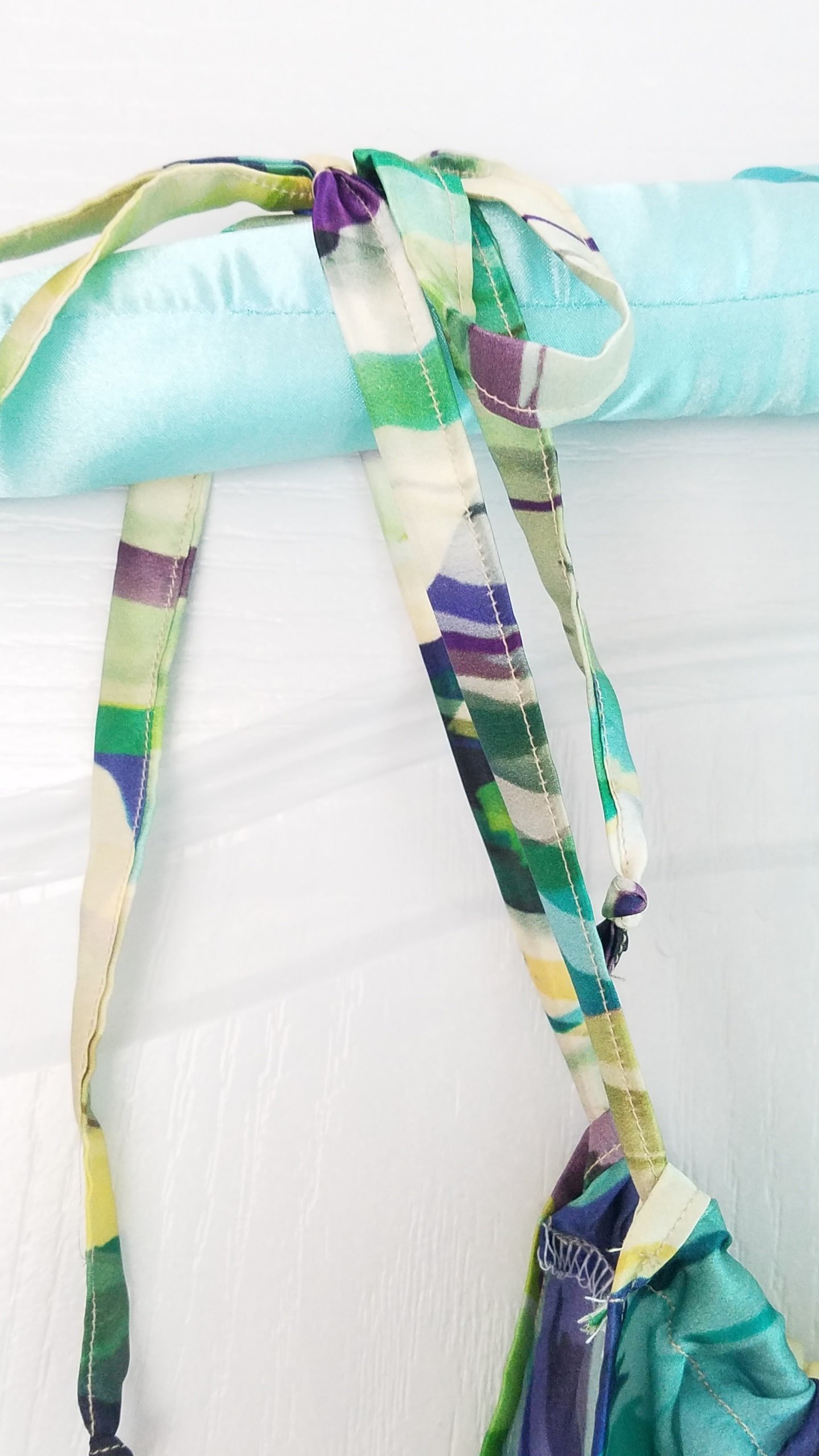 Sew two tiny loops on the sides of the dress, about 3″ down the armhole, to secure the belt when wearing.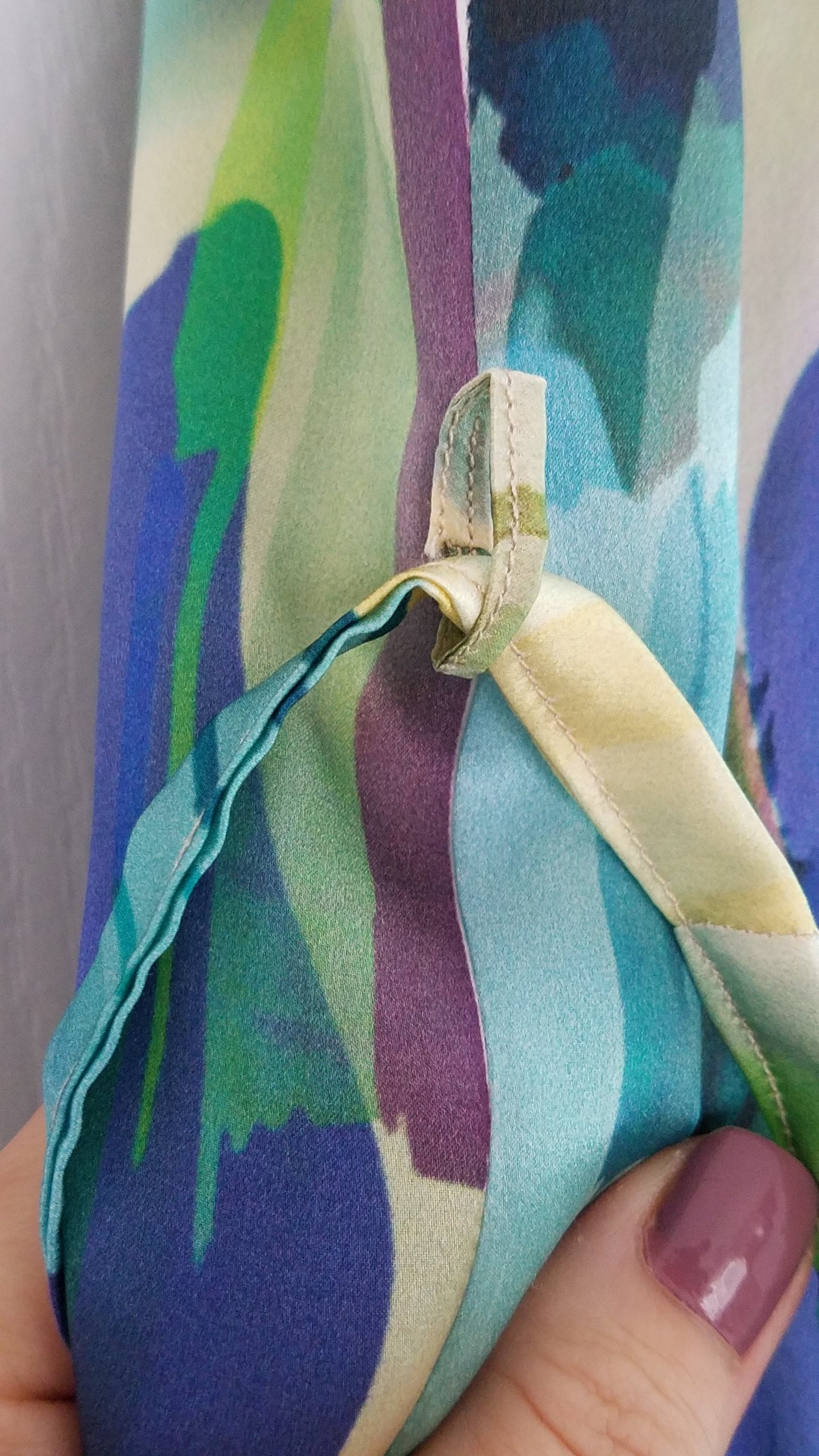 And you're pretty much done! Enjoy your pillowcase dress!
Pin to save for later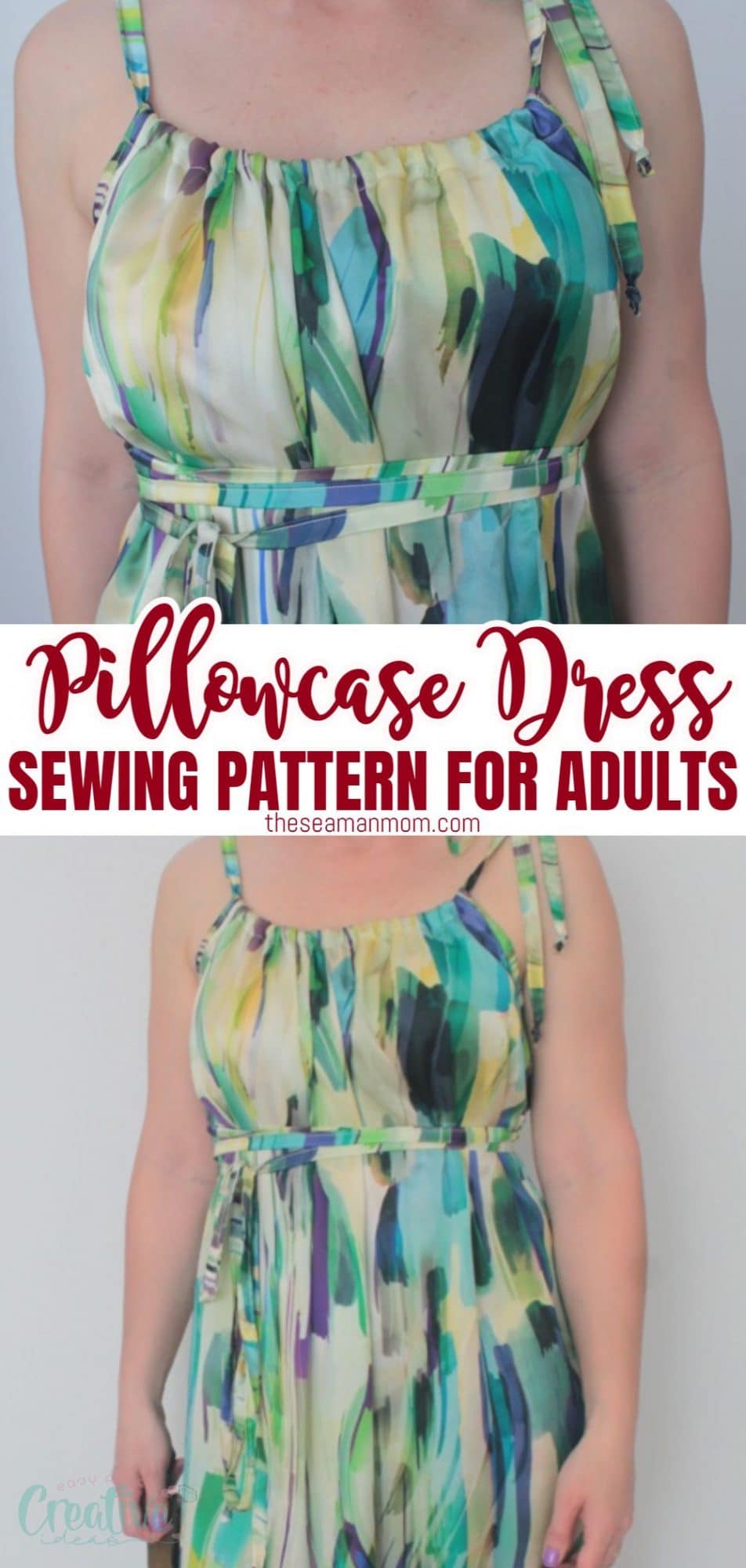 Most popular sewing projects: