Easiest Pillowcase Dress with size chart
Article may contain Amazon & affiliate links. As an Amazon Associate I earn from qualifying purchases at no additional cost to you.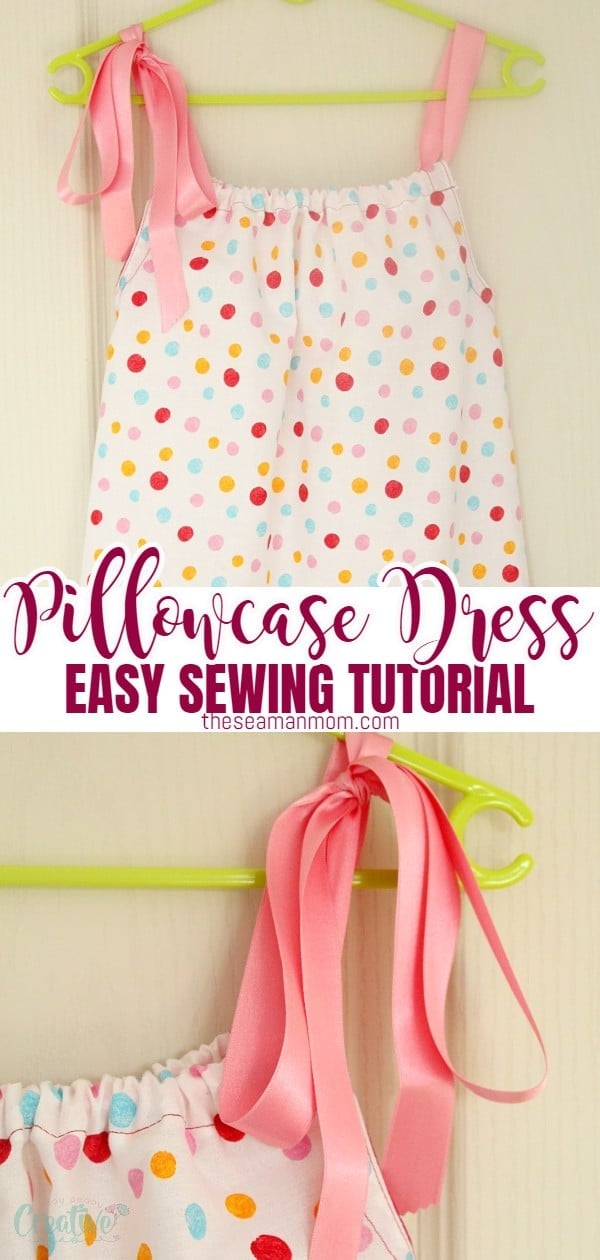 Love beginner sewing projects for kids? This ultimate pillowcase dress is the perfect project! Here's how to make an easy to sew, cute and comfy DIY pillowcase dress!
Pillowcase Dress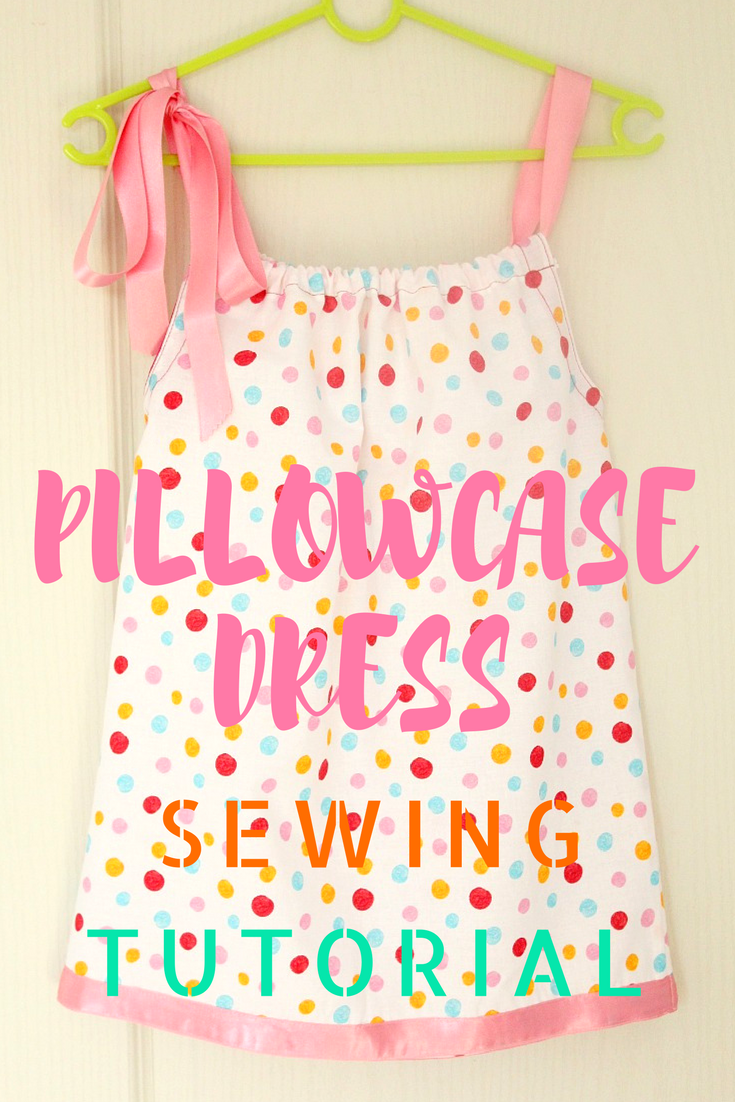 Beginner sewing projects for kids are awesome, just like this pillowcase dress! These type of dresses are so much fun to make, not to mention cute as a button! I find them also crazy easy to sew too! You simply cut out a basic shape dress and hem it! Add a little detail here and there, like a pretty ribbon as I did here, on this project, and you got yourself a fabulous dress in no time!
Similar posts you might like:
Plus a pillowcase dress is so comfortable to wear, my little one loves wearing these at school. She is very active and a dress like this gives her freedom to move. And she is such a girly girl, she loves anything pink, dots and bows so I think my fabric choice and the ribbon are perfect for this pillowcase dress tutorial.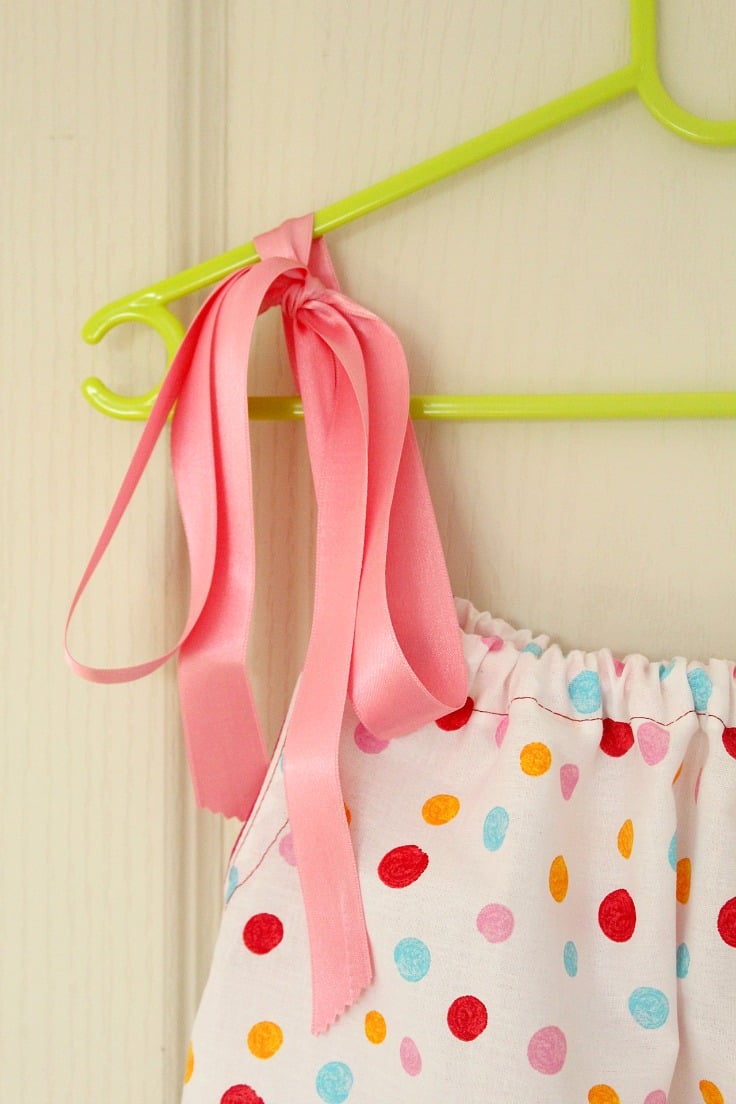 How to make a pillowcase dress for a little girl?
This pillowcase dress and the tutorial is for a size 4, as my daughter's, but you can easily adjust it to larger or smaller sizes. Add or subtract a couple of inches to the length and width of the fabric (an inch might be enough in most cases), for each size up or down. For the armhole, add or subtract 1″ from the top and 1″ from the side when cutting down, for each size up or down.
How to make a pillowcase dress from fabric?
For this dress pattern you have the option to use a large pillowcase for a quicker and easier project. But you can also create the dress from scratch, using regular fabric, as I did if you're feeling adventurous, don't have a spare pillowcase or simply want to sew the dress in the fabric you love!
If you use a pillowcase, keep the already sewn sides of the pillowcase as the sides of your dress and the open end of the pillowcase as the hem of the dress. Cut the top of the pillowcase and use it to construct the top of the dress as indicated in the below tutorial.
If you are using regular fabric, follow all the steps in the below tutorial.
That's the beauty of beginner sewing projects for kids, they're so easy to adjust ans customize! Click the link below to see how to make a pillowcase dress yourself.
Pillowcase dress pattern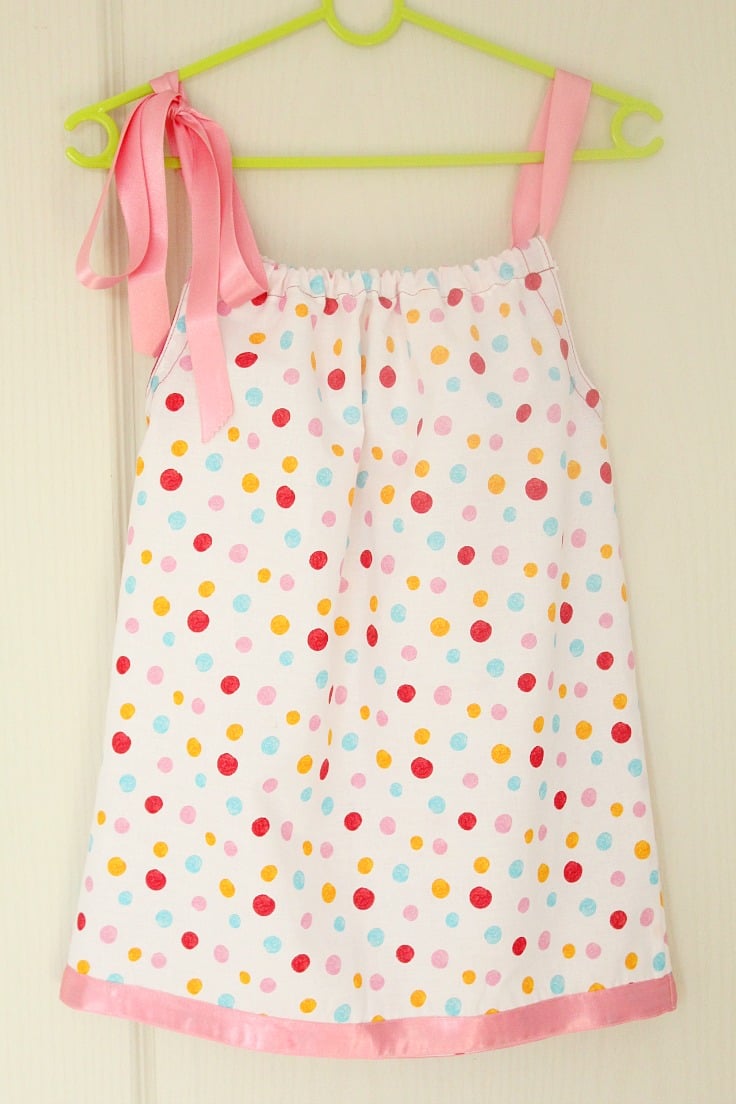 Materials needed:
100% cotton fabric (plenty of gorgeous options here, here and here). You'll need 2 panels of 21″ x 26″ for front and back to make a size 4 dress.
size chart – download from here
pinking sheers (optional; I used them to cut the ribbon)
ribbon for the bow and to add as detail to the hem
matching or contrast thread
pins
single fold bias binding (make your own with this tutorial)
---