Pocket Potholder With Ruffle
Article may contain Amazon & affiliate links. As an Amazon Associate I earn from qualifying purchases at no additional cost to you.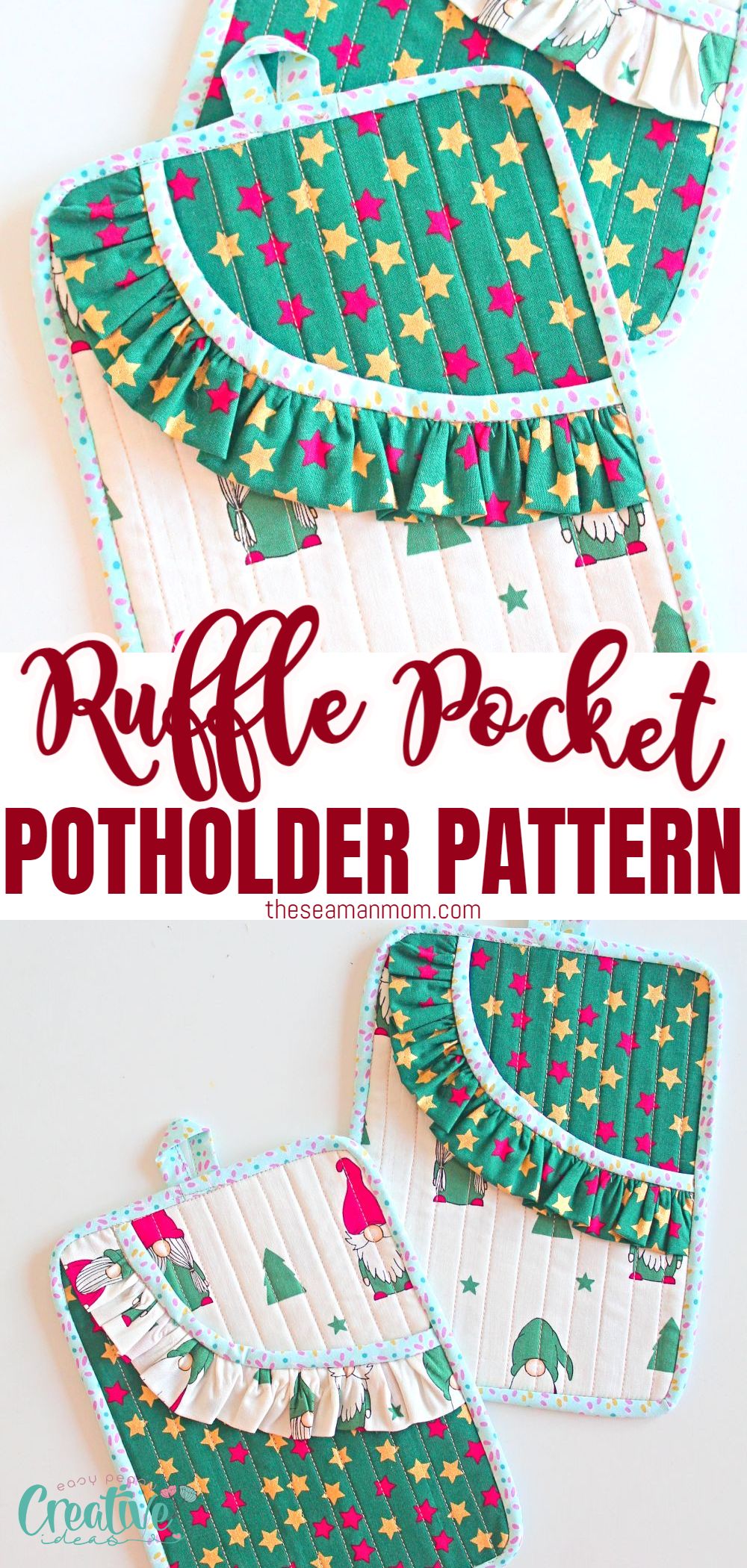 Tired of mundane potholders that lack personality? It's time to spice up your kitchen with a pocket potholder featuring a trendy ruffle detail.
Rectangular pocket potholder with ruffle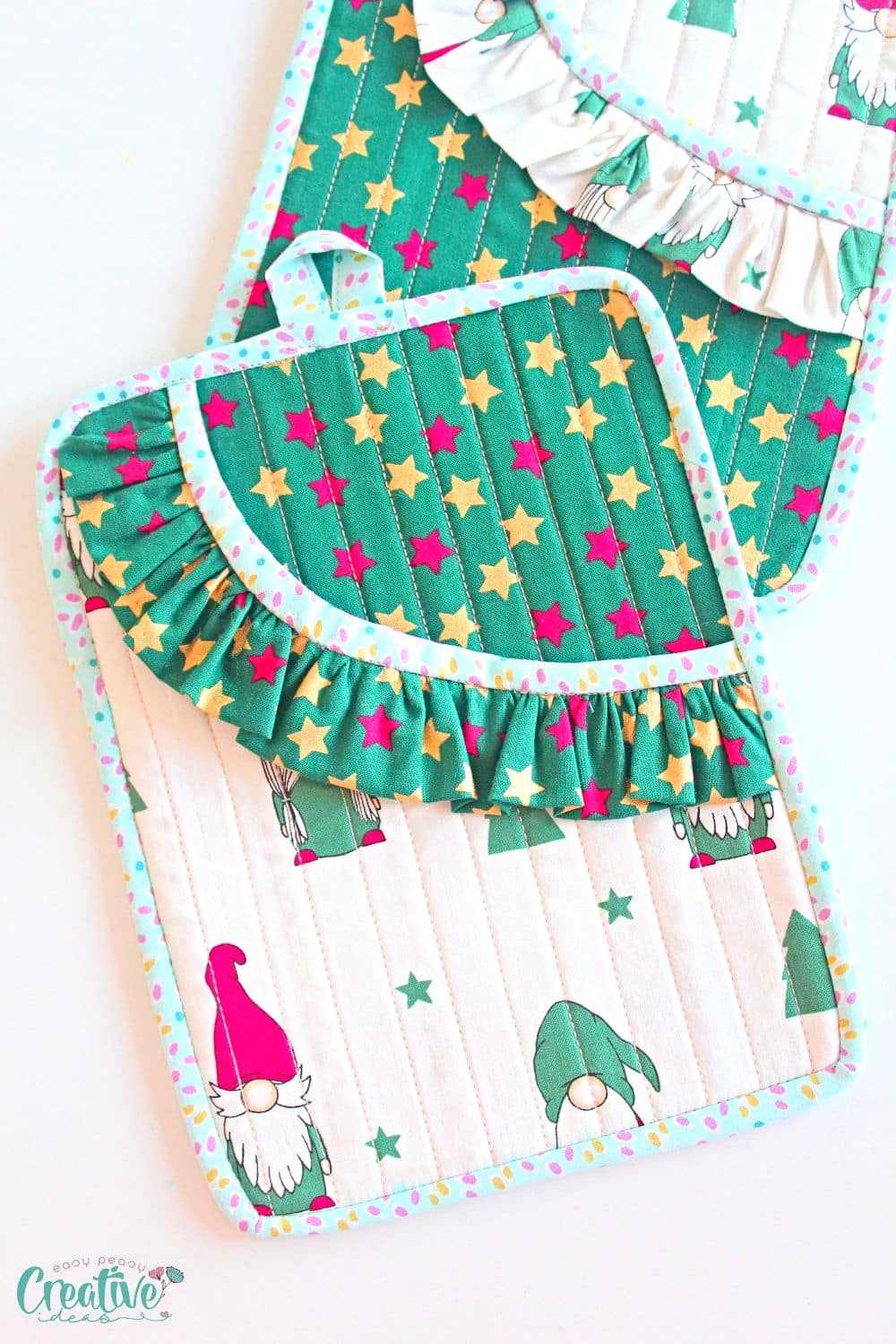 Dive into the world of sewing and discover how to bring elegance and charm to your cooking space. From selecting the perfect fabric to mastering the sewing techniques, this blog post will guide you through every step needed to create your own one-of-a-kind pocket potholder.
If you're tired of using boring and lackluster potholders in your kitchen, I'll show you how to sew a pocket potholder with a trendy ruffle detail that will revolutionize your culinary experience in just a few easy steps. Imagine having a potholder that not only protects your hands but also adds a stylish flair to your kitchen décor.
Get ready to infuse elegance and creativity into your everyday cooking routine because it's time to take the plunge into the world of sewing and create your own one-of-a-kind potholder that will bring a smile to your face every time you use it. Let's get started on this exciting journey together!
Similar projects you will love: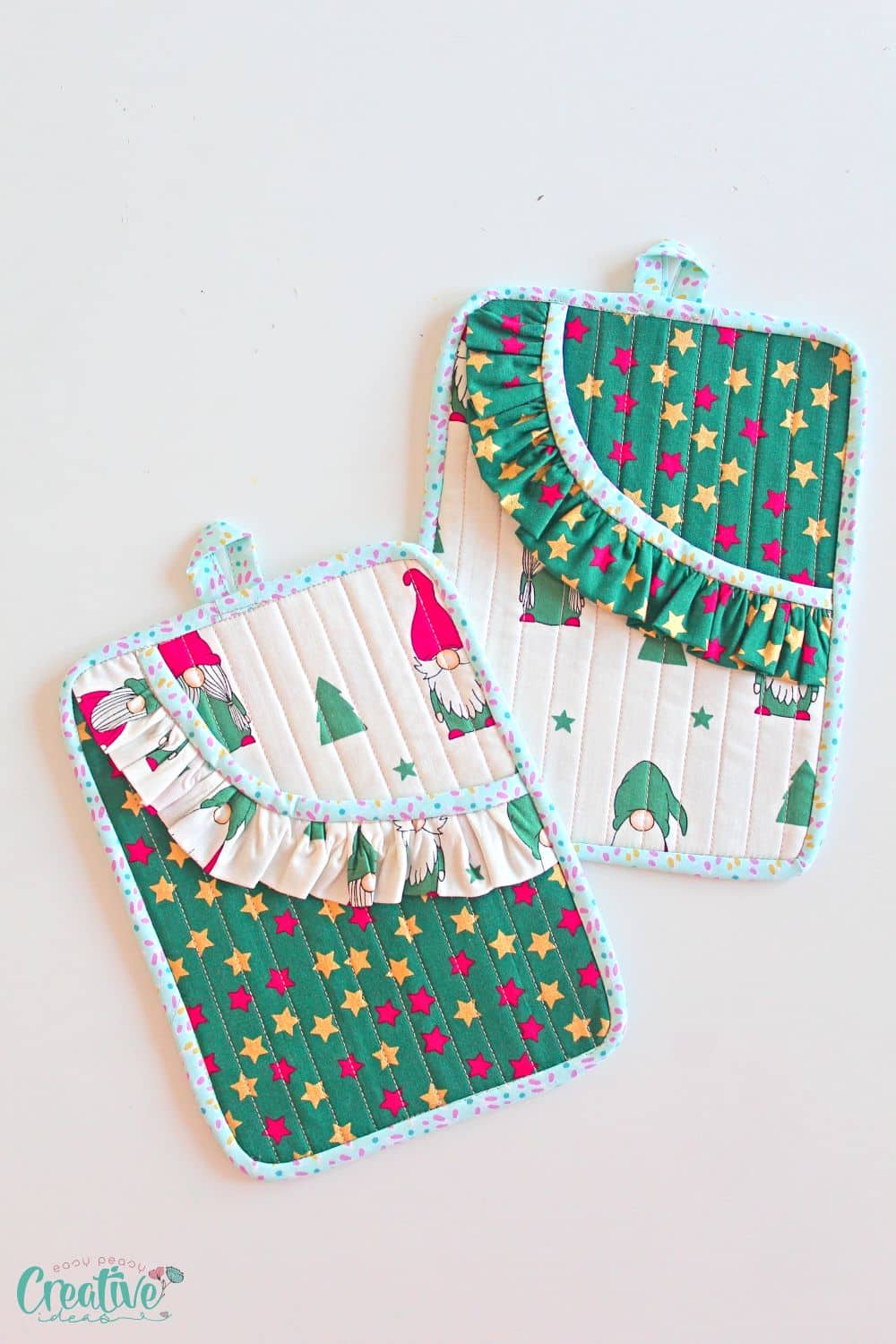 Is this a project suitable for beginners?
While this is a great project for most sewing enthusiasts, I wouldn't recommend it to an ultimate beginner, because it involves sewing a ruffle and binding to a curve. If you have some experience with those techniques mentioned by all means, give it a try! Just make sure your machine can handle sewing through multiple layers of fabrics and don't rush through sewing.
Selecting the Perfect Fabric
When it comes to creating potholders that truly stand out, one of the most important elements to consider is the fabric selection. The right fabric can make all the difference in terms of both functionality and style, so it's worth spending some time to find the perfect material for your project.
First and foremost, think about the primary purpose of your potholder. If you're looking for a heat-resistant option that will efficiently protect your hands, consider using a fabric that has thermal properties. Look for materials like cotton with a layer of insulating batting, which will help to keep your hands safe from the heat.
In terms of style, the fabric you choose can really elevate the overall look of your potholder. Depending on your personal taste and the aesthetic of your kitchen, you can opt for bold and vibrant patterns or go for a more subtle, neutral tone. Consider the existing color palette and décor in your kitchen to ensure that your potholder seamlessly complements the space.
Additionally, it's crucial to select a fabric that is durable and easy to clean. Kitchen tools can get messy, and your potholder is no exception. Look for fabrics that are machine washable and can withstand frequent use and washing without losing their shape or color.
Lastly, don't be afraid to mix and match fabrics to add some visual interest to your potholder. You can choose a fun pattern for the main body of the potholder and a coordinating solid color for the ruffle detail. This allows you to showcase your personal style and create a truly unique potholder that reflects your creativity.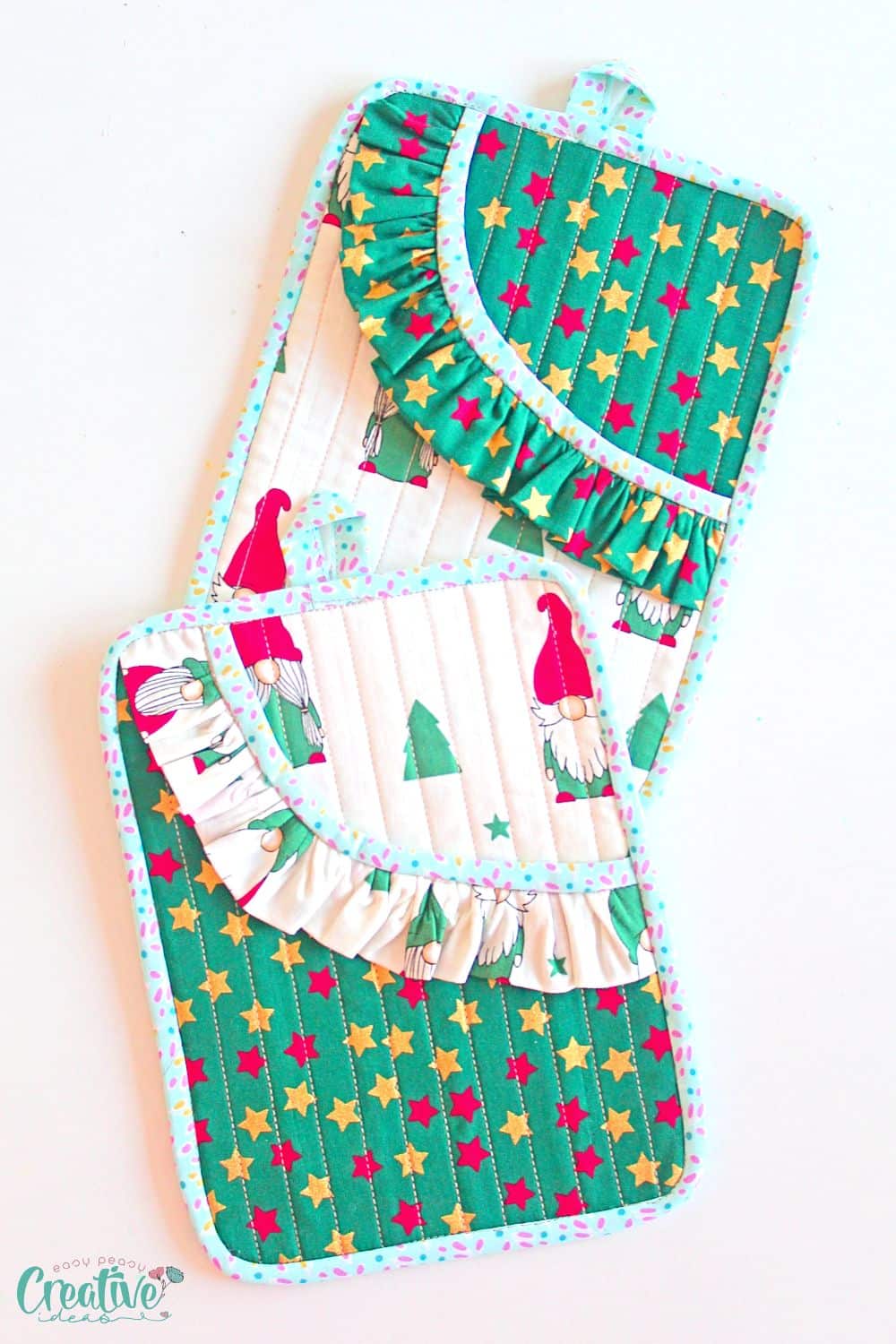 Personalize Your Potholder
Personalizing your potholder is a great way to make it even more special and meaningful. Consider adding a monogram or a decorative embroidery design to the main fabric of the potholder. This small touch can elevate it from a simple kitchen accessory to a personalized keepsake that you can cherish for years to come.
If you're feeling particularly adventurous, you can experiment with different trims and embellishments to make your potholder stand out. Adding lace, ribbon, or even decorative buttons can give your potholder a touch of whimsy or elegance, depending on your personal style.
Remember, the goal is to create a potholder that is not only functional but also a reflection of your taste and personality. Choosing fabrics and personalizing your potholder is an opportunity to make it truly yours.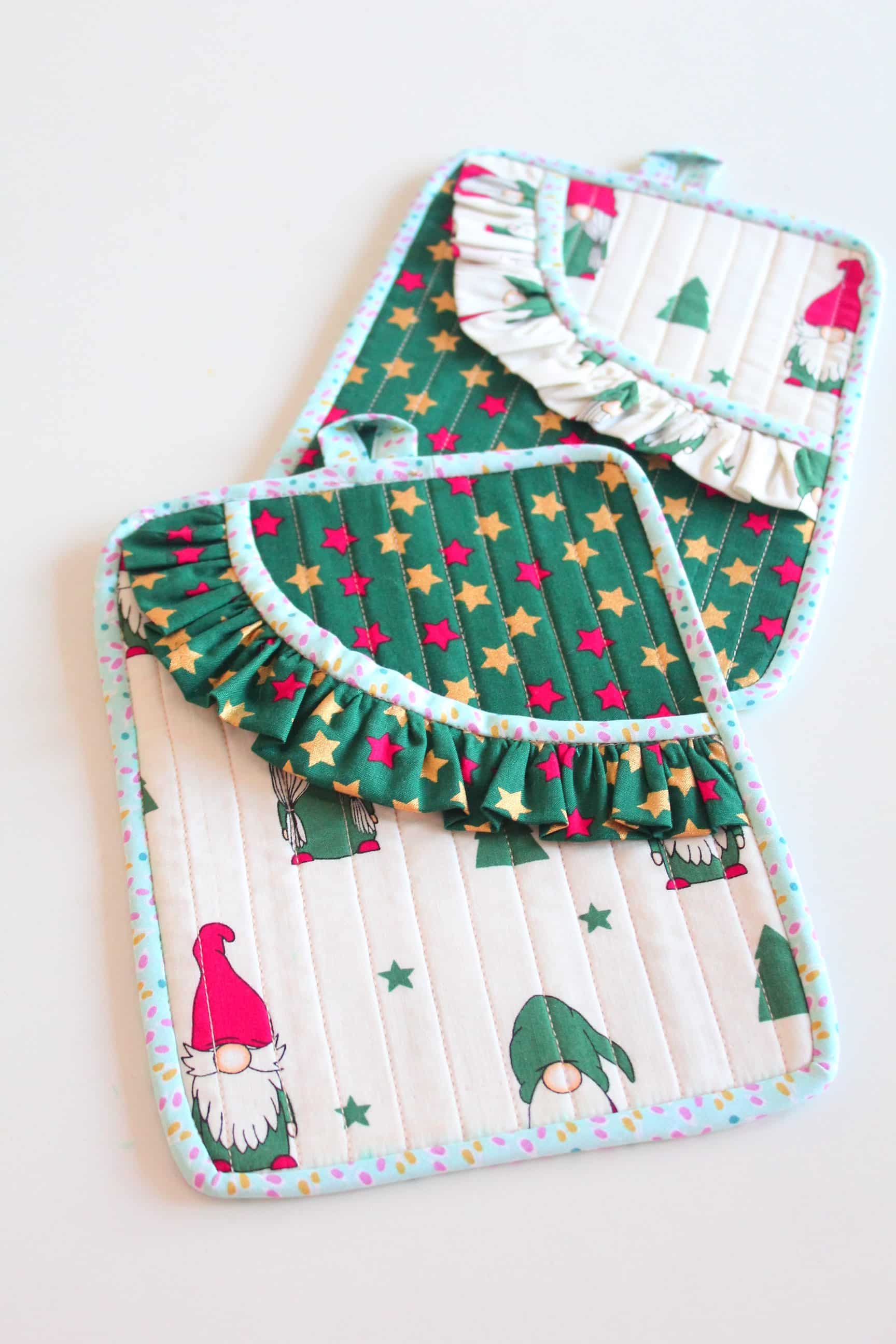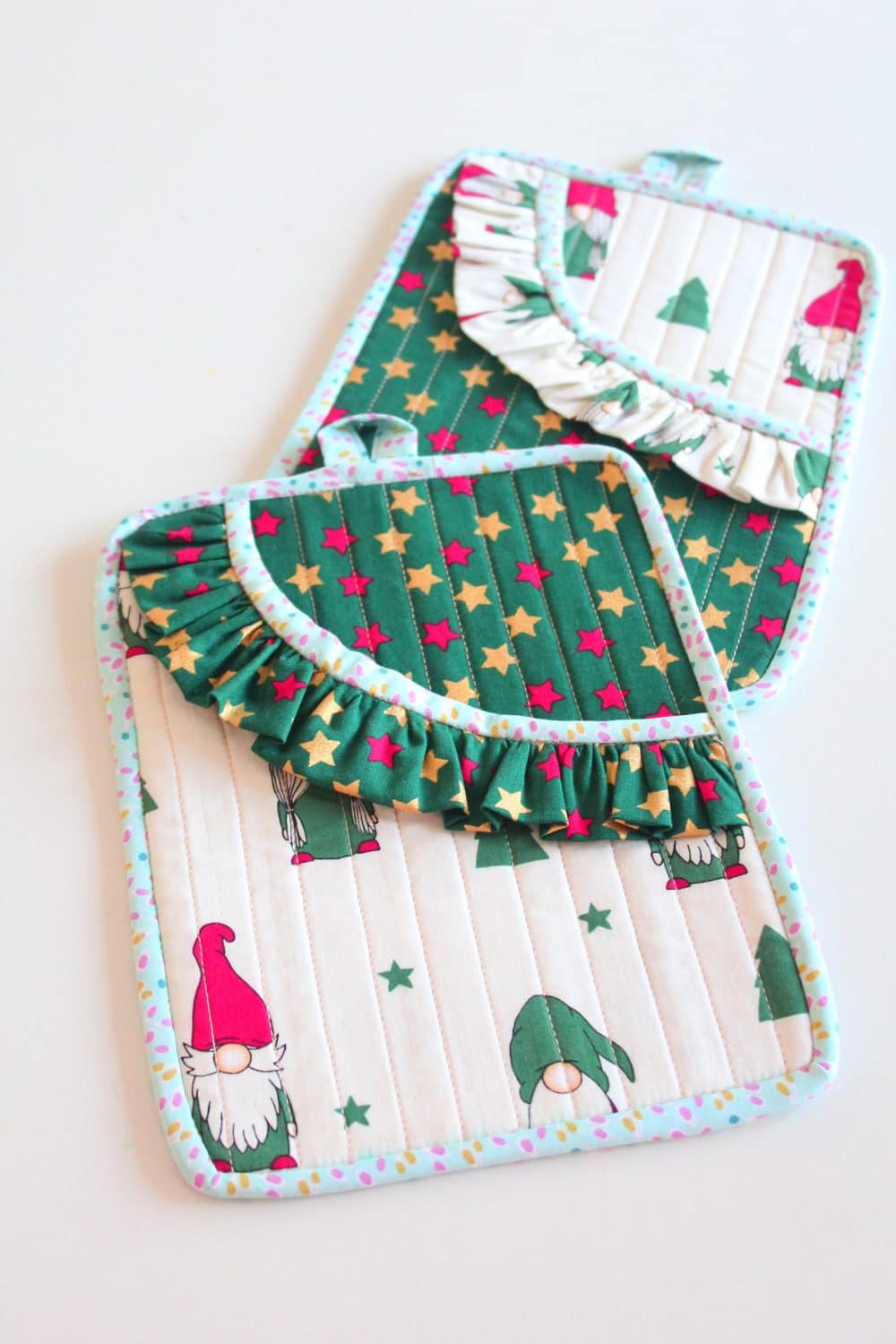 Materials needed to make potholders with pocket
To make a pocket potholder that reflects your unique taste and style, you'll need a few essential materials.
Pocket potholder pattern available here.
Cotton fabric for both the front and back of the potholder as well as the pocket. Consider choosing a fabric that is both durable and heat-resistant, such as cotton or canvas.
A small strip of fabric for the loop, about 5″ long by 2″ wide. You can use scraps.
In addition to the main fabric, you'll also need a coordinating fabric for the ruffle trim. This is where you can really let your creativity shine by selecting a fabric that adds a pop of color or pattern to your potholder.
To give your pocket potholder structure and insulation, you'll need some cotton batting or other insulation that is heat resistant such as insul-bright. This material will help protect your hands from the heat when handling hot pots and pans.
Binding or double fold bias tape (you can make your own bias with these tutorials)
Pins and quilting clips
Pressing iron with steam
Finally, don't forget about the little details that can elevate your potholder from ordinary to extraordinary. Consider adding decorative elements such as buttons, ribbons, or embroidery to personalize your creation. These small touches can truly make your potholder a one-of-a-kind piece.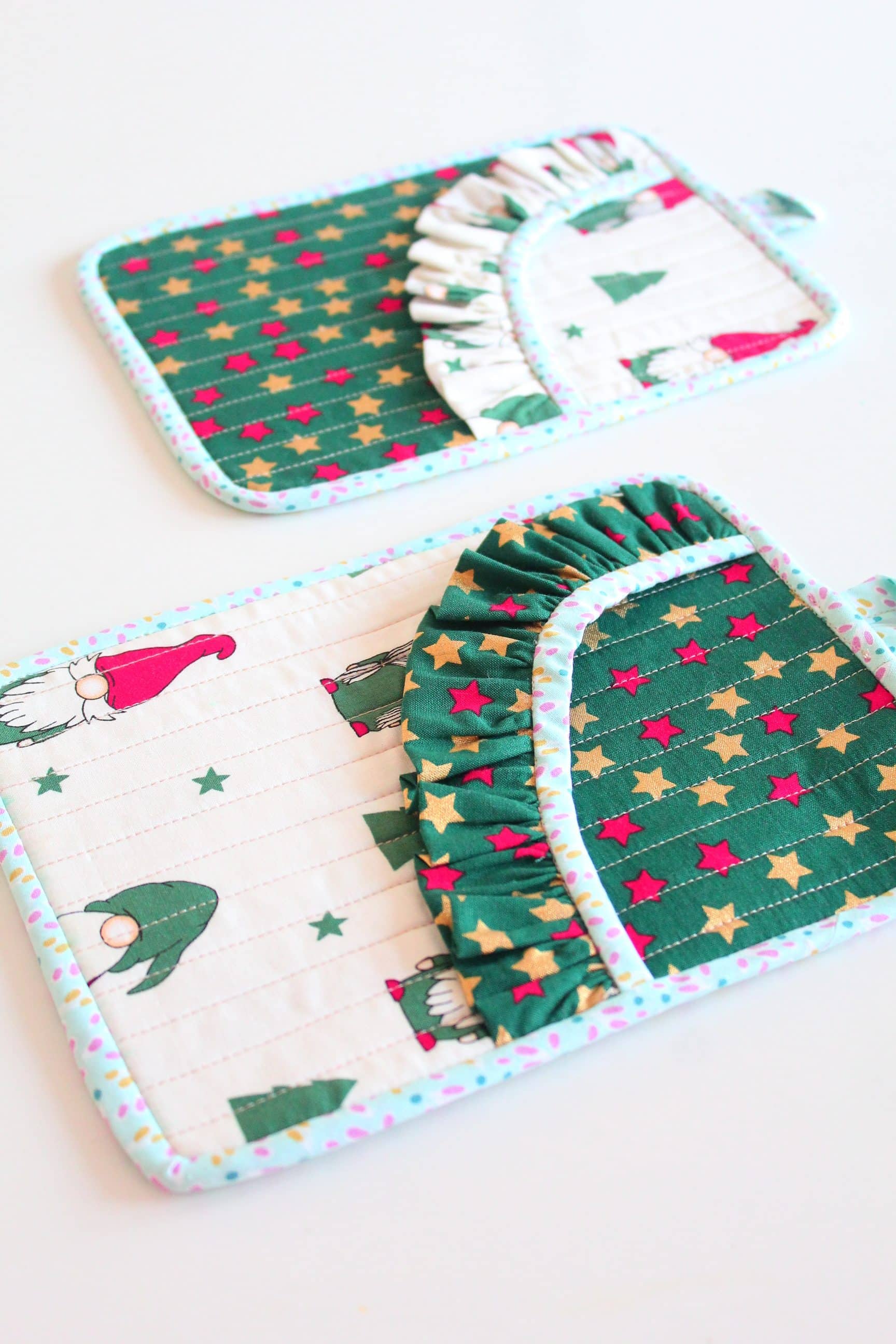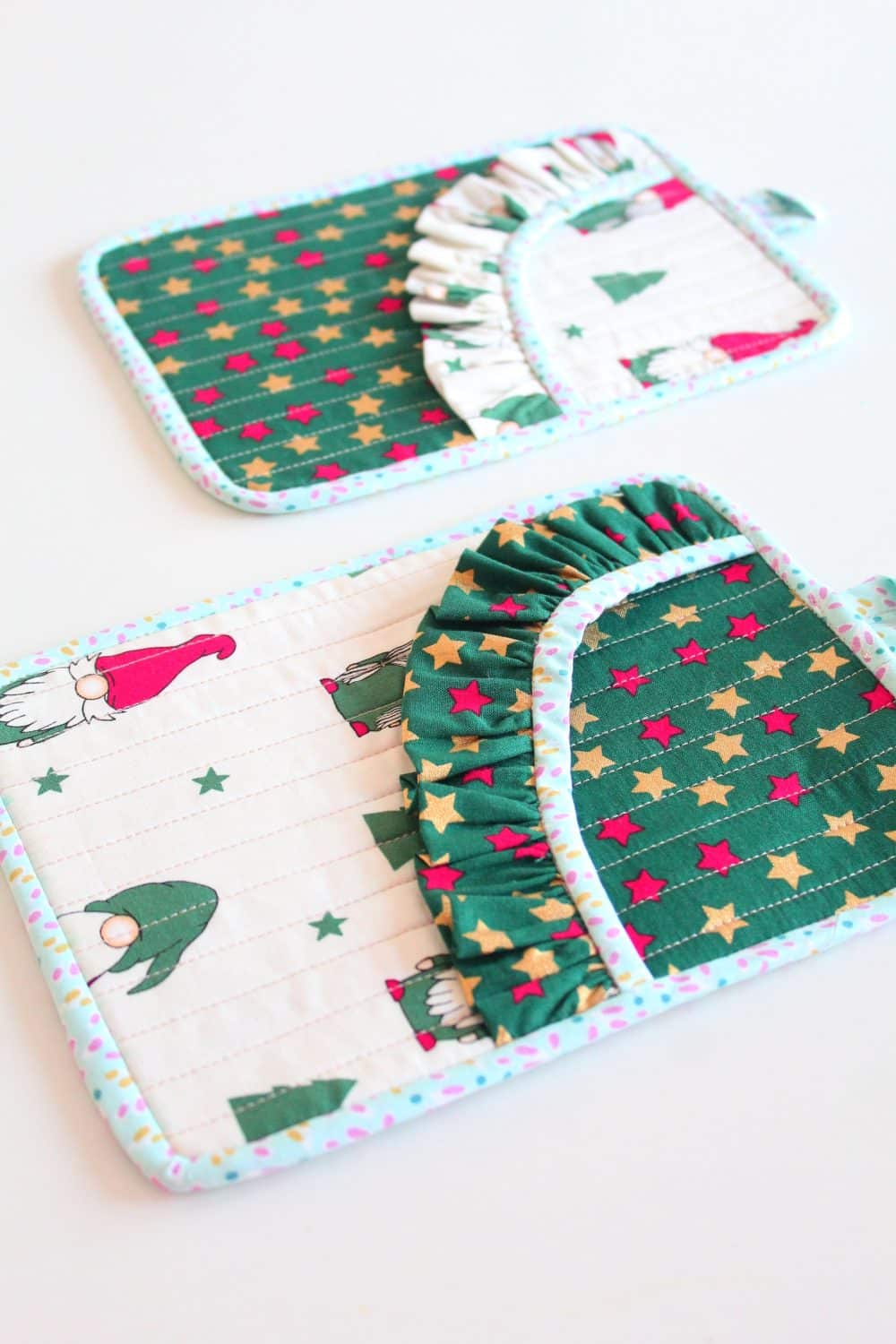 How to sew potholders step by step tutorial
Now that you have gathered all the materials you'll need, it's time to dive into the step-by-step process of sewing the best potholders! It can be a fun and rewarding project, and by following these simple steps, you'll be able to create a beautiful and functional pocket potholder in no time. Seam allowance for this project is decided by the width of your binding or bias tape.
Prepare your fabric
Start by choosing two coordinating fabrics for your potholder.
Print the pattern, place it over the fabrics and cut out. Repeat for the hand pockets. I made pattern pieces for the right and left hand but if you want to save paper, print just one pocket and flip it to cut out the fabrics for the opposite hand. You will need 2 fabrics for the backing side and 2 for the pocket.
Cut out the batting, one piece for the back panel and one piece for the pocket.
Prepare the back panel and the pocket
Take the back fabrics, place them wrong sides together and sandwich the batting piece between the fabrics. Optional, to keep the layers together you can use hem tape or basting spray.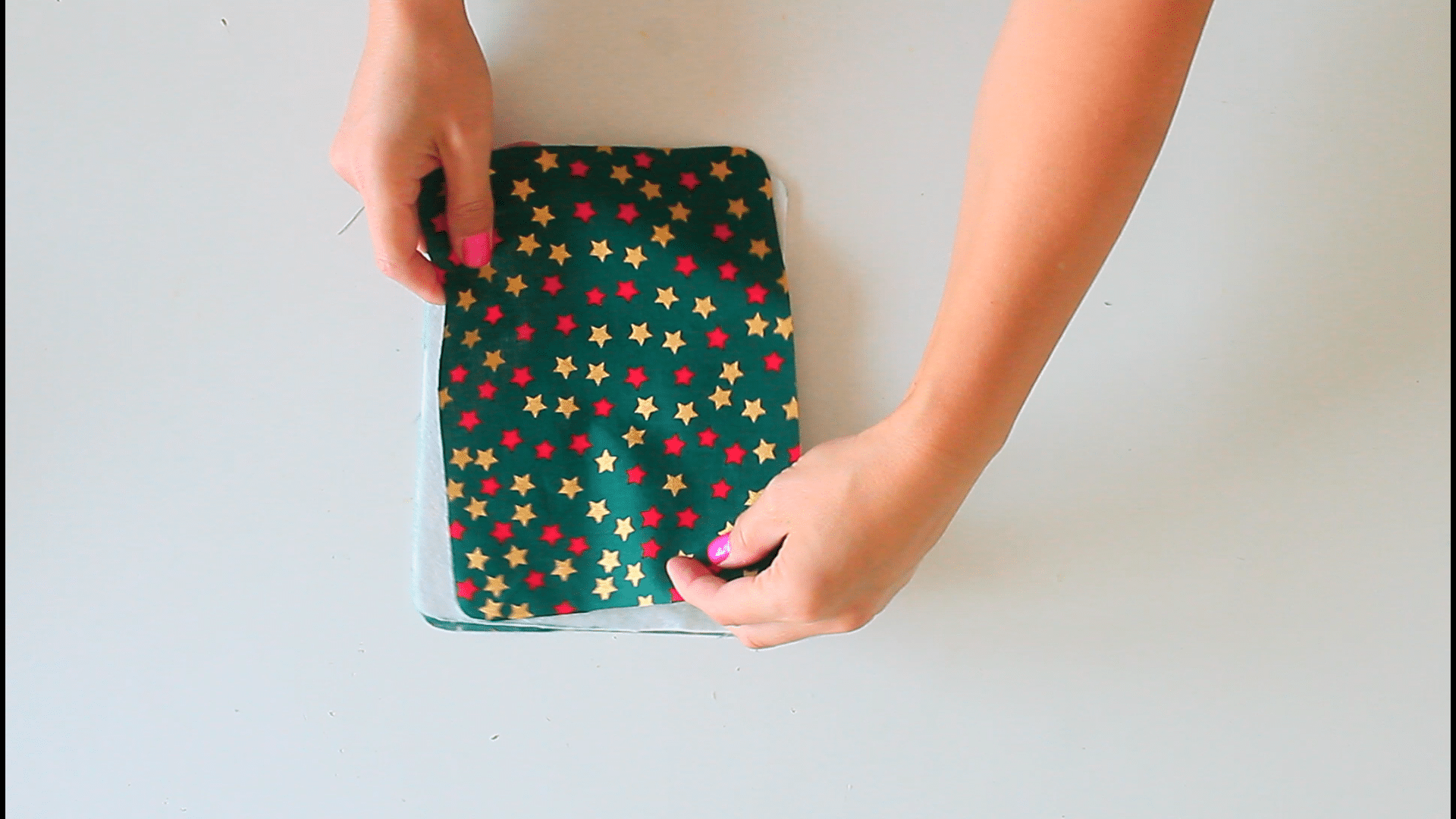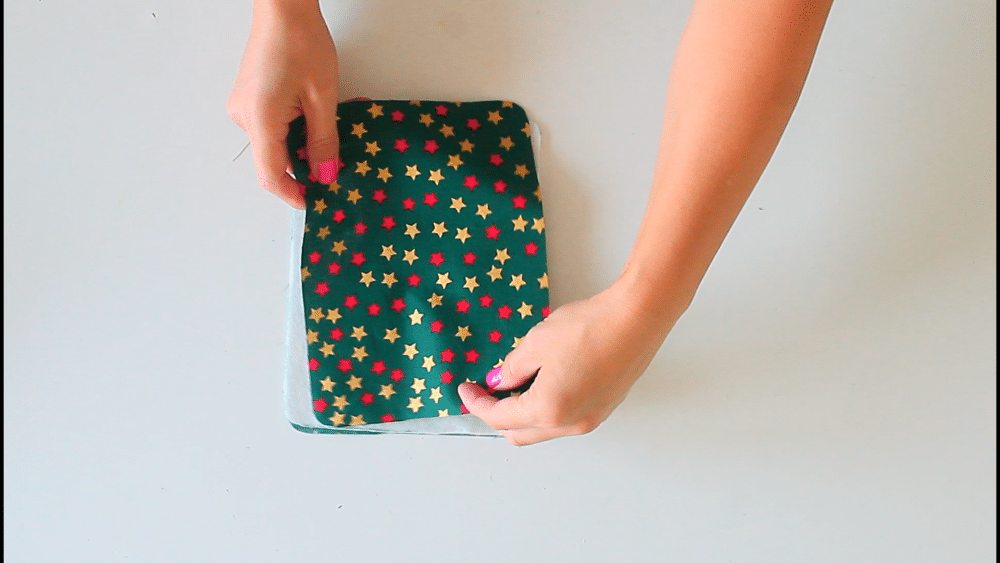 Sew parallel lines about 1/2″ apart.
Repeat the same steps for the pocket.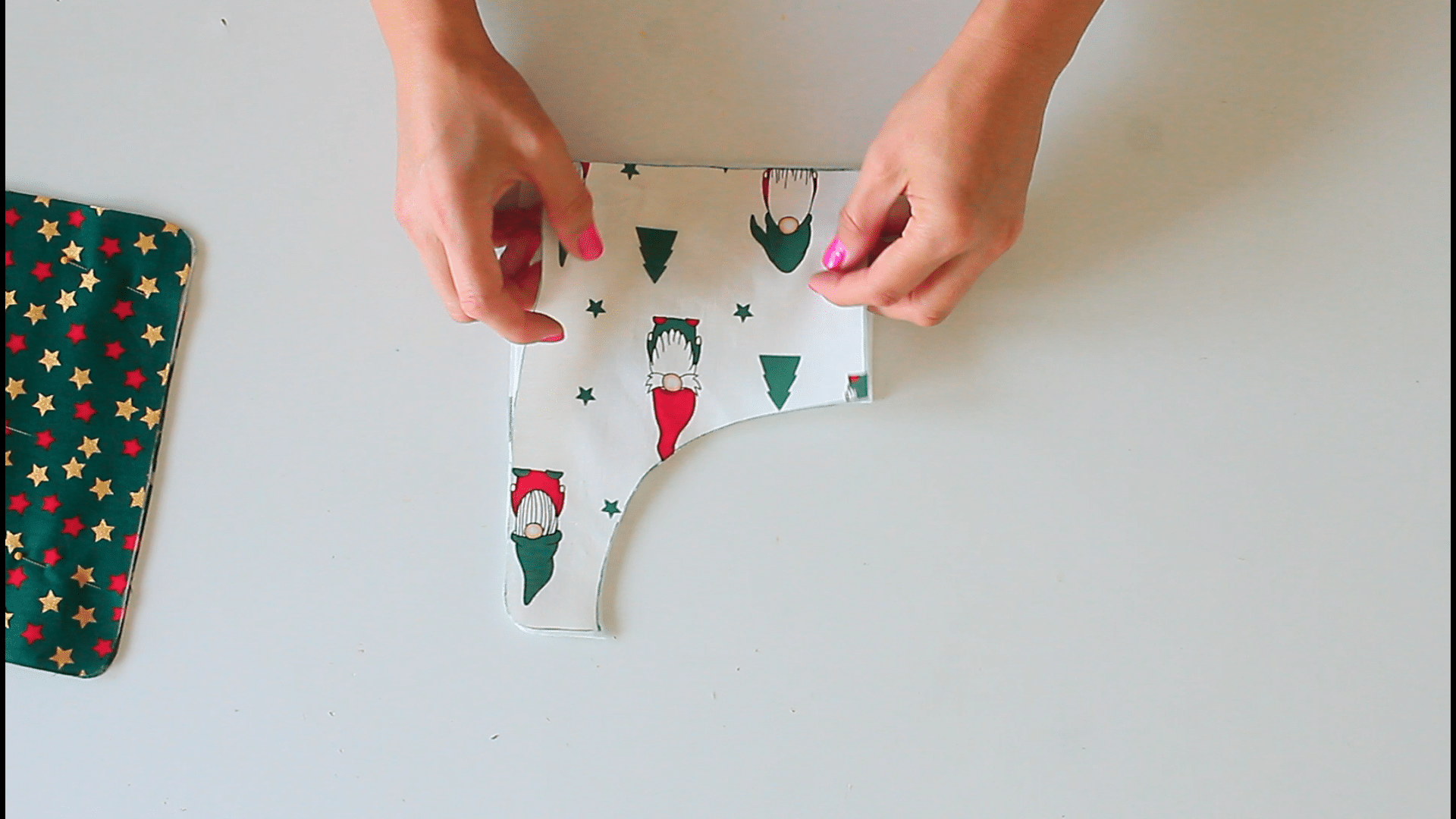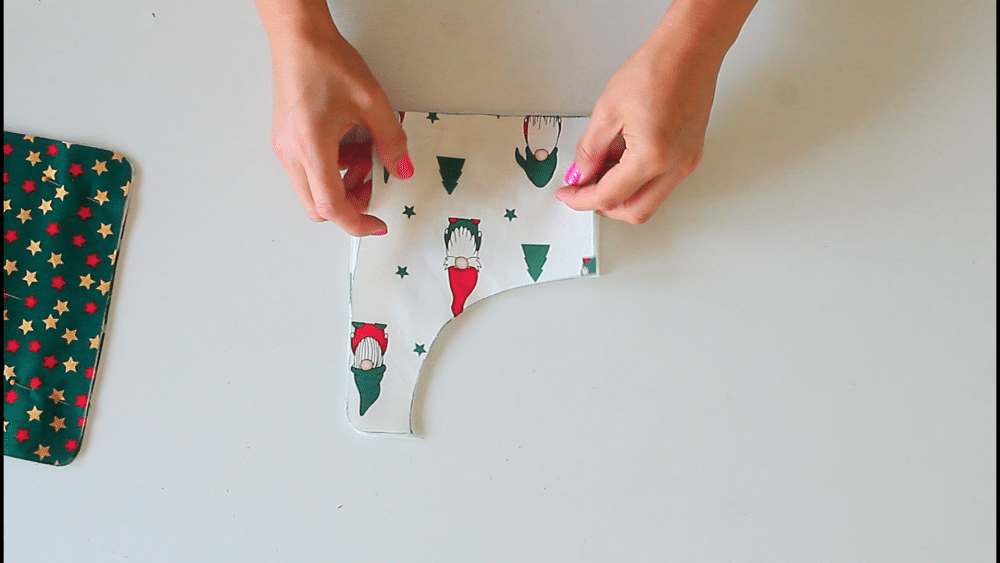 For the loop
Fold the loop fabric in half, lengthwise, with the wrong side inside and press.
Open the strip and press both halves in.
Fold the main strip again and press.
Edge stitch along the open edge.
Fold the newly formed strip in half and press.
Press the raw ends in about 1/2″ and press.
Form the loop and press.
For the ruffle
Cut a strip of fabric that is long enough to go around the top of the pocket and multiply that by 2. I cut a strip of 16″ by 3″.
Fold the strip in half lengthwise, wrong side towards inside and press it to create a crease.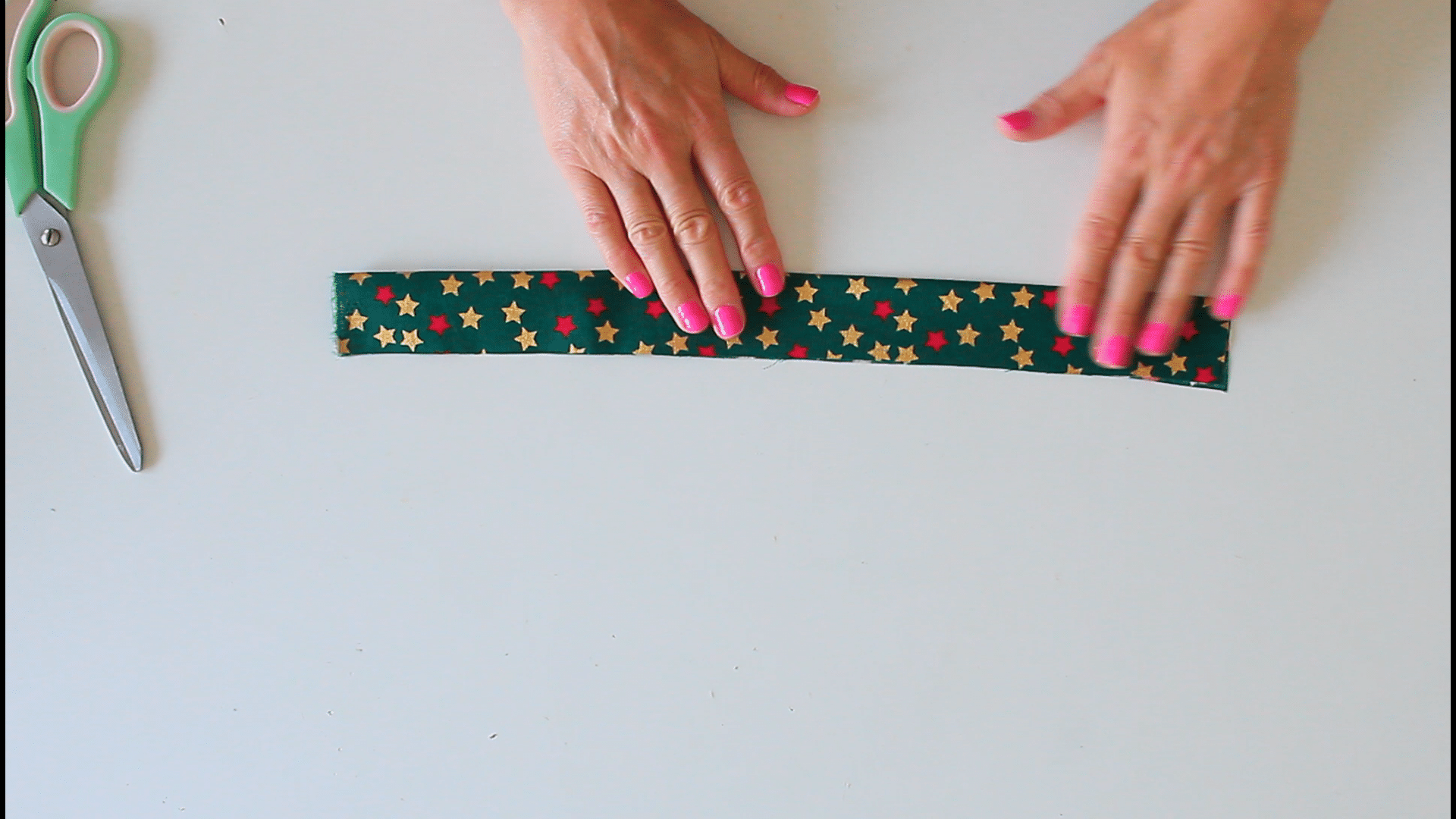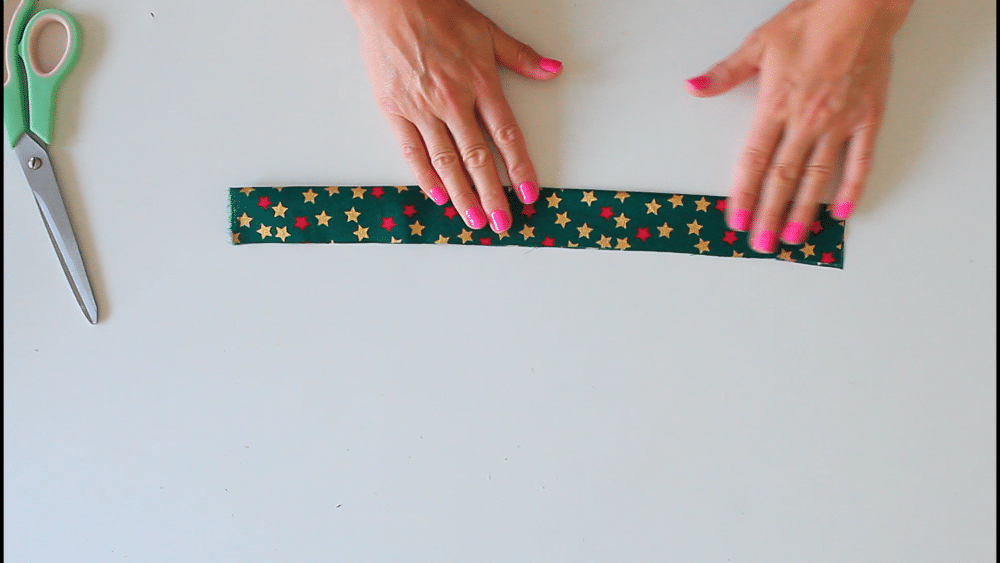 Sew a basting stitch along the raw edge of the strip, then gather the fabric by pulling the threads. The ruffle should be about 8″ long.
Pin the ruffle onto the right side of the pocket, at the top and sew it in place with 1/4″ allowance.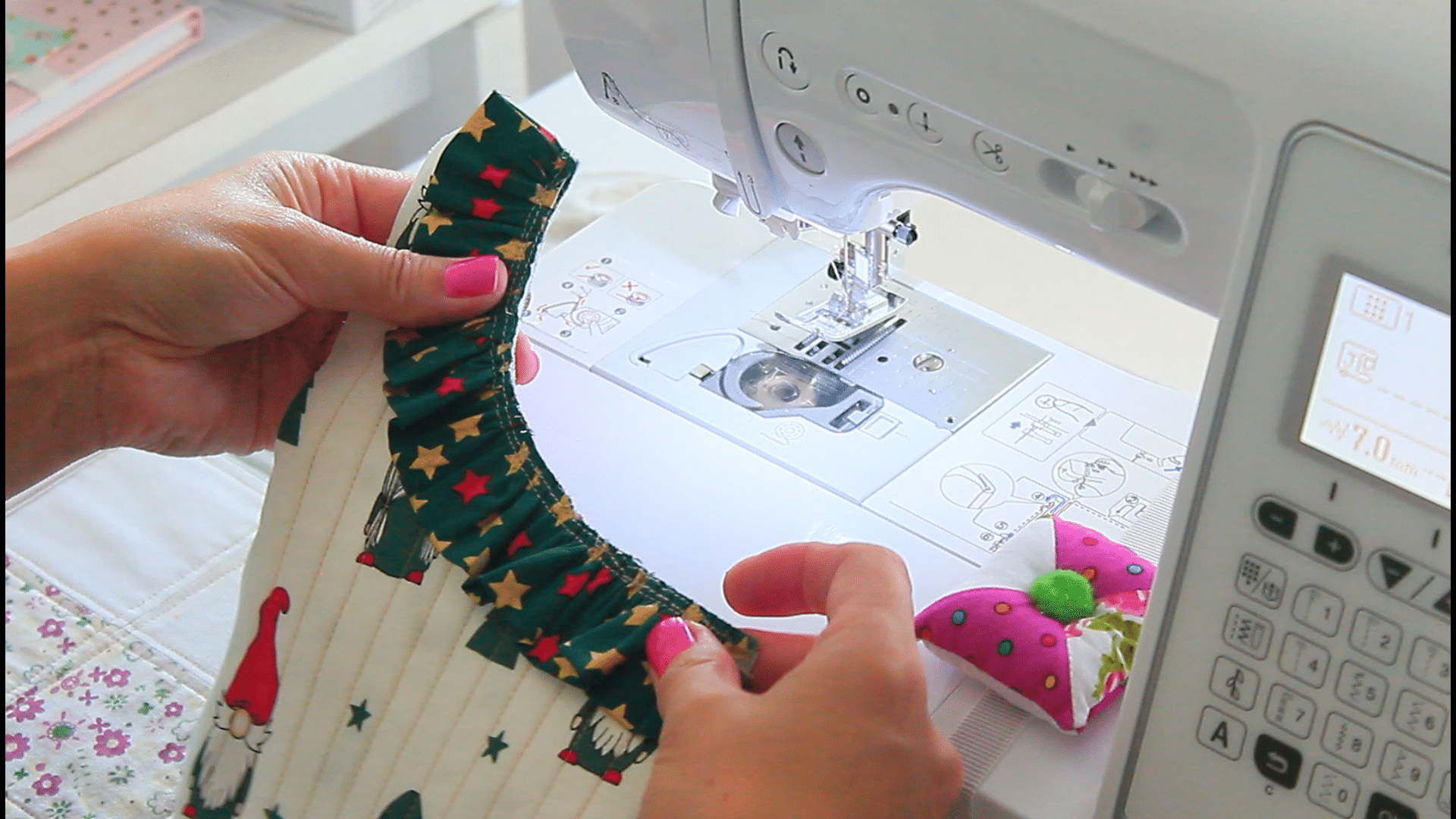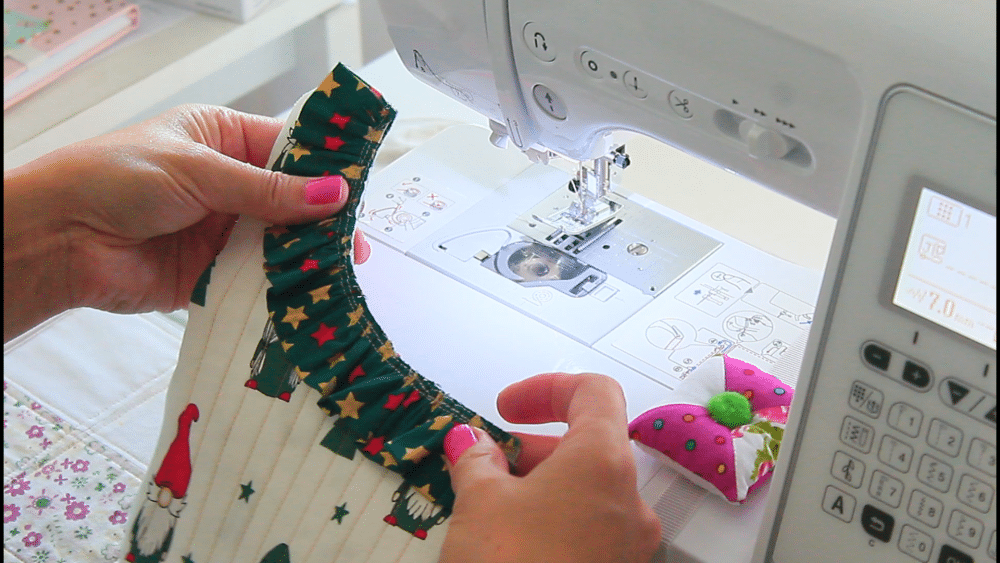 Cover the raw top seam in binding.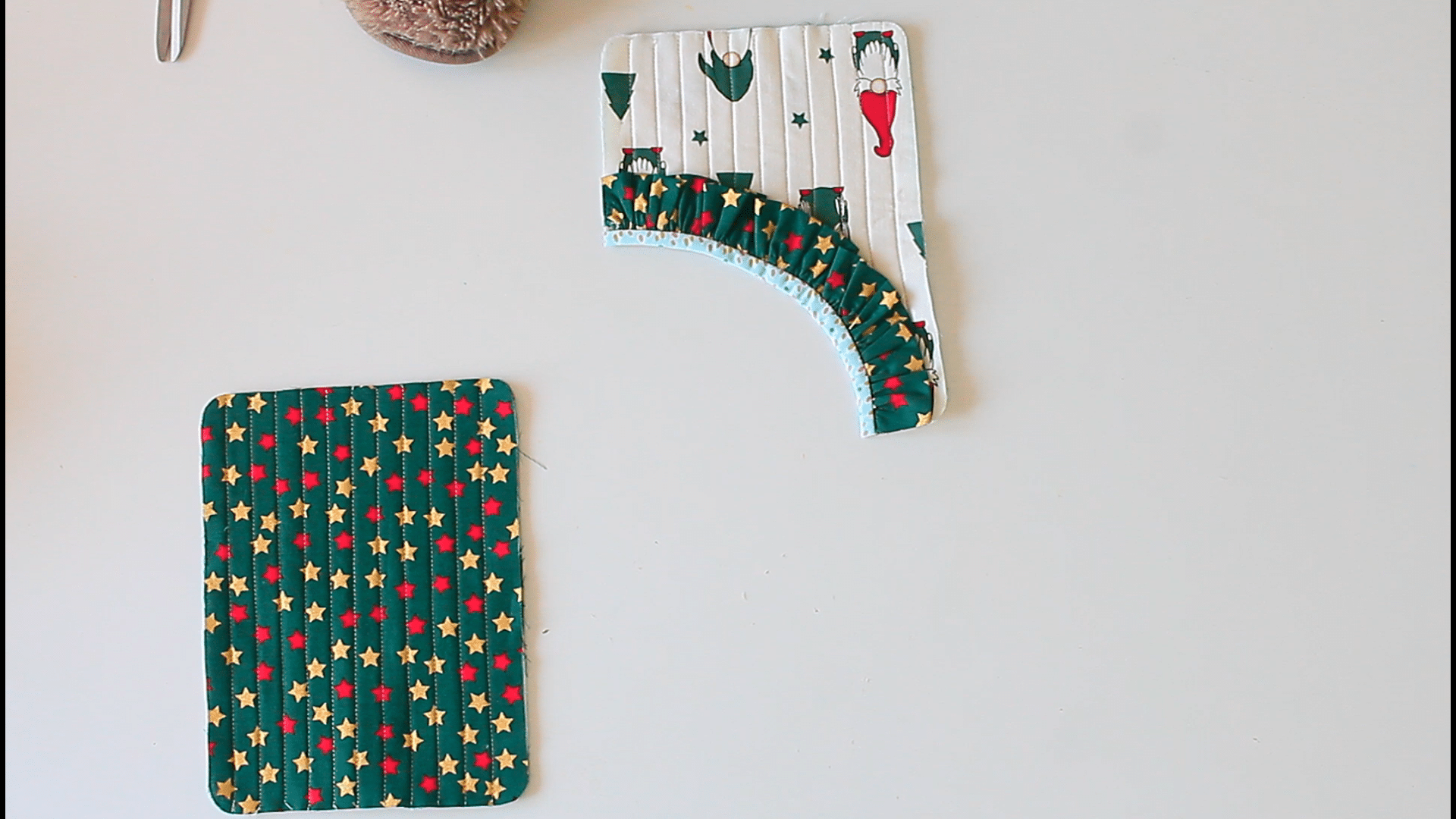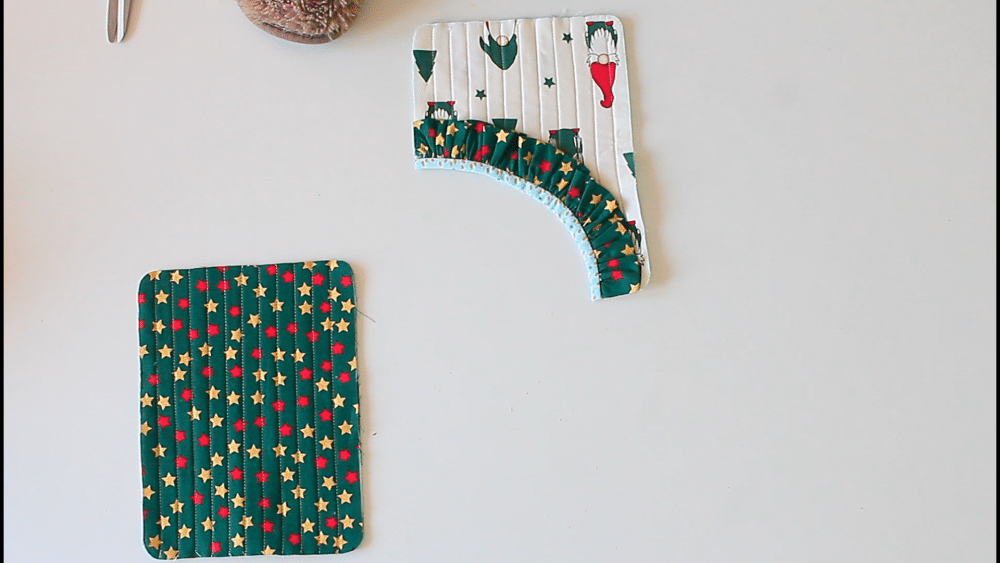 Assembling the potholder
Place the pocket over the back panel, with the ruffle outwards.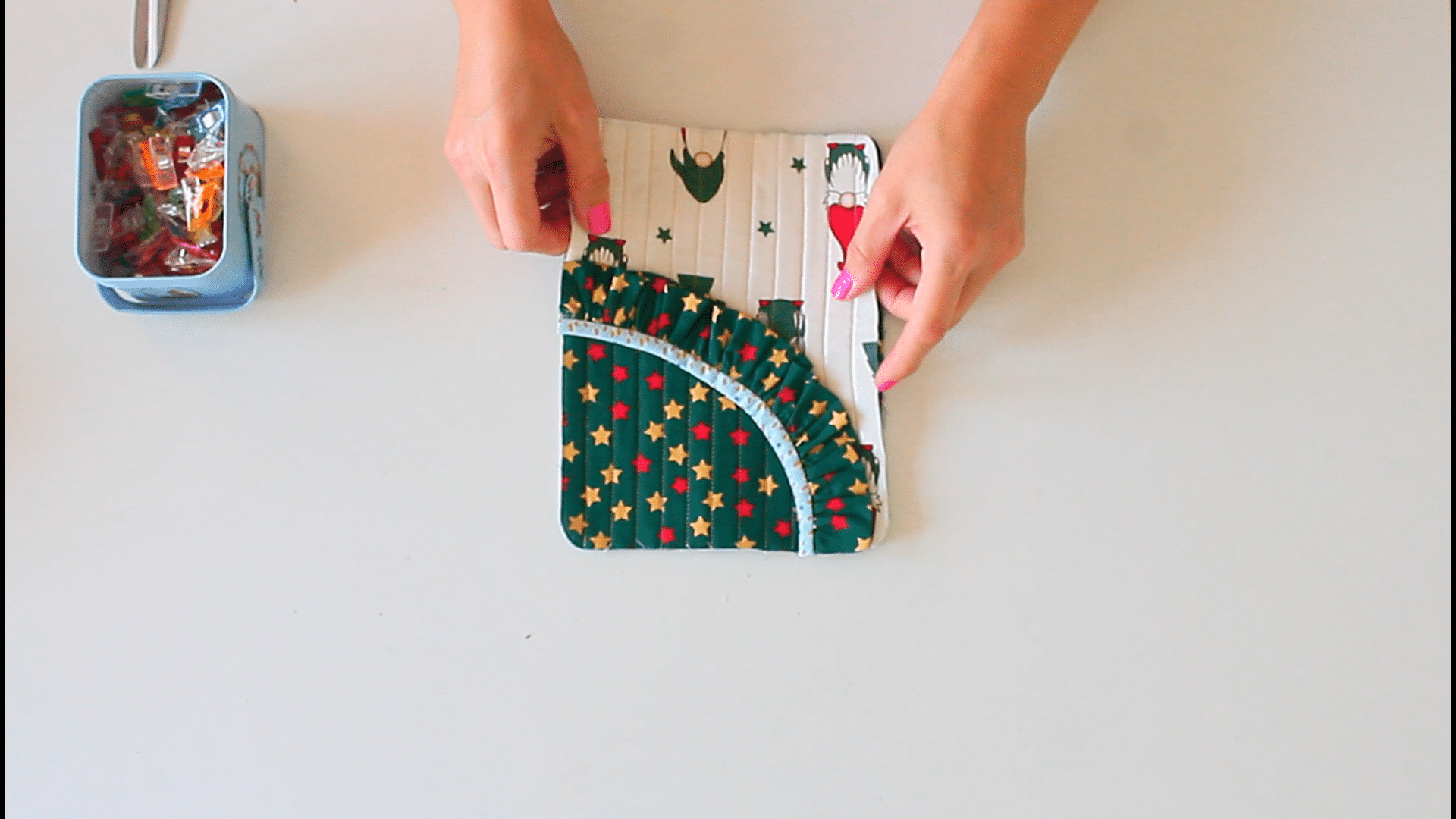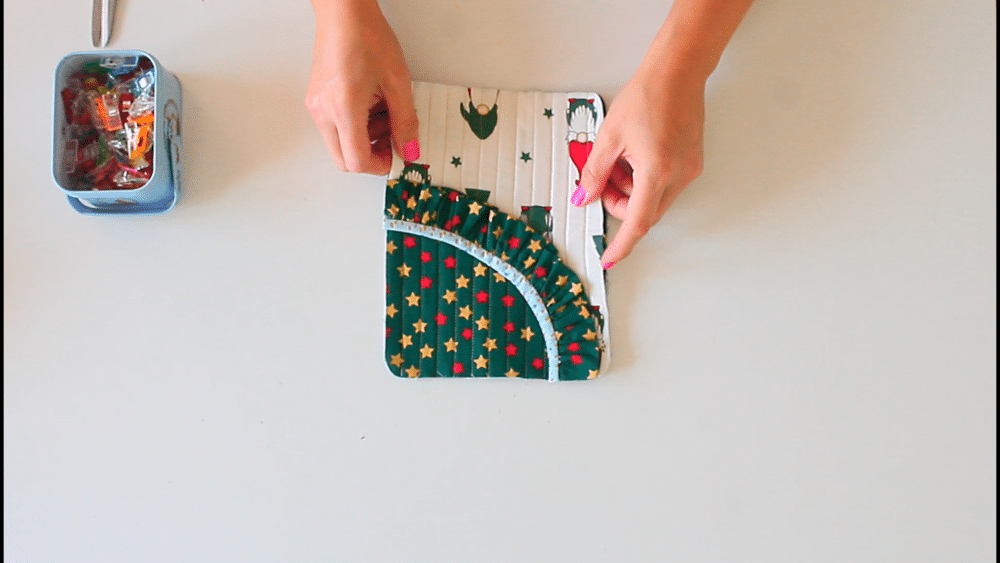 Pin or clip the layers together to secure them in place. Alternatively you can sew a couple of lines of basting stitches.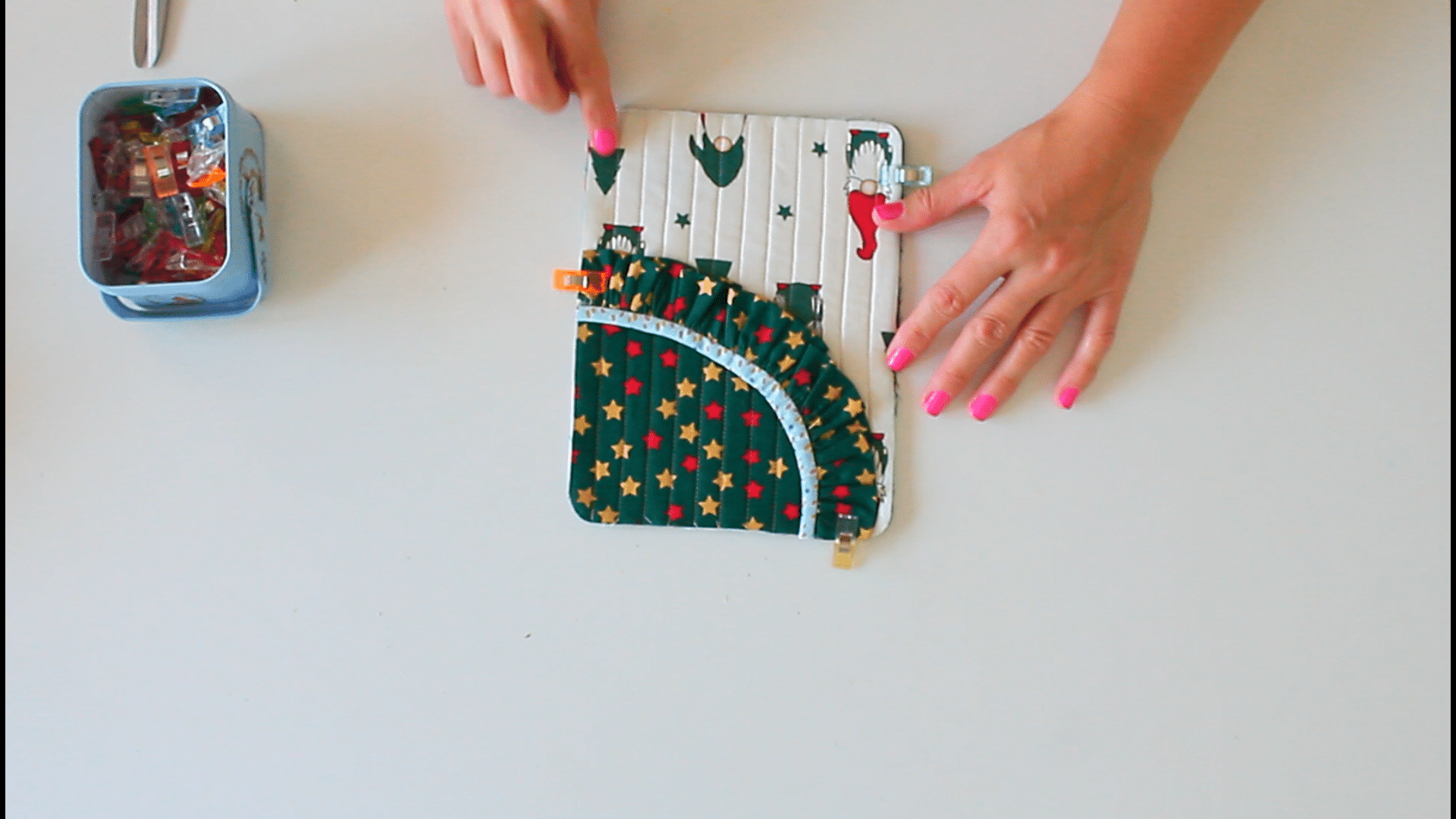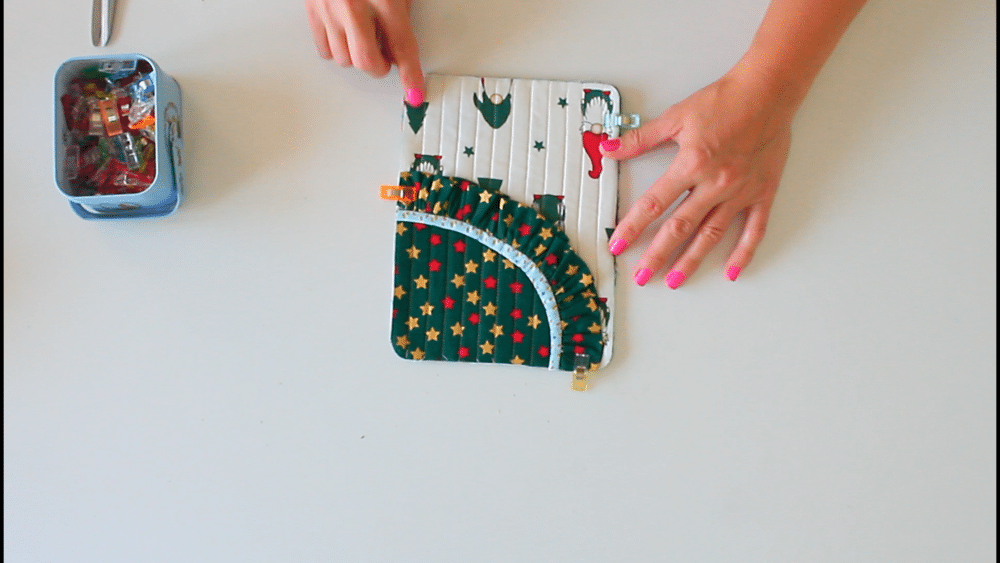 Cover the entire potholder in binding.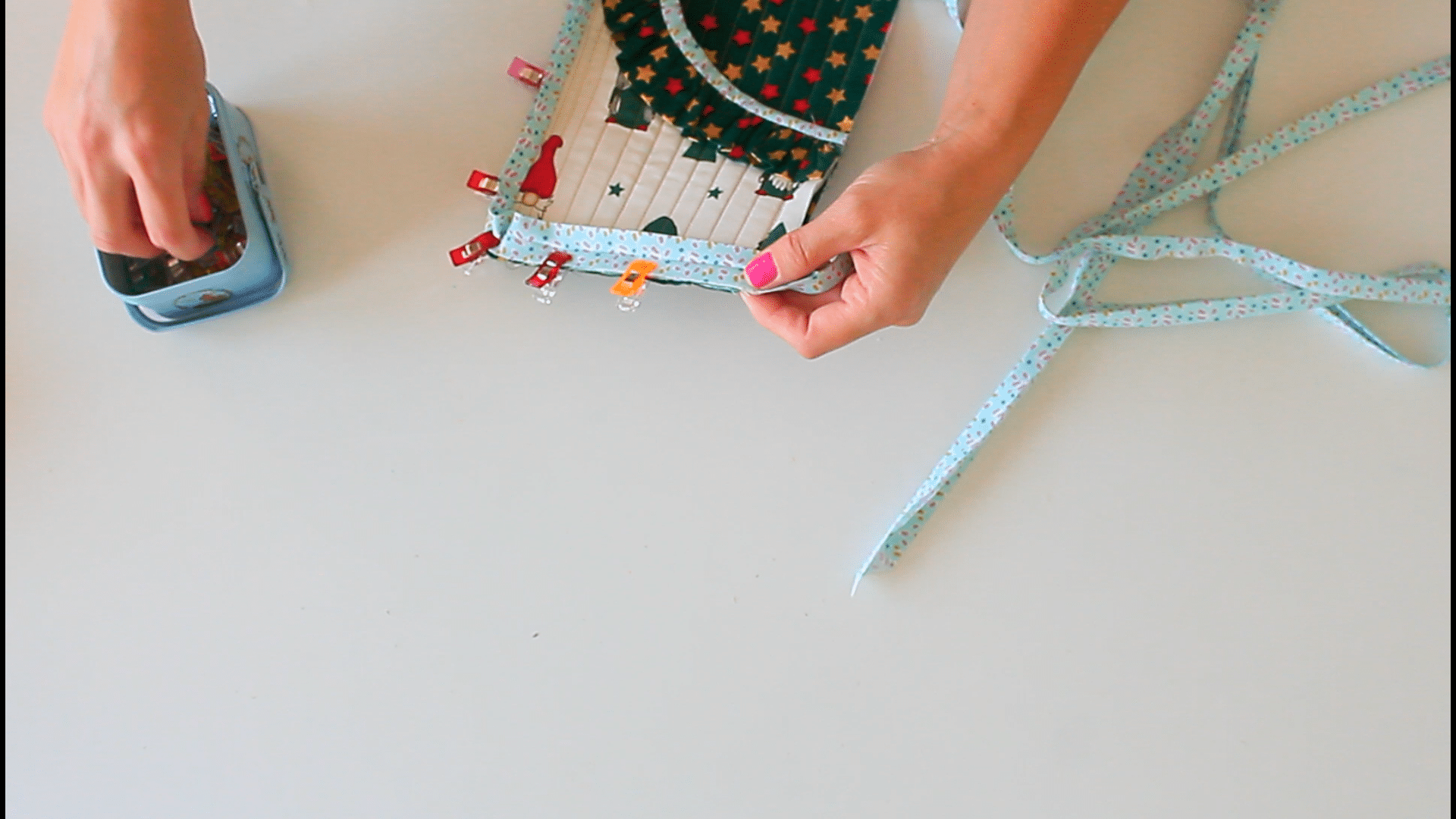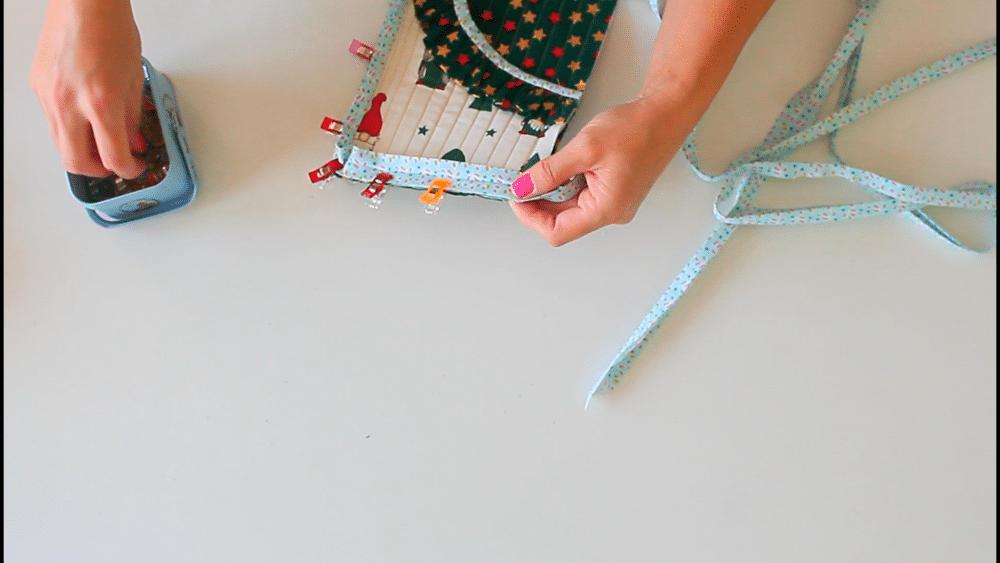 Remove the basting stitches if you took that extra step.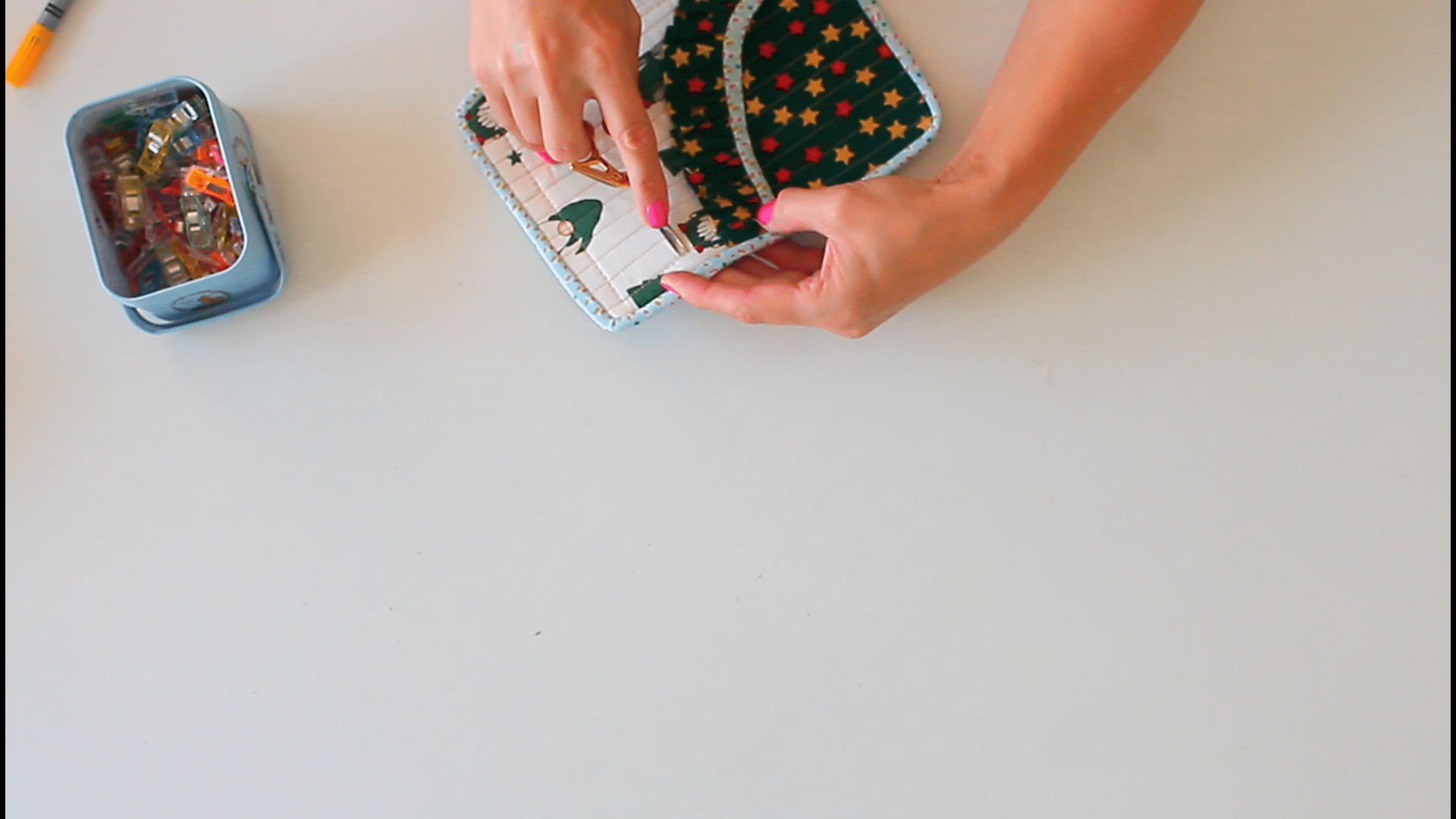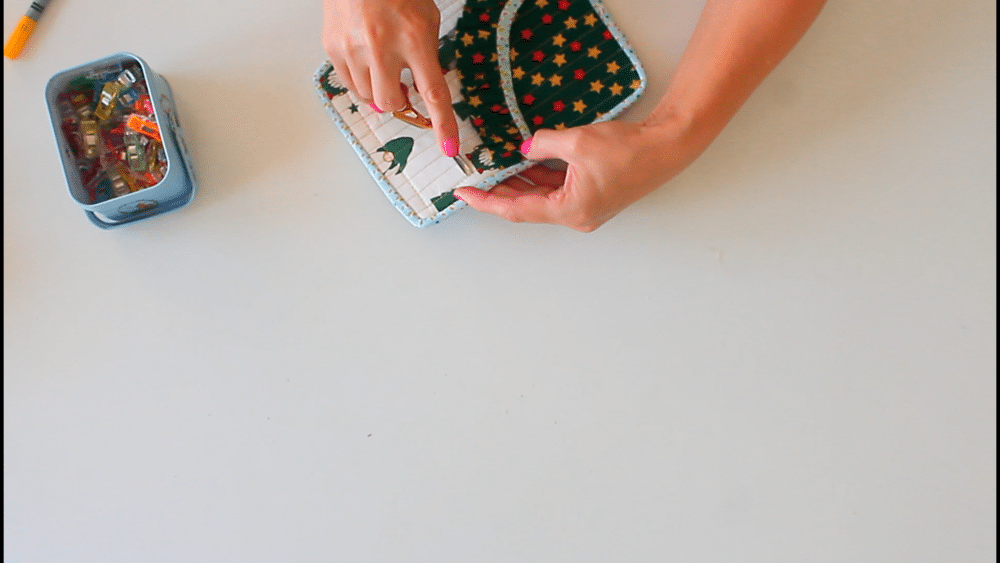 Sew the loop to the back of the potholder, at the top.
As you can see, sewing a cute potholder with a ruffle is a straightforward process that allows for endless creativity. By following these steps and adding your personal touch, you'll have a unique and functional potholder that will brighten up your kitchen.
So, go ahead, embrace your inner artist, and craft a couple of pot holders that not only serve their purpose but also bring a touch of joy to your daily cooking routine. Your kitchen deserves nothing less than your own handmade masterpiece. Happy sewing!
Pin to save for later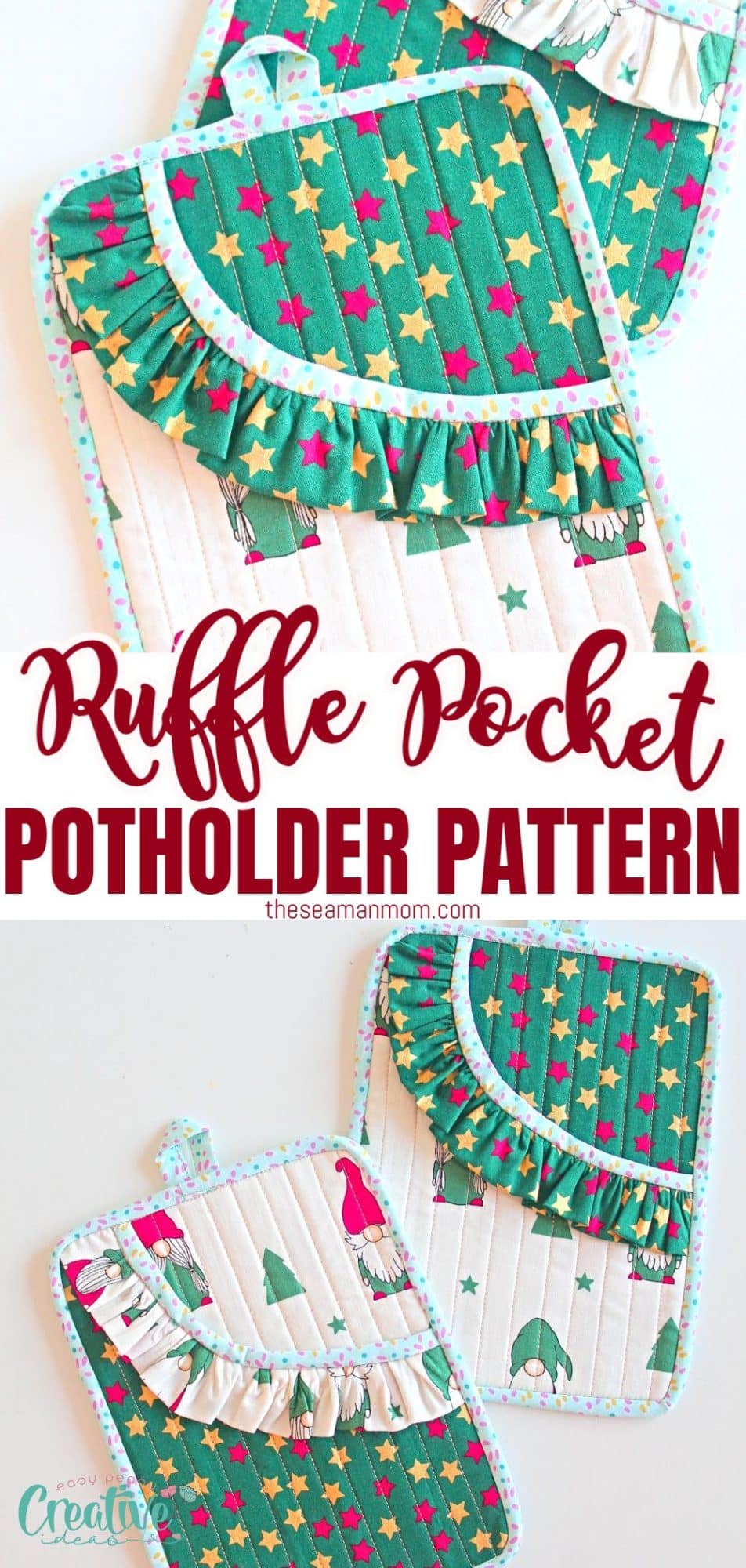 Most popular sewing projects: