Complete guide to sewing needle types + BONUS size chart
Article may contain Amazon & affiliate links. As an Amazon Associate I earn from qualifying purchases at no additional cost to you.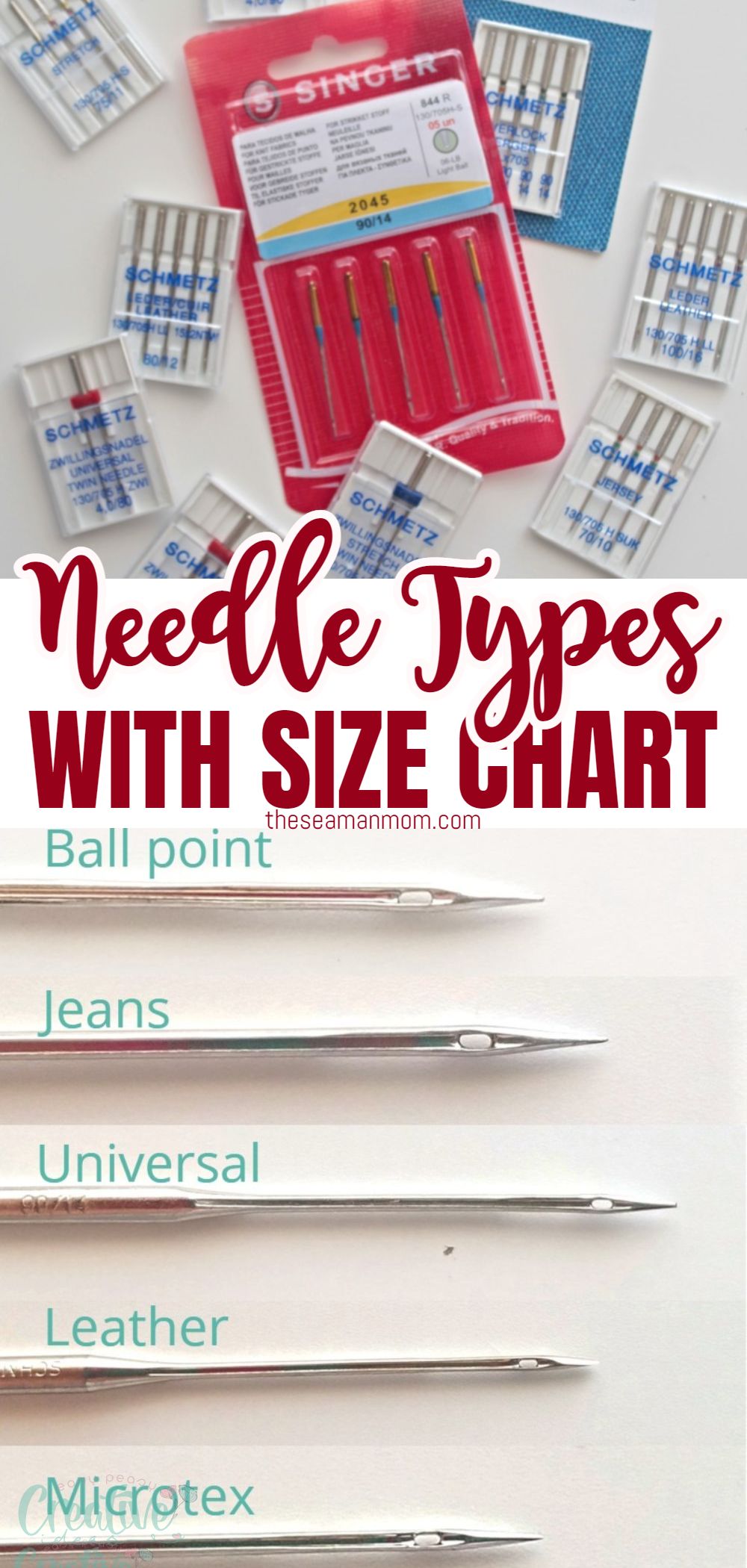 You might not believe it, but the most vital factor in achieving a successful sewing project is linked to something as small as your sewing machine needles. Picking the appropriate sewing needle types can make an immense difference! To assist you in this endeavor, here's a comprehensive and effortless guide on choosing the right needle so that you get it right every single time!
Sewing Needle types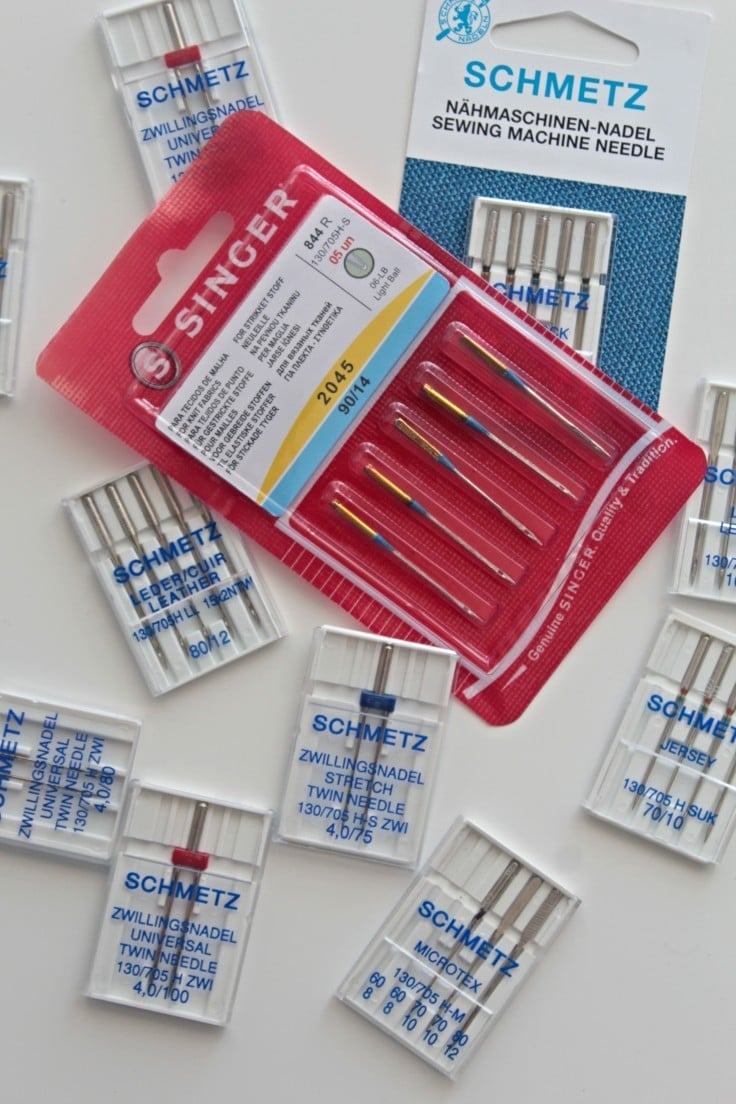 I must confess that it took me a considerable time to realize the importance of using different sewing needles types for my projects! I'm not exaggerating when I say that several times, due to my lack of knowledge in this area, I have broken multiple needles and put myself at risk. My former ignorance led me to falsely assume there was only one type of needle — with varying sizes being its sole distinction.
I had given up on attempting a jersey skirt after snapping several needles, until I decided to visit my local sewing store and learn more about the different types of machine needles. Thankfully, this exploration changed my entire sewing journey! Now I can proudly say that since then not one single needle has broken! It goes to show how important it is to know your materials and equip yourself with the right tools.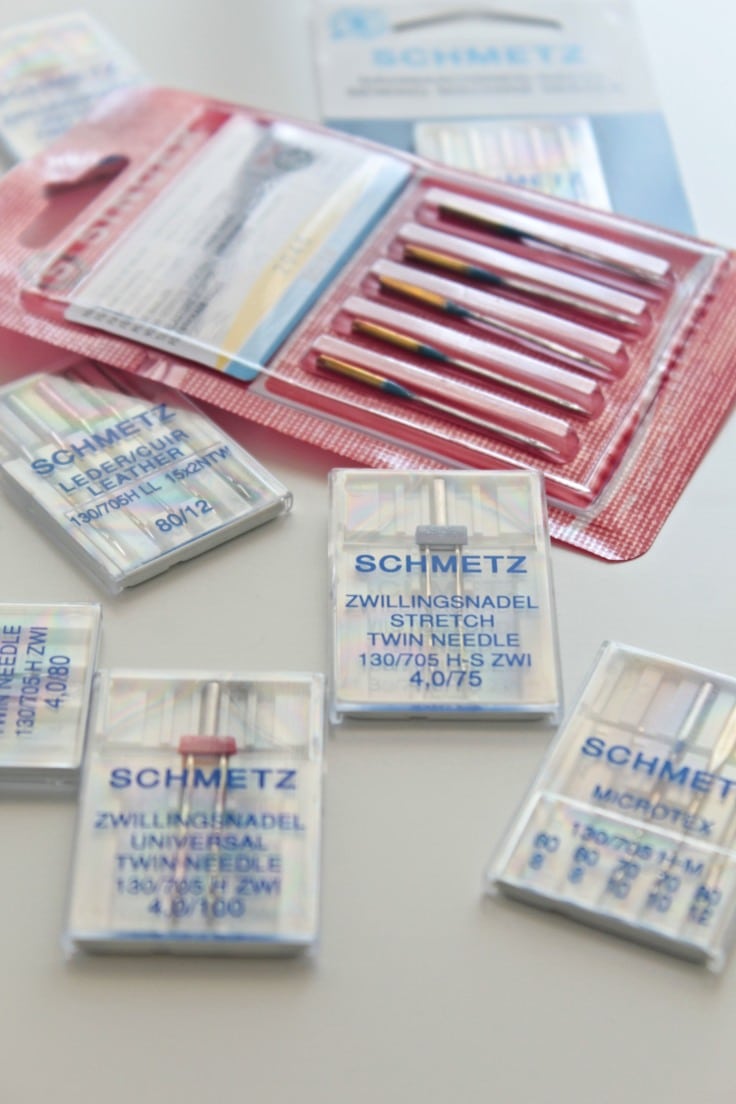 Other sewing tips you might like:
There wasn't such a large variety of needles in my local store so I went to Amazon to do a more thorough search and see what else is out there and I decided to stock up on as many needle types as I could find. Unfortunately I wasn't able to find a sewing machine needle chart at that time so I had to experiment and see which needle type and size is best for my projects. Years into this I am now able to share this experience with you through my own chart of sewing needle types and sizes.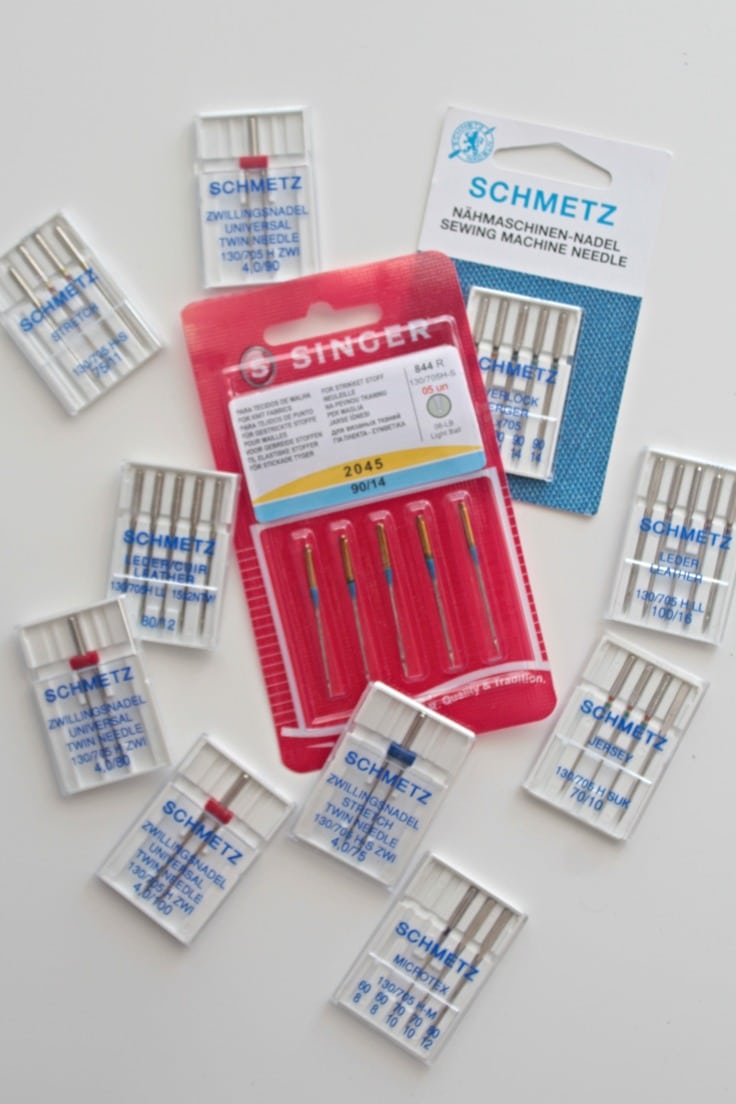 ---
This handy dandy sewing needle chart is available to purchase HERE.
---
How do I know what needle to use for sewing?
When selecting a needle for your sewing machine, there are several variables to consider such as the size, material and point. Usually it is mentioned on the packaging, but if you are uncertain you can consult the needle chart for more information.
Size: The size of a needle is determined by its diameter in millimeters (mm) and is written with two numbers. For example, a 70/10 needle is 0.7 mm in diameter.
Fabric type: Different fabrics require different needles in order to achieve a successful project. For example, woven fabrics use universal needle while stretchable fabric calls for a ballpoint or jersey needle.
Point: There are five main needle points available; Universal, Ballpoint, Stretch, Sharp and Jeans/Denim. Each point is designed to penetrate different types of fabric without crushing the threads.
What are the most commonly used needles?
The most commonly used needles are universal, ballpoint, and stretch. Universal needles are best for woven fabrics such as cottons and linens. Ballpoint needles are excellent for knits and lightweight jerseys. Stretch needles have a special design that penetrates without breaking the fibers of delicate stretchy fabrics.
What is the best needle for general sewing?
For general sewing purposes, it is best to use a Universal needle. It is the most versatile and can work well on different types of fabrics.
What is the most commonly used needle number?
The most commonly used needle numbers are 70/10 and 80/12. The 70/10 is usually used for lightweight fabrics such as chiffon, organza, and lace while the 80/12 is better suited for medium-weight fabrics like cotton or linen.
Are sewing needles magnetic?
Sewing needles are not magnetic but most needles are ferro-magnetic, meaning they are attracted to a magnet.
Can sewing needles be sharpened?
Sewing needles cannot be sharpened but they can and should be replaced when dull.
Sewing machine needle sizes explained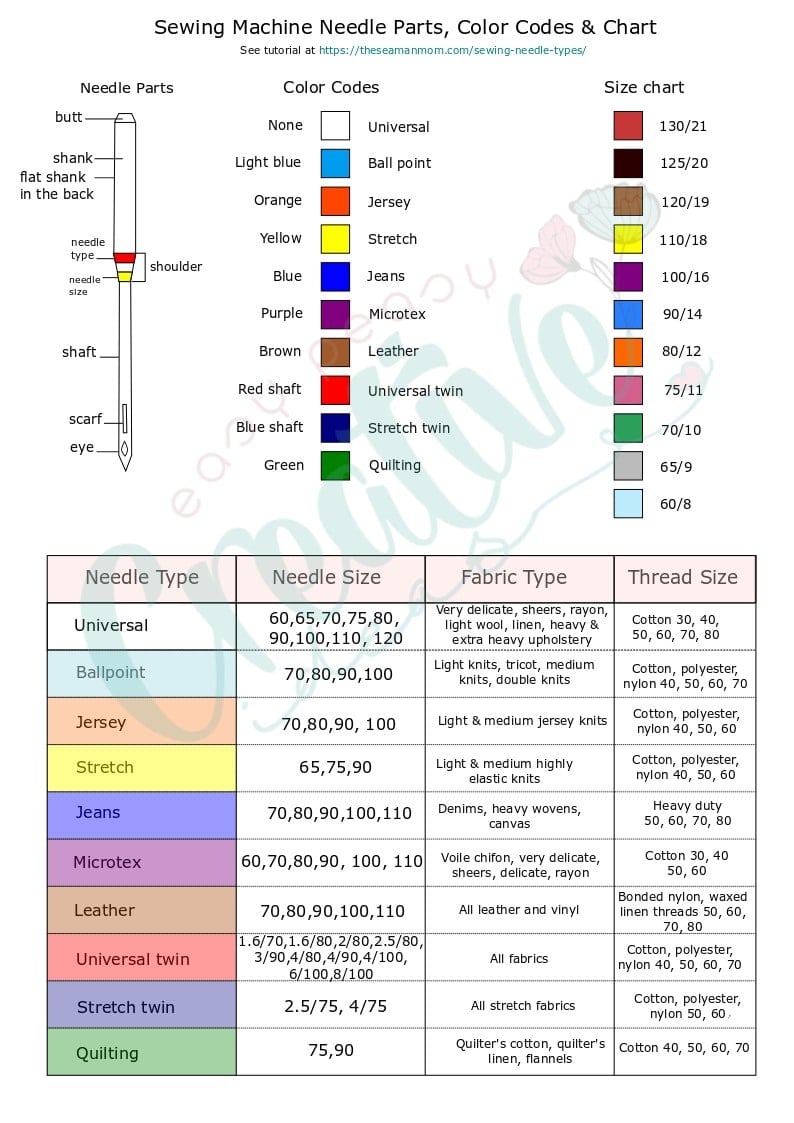 What are the sewing needle parts?
Take a look at the illustration above and starting from bottom to the tip of the needle, let's start inspecting the parts:
the butt – this is the part that goes up into your sewing machine
the shank – this is where you'll find the needle size. When inserting the needle into your sewing machine, this part should be facing you.
flat side – opposite to the shank. This side should be facing the back of the machine when inserting the needle into the sewing machine
the shoulder – this is where on most needles you'll find color codes for needle type and needle size.
the shaft
the eye – this is where you insert the thread
the point
the tip
What are different the sewing needle types?
As the name suggests, this type of needles ca be used in almost every project. A great general purpose needle with a slightly rounded tip, the universal needle is used in a variety of projects using different fabrics, from woven to knits.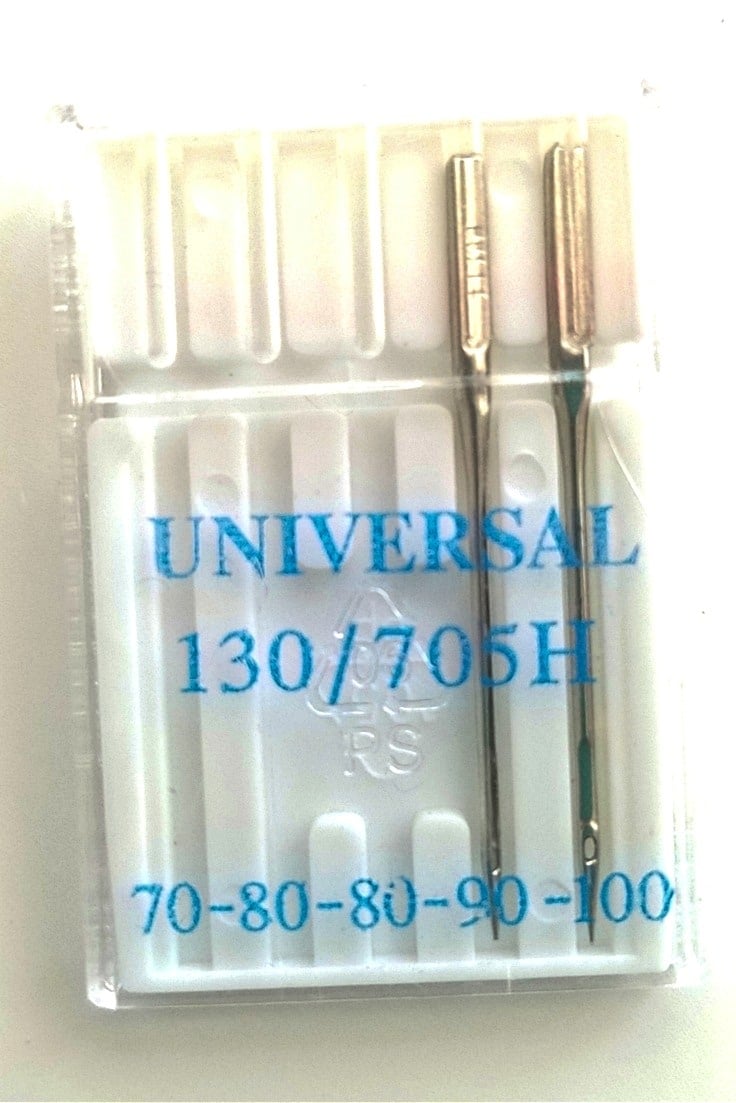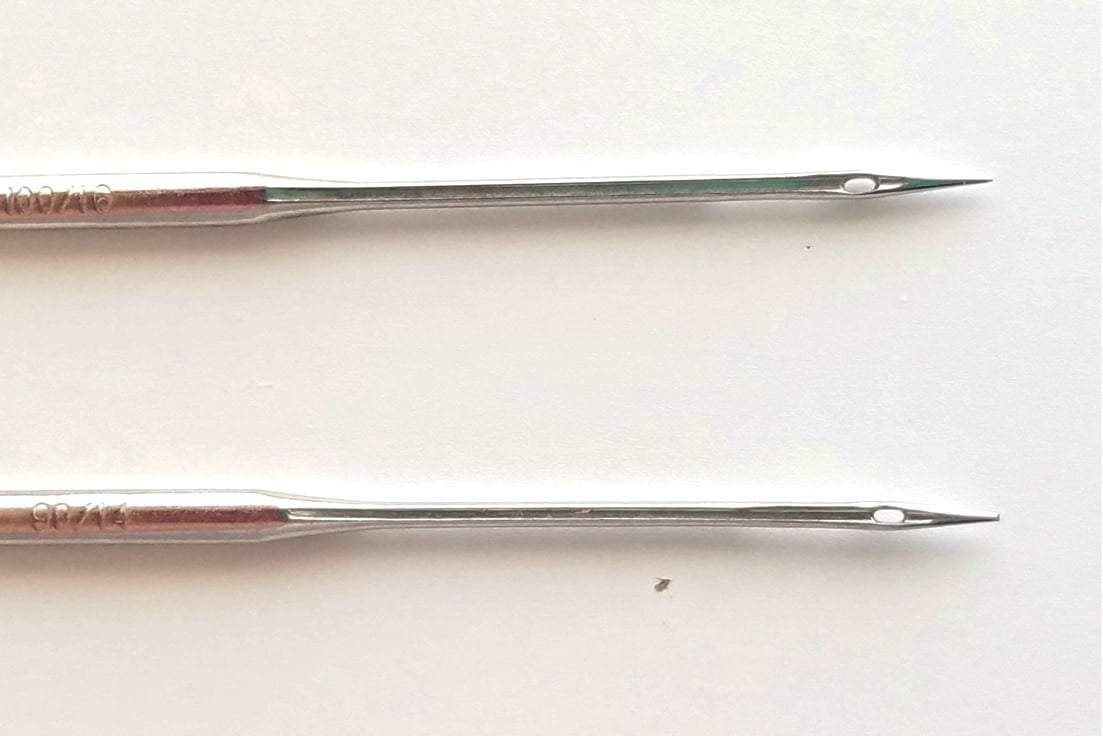 Ballpoint needles (also known as knit needle).
This kind of needle is used for cotton knits, interlock, rib knits, fleece, double knit, and most knit fabrics. The tip has the shape of a ball point that doesn't damage the fibers.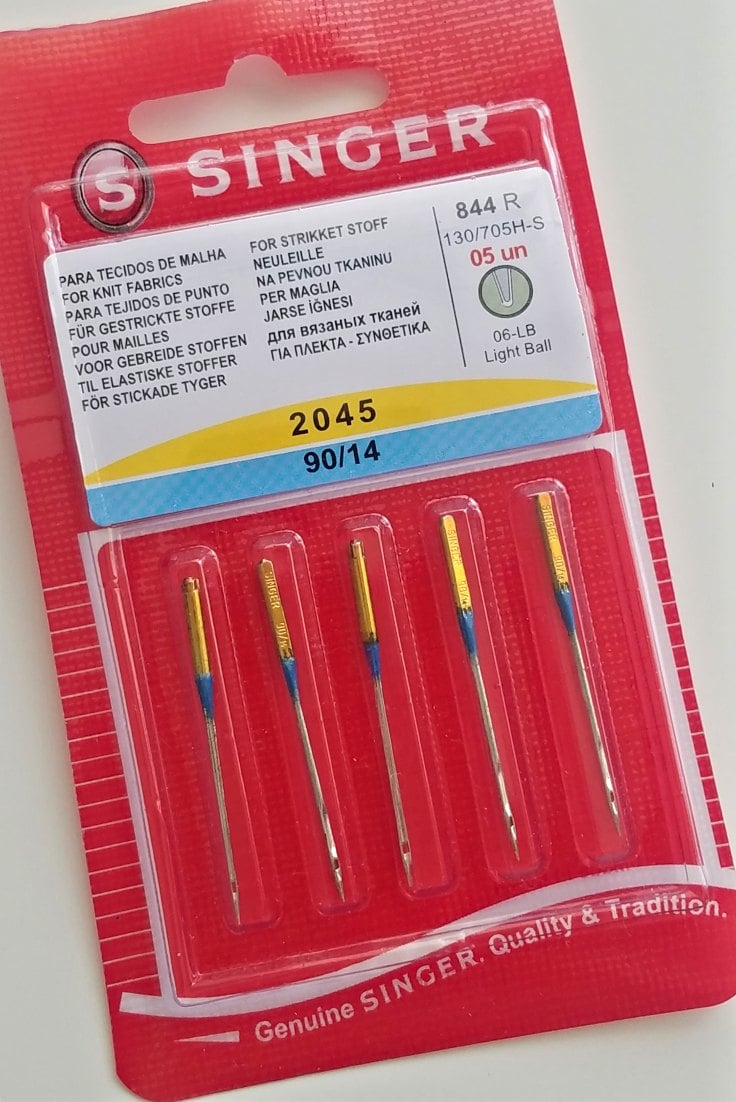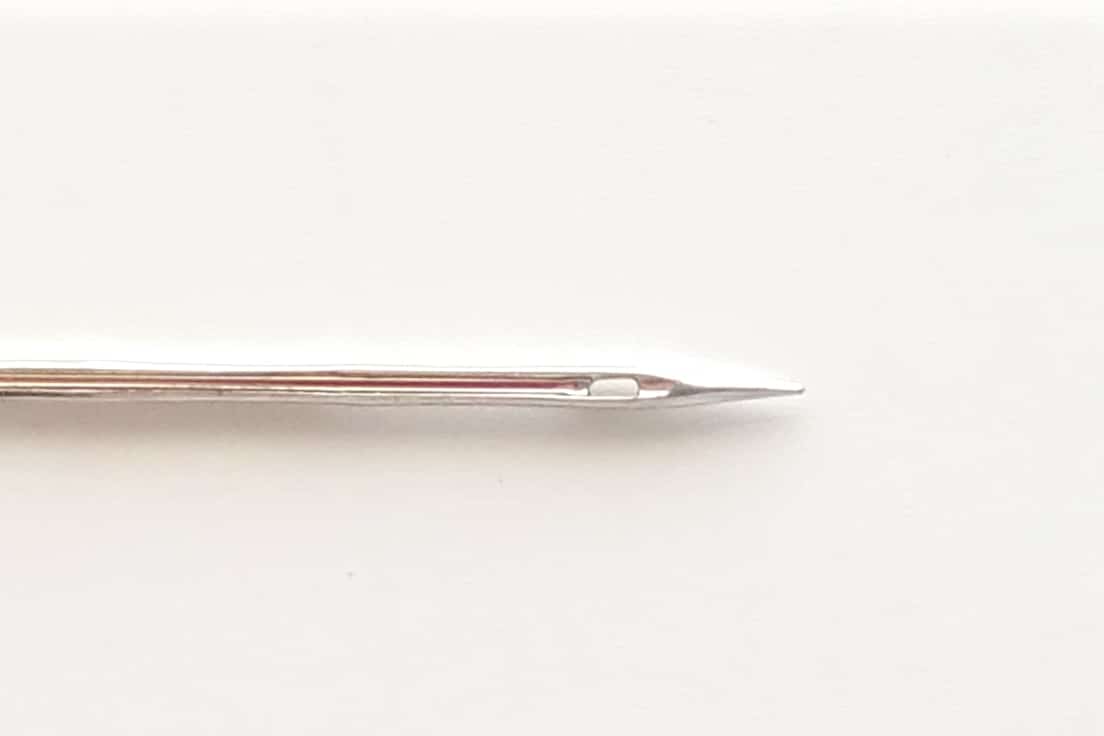 This kind of needle also has a slightly rounded point and is used for jersey fabrics
It's a type of needle used for highly elastic fabrics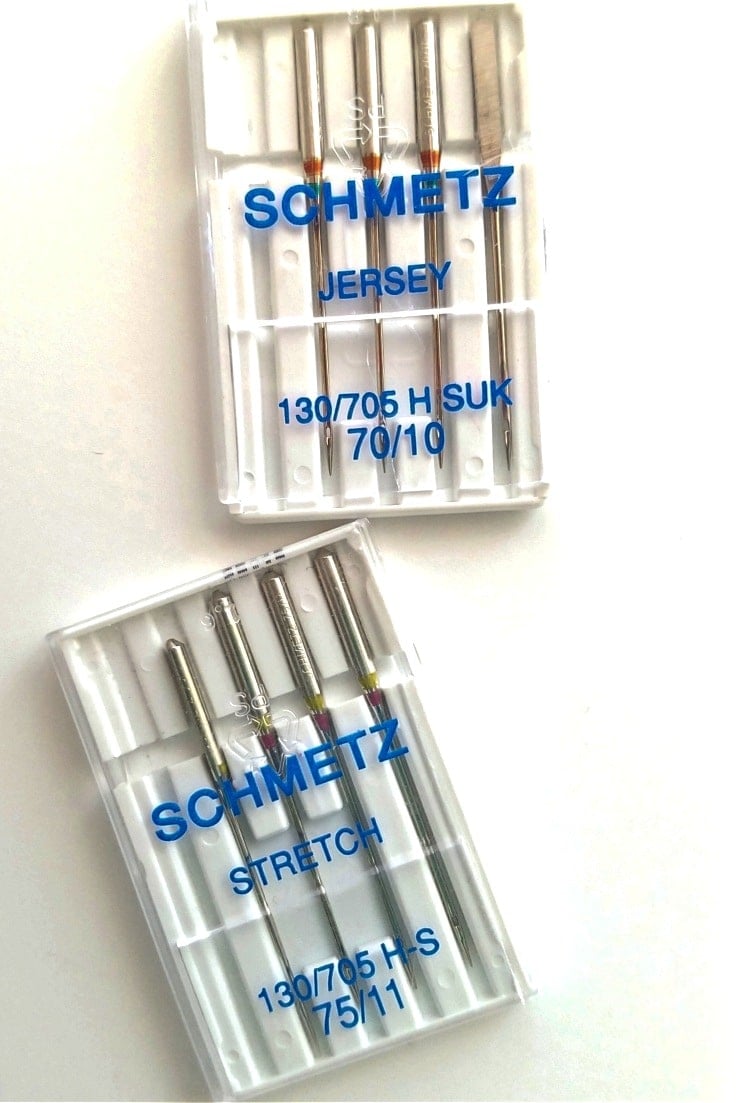 This is used for heavy fabrics like jeans, canvas and upholstery but also useful when sewing thick layers of fabric like quilts.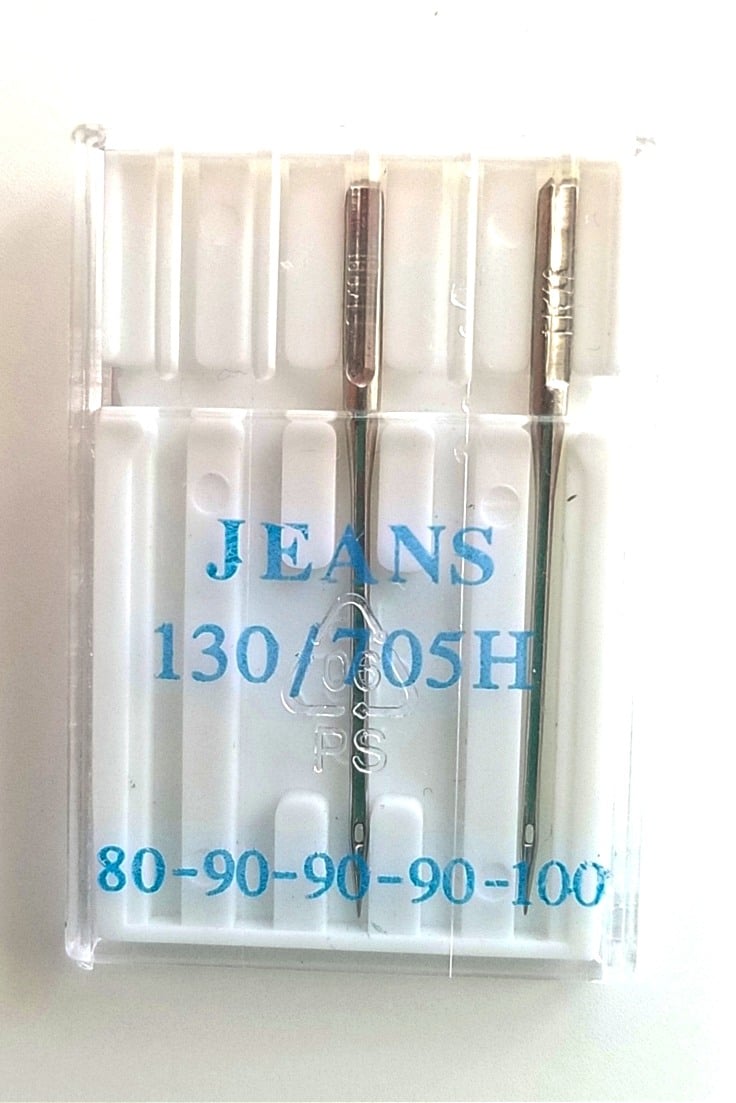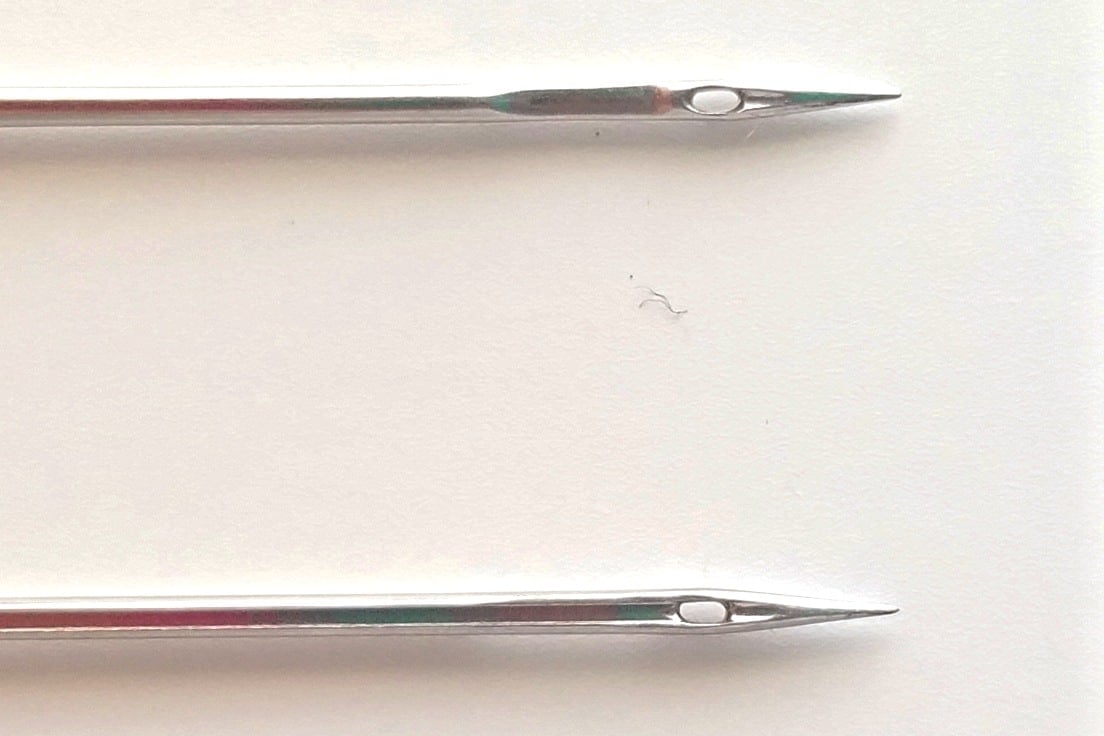 These are very sharp needles, used for lightweight or very thin fabrics, piercing them with high precision.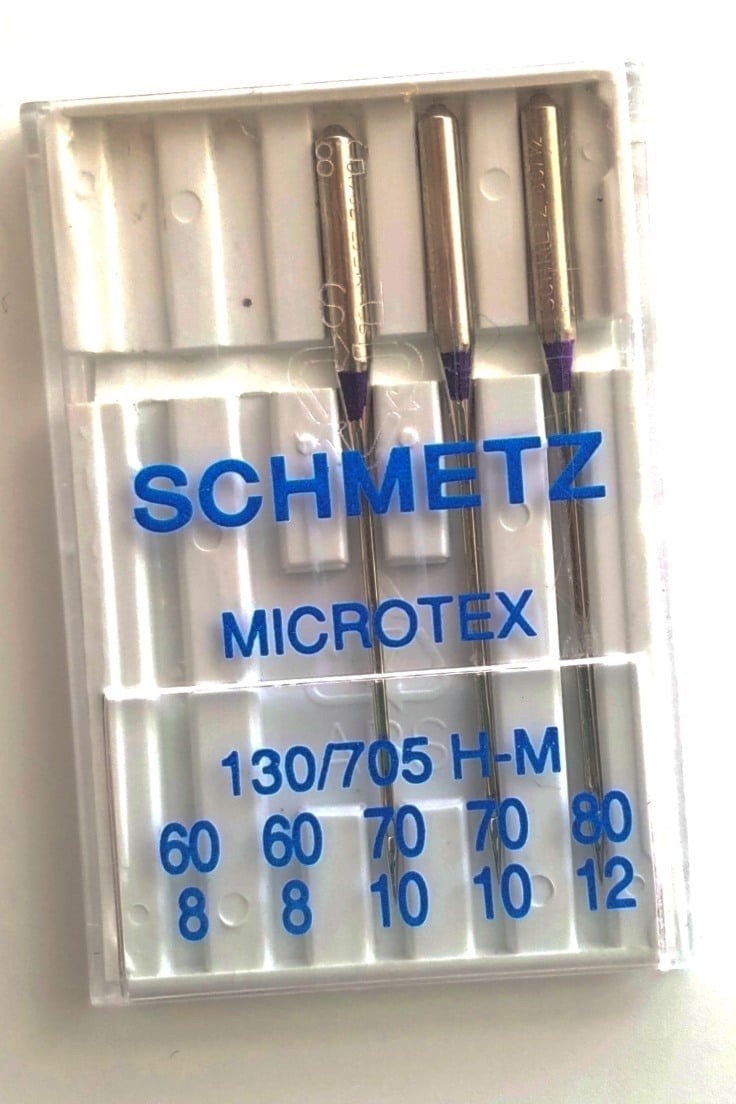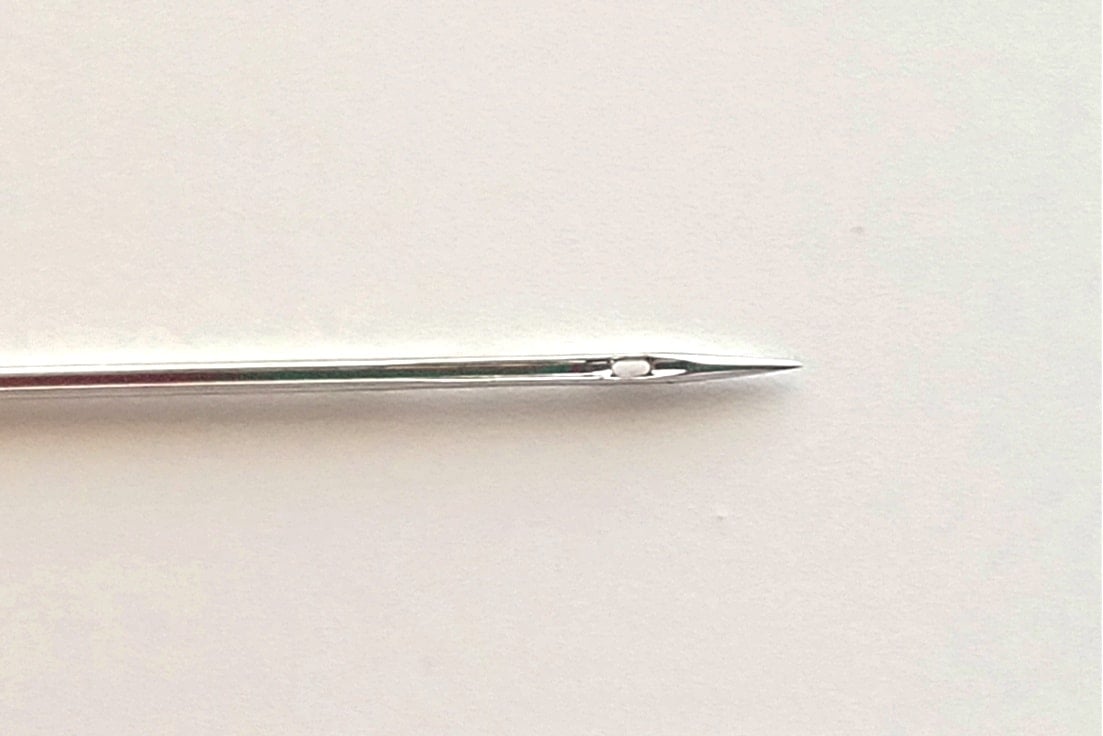 Used for sewing leather or vinyl.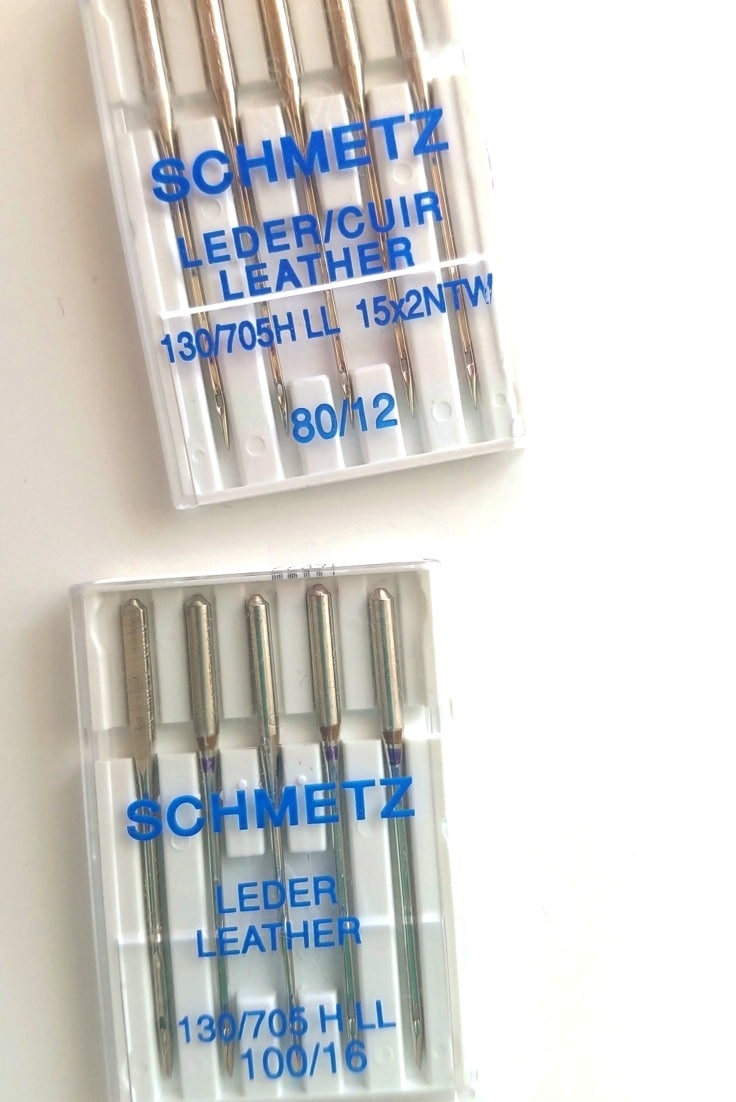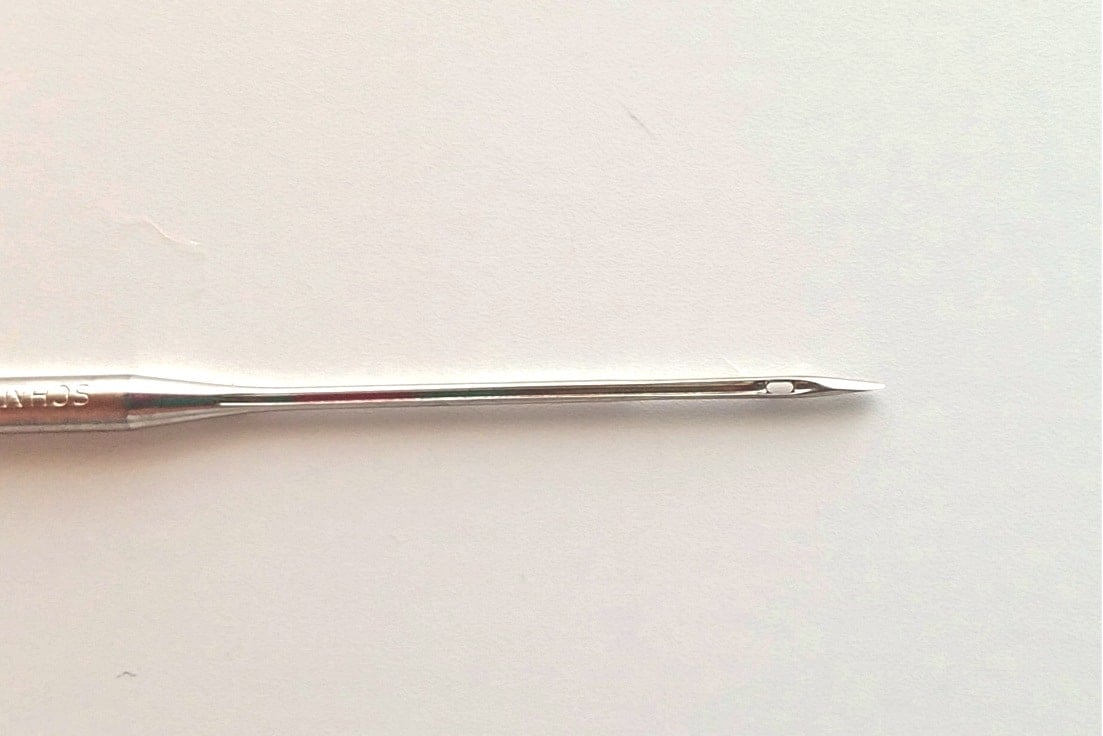 Two needles mounted on one shaft that are being used for creating two rows of stitches simultaneously. These also come in various types such as universal, jeans or stretch.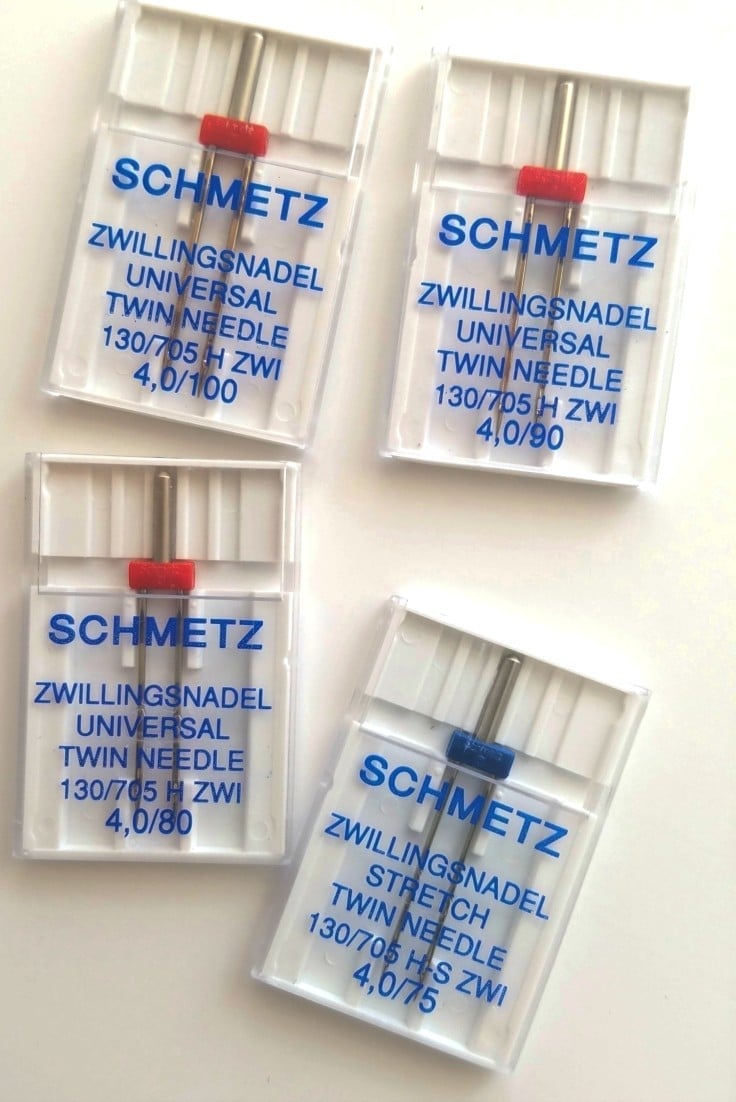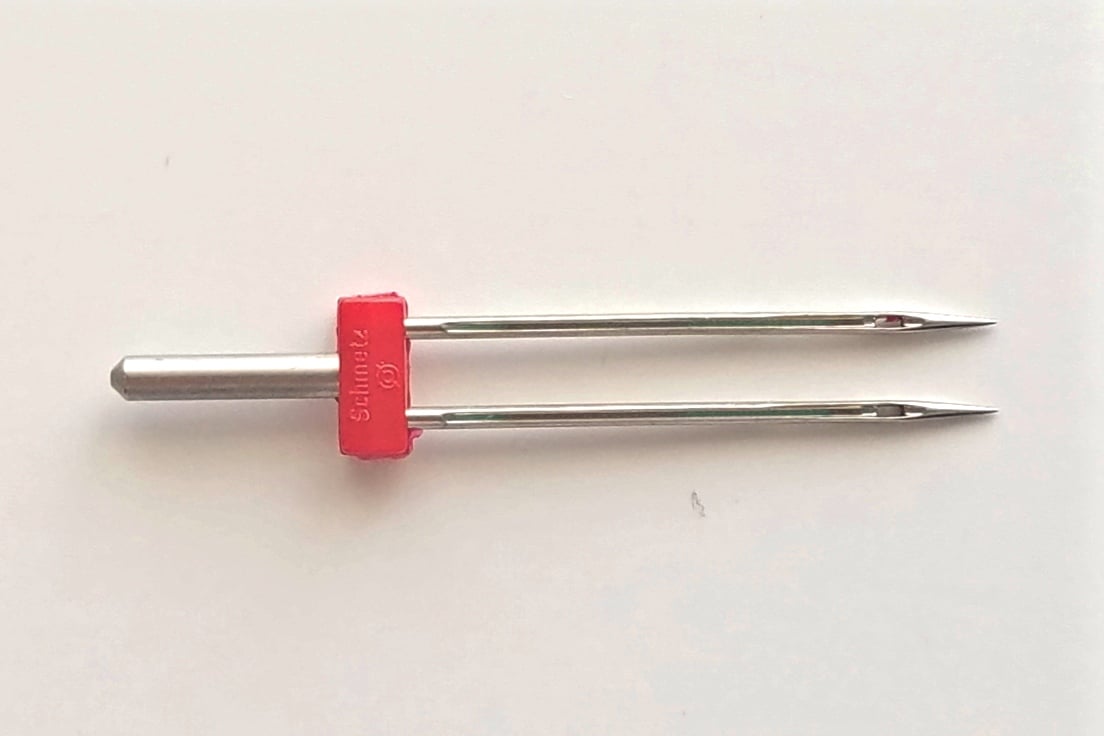 There are many different types of needles out there, although not as common as those listed and pictured above such as: metallic, embroidery needles, quilting needles, tapestry needles (also known as darning needles), beading needles, hand sewing needle, topstitch, hemstitch, double eye, metallic twin, denim twin stretch twin, gold embroidery.
What sewing needle to use for fleece?
For fleece fabrics, it is best to use a sharp, a ballpoint needle, or a universal needle. The sharp point will help penetrate the fabric while the slightly rounded tip of a ballpoint needle will slip between the threads rather than cutting them.
What do the color codes correspond to?
You will find variations of the same color in different brands but ultimately, this is the chart:
Universal – no color code
Ballpoints – medium blue
Jersey – orange or light brown
Stretch – Yellow
Jeans – dark blue
Microtex or sharp points – purple
Leather – brown
Universal twin – red shaft
Stretch twin – blue shaft
What are the needle sizes and what do they mean?
When selecting a needle for your sewing project, size does matter! An incorrect choice in the size of a needle could lead to poor stitch quality and even damage the fabric. It might seem confusing for a beginner when looking at a needle for the first time but truth is, reading a needle is quite simple. On most needles, on the shoulder you will find color codes for the needle type and needle size. The top color indicates the type of needle the bottom color indicates the size. You will also find the needle size in numbers, located on the shank of the needle.
The numbers typically look like this: 70/10 or 75/11 or 80/12 etc These numbers are European and American labeling systems. European sizes range from 60 to 130, 60 being a fine needle and 130 being a thick heavy needle. The American system uses 8 to 21, with 8 being the finest needle and 21 being a thick heavy needle. The order in which they appear is not important, some might list the European system first, some the American system.
Here's the chart:
60/8
65/9
70/10
75/11
80/12
90/14
100/16
110/18
120/19
125/20
130/21
Why should you use the right sewing needle for your project?
Choosing the correct needle size and type will help you avoid problems while sewing such as:
a broken needle
stuck needle and thread in the feed dogs
skipped or uneven stitches
puckered or damaged fabric
weird sounds in your sewing machine like something is about to break or get stuck.
When should you change your sewing machine needle?
Ideally you should change your needle beginning of each project, especially if you sew for a few hours at a time. But if that's a little too much the best practice is to change the needle about ever 10 hours of continuous sewing.
What brand is the best when it comes to sewing needles?
Every sewer loves their brand and I'm no exception to the rule. I will swear by Singer needles and Schmetz needles, especially Schmetz since they offer such a large variety of needles.
Schmetz needles are of such a good quality, you'll find that changing the needle every 10 hrs of sewing is not quite necessary, the needles still look and sew amazingly! You should still change the needles though as they might get damaged when you're in the middle of your next project or 10 hrs round.
Schmetz and Singer needles are sharp, super smooth and very strong. Schmetz also offers them in great variety packs of different sizes and types.
How do I know what size of needle should I use?
Once you've picked the correct needle type, look at the fabric to see if it's thick or lightweight and test the needles on a piece of scrap fabric. If the fabric is lightweight, start with the finest needle and viceversa for the thick fabrics.
With your newfound expertise in picking out the optimal sewing needle types, you will be unstoppable with all of your upcoming projects! If my guide was useful to you, please drop a comment below and share your thoughts! Happy sewing!
Pin to save for later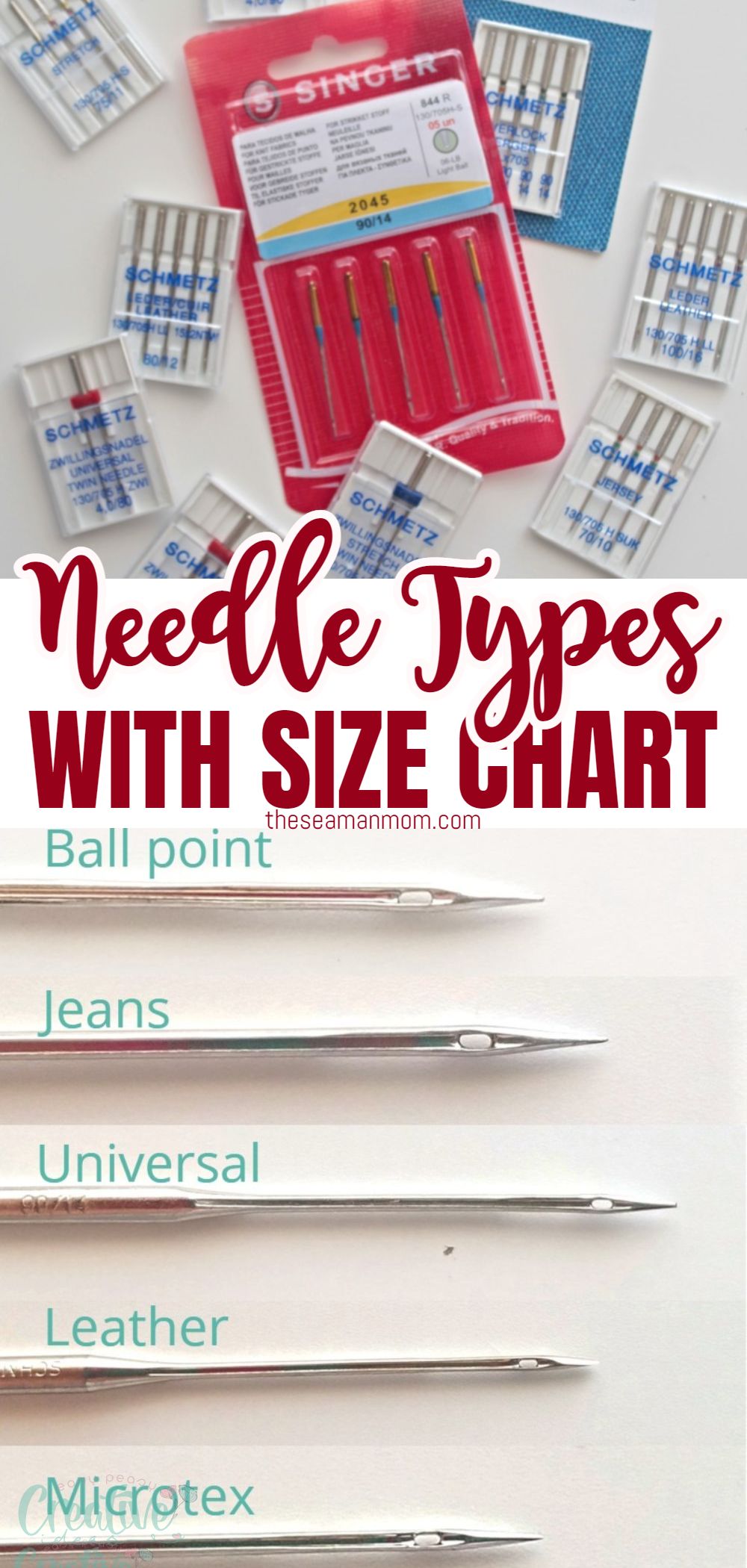 Most popular sewing projects: