Article may contain Amazon & affiliate links. As an Amazon Associate I earn from qualifying purchases at no additional cost to you.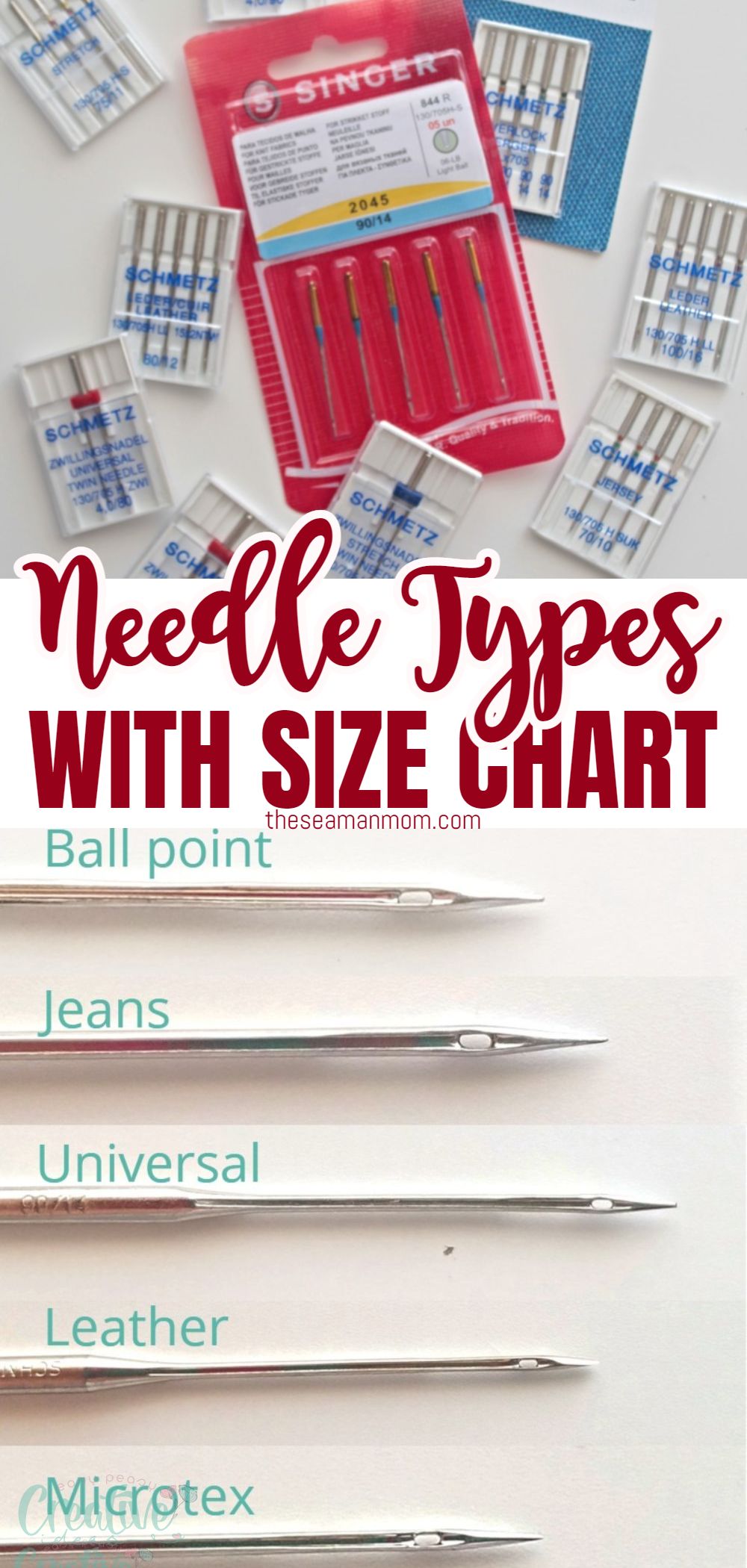 Would you believe the most common "secret" to a great sewing project is in the sewing machine needles? Choosing the correct sewing needle types for your projects makes a huge difference! Here's a simple and easy needles guide to help you choose the right needle every time!
Sewing Needle types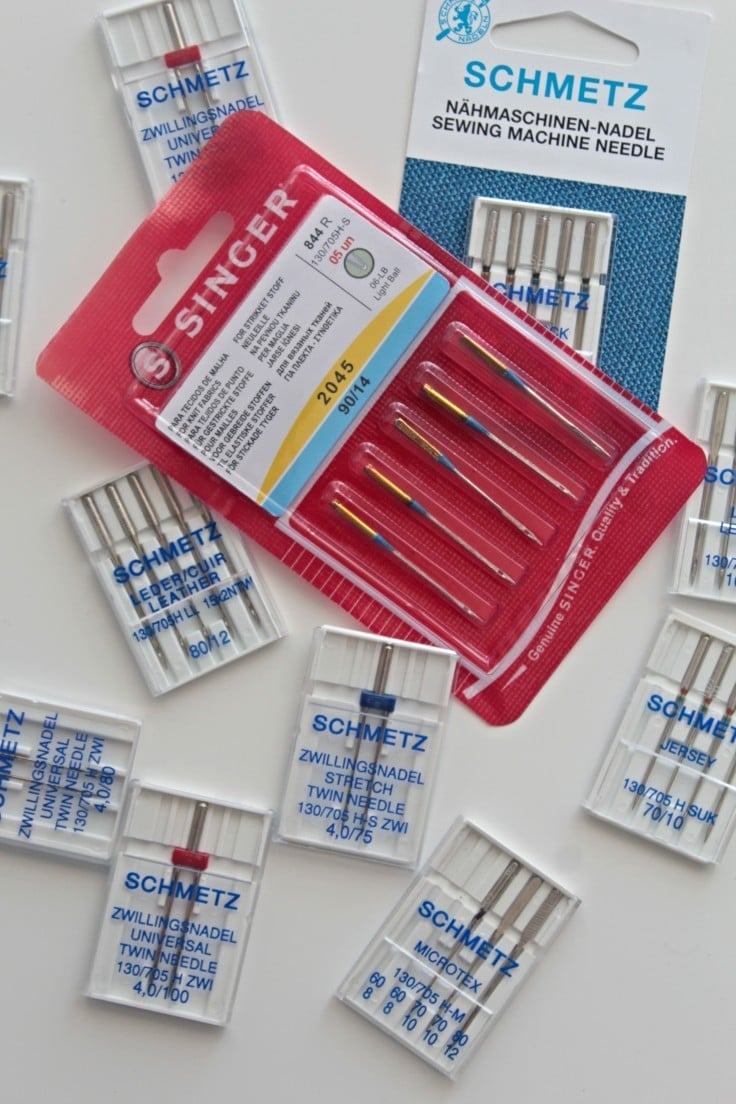 I must admit it was a pretty long journey before I realized hey! I'm not using the correct sewing needle types in any of my projects! I can't even begin to tell you how many needles I broke and how many times I've put myself in danger simply because of ignorance. Because I was such an ignorant, I honestly thought there's only one type of needle and the only difference is in the sizing.
After breaking a few needle trying to sew a jersey skirt where I used a pretty thick jersey, I thought maybe I'm wrong, maybe I should use a different machine needle for this kind of projects. So I went to my local store to study the sewing needle types and what I discovered, completely changed my sewing journey! I am proud to announce I have not had any needle issues since then! Not one single broken needle!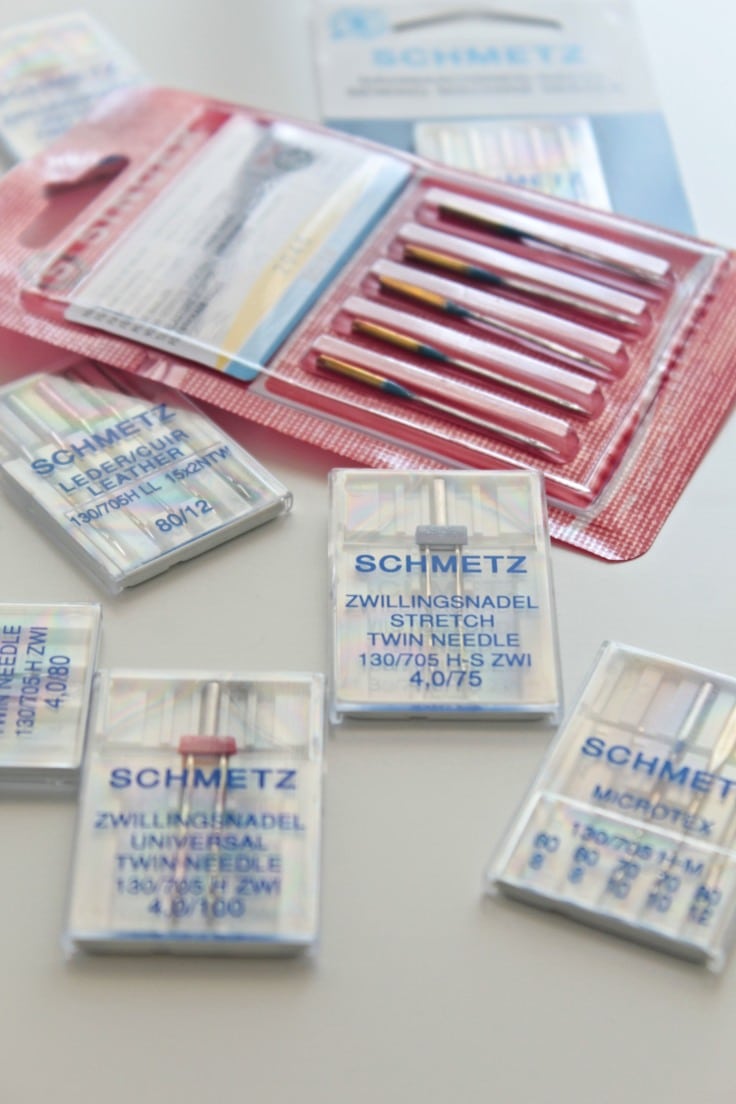 Other sewing tips you might like:
There wasn't such a large variety of needles in my local store so I went to Amazon to do a more thorough search and see what else is out there and I decided to stock up on as many needle types as I could find. Unfortunately I wasn't able to find a sewing machine needle chart at that time so I had to experiment and see which needle type and size is best for my projects. Years into this I am now able to share this experience with you through my own chart of sewing needle types and sizes.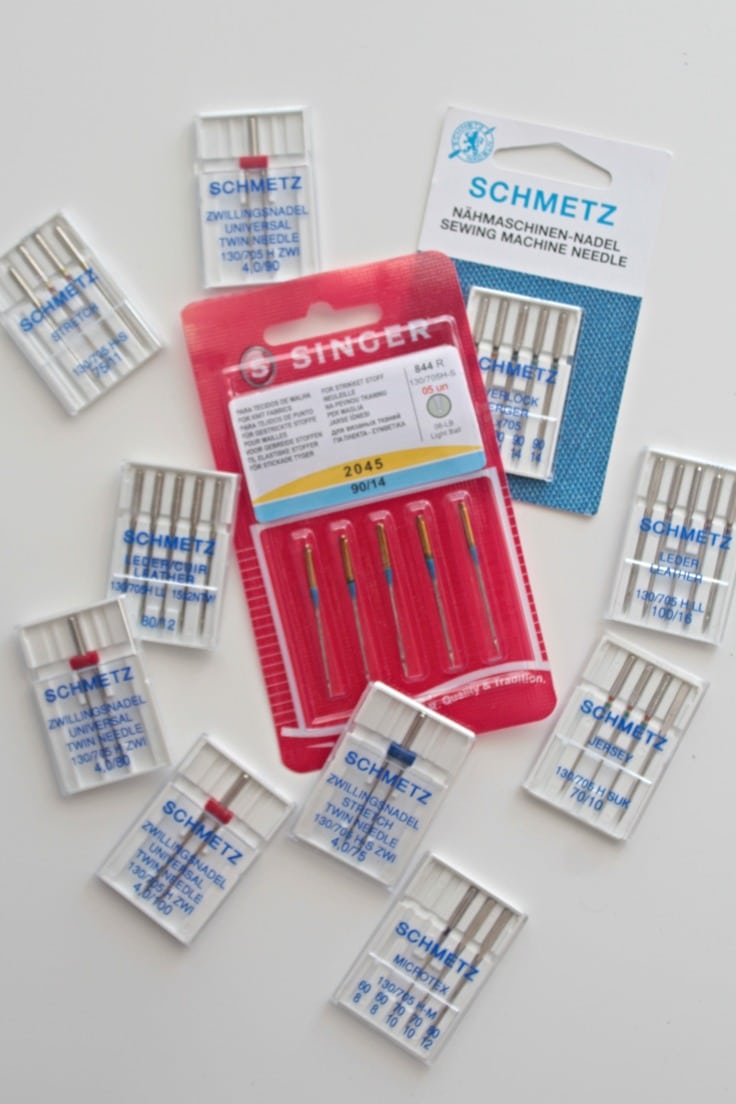 ---
This handy dandy sewing needle chart is available to purchase here.
---
Sewing machine needle sizes explained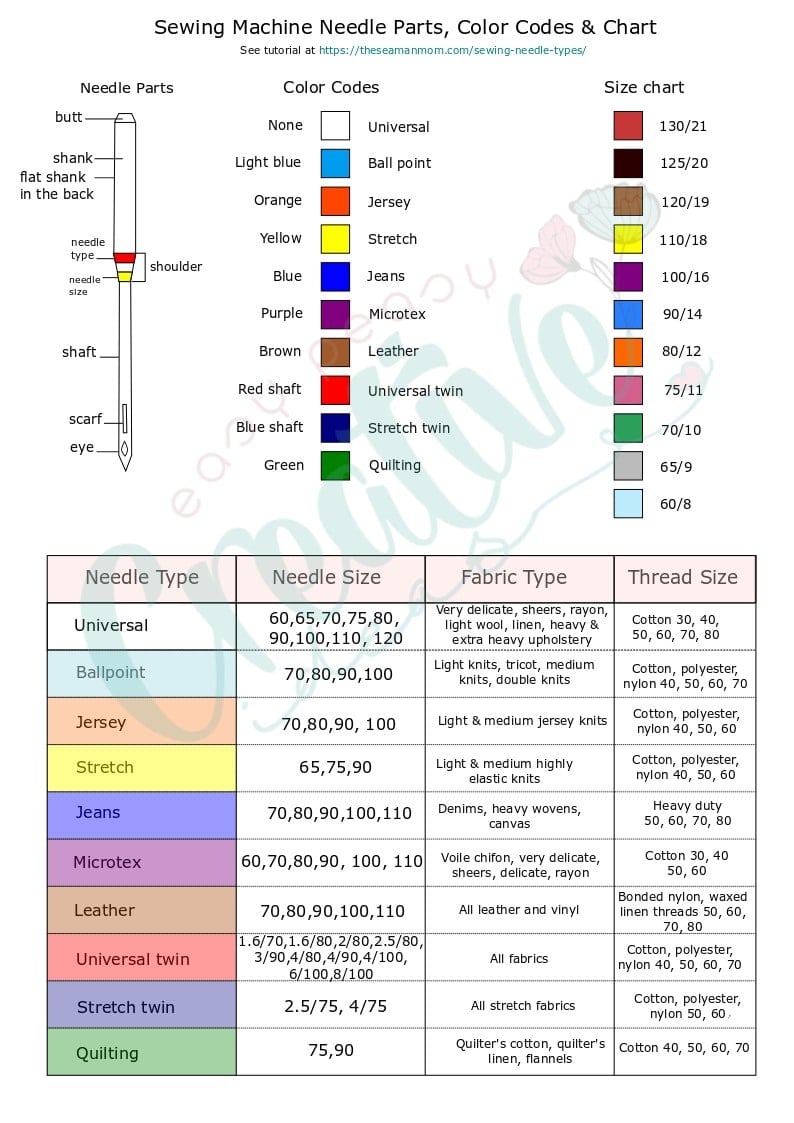 What are the sewing needle parts?
Take a look at the illustration above and starting from bottom to the tip of the needle, let's start inspecting the parts:
the butt – this is the part that goes up into your sewing machine
the shank – this is where you'll find the needle size. When inserting the needle into your sewing machine, this part should be facing you.
flat side – opposite to the shank. This side should be facing the back of the machine when inserting the needle into the sewing machine
the shoulder – this is where on most needles you'll find color codes for needle type and needle size.
the shaft
the eye – this is where you insert the thread
the point
the tip
What are the sewing needle types?
As the name suggests, this type of needles ca be used in almost every project. A great general purpose needle with a slightly rounded tip, the universal needle is used in a variety of projects using different fabrics, from woven to knits.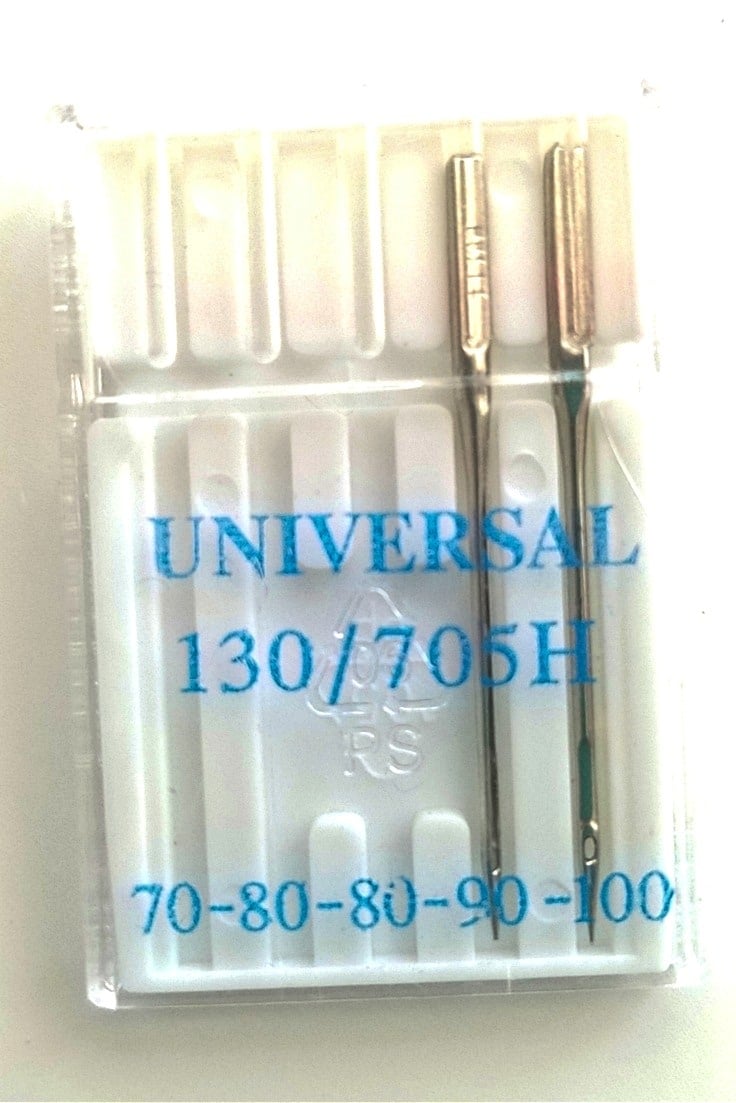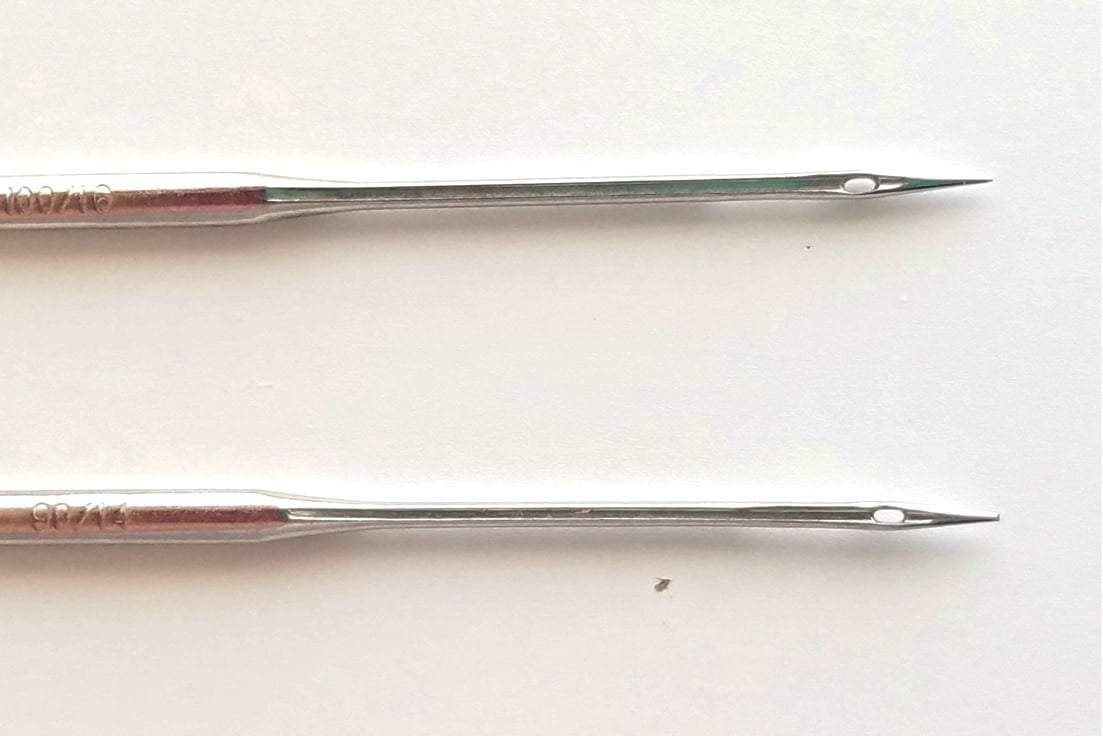 Ball point (also known as knit needle).
This kind of needle is used for cotton knits, interlock, rib knits, fleece, double knit, and most knit fabrics. The tip has the shape of a ball point that doesn't damage the fibers.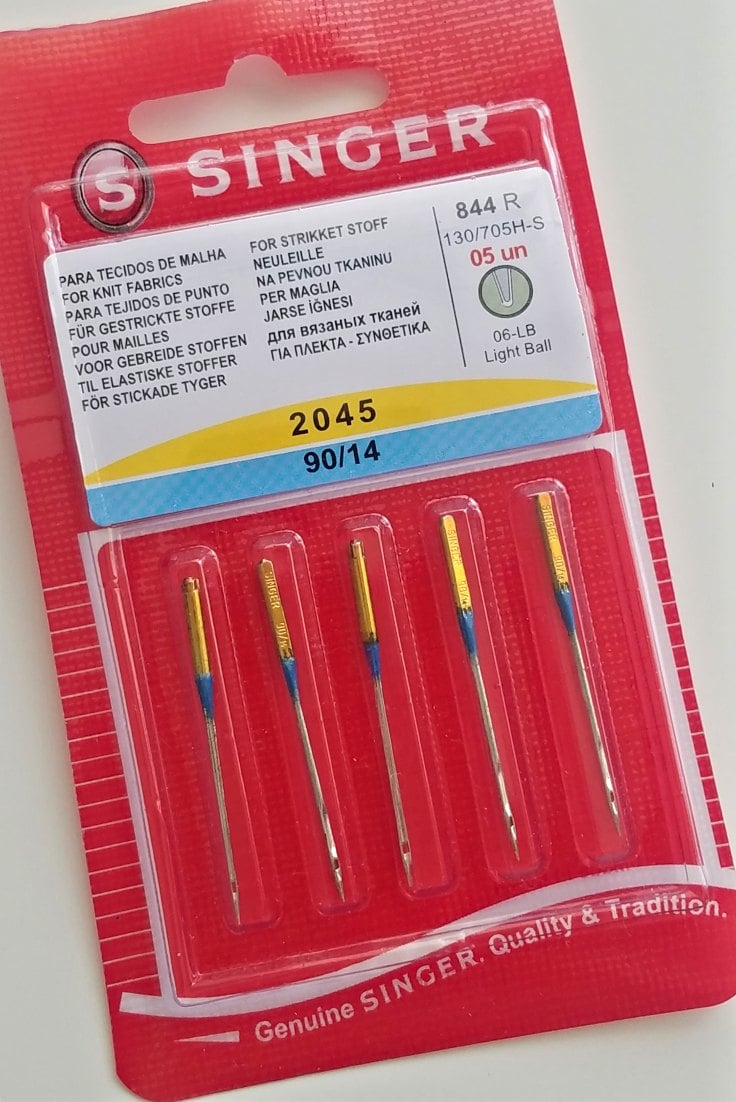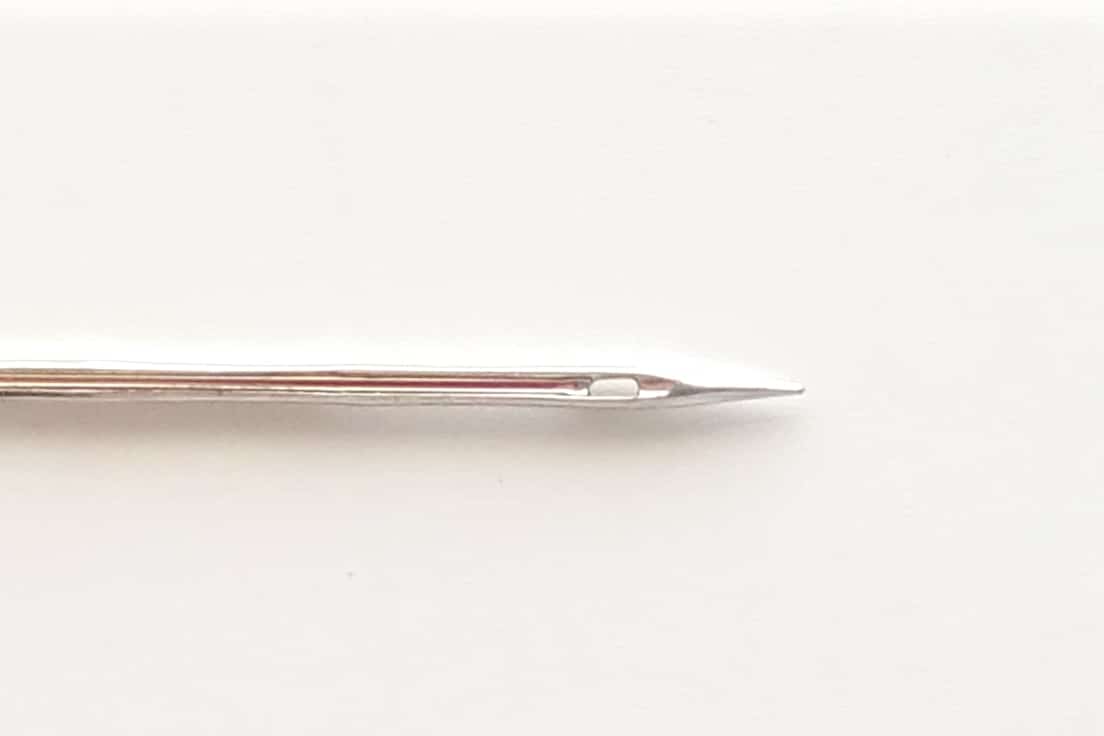 This is used for jersey fabrics
It's a type of needle used for highly elastic fabrics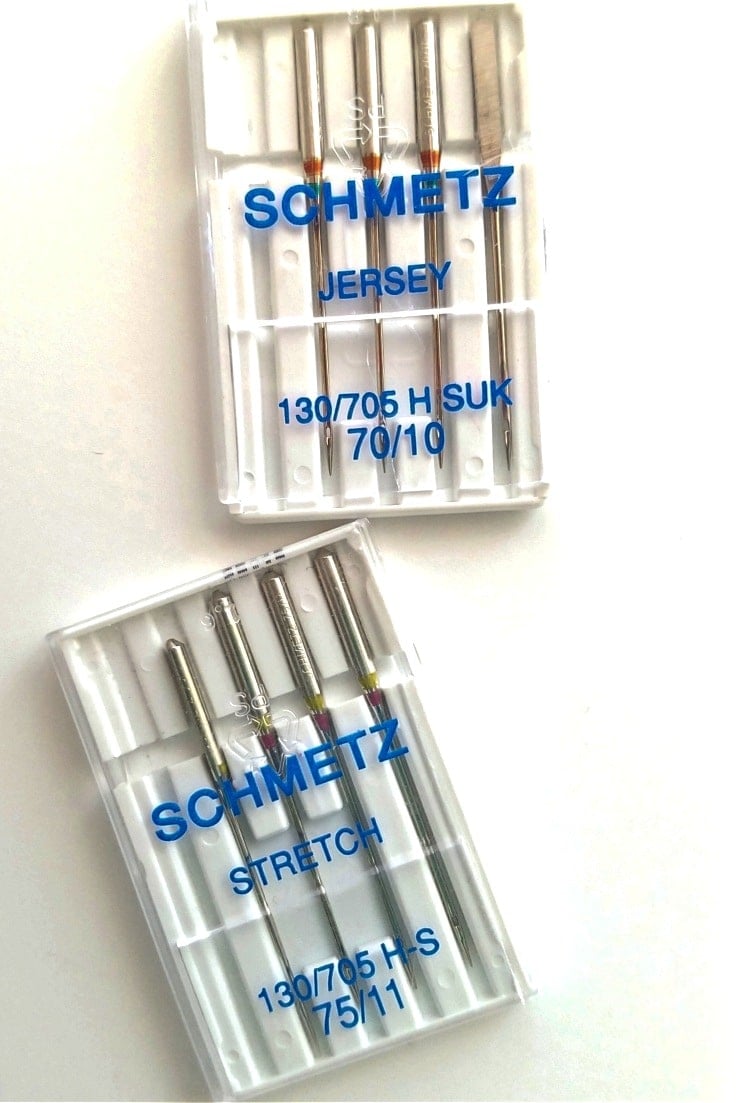 This is used for heavy duty fabrics like jeans and canvas but also for sewing thick layers of fabric like quilts.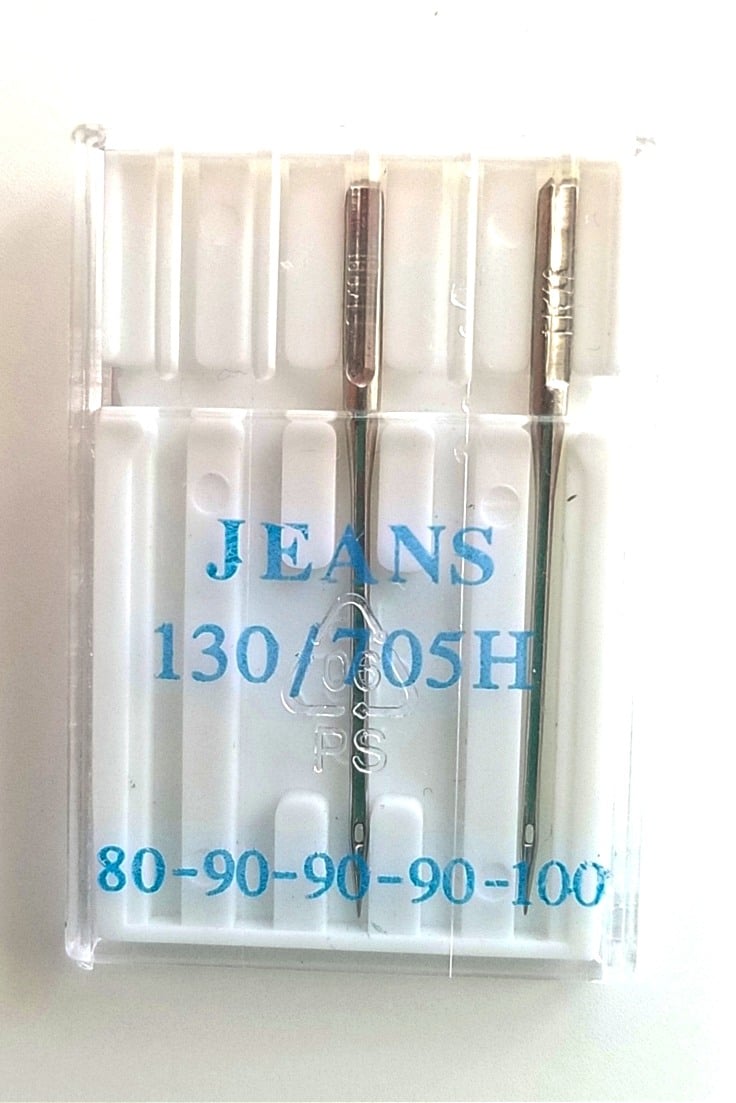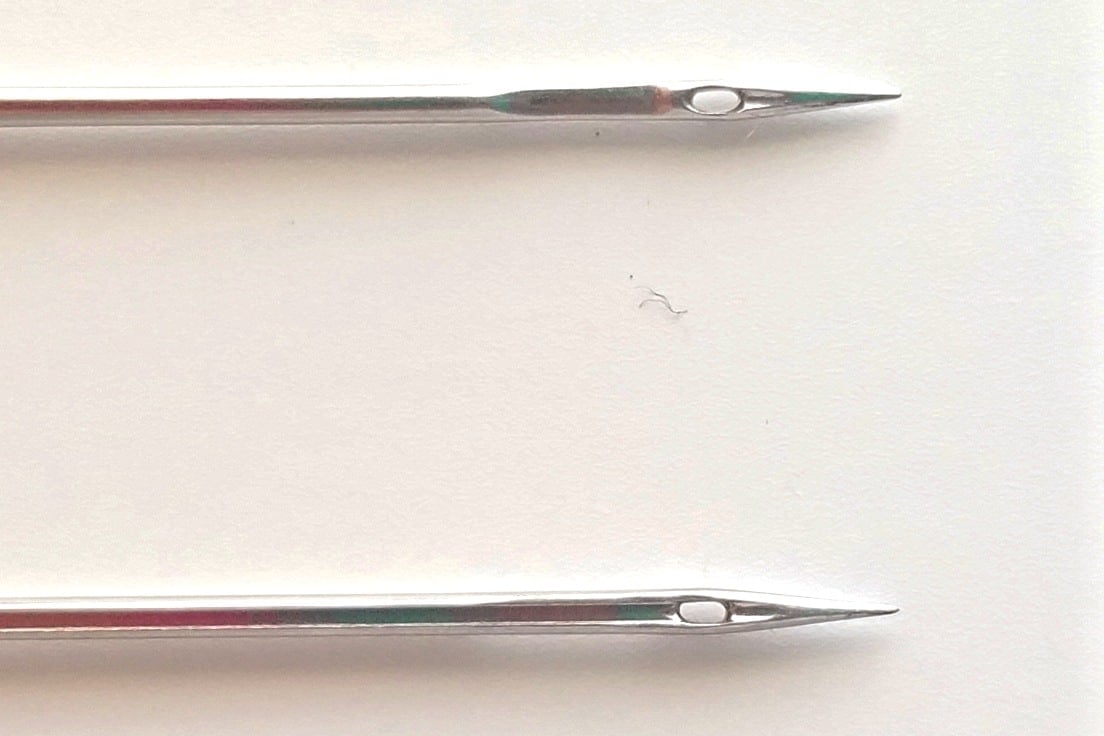 A very sharp needle, is used for lightweight or very thin fabrics, piercing them with high precision.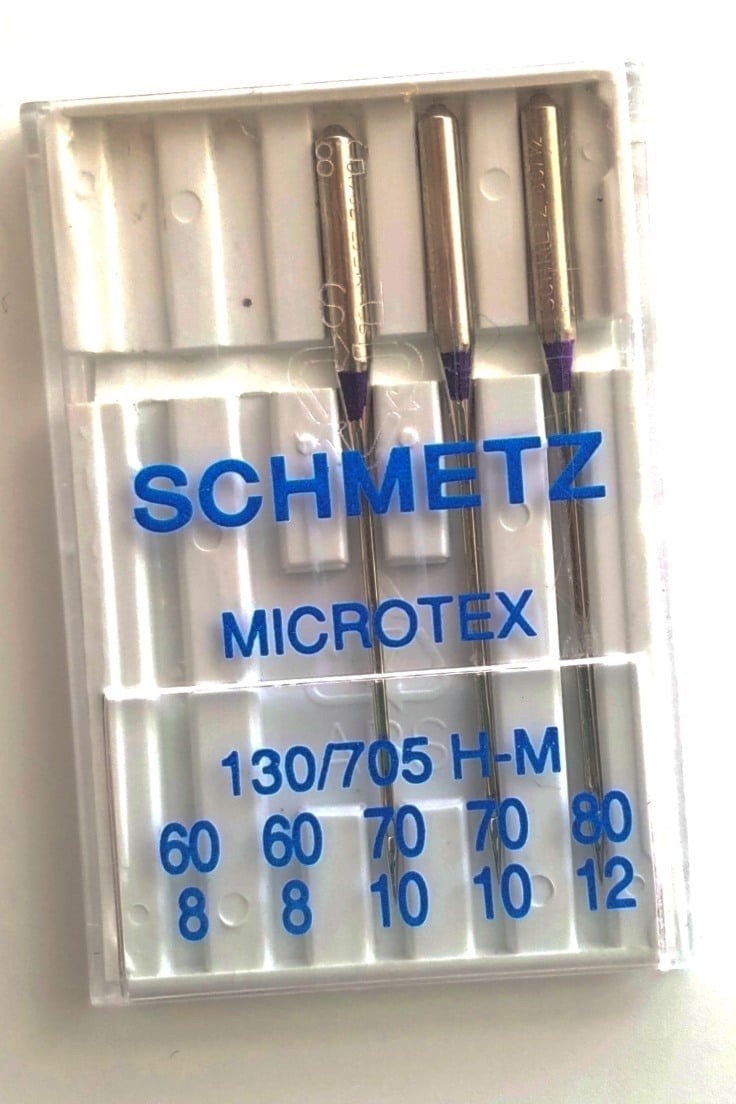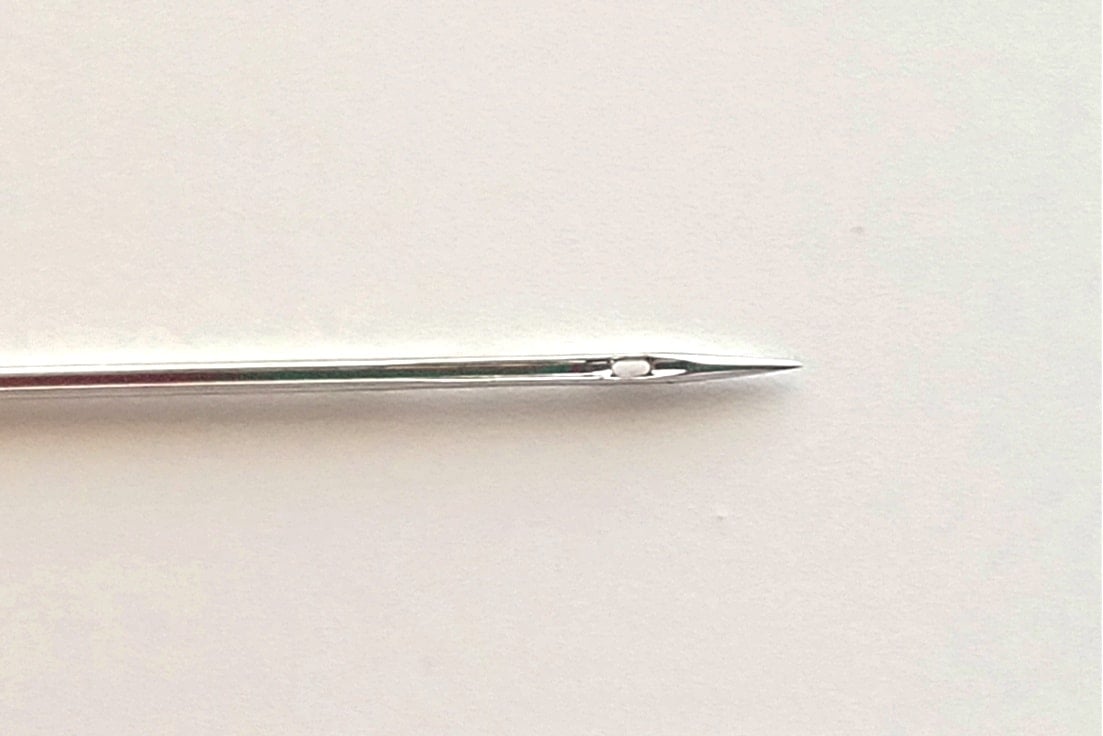 Used for sewing leather or vinyl.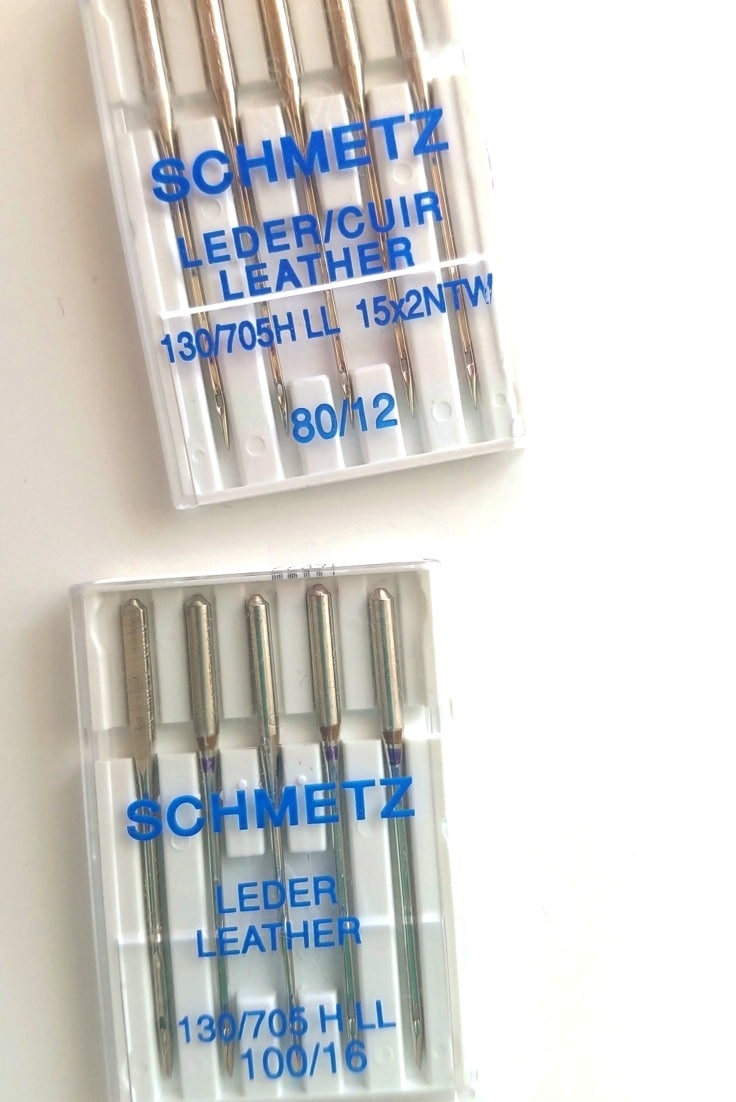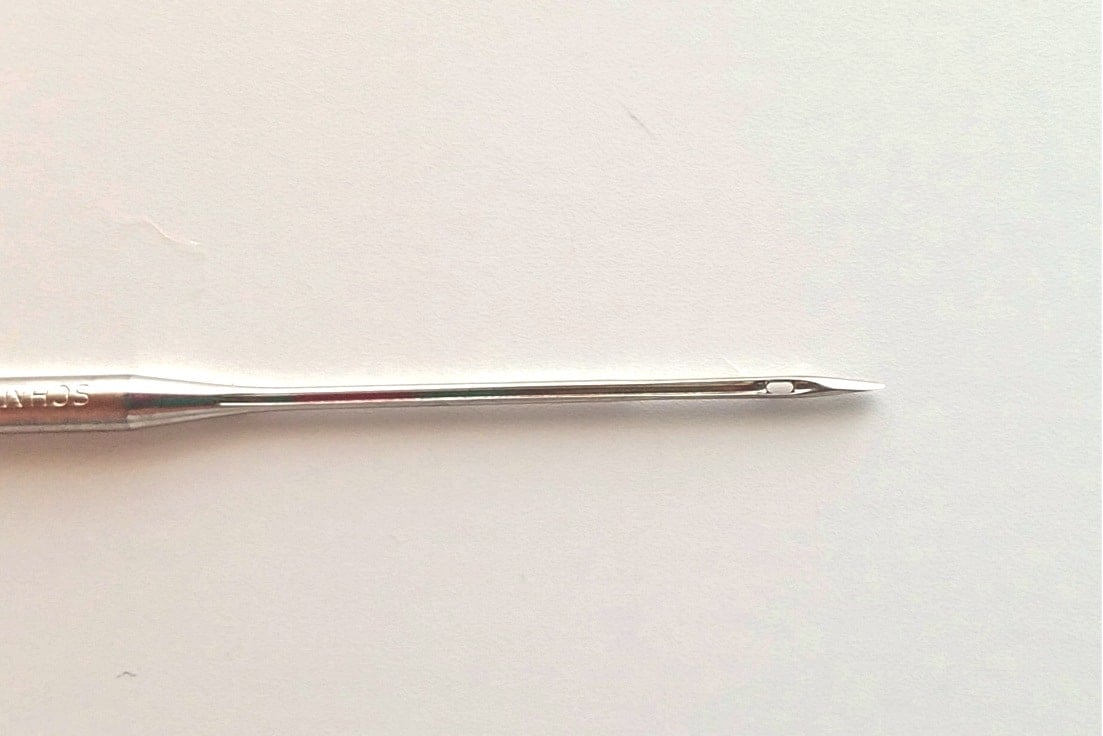 Two needles mounted on one shaft that are being used for creating two rows of stitches simultaneously. These also come in various types such as universal, jeans or stretch.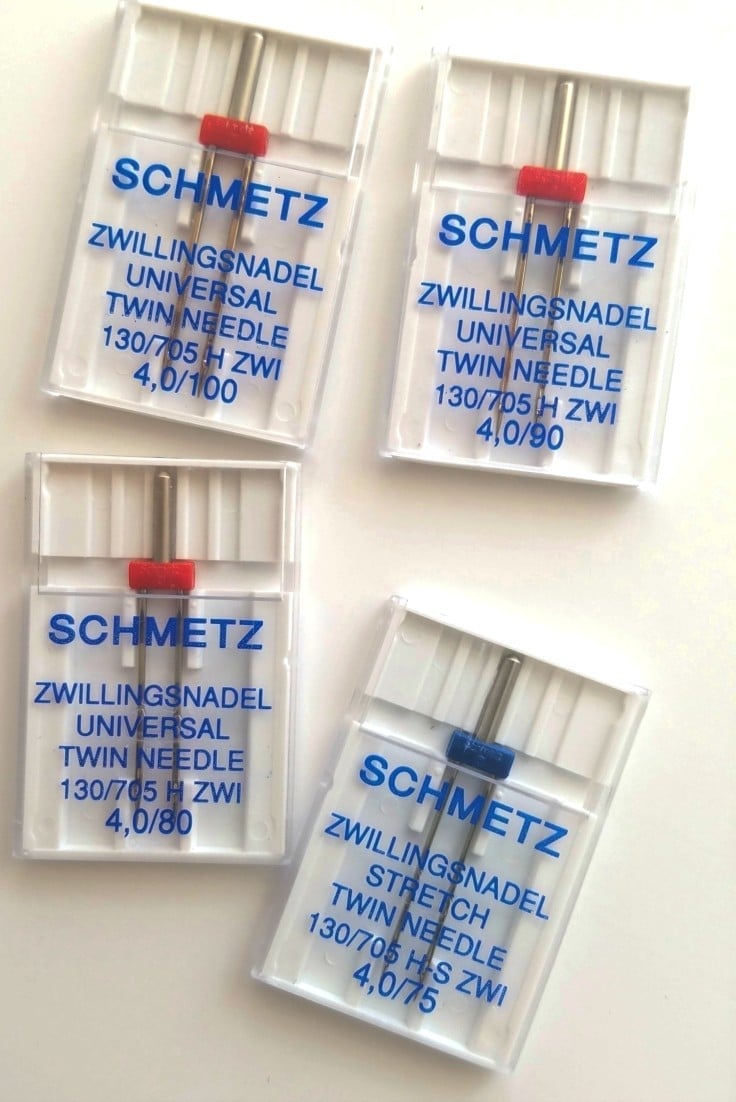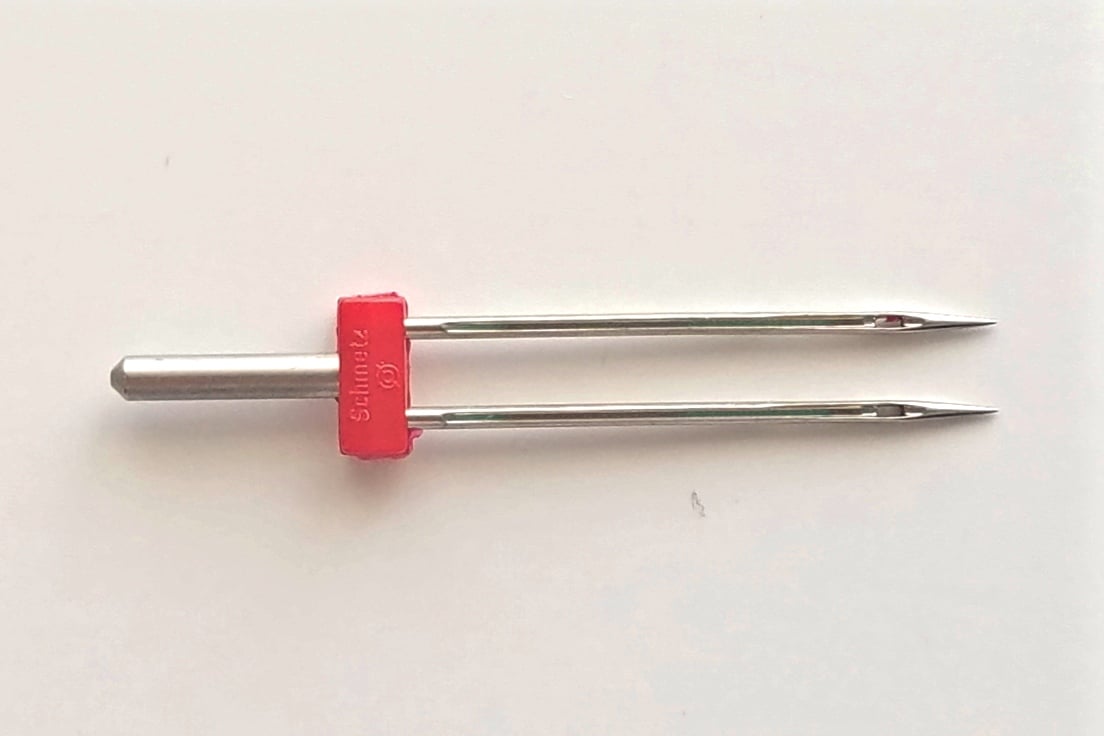 There's a large variety of other needle types, although not as common as those listed and pictured above such as: metallic, embroidery, quilting, topstitch, hemstitch, double eye, metallic twin, jeans twin stretch twin, gold embroidery.
What do the color codes correspond to?
You will find variations of the same color in different brands but ultimately, this is the chart:
Universal – no color code
Ball point – medium blue
Jersey – orange or light brown
Stretch – Yellow
Jeans – dark blue
Microtex – purple
Leather – brown
Universal twin – red shaft
Stretch twin – blue shaft
What are the needle sizes and what do they mean?
It may seem confusing for a beginner when looking at a needle for the first time but truth is, reading a needle is quite simple. On most needles, on the shoulder you will find color codes for the needle type and needle size. The top color indicates the type of needle the bottom color indicates the size. You will also find the needle size in numbers, located on the shank of the needle.
The numbers typically look like this: 70/10 or 75/11 or 80/12 etc These numbers are European and American labeling systems. European sizes range from 60 to 130, 60 being a fine needle and 130 being a thick heavy needle. The American system uses 8 to 21, with 8 being the finest needle and 21 being a thick heavy needle. The order in which they appear is not important, some might list the European system first, some the American system.
Here's the chart:
60/8
65/9
70/10
75/11
80/12
90/14
100/16
110/18
120/19
125/20
130/21
Why should you use the right sewing needle for your project?
Choosing the correct needle size and type will help you avoid problems while sewing such as:
a broken needle
stuck needle and thread in the feed dogs
skipped or uneven stitches
puckered or damaged fabric
weird sounds in your sewing machine like something is about to break or get stuck.
When should you change your sewing machine needle?
Ideally you should change your needle beginning of each project, especially if you sew for a few hours at a time. But if that's a little too much the best practice is to change the needle about ever 10 hours of continuous sewing.
What brand is the best when it comes to sewing needles?
Every sewer loves their brand and I'm no exception to the rule. I will swear by Singer needles and Schmetz needles, especially Schmetz since they offer such a large variety of needles.
Schmetz needles are of such a good quality, you'll find that changing the needle every 10 hrs of sewing is not quite necessary, the needles still look and sew amazingly! You should still change the needles though as they might get damaged when you're in the middle of your next project or 10 hrs round.
Schmetz and Singer needles are sharp, super smooth and very strong. Schmetz also offers them in great variety packs of different sizes and types.
How do I know what size of needle should I use?
Once you've picked the correct needle type, look at the fabric to see if it's thick or lightweight and test the needles on a piece of scrap fabric. If the fabric is lightweight, start with the finest needle and viceversa for the thick fabrics.
Now that you are an ace at choosing the right sewing needle types, you will have great success with every future sewing project! If you liked this guide, please let me know in the comments below and don't forget to rate this tutorial!
Pin to save for later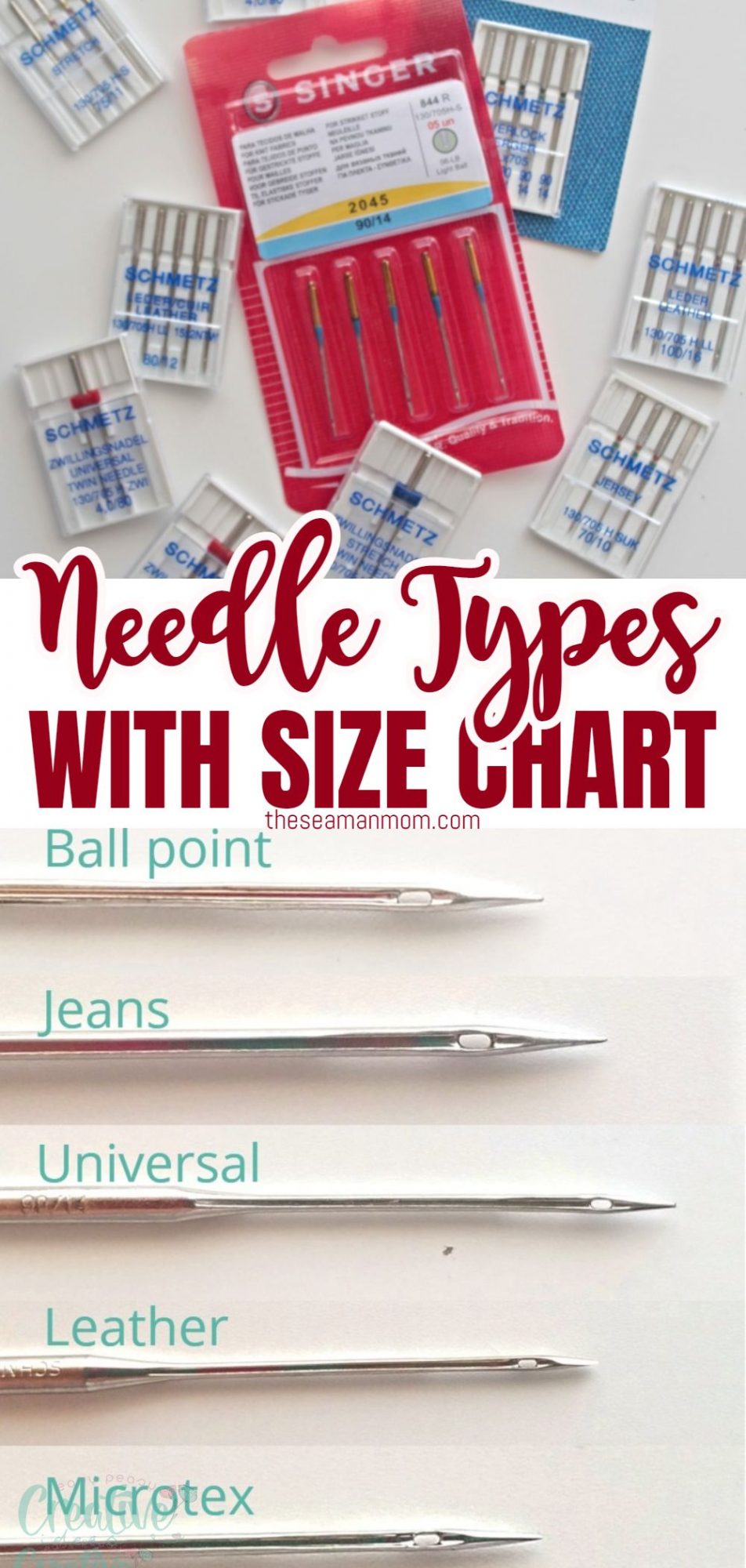 Most popular sewing projects: