Printable HALLOWEEN TOPPERS for goodie bags and baskets
Article may contain Amazon & affiliate links. As an Amazon Associate I earn from qualifying purchases at no additional cost to you.
It's so much fun to add little decorative elements to your Halloween party and décor, as well as do fun things for your children! My pack of Halloween toppers for the goodie bags and for the cupcakes or cakes can help with that!
Halloween toppers printable pack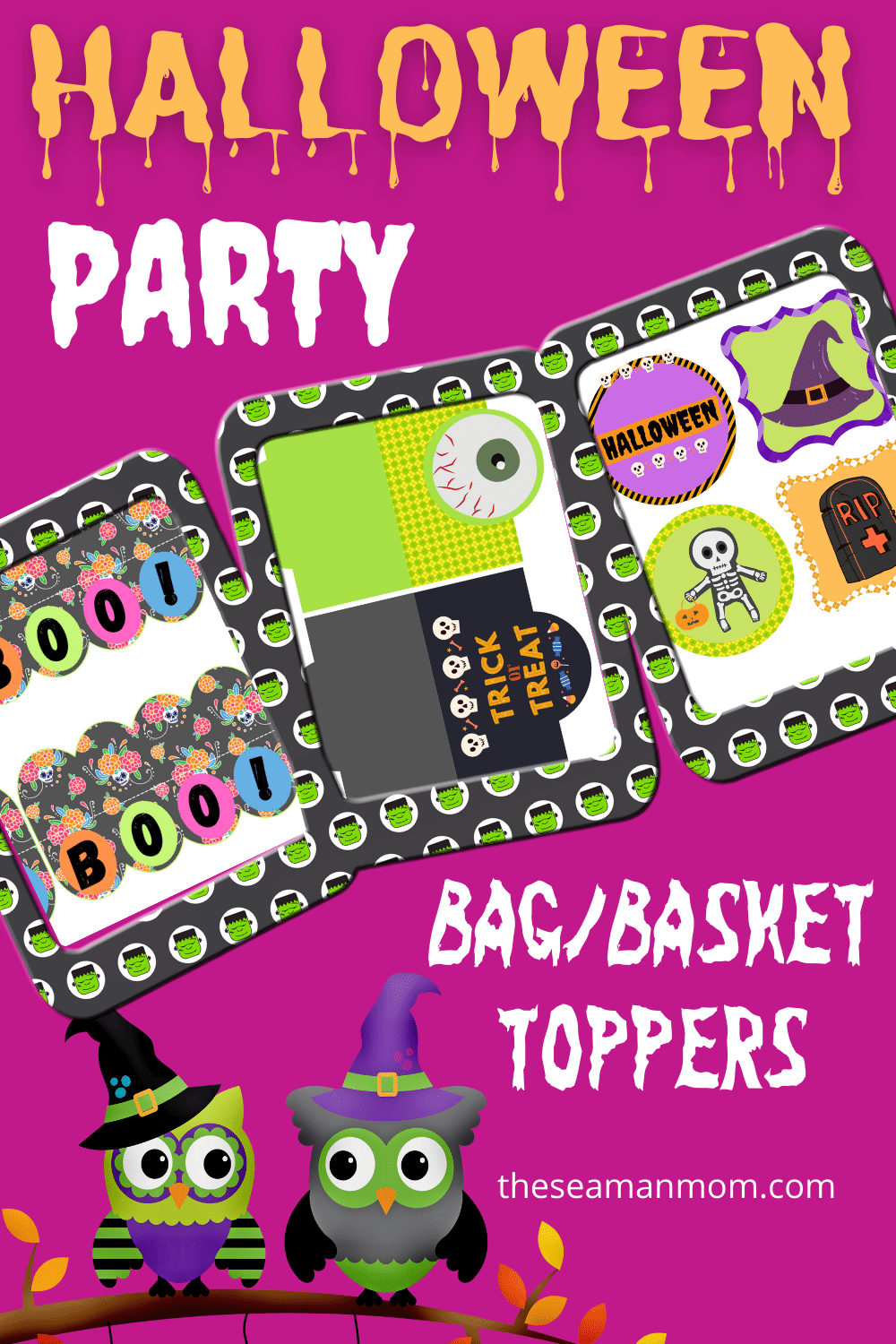 Halloween! Traditionally a time of the year where families embrace dressing up, not just themselves but their homes too, enjoy various different crafts, host get-togethers with friends and family. And head out trick or treating for an evening of fun, with goodie bags or baskets decorated with spooky Halloween toppers. It is one of those times of the year that you simply embrace whole-heartedly, or are not too bothered about it. I feel there is no in-between.
When it comes to Halloween we all want to ensure that we can have a lot of fun with our family and friends. One of the easiest ways to do that is just to go with the flow with the Halloween season and get the whole family involved. So you may be wondering how you can do that. I wanted to share with you some of the ways that you can enjoy Halloween and also some of the options to enhance the décor.
How to celebrate Halloween
Halloween is such a fun time, but usually, it is the children that want to get involved. There are so many ways that you can get your children involved with the day and evening. I wanted to suggest to you some of the things to consider.
Dressing up
One of the first things you may want to encourage and plan for is dressing up. Outfits can evolve year on year as your children's imaginations run wild. It could be something you let the children do, or you could look to get involved. Many families decide to dress up as a theme and this can make the whole event so much more fun. Dressing up could be something you do just to head out onto your street and surprise your neighbors, or you could hold a Halloween party and have all your guests dress up as well.
Traditional activities
Heading out in your outfit and knocking on doors saying "trick or treat" is likely to be a memory that all of us have at some stage in our lives. The thrill and excitement, feeling proud of our outfits and the efforts we have gone to, and the promise of a treat 99.9% of the time in the end. Who doesn't love that? Children love the chance to dress up and have fun and trick or treating is part of that! It's an age-old Halloween tradition that will likely continue for many years to come.
Decorate your home
Another great way to embrace Halloween would be to decorate your home. You could do this just on the exterior. With lights, netting, or sheets that look like spider webs, and display pumpkins that you have carved or handmade. Ornaments like this beautiful fall lantern across the front of your home or on the lawn can also be very decorative. Decorating your home is an indication that you are happy to be involved in all Halloween festivities.
Carving a pumpkin
It can be so much more fun to sit down with the family and carve a pumpkin. Using inspiration you find online or just letting you and your children's imaginations go wild. Creating scary faces or designs and then lighting them up with candles. They make a great display inside and outside of your home.
Having a party
One of the most common ways to celebrate Halloween is to enjoy a party. This is a lovely way to bring your friends and family members together and have a lot of fun. There are lots of Halloween-inspired games online that you can do, and having some drinks and food can add to the event. Goodie bags and having things on display are key. This is where my Halloween bag toppers could come in handy as well as this Halloween banner. I have available to download some amazing bag and food toppers that will bring your party to life!
Using my Halloween toppers
This file contains two different PDF files, one for the Halloween goodie bag tags and one for the food toppers. It is an easy-to-download file that you then simply print and display proudly. Here is a little more information on these two downloadable printables.
Halloween bag toppers
These are the perfect addition to a goodie bag that you put together at the end of a party. Or for your children once the trick or treating is over. The bag toppers are easy to download, are bright and colorful, and follow the theme of Halloween perfectly. There are a few different designs to choose from. So you can use them all, or stick with one as a theme if you prefer. From ones that say "Boo" to others that show gory features like eyeballs, they can look visually appealing for Halloween. And help you create lovely little keepsakes for your children and guests that you may have at the end of the night.
They could also work well if you are planning on making up little treat bags for anyone that knocks on your door during Halloween. A small bag filled with sweets and then using one of the Halloween bag toppers to finish them off is a lovely thing to hand out.
Halloween cupcake toppers
If you are hosting a Halloween party for your children and their friends, then using my Halloween food toppers could help to jazz things up. You can have them propped up in cupcakes (like these fun wicked witch cupcakes) and cakes or even on baskets that you are using to display food, or in and around the food table. Using my websites you could find some great food that you can give a Halloween edge to. From mummy hotdogs to oozing eyeball cookies or spider web jellies, you will find something that will suit your skillset and timeframe.
---
You can download these printables FROM HERE and feel free to look out for other printables and crafts on my site.
---
Pin to save for later