This shop has been compensated by Collective Bias, Inc. and its advertiser however all opinions are 100% my own. #SweetenTheSeason #CollectiveBias
Looking for a Halloween party recipe? Make this sweet Cocoa Red velvet cake eyeballs recipe for your next Halloween party and these delicious bloodshot eyeballs will be the hit of the party!
Red Velvet Cake Eyeballs Recipe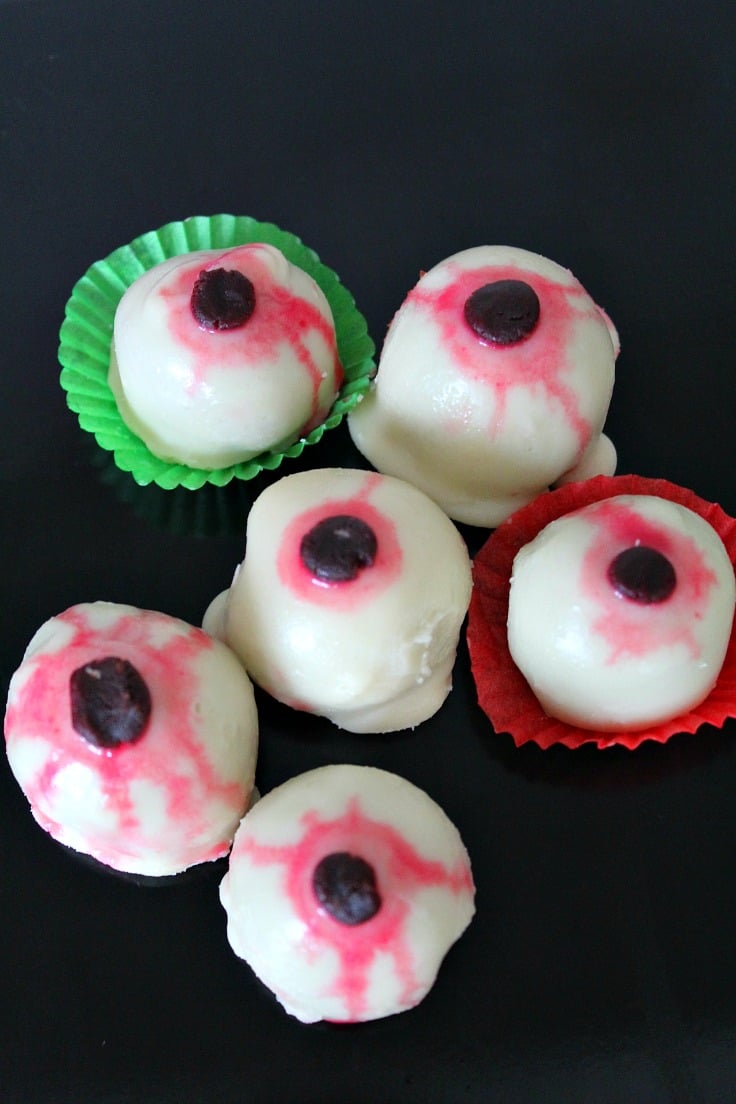 Are you guys ready for Halloween? I don't know about you but I'm in full baking/cooking mode, experimenting with lots of goodies and constantly adjusting the Halloween menu to comply with my picky eater's preferences (they change about every day!). I do have a few recipes set though and this Red velvet cake eyeballs recipe is one of them.
It's time to get "spooked" and have fun in the process so why not make these ghoulish balls with your kids? This red velvet cake eyeballs recipe is ideal to amuse the children. These balls are a little bizarre, a little creepy, but not too ugly to look at! In fact my little munchkin said they're cute and had lots of fun so she's booked us for another round the day before Halloween.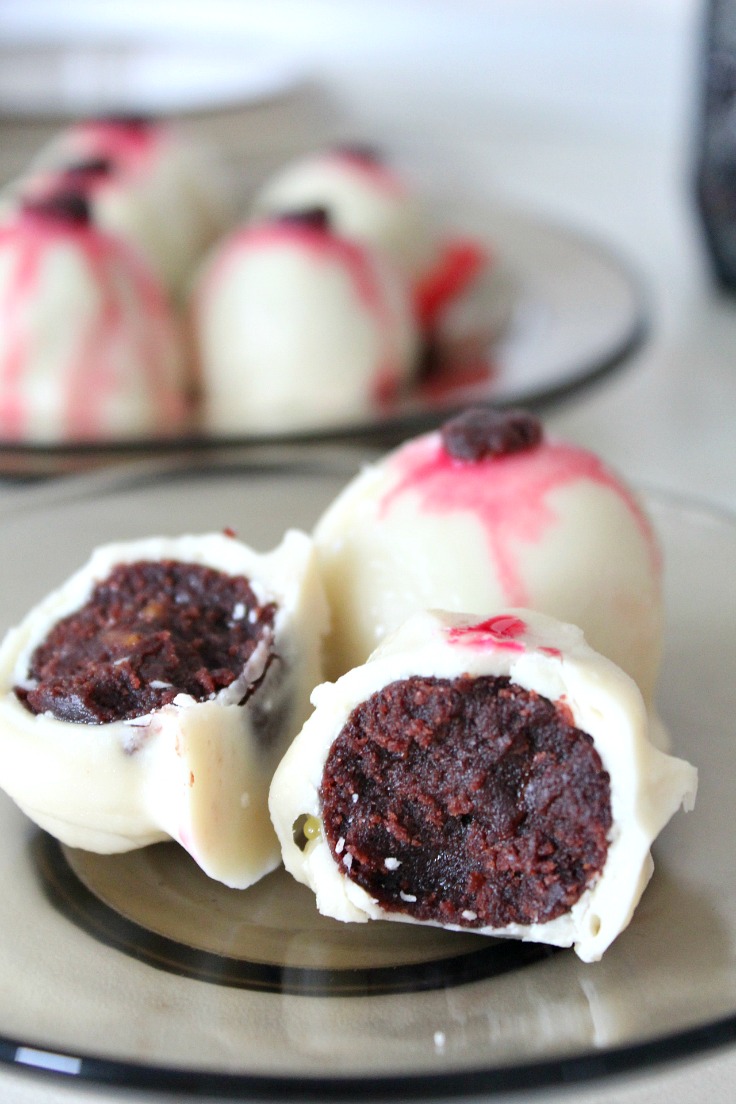 For this delicious and easy recipe I purchased a few Kraft products from my local Walmart, products located in the Bake Center area. I got us some BAKER'S Semi-Sweet Chocolate, BAKER'S White Chocolate, BAKER'S ANGEL FLAKE Coconut and KRAFT Caramel Bits. They're perfect for this recipe and made my life so much easier (and tastier) as the baking was so smooth and quick. You can create easy, budget friendly holiday recipes with any Kraft items at Walmart but these were my choices for this recipe.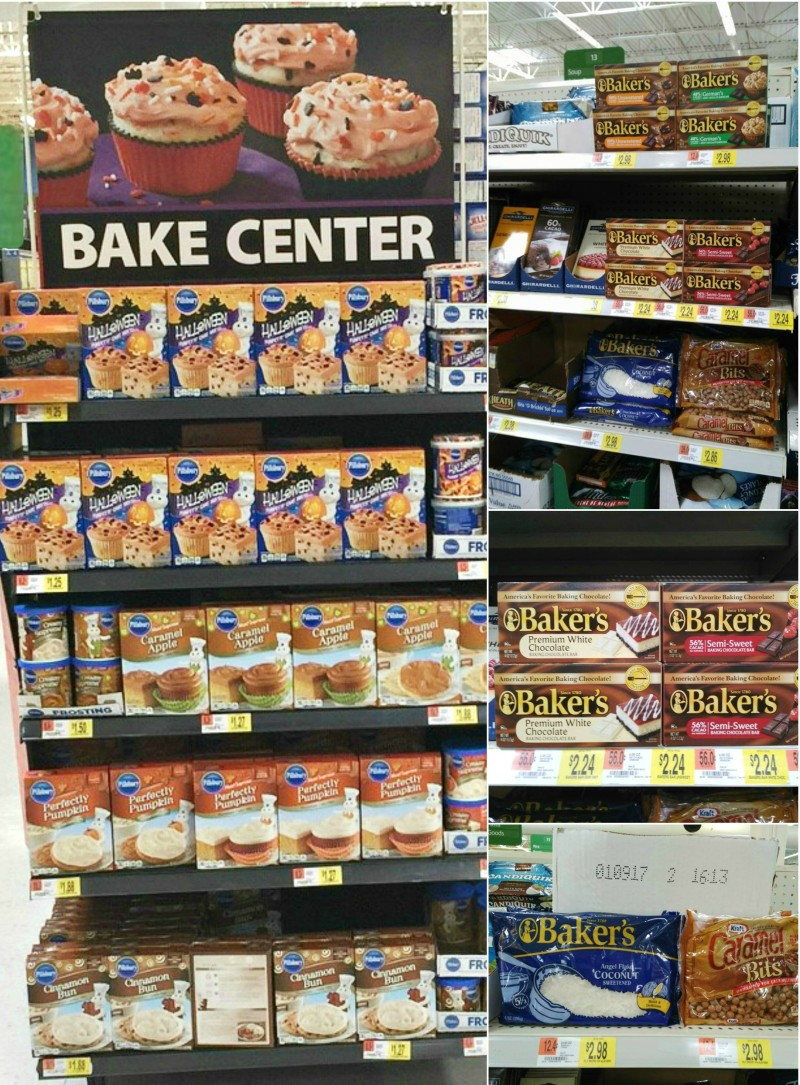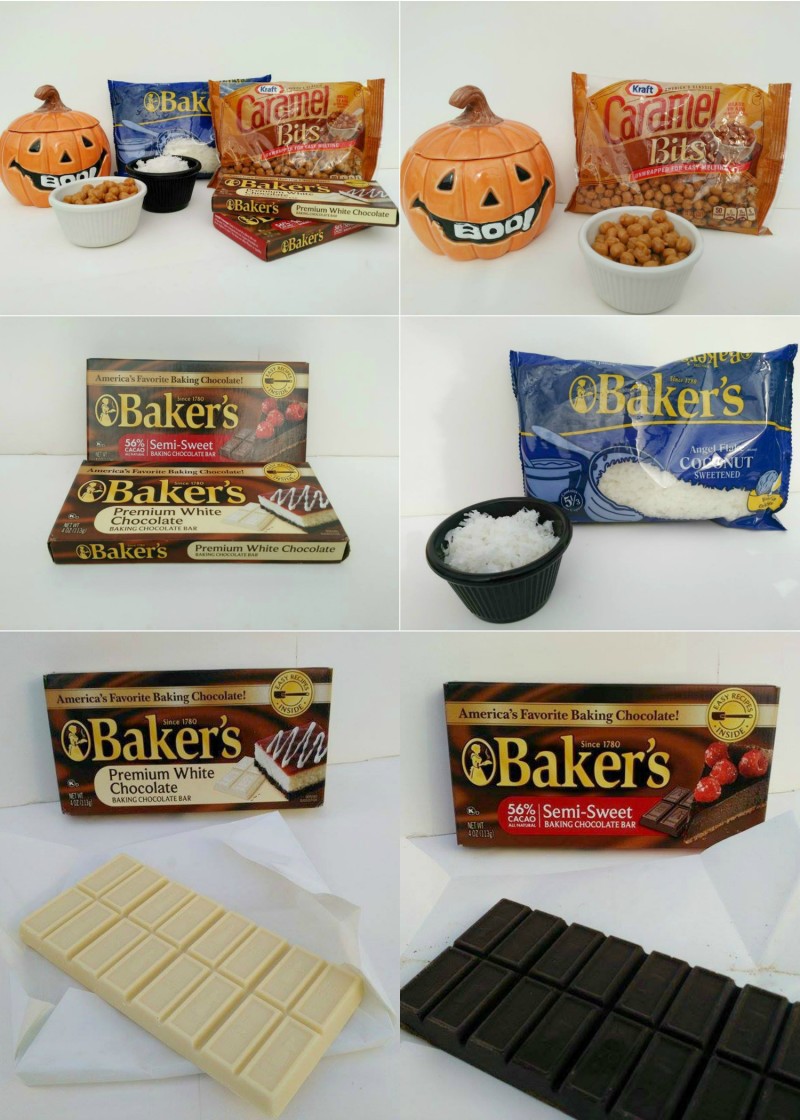 This recipe is way easier than it sounds and even if you're not an ace at food decorating, don't get discouraged; these balls don't have to look perfect but spooky. It's Halloween!! Also when covering these balls in white chocolate, I found it easier to just pour melted chocolate over rather than dipping the balls in hot chocolate. This way the balls look way better and I didn't make such a big mess as I would if I dipped them.
Red Velvet Cake Eyeballs Recipe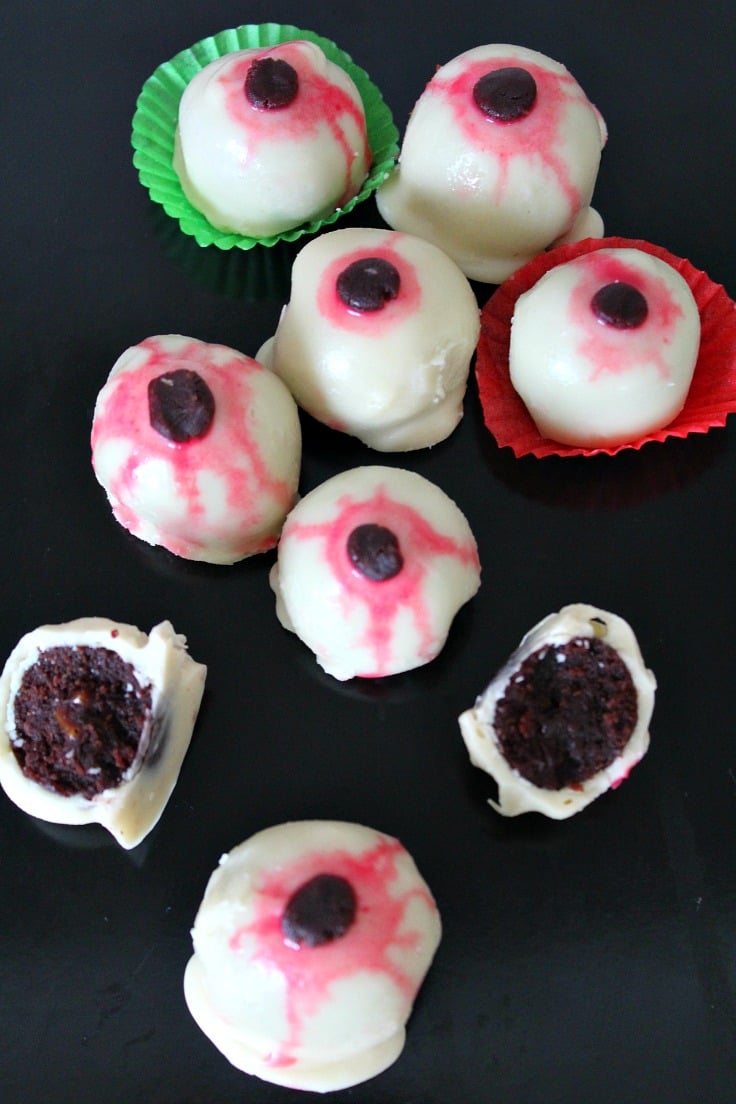 Materials needed:
BAKER'S White Chocolate bar
BAKER'S Semi-Sweet Chocolate bar
KRAFT Caramel Bits
BAKER'S ANGEL FLAKE Coconut
4 tablespoons unsalted butter, melted (plus more for the pan)
1 1/4 cups all-purpose flour (plus more for the pan)
1/2 cup granulated sugar
1 1/2 tablespoon cocoa powder
1/2 teaspoon baking soda
1 large egg
1/4 cup vegetable oil
1/2 teaspoon vinegar
1/4 cup buttermilk
1/4 cup sour cream
1/2 teaspoon pure vanilla extract
6 tablespoon liquid red food coloring
4 1/2 tablespoons unsalted butter, softened
1 cup sugar
1-2 teaspoons milk
Directions to make the velvet cake:
Preheat the oven to 350 F = 150 C
Butter and flour a 9-inch round cake pan.
In a bowl, whisk the flour with sugar, cocoa powder and baking soda.
In another bowl, whisk the egg with the 4 tablespoons of melted butter and the oil, vinegar, buttermilk, sour cream, vanilla and food coloring.
Stir the wet ingredients into the dry ingredients until moistened.
Scrape the batter into the cake pan and bake in the center of the oven for about 35 minutes (test with a toothpick inserted in the center of the cake; it should come out clean).
Let the cake cool in the pan.
Directions to make the eyeballs:
Line a baking sheet with baking paper.
In a bowl, beat the butter with the sugar until smooth (use a mixer).
Finely crumble the cake into the bowl and stir until combined.
Knead the mixture with your hands until you get a smooth texture.
Leave 3-4 tablespoons of the mixture aside (you'll use this to decorate the "eyeballs")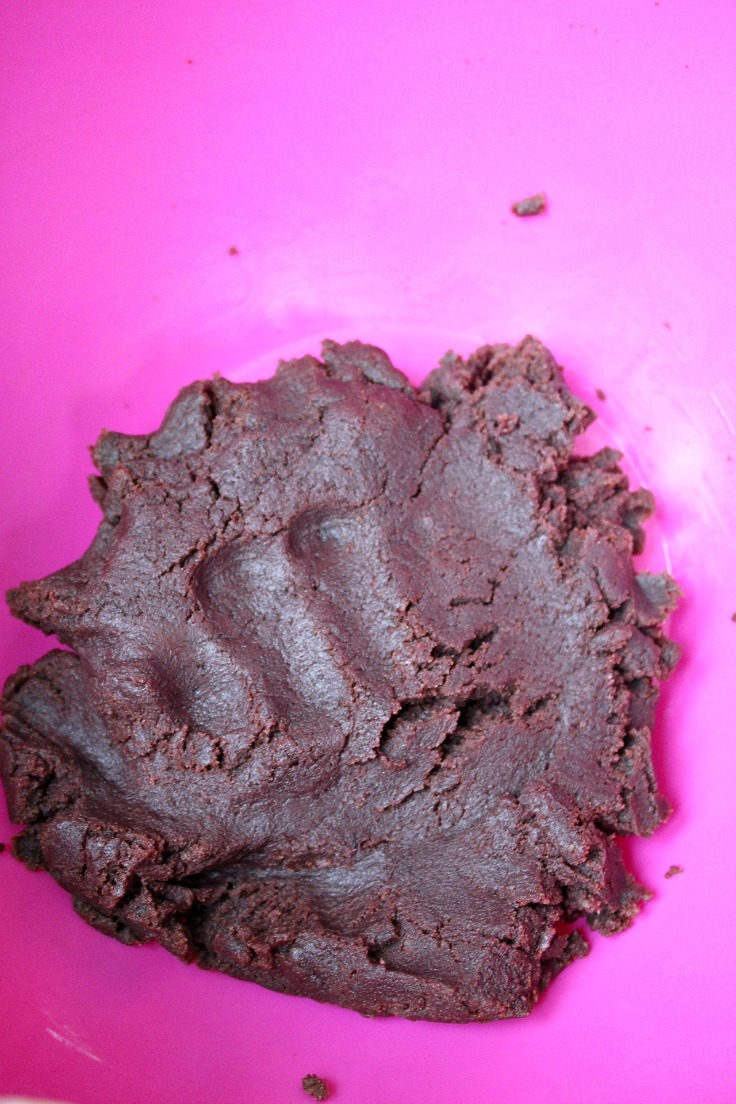 Using an ice cream scoop, scoop mounds onto the prepared baking sheet.
Press the mounds on a working surface.
Cut some BAKER'S Semi-Sweet Chocolate into small cubes and add to the middle of each mound.
Press 1 KRAFT Caramel Bits in each mound.
Squeeze the mounds in your hand to cover the chocolate and caramel bits and roll into tight balls.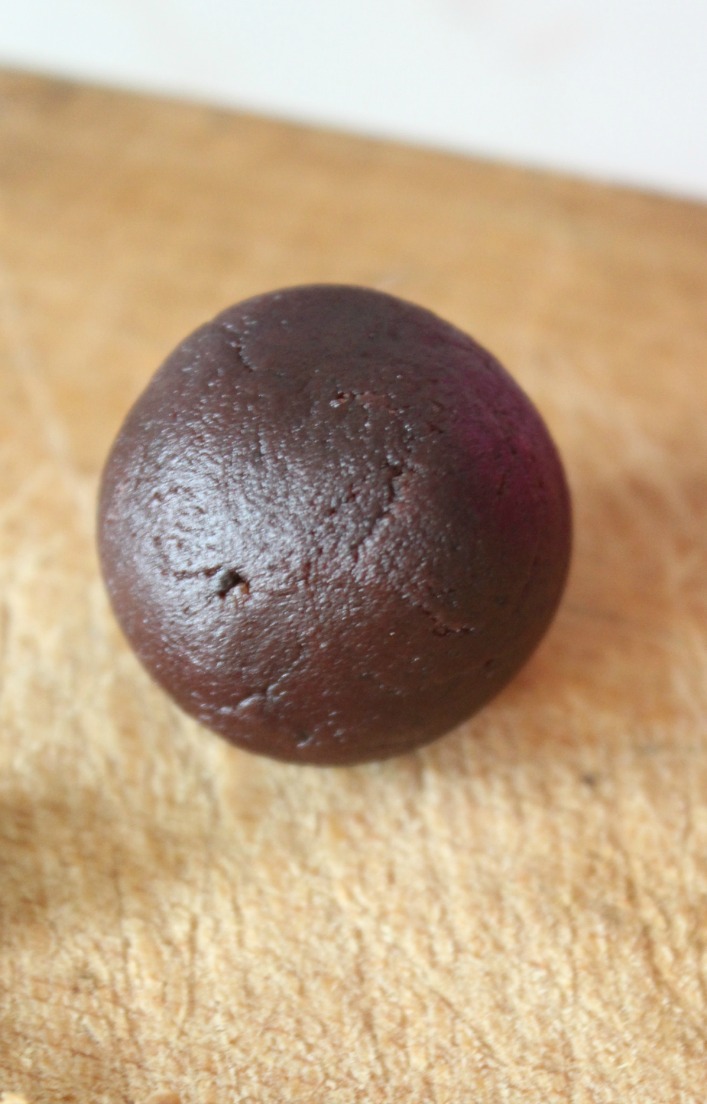 Roll through the BAKER'S ANGEL FLAKE Coconut.
Refrigerate until firm.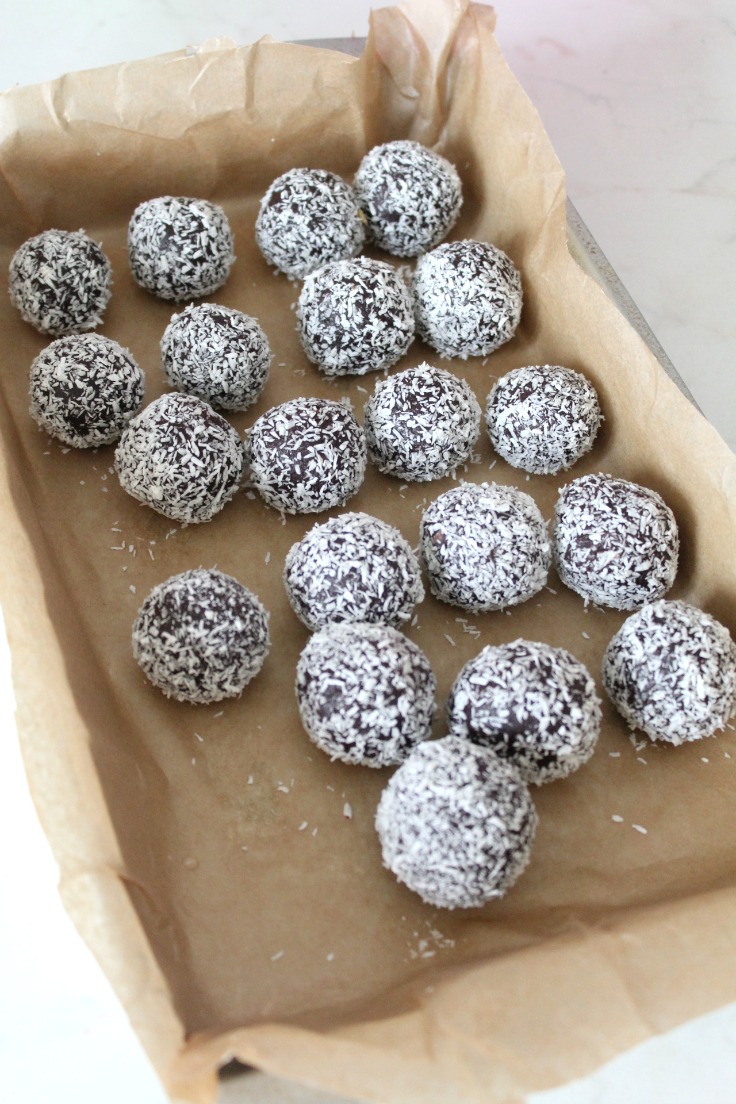 In a bain marie, melt the BAKER'S White Chocolate bar and gradually add milk until you're happy with the texture (you should be able to pour this over the balls); stir until chocolate is smooth and completely melted.
Meanwhile line another baking sheet with wax paper.
Line the cake balls and slowly pour the melted chocolate over the balls. Make sure there's enough space between balls for the dripping chocolate.
Let cool until the coating has set.
Using a clean, fine-tipped paintbrush, decorate the balls with red food coloring to look like bloodshot eyeballs.
Make tiny balls using the 3-4 tablespoons of the red velvet cake you kept aside and top the balls with these, slightly pressing them to adhere to the balls.
Keep refrigerated.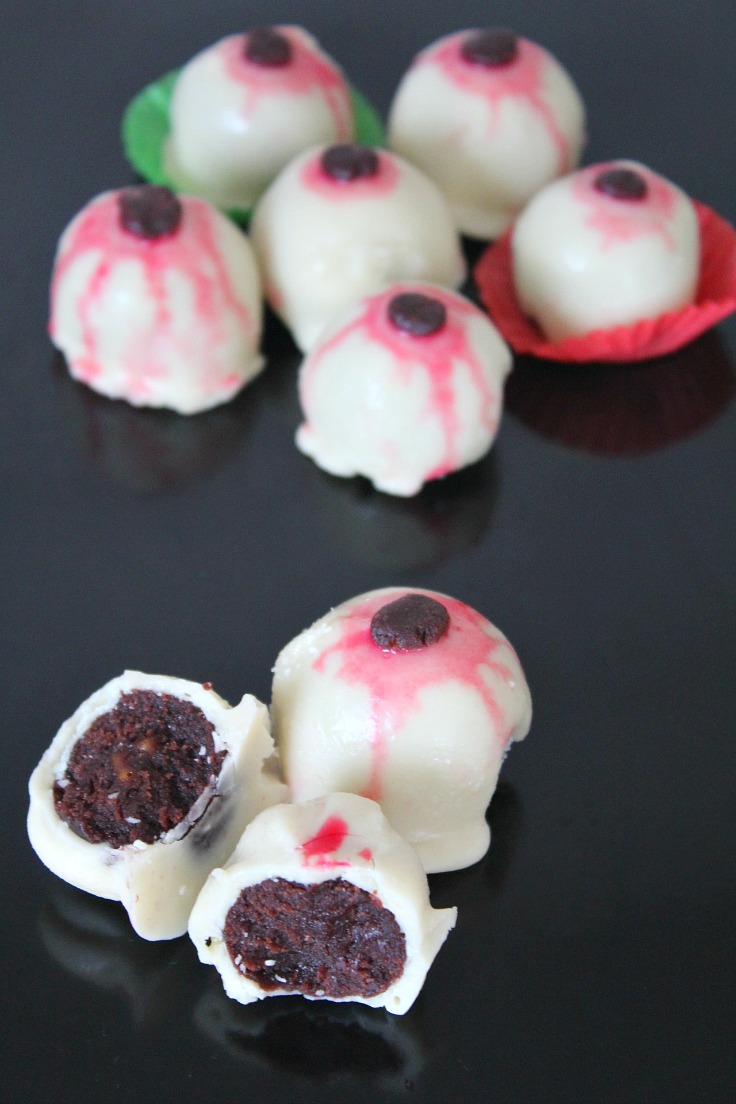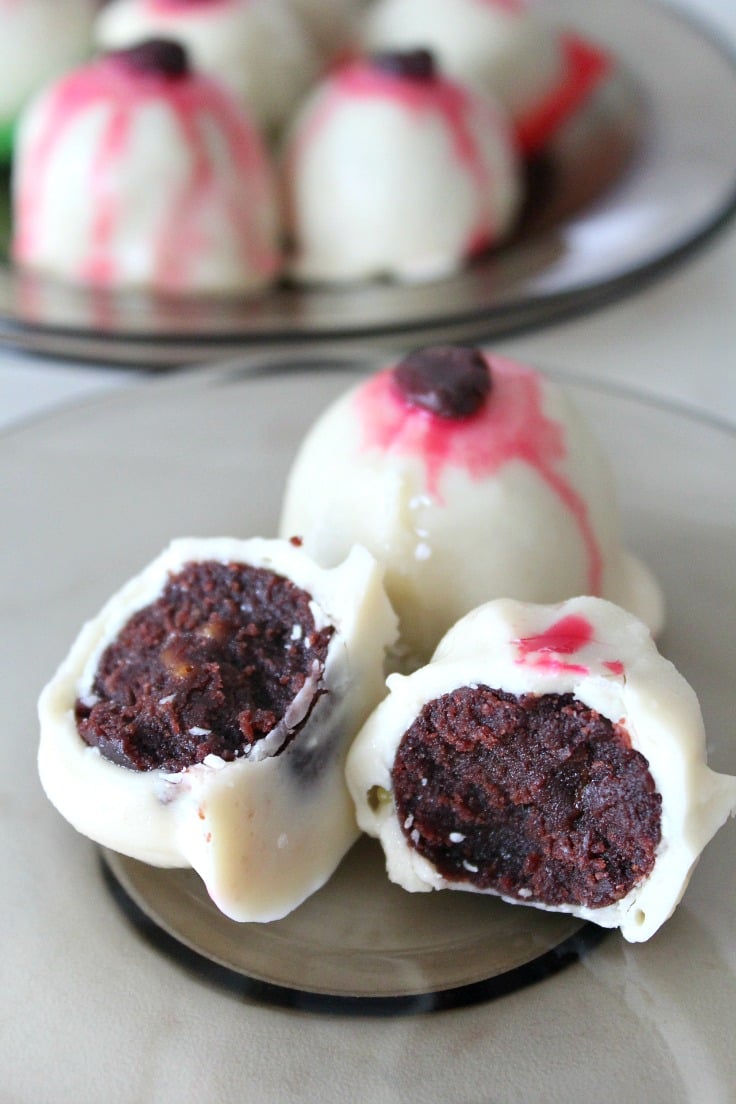 So what do you think? Will you be making these for Halloween? Also be sure to check out more delicious Kraft recipes. I'd love to hear about your favorite!