Article may contain Amazon & affiliate links. As an Amazon Associate I earn from qualifying purchases at no additional cost to you.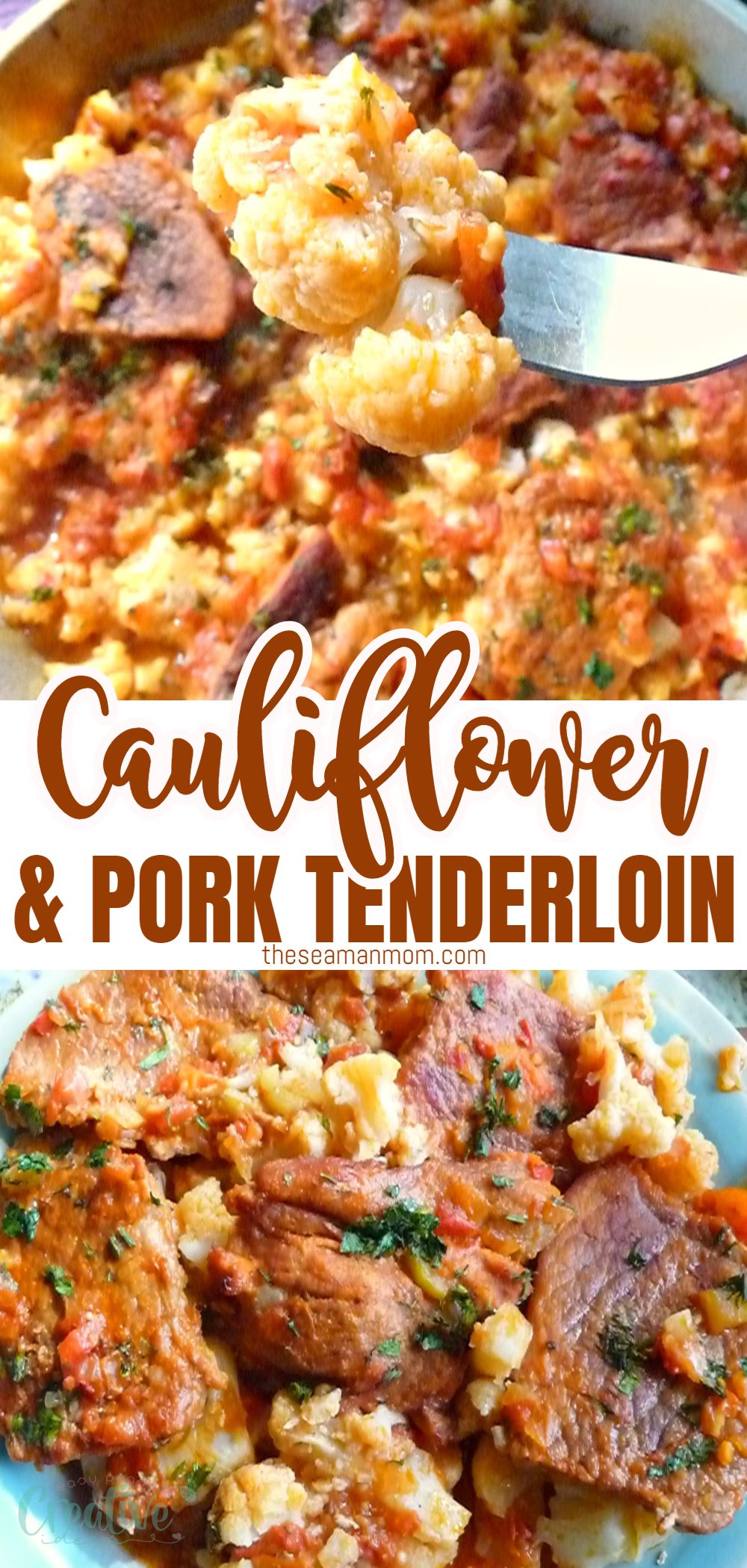 If you're looking for a quick, easy and simple dinner idea that tastes like a million bucks, you'll want to give this pork and cauliflower recipe a try today!
Pork and cauliflower recipe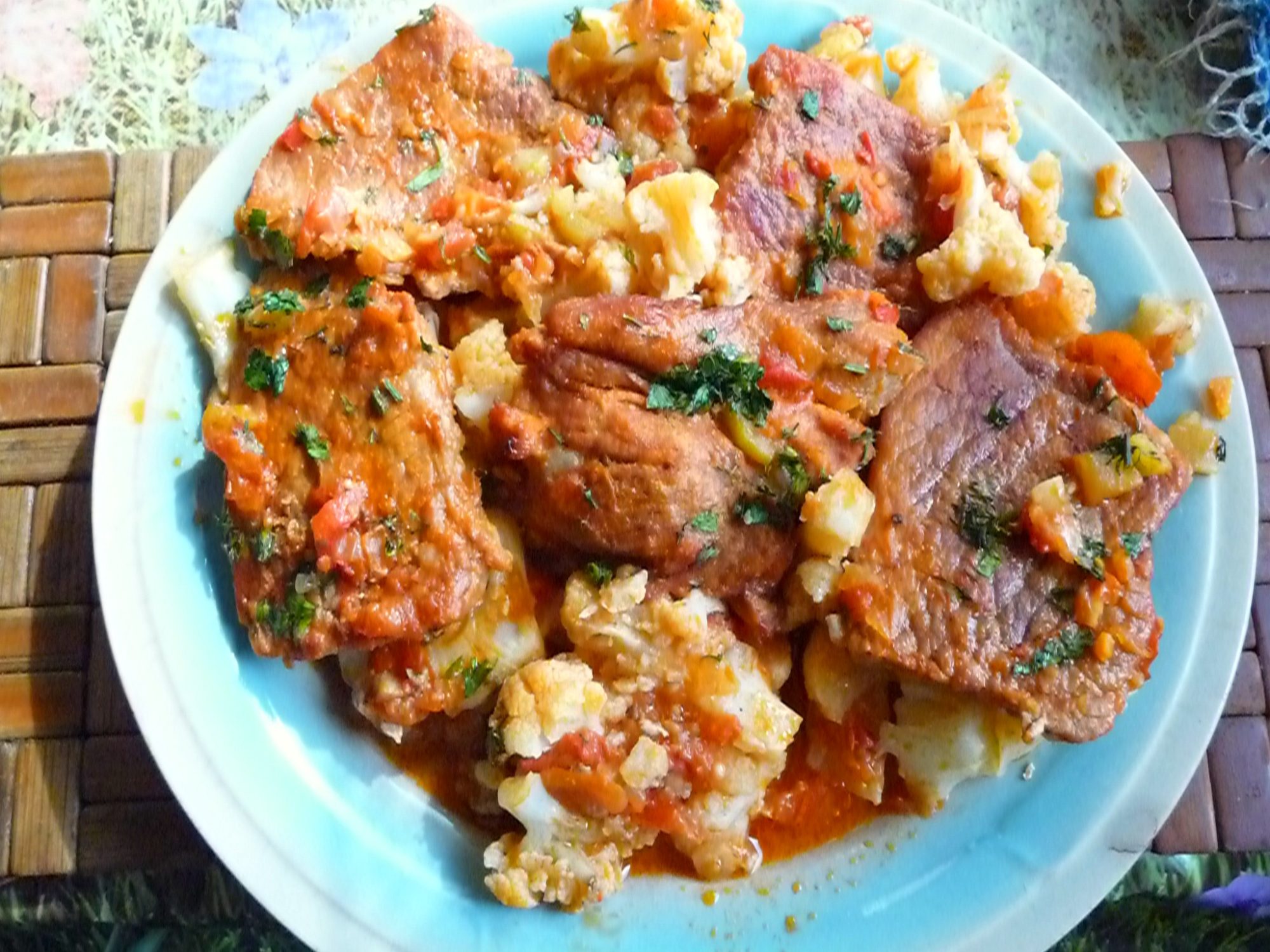 This pork and cauliflower recipe is not only one of the quickest recipes I've made but also very delicious. I'm amazed of how tasty a dish can get with just a couple of ingredients if they're mixed up properly. And garnished with lots of love.
More pork recipes you will love:
What are some sides that go well with this recipe?
We love serving this pork and cauliflower with any of this sides:
In summer we also like serving some sparkling pineapple lemonade or a non alcoholic sangria with this pork recipe.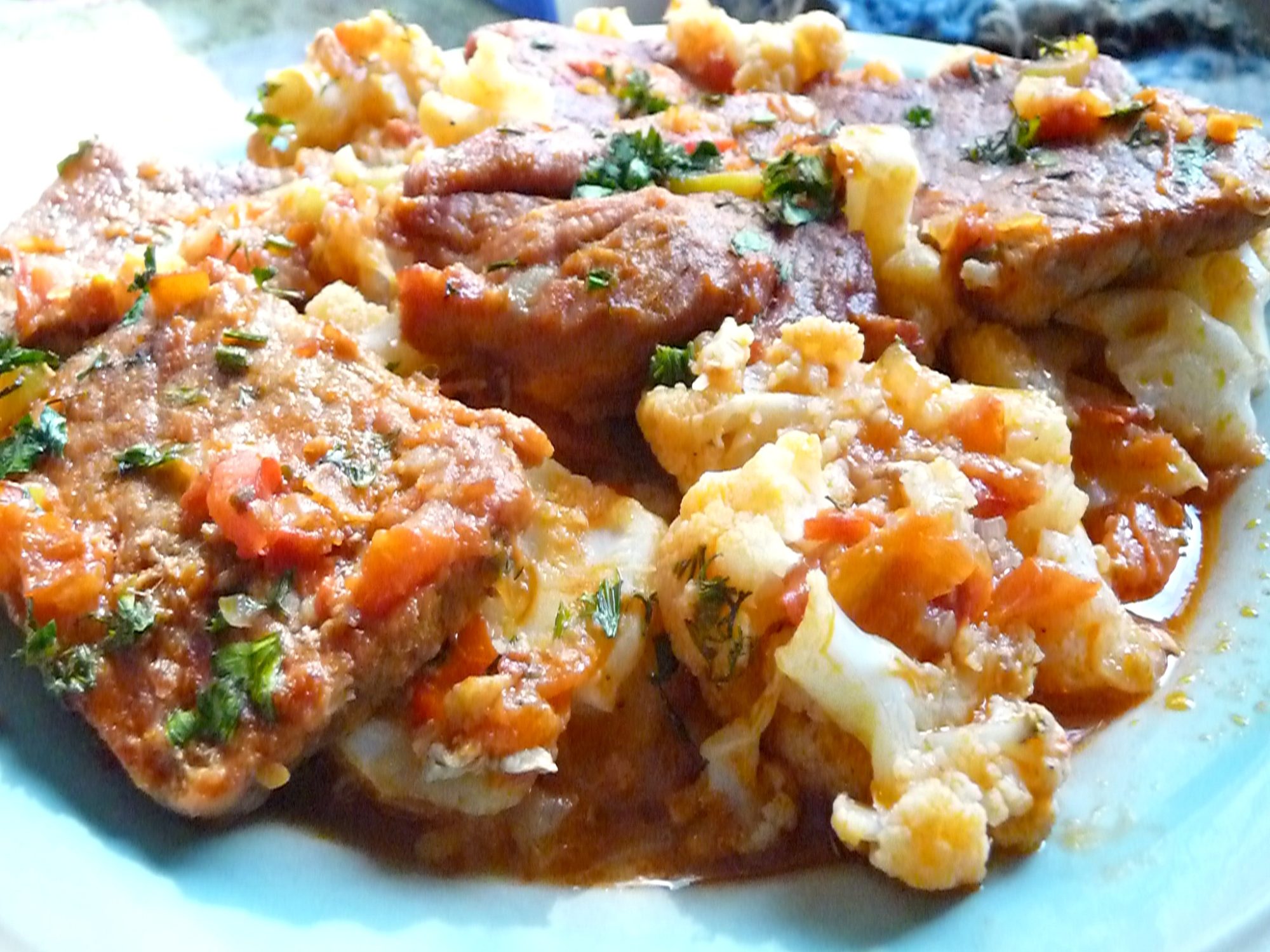 I like to use pork tenderloin as it's not so fat and it's very nourishing, a small slice can keep me full for a few good hours. It also gives the cauliflower more flavor as opposed to other type of meat such as chicken or veal. Of course you are free to try making the recipe using those too but in my opinion the results are not going to be as tasty as the cauliflower and pork tenderloin combination.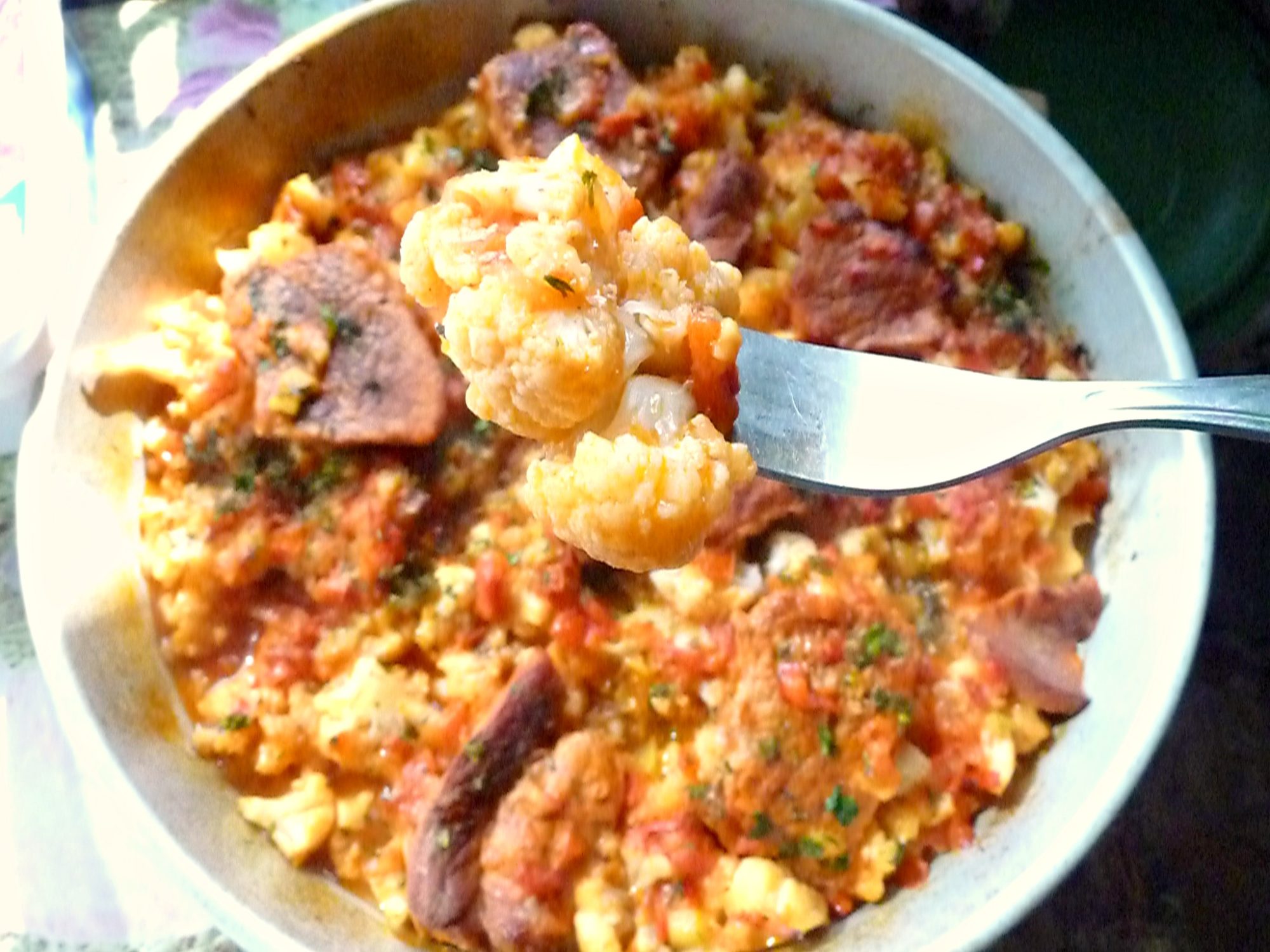 I must admit I was a bit reluctant to making this recipe, recommended by my mom who's the best cook I know, as I'm not the biggest cauliflower fan. But considering I follow my mom's advises quite religiously I thought why not doing it this time too. She never failed me before, chances are she won't this time either. And she hasn't! The cauliflower and pork tenderloin recipe was a big success!
Recipe for pork cauliflower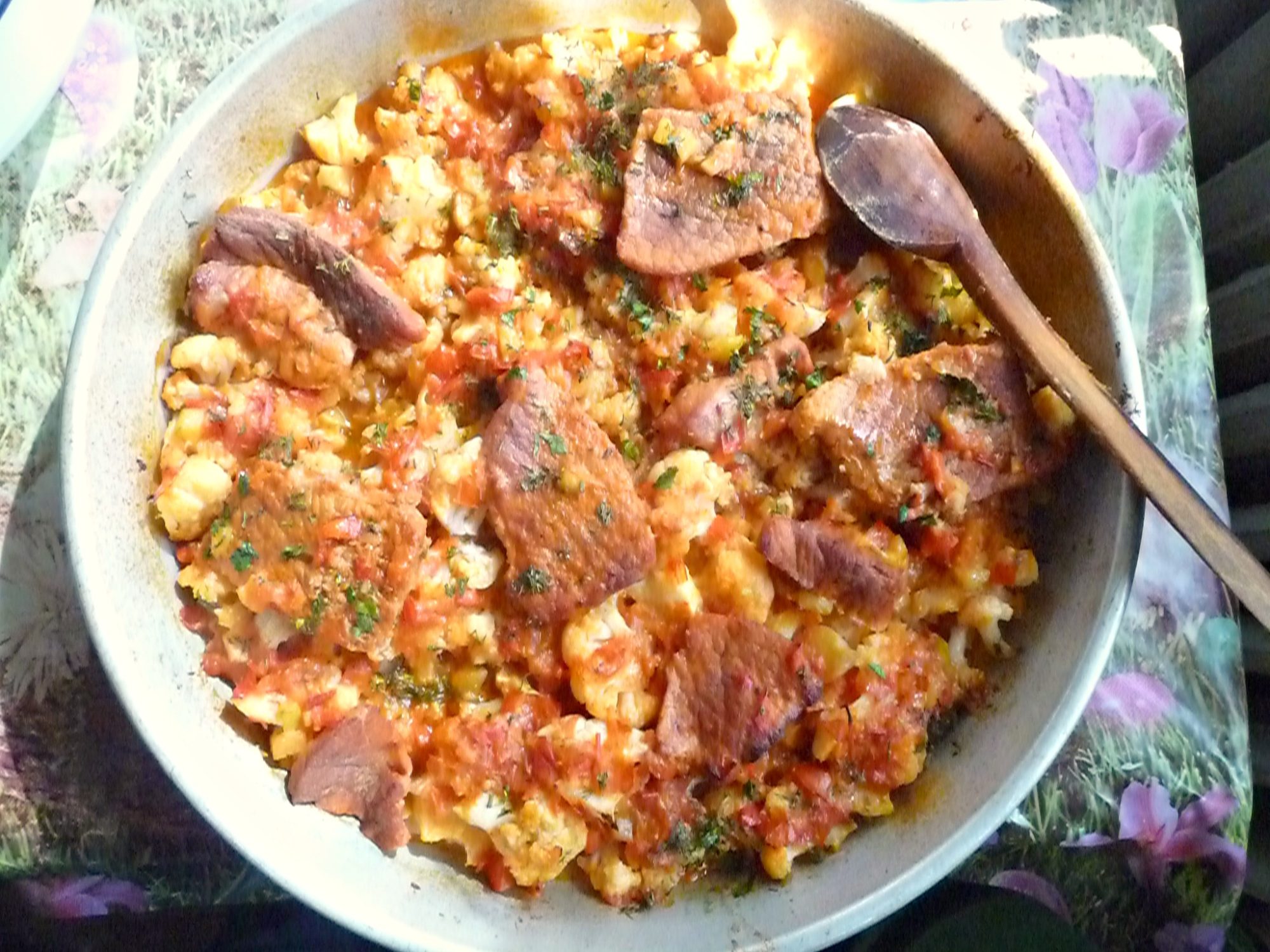 What ingredients do you need for pork and cauliflower?
Pork – this time I used tenderloin but pork loin and pork chops are just as good. If you decide to use pork chops, use those with bone in as they're tastier in this recipe.
Cauliflower – fresh and washed thoroughly before using in the recipe
Tomato sauce – I used our homemade tomato sauce for this recipe but any canned tomato sauce or tomato juice or even smashed canned tomato will do just fine. I do believe the homemade stuff always tastes better so if you have it, use it!
Carrots – cut into thick slices
Onions – chopped
Garlic – minced
Vegetable oil
Salt, pepper and fresh parsley (optional and can be replaced with your favorite fresh herb)
How to make pork and cauliflower?
Prepare your veggies: wash cauliflower and break out into bunches. Clean carrots and put everything to boil in salted water for about 10 minutes.
Remove the veggies and lightly smash the carrots using a fork.
Meanwhile clean the onions and garlic and finely chop onions and mince garlic. Fry the onion in 2-3 tbs oil until becomes translucent. Add garlic.
Meanwhile cut meat into slices about 1″ thin. Place over the onions and garlic and fry for a couple more minutes.
Preheat the oven to 390 F
In a baking dish place a layer of cauliflower and carrots and a layer of meat. Spread the onions and garlic sauce in the dish. Add the tomato sauce. Cover with aluminum foil.
Bake for 20 minutes. Remove aluminum foil 5 minutes ahead of total time.
Chop fresh parsley and sprinkle over the cooked cauliflower and pork tenderloin
Pin to save for later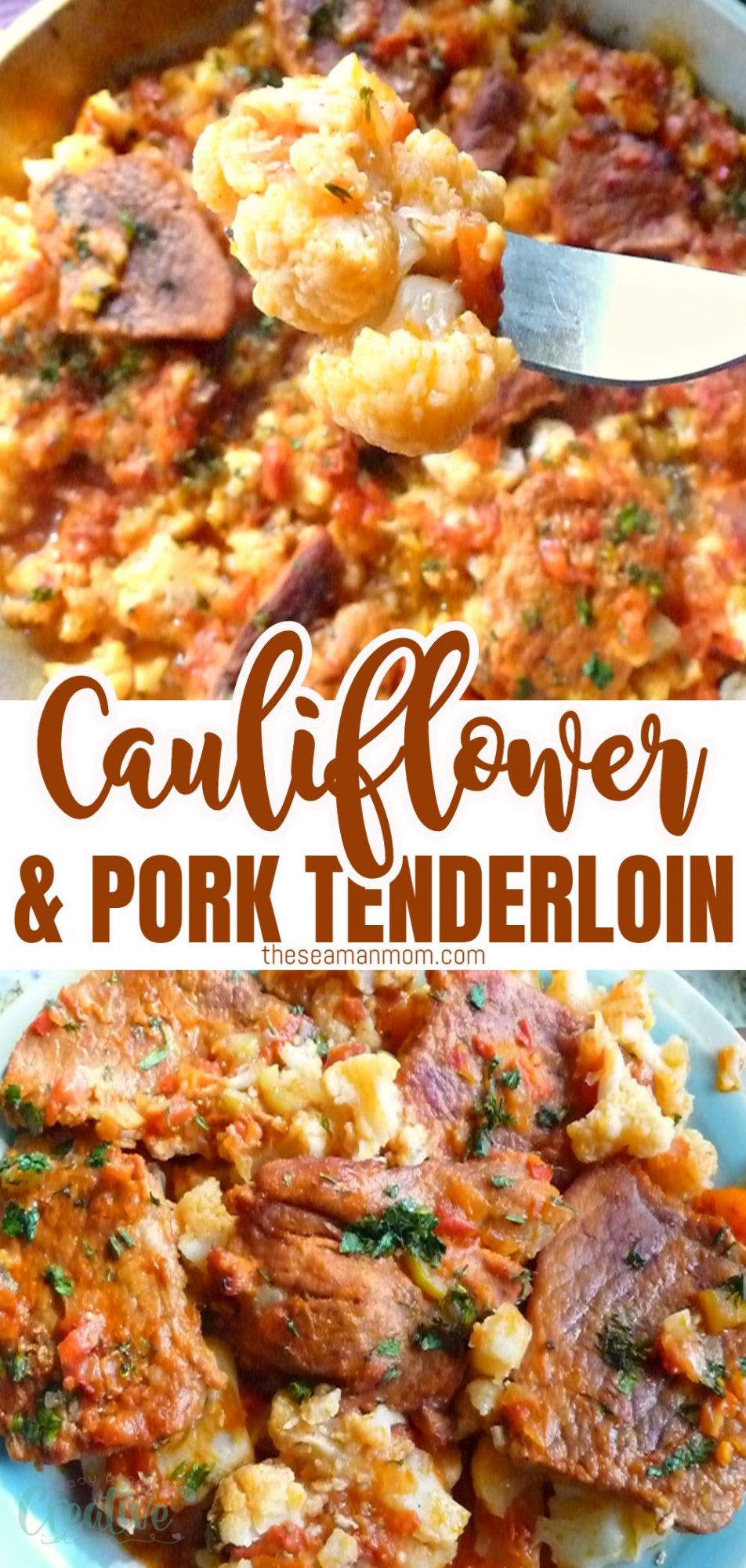 Print the recipe card
Cauliflower and pork tenderloin recipe
If you're looking for a quick, easy and simple dinner idea that tastes like a million bucks, you'll want to give this pork and cauliflower recipe a try today!
Ingredients
3 1/2

cups

cauliflower

fresh

1 1/2

lbs

pork tenderloin

1 2/3

cups

tomato sauce

2

carrots

large

2

onions

2

cloves

garlic

2-3

tbs

oil

salt

to taste

pepper

to taste

parsley

fresh
Equipment
aluminum foil

medium saucepan
Instructions
Wash cauliflower and break out into bunches.

Clean carrots and put cauliflower and carrots to boil in salted water for about 10 minutes.

Remove the veggies and lightly smash the carrots with a fork.

Clean the onions and garlic. Chop onions and mince garlic.

Fry onions in 2-3 tbs oil until becomes translucent. Add garlic.

Meanwhile cut meat into slices, about 1" thin. Place over the onions and garlic and fry for a couple more minutes.

Pre heat the oven to 390F

In a baking tray place a layer of cauliflower and carrots and a layer of meat.

Spread the onions and garlic sauce in the baking dish. Add the tomato sauce. Cover with aluminum foil

Bake for about 20 minutes. Remove aluminum foil 5 minutes ahead of total time

Chop fresh parsley and sprinkle over the cooked cauliflower and pork tenderloin
Notes
I used my homemade tomato sauce but any canned juice or even smashed canned tomatoes are good.
Add as much garlic as you like.
If you like to add more vegetables, feel free to, just make sure they won't overshadow the cauliflower (after all we call it cauliflower and pork tenderloin recipe)
Most popular recipes: