Easy Cheesy CHICKEN TATER TOT CASSEROLE Recipe
Article may contain Amazon & affiliate links. As an Amazon Associate I earn from qualifying purchases at no additional cost to you.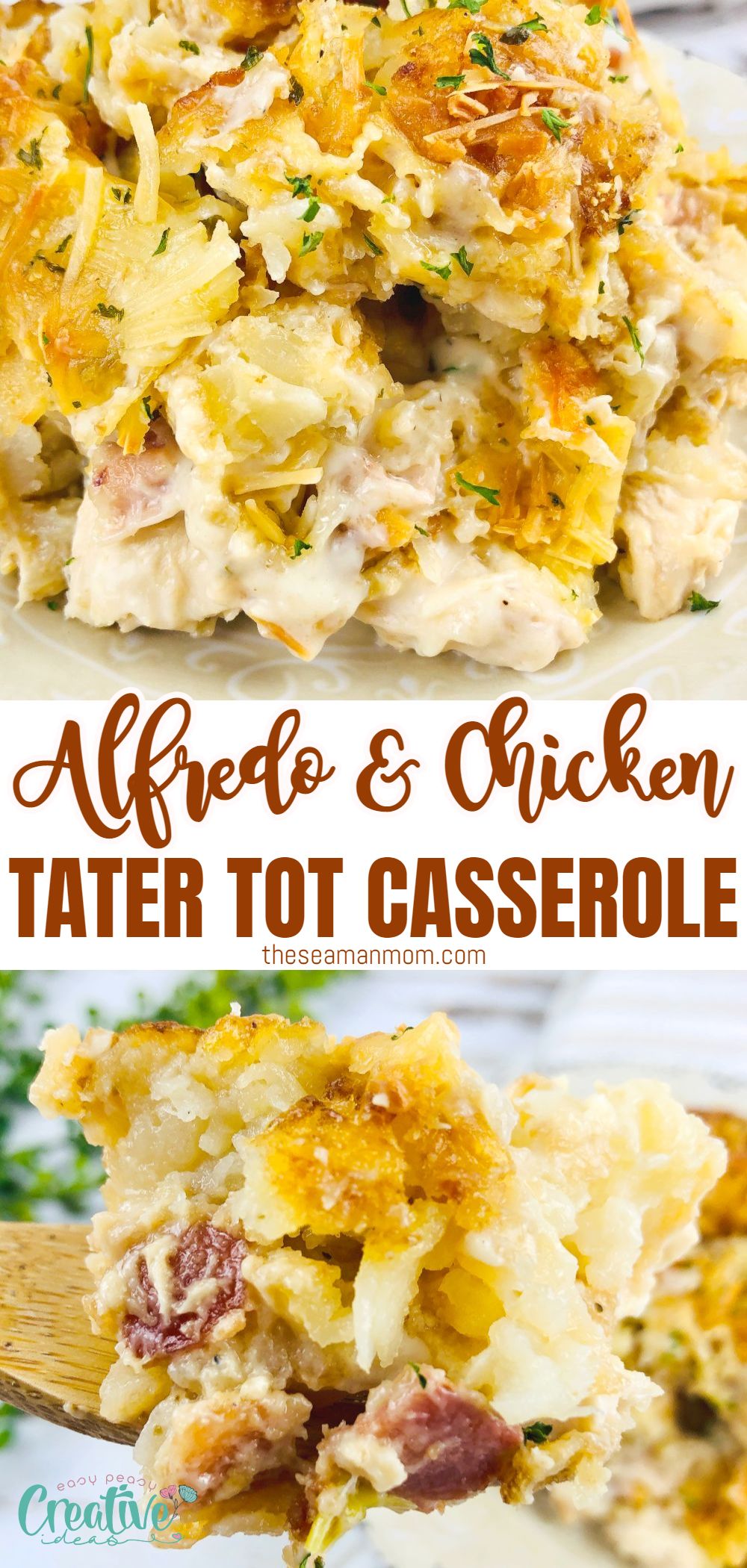 This easy cheesy CHICKEN TATER TOT CASSEROLE makes comfort food even more convenient! A delicious weeknight dinner that is loved by children and adults alike.
Chicken tater tot casserole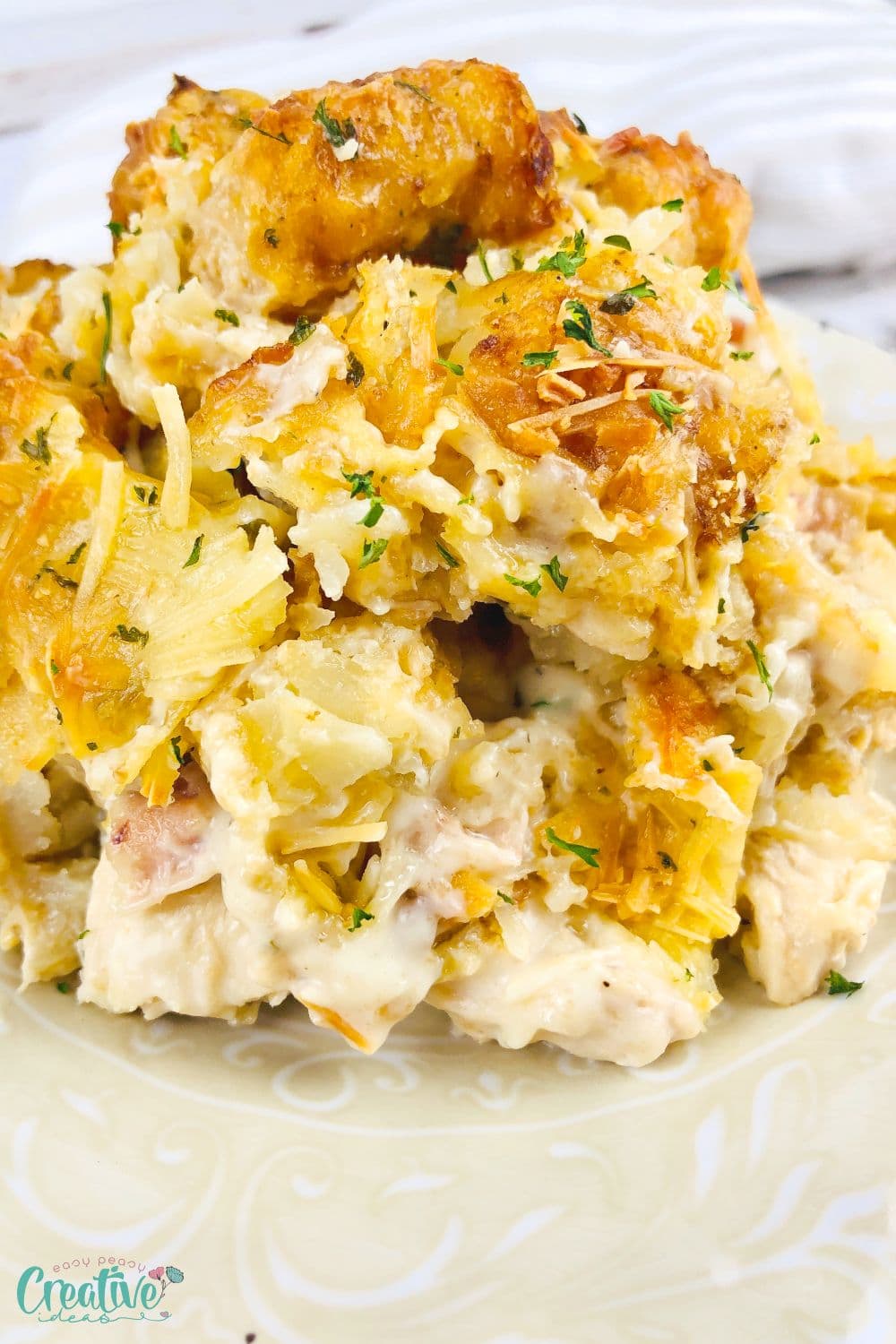 When it comes to finding quick and easy dinner ideas, casseroles are a great option. That's because you only need to put in a few minutes of prep work to create a delicious and hearty meal for your family. This simple chicken tater tot casserole is the perfect combination of flavors. From the salty bacon to the creamy parmesan cheese, there's something for everyone in this quick weeknight dinner.
This chicken tater tot casserole is the perfect easy weeknight meal. With precooked ingredients and a simple three-step recipe, it's easy to whip up this tater tot casserole in just a few minutes. Plus, it's a great way to use up any leftover chicken you might have. So if you're looking for a tasty and easy dinner option, this casserole is the perfect choice.
More chicken recipes you will love: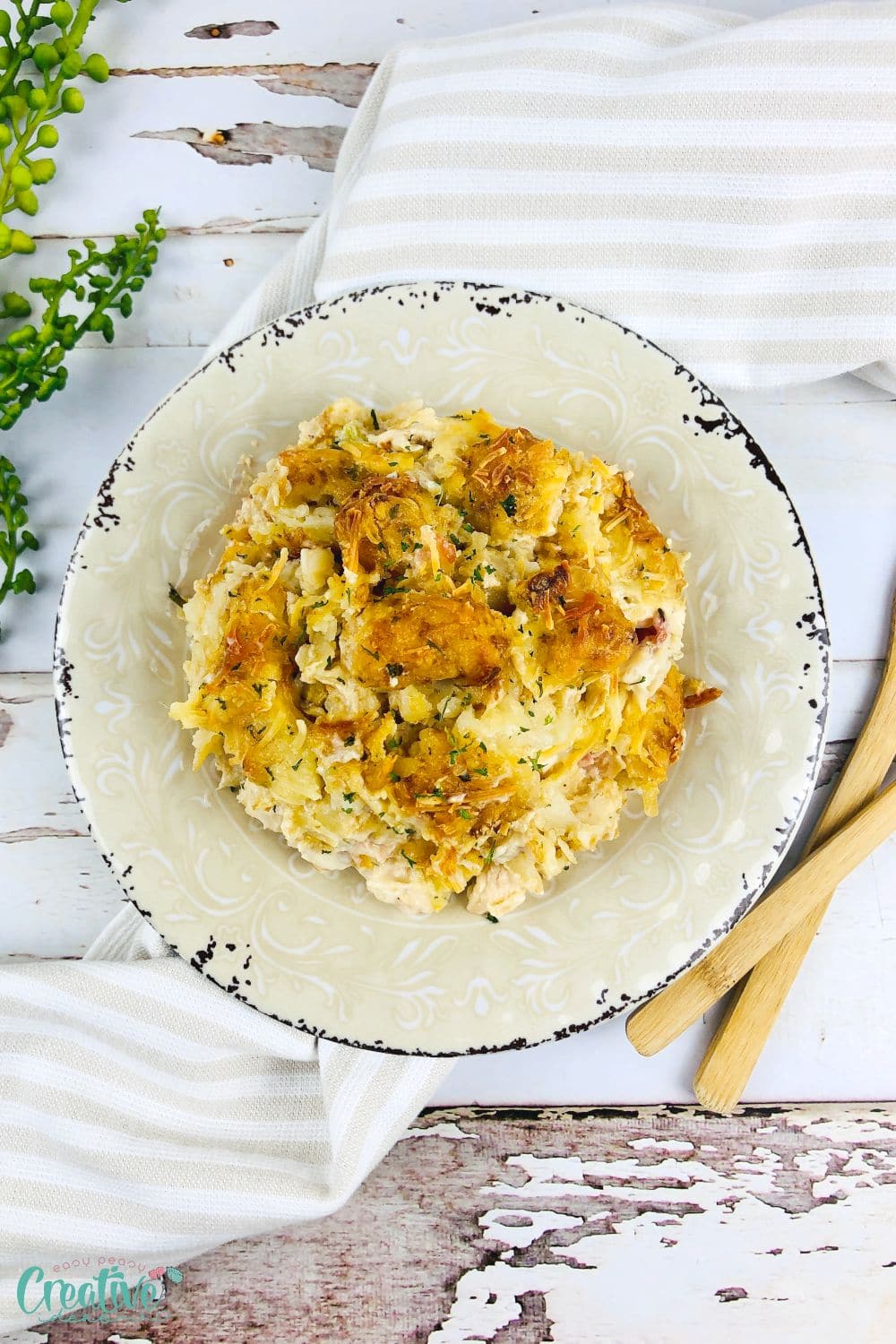 What is in this Tater Tot hotdish?
This delicious dinner is packed with flavor thanks to the combination of chicken, bacon, and alfredo sauce. To make this simple casserole, you'll need:
Chopped bacon
Premade alfredo sauce
Green onion
Fresh parsley
Minced garlic
Dry mustard
Frozen tater tots
Cooked chicken breast (cooked ground chicken or ground turkey work just as great; some people like ground beef instead of chicken)
Shredded parmesan cheese or cheddar cheese
How to Make this chicken Tater Tot Casserole recipe?
This dinner couldn't be easier to prepare. Since this simple dish uses precooked ingredients like chicken and bacon, along with jarred alfredo sauce, there are really just three steps you need to follow to whip up this quick casserole:
Prepare the ingredients. Before you start mixing together the ingredients for your chicken casserole, you'll need to do a few minutes of prep work. Start by chopping the bacon. Then shred or chop the cooked chicken. After that, chop up the green onion and mince the garlic.
Combine the casserole ingredients. Once everything is prepped, all you have to do is stir. Combine the sauce ingredients, then mix in the bacon, chicken, and tater tots.
Bake the casserole. When all the ingredients are well combined, transfer everything to a baking dish. Top the chicken mixture with cheese. Then just pop it in the oven and wait for the casserole to bake.
Do You Cook Chicken Before Putting it in a Casserole?
Since raw chicken often contains harmful bacteria, it's important to cook the chicken before mixing it with other ingredients. Taking the time to precook your chicken is the best way to ensure you don't transfer that bacteria to the rest of the ingredients in your casserole. Luckily, it's easy to prepare your chicken for mixing into your casserole with just a few extra minutes of prep work.
When making these chicken tots, you'll need three cups of cooked chicken breast. There are a few different options you can choose from when deciding how you'll prepare your chicken, including:
Rotisserie chicken. The easiest option for getting precooked chicken for a casserole is using a rotisserie chicken. Simply grab a cooked chicken from the grocery store and remove the meat from the breast. After that, all you have to do is chop the chicken and mix it with the rest of your casserole ingredients.
Boiled chicken. Another simple way to cook your chicken for your casserole is to boil it. Place the chicken in a large stock pot and add one cup of chicken broth or stock. Then, fill the pan with enough water to completely cover the chicken breasts. Season the water with a small amount of salt and pepper, then cook the chicken over high until the water begins to boil. After that, reduce the heat and simmer the chicken for 12 to 15 minutes, until it's cooked through.
Slow cooker chicken. If you have some extra time, making chicken in your slow cooker is an easy preparation method. Place the chicken breasts in the slow cooker with around 2 cups chicken broth. Season with salt and pepper and cook on high for three hours or low for six hours.
Baked chicken. Using your oven to prepare your chicken is another popular cooking method. To keep your chicken from getting dry as it bakes, start by brushing it with a little bit of olive oil. Then, season the chicken with salt and pepper and bake at 350 degrees for 30 minutes, until the chicken is cooked through.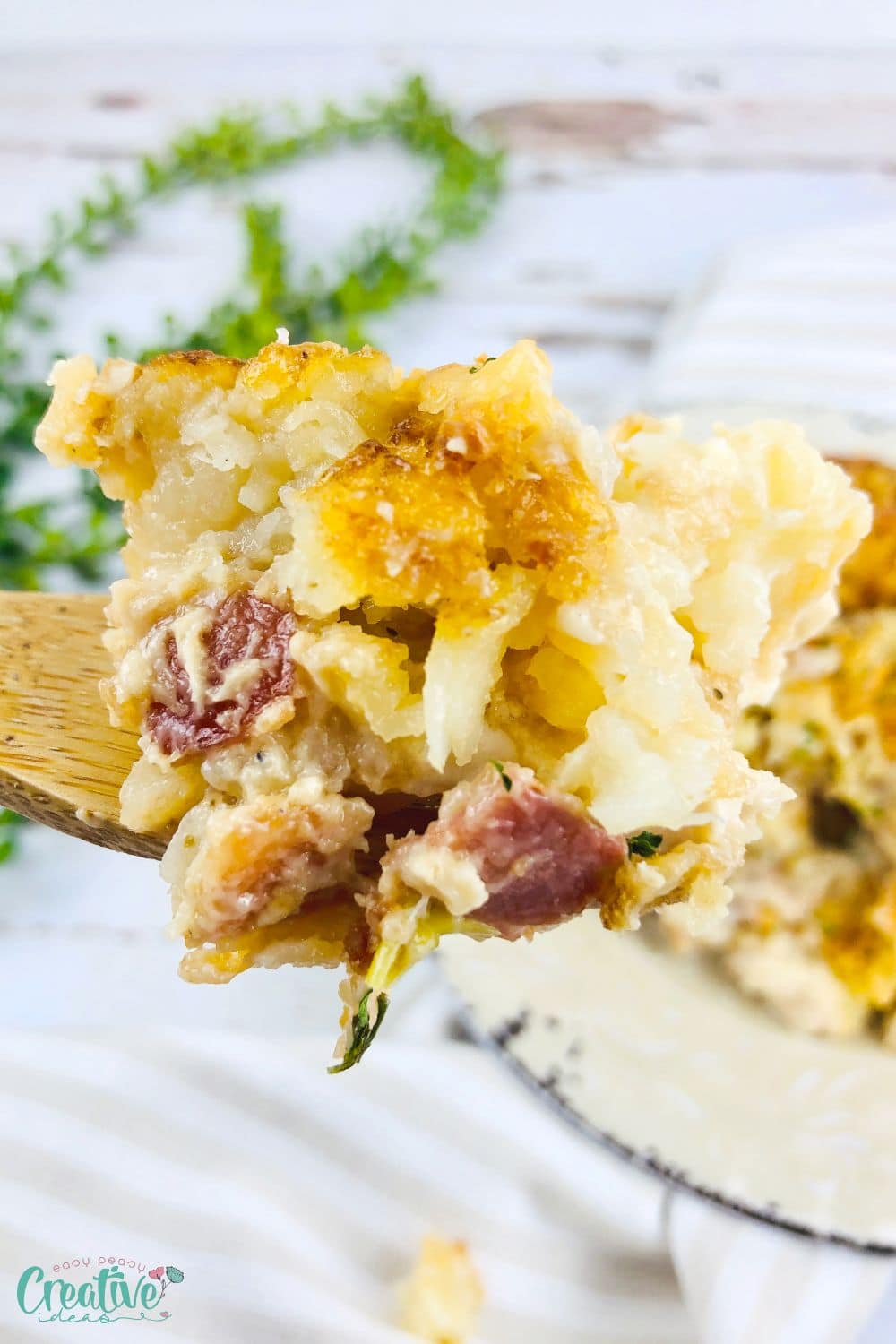 How Do You Store Alfredo Tater Tot Casserole?
If you have leftovers when dinner is over, it's easy to store the rest of your casserole in the fridge. You can cover the casserole dish tightly with plastic wrap or aluminum foil and place it directly in the refrigerator. Or transfer the leftovers to an airtight container. Any leftovers will stay good for up to two days when stored properly.
Can You Freeze Chicken Tater Tot Casserole?
This simple dinner is perfect for freezer cooking. That's because you can easily prepare the casserole, then freezer it for later. To freeze your casserole, prepare the dish as written in the recipe, leaving off the parmesan cheese. Instead of placing the casserole in the oven, cover it with foil and place it in the freezer. The casserole can be frozen up for up to three months.
When you're ready to prepare your casserole, remove the dish from the freezer 30 minutes before you're ready to start baking. Place the dish on the counter and allow it to sit out at room temperature, then top the dish with the parmesan cheese. Bake at 350 degrees for 1 hour 30 minutes to 1 hour 45 minutes, until the center of the dish is heated through.
What Goes Good with Tater Tot Casserole?
This casserole is packed with flavor and makes a great dinner option. But since the dish doesn't contain any vegetables, it's a good idea to pair your chicken casserole with a veggie when you're serving it for dinner. Luckily, there are a variety of great side dishes that are easy to prepare while your chicken casserole is cooking, like:
Cream of chicken soup as a starter
A freshly chopped side salad
Steamed veggies like broccoli, cauliflower or peas sprinkled with ranch seasoning
Roasted green beans with butter and a dollop of sour cream
Dinner rolls spread with cream cheese
Garlic bread
Pin to save for later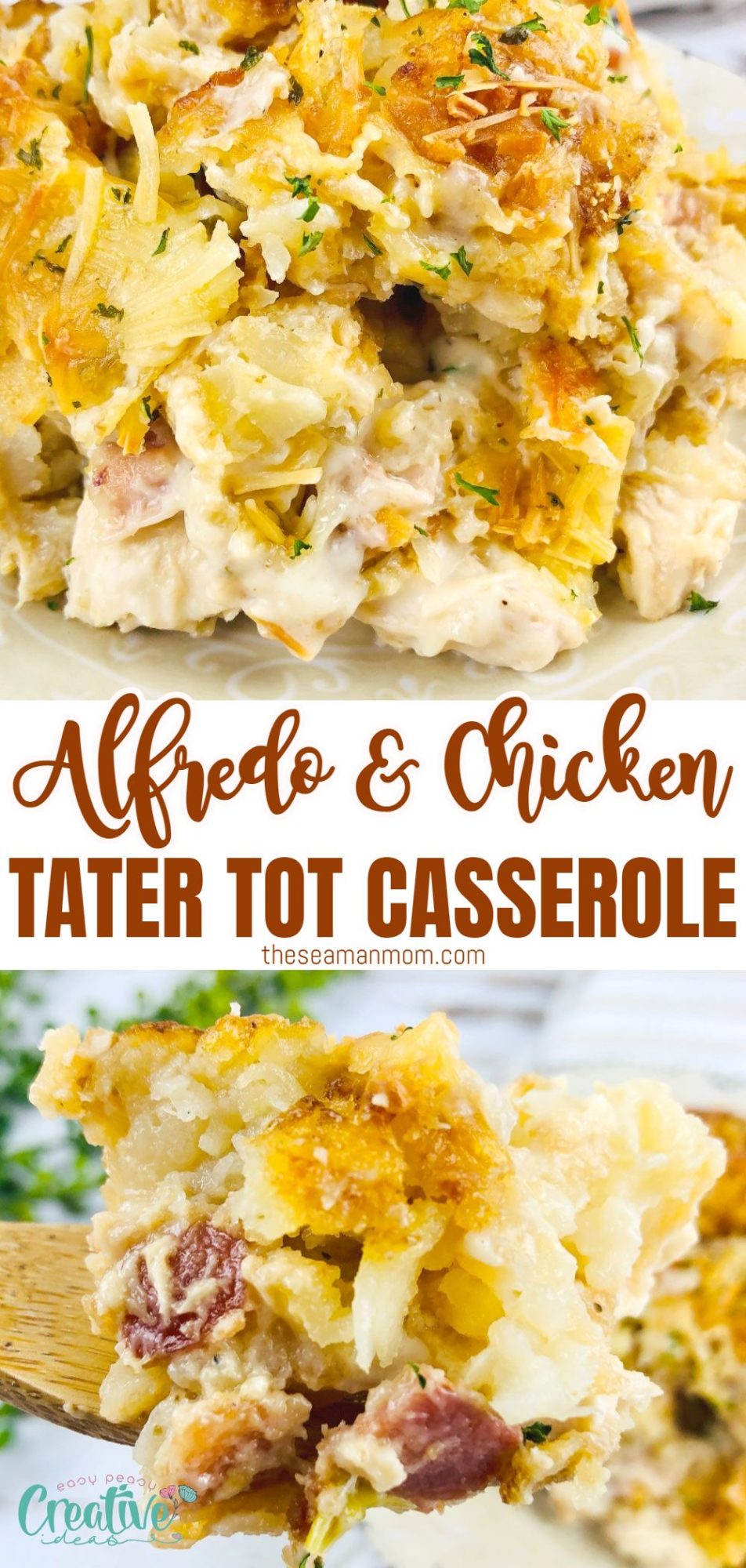 Print the recipe card
Chicken tater tot casserole
This easy cheesy CHICKEN TATER TOT CASSEROLE makes comfort food even more convenient! A delicious weeknight dinner that is loved by children and adults alike. 
Ingredients
6

slices

bacon

chopped

2

jars

alfredo sauce

½

cup

green onion

chopped

¼

cup

parsley

2

cloves

garlic

minced

1

teaspoon

dry mustard

32

oz

frozen tater tots

3

cups

chicken breast

cooked and chopped

½

cup

parmesan cheese

shredded
Instructions
Preheat oven to 350 and prepare a 13x9 baking dish with nonstick spray. Cook bacon, chop, and set aside. In a large bowl mix alfredo sauce, green onion, parsley, garlic, and dry mustard until well combined

Stir in bacon, chicken, and tater tots

Spoon into baking dish and top with cheese

Bake 50 minutes to 1 hour. Garnish with parsley, serve, and enjoy
Most Popular recipes: