Christmas wine bottle decor idea
Article may contain Amazon & affiliate links. As an Amazon Associate I earn from qualifying purchases at no additional cost to you.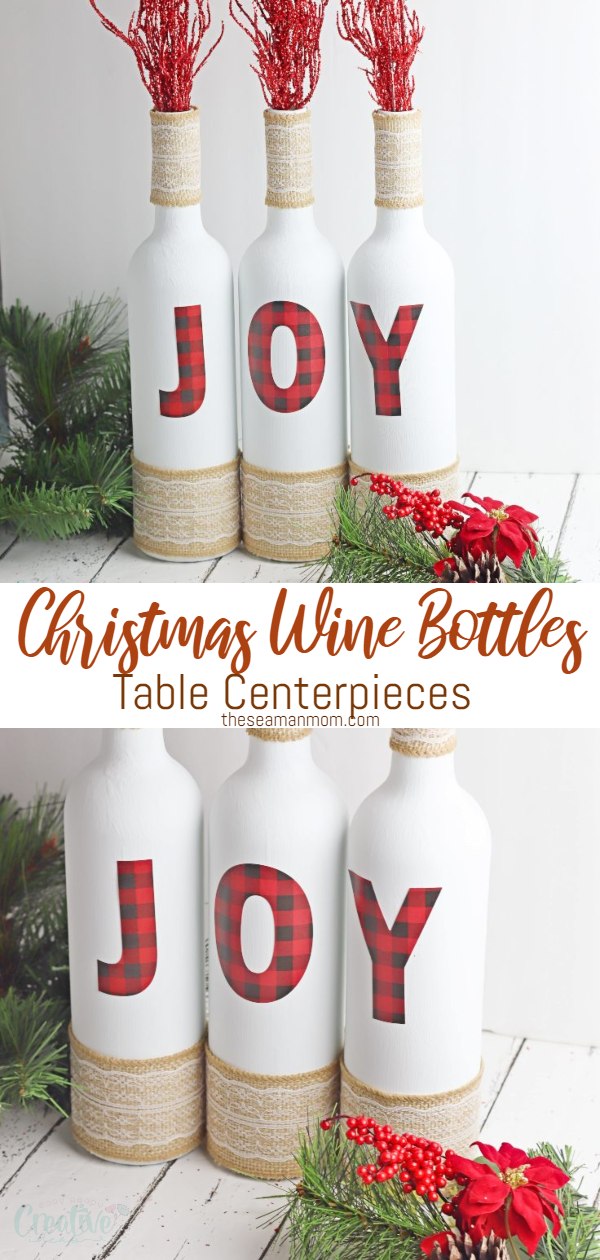 Are you a vino lover? Put those old wine bottles to good use with these Christmas wine bottles! Decorated with adorable plaid JOY stickers & lace burlap ribbon, these lovely Christmas wine bottle decor ideas are a great way to recycle while spending the holidays in style!
Wine bottle centerpieces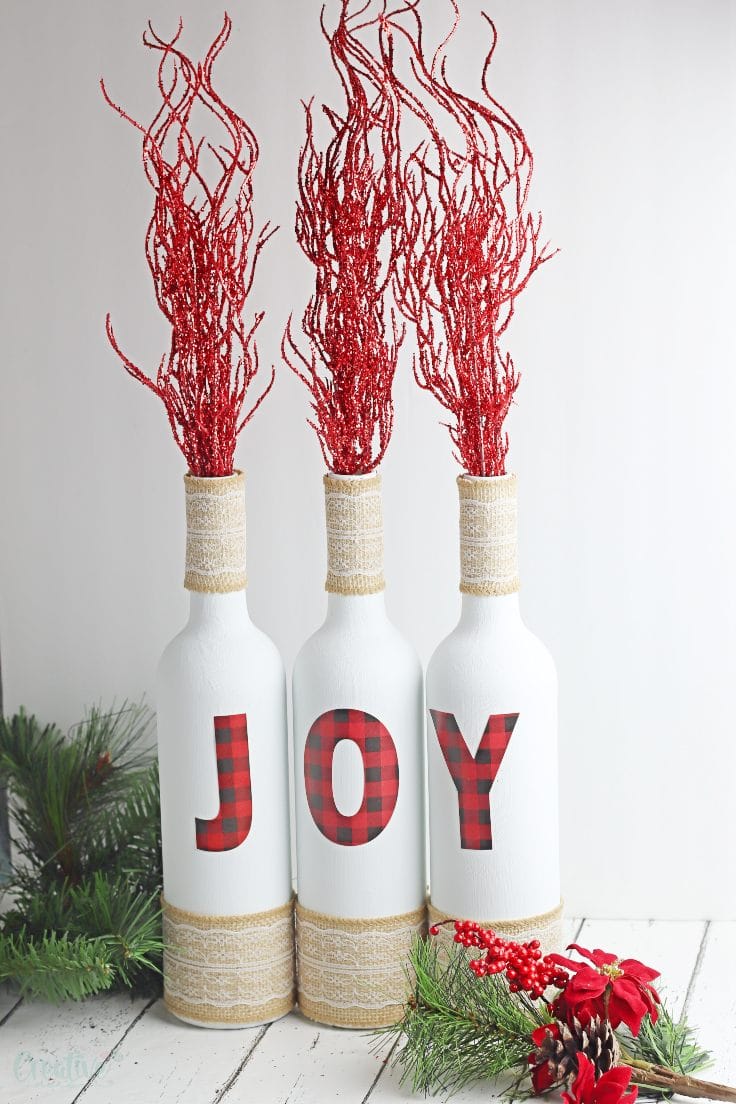 I love reusing items from around the house in my craft projects and if you've been following me for a while, you're probably very familiar with that! And wine bottles are a great option when making a new craft, especially if you're planning on using the craft as a floral display. The height and size of wine bottles is perfect for creating an eye-catching holiday decoration, making them great for this rustic "Joy" Christmas wine bottle decor!
More Christmas decor you will love:
These adorable Christmas wine bottles make a great table centerpiece or you ca use them as budget friendly items to decorate the house for the holidays! They'd look great as vases too! But before starting to work on your wine bottle Christmas crafts, here are a few tips on handling those old bottles and prepping them for your craft.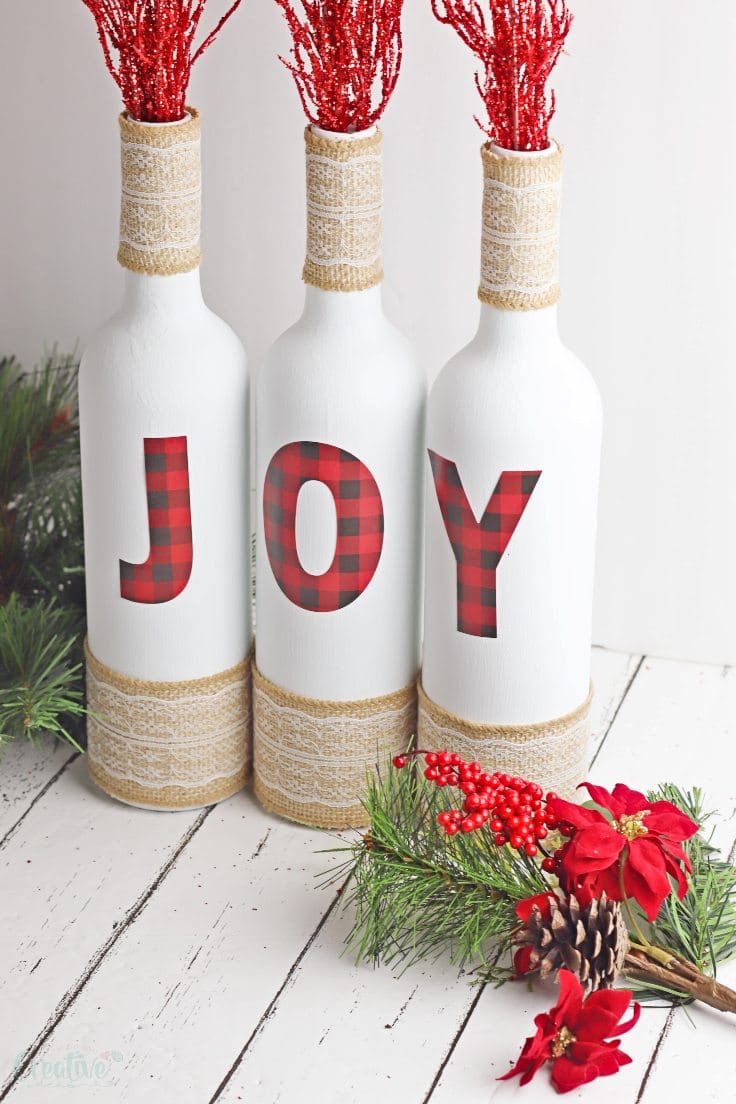 How to Prepare Your Wine Bottles
When reusing household items for your crafts, it's important to take the time to prep them before you start crafting. And with these joy wine bottles, it's especially important to clean the bottles inside and out before you put together your Christmas display.
To clean the inside of your wine bottles, make sure all the wine has been poured out of the bottle. Then, use a bottle brush and hot, soapy water to clean the remaining wine from the bottle. Allow the bottle to air dry completely before continuing with the craft.
While cleaning the inside of the bottle is simple, cleaning the outside is a little more difficult. Start by soaking your wine bottles in warm water to loosen the labels from the outside of the bottle. Use a knife or your fingernail to pull the label back from the bottle. Then, scrape away the remaining stuck-on pieces using a knife or chisel.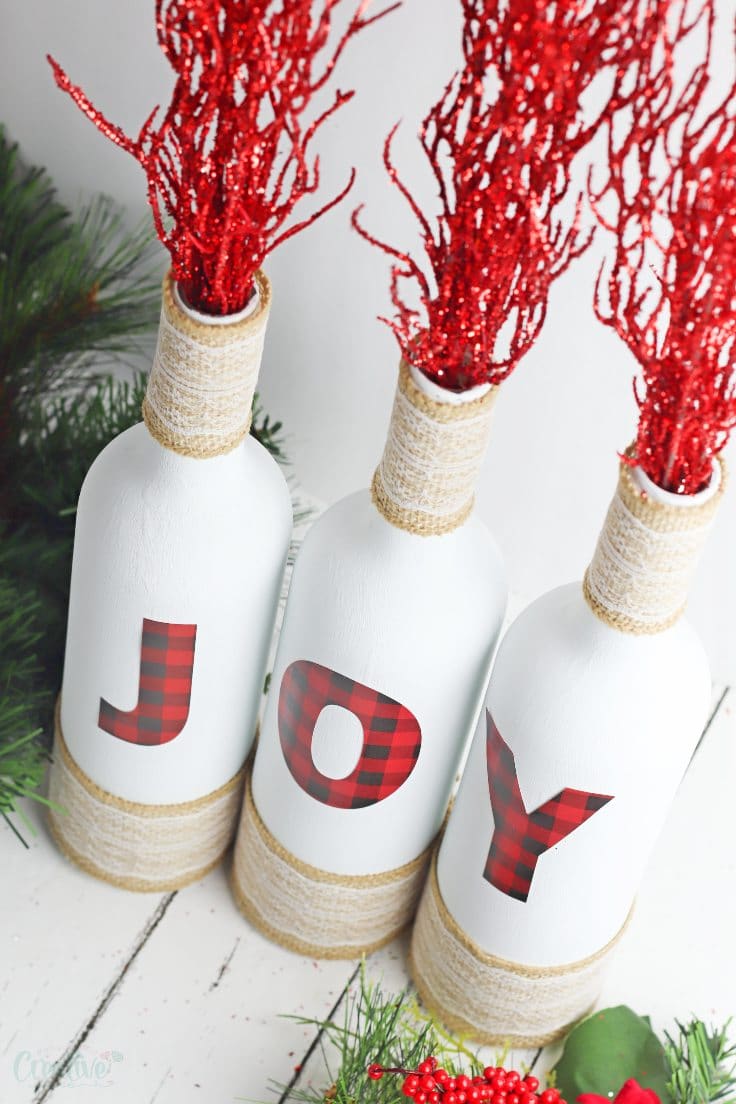 After the sticker has been removed, you'll probably be left with sticky residue on the outside of the bottle. Since you'll be painting the bottles, you'll want to have a clean surface for a smooth finish. To remove the residue, start by spraying it with equal parts warm vinegar and warm water. Then, scrub the residue with fine steel wool.
Continue spraying and scrubbing until all the residue has been removed. After that, spray the entire bottle with vinegar and wipe clean with a lint-free towel to make sure all the dust and debris has been removed from the bottle.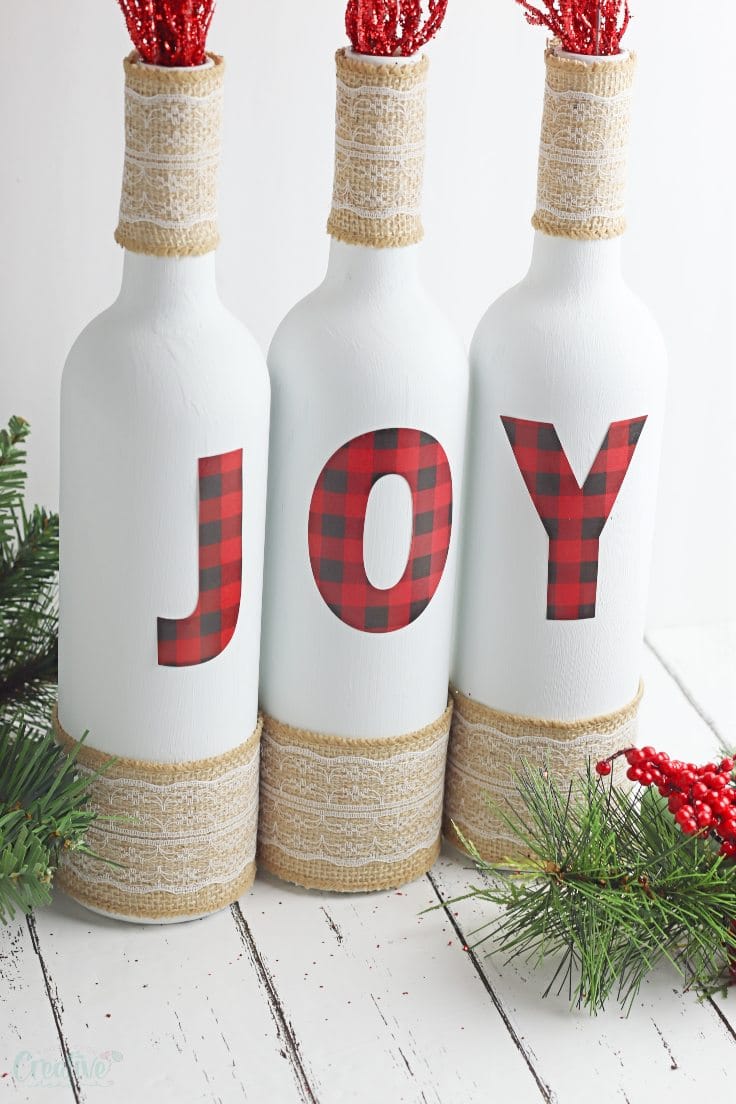 Tips for Painting Wine Bottles
Painting glass can be a little tricky. Before you get started on this craft, consider these simple tips:
Start with a clean and dry bottle. Don't skip the cleaning! The easiest way to get a smooth finish is to start with a smooth surface, so be sure to completely remove the label and adhesive before starting to paint.
Use the Right Paint. Not all paint will adhere to glass, so be sure to pick the right type of paint before you start your project. For a matte, rustic look like my wine bottles, use chalk paint. If you'd rather have a glossy look, choose acrylic or spray paint to paint your bottles.
Christmas wine bottle decor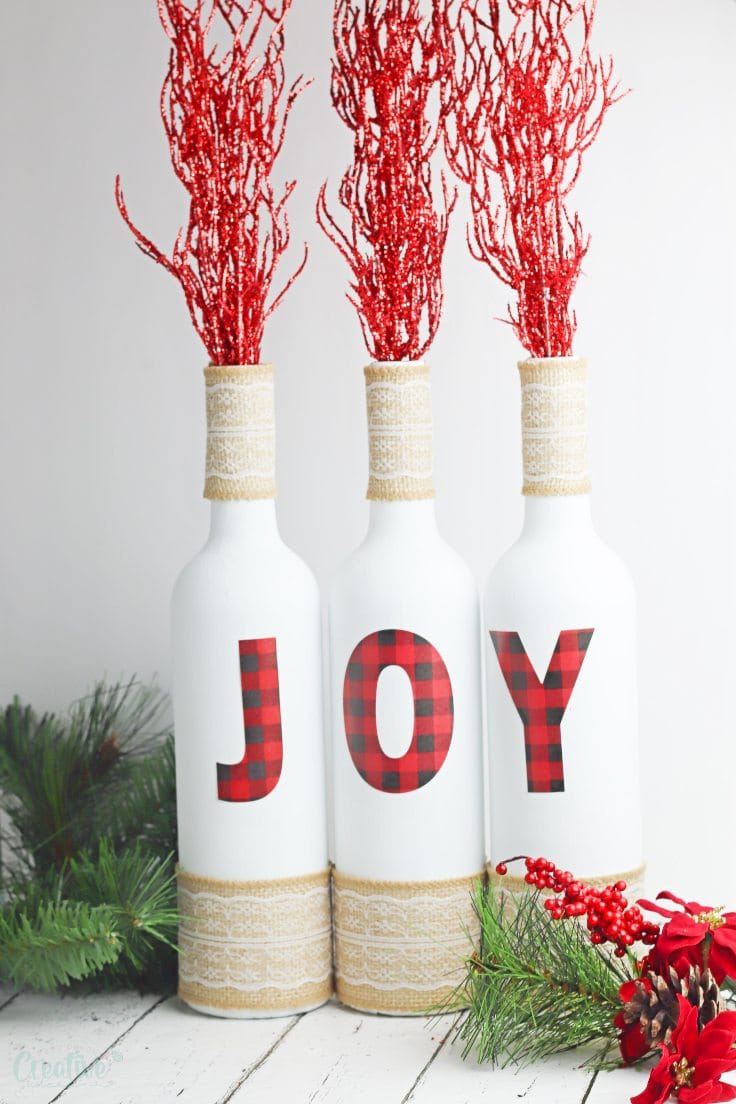 Materials:
3 clean wine bottles
Hot glue gun
Instructions:
Paint the wine bottles with chalk paint and allow to dry completely.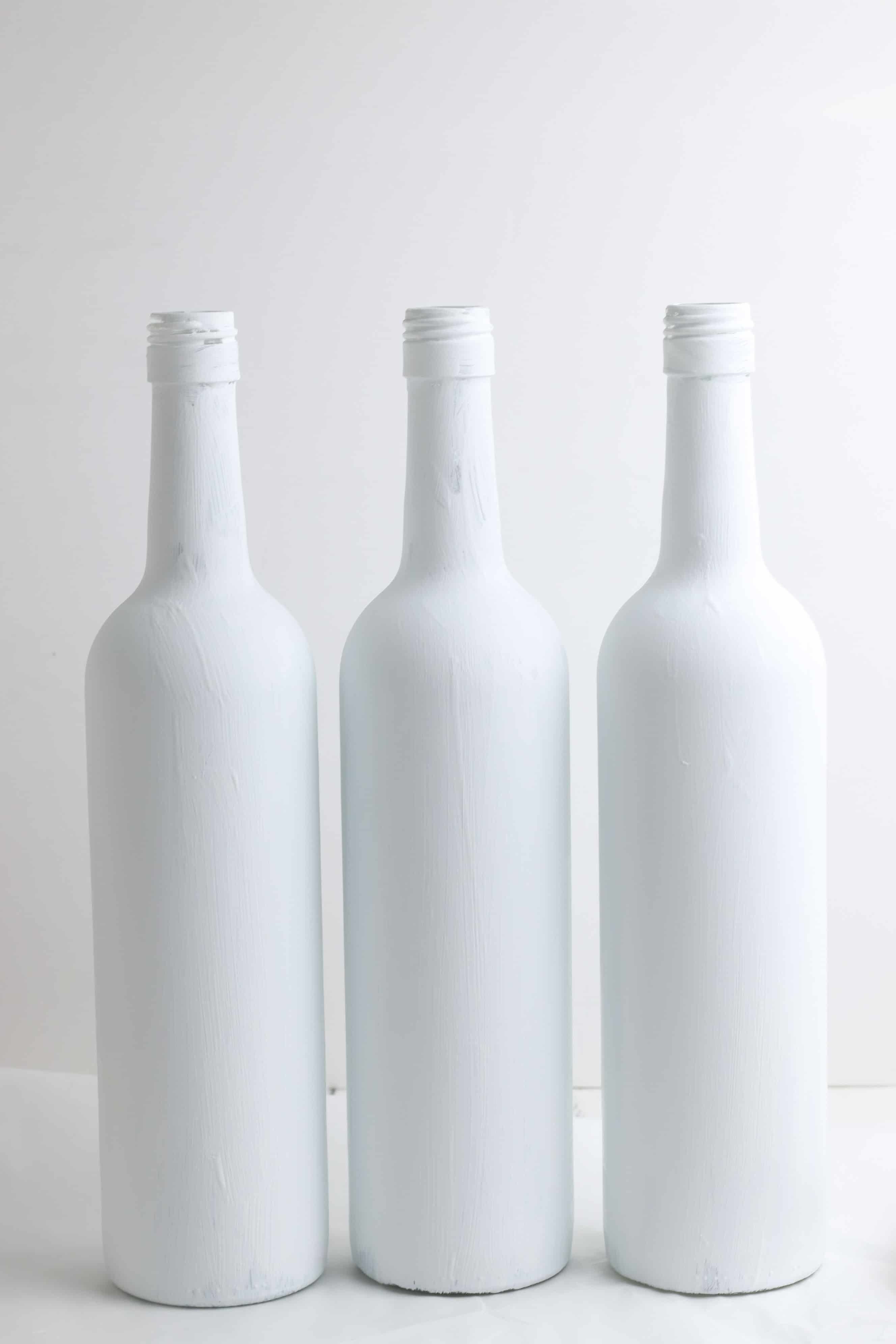 Place the letter stickers on the front of each bottle to spell out the word Joy.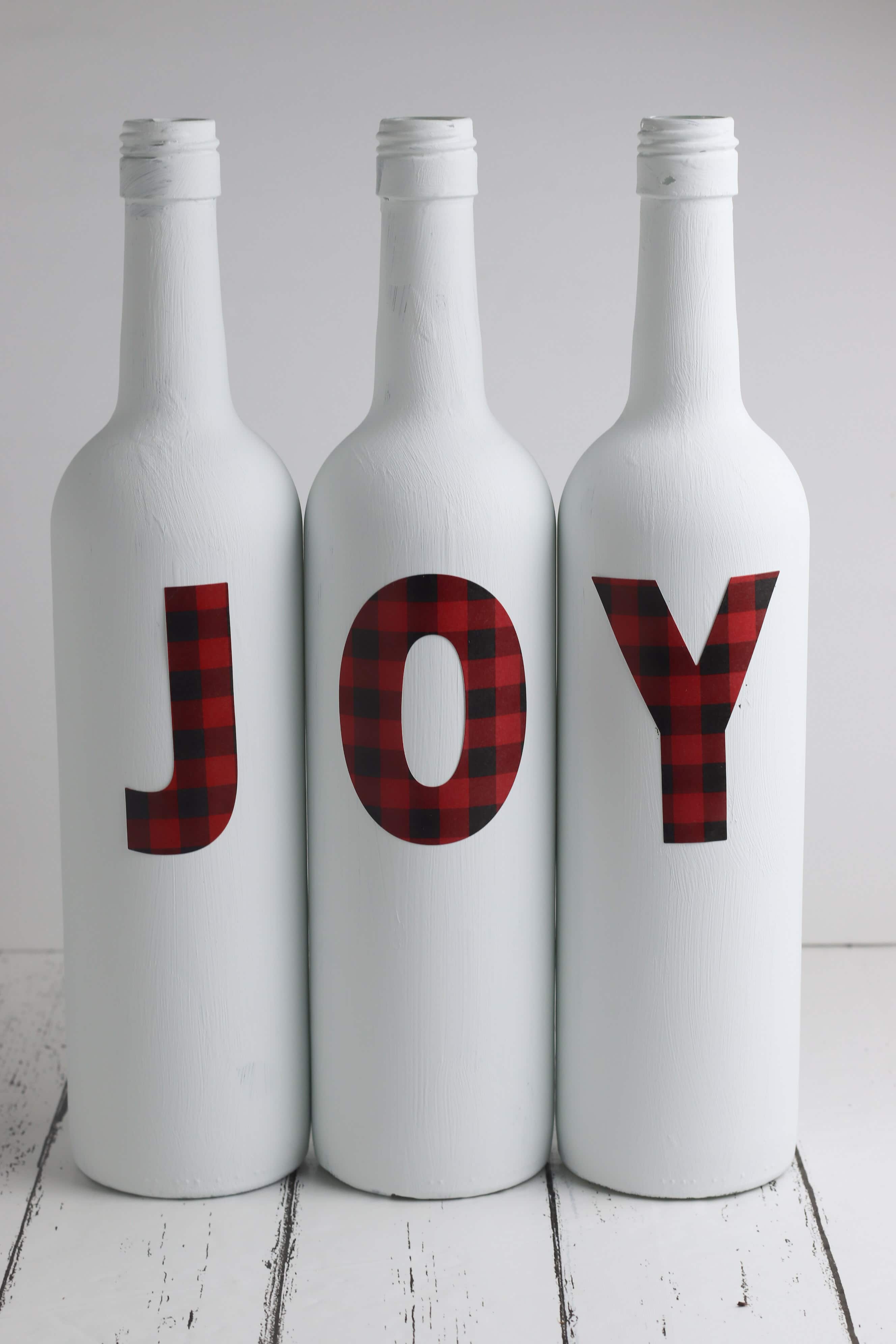 Glue lace burlap ribbon to the neck and bottom of each bottle.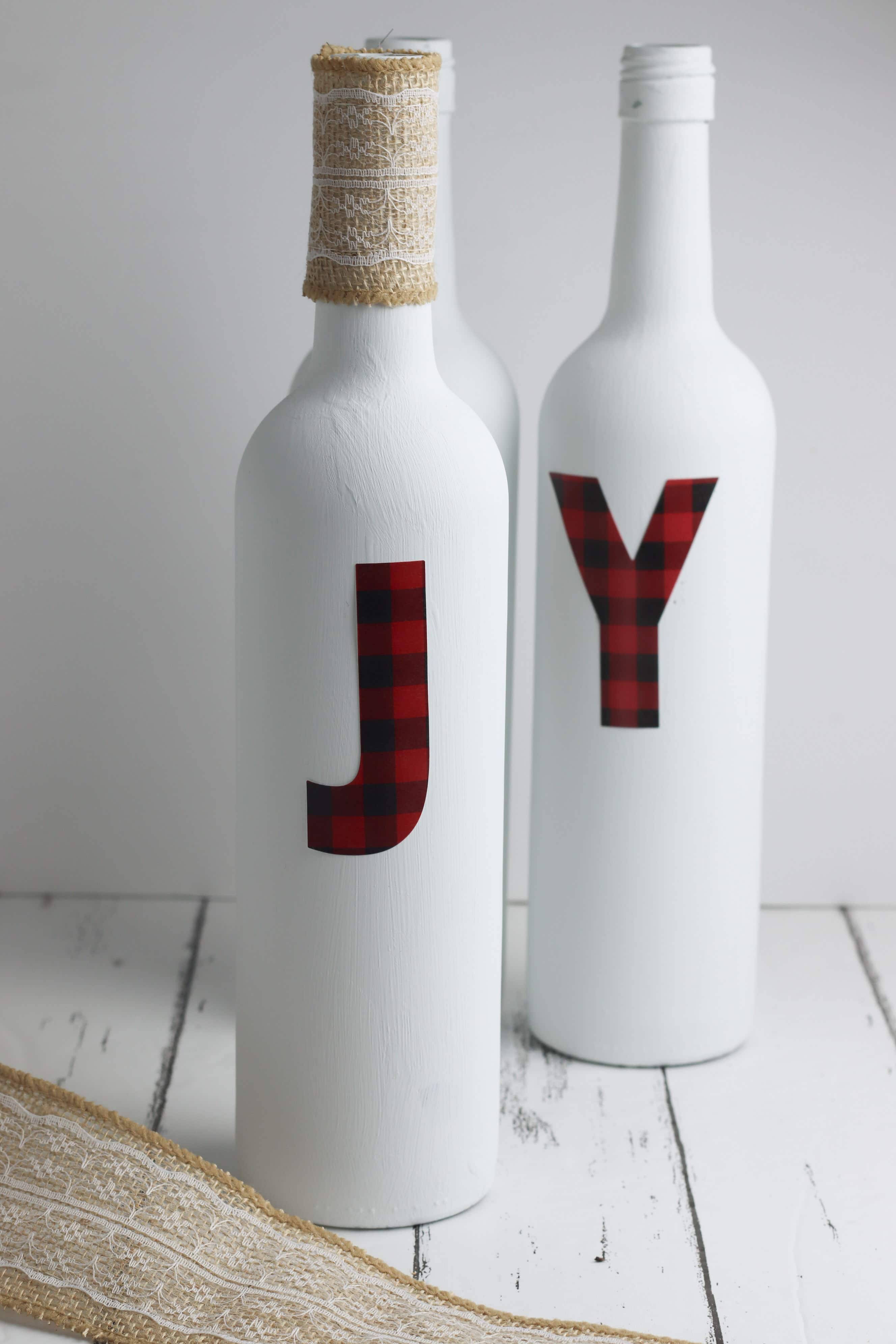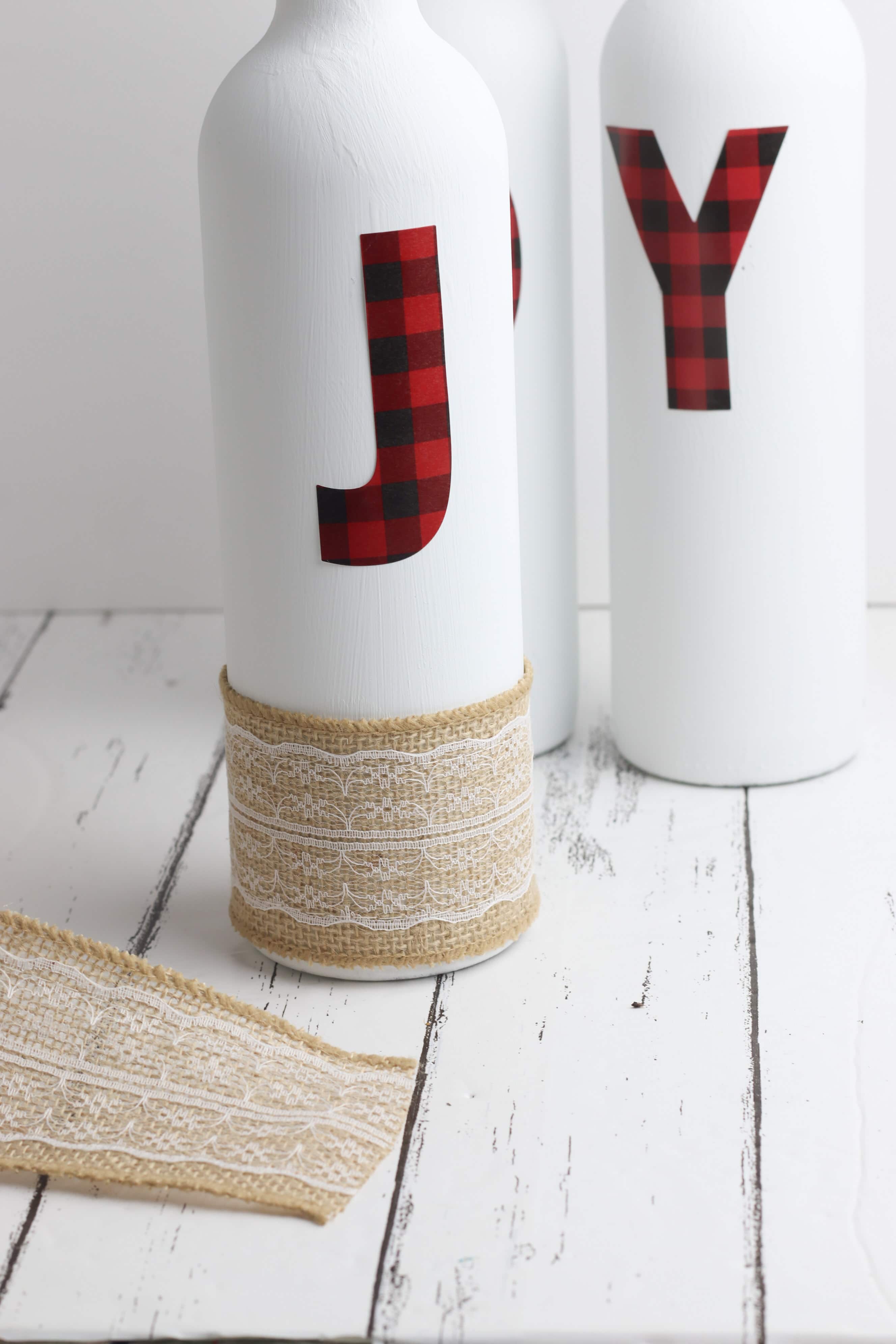 Place glitter branches inside each bottle.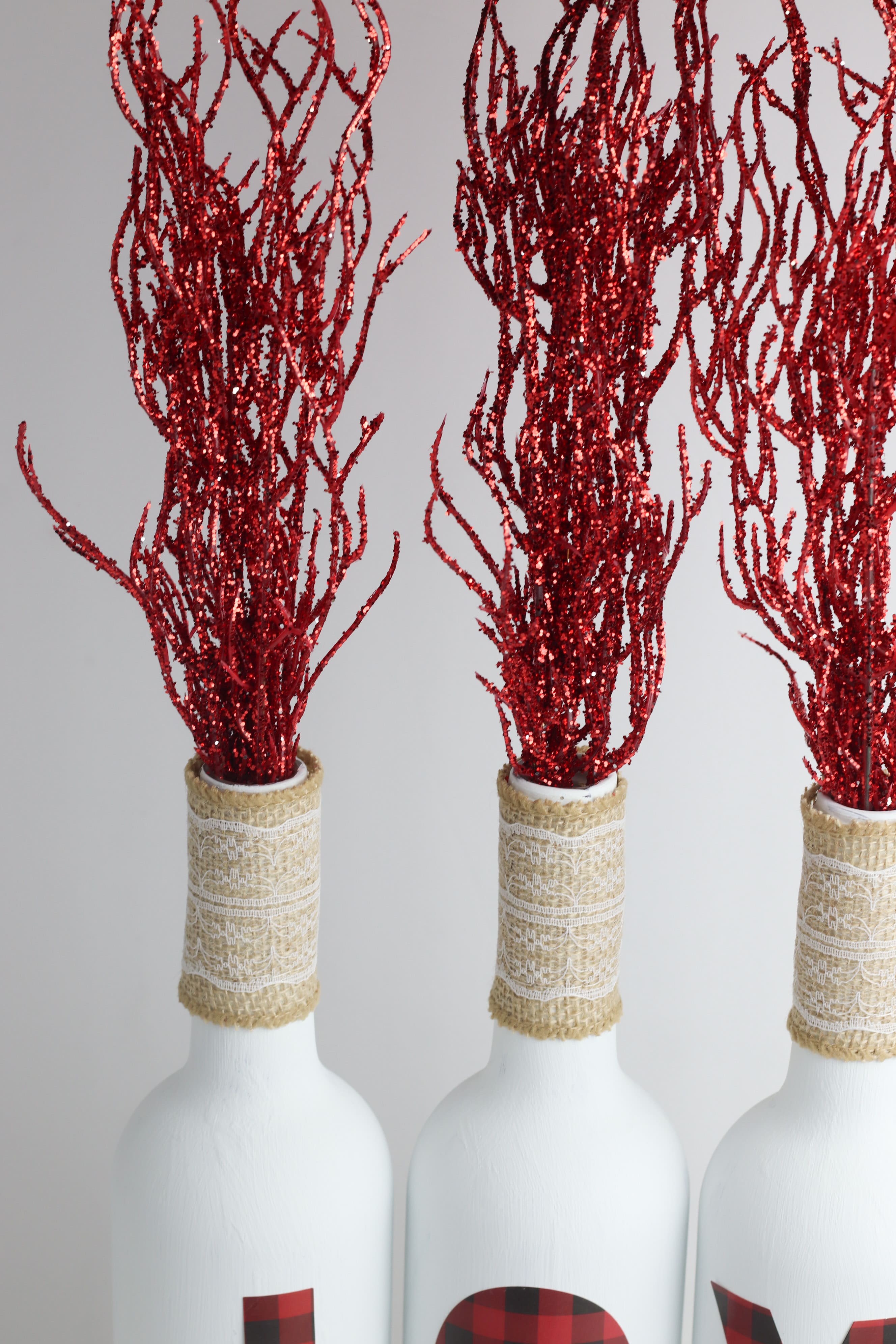 Pin to save for later