Christmas Tinsel wreath DIY
Article may contain Amazon & affiliate links. As an Amazon Associate I earn from qualifying purchases at no additional cost to you.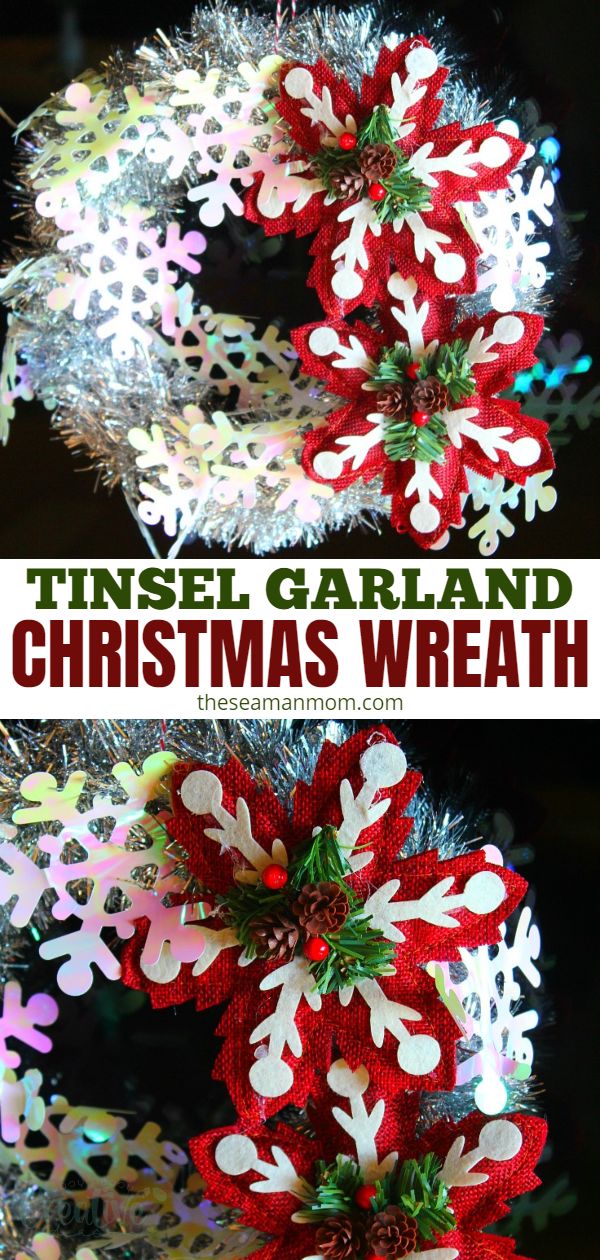 Get into the Christmas spirit with this 5 minute tinsel wreath made with silver tinsel! Simple & festive, this Christmas tinsel wreath requires just a few supplies & no glue!
Silver Tinsel Wreath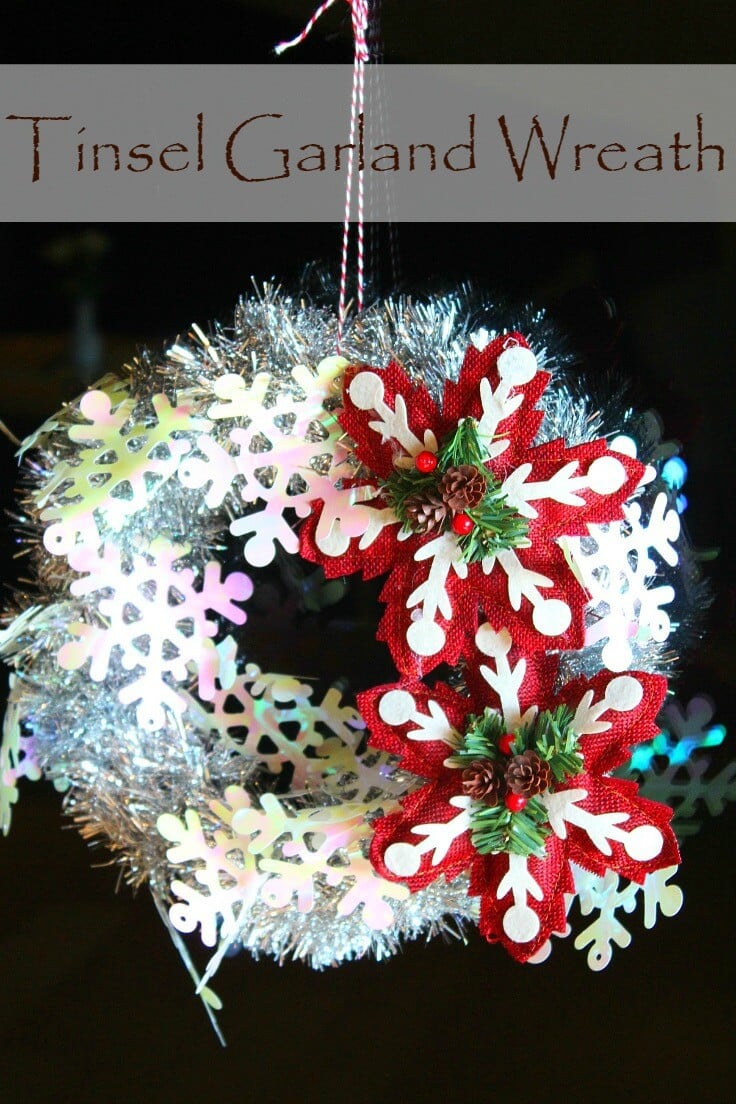 Can you believe it's the end of November? Christmas is just around the corner and I could not be more excited! And traveling on a cruise ship for the holidays makes things even more exciting and challenging. As you can imagine, I don't have the freedom to decorate as much as I would back home. But I thought a little tinsel wreath would be a nice addition to the small space in our cabin, making the place more festive without overwhelming it.
Need more Christmas ideas?
I love decorating for holidays and Christmas in particular is one of my most favorite holidays. When I'm home, I love to bake and craft Christmas stuff like it's nobody's business! But on a cruise ship, my creativity is very limited, simply because I don't have the supplies or a designated space to create whatever my imagination wants. And also the ship is not my home, I can't just play around with decorations. I have to limit myself to small stuff and this tinsel wreath DIY seems like a great choice!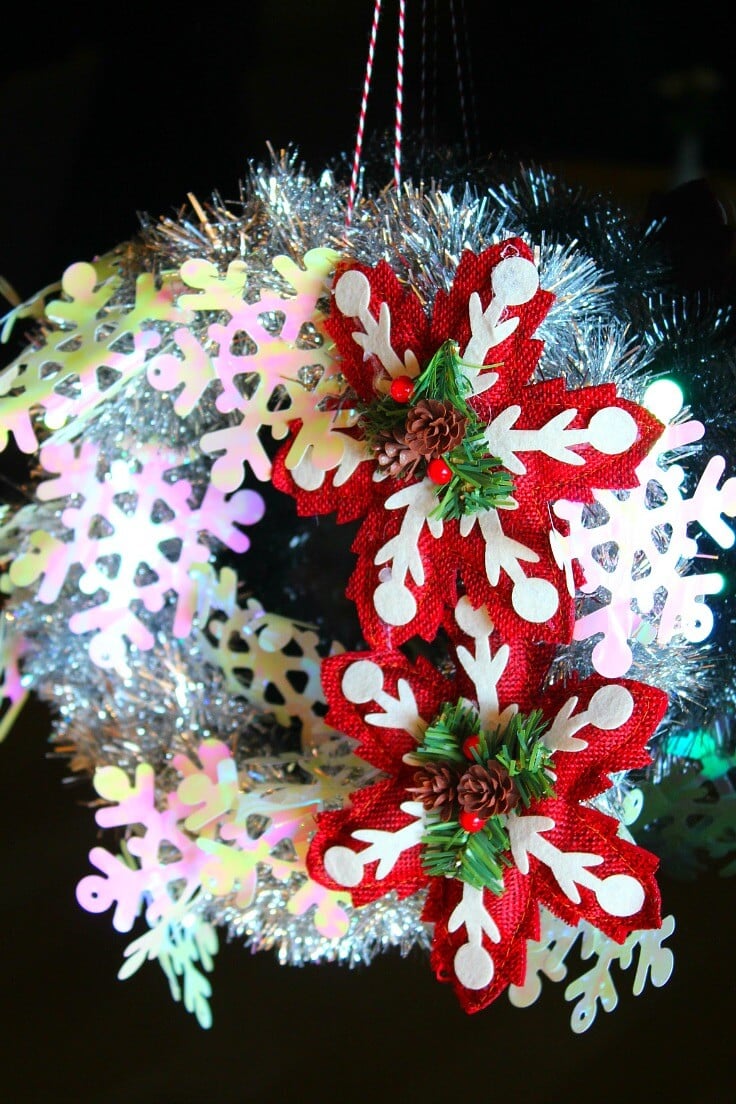 Imagine this pretty, fluffy, shiny little tinsel wreath hanging on an otherwise sad door ( cause let's face it, a hotel is not the most warm, intimate or cozy place on earth). And it's so easy and simple to make! You only need a handful of materials: tinsel, a willow wreath, a couple of safety pins and a couple of Christmas decorations which are totally optional. Your tinsel Christmas wreath would look just as great only with tinsel.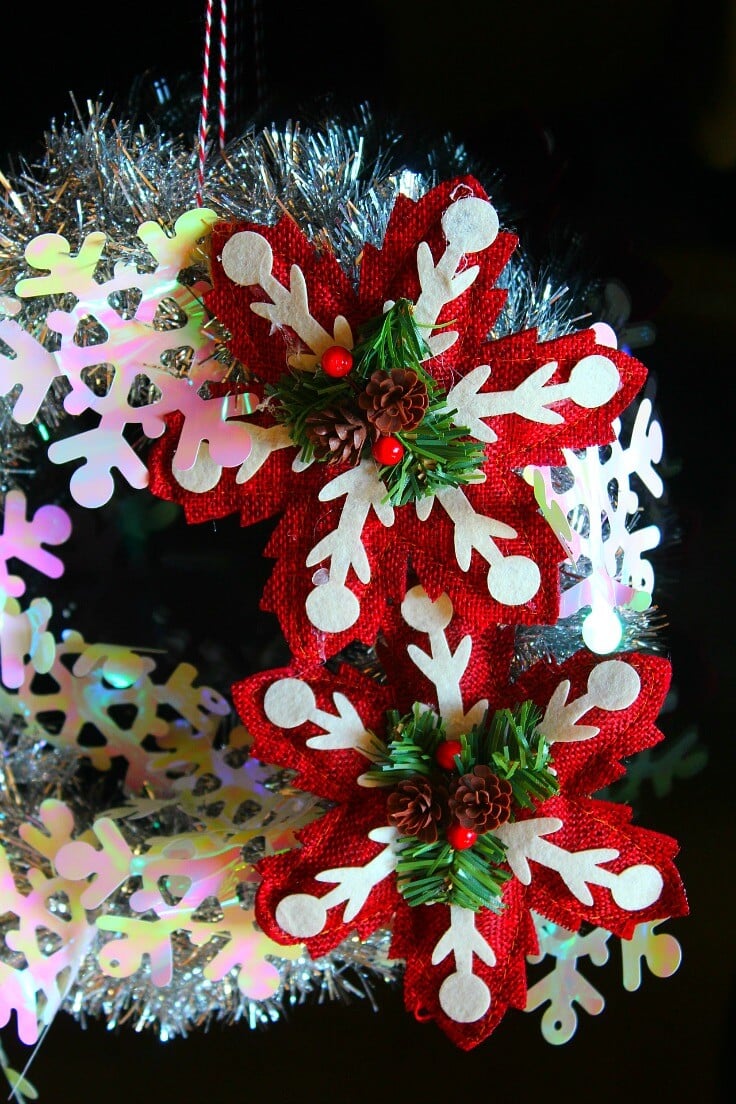 Using a small willow wreath as a base for this tinsel wreath makes this craft super light and easy to hang anywhere in the house. I like that this wreath doesn't take up much space, making it perfect for small spaces but it brightens up any room instantly, thanks to its shiny colors and the cute snowflakes which are quite special, they reflect the light and change color; really cool feature!
This lovely tinsel wreath also adds a little pop of color due to the red Christmas ornaments I chose to embellish my wreath with. Are you hooked? Let's see how to make a tinsel wreath!
Tinsel Wreath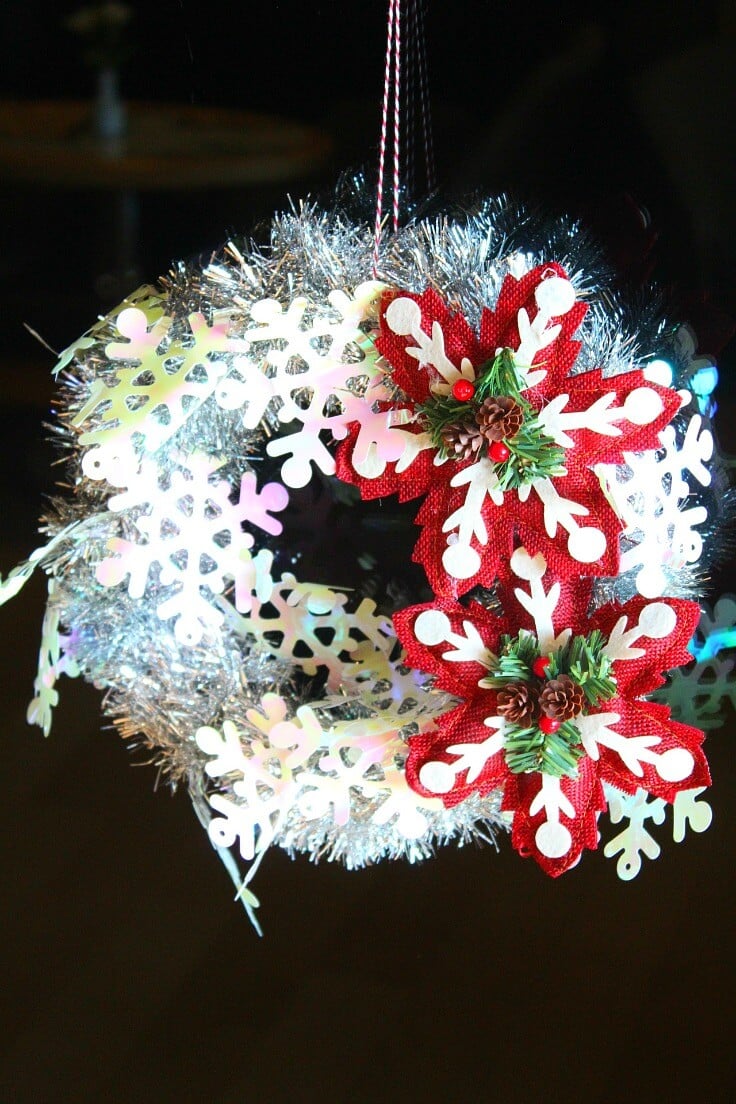 Materials:
silver garland with snowflakes (I used 2 garlands for my wreath)
small willow wreath
2 safety pins
2 fabric Christmas ornaments (optional)
ribbon to hang (I used bakers twine)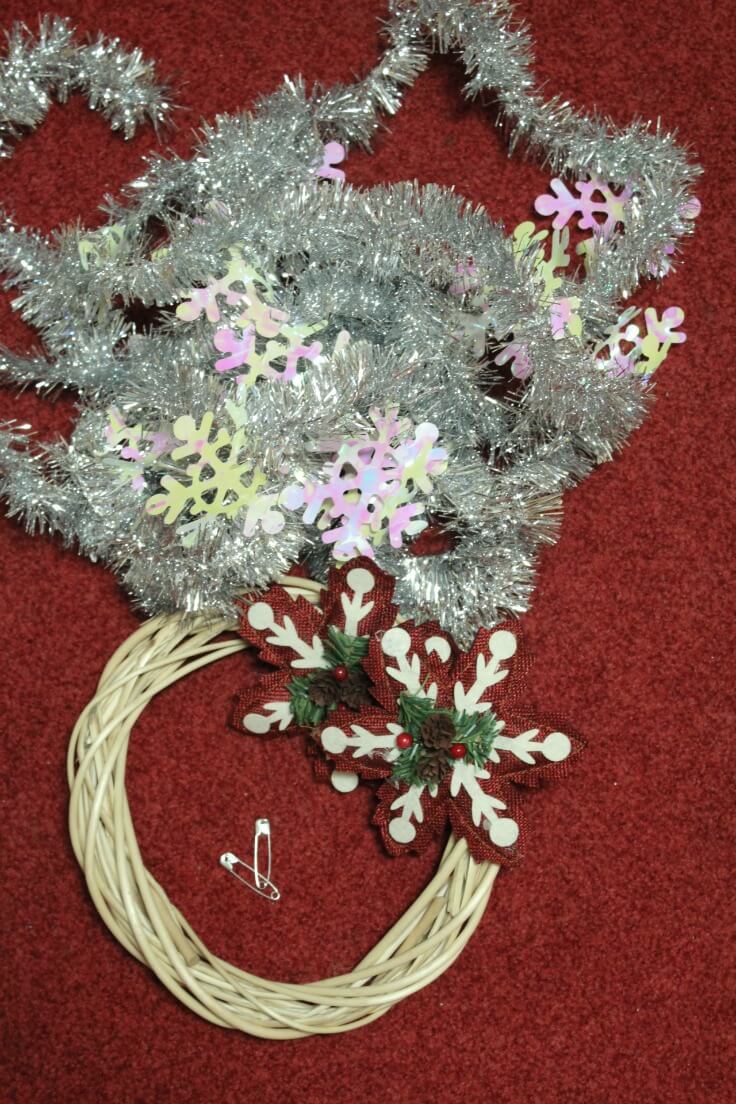 Directions:
Start by wrapping the garland around the willow wreath and secure at one end by twisting the garland around itself and kind of making a small knot. As you wrap the tinsel, make sure the snowflakes don't get trapped but rather let them hang loose. When done wrapping the tinsel, secure the other end as before.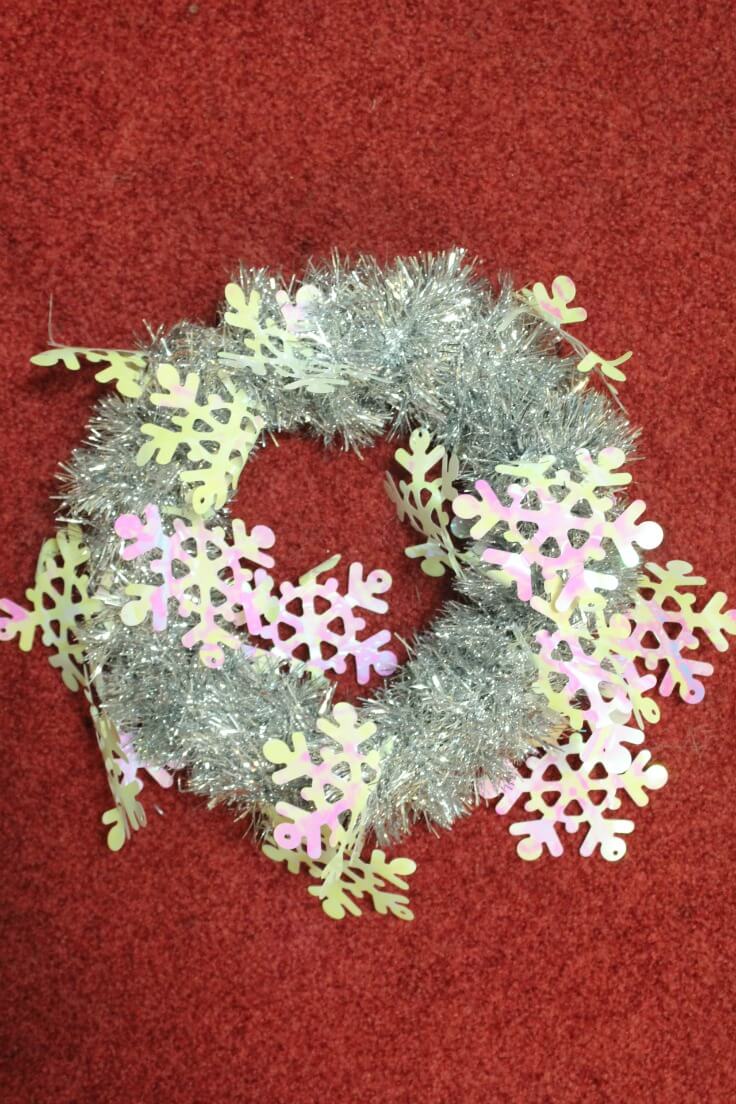 Attach the Christmas ornaments with safety pins, on one side.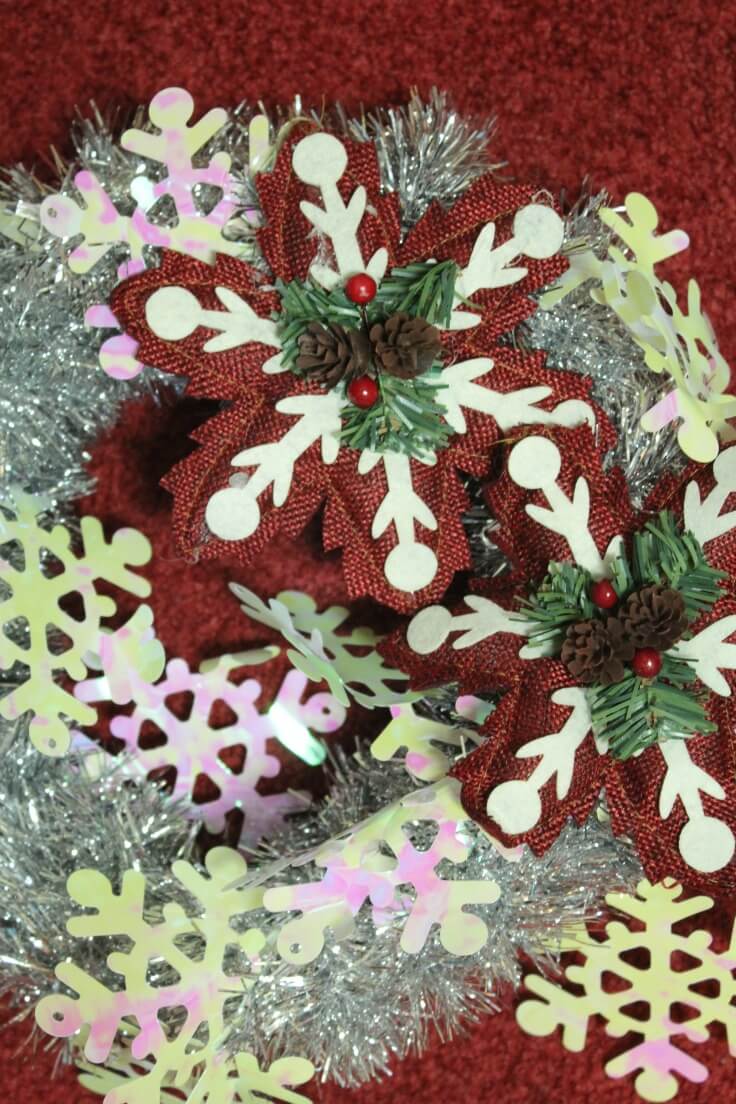 Wrap some ribbon (or bakers twine as I did) at the top of your wreath and hang it anywhere in the house or at your front door.
Pin to save for later