Best tips & tricks for sewing canvas fabric
Article may contain Amazon & affiliate links. As an Amazon Associate I earn from qualifying purchases at no additional cost to you.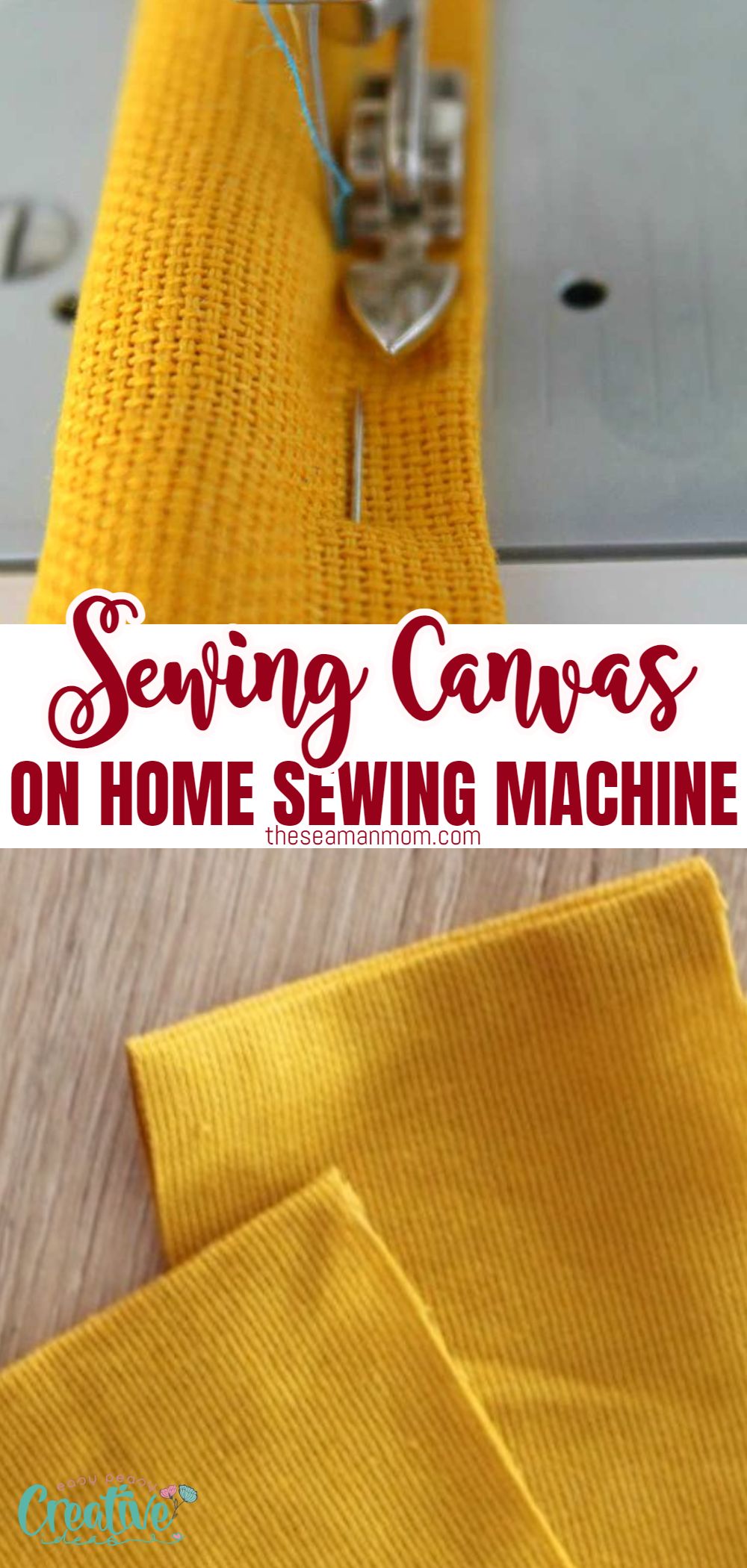 Sewing with canvas fabric is a great way to create projects for yourself or your home. Canvas material is cost-effective, easy to clean and long-lasting – perfect properties for any craft project! If you're looking to make something special from this fabric, follow these helpful tips and soon enough you'll be able to enjoy successful creations made of canvas. Find out just what makes sewing canvas so appealing today!
Sewing canvas tips and tricks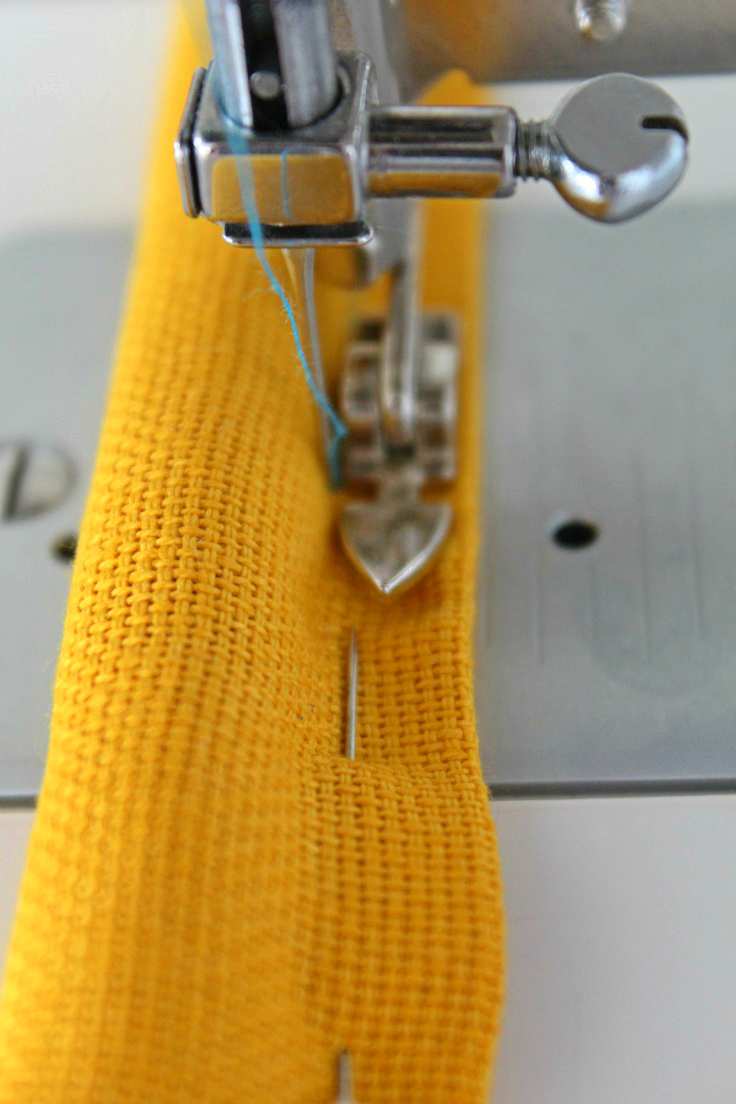 Sewing canvas is an amazing way to create stylish, durable and cost-effective projects. Whether you're looking to make something for yourself or your home, this fabric can be the perfect choice! With its easy cleaning properties and long-lasting material, it's no wonder why so many crafters opt for canvas when they're looking to make something unique. Sewing with canvas can be a great way to express your creativity, but there are a few tips and tricks you should keep in mind when crafting with this fabric. Read on for helpful advice on how to sew your next canvas project!
What is canvas material?
Canvas material is a heavy and durable fabric which makes it perfect for sewing projects like home décor, bags and accessories or other decorative projects. With the right tools and techniques and a few simple tips for sewing canvas, you can create sturdy, chic tote bags or clutches for yourself or friends, if you're looking for a gift idea. Or you can redecorate your home with a few simple decorative canvas pillows! Sewing on canvas is a lot easier and more fun than you'd think!
If you are a beginner in sewing and you are planning to sew an item out of canvas, you may be confused about the methods for sewing this fabric and finish your project perfectly. We will talk about this type of fabric and methods to sew canvas smoothly and perfectly and avoid frustration.
Need more similar ideas?
I've learned these canvas sewing tips the hard way, when I made myself the rounded top canvas bag mentioned above. I've also used canvas fabric in this tutorial for Corded Handles for Bags where I used this canvas fabric. It didn't occur to me that canvas is a totally different type of fabric and sewing canvas with a sewing machine designated for home use needs a little prepping in advance. So making the rounded top bag took way longer than I expected. Rookie mistake which you won't do because now you have these easy peasy tips for sewing canvas!
So if you plan to sew with canvas soon, better take a few moments and get yourself prepared with these tips for sewing with canvas, before starting to work on your project. It makes a huge difference, trust me on this one! And practice on scrap fabric first, using only a straight stitch until you get familiar with sewing this fabric.
Q&A about sewing canvas you might find useful
Can a regular sewing machine sew canvas?
Canvas is a woven, pretty thick fabric but that doesn't mean your home sewing machine is not able to sew over canvas or any other thick fabrics. You just have to remember sewing canvas or other heavy duty fabric requires you to follow a few very important steps in terms of machine needle size and type, thread thickness and presser foot tension. I'll be highlighting all these below.
Can you hand sew canvas?
Hand-sewing canvas material is possible and can be used for relatively small projects or repairs. You'll need a thick thread, like upholstery thread, and a large needle with an eye that fits the thickness of your thread. You may have to use double strands of regular-weight cotton thread for canvas material. Use a running stitch or backstitch to make sure your stitches are secure. A metal thimble can also help when hand-sewing canvas fabric.
What thread should I use for canvas sewing?
Heavy duty fabrics like canvas require heavy duty thread to avoid breakage, regular thread won't last long. Heavy duty polyester and cotton thread are both suitable as well as upholstery thread when it comes to sewing thicker canvas or several layers of canvas.
What is the best sewing machine for sewing on canvas?
If you follow the below tips for sewing canvas, you can easily sew canvas fabric with your home machine, designed for regular home projects, without the need for a special canvas sewing machine. But if you want more from your canvas projects you can always invest in a heavy duty sewing machine. I found that SINGER Heavy Duty 4423 Sewing Machine is a pretty decent machine for sewing canvas and very inexpensive too.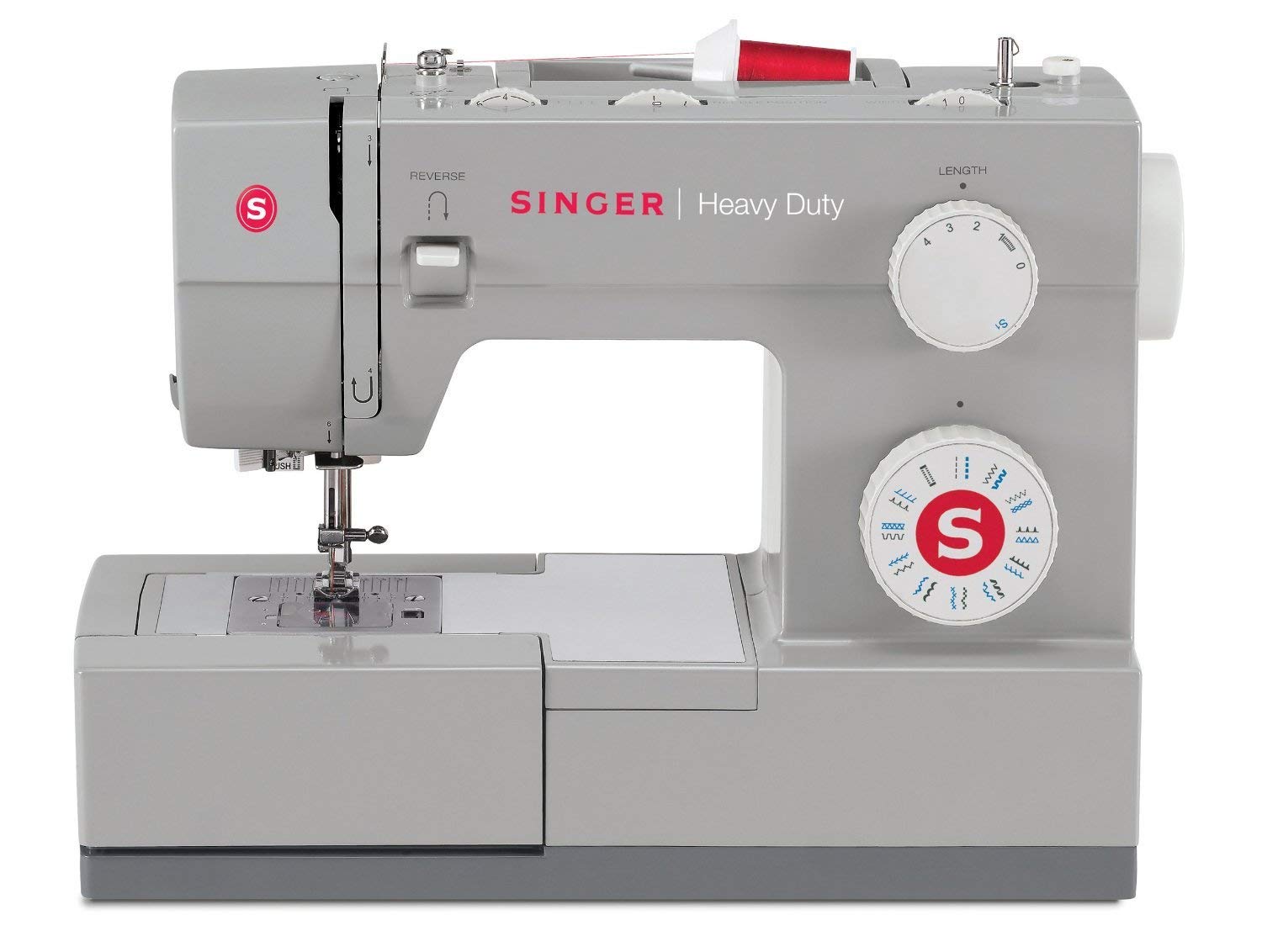 It comes with 23 built-In Stitches, 12 decorative stitches, has a 60% stronger motor and features an automatic needle threader. The Singer 4423 Sewing Machine has a maximum sewing speed of 1, 100 stitches-per-minute, so projects can be sewn pretty quickly. It also has a heavy-duty metal interior frame and stainless steel bed frame and this cool machine is good for sewing canvas as well as any other type of fabric too.
Does canvas fabric fray a lot?
Canvas fabrics can fray a lot, so you need to finish the edges and prevent fraying. You can use a zigzag stitch or an overlock (serger) stitch for this purpose. If you don't own a serger machine, a zig zag stitch is the easiest method for finishing those raw edges. Other options are highlighted in this tutorial on how to prevent fraying with 12 types of seams.
How to cut canvas material?
Canvas fabric is usually thick, so you need a sharp pair of scissors for cutting canvas. Rotary cutters and special scissors designed to cut leather and heavier fabrics can also be used. Using a rotary cutter is especially useful when cutting longer straight lines or curves for pattern making/cutting.
How to square up canvas fabric?
Canvas fabric tends to distort a lot when cut so it needs to be squared up before starting with any project. First you need to find the warp and the weft of the fabric then proceed with squaring as indicated in my tutorial here.
What kind of projects can I sew with canvas?
Canvas fabric is an ideal material for outdoor projects such as camping tents and gear, beach gear, bags, backpacks, boat covers and much more. It's also great for indoor projects like slipcovers, curtains, cushions and upholstery. Jackets, skirts and even trousers are also very doable with medium weight canvas.
Home décor projects like wall art, floor rugs and lampshades are also great canvas sewing ideas.
What types of stitches can I use on canvas?
As a general rule you should always start with a straight stitch when sewing canvas fabric. Other than that, depending on the type of project, you can use several other stitches such as zigzag, overcast or decorative stitches. And if you are looking for a more professional finish, binding can be used to cover the raw edges of your projects.
What kind of seam is best to use for this type of fabric?
When it comes to seams, a flat felled seam is the best option for canvas fabric. This is a strong and durable seam and gives a neat, professional finish. But if you don't want to go through all the trouble of sewing a flat felled seam (it can be quite tricky) then double topstitched seams or French seams will also do the job.
Now that we know a few facts about canvas, let's move on to the sewing canvas tips!
How to sew Canvas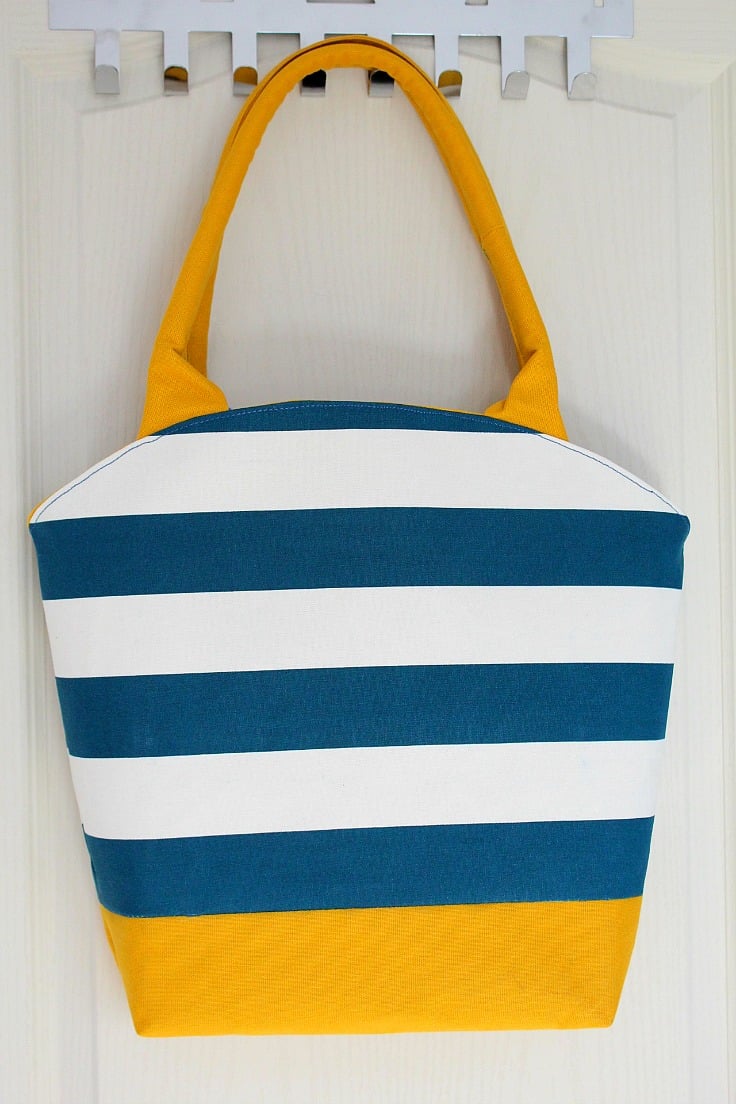 Prepping for sewing with a basic sewing machine
Before starting your project, pre-wash your canvas fabric in warm water and air dry it to prevent any shrinkage or color fading once you finish your project.
Test on scrap material: Before beginning your project, it's always a good idea to run a few practice stitches on some scrap material first. This will let you make sure that the stitch length and tension settings are correct for your fabric and help you get used to working with canvas before starting on the real thing.
Use a Walking Foot: While not a must, a walking foot helps to evenly feed the fabric through your sewing machine and prevents any slipping or shifting of the fabric while you are stitching. This can help you avoid puckering, which is especially important when working with canvas fabrics as they tend to be thicker than other materials.
For sewing needle and thread
Use a size 100/16 or 110/18 Jeans needle. Since canvas is a heavy fabric, it's important to use the appropriate size for denim needles, to avoid breaking them. Trust me, they will snap right away and you may even get injured! Improper use of correct needles will also end up in thread breaking or broken stitches.
Use heavy duty thread (i.e. jeans or upholstery thread). Heavy-duty thread made from polyester, cotton-wrapped polyester or cotton are best for canvas. Wool and upholstery thread are also very strong threads but while they might be perfect on a heavy duty machine, these thicker threads may not work well in the bobbin of a home sewing machine. If you still want to use these threads, see the tips below.
For the sewing machine
Adjust the pressure on your presser foot. Heavier fabrics need less pressure then light weight fabric, so it helps it slide easily under your foot when sewing.
Adjustments to the bobbin tension settings or a different bobbin casing may be necessary. On the canvas bag project I found adjusting bobbin tension to lower worked well on my machine.
Adjust the upper tension.
You may need to clean your machine regularly while working on a project using canvas, as heavy duty thread tends to leave a lot of lint behind.
A longer stitch length (3 to 3.5) works best with heavy duty or thick fabrics. It makes a nice looking stitch and makes sewing through multiple layers easier.
Clips and interfacing
Use clips and tape instead of pins. Multiple layers of thicker fabrics are difficult to pin, especially if you use stiff interfacing as I did with the rounded top tote or need to fold the canvas fabric.
If you use heavy duty canvas and stiff interfacing like the one I used for the rounded top bag is best to apply interfacing up to the seam allowance so when you're stitching, your needle only has to go through 2 layers of fabric (something I've learnt after I finished the project; it would've made my life so much easier!)
Additional sewing tips for canvas
Sew slowly over bulky areas (sometimes you may even need to turn the wheel by hand). Sew at a slow and constant speed to keep your seams straight and to avoid snapping your thread. So if you're a speedy stitcher, you will want to tone your pace down for this kind of projects.
Avoid stretching the material when sewing as canvas fabrics can stretch and become distorted. This can be done by allowing the fabric to run freely under the presser foot and being very careful when pinning or otherwise manipulating the material before and while you sew.
If you need to back stitch, do it very slowly (your machine might not like back stitching on canvas at all. In this case, do a reinforcing stitch instead of back stitching; this means sewing a second stitch over the initial stitch)
To iron finished canvas projects, spritz the area with water and let it soak in a few seconds. Then set your iron to the highest setting and press firmly over the wrinkles, making sure to move the iron often to prevent scorching the fabric.
Unlike other fabrics such as cotton and linen, you need to store unused canvas fabric rolled rather than folded, to prevent creases which are quite difficult to remove once formed.
Finishing Touches for Canvas Projects
When you have finished sewing your canvas project, add additional finishing touches to make it really stand out. Topstitch along all seams for a more professional look and add labels or tags with care instructions for the garment or bag. Finally, finish off with some fun embellishments like buttons, embroidery or appliqués. This will help give it a unique and individual look.
Sewing canvas fabrics can be rewarding but also challenging. So following these tips will make the process easier, allowing you to take on more complex projects with confidence. With some practice and patience, you'll soon become an expert at sewing canvas!
I hope this straightforward tutorial was both useful and enlightening! If you build something remarkable with canvas following these tips and tricks, please do not hesitate to let me know your experience in the comments. Have a wonderful time sewing!
Pin to save for later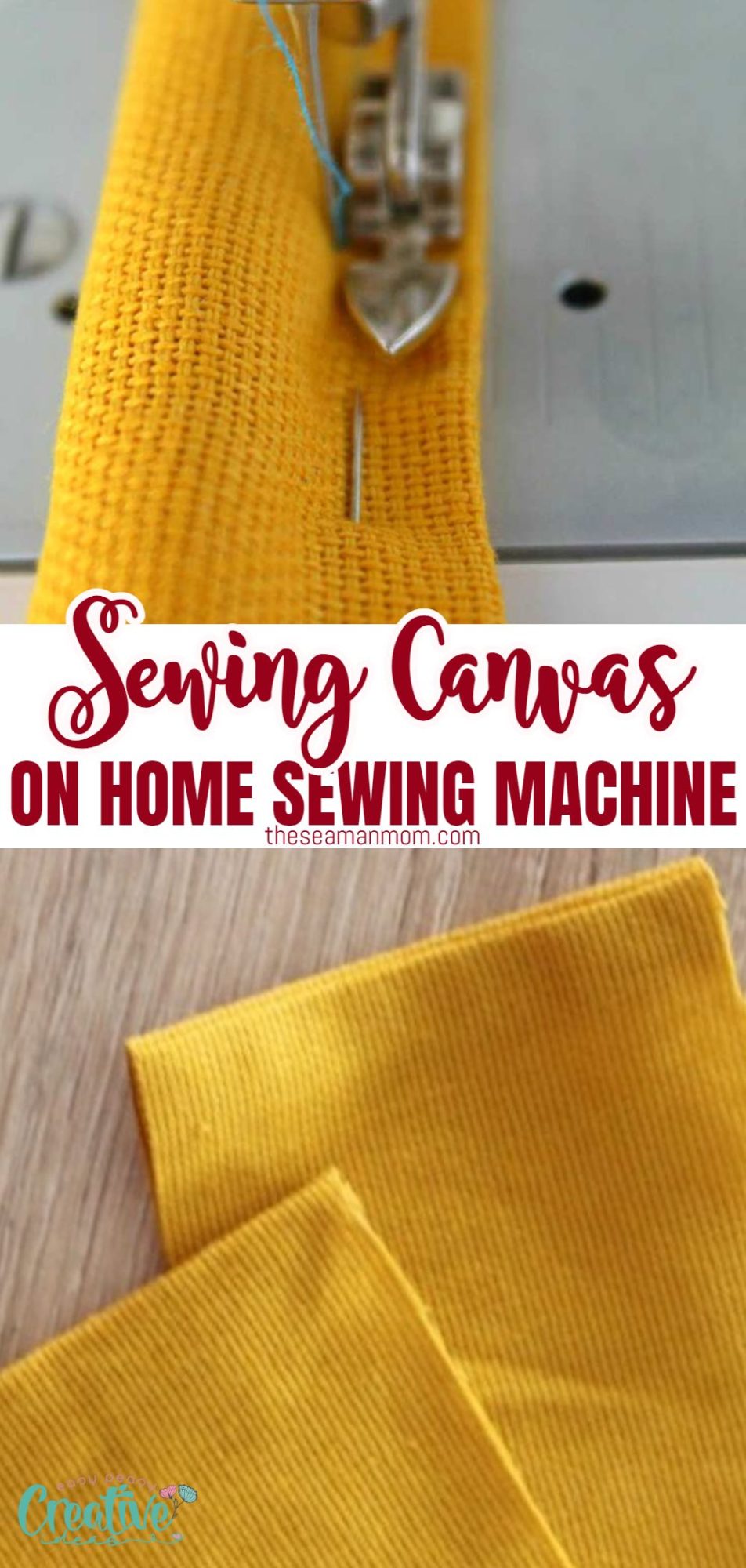 Most popular sewing projects: