Tips for Sewing Vinyl with a home sewing machine
Article may contain Amazon & affiliate links. As an Amazon Associate I earn from qualifying purchases at no additional cost to you.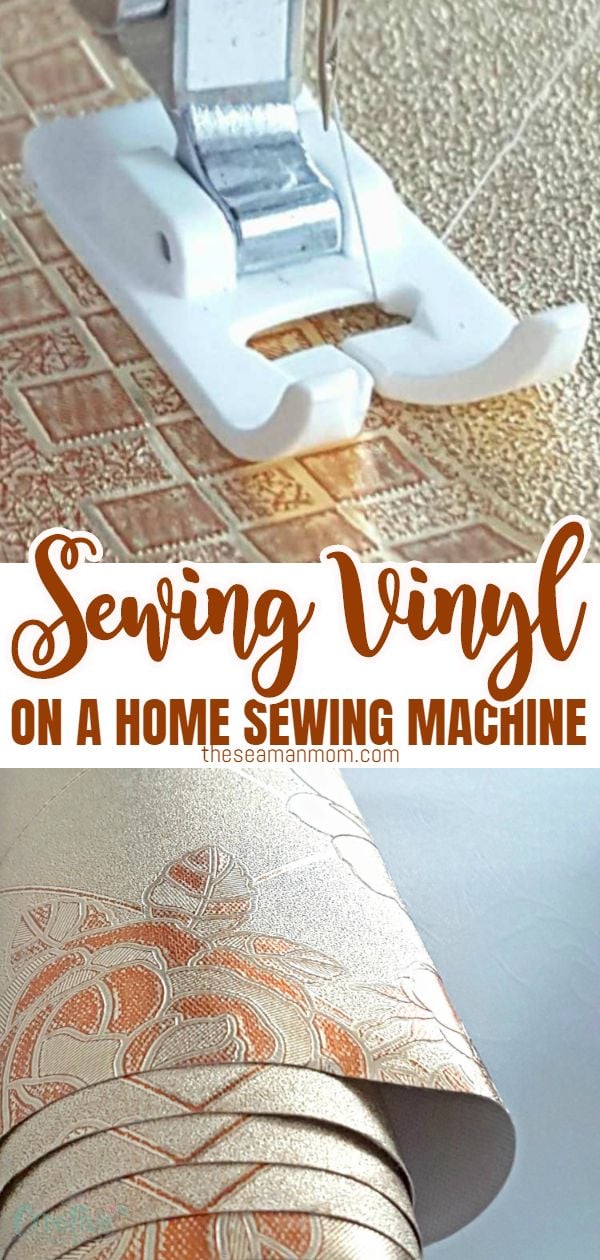 Looking to add some versatility and style to your sewing projects? If so, vinyl material may be the perfect fabric choice for you! While sewing vinyl material requires a bit of extra care and prep work before you can start sewing, with the right tips and tricks, it is entirely possible to sew vinyl at home using just a standard sewing machine. Here are a few tips and tricks to help you get started sewing with vinyl.
Sewing Vinyl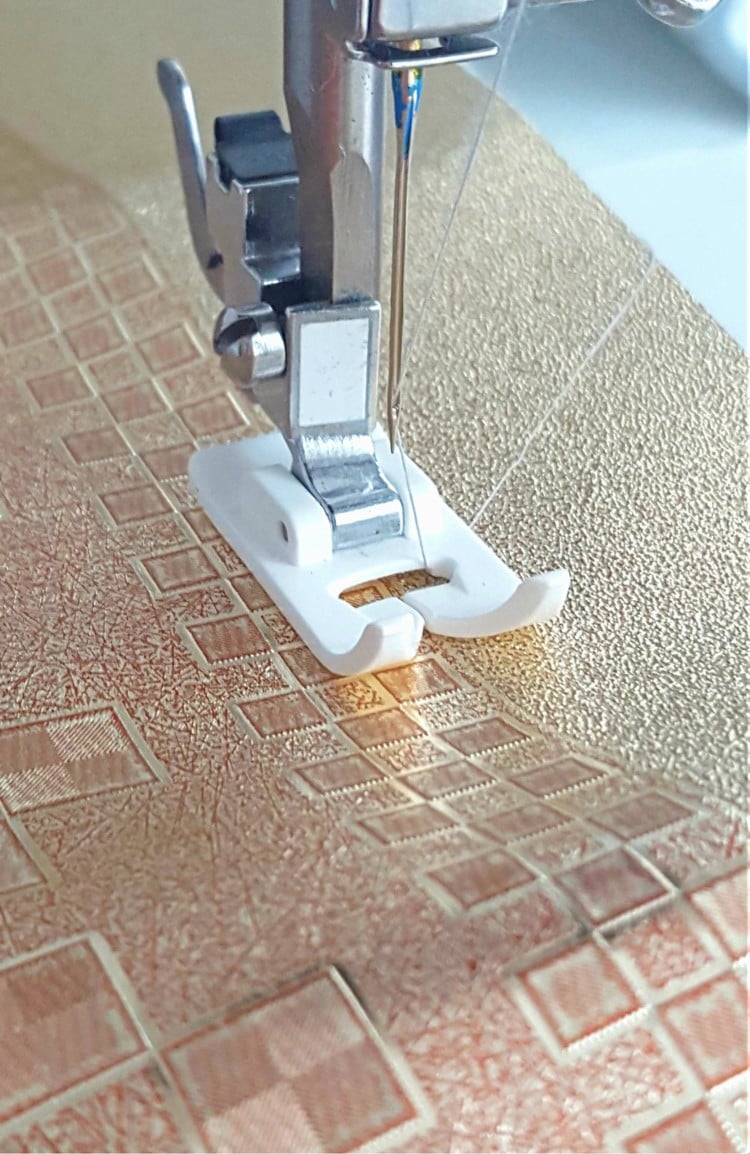 Is sewing with vinyl complicated? Do you need special equipment for sewing vinyl? Will my home machine break while sewing vinyl fabric? You probably heard that vinyl was difficult to sew with so you've been putting it off for a long time, until you could gather the right amount of courage, right?
Well, now it's time to put all those fears aside! Sewing vinyl on your home sewing machine (even sewing vinyl upholstery) is not hard if you know these few simple tricks and tips! I've got a super duper list of tips on how to sew vinyl seams and I hope they'll make you consider using this great fabric in more of your sewing projects.
Need more sewing tips & tricks?
What is vinyl fabric material?
Vinyl is a durable, waterproof material made from polyvinyl chloride (PVC) that has many uses, including in upholstery, outdoor use in patio furniture, industrial uses such as automotive uses or in the construction industry, for sewing pouches (clear vinyl is great for pencil holders), tablecloths, and even aprons or baby bibs. It can be found in a variety of colors and thicknesses, and can be cut and sewn using a regular home sewing machine.
Vinyl texture can range from being soft and pliable to feeling more like leather and can be found in abrasion-resistant and weather-resistant varieties, making it suitable for a variety of sewing projects.
What is vinyl upholstery fabric?
Vinyl upholstery fabric is a type of vinyl that is used for upholstering furniture. It is often made to look like leather and can be found in a variety of colors and textures.
Is vinyl a rubber or plastic?
Vinyl is a type of plastic, but it's not the same as polyester or nylon. It is made from PVC (polyvinyl chloride), which is a thermoplastic. That means that it can be melted and reformed over and over again without losing any of its original properties.
What is vinyl material good for?
This PVC fabric is a great choice for many projects because it's durable, stain-resistant, easy to care for and has a bit of give to it, which makes it more comfortable to wear than some other materials. It can also be wiped clean, making it ideal for things like bags or purses that might get dirty easily.
Other projects include raincoats, shower curtains, purses or bags, clothing or accessories, commercial tents and industrial tarps, seat covers, boat cushions, protective suits, life jackets, toys and more.
Is vinyl soft material?
Vinyl can be found in a variety of thicknesses, from thin and pliable to thick and sturdy. The thicker vinyl is often used for upholstery projects, while the thinner vinyl is better for things like bags or purses.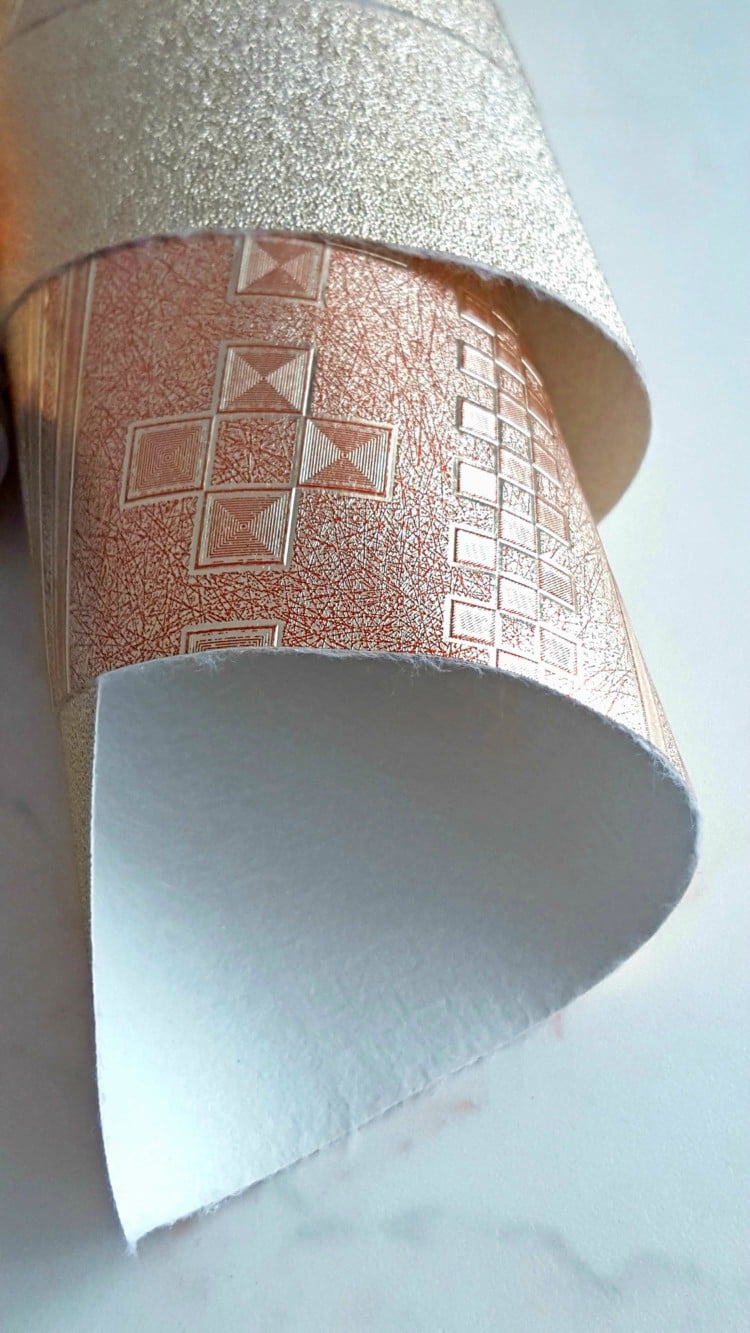 What is the difference between polyurethane and vinyl?
While both polyurethane and vinyl are waterproof materials, polyurethane is typically more lightweight and breathable than vinyl. Polyurethane is also less expensive than vinyl, but it may not be as durable or easy to care for.
What is the difference between marine-grade vinyl and regular vinyl?
Marine grade vinyl is a type of vinyl that is designed to withstand exposure to sunlight, water and other elements. It is often used for boat upholstery or outdoor furniture. Marine vinyl is usually thicker and more durable than regular vinyl.
Does sewing vinyl stretch?
While it has some flexibility, depending on the thickness, vinyl does not stretch. This is one of the reasons it is so popular for use in upholstery. However, it can be slightly more challenging to work with than other fabrics, as it does not have much give and can be a bit stiff.
Is vinyl or fabric better?
There is no definitive answer to this question, as it depends on the project you are working on. If you need a durable, waterproof fabric, vinyl is a great choice. If you need a fabric that is more comfortable to wear or has more give, then fabric might be a better option.
Is vinyl synthetic leather?
Vinyl is sometimes referred to as synthetic leather, faux leather fabric or fake leather because it has a similar appearance to leather, but is made from PVC instead of animal skin. Vinyl is less expensive than leather and is easy to care for, making it a popular choice for many sewing projects.
Is vinyl as good as leather?
This depends on the type of vinyl you are using. Some types of vinyl can be quite similar to leather, while other types are only loosely comparable. It is important to do your research and find out exactly what type of vinyl you will be sewing with before deciding if it is as good as leather for your project.
Whether you're looking for an alternative to leather or just want to try something new, vinyl is a great fabric to work with.
How long does vinyl fabric last?
The lifespan of vinyl fabric depends on a number of factors, including how often it is used and how well it is cared for. Generally speaking, however, vinyl can last for many years with proper care and use.
Is vinyl fabric easy to clean?
Yes, vinyl is very easy to clean and doesn't need any additional treatments such as antibacterial treatments. You can simply wipe it down with a damp cloth or sponge, and it will look good as new. And if you need to disinfect it, soap and water are all you need.
Can you apply chlorine to vinyl fabric?
While products with a chlorine base can be used to clean vinyl fabric occasionally, it is not recommended for regular use. Light use of chlorine is recommended as it may damage the material over time. It should only really be used in extreme cases where there are deep stains or dirt that will not come off with a regular cleaning.
Can you machine wash vinyl material?
I don't advise machine washing your vinyl, as it could damage and wrinkle the fabric. If you must wash it, however, put it in a delicates bag and use a gentle cycle with cold water.
Can you iron vinyl fabric?
In general, I advise staying clear from ironing vinyl as much as possible. But if you must to, be careful not to overheat the vinyl as this can cause it to melt. Use a low heat setting on your iron, and always test a small piece of vinyl first to make sure it doesn't melt or warp. Adding a piece of cloth between the vinyl and your iron can help to protect it.
Is vinyl fabric hard to sew?
Vinyl can be a bit challenging to sew, as it doesn't have much give and can be quite stiff. However, with a few tips and tricks, you can successfully sew vinyl fabric using a regular home sewing machine.
Does vinyl fabric fade in the sun?
Vinyl fabric is naturally resistant to fading in the sun, though you may want to avoid prolonged exposure to direct sunlight to prevent any potential discoloration. If your vinyl fabric does start to fade over time, you can try using special coatings that are UV-resistant, to help protect it.
Is vinyl flame resistant?
While most vinyl materials are not inherently flame resistant, they can be treated with a chemical treatment that increases their resistance to fire.
Can older vinyl material be repaired with modern techniques?
Yes, older vinyl material can often be repaired using modern techniques. However, it is important to note that not all repairs will be invisible. If you are concerned about the appearance of your vinyl after a repair, you may want to consult a professional.
Whether you're sewing a purse, a bag or a pair of pants, vinyl is a great fabric choice that can be easily sewn at home with a regular sewing machine. Just keep these simple tips in mind to ensure your vinyl projects come out looking great!
If you're ready to give sewing vinyl a try, be sure to take these tips into account and you'll be able to create beautiful projects that stand up to the test of time!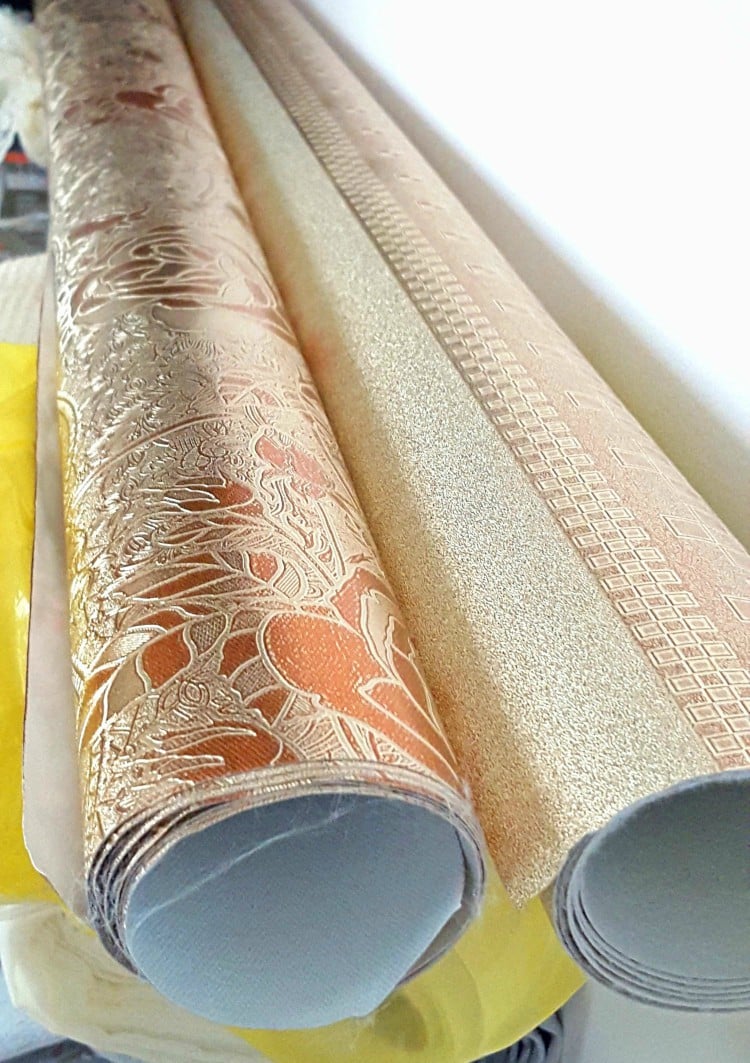 Sewing Vinyl tips
When sewing vinyl, it's important to use the right sewing machine settings to prevent damage to your machine and ensure smooth, even seams. Some tips for sewing with vinyl include using a Teflon footplate on your sewing machine, taking smaller stitches when working on heavier or thicker vinyls or applying a stabilizer such as fusible web to the wrong side of the vinyl before you start sewing. This will help to prevent stretching and distortion. Here are some other tips to keep in mind when sewing with vinyl.
Storing, marking & cutting vinyl
Folding vinyl fabric will create hard to remove creases. Instead of folding, keep the fabric stored into a roll preferably in a vertical position as the roll will flatten in time when stored horizontally, thus creating creases and uneven surfaces.
Pressing vinyl fabric with a pressing iron will make it melt so don't ever press vinyl! If you experience any crease, hang the fabric in the sun, using clips attached to one edge.
You need a large cutting surface since vinyl will not bend and fold as regular fabric. You will also need a large working area to avoid creasing and scratching the fabric while sewing vinyl.
Cutting vinyl is super easy with a rotary cutter. Scissors work fine too but a rotary cutter makes a smooth, even cut.
To mark a pattern on vinyl, use chalk instead of a fabric pen who will leave hard to remove marks. Chalk is so easy to wipe off!
Don't use pins, they'll pierce though the fabric and will leave a permanent hole. That's fine if you are only using pins within the seam allowances where these holes will be hidden. But it's safer to use clips or wonder tape all the time. However don't leave clips on your vinyl overnight or for long term as they can leave a permanent impression on the fabric.
Can a regular sewing machine sew vinyl?
Vinyl can easily be sewn on a home sewing machine and this grocery bag is just the perfect example. Just make sure you follow these tips:
You will need a sturdy machine for sewing vinyl. A shaky machine is not suitable for working with this type of fabric.
Adjust the presser foot tension to a lower setting. Experiment on a scrap first. Don't know how to change the pressure on your sewing machine? Check out this tutorial!
Vinyl gets sticky when under the pressure from your presser foot. So you need to change your regular foot to non stick presser feet such as a teflon foot, a walking foot or a roller foot. I have a teflon foot and works wonderfully!
No teflon foot? No problem! Stick scotch tape to the bottom of your regular foot and trim as needed.
Use tissue paper under and on top of the vinyl fabric to make sewing vinyl even easier.
What needle should I use for vinyl?
Use a bigger needle, typically a 90/14 leather needle or a 100/16 universal. Good quality needles are recommended (I prefer Schmetz needles). If you're not familiar with sewing needle types and sizes, you might find this tutorial helpful.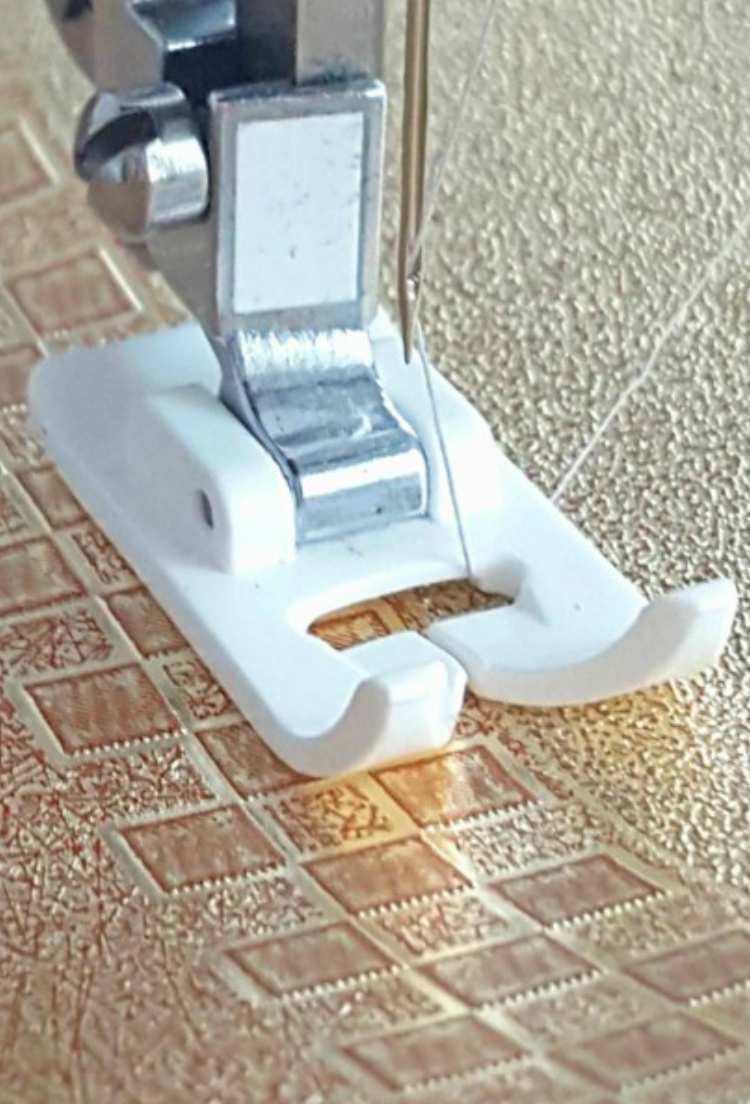 Sewing on vinyl
Materials:
How to sew vinyl?
Try and don't make sewing mistakes because ripping the seam out will leave permanent marks and will weaken the seam. So make sure the machine is clean and in proper state when starting a vinyl project.
As for the thread for sewing vinyl, on most vinyl you can use general purpose thread but if you expect the seam will experience a bit of a stress, use heavy duty thread. A strong thread such as nylon is the best, second best would be 100% polyester thread.
Use a longer stitch than on a regular project, typically a stitch length of 3.0 mm would work just fine. Those holes on a short stitch will weaken the vinyl and make it prone to tearing.
Try and don't force the fabric when sewing; pulling and/or pushing the vinyl under the feed dogs will leave marks, and will weaken and potentially rip the holes in the seam. Go slow when sewing thicker layers. Be mindful about creating thick layers of vinyl.
Backstitching is not a suitable technique for vinyl.
Since vinyl doesn't fray, you won't need to finish the edges. However, a lapped seam will give you an extra strong seam, particularly recommended for bags and garments with lots of pressure to the seams.
Doing a bit of research before sewing with vinyl will help you to avoid any potential issues and ensure that you are able to create high-quality projects with this versatile fabric.
Whether you're looking for an alternative to leather or just want to try something new, vinyl is a great choice for your next sewing project. So what are you waiting for? Grab some vinyl and start sewing today!
Do you have a project in mind? Let me know in the comments below and don't forget to share this tutorial with your sewing friends!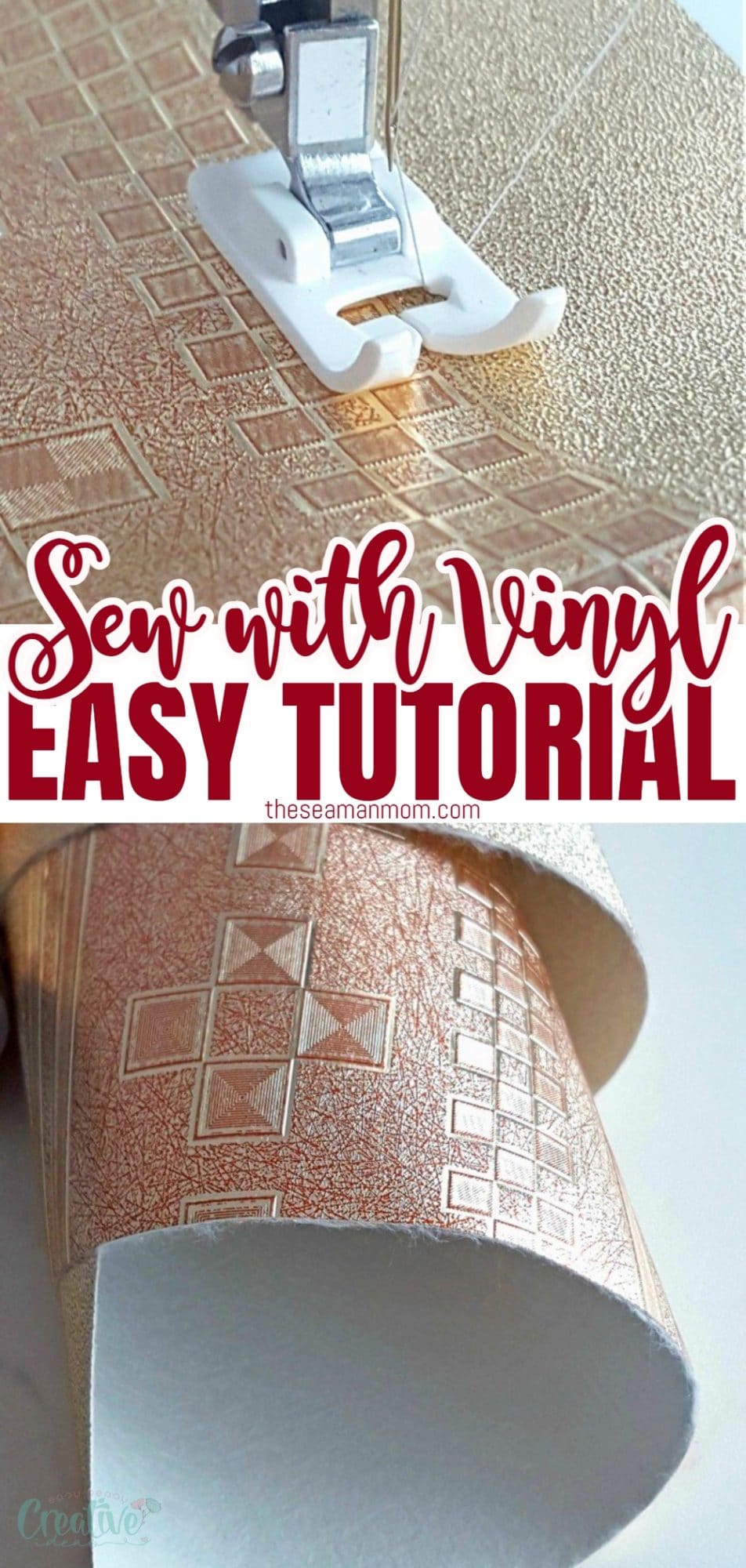 Most popular sewing projects: