Quick sewing tip: How to sew SPAGHETTI STRAPS
Article may contain Amazon & affiliate links. As an Amazon Associate I earn from qualifying purchases at no additional cost to you.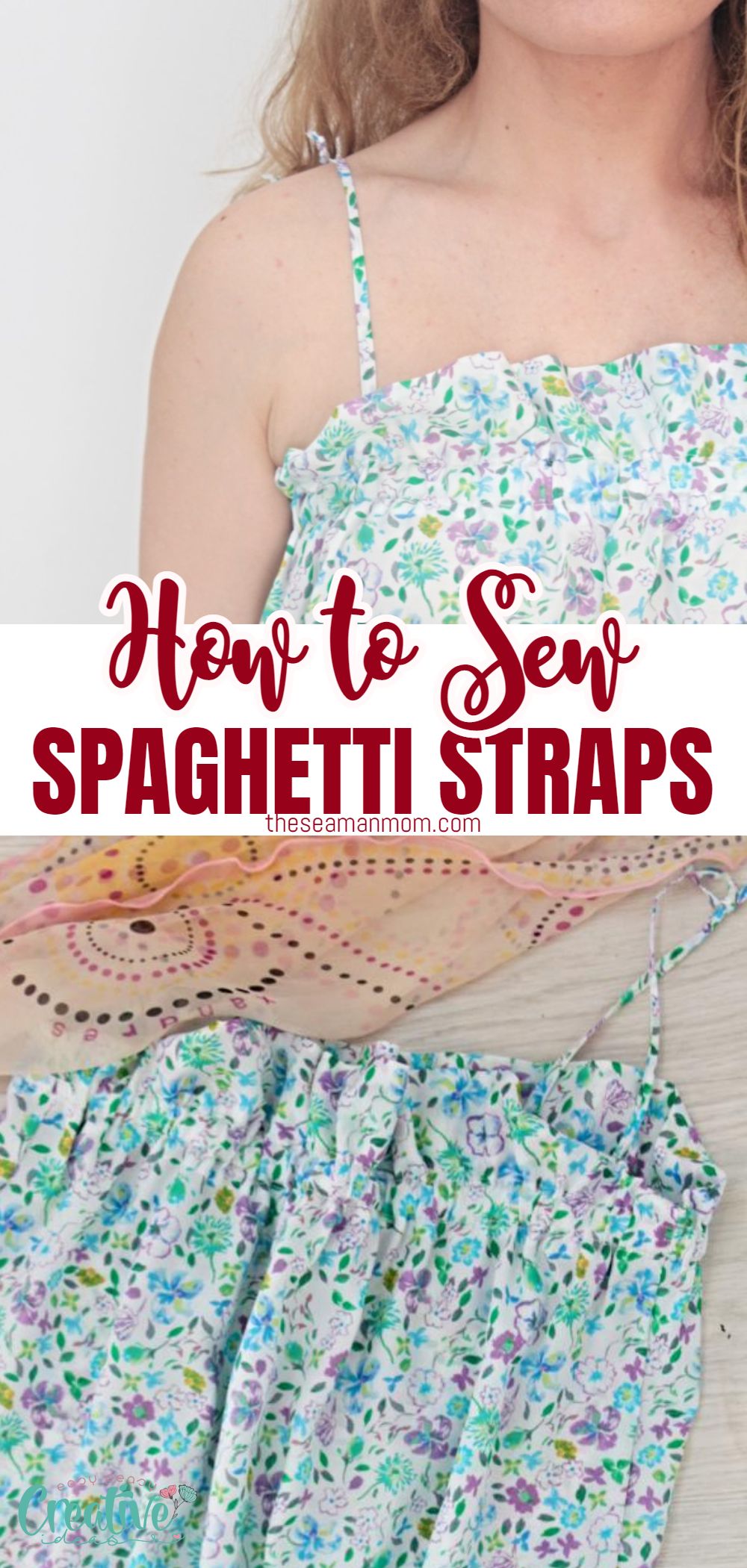 Love the look of those teeny tiny spaghetti straps? Making your own rouleau straps is a lot easier and faster than you think! Learn how to make spaghetti straps the easiest way!
Spaghetti straps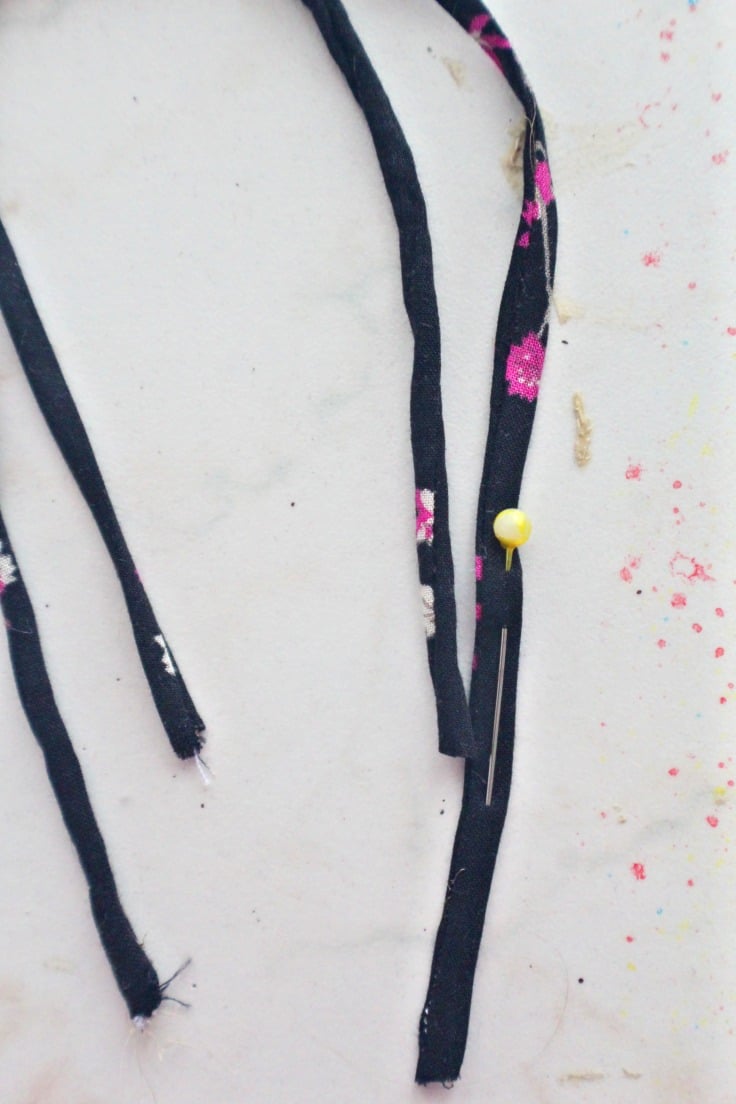 Ever wondered how to make spaghetti straps? If you like sewing blouses or dresses you've probably admired those thin straps we see on store bought garments and dreamed about making your own one day! Well, making your dream come true is closer than you thought because I've got just the perfect method for those super narrow spaghetti straps!
Spaghetti straps are a versatile and stylish addition to any outfit. They can be dressy or casual, and they add a touch of elegance to any look. With this easy tutorial, you can make spaghetti straps for any garment in just minutes. You'll love the results!
More sewing tips you might like:
I showed you how to turn narrow tubes right side out before (using a straw instead of a tube turner tool). And now it's time to learn how to make spaghetti straps which are the tiniest of all the tiny tubes! Fair enough, this method is not as quick as the one I just mentioned and it requires just a little bit of patience for the first inch when making the first inch or so of the rouleau straps. But it's worth every bit of effort!
Sewing spaghetti straps this way will not only give you the tiniest straps you can think of but it will make these thin straps look neat and with a very clean finish.
These straps will then make your handmade projects look just like professional garments we see in shops so no one will ever know you actually made that piece of garment!
What are spaghetti straps?
These are the thinnest straps you can make and they are usually less than 1/2 inch in width. They get their name because they look like spaghetti noodles!
Making your own spaghetti straps is a great way to add a personal touch to your wardrobe. These thin spaghetti straps give any blouse or dress an elegant and polished look. Best of all, they are very easy to make! In this tutorial, you will learn how to make spaghetti straps using a simple method that results in neat and tidy straps every time.
What is the purpose of spaghetti straps?
Spaghetti straps have a few different purposes. They can be used to add support to a garment, as well as style and detail. Spaghetti straps are often seen on summer dresses and blouses as well as lingerie for women, as they are thin and delicate and provide a cool and comfortable fit. Additionally, spaghetti straps can help to create the appearance of a smaller waistline.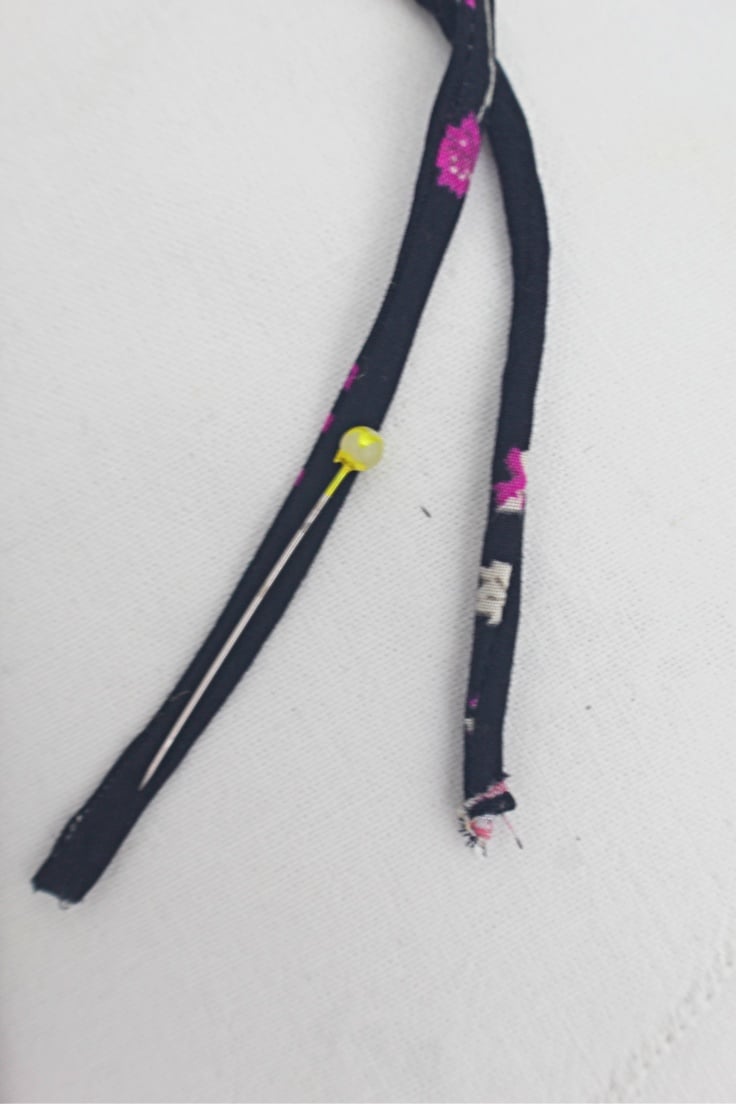 How wide should spaghetti straps be?
The width of the strap will depend on the garment it is being used for. For example, a spaghetti strap dress will have thinner straps than a spaghetti strap top. As a general rule, spaghetti straps should be less than 1/2 inch wide.
What type of fabric is best for spaghetti straps?
Any lightweight fabric can be used for spaghetti straps. Cotton, rayon, and silk are all good choices. Stay away from anything that is too heavy or stiff, as this will make it difficult to sew the straps and turn them right side out.
What is the difference between spaghetti straps and rouleau straps?
Rouleau straps are slightly wider than spaghetti straps, typically about 3/4 inch wide. They are also not as common, as they can be more difficult to sew. Rouleau straps get their name from the French word for roll.
How to keep spaghetti straps from falling down?
There are a few different ways to keep spaghetti straps from falling down. One option is to sew a small strip of fabric, such as bias tape, to the inside of the strap. This will help to keep it in place.
Another option is to add a small strip of elastic to the inside of the strap. This will help to keep it snug against the shoulder.
A drop of fabric glue can also be used to help keep spaghetti straps in place. This is a clear, sticky substance that can be applied to the inside of the strap. It will provide a temporary hold and will not damage the fabric.
What bra to wear with spaghetti straps?
If you are wearing a dress or blouse with spaghetti straps, it is best to choose a bra that has thin straps and a low back. This will help to keep the look of the garment intact. There are a few different types of bras that will work well with spaghetti straps, such as a strapless bra, a bandeau bra, or a bralette.
It is also important to make sure that the bra you choose fits well. The straps should not be too loose or too tight. If they are too loose, they will slip down. If they are too tight, they will dig into your skin and be uncomfortable.
Bras with clear straps are a good option if you want to wear a dress or blouse with spaghetti straps. These straps are thin and discreet, and they will not be visible under your clothing.
What clothing would look good with spaghetti straps tops?
There are a few different options for pairing spaghetti straps tops with other clothing. One option is to wear a spaghetti top with a jacket or cardigan over it. This can help to create a more polished look.
Another option is to wear the top with a pair of high-waisted pants or skirts. This will help to create the illusion of a longer torso.
Lastly, you could wear the top with a pair of ripped jeans for a more casual look.
So if you're ready to elevate your homemade garments from plain and ordinary to stunning and professional with just one small touch, learning how to sew spaghetti straps is the way to go!
Spaghetti straps tutorial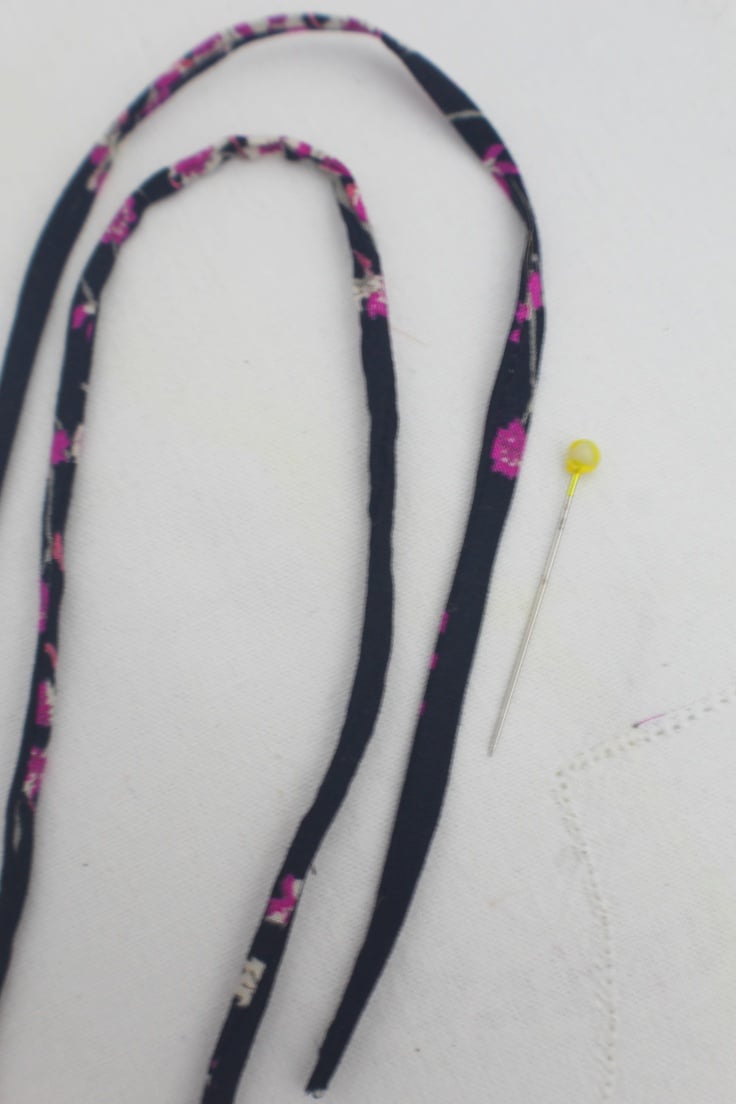 Materials:
fabric strips in the length you need your straps and of about 1″ wide.
matching thread
blunt tool (like a bamboo skewer)
Directions:
Sew the cording
Please note that I use twine as I find that it sticks best to the fabric strip while I work with the fabric but feel free to use any kind of thin cording.
Fold your fabric strip in half, wrong side out.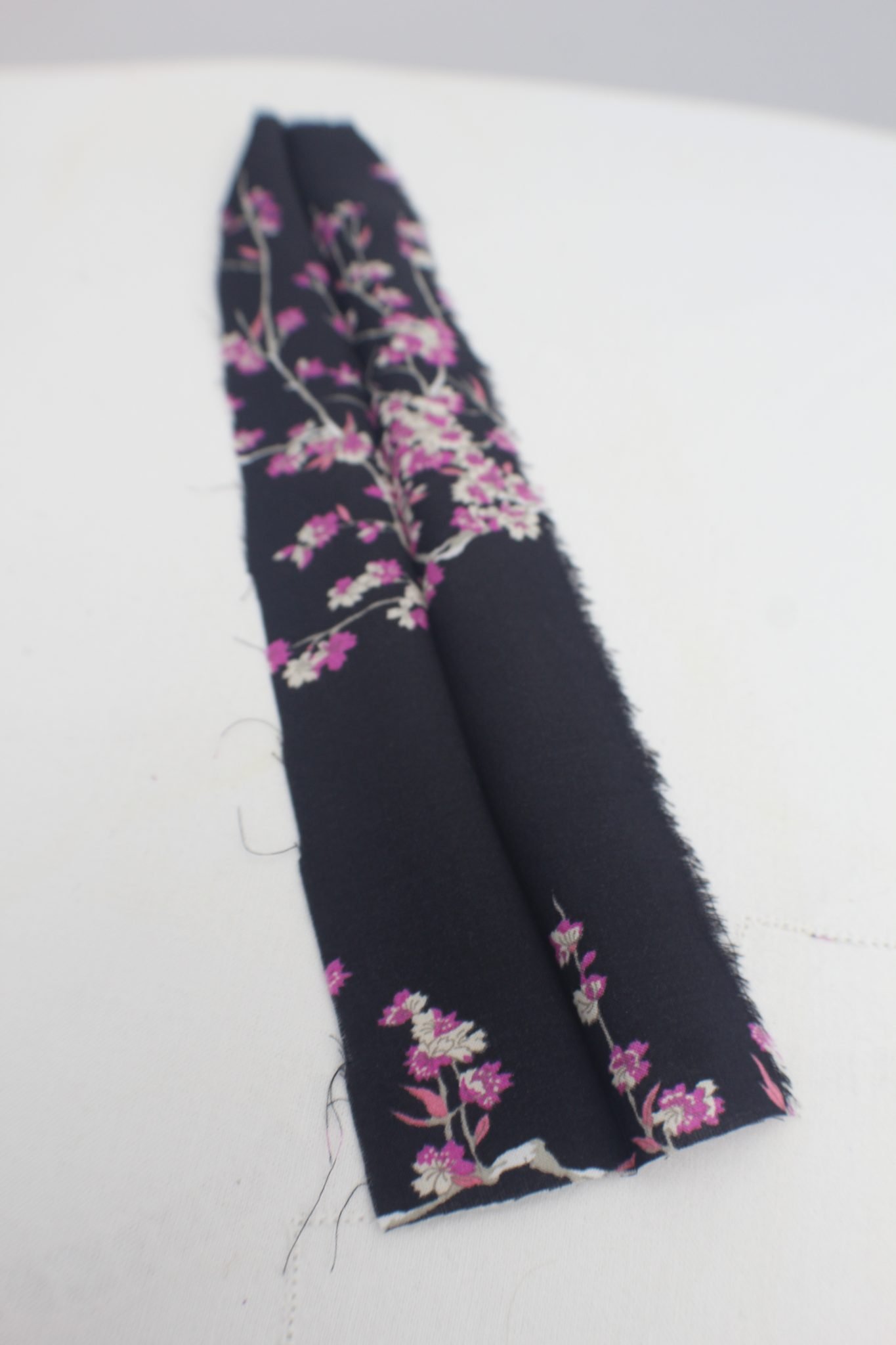 Press well with your iron on steam to form a sharp edge on the fold.
Place the twine cord right on the fold, leaving one end to peak out just a bit. The other end should hang outside the strip at least 1″.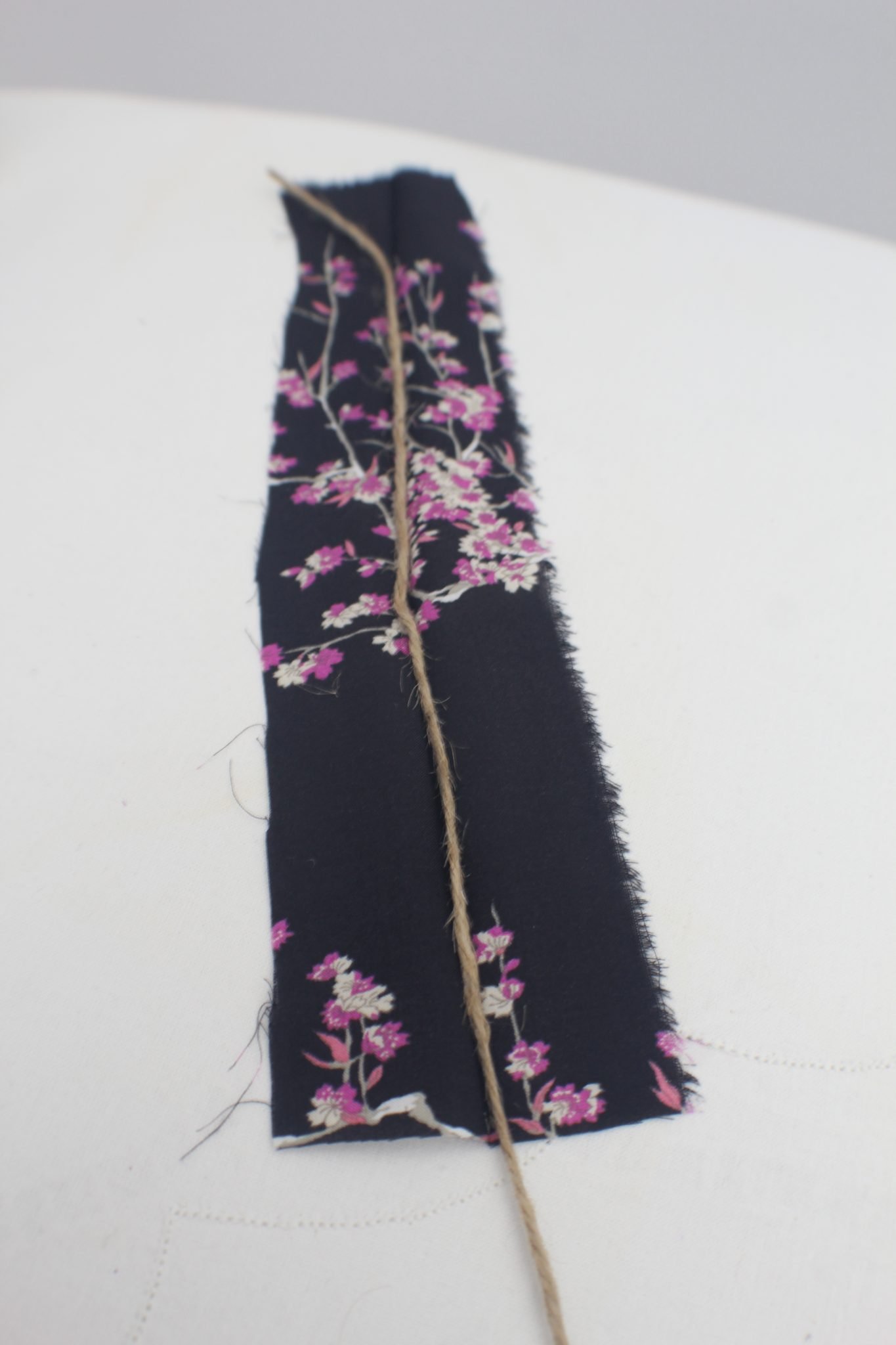 Pin the twine cord to the top of the tube, on the end where the twine peaks out just a bit. A small safety pin would work too.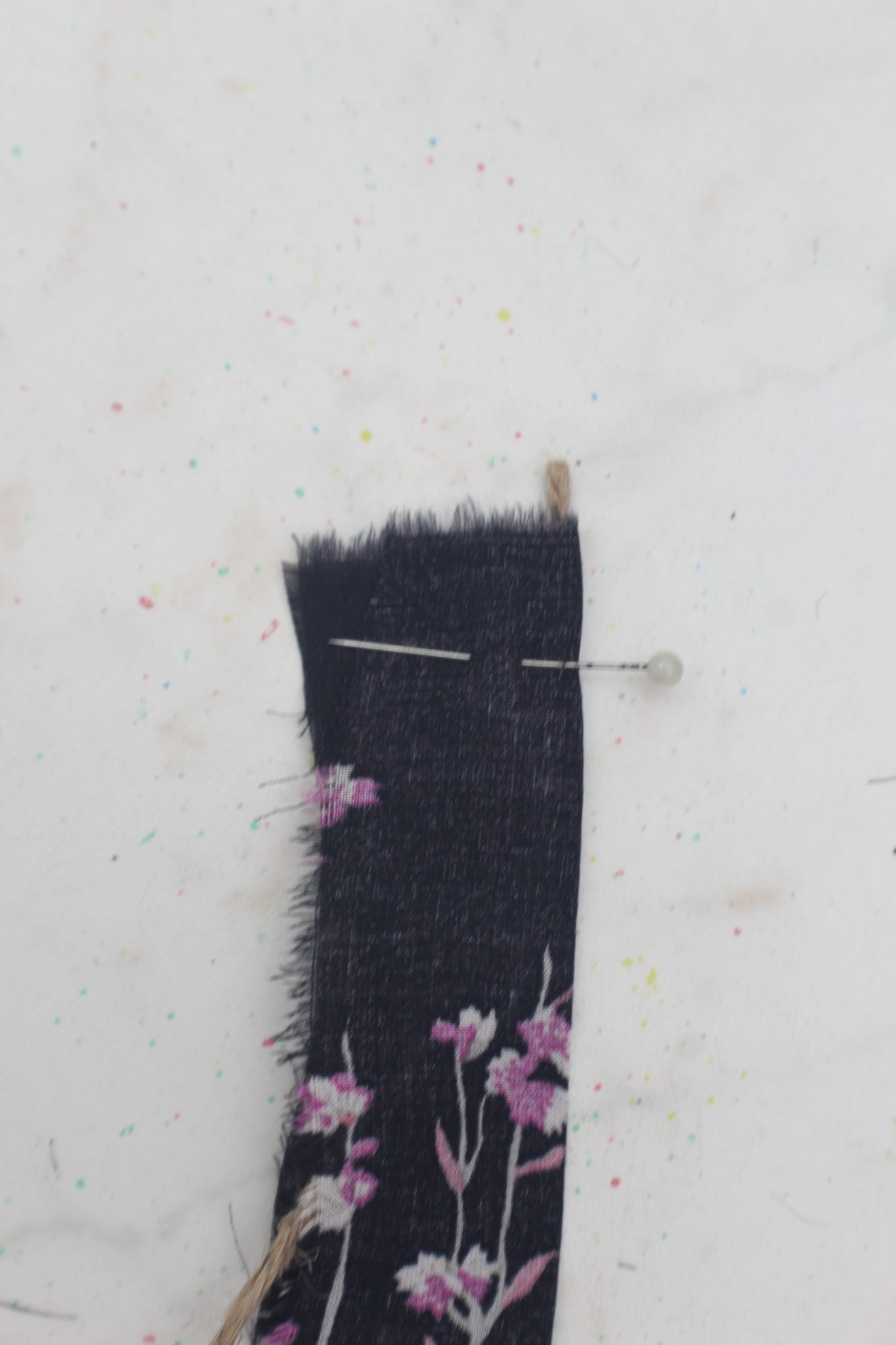 Attach the zipper foot to your sewing machine.
Sew perpendicularly to the twine cording, thus trapping the cording. Use a small stitch to make sure the cording is tightly secured inside the fabric strip.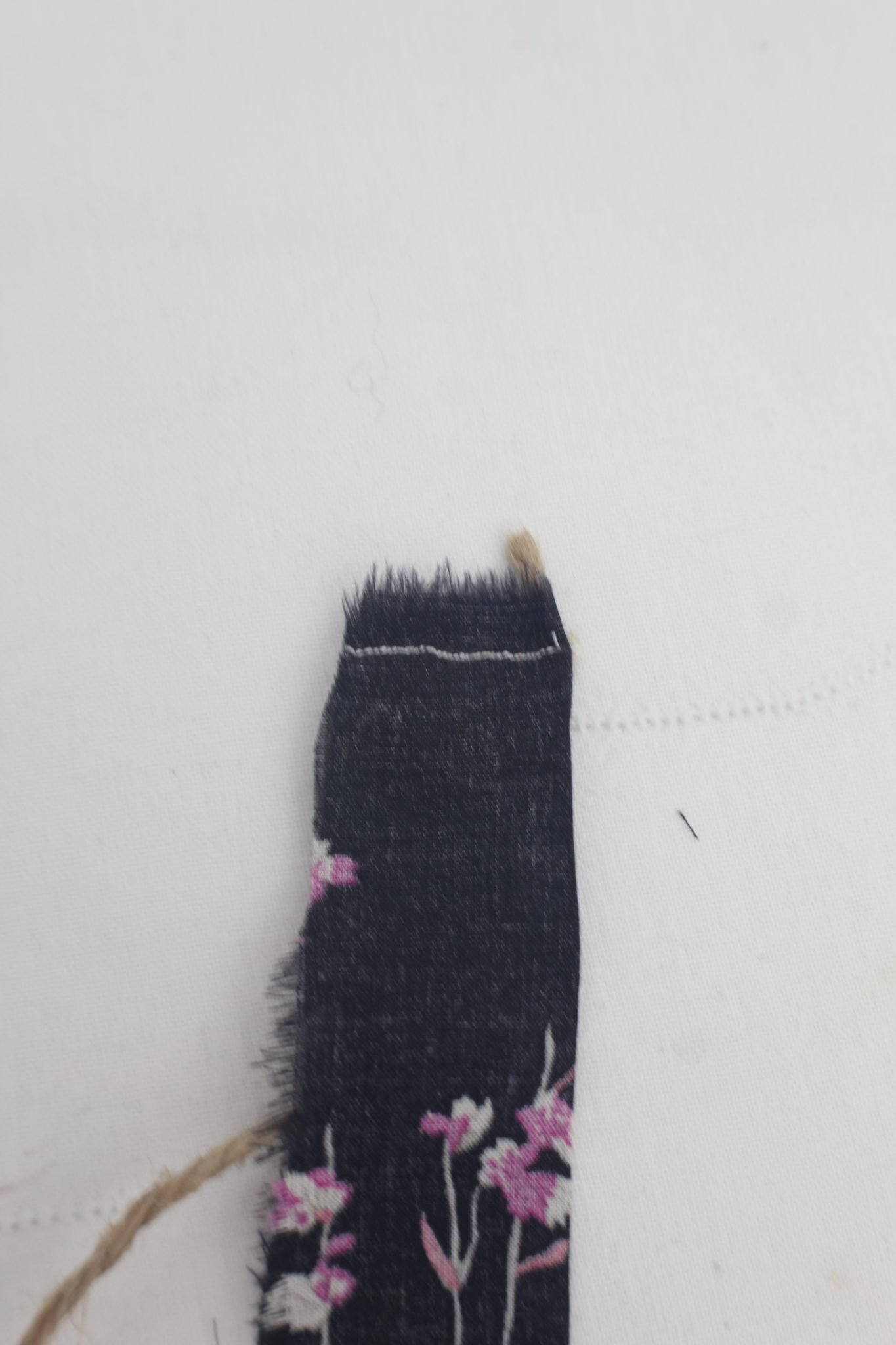 Place the folded strip under the foot lengthwise, with the twine trapped in the fold. Hold the twine so that it lays flat and straight inside the fabric strip. The tip of the zipper foot should press the twine against the fold so there's no more room between the cording and the fabric.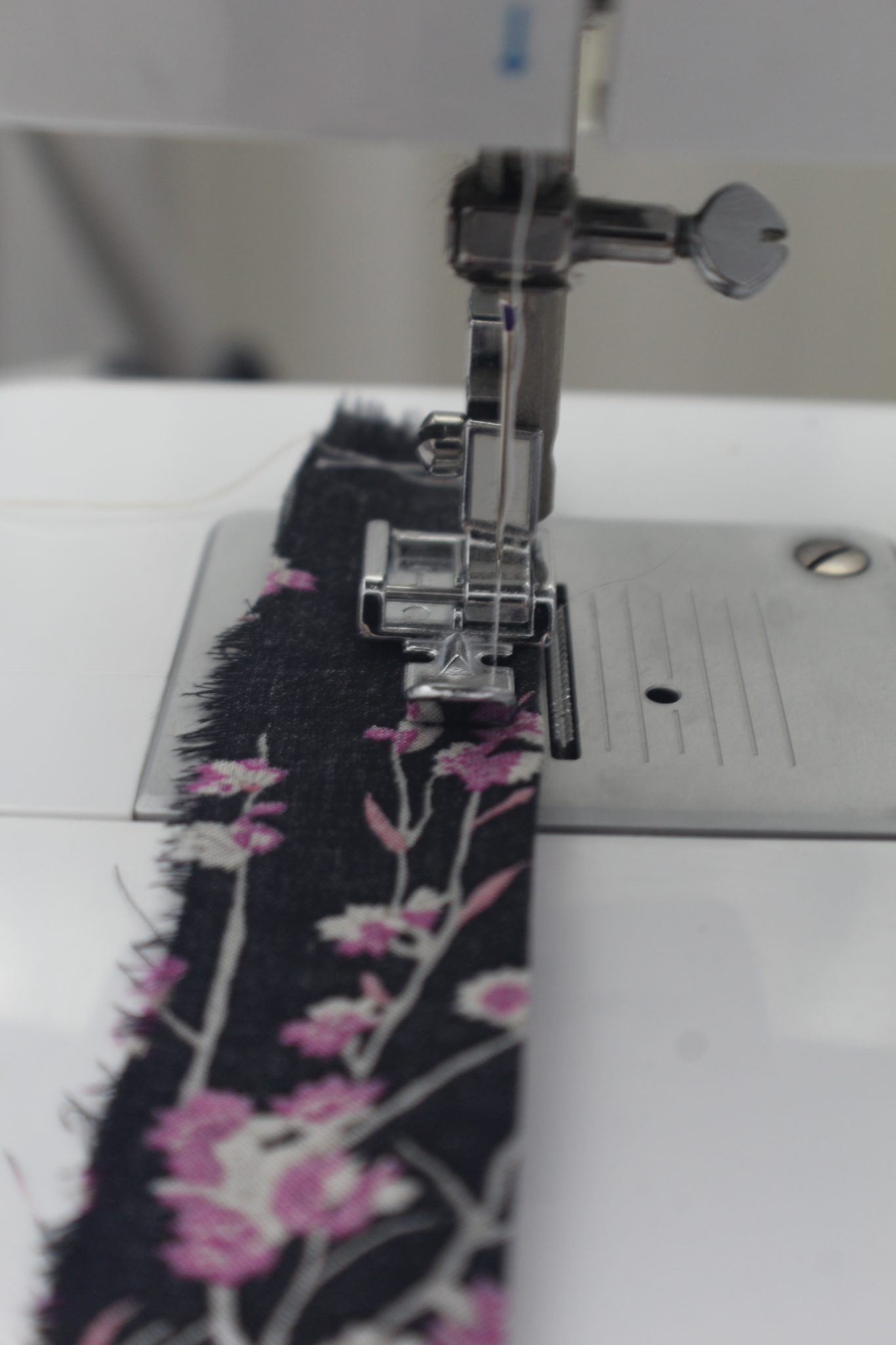 Sew down along the twine cord to the other end of the fabric strip as far as possible from the open edge of the strip. Do your best to keep the needle from catching the twine. Seam allowance will vary depending on how wide or narrow you want your spaghetti straps.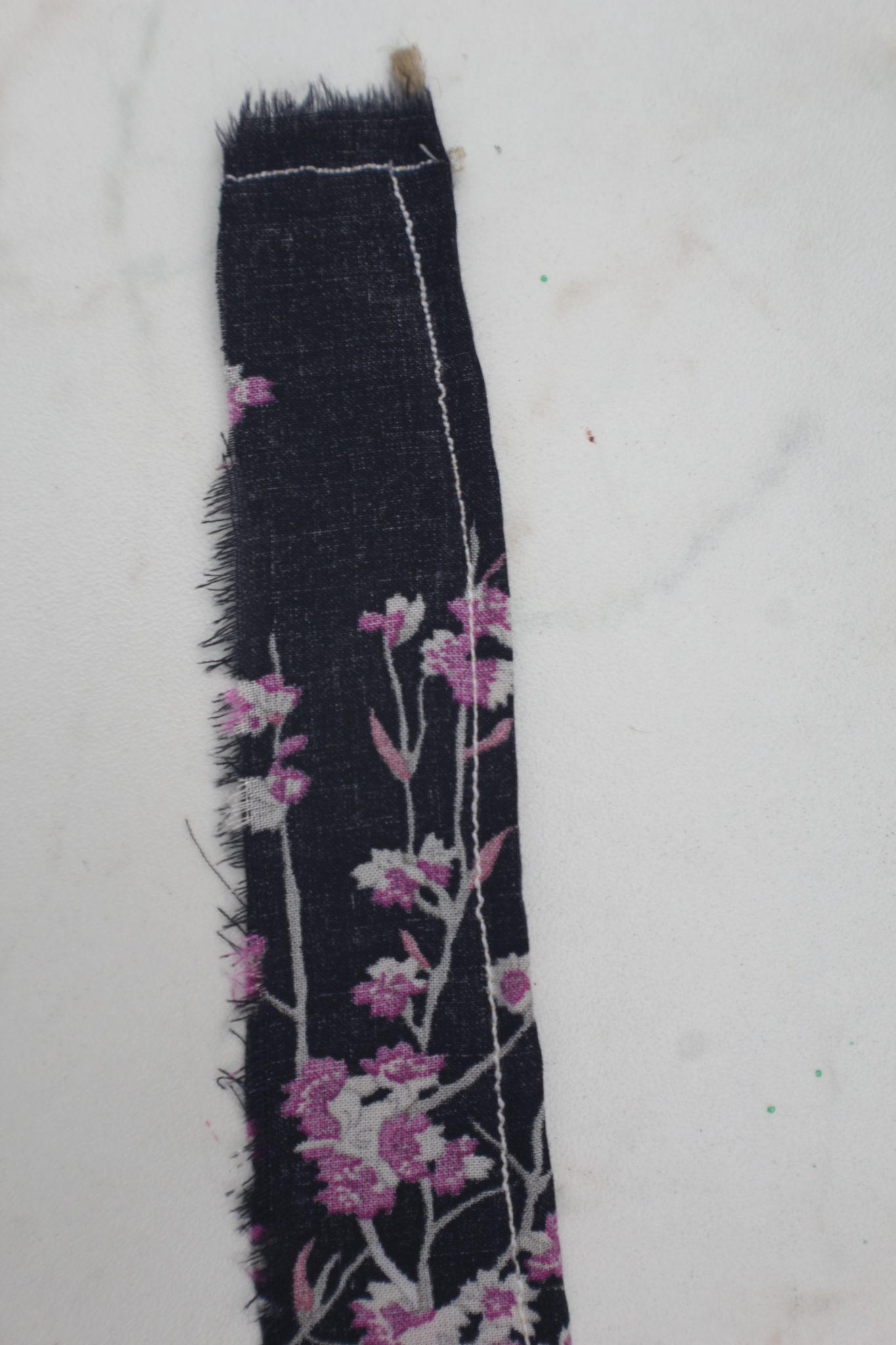 Trim the seam
Remove the strip and go back to the end of the strip where the twine is barely peaking out.
Trim the strip diagonally first then trim the seam where the twine is peaking out. From this point on, the small tail of the twine will not peak out anymore but I'll just refer to it as if it still does, for ease of reference.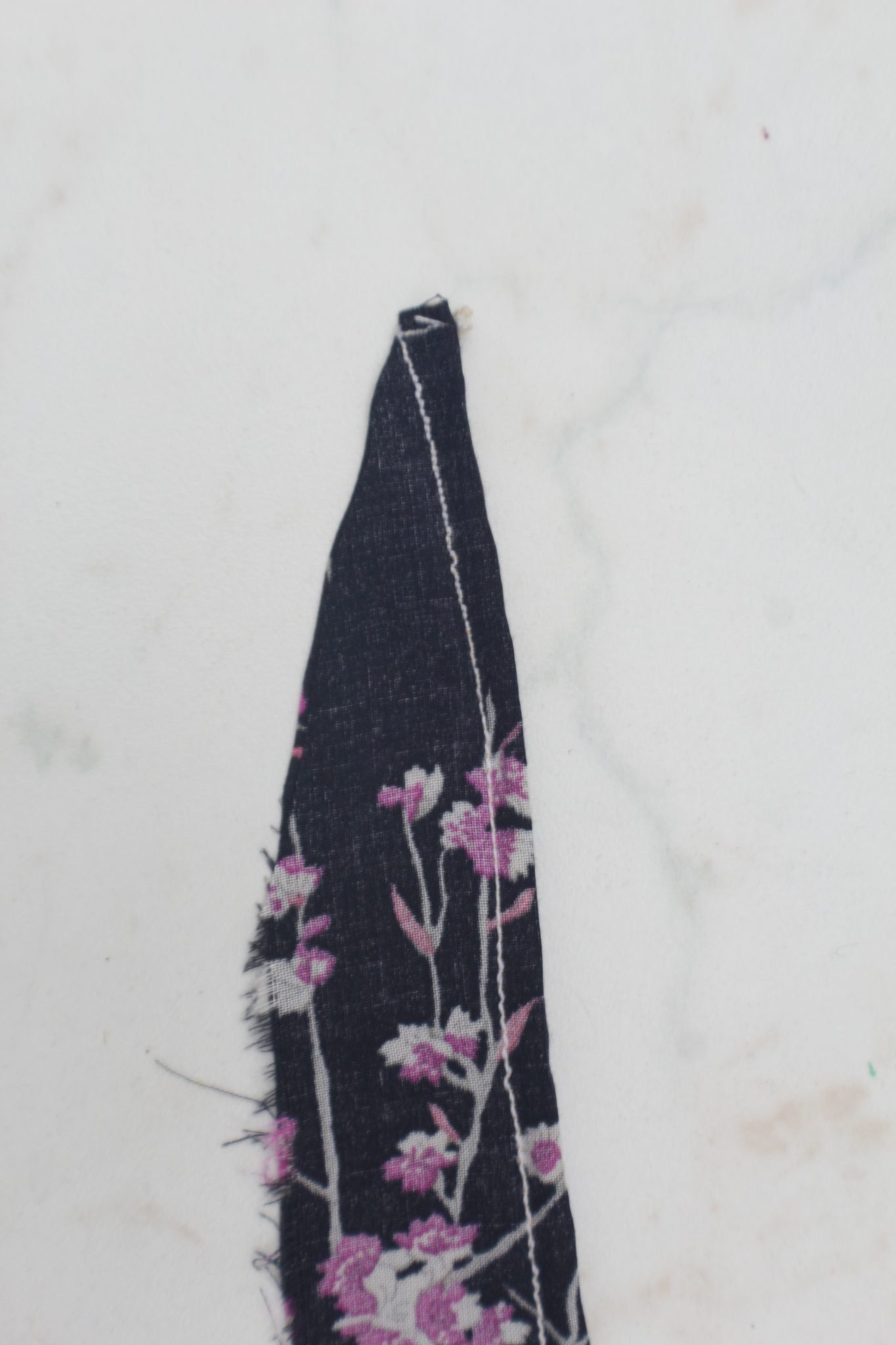 Continue trimming the raw edge of the seam along the twine cording as close to the seam as you can.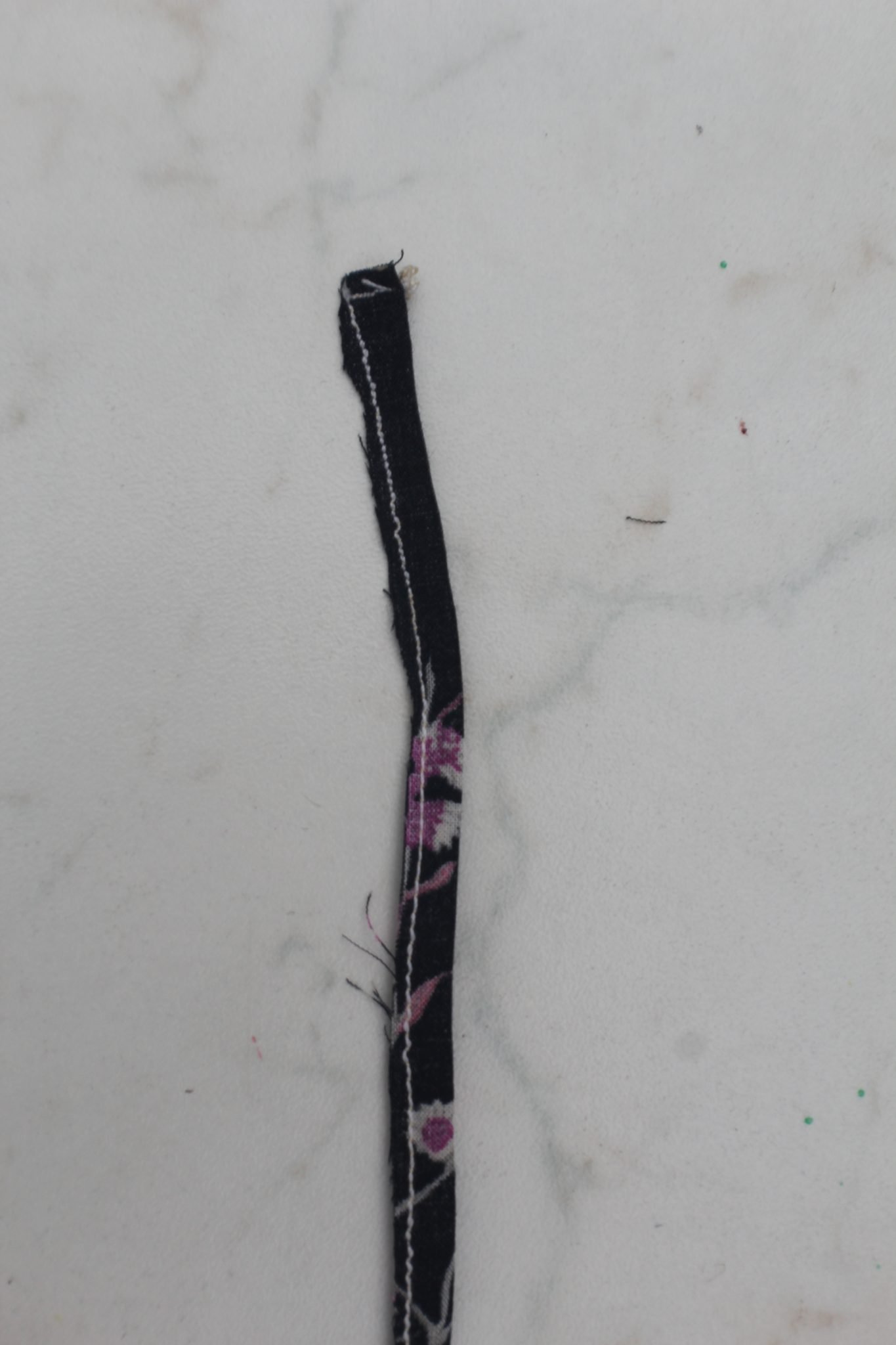 Pull the cording out – the turning process
To beginning turning the wrong sides inside, grab one end of the twine (with the long tail) with one hand and with the other hand grab the opposite end (the one with the small twine tail).
Pull the long tail just a little bit while holding the fabric at the opposite end (the one with the small tail). The fabric will tend to gather at the small tail end. You are aiming for pushing the small tail twine inside the fabric tube.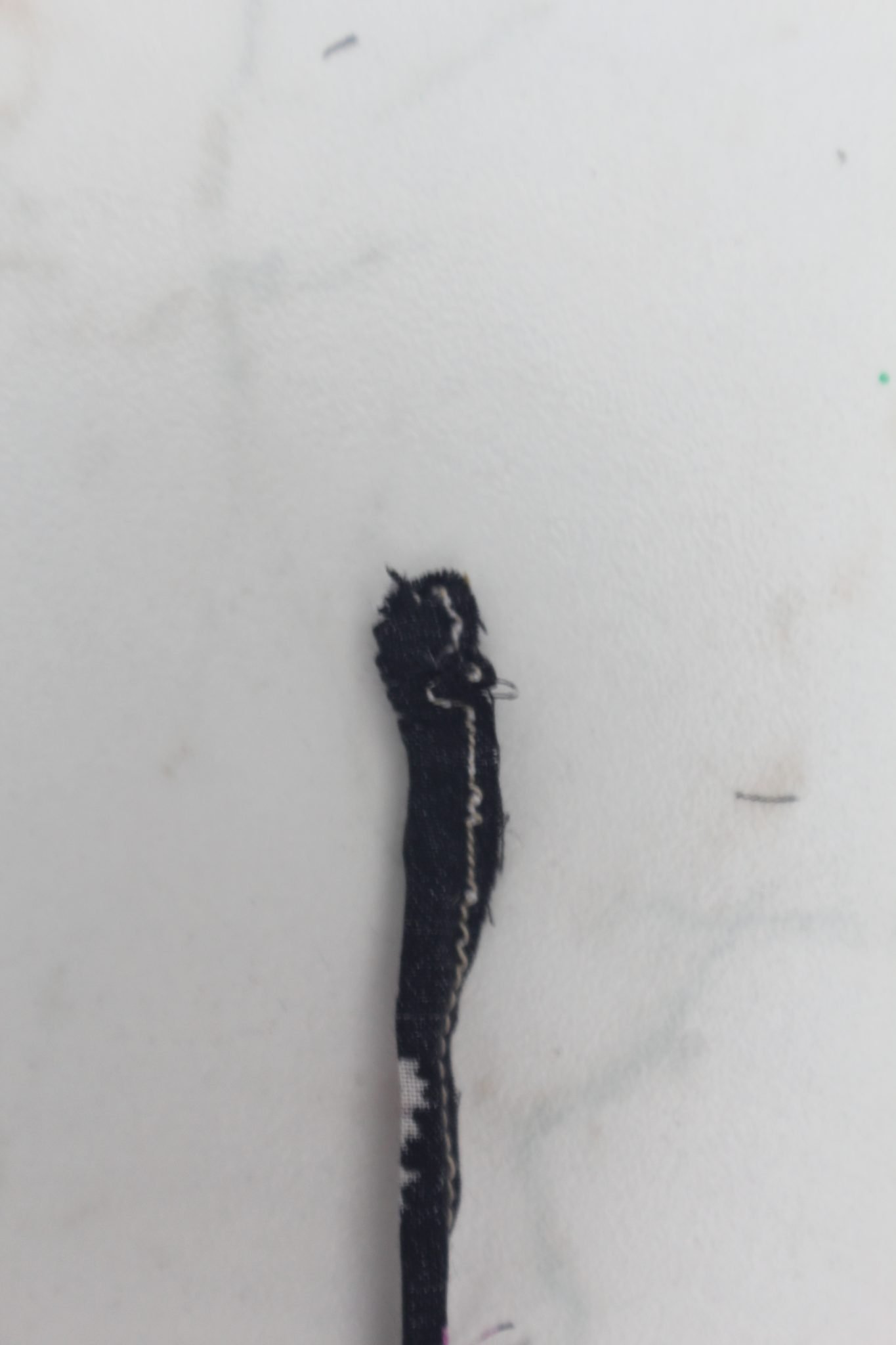 This will prove to be a bit difficult with just this method alone so you need to push the small tail in with the help of a blunt tool such as a bamboo skewer.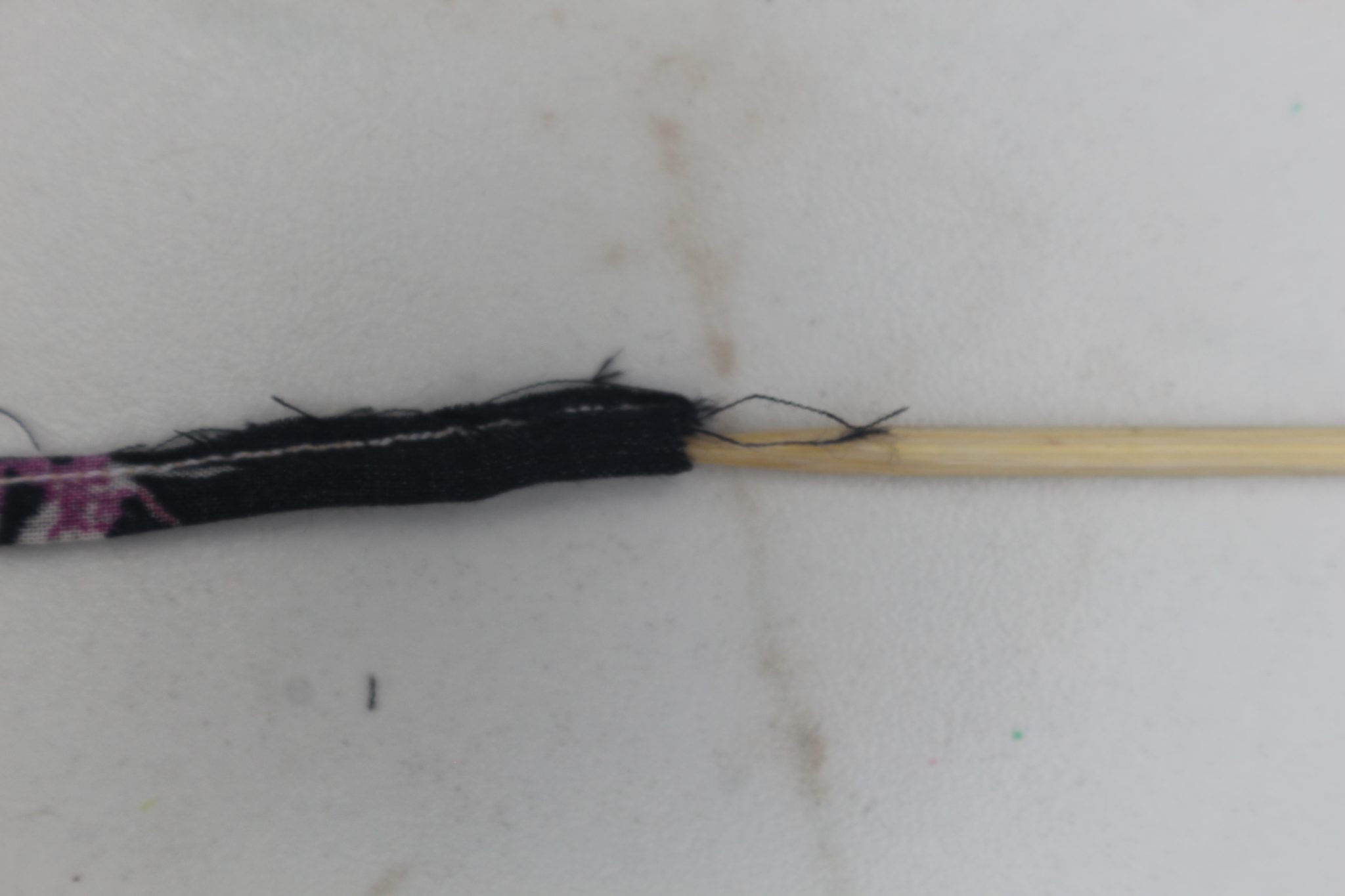 While pushing the tail with the skewer you need to force the fabric a little to roll over the skewer, using your nails.
Turn the strap out
Once the tail has passed the first 1/4″-1/2″ of the tube, turning the straps out is nothing but a breeze. Keep pulling the long tail with one hand while pulling the fabric with the other hand on the opposite end.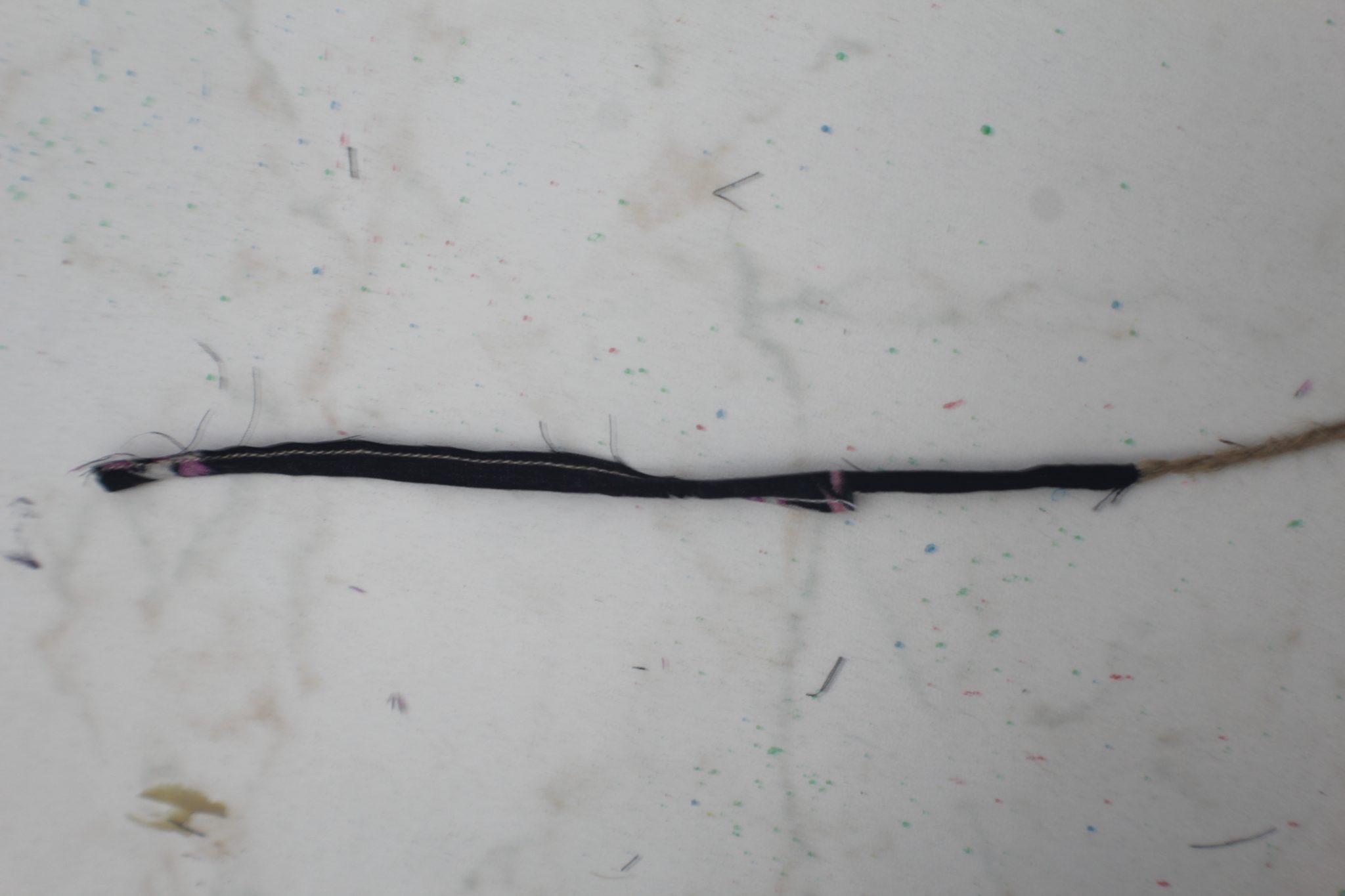 When the entire spaghetti strap is completely turned inside out, snip the sewn end to remove the twine cording.
Using your fingers, smooth out the seam.
You can leave the straps as they are or press them into flat straps using your iron on steam
And your beautiful straps are done! Enjoy!
You now have a newfound skill in making spaghetti straps! Not only are they a great way to jazz up any homemade garment (hello tiny ties!), but they can also be a lifesaver when you're in a bind and need to fix a strapless dress or top. With just a few simple steps, you can create beautiful and professional thin straps that will perfectly complete your outfit!
If you liked this tutorial I would love to know your thoughts in the comments below. And if you like to keep yourself up to date with the latest content, updates and offers on my site, sign up to receive my newsletters straight to your inbox! Thanks!
Pin to save for later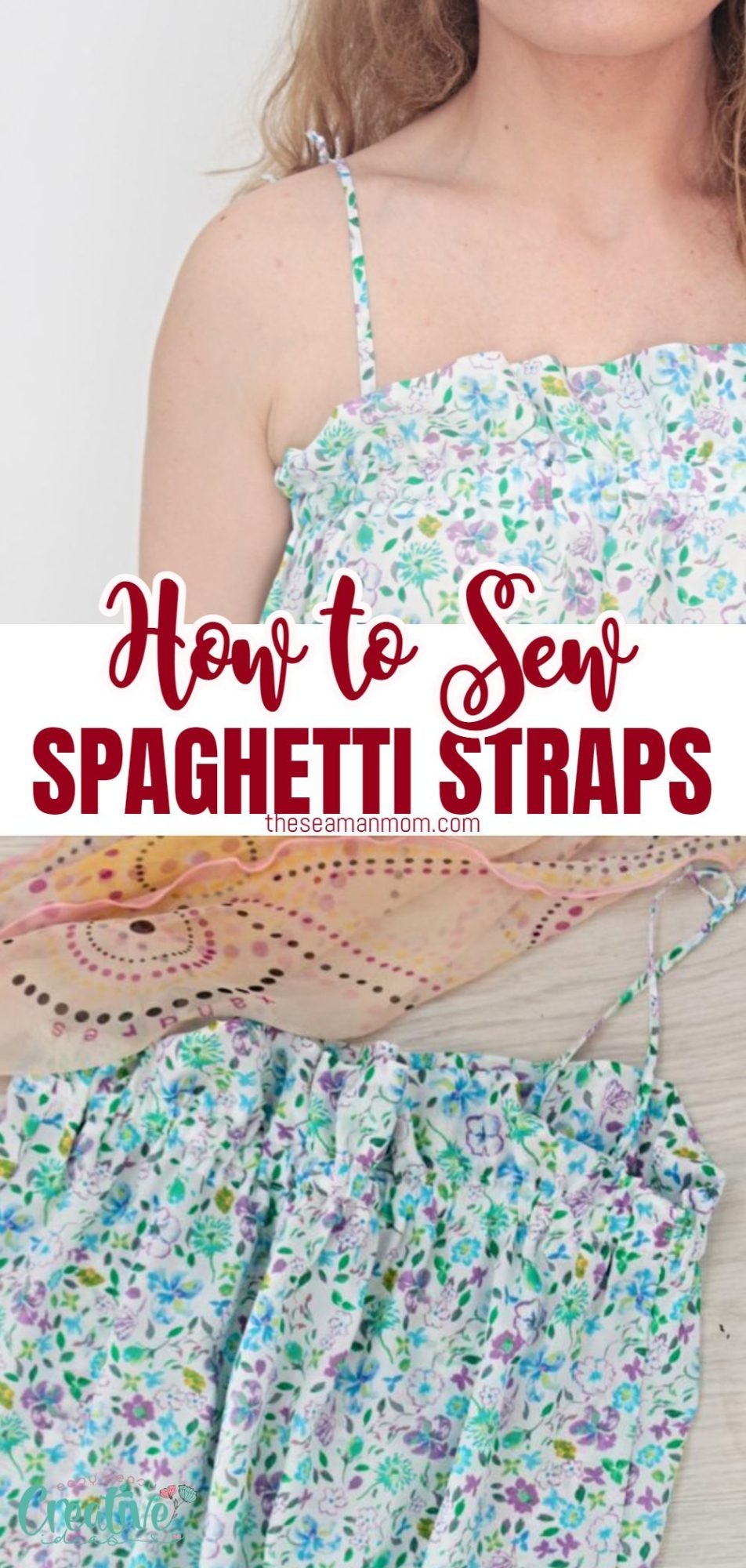 Most popular sewing projects: